Learning how to toast coconut is a snap. It is so easy to do and yields the perfect ingredient for so many different recipes. Don't miss our list in the post of all the great ways to use toasted coconut.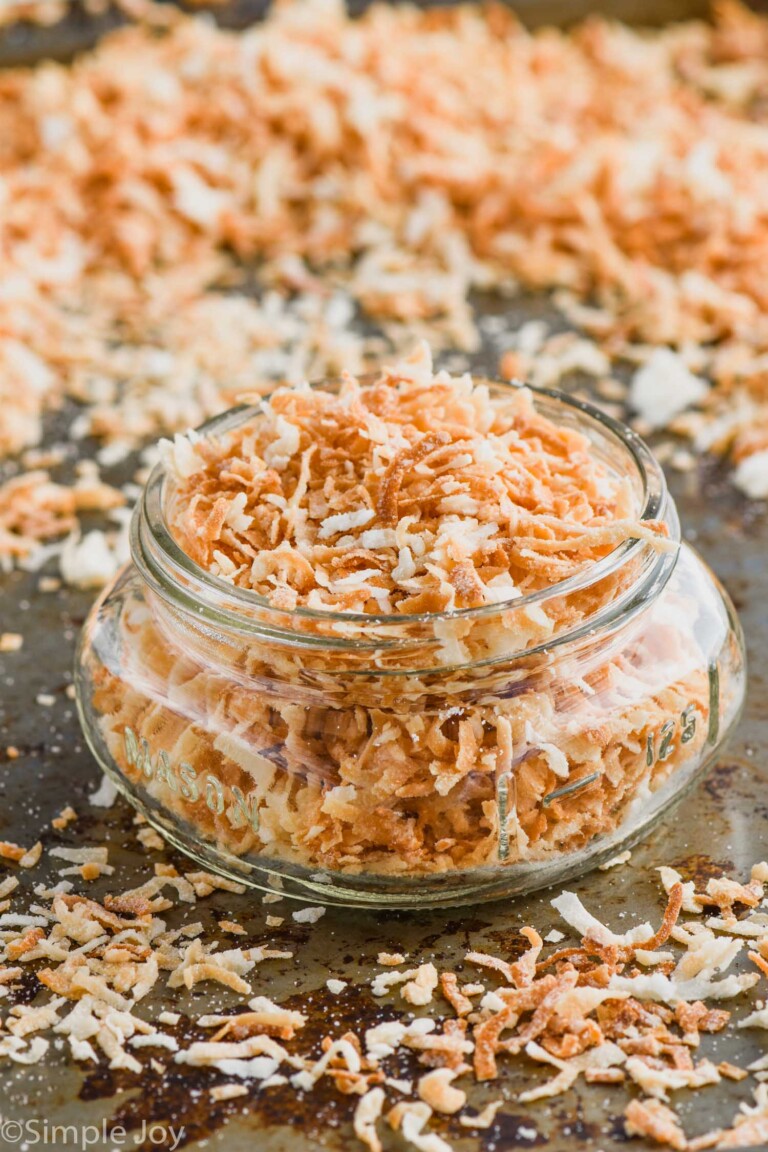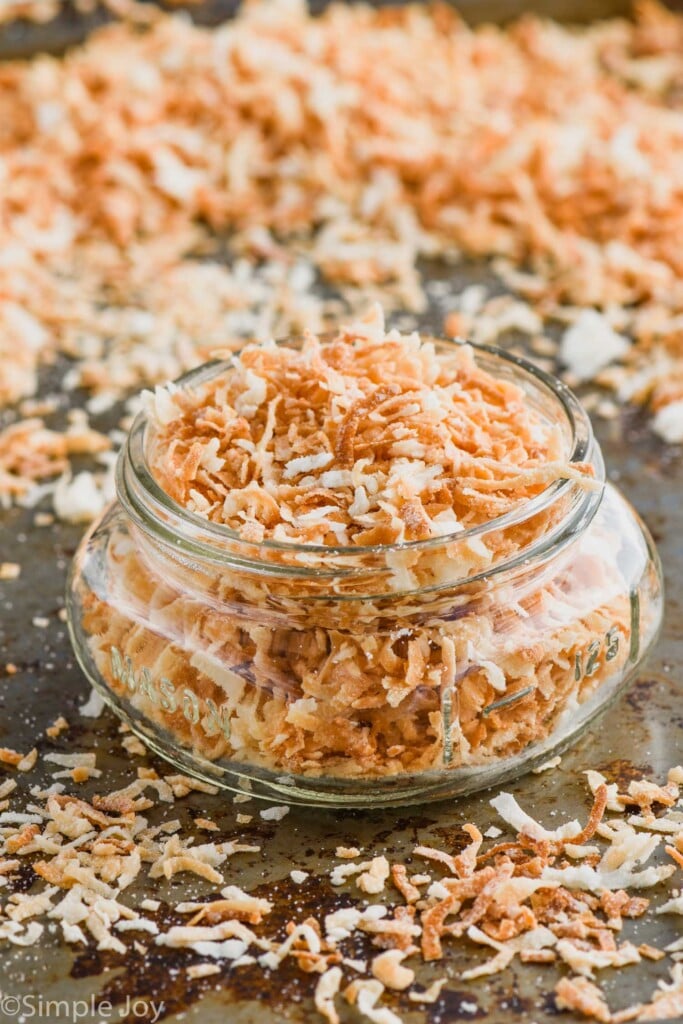 Toasted coconut adds a rich depth to desserts, side dishes and more. It's so fragrant and flavorful, and super easy to make yourself. If you're a fan of coconut, then you definitely need to know this simple how-to recipe. In just minutes you'll have delicious coconut to add to baked goods, pies, cocktails, and cakes.
How to Toast Coconut
This is a brief overview of how simple it is to make toasted coconut. For the full instructions, please see this recipe card at the bottom of the post.
Prepare your oven and baking sheet. Preheat your oven to 325 degrees Fahrenheit. Like a baking sheet with parchment paper.
Spread out the coconut. Spread 1 cup of shredded coconut on a baking sheet, breaking up any clumps.
Bake the coconut. Bake for 7 minutes, take the coconut out of the oven, gently toss it, and continue baking it.
Allow the coconut to cool. Once cool, add it to your favorite recipes!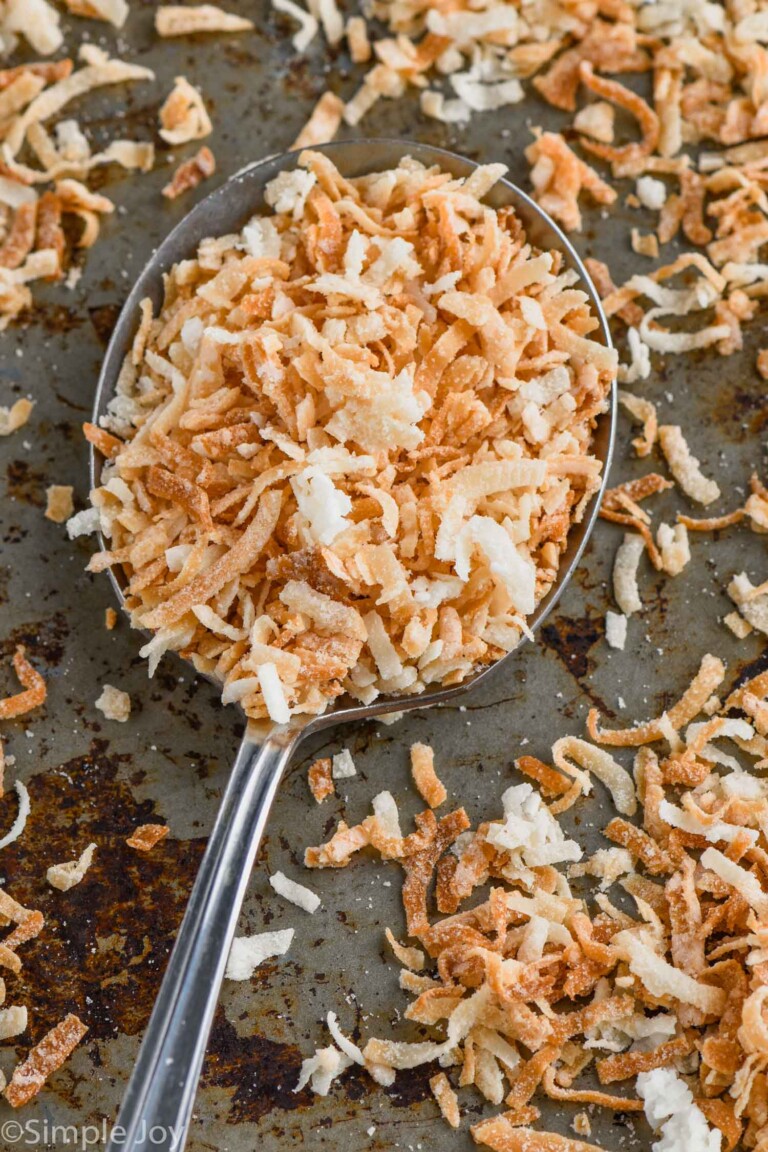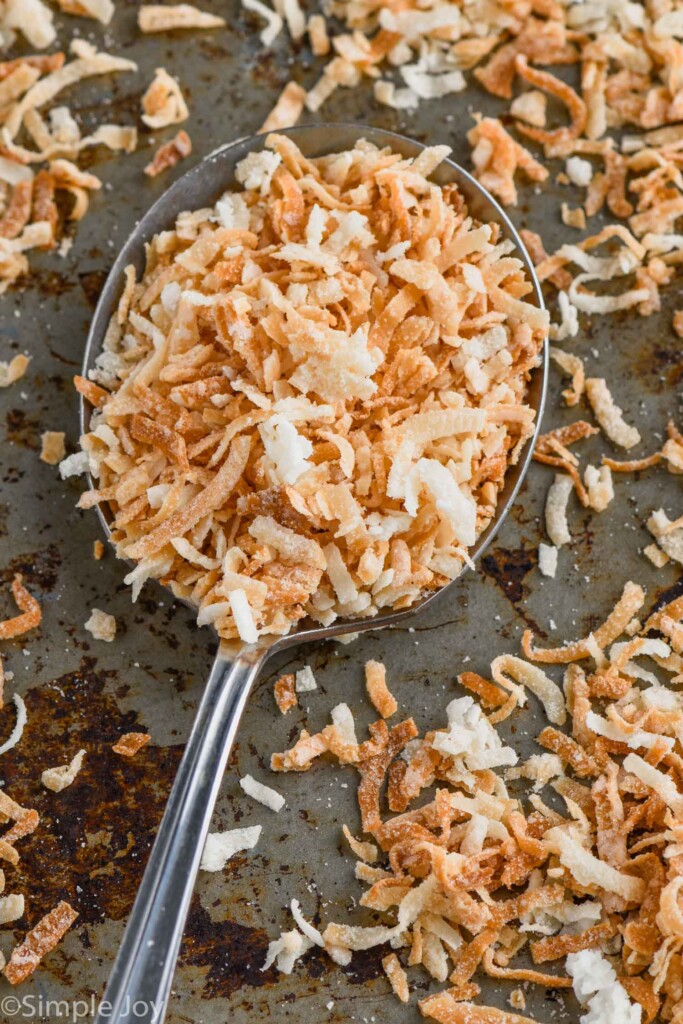 Double or Triple Toasted Coconut Recipe
It is very easy to double or triple this! You will just want to keep in mind that you want the coconut to be in as thin of a layer on your baking sheet as possible. The more you add, the more likely you will ned to add a little more cooking time.
Baking Sheets
The baking sheet you use can make a really big difference in a recipe. I'm sharing with you my very favorite baking sheets. They work well for so many different recipes, and I never make cookies without them.
TOP PICK
Nordic Ware Baking Sheets
These baking sheets are my absolutely favorite. They hold up for years, and they bake everything perfectly. They are always my top pick.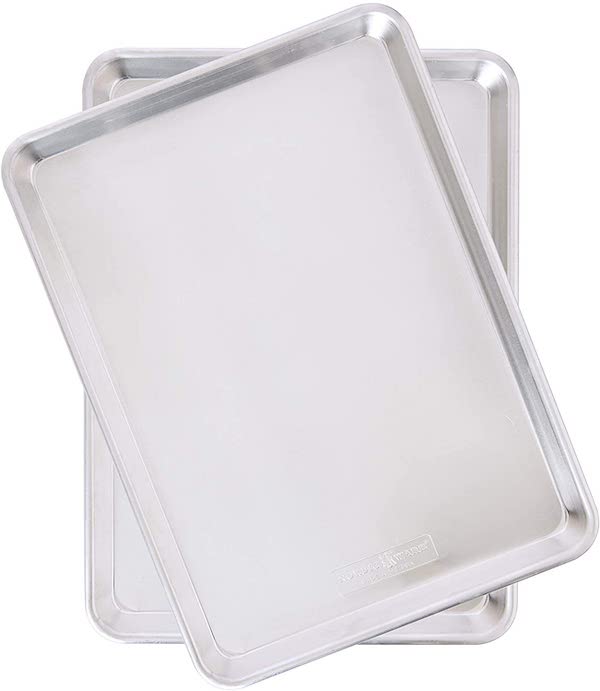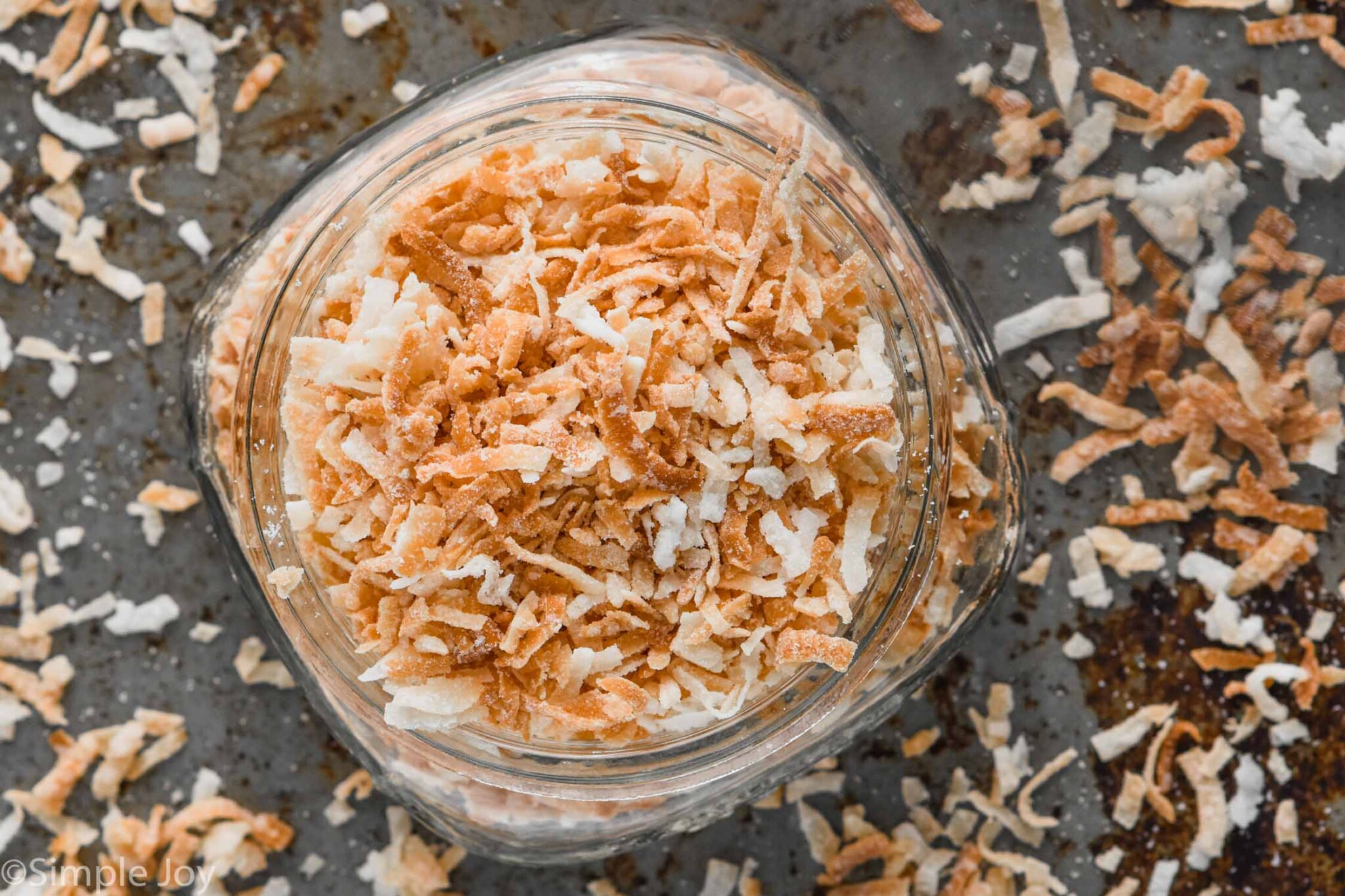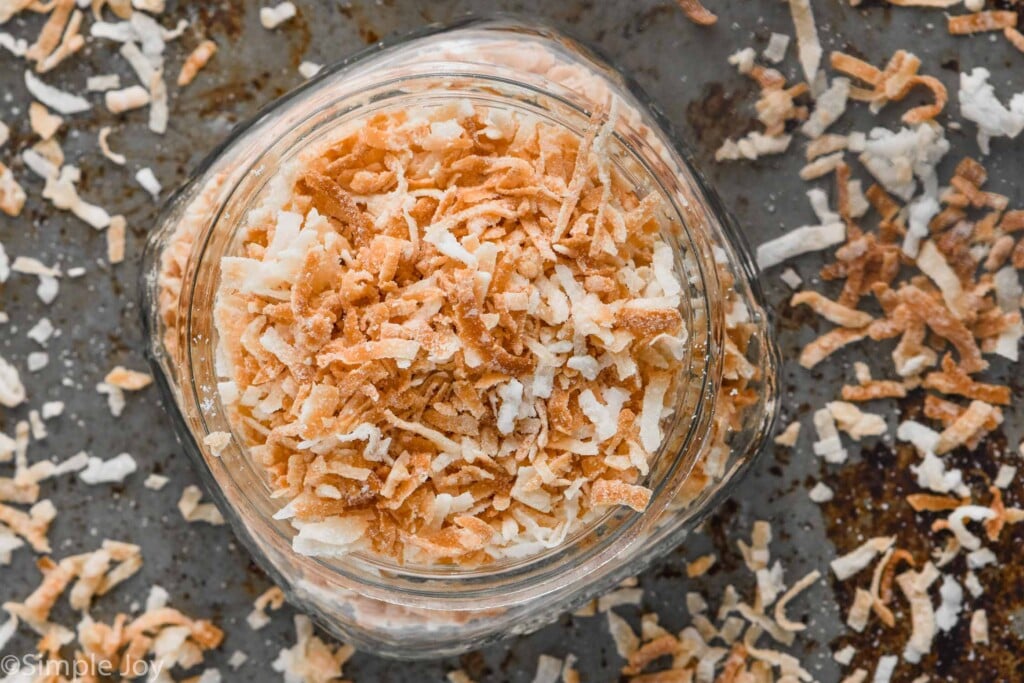 How to Toast Coconut in a Pan
Toasting coconut on the stovetop is simple. It takes a little more hands on effort than in the stove, but its also easy.
Add 1 cup of coconut to a skillet.
Put the skillet over medium low heat.
Cook for 7 to 10 minutes, stirring every few minutes to prevent the coconut from burning.
Stir more frequently towards the end of cooking and remove from heat when the coconut is light brown.
Sweetened or Unsweetened Coconut
You can toast both sweetened and unsweetened coconut. Either one you need to keep a close eye on as it bakes, making sure to toss it in the middle of baking time. I personally prefer sweetened coconut. I love how it toasts up and it makes the perfect garnish to so many recipes.
How to Store Toasted Coconut
Toasted coconut should be stored in an air tight container in a cool dry place. It can be stored at room temperature for between three and six months. To extend the shelf life of toasted coconut, store it in the freezer. Always use your best discretion when it comes to left over food.
FAQ
How long can you store toasted coconut?
Toasted coconut can be stored for between three an six months in an airtight container. To extend the shelf life, store it int he freezer.
Is toasted coconut gluten free?
Yes! Coconut is naturally gluten free. As with any recipe, if you are serving someone with a gluten allergy, double check all of your ingredients.
Can someone with a nut allergy have coconut?
Most often, no. This varies from person to person, but often, if someone is allergic to tree nuts, they are also allergic to coconut. This is important to keep in mind if you are serving someone with allergies.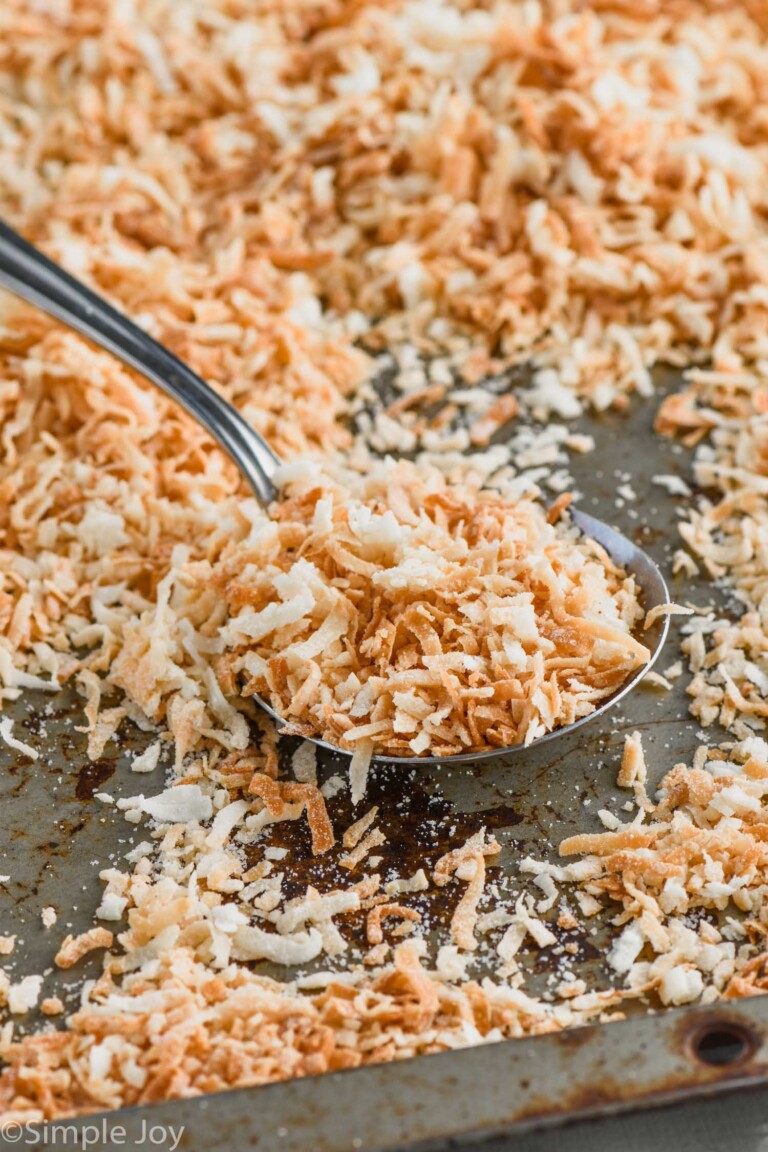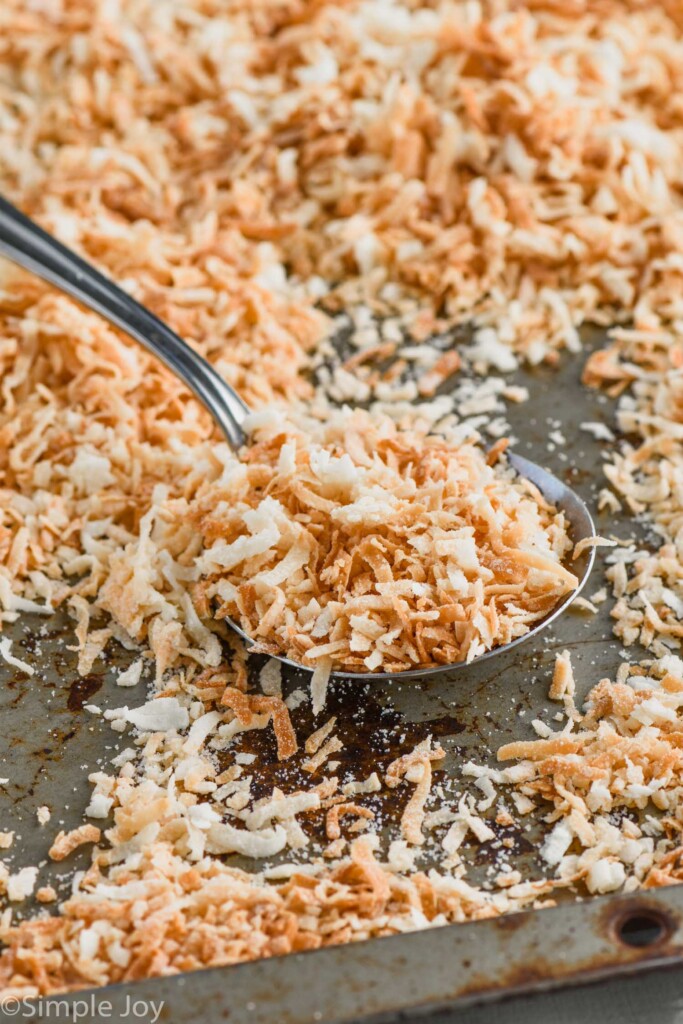 Recipes to Use Toasted Coconut Flakes
If you make this toasted coconut or any of my other recipes, leave me a comment and let me know what you think!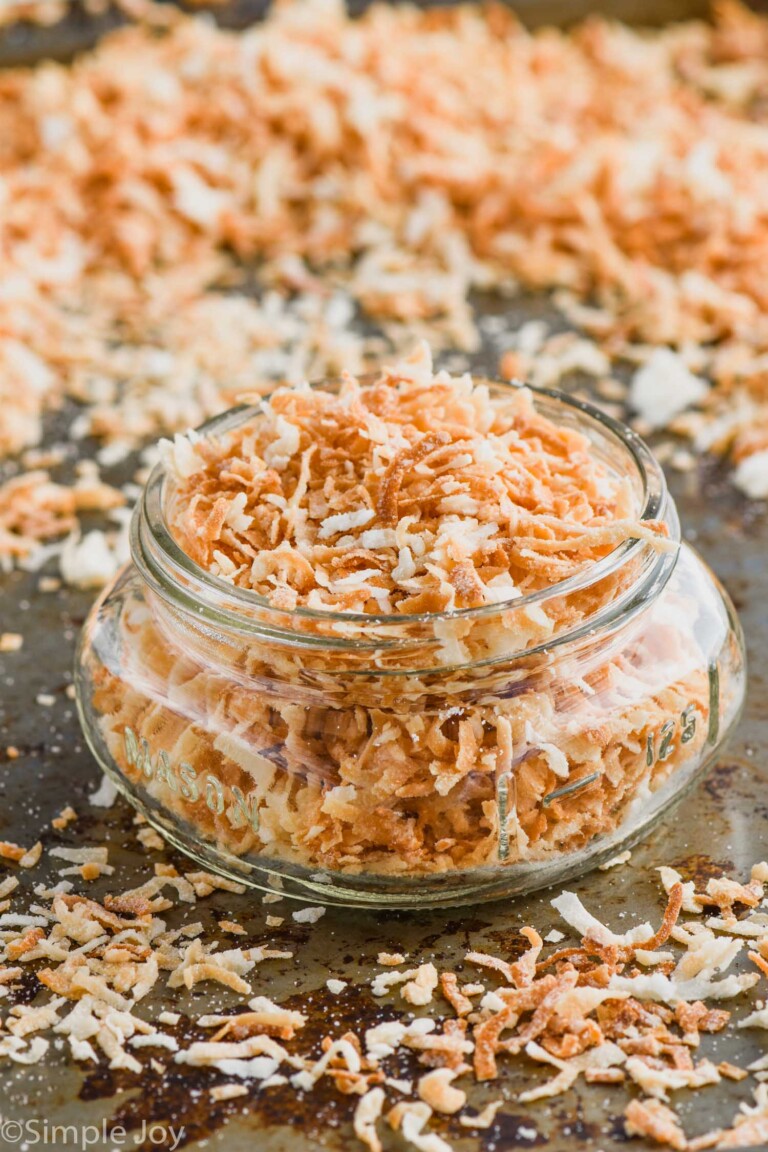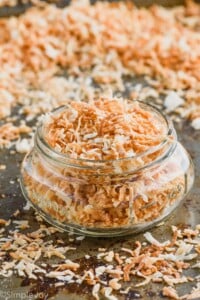 How to Toast Coconut
Wondering how to toast coconut? You just need 20 minutes and a few simple things! It's the perfect addition to so many desserts!
Ingredients
1

cup

sweetened coconut flakes
Instructions
Line a baking sheet with parchment paper. Spread one cup of shredded coconut on it in a thin layer.

Bake for 7 minutes, toss the coconut and redistribute it on the sheet and then bake for 7 more minutes or until the coconut is golden brown.

Let cool completely and store in an airtight container for up to one month.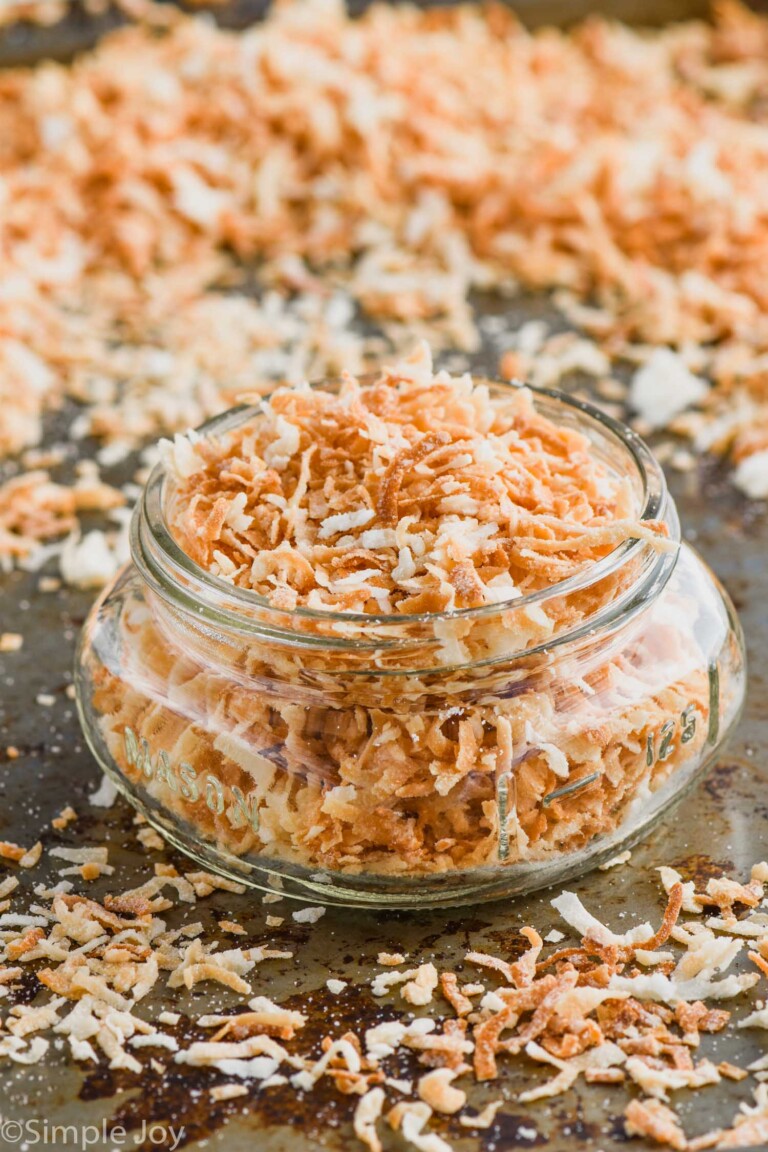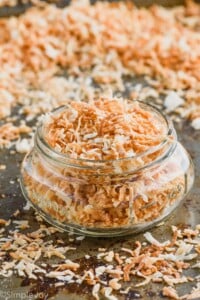 did you make this
How to Toast Coconut