Magic Cookie Bars are the one classic treat that you must have in your recipe box. These seven layer bars are easy to make, and perfect for gifting.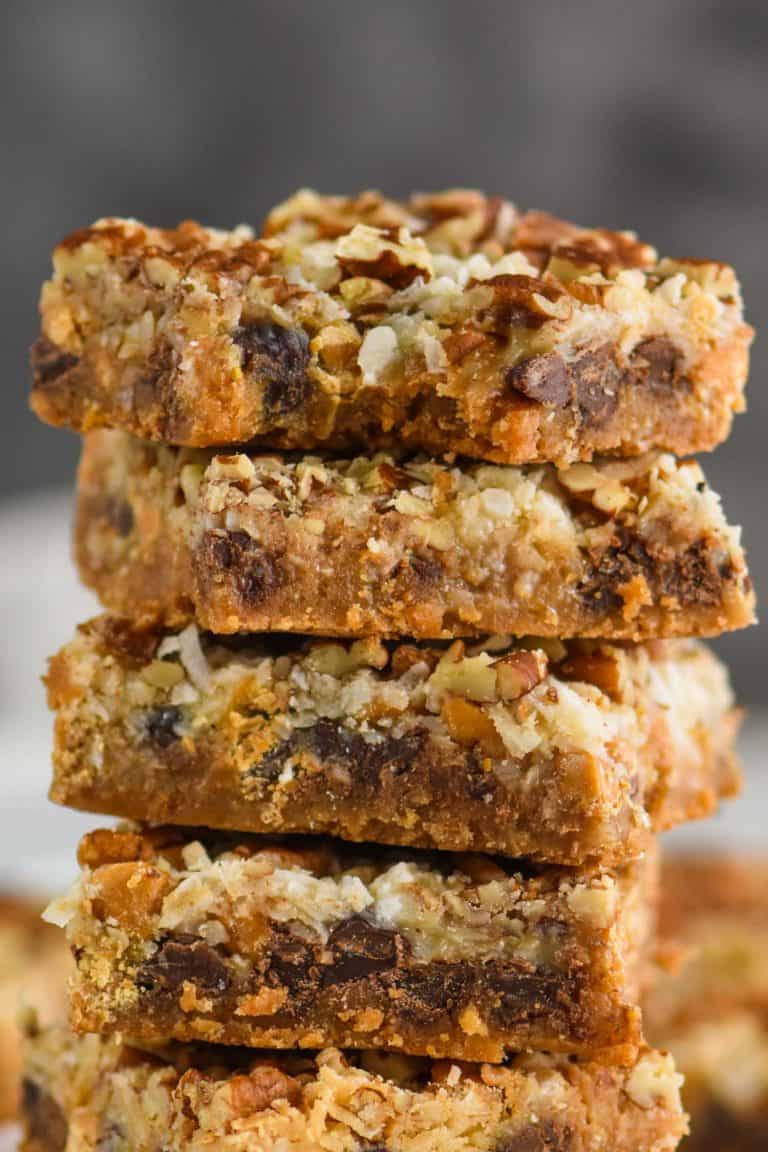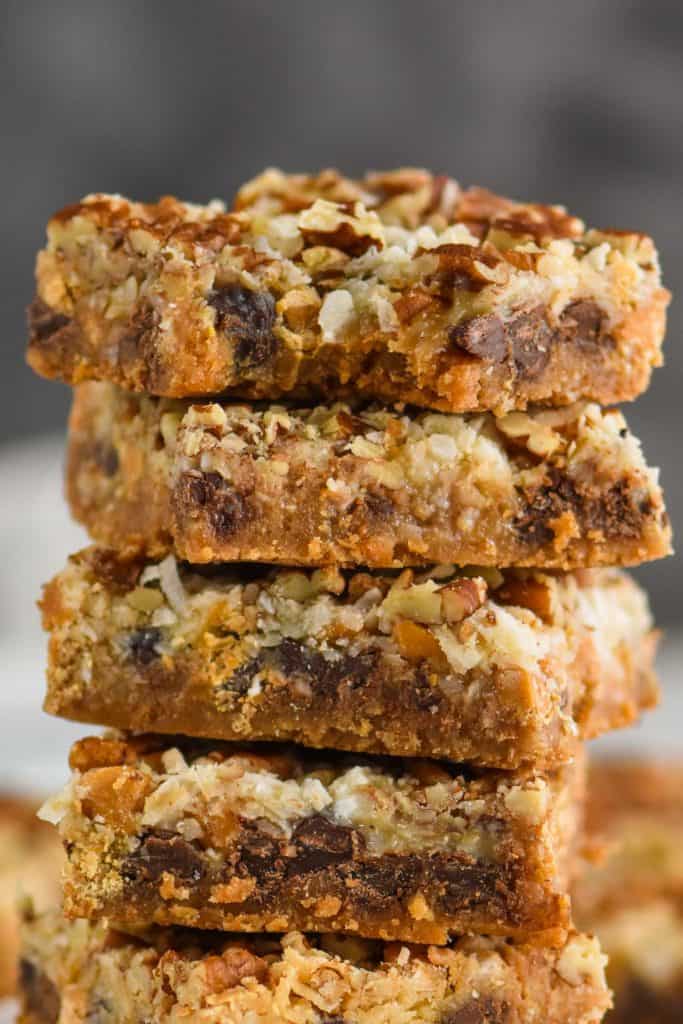 Recently, Quinn (middle kid extorodanaire) told me she needs to do a school project on a family tradition around the holidays. It needs to be something she can give a speech on. Something that goes back generations. I stood there like a deer in headlights and then it hit me!
Food! Christmas treats! Her great grandmother baked hundreds of cookies. There were trays and trays out around the holidays. (Italian grandmas, am I right?)
Her grandmother made tons of Christmas treats and passed down the tradition of giving them to her kids. I vividly remember Christmas baking with my mom (like these amazing cut out sugar cookies).
Even better, I remember my brothers, 5 and 7 years older than me as teenagers baking away at the holidays. They would put together box after box for neighbors, friends, and family filled with goodies. And they always had these Magic Bars in them.
Reader Review
OMG! These turned out so good. I sent the majority with my daughter to her co-workers to try. She said they were gone before her first break.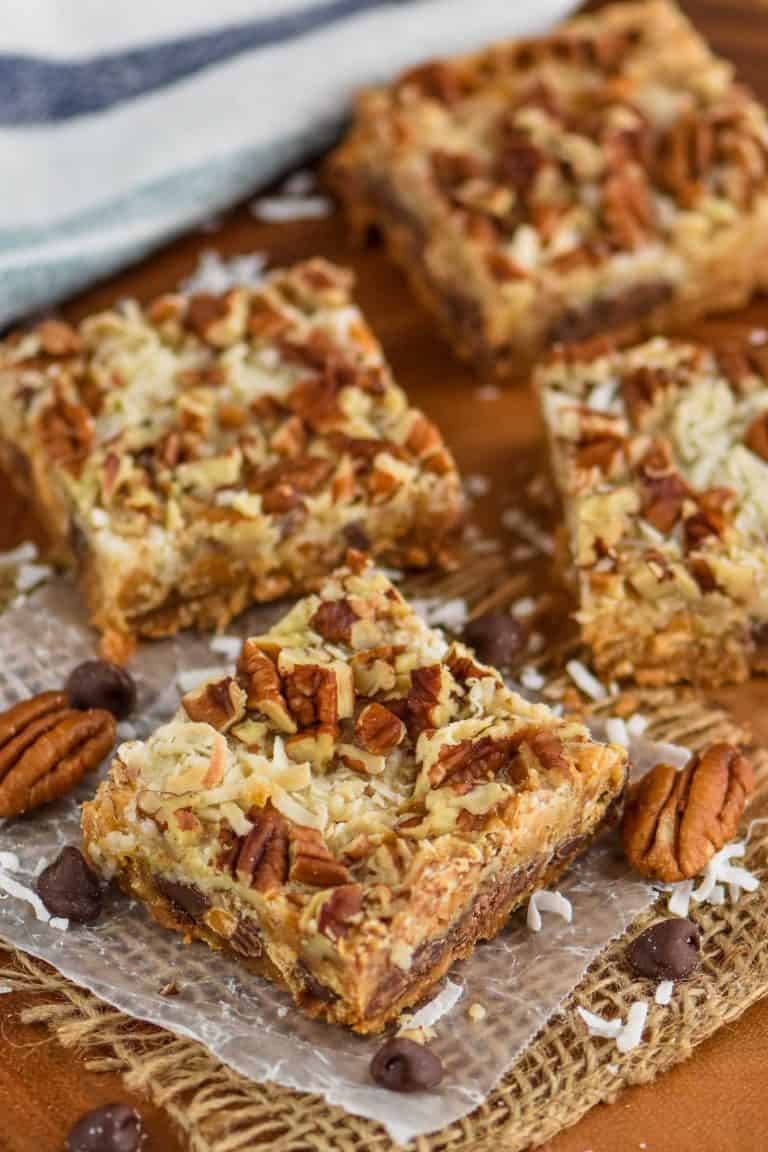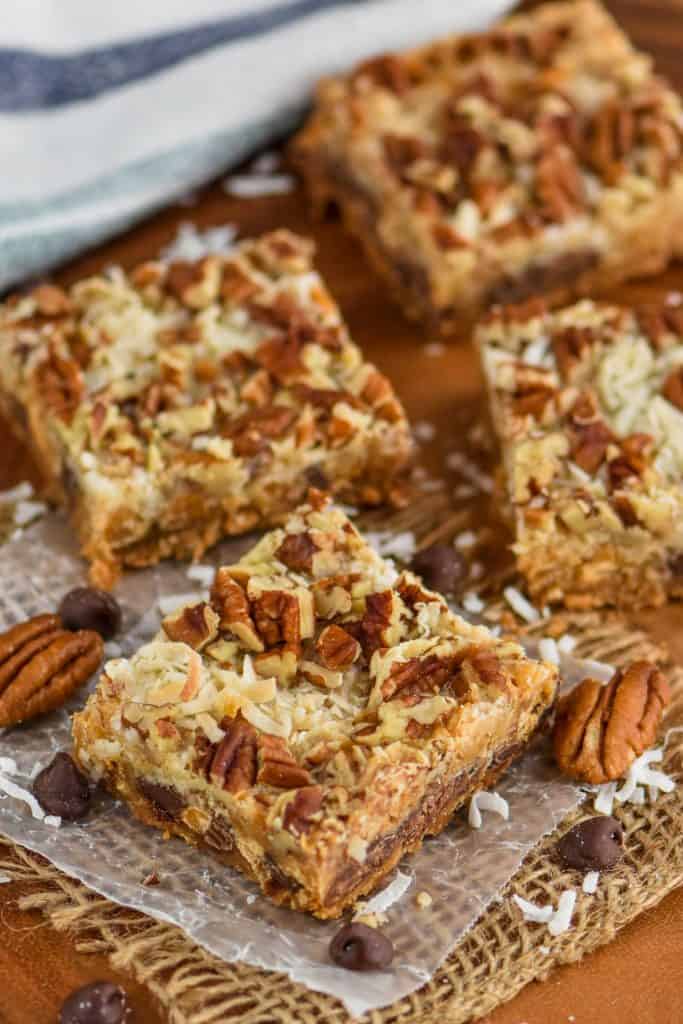 How to Make Magic Bars
Combine graham cracker crumbs and melted butter. Press into the bottom of a 9 by 13 inch baking dish, making a crust layer
Pour sweetened condensed milk over the crust layer.
Add chocolate chips.
Add butterscotch chips.
Pour shredded coconut over the chips.
Sprinkle on pecan pieces.
Gently press everything down.
Bake, allow to cool, eat, see colors you didn't know existed in the universe.
I love how easy this magic bars recipe is!
Baking Tips for Magic Bars
To know when your magic cookie bars are done, watch for the middle of the pan to begin to become golden brown. It should reach this color without the edges burning.
DO NOT BUY EVAPORATED MILK. (Yes, this needs all caps.) It has the same packaging/can size as sweetened condensed milk and will ruin the recipe.
Line your baking dish with parchment paper. Using two pieces of parchment paper (one cut for the long way and one cut for the wide way) will allow you to just lift the bars out of the pan.
If you don't use parchment paper, lightly spray your baking dish with cooking spray. Make sure you get the sides, sweetened condensed milk is very sticky as it bakes.
Cut your magic bars at room temperature. They don't need to be stored in the refrigerator but if you used that to cool them faster, make sure they are room temperature to cut.
You can substitute the butterscotch chips for more chocolate chips. If you don't have butterscotch chips, double the chocolate chips. I just love the flavor the butterscotch chips give.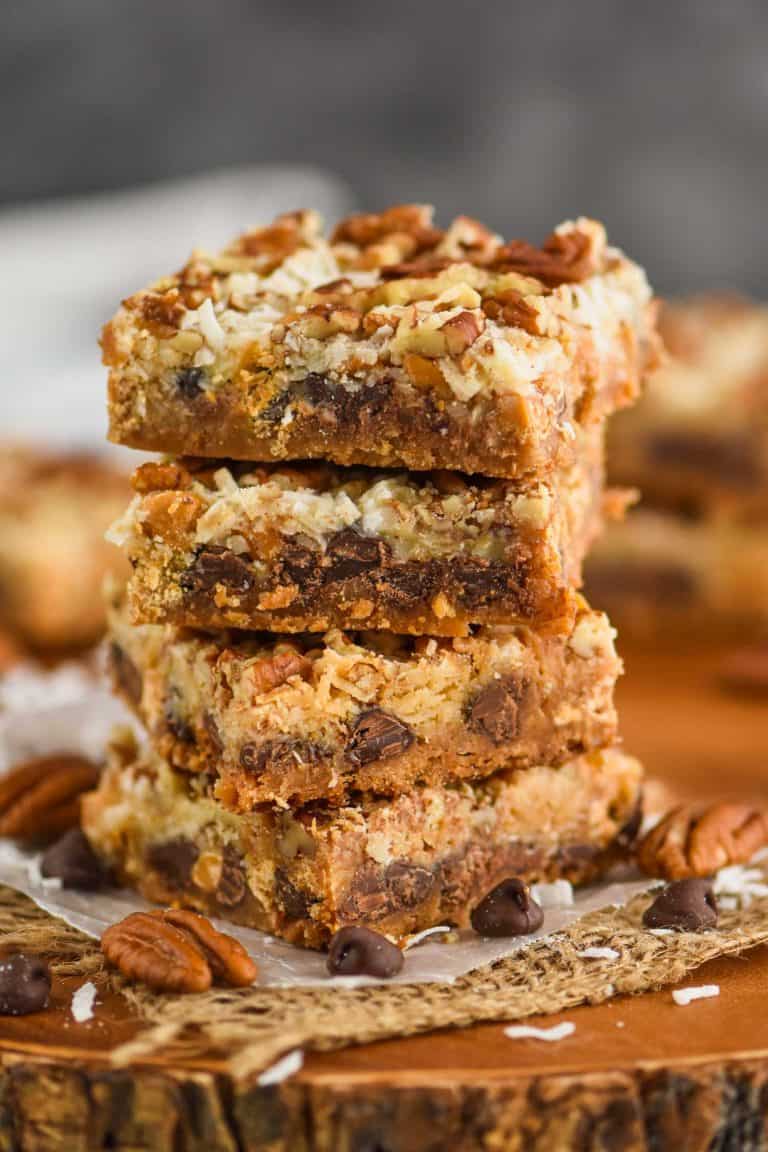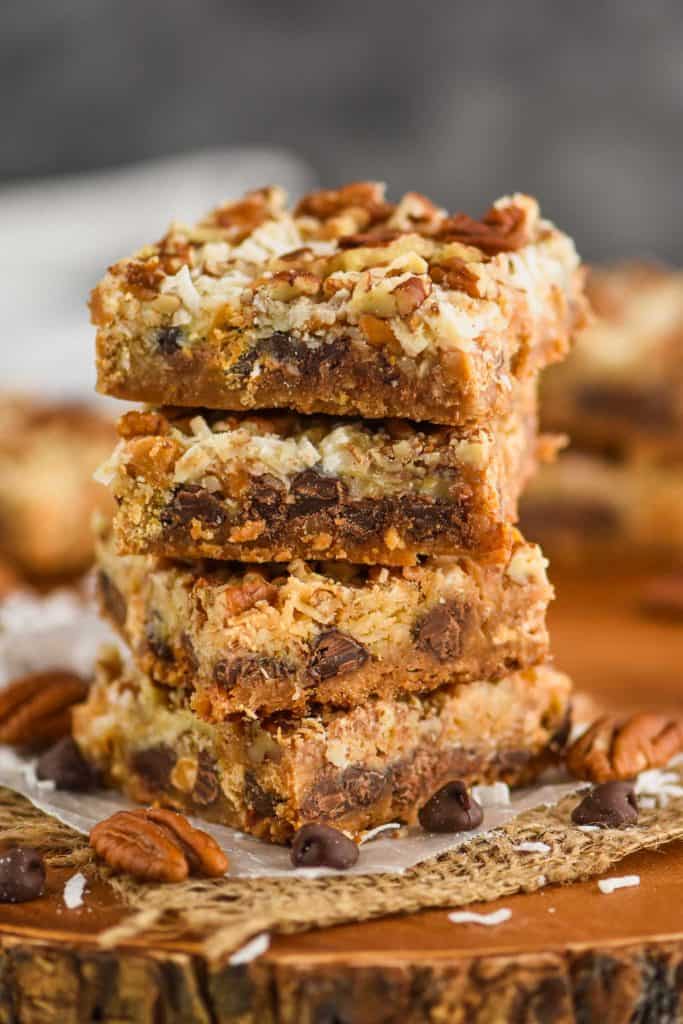 Storing Seven Layer Bars
Store these in an air tight container at room temperature for up to one week. They do not need to be refrigerated.
You can also freeze magic cookie bars.
Cut the baked and cooled magic bars to desired bar size.
Place on a parchment lined baking sheet in the freezer for one hour.
Transfer to an airtight container and keep in the freezer for up to three months.
Magic Cookie Bars Variations
For years, I've been making spins on the magic cookie bar. These variations are some of my most popular dessert recipes. With such a simple base recipe the possibilities are endless.
Here they are in order of my most favorite (but they are all delicious):
As you can see, you can easily make magic bars without nuts or without coconut. There are so many different combinations. Let me know what combination you come up with!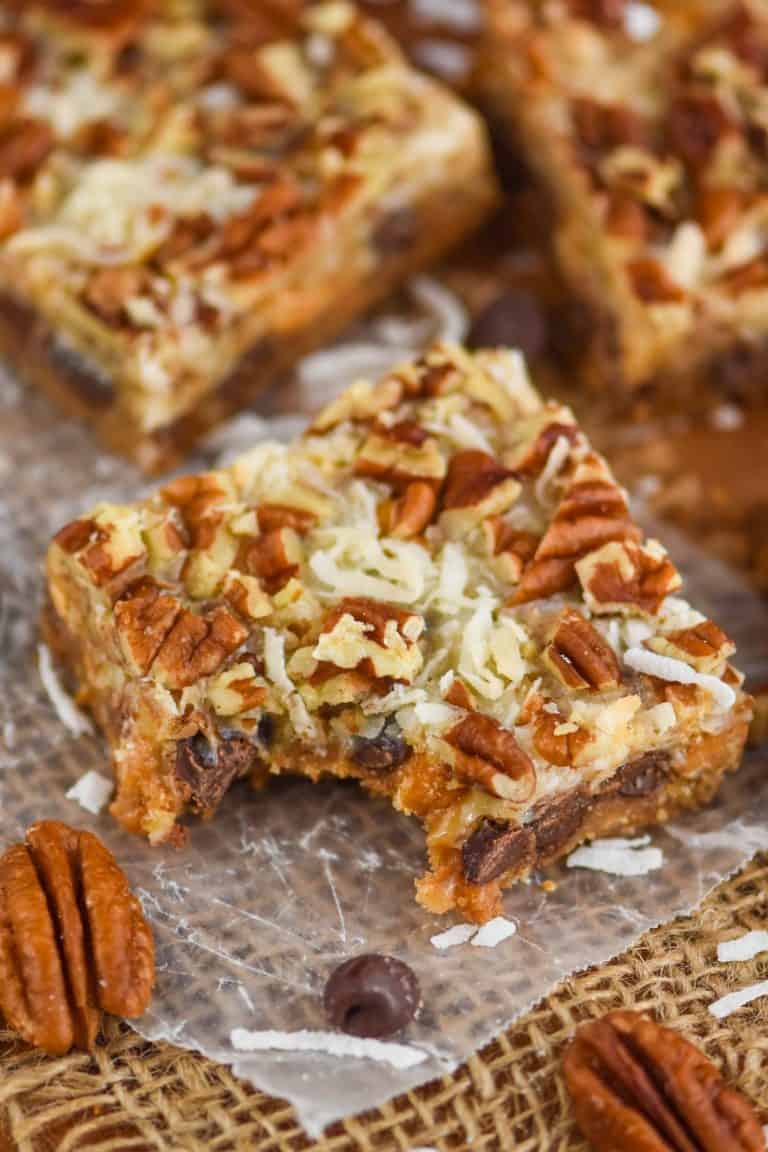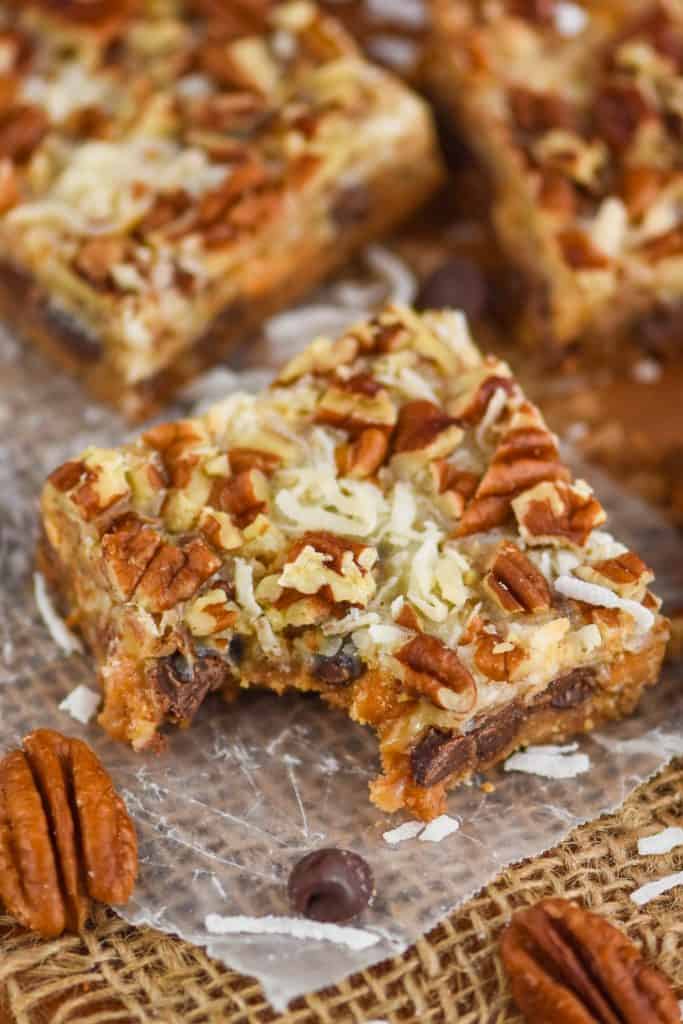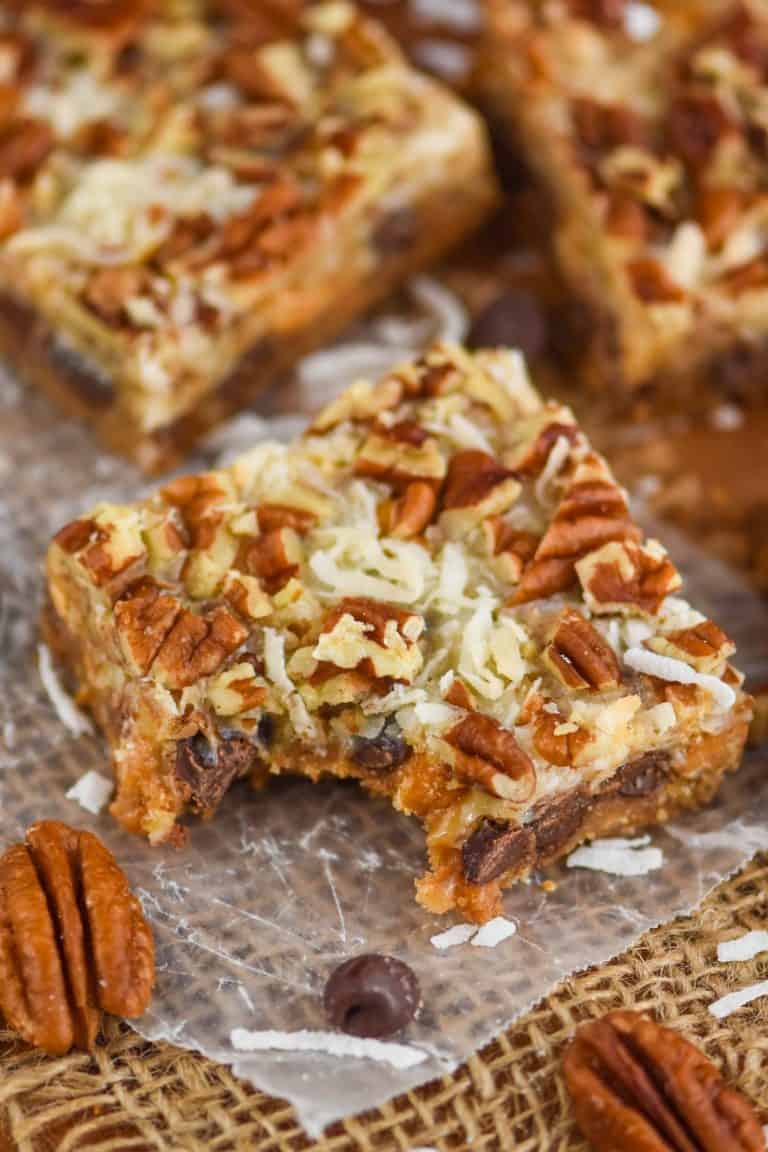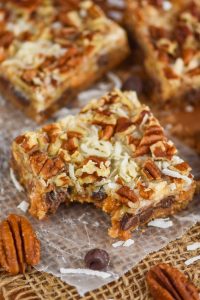 Magic Cookie Bars
Magic Cookie Bars are the one classic treat that you must have in your recipe box. These seven layer bars are easy to make, and perfect for gifting.
Ingredients
1/2

cup

unsalted butter

113 grams, melted

1 1/2

cup

graham cracker crumbs

roughly 11 traditional American graham cracker sheets or 160 grams

14

liquid ounces

sweetened condensed milk

be careful not to buy evaporated milk

1

cup

chocolate chips

175 grams

1

cup

butterscotch chips

175 grams (or replace with another cup of chocolate chips)

1 1/3

cup

shredded sweetened coconut

113 grams

1

cup

chopped pecans

119 grams
Instructions
Preheat your oven to 350 degrees Fahrenheit.

Combine the graham cracker crumbs right in your food processor, or if you use a plastic bag and a rolling pin to crush the graham crakcers, combine the crumbs with the butter in a large bowl.

Press the combined butter and crumbs into a 9 by 13 inch baking sheet that is lined with parchement paper.

Pour the sweetened condensed milk over the crumb crust completely. If you need to spread it, do so carefully.

Sprinkle the chocolate chips and butterscotch chips over the sweetened condensed milk layer.

Add on the shredded coconut and then the pecans. Very gently press down.

Bake for 25 minutes on the middle shelf of your oven, rotating half way through, until the middle of the pan just begins to turn golden brown.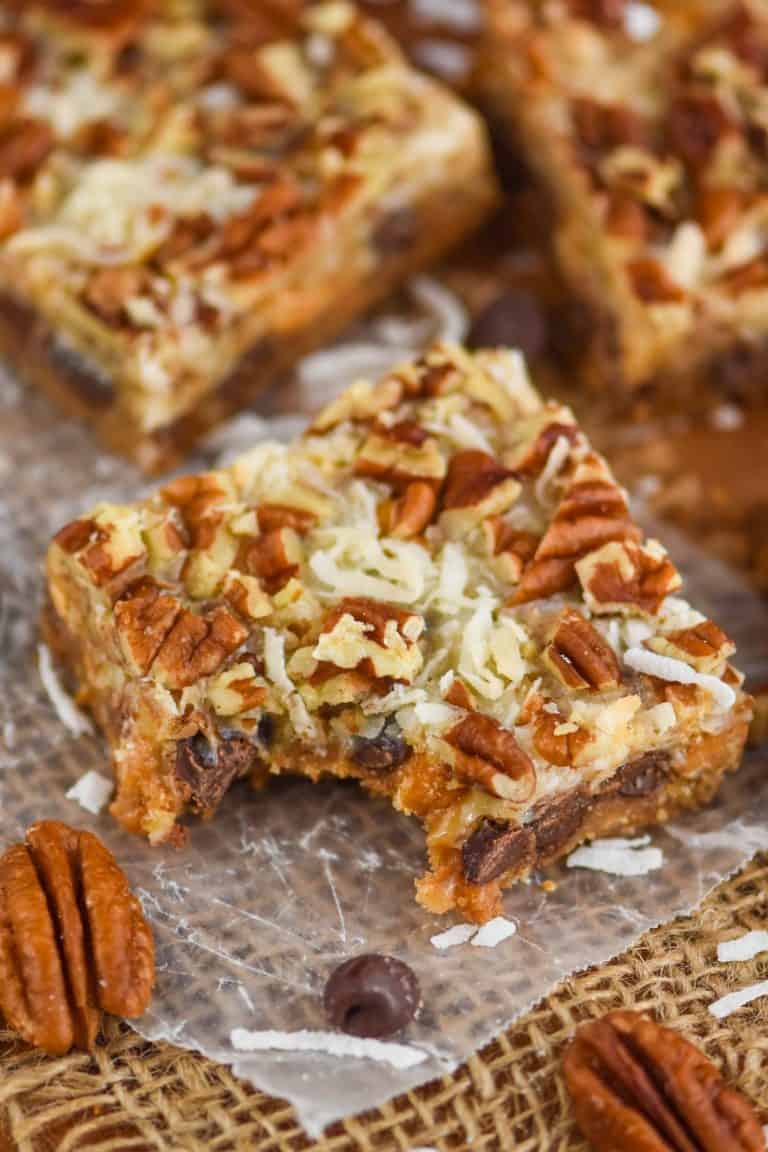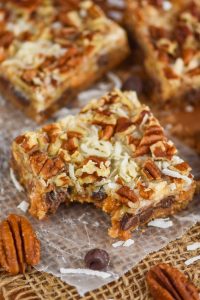 did you make this
Magic Cookie Bars