Coconut Macaroons are a perfect little treat. Made with only six ingredients, this is a great recipe to bake with the kids!
These are the perfect holiday cookies, but are great all year long.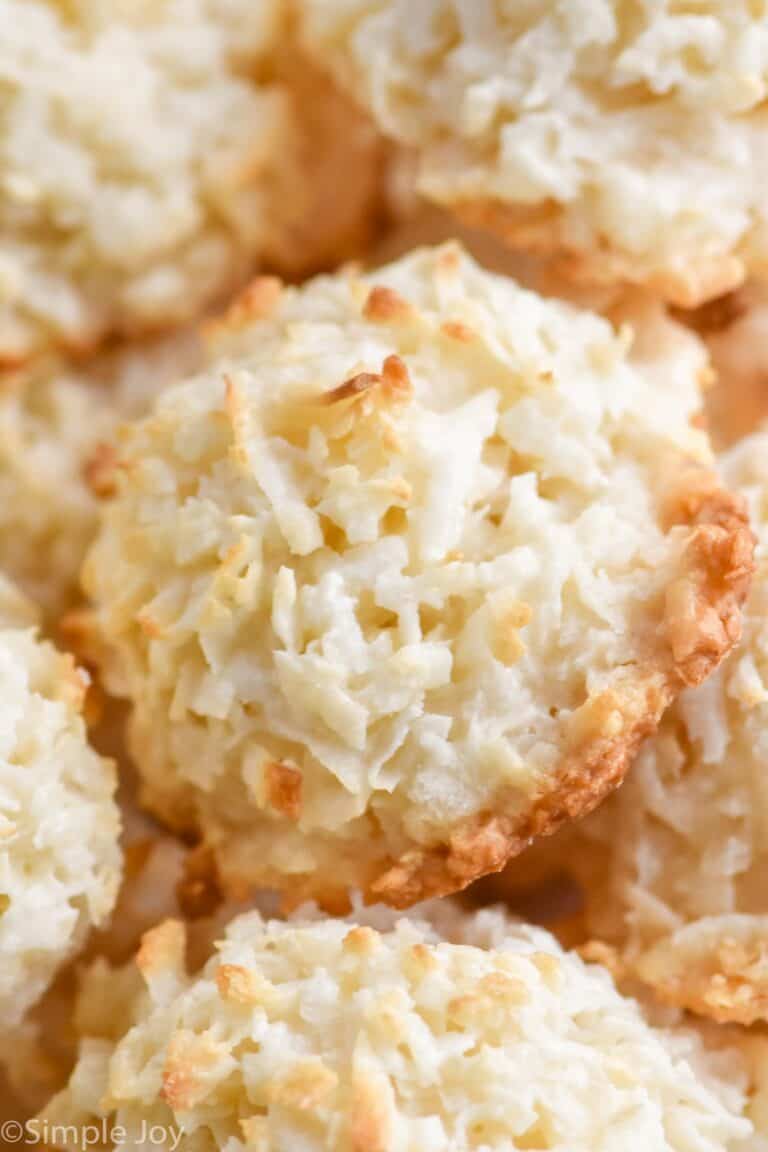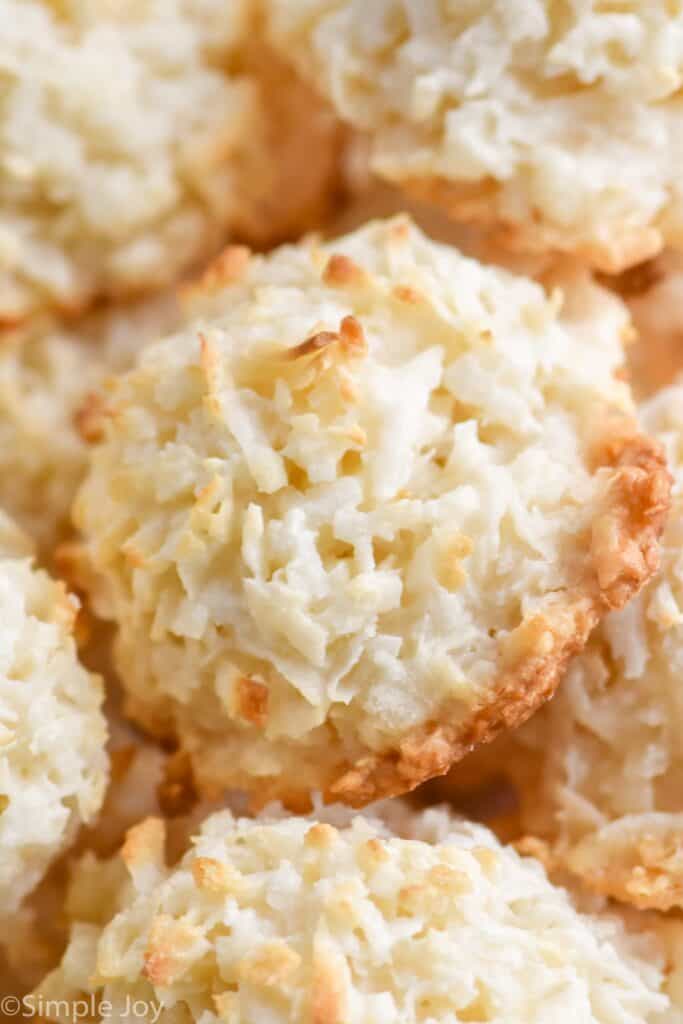 If I'm being honest, I'm struggling to get in the holiday spirit this year. This year has been a lot.
But, when you're a parent, you keep going. So that is what I am doing. I'm going to keep going and keep up the holiday traditions so that my kids have just as magical of a year as they would any other year.
A big part of our holiday traditions is baking treats for friends and neighbors. We love putting together little boxes to show we care. This Coconut Macaroon recipe is perfect for gifting! They are incredibly easy to make, hold their shape in treat boxes, and will be loved!
Reader Review
A huge hit and so easy to make!! My family devoured them!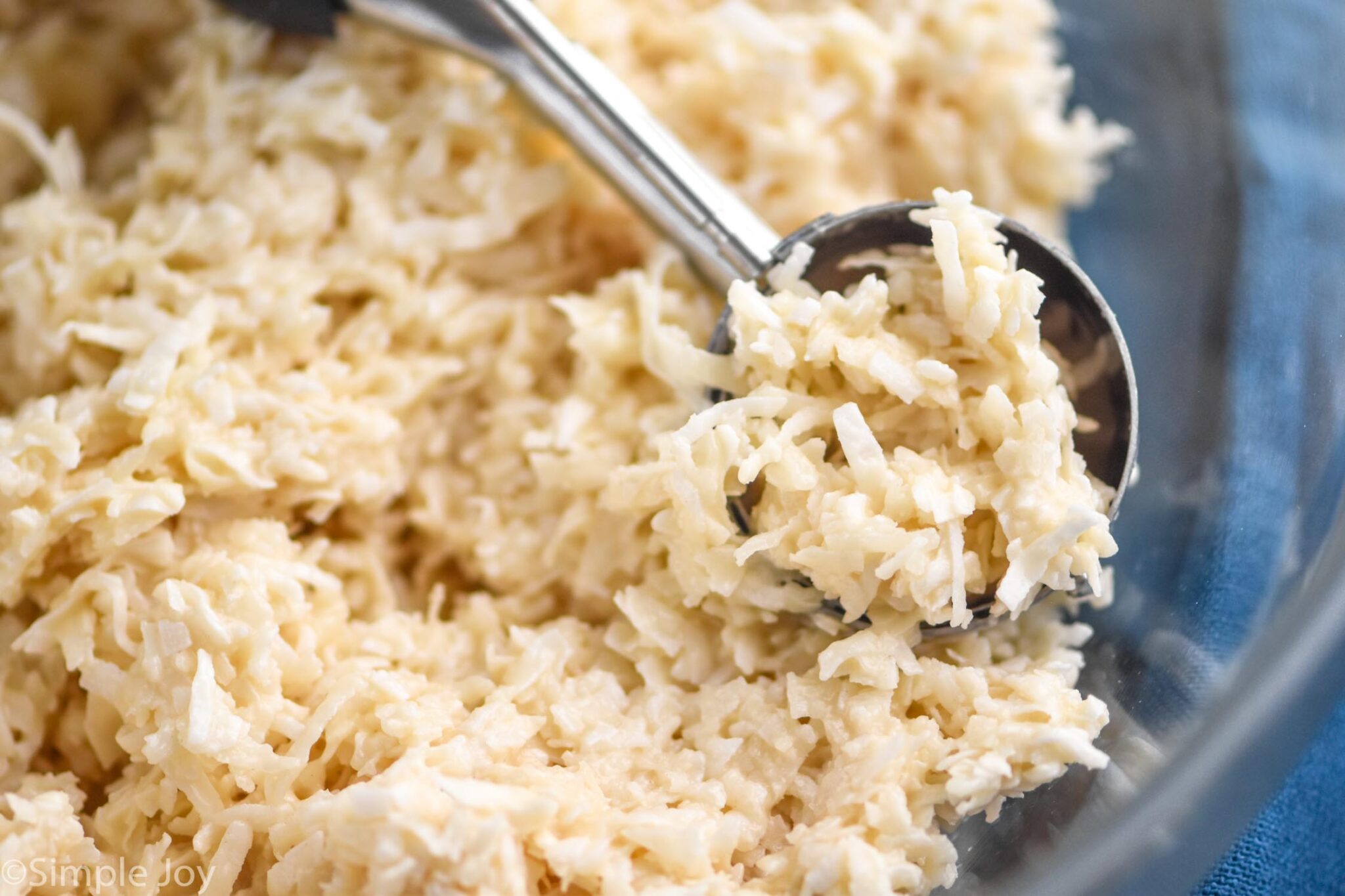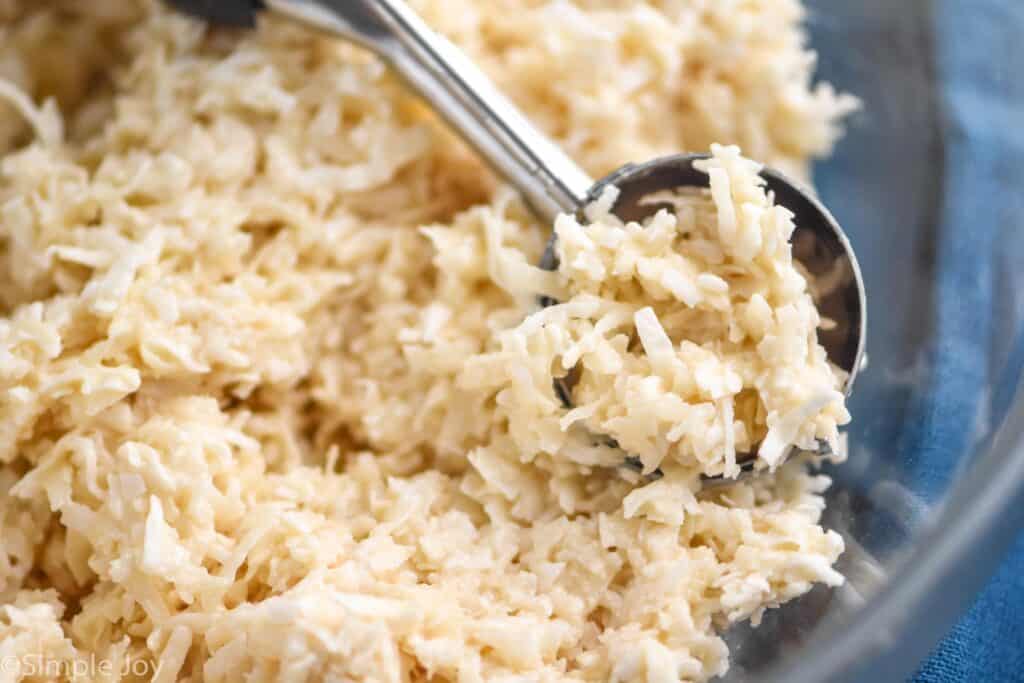 How to Make Coconut Macaroons
This cookie recipe is beyond simple. Find the full instructions below, this brief overview will just show you how simple these cookies are.
In a large bowl combine the flour, salt, and coconut flakes.
Add in the sweetened condensed milk, vanilla, and almond extracts.
Scoop into cookies, and bake.
I love simple recipes like this. They are so perfect for gifting at the holidays.
Spacing Cookies While Baking
One of the things I love about this recipe is that they don't spread at all. So there is no accounting for the spreading when you put them on the baking sheet. You can pack them pretty close and they will turn out just fine.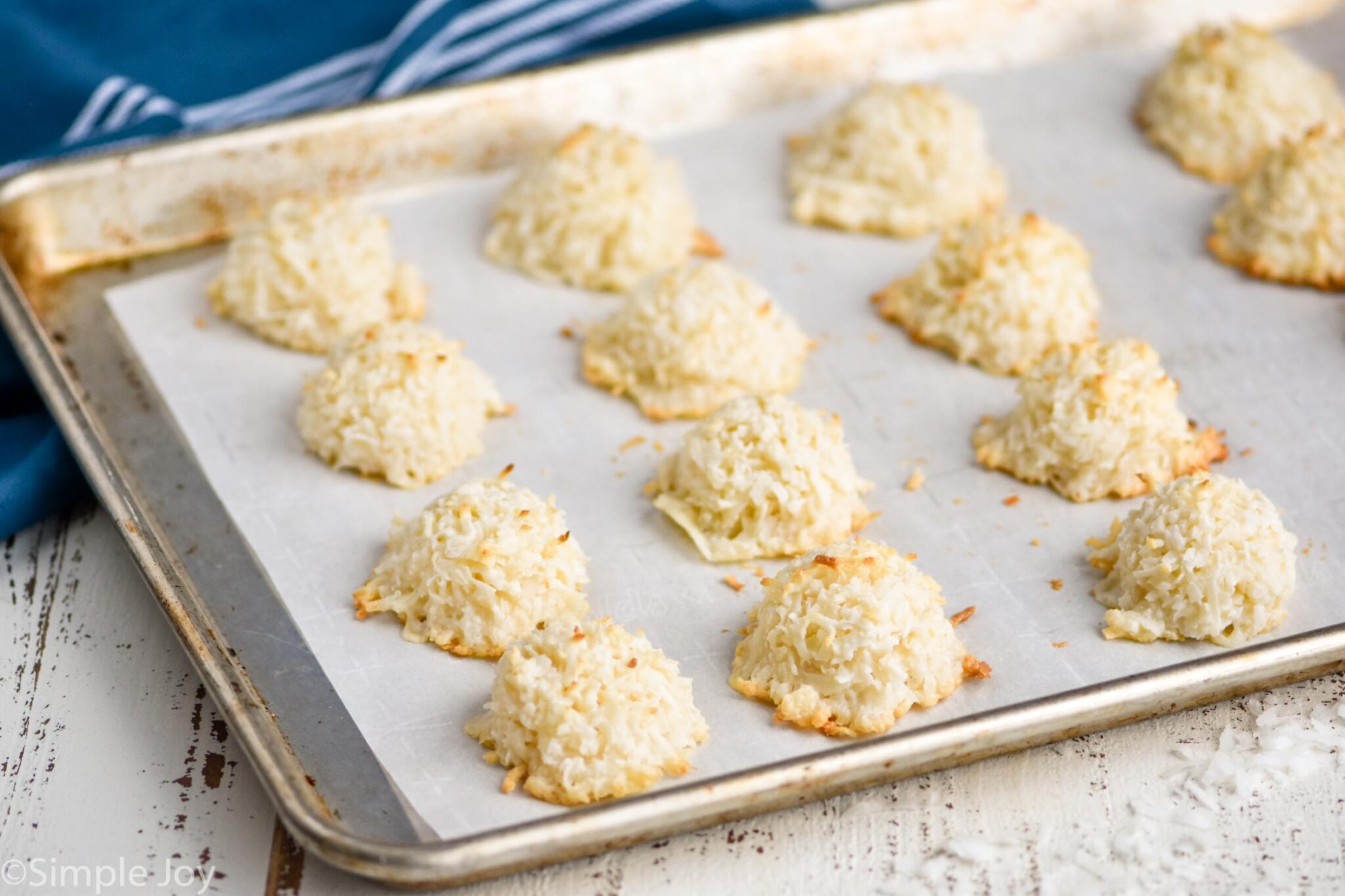 Baking Time
These coconut macaroon cookies are in the oven for just 12 minutes before you pull them out. The need to get only a little bit golden around the edges. Be careful not to cook them too long because they will become way too dry.
What is Sweetened Condensed Milk
Sweetened Condensed Milk is the combination of milk and sugar. It's a very simple ingredient that is so fun to use in great recipes like easy fudge as a way to make homemade ice cream with an ice cream maker.
Making coconut macaroons with condensed milk is a trick to making this an easy cookie recipe. It adds so much sweetness and is what holds these cookies together.
Avoid Evaporated Milk
Sweetened Condensed Milk and Evaporated Milk often look identical. They are in the same size can and sold side by side in the grocery store. However, they act very differently in recipes and can cause disaster.
Double check the can you bought before you start this recipe and make sure it says Sweetened Condensed Milk.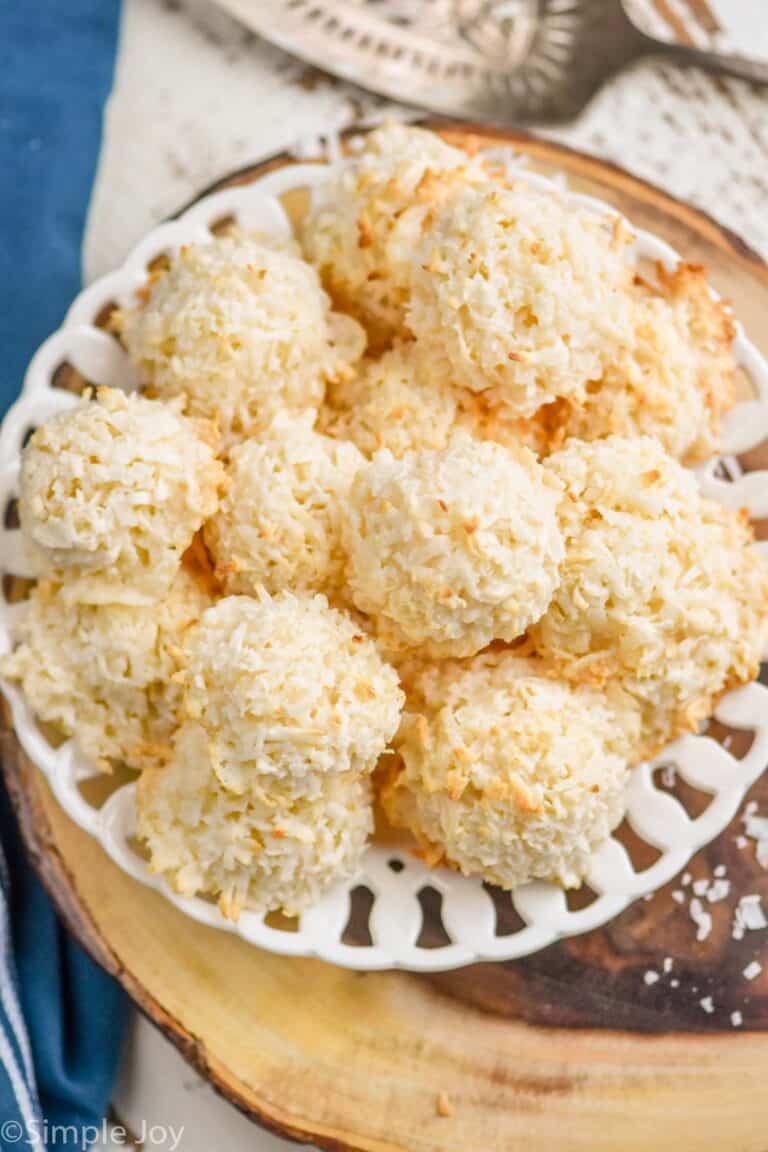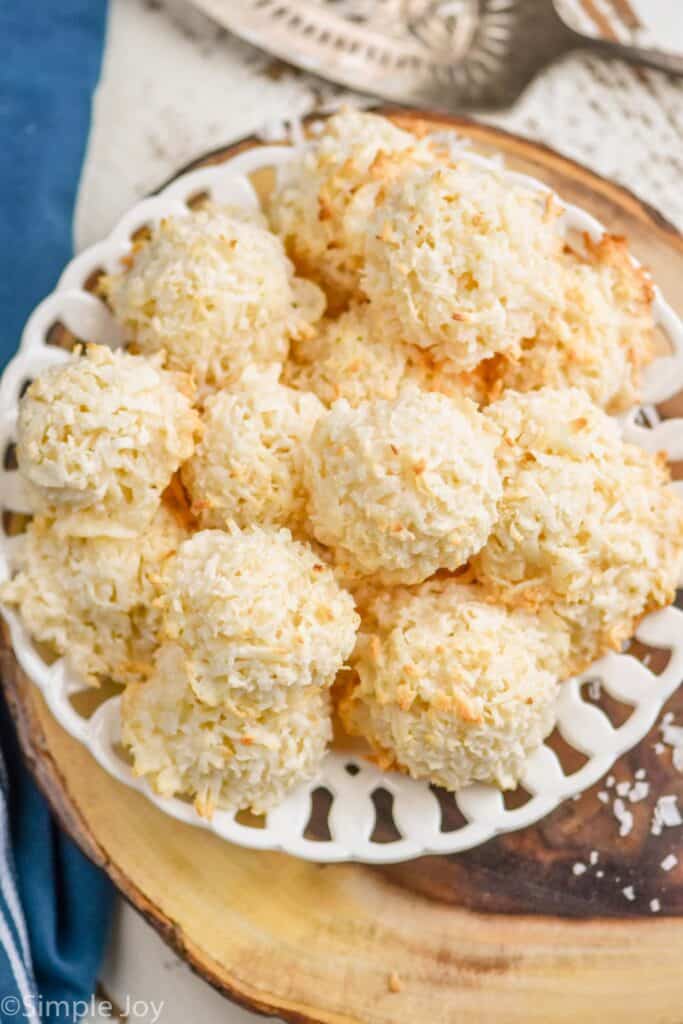 Almond Extract
This recipe uses Almond Extract. It brings such a delicious flavor to this recipe that I think puts these little cookies over the top. If you are making these for someone allergic to tree nuts, be sure to skip this.
In the place of almond extract, you can just double up on vanilla extract.
Sweetened vs. Unsweetened Coconut Shreds
Though a lot of the sweetness in this recipe comes from the sweetened condensed milk, you definitely want to buy sweetened coconut shreds. It will make a noticeable difference in this recipe.
Freezing Coconut Macaroons
This cookie recipe is so easy to freeze. If you are doing lots of cookie making ahead of time, this is a good choice for freezing. To freeze:
Place baked cookies in a single layer on a baking sheet lined with wax paper.
Freeze for 30 minutes to 1 hour.
Transfer cookies to an airtight container. Freeze for up to 3 months.
Freezing the coconut macaroons this way prevents them from sticking together as they are freezing. This way you can take out just the number of cookies you want to eat that day.
To thaw cookies, leave out on the counter for 30 minutes to an hour.
Unlike recipes like my Peanut Butter Chocolate Chip Cookies, this is not a recipe to freeze as dough balls. I recommend baking and then freezing.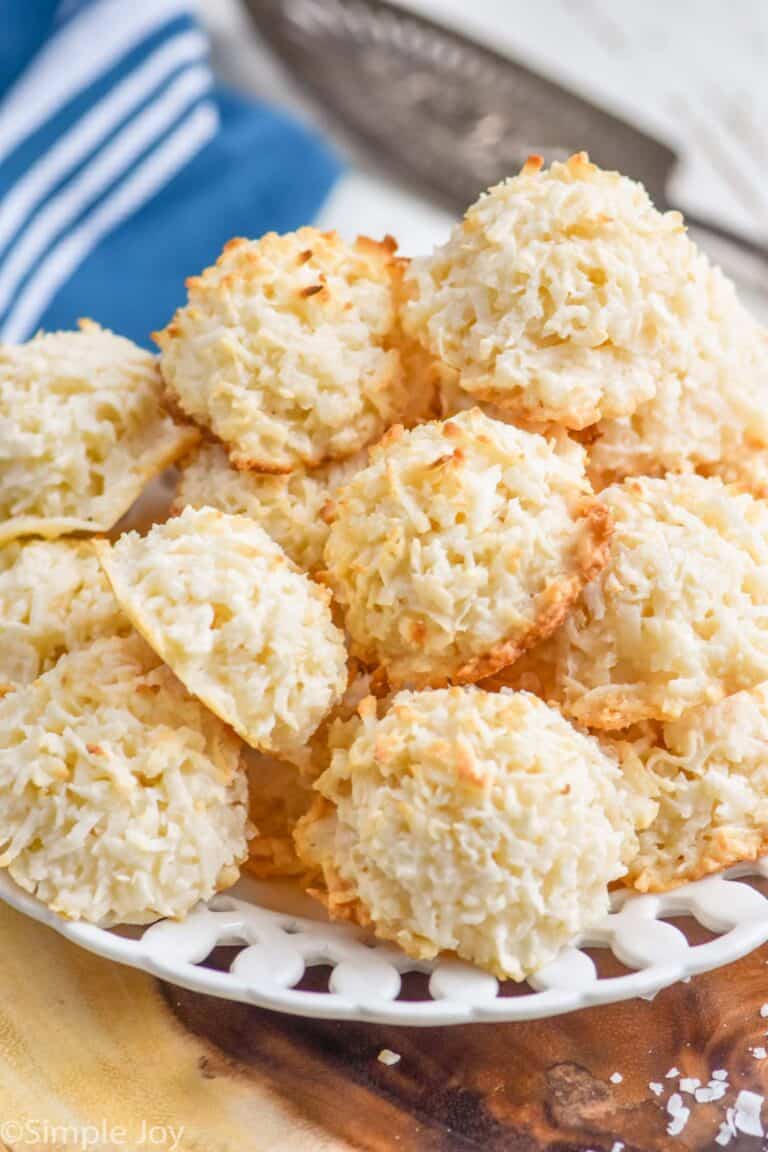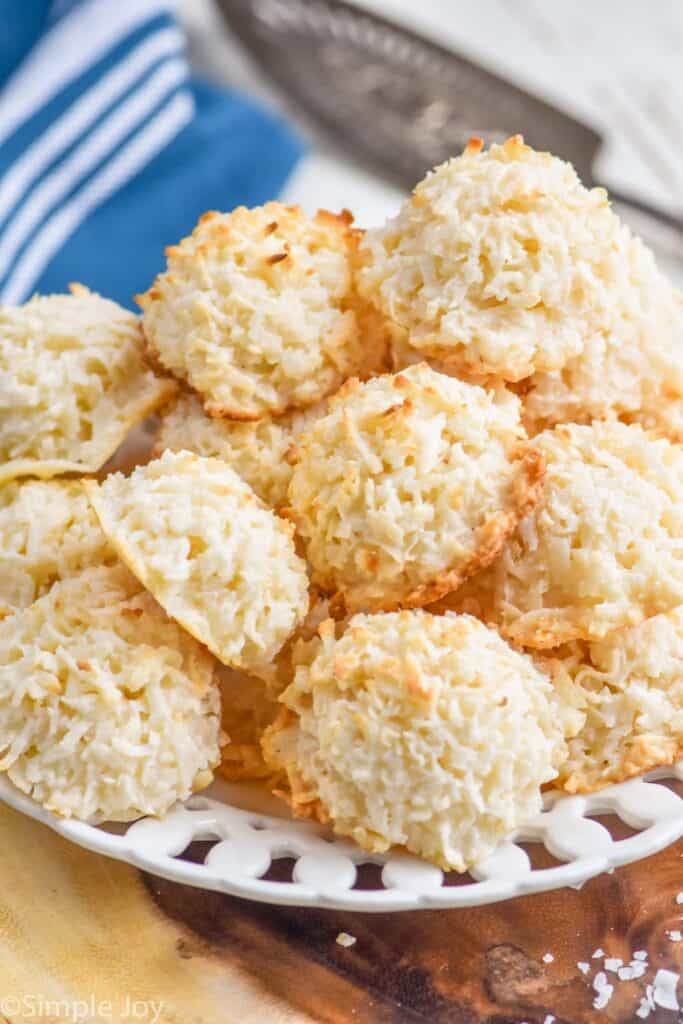 Storing Easy Coconut Macaroons
These great cookies can be stored in an airtight container for up to 2 weeks. They will be fine being stacked. Though chewy and soft, they hold their shape very well.
FAQ
Are Coconut Macaroons gluten free?
Unfortunately, this recipe is not gluten free as it contains all purpose flour.
Can Coconut Macaroons be frozen?
Yes! I recommend baking and freezing. Read above for details.
How do you store Coconut Macaroons?
As mentioned above, store baked and cooled coconut macaroon cookies in an air tight container for up to 2 weeks.
Other Great Treats
If you are baking to get in the holiday spirit too, here are some of our favorites we bake every year.
Cut Out Sugar Cookies: These are soft, delicious, and the recipe that I baked as a child with my mom.
Mint Oreo Bark: This is my husband's ultimate favorite holiday treat. We have to make a triple batch.
Easy Fudge Recipe: We love making variations on this fudge recipe! There are so many different things you can do with it.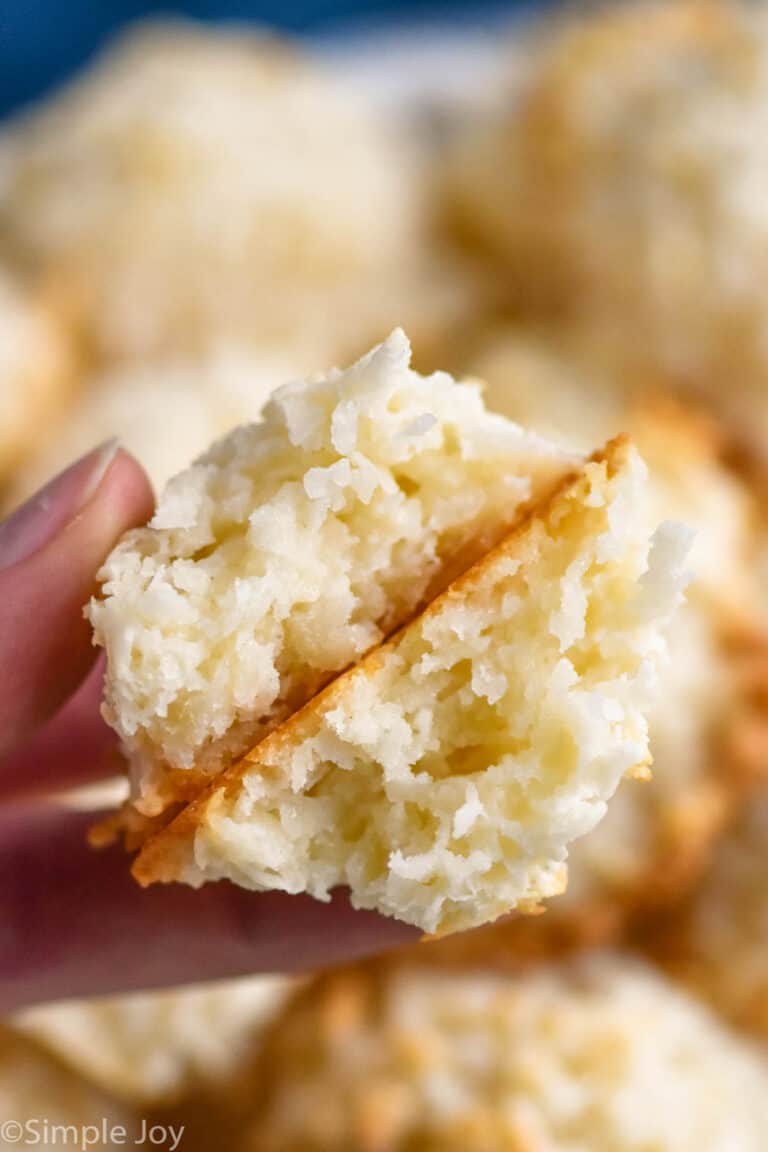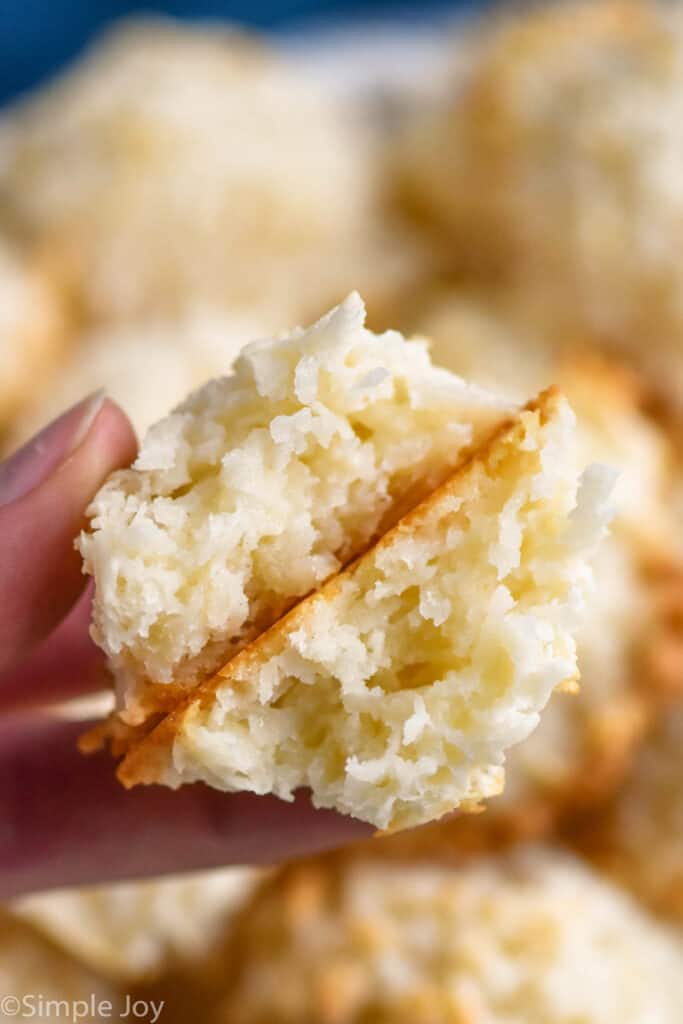 Recommended Tools
If you are looking to stock your kitchen with reliable tools, here are the ones I used for this recipe:
I hope you love these Coconut Macaroons! If you make them – or any of my other cookie recipes – leave me a comment and let me know what you think!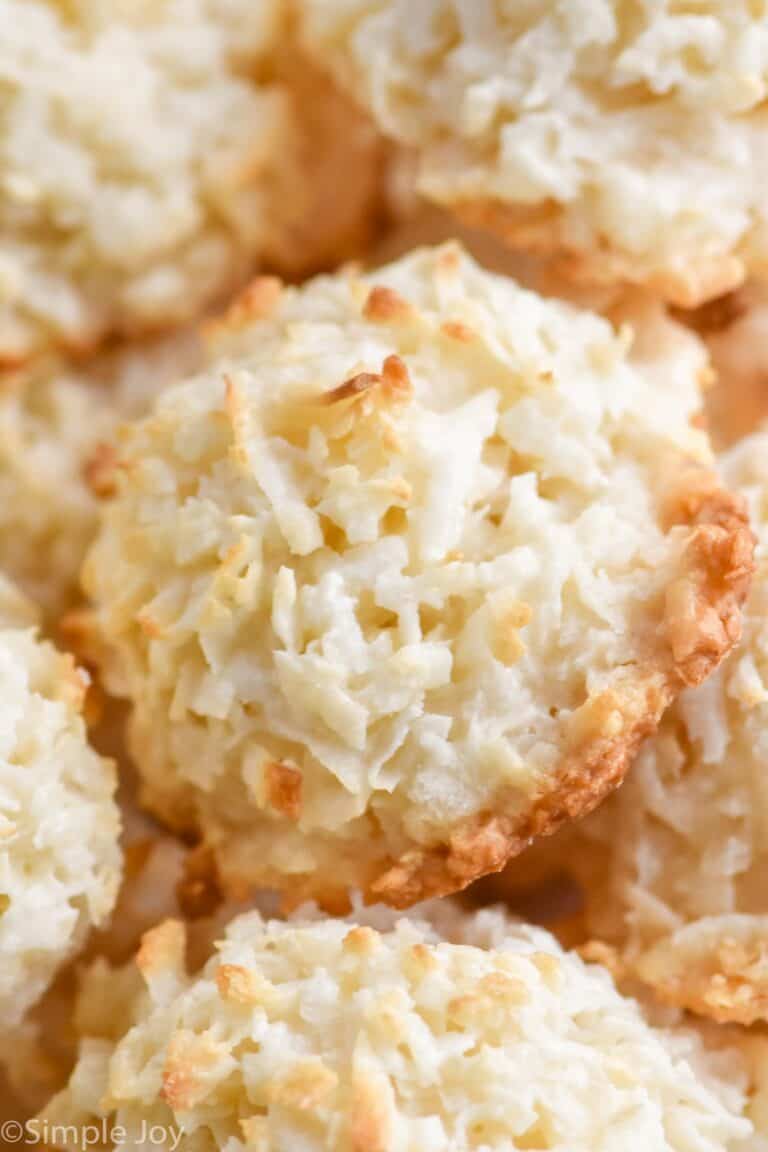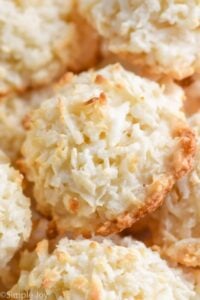 Coconut Macaroons
Coconut Macaroons are a perfect little treat. Made with only six ingredients, this is a great recipe to bake with the kids!
Ingredients
2/3

cup

all purpose flour

5 1/2

cups

sweetened coconut flakes

1/4

teaspoon

salt

14

ounces

sweetened condensed milk

1

teaspoon

vanilla extract

1

teaspoon

almond extract
Instructions
Preheat oven to 350 degrees. Line baking sheets with parchment paper.

In a large bowl stir together the flour, coconut and salt. Mix in the vanilla, almond extract, and sweetened condensed milk.

Using a small cookie scoop, scoop the cookies out onto the parchement paper lined sheets. Bake for 12 to 15 minutes or until the cookies just begin to turn golden brown.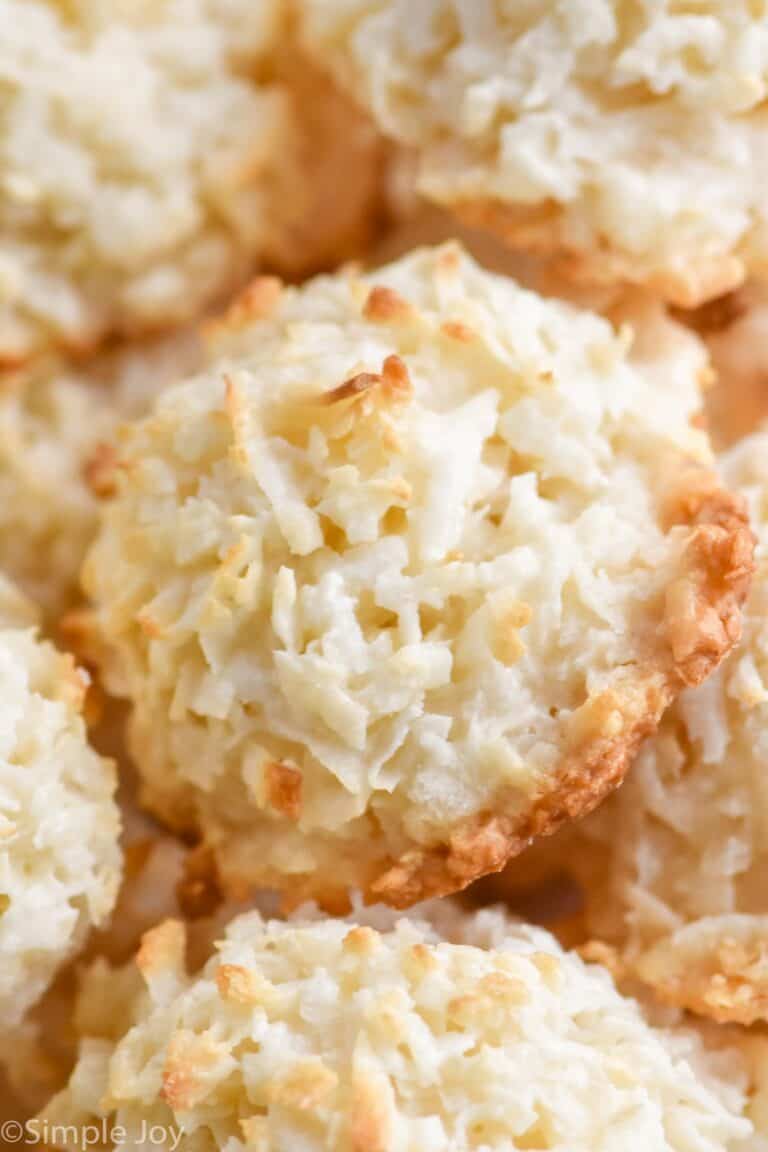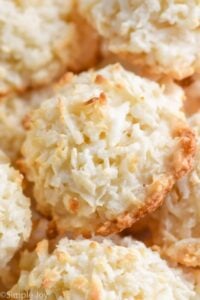 did you make this
Coconut Macaroons