These M&M Cookies are absolutely perfect! They are soft and chewy with the right amount of buttery goodness and an M&M in each bite.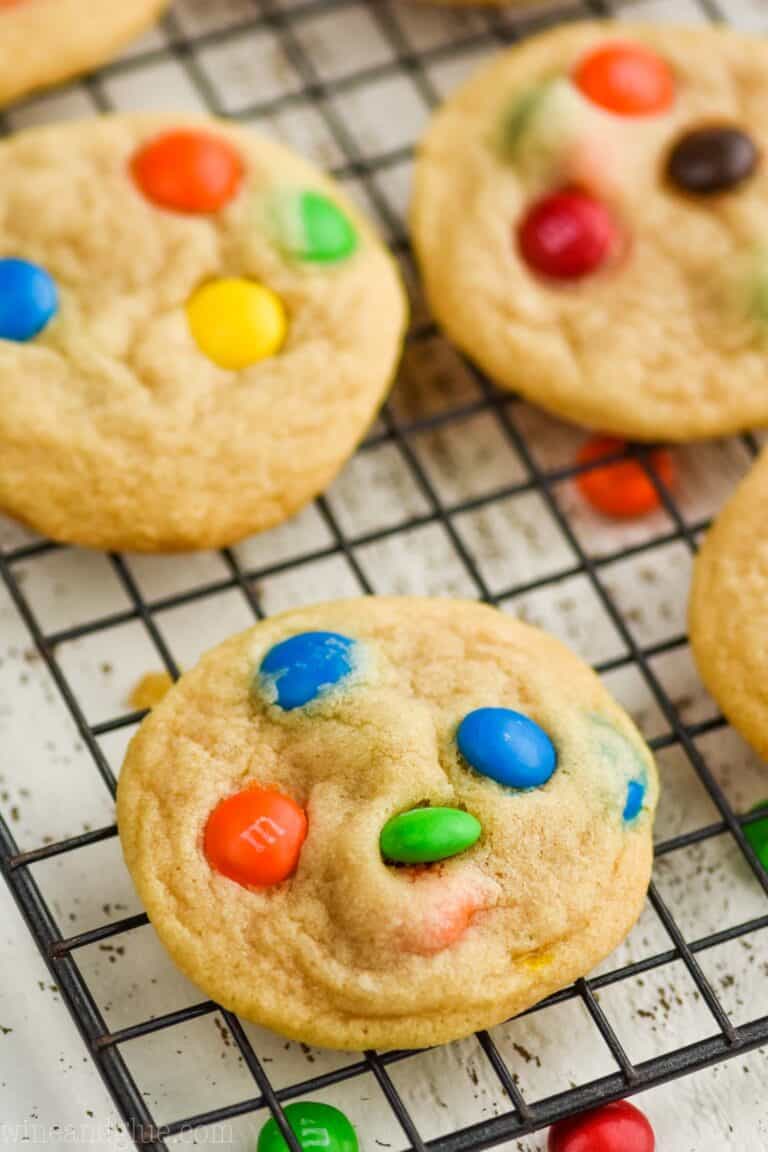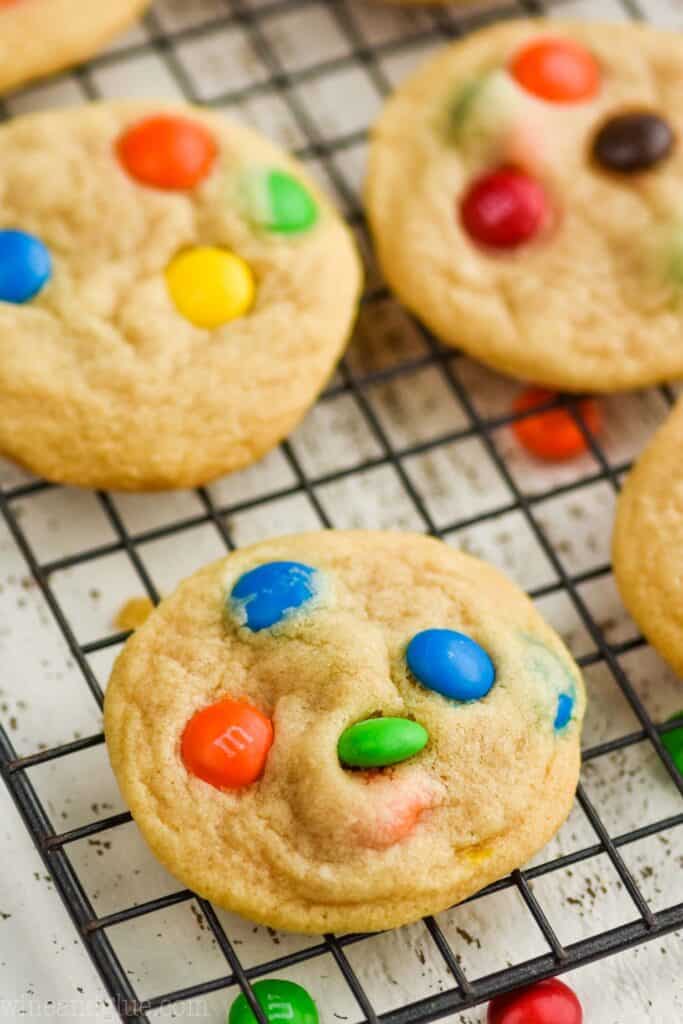 THESE COOKIES! Oh my gosh, these cookies. These cookies almost didn't happen because they took so many tries to get just perfect.
The ancestors of this perfected M & M Cookie recipe were all delicious, don't get me wrong. But they did not even come close to what I was looking for.
But! After so many tweaks and rounds of testing, I can tell you that this M 'n M Cookie is absolutely perfect. It spreads just the right amount. It is the perfect level of chewiness, and you get an M&M in almost every single bite.
Folks, we have a winner.
What Makes these the Best M&M Cookies
There are a few things that make this the amazing cookie recipe that it is.
The dough does not need to chill. By starting out with your butter at the right temperature, it means that your dough doesn't have to chill.
We are using both white granulated sugar and brown sugar. The white sugar helps the cookie spread and gives it a slightly crisp exterior, and the brown sugar makes them perfectly chewy.
We are adding a massive amount of M&Ms. By putting M&Ms in the dough and then on top of the cookies, we can get some in each bite.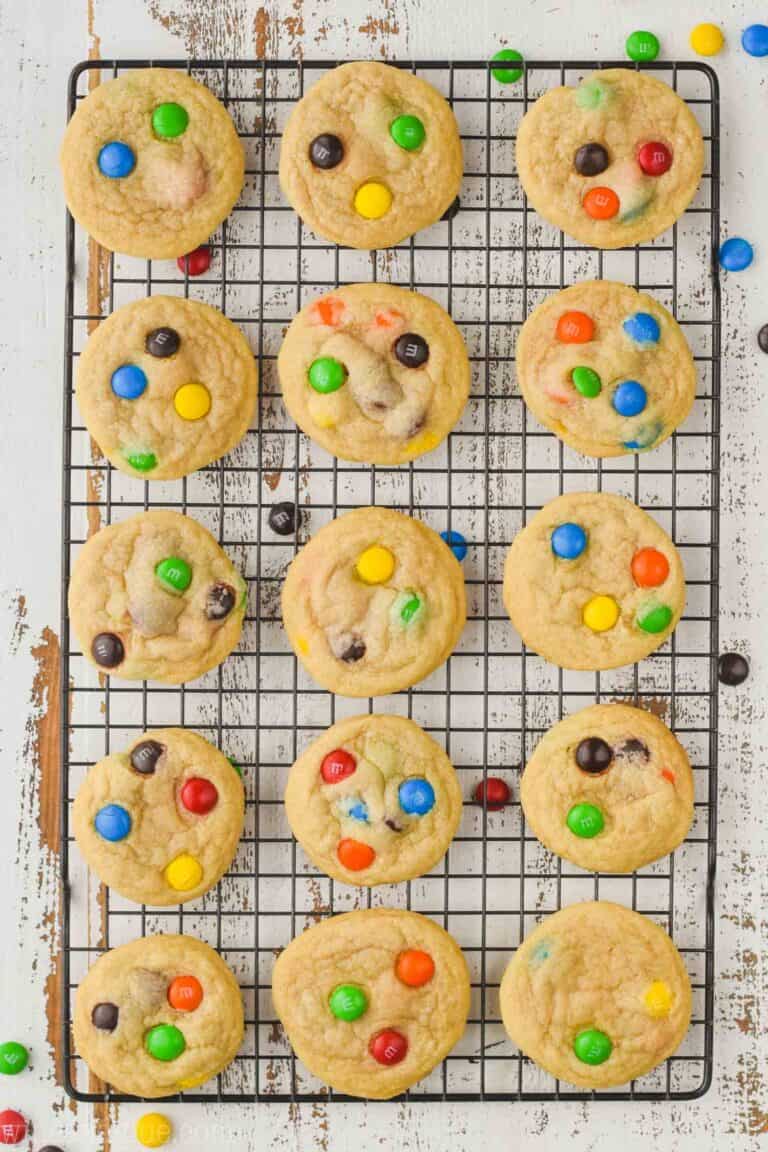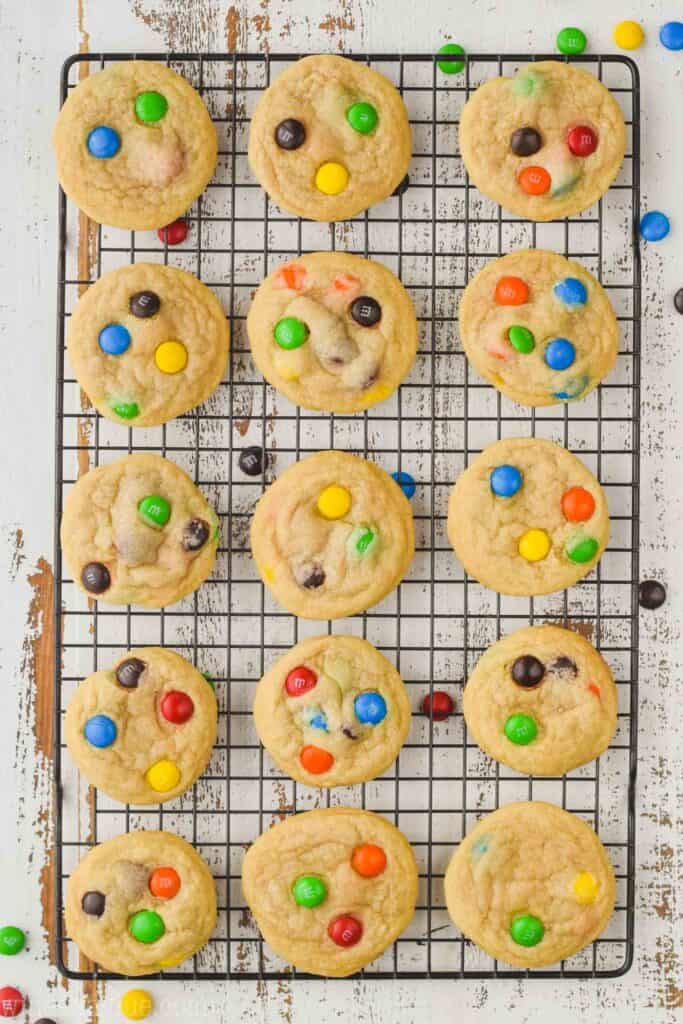 Tips to Give You the Perfect Cookie
There are a few things that help cookies come out perfectly. They are great tips to follow in so many baking recipes.
Use room temperature butter. This means that you can easily dent the butter, but you can't easily push your finger all the way through. This is listed as number 1 because it is essential to this recipe, and we'll go into more depth on it in a moment.
Measure your flour correctly. In the United States we use cups. It is important to spoon your flour into a measuring cup and level it off from there. If you scoop from the container it will pack your flour and you will get too much. If you are outside of the U.S. you can weigh your flour. (Though this might be a moot point . . . since M&Ms can be hard to find out of the U.S. ?‍♀️)
Make sure your baking soda is fresh. Baking Soda can go bad, so it is nice to test it out with a little vinegar if it has been in your cabinet more than 6 months. Drop a little in some vinegar and make sure it bubbles immediately. If not, replace it.
Use a cookie scoop. I always use a cookie scoop when I make cookies for two reasons. First, it makes forming cookies fast. Two, it keeps all the cookies the same size so they bake evenly. I use this 1 1/2 tablespoon scoop.
Preheat your oven. This might go without saying for most people, but preheating your oven is vital. You want the dough to hit the hot temperature. Unless stated in a recipe, you don't want them to go into a cold oven.
Use baking sheets you trust. Baking sheets make a huge difference in how cookies bake. I love these baking sheets. They turn out perfect cookies every time. And I have yet to find a parchment paper or a reusable silicon mat that they didn't work perfectly with.
Go forth and create amazing cookies my friends!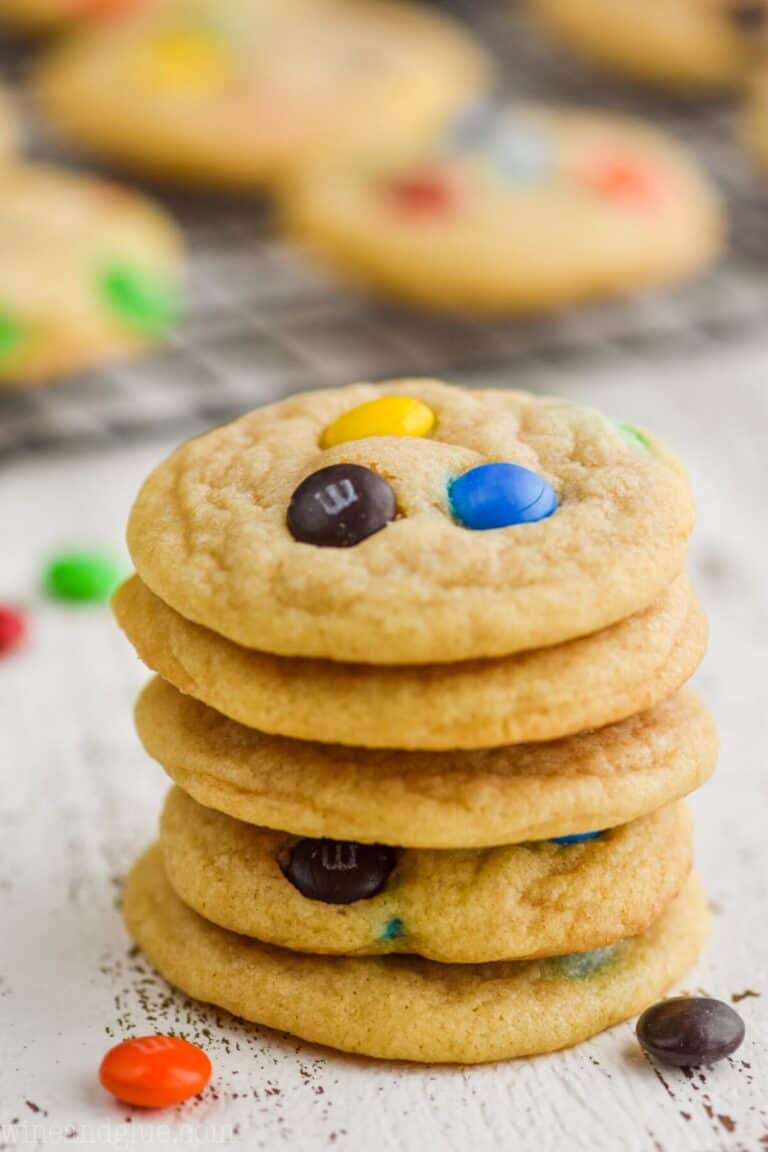 The Importance of Room Temperature Butter
I have never had a cookie recipe be more dependent on room temperature butter than this one.
During one of the test rounds of this amazing recipe, the butter was a little on the cold side. I was pressed for time though, so I went with it.
The first round of cookies barely spread at all. The second batch to hit the hot oven, spread perfectly. That extra ten minutes of warm up time for the butter (even already mixed in the dough!!), made such a huge difference.
If you want to love these cookies – and I know you do – be patient with your butter.
Cut it up into one inch pieces and leave it on your counter for 30 minutes. It should be very easy to dent with your finger, but not so easy you push all the way through.
When you beat your sugar and butter together, give them time. You want the sugar to really work a lot of air pockets into the butter. Not only will this make for a better cookie, it will make for MORE cookies.
Question: Should we make shirts that say "Be Patient with Your Butter" . . . ? Asking for a friend.
How Many M&Ms is Too Many?
Let's not answer that question. Instead, lets talk about how great it is to get an M&M in every bite.
So here's a trick that food bloggers don't want you to know about. This is how you make your cookies look amazing: Save some of whatever you put in the cookie for the top!
After you have formed your dough into balls, throw a couple more chocolate chips, or M&Ms or whatever is in those cookies on TOP of the dough ball.
It is what makes them look awesome in the end. But we are going to account for that in this recipe.
This recipe calls for 1 1/2 cups of M&Ms. That is one cup to go IN the dough, and half a cup to go on top!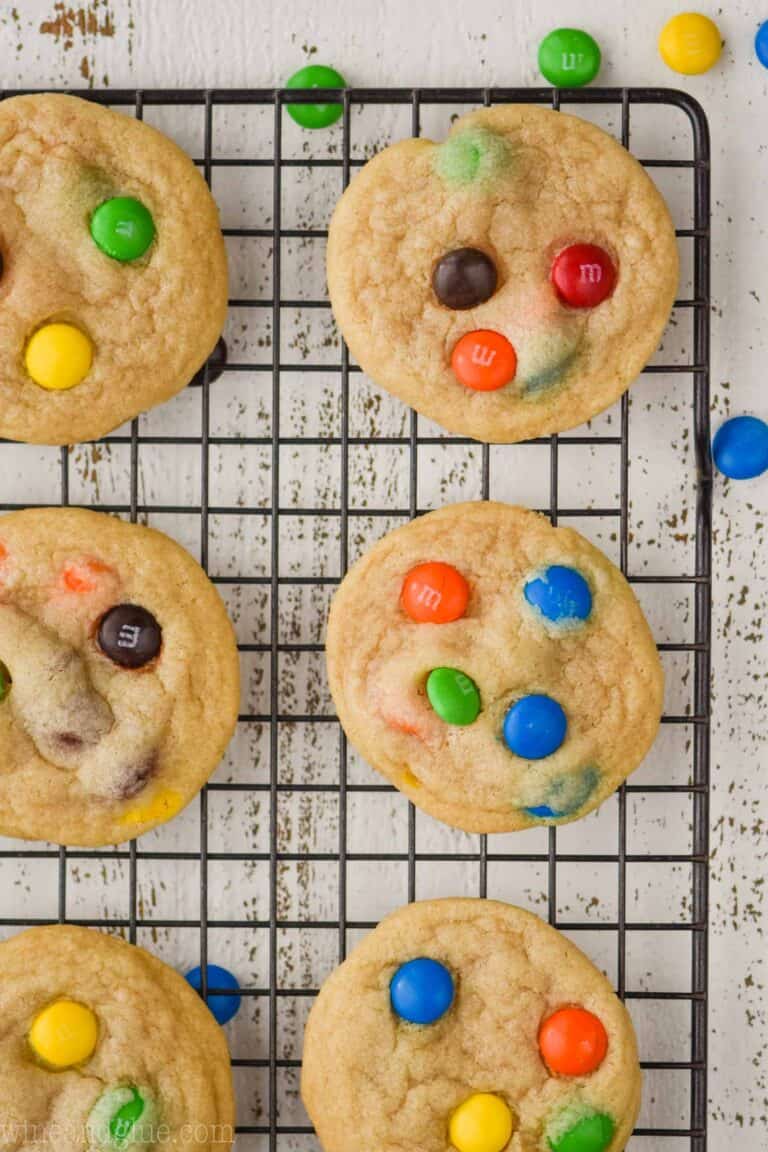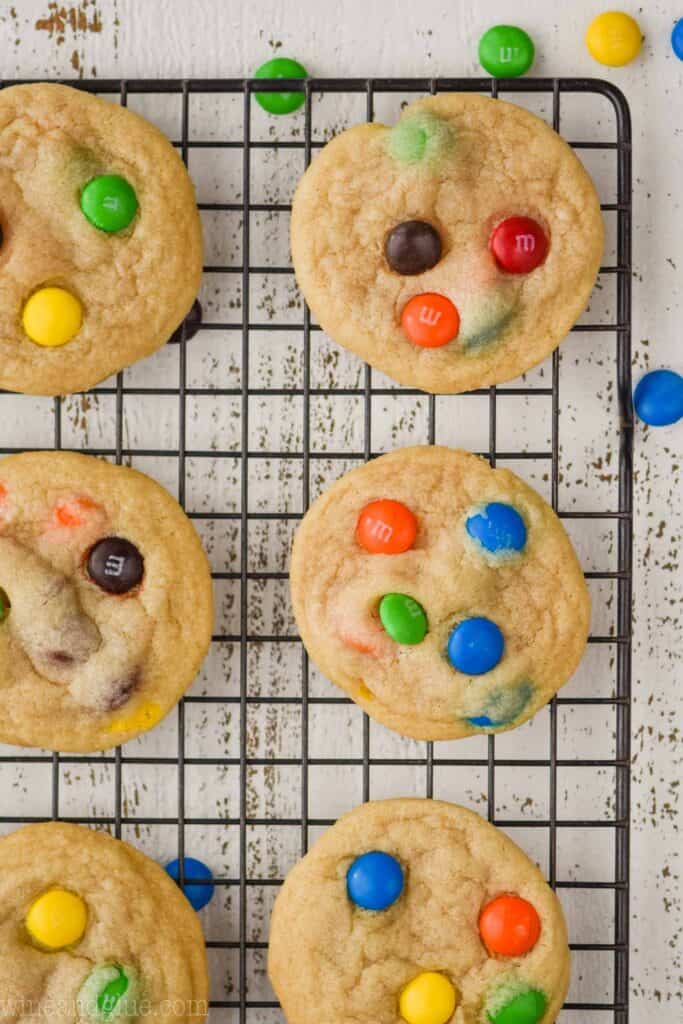 Storing
These cookies, little rare unicorns that they are, aren't as good right out of the oven as they are if you let them cool. Weird, but true.
Allow them to come to room temperature, and then enjoy them. Or store them in an airtight container for up to 1 week.
These are pretty solid cookies that would do great if you are making a care package and shipping them.
Freezing
You can freeze the dough balls and bake them later.
Roll them into balls adding a few more M&Ms to the top.
Put them on a wax paper lined plate in the freezer for an hour.
Transfer to an air tight container and freeze for up to three months.
Bake one, two, or a dozen cookies at a time by baking at 350 degrees for 12 minutes.
Even better than baking these from frozen is baking them and THEN freezing them.
These cookies store great in the freezer and and perfect to eat within about 30 minutes of coming out of the freezer. Actually, Nathan and I keep sneaking them out at night from the freezer after the kids go to bed.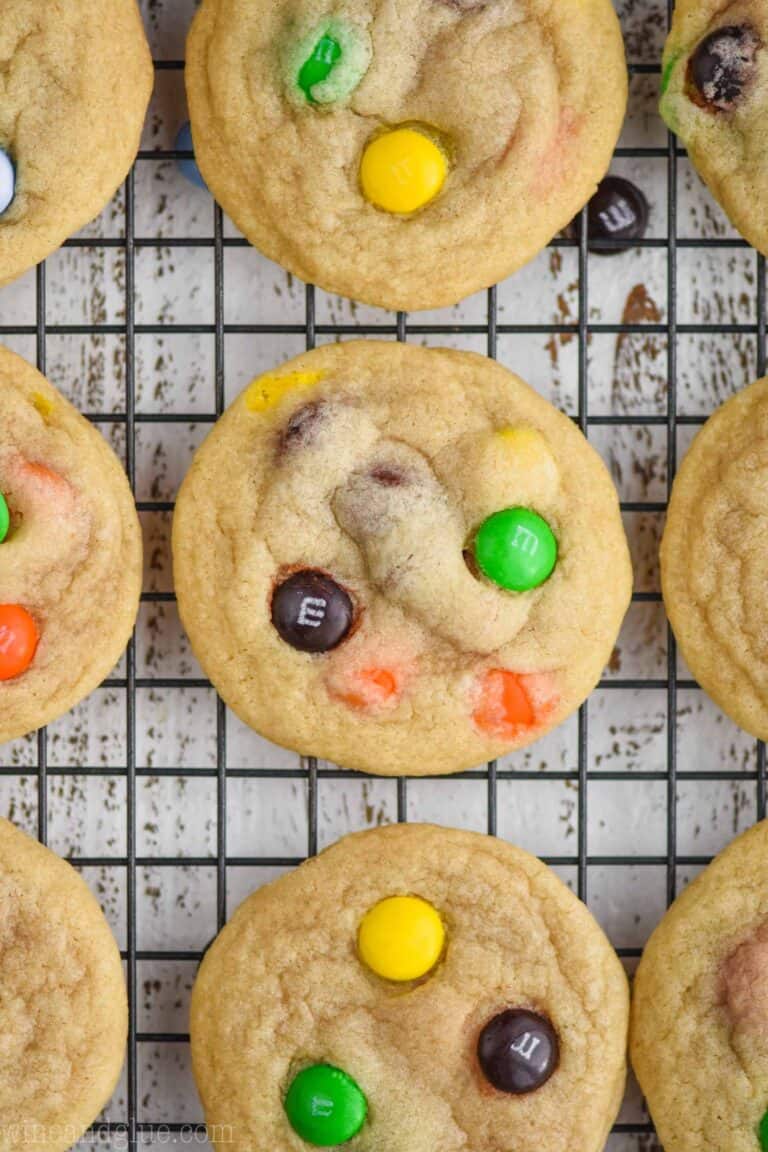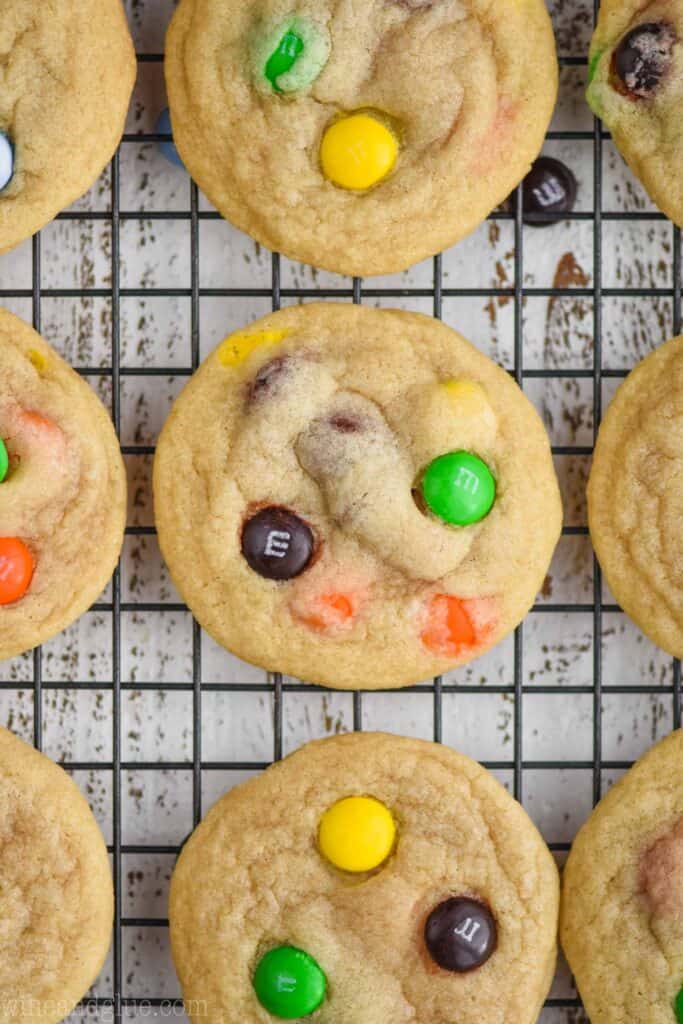 More Great Cookie Recipes
If you can't get enough of great cookies, here are some others that you should try immediately.
If you make these or any of my other cookie recipes, leave me a comment and let me know what you think! Hearing from you means so much to me.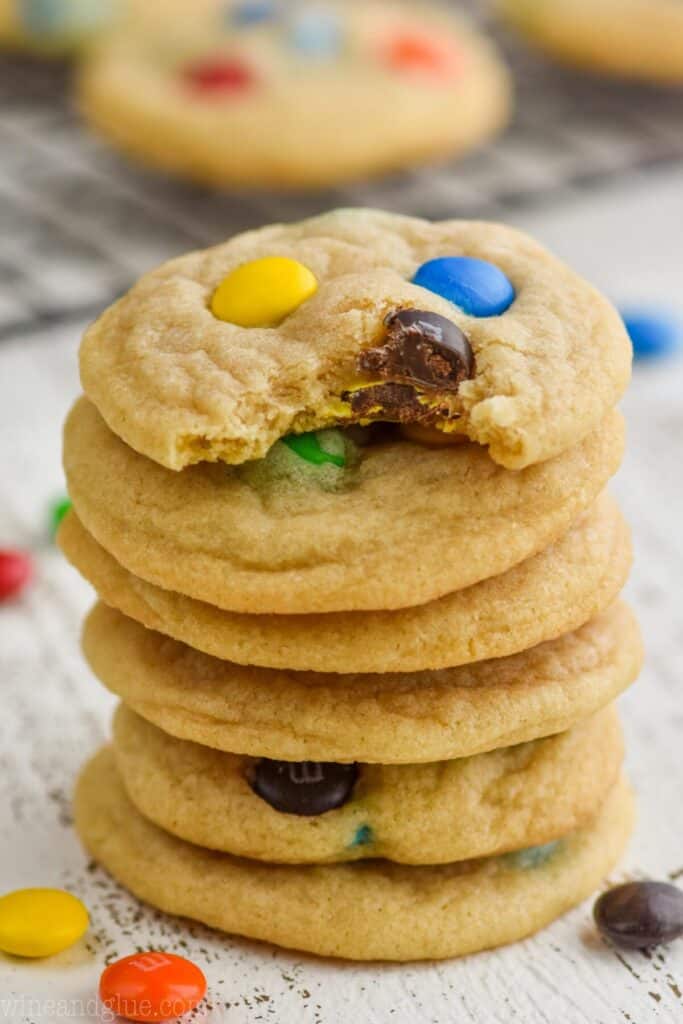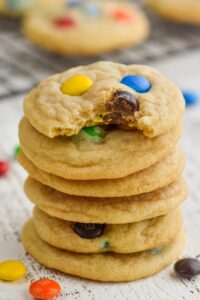 M&M Cookies
These M&M Cookies are absolutely perfect! They are soft and chewy with the right amount of buttery goodness and an M&Ms in each bite.
Ingredients
3

cups

all purpose flour

scooped into the measuring cups and then leveled off (360 grams)

1

teaspoon

baking soda

6 grams

1/2

teaspoon

salt

3 grams

14

tablespoons

unsalted butter

(198 grams) room temperature

3/4

cup

granulated sugar

(150 grams)

3/4

cup

light brown sugar

(165 grams)

2

teaspoons

vanilla extract

(9.9 ml)

2

large eggs

room temperature

1 1/2

cups

M&Ms
Instructions
Preheat your oven to 350 degrees and line baking sheets with parchment paper.

In a medium bowl whisk together the flour, baking soda, and salt. Set aside.

In a large bowl beat together the butter with the sugars until it is light and fluffy, about 3 to 6 minutes.

One at a time add the eggs and then the vanilla extract. Make sure to scrape down the sides of the bowl as necessary.

Add all of the flour mixture and either fold it in with a spatula at first or turn on the mixer very low until it begins to combine, then turn the mixer on high and beat until just fully combined. Fold in 1 cup of the M&Ms.

Form the dough into balls using a 1 1/2 tablespoon cookie scoop. Place on the parchment lined baking sheets. Add 2 or 3 M&Ms to the top of each dough ball. Bake for 10 minutes or until the cookies begin to turn golden brown around the edges.

Allow to rest outside of the oven on the baking sheet for 2 minutes and then transfer to a cooling rack to cool completely. These are best when enjoyed after cooling. Store in an airtight container for up to one week.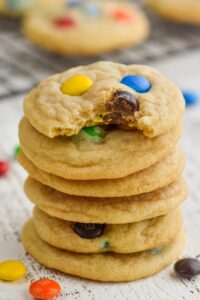 did you make this
M&M Cookies