This is the best Monster Cookie Recipe! These Monster Cookies are made with just about everything you can think of, peanut butter, oats, chocolate chips, M&M's, and they are completely delicious!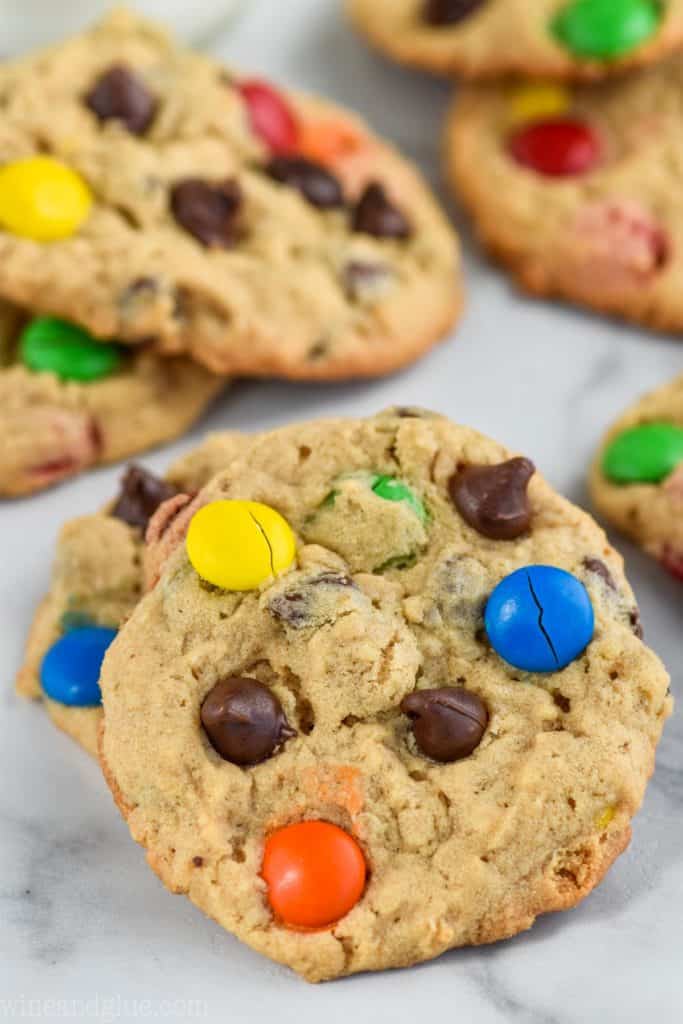 Over the weekend both of my girls had dance recitals. Just a refresher, Quinn is our middle kiddo. She is 6, she'll be 7 this summer, and she gets along with just about everyone she meets. Piper just turned 4 and she has a ton of personality. She charms everyone. I literally have people stop me in the store to tell me how cute she is. And I'm an awful mother because I tell them that she just looks cute. (#threenager)
Anyway!
So they were in recitals for dance classes that we paid far too much money for, and had costumes that will require us to take out a second mortgage on our house. The thing about it that I wanted to tell you, that I find so hilarious, is how incredibly different they are. Each week, Quinn drags herself to dance class. Piper is pumped to go to class! And before the recital, Quinn told us that she doesn't really like dance class, she just wants to perform. Piper on the other hand was almost in tears, telling us, "I don't want to be on stage!"
Raising kids is wild, guys.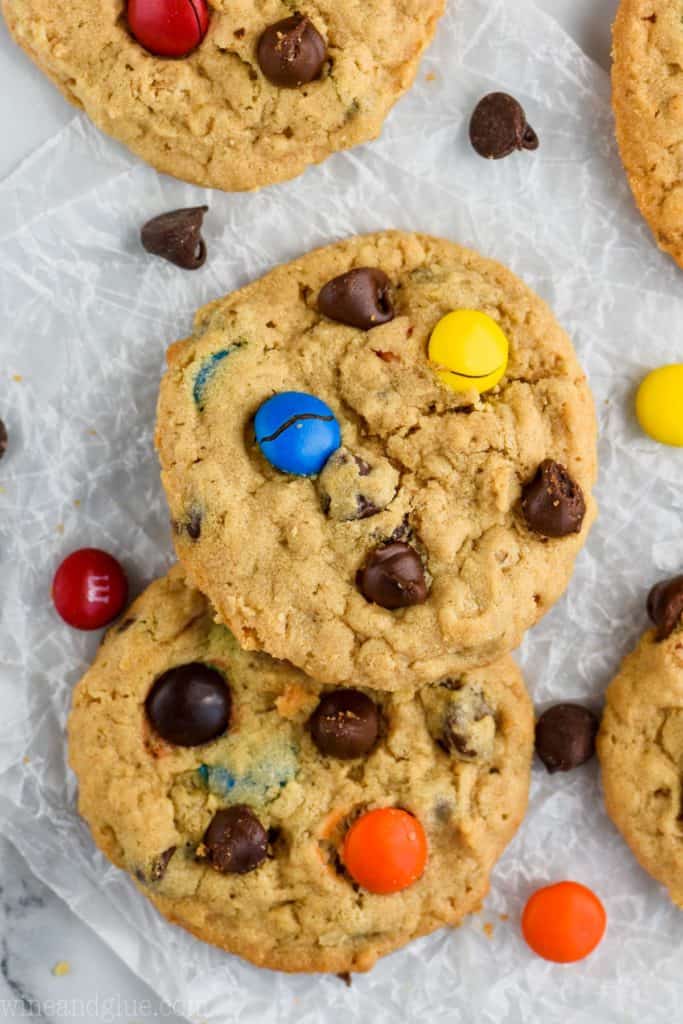 This classic Monster Cookie recipe is a whole lot easier than raising children though. And it comes with a solid set of instructions, so, you know, that's a win.
HOW TO MAKE MONSTER COOKIES
Monster Cookie are made all sorts of different ways, but I think this is the best monster cookie recipe because it has all the amazing things it, peanut butter, M&Ms, chocolate chips, and oats. Plus they are still buttery soft and delicious. It took a few tries to get this one right, but it was totally worth it!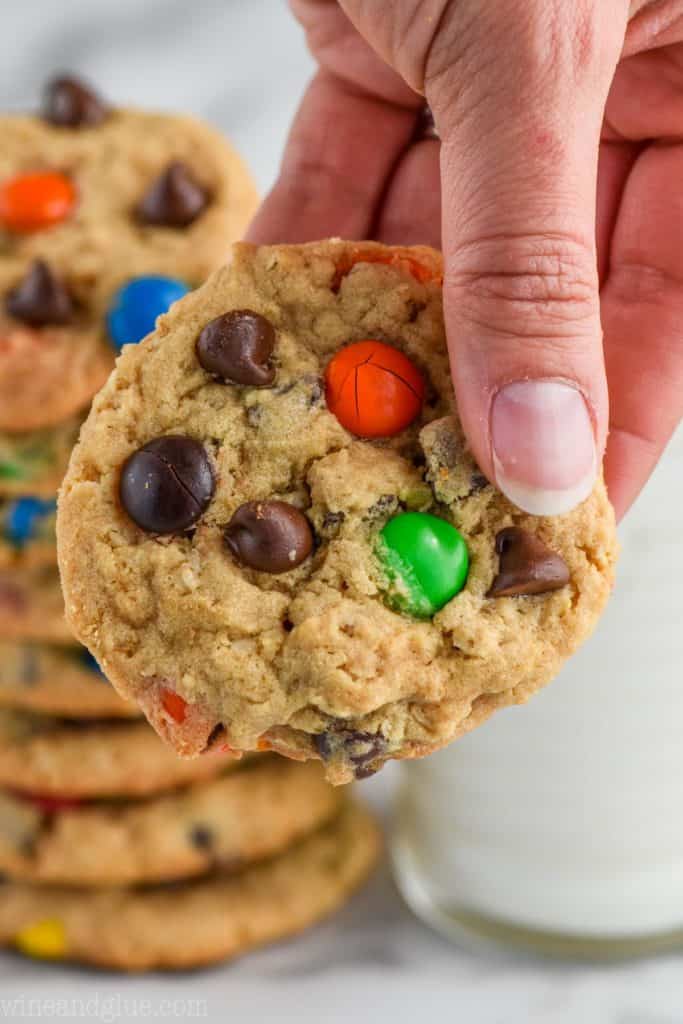 TIPS TO MAKING THIS MONSTER COOKIE RECIPE TURN OUT PERFECT
Baking is complicated guys, so these are tips that help any cookie recipe turn out great, not just this one.
Make sure your baking soda and baking powder are fresh. To do that put a little baking soda in some vinegar and it should bubble and react immediately. Repeat the process with the baking powder and water.
When you measure your flour, make sure to scoop the flour into the measuring cup and then level it off. If you scoop directly from the flour container you will likely get packed flour or too much flour that will result in a crumbly or dry cookie.
Room temperature butter means that you can gently press your finger into it and make a dent but it is not so soft that it goes all the way through. To bring your butter to room temperature quickly, cut it up in one inch pieces and leave it sitting out on the counter.
Room temperature eggs are important too. Get a bowl of luke warm water and leave the eggs in there for a few minutes to bring them to room temperature quickly.
Throughly whisk your dry ingredients. The last thing you want is a patch of salt in one cookie.
Be sure not to over mix your flour into your batter. I am suggesting that you add the flour all at once and slowly mix it in until it disappears. This lessens the risk of over stimulating the gluten in the flour and getting a tough cookie. No one likes a tough cookie.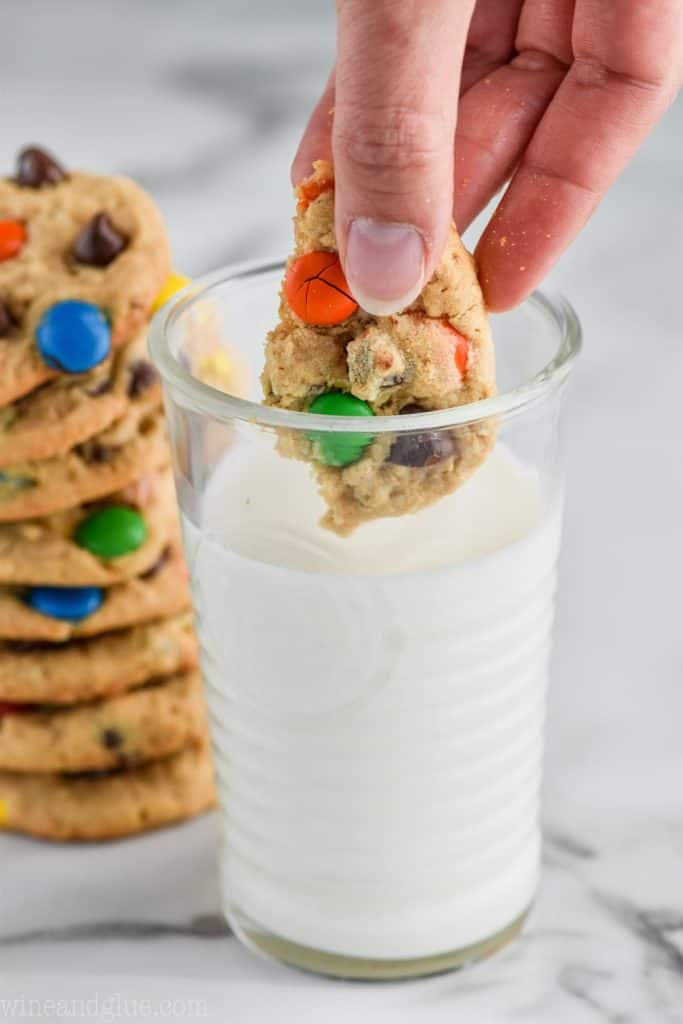 If you are looking for more treats to bake be sure to check out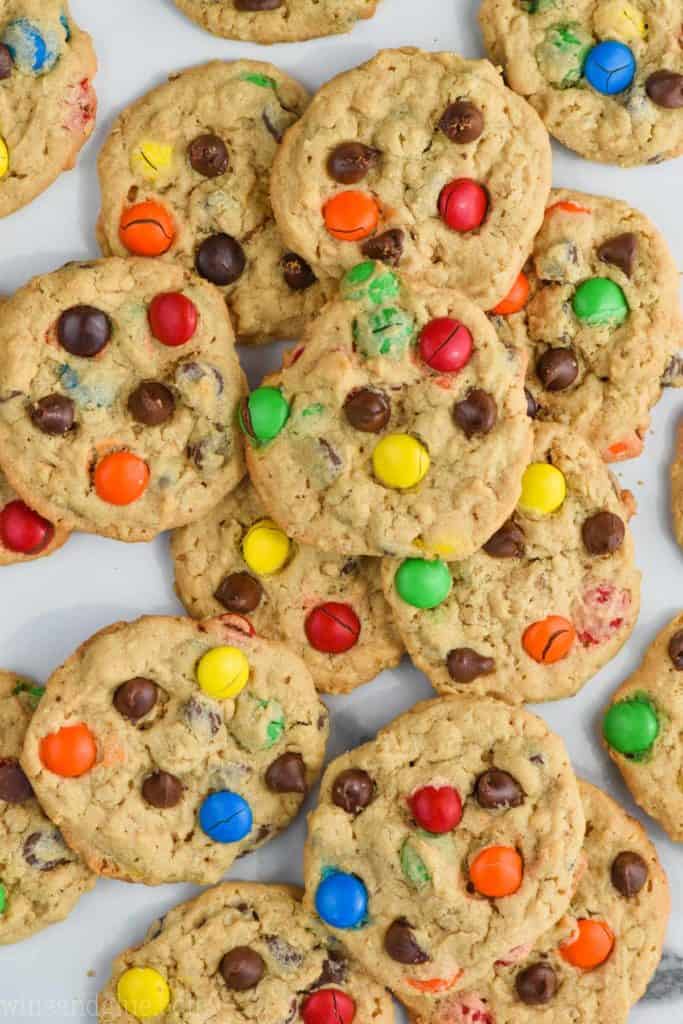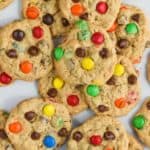 Print Recipe
Monster Cookie Recipe
This Monster Cookie Recipe has just about everything in it, making it the perfect soft and delicious cookie!
Ingredients
1

cup

all purpose flour

see note 1

1/2

teaspoon

baking soda

1/2

teaspoon

baking powder

1/4

teaspoon

salt

1

cup

unsalted butter

room temperature

1

cup

brown sugar

packed

1/2

cup

granulated sugar

1 1/2

cups

creamy peanut butter

2

large eggs

room temperature

2

teaspoons

vanilla extract

1

cup

chocolate chips

(I used milk chocolate)

1

cup

M&Ms

1

cup

quick cooking oats
Instructions
In a medium sized bowl, mix together the flour, baking soda, baking powder, and salt until fully combined. Set aside.

In a large bowl, beat together the butter, brown sugar and granulated sugar, until light and fluffy. About three minutes.  Then proceed to beat in the peanut butter until fully combined.

Then beat the eggs, one at a time, into the butter and sugar mixture. Finally, beat in the vanilla.

Add in the flour mixture all at once (see note 2) mixing it in on a very low speed until you have no risk of flying flour and then up the speed just a little and mix in until the flour has just disappeared.

Finally, stir in the chocolate chips, M&Ms, and oats.

Use a 1 1/2 tablespoon cookie scoop to make uniform sized cookies balls. (Or make 1 inch sized dough balls.) Place them two inches apart on the cookie sheets and bake for 12 minutes, rotating half way through.

Remove from the oven. Allow to cool on the baking sheet for two minutes, and then transfer to a wire rack to cool completely. Once completely cooled, transfer to an airtight container and store for up to one week.
Notes
To measure the flour, spoon it into the measuring cup and level off the top, rather than scooping it right from the flour container.
Most cookie recipes suggest that you mix in the flour a little at a time so that the flour does not fly everywhere and it suggest that you not over-mix. I recently read that you should add it all at once, mixing in slowly at first so it doesn't go everywhere, and then just mixing until the flour disappears. This lowers the risk of over stimulating the gluten which can lead to a dense cookie.
More delicious cookies for you!
Triple Chocolate Chunk Cookies
Peanut Butter Chocolate Chip Cookies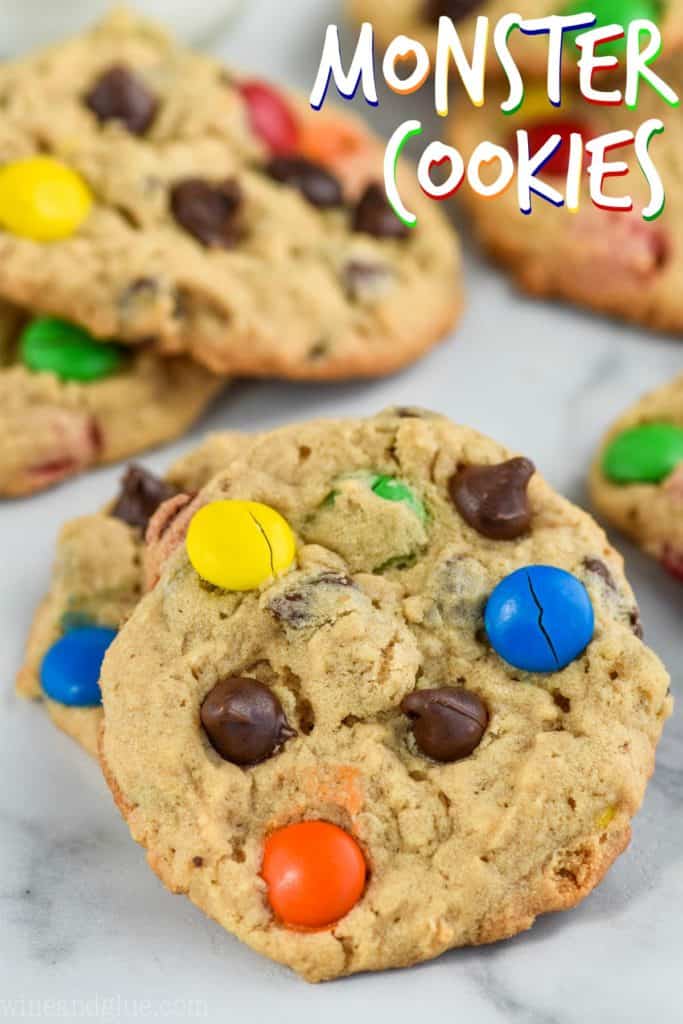 This post contains affiliate links, if you click on them and then make a purchase, I make a small amount of money at no additional cost to you. Thank you in advance for supporting Wine & Glue.
SaveSave
SaveSave