Peanut Butter Kiss Cookies are the perfect trip back to childhood with a crisp outside, soft chewy inside, and perfect mixture of chocolate and peanut butter.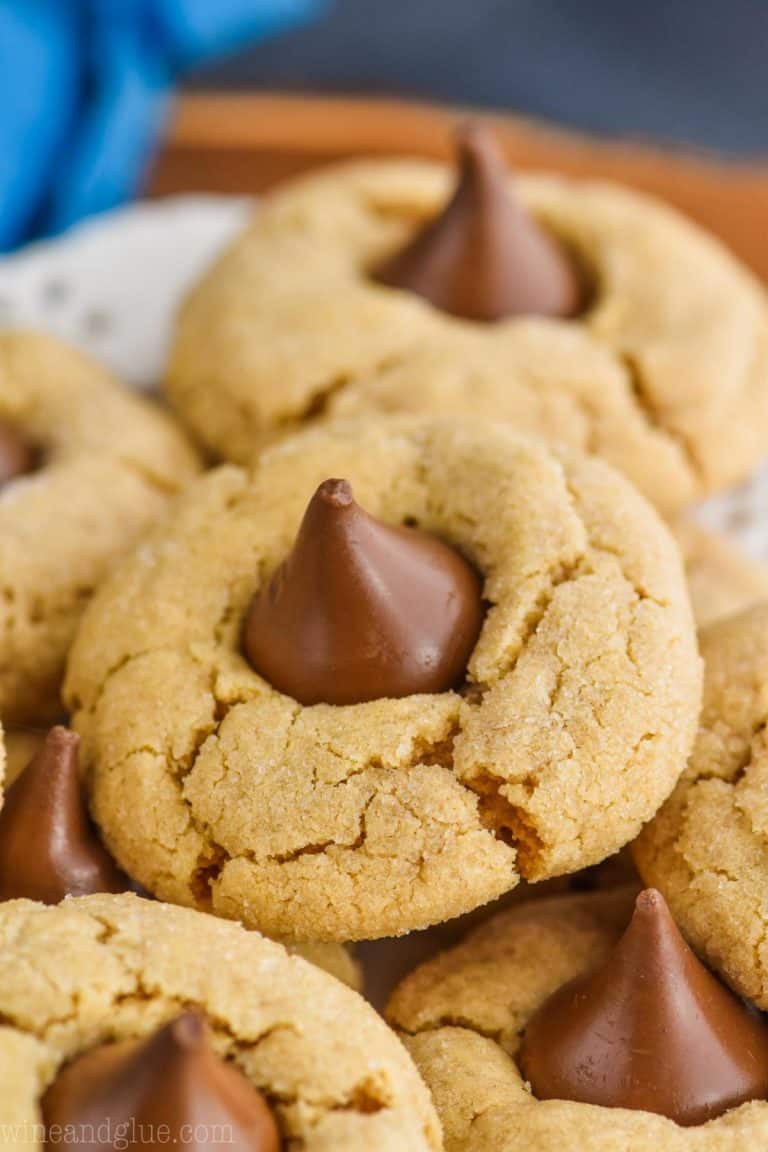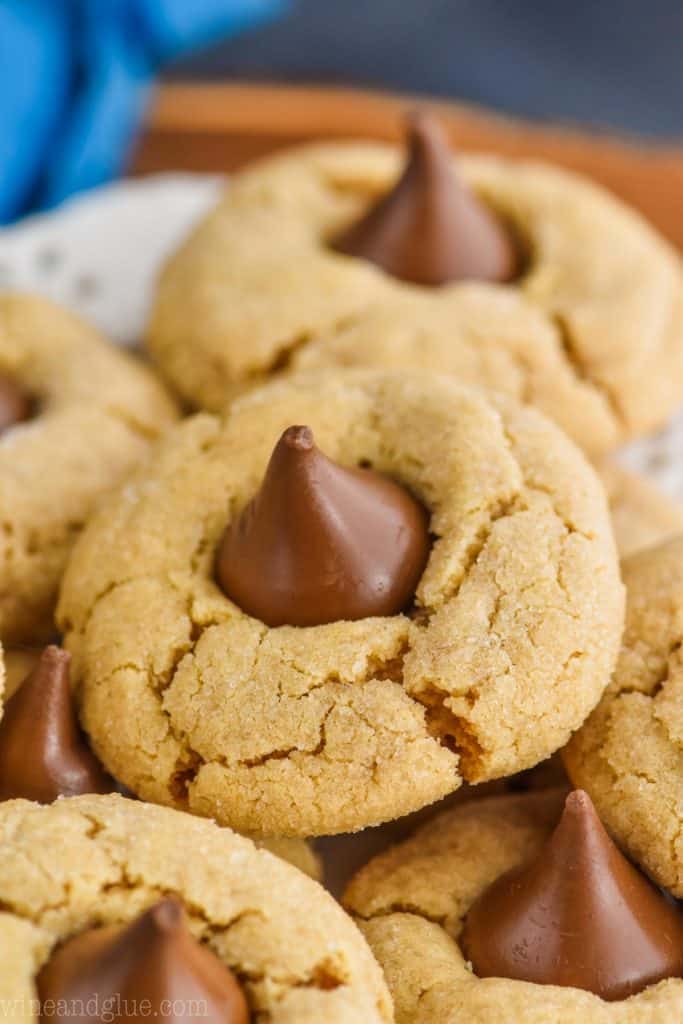 One of my husband's all time favorite Christmas cookies is Peanut Butter Blossoms. He talks about how his grandma made them every year around the holidays with a sweet little chocolate star in the center.
My mother-in-law was kind enough to share her mother's recipe with me, telling me she was planning on making some the very next day. Loving on these cookies is a family tradition.
When I handed my husband one, I looked at him with expectant eyes and said, "So?! What do you think???" He thought for a second and then said, "Grandma left her's out while we visited. These are too soft and chewy."
Ladies and gentleman, my husband.
Anyway, if you disagree and are looking for a buttery soft cookie that bursts with amazing peanut butter flavor while also having a perfect crisp outside, you are in luck. These Peanut Butter Kiss Cookies are perfection.
Reader Review
I just made these cookies today and they are delicious!
How to Make Peanut Butter Kiss Cookies
Whisk together the dry ingredients in a large bowl.
Beat together the wet ingredients. In a large bowl or in the base of a stand mixer, beat the butter and peanut butter together until smooth. Then beat in the brown sugar and granulated sugar.
Add in the egg, milk, and vanilla. Add each one at a time.
Add the flour mixture to the wet ingredients. With the mixer on low, mix in just enough so that there is not a loose flour – about 15 seconds. Turn the mixer on high, and mix the flour until just combined.
Scoop the cookies. I like using a 1 1/2 tablespoon cookie scoop. Roll the dough ball in granulated sugar.
Bake and add the Hershey's kiss. Right when the cookies come out of the oven, press the kiss into the middle of each cookie. Allow to cool and enjoy!
My mother-in-law's recipe (from her mom) calls for shortening. I swapped it out for butter because I like the flavor better and it's more widely used nowadays. Both work perfectly in this recipe.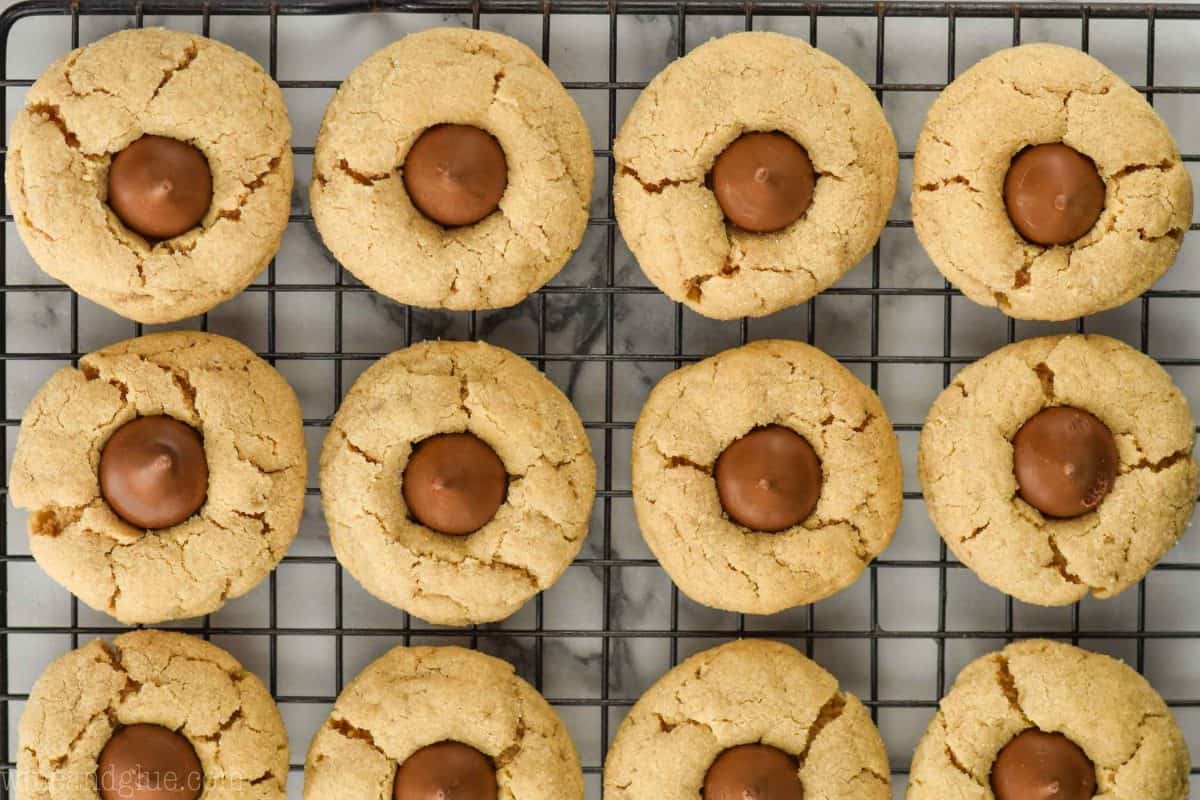 A Kiss or a Star
My husband swears that peanut butter blossom cookies can only be eaten with a chocolate star. I will admit, that I do love how they look with the star. They are also a little easier to eat. Plus! You don't have to do any unwrapping.
I have a link above to buying these on Amazon, but you can also find them randomly at bigger grocery stores or candy stores. Keep an eye out.
Or just stick to making them with chocolate kisses.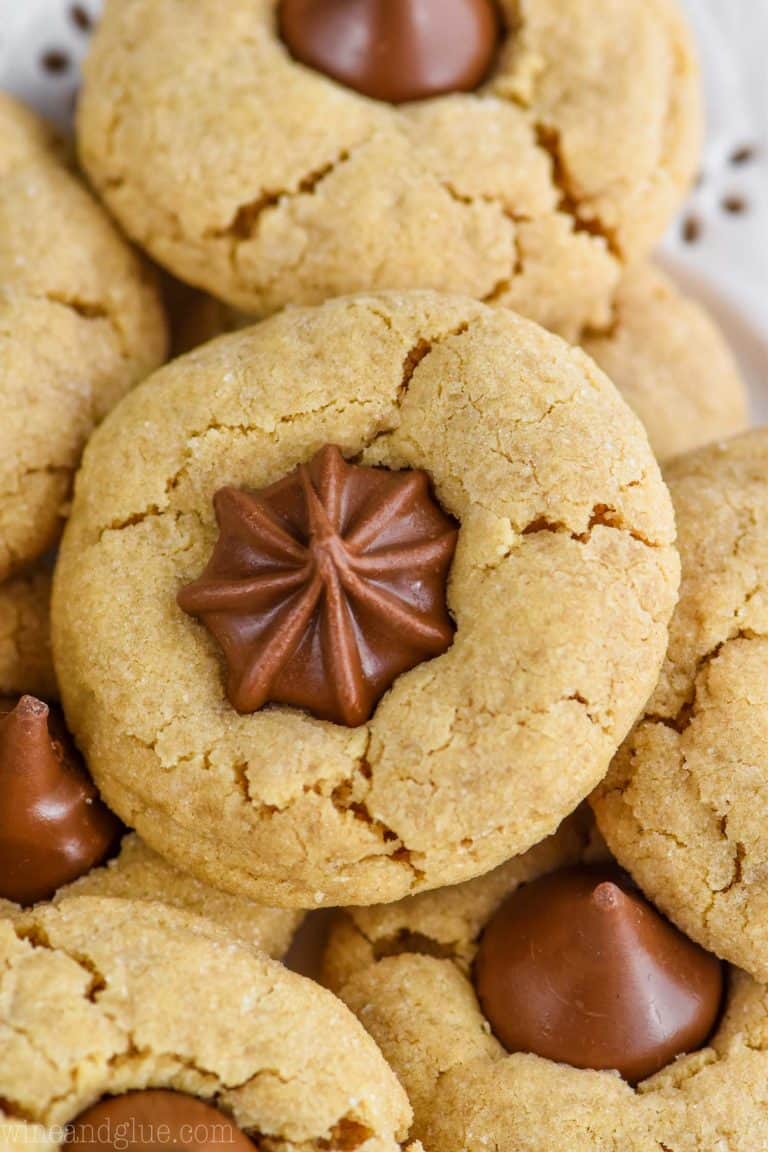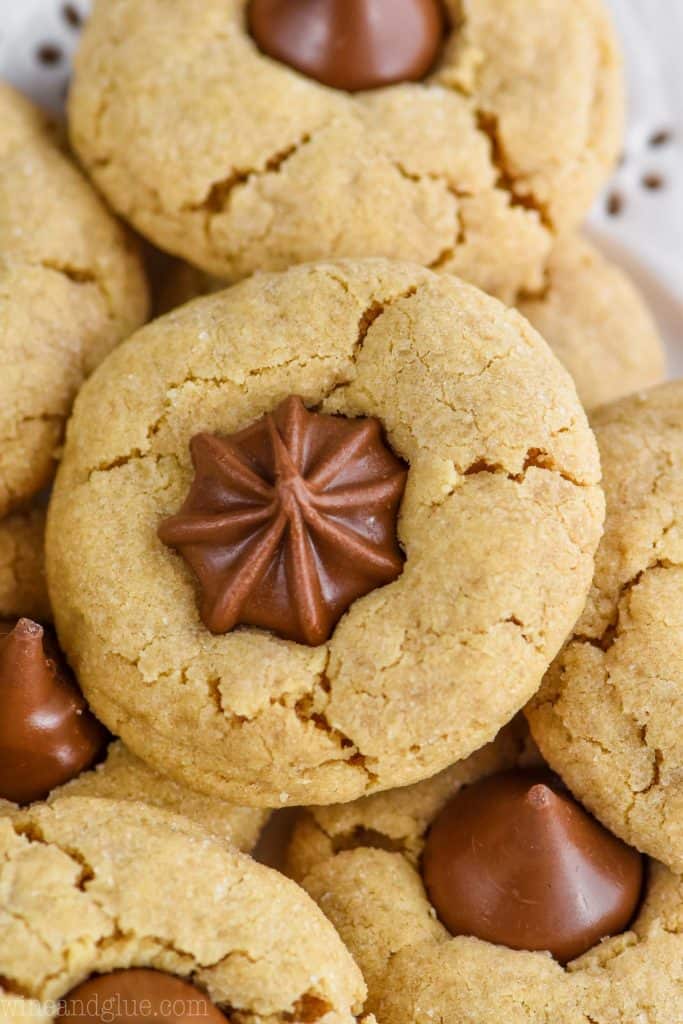 2 Dozen vs. 4 Dozen
When my mother-in-law makes these, she rolls the dough into one inch balls and is able to get four dozen cookies out of this recipe.
I am far more lazy (by leaps and bounds), and use a 1 1/2 tablespoon cookie scoop. I got 2 dozen cookies out of this recipe.
Peanut Butter Kiss Cookies Baking Tips
My cookie making tips are always kind of the same, but I think they bear repeating.
When measuring your flour, scoop it into the measuring cup and then level off. This will keep you from having too much flour.
Use fresh baking soda. When you add it to a little vinegar it should bubble right away. Replace baking soda and baking powder every six months.
Use room temperature butter. You should be able to push your finger in to dent it but not all the way through.
Make sure to fully beat your sugar and butter together. Doing this beats air into the butter, and makes for light fluffy cookies that are perfect and chewy.
If you use a cookie scoop you will end up with nice uniform dough balls that cook evenly.
Actually preheat your oven. I know we are eager to eat Peanut Butter Cookies, but you need to truly preheat your oven and not just turn it on and throw them in.
Don't put your dough on a hot baking sheet. If you are only working with one baking sheet, make sure that you let it cool to the touch before putting another batch of dough on it. You don't want your cookies to start baking before they hit the hot oven.
Storing Cookies
These cookies should be fully cooled before stored. I would recommend storing in a single layer, rather than stacking them in containers. This will keep their kiss beautiful.
Store for up to one week.
Freezing Dough
You can definitely freeze this dough recipe! This is a great way to be able to have one of these cookies (just one!) any time you want.
Make the recipe up until we are putting the dough balls in the oven.
Instead, place a wax paper lined baking sheet, full of rolled dough balls into the freezer for one hour.
After an hour you can put all the dough balls into a sealable container (or bag) and put them back in the freezer for up to 3 months.
When you are ready to bake (bake one, two, or a full dozen!), put the dough ball right from the freezer into the preheated oven (375 degrees) and bake for 12 minutes.
Remove from the oven, add the kiss or star, and enjoy!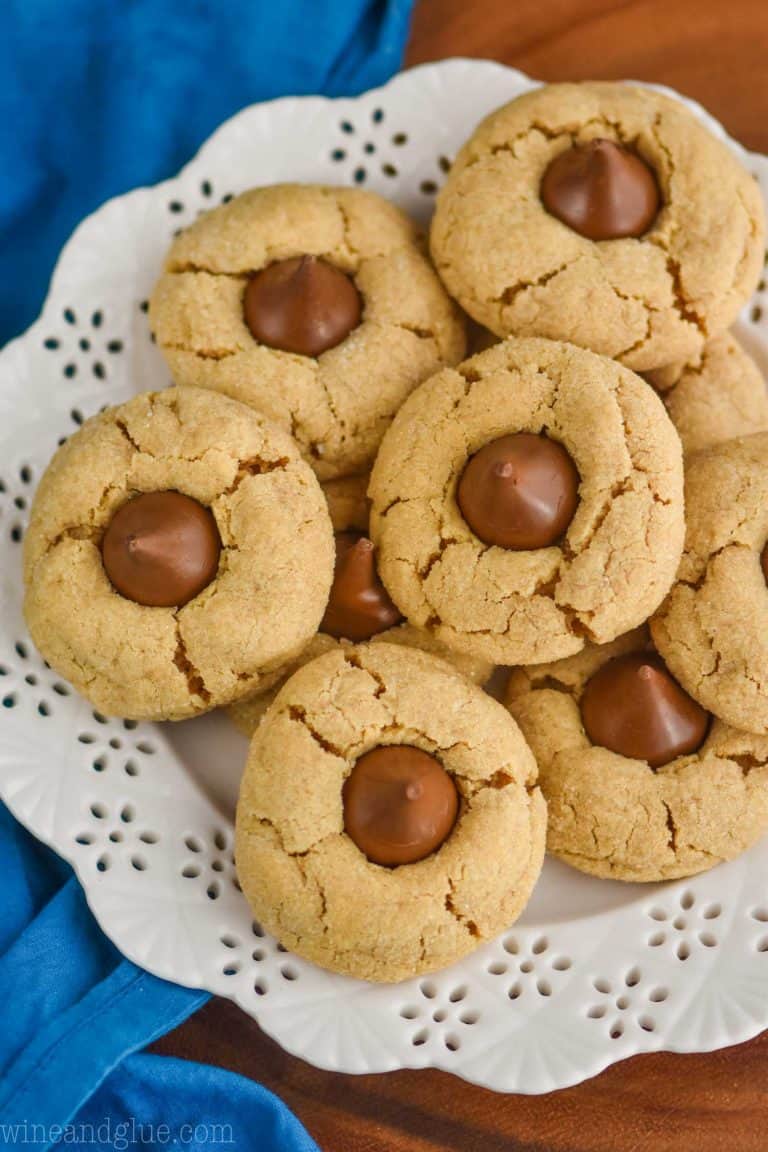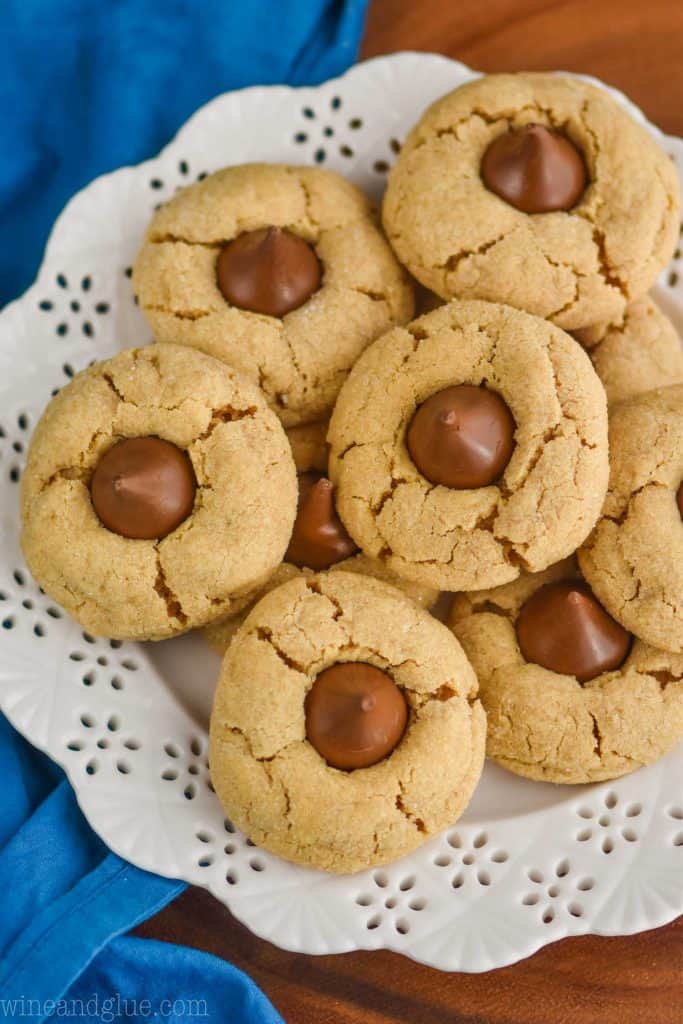 Freezing Peanut Butter Kiss Cookies
You can also fully bake the peanut butter kiss cookies, add the kiss, and then freeze!
Freeze in single layers in airtight containers. I would not recommend stacking these as it will mark up the chocolate and they will be less pretty.
When ready to eat, let thaw for an hour or two at room temperature.
NOTE: If I had to pick, I would absolutely pick freezing the dough balls over freezing the frozen cookies. The frozen cookies are good, but freshly baked dough is better.
More Peanut Butter Desserts
If you are a peanut butter lover like me, here are some other desserts I know you will like.
Try my Peanut Butter Cup Pie. It is OVER THE TOP and crazy good.
You of course need to make my Easy Peanut Butter Fudge.
And where would your world be without my Peanut Butter No Bake Cookies?
If you make these Peanut Butter Hershey's Kiss Cookies or any of my other recipes, please leave me a comment and let me know!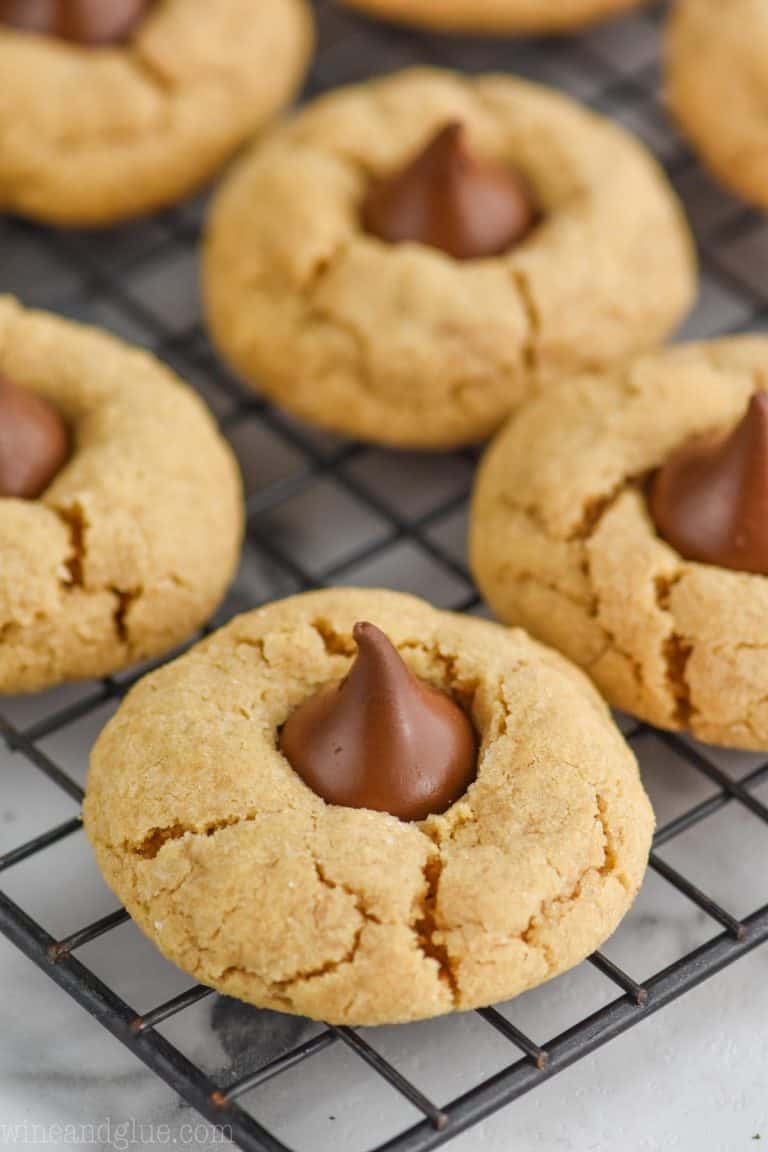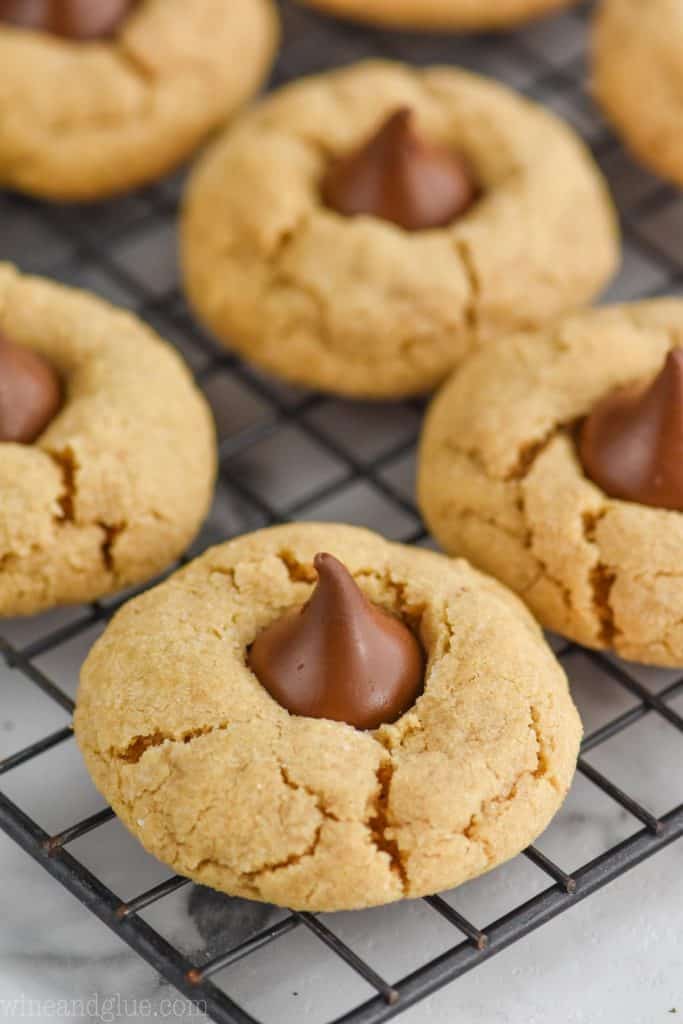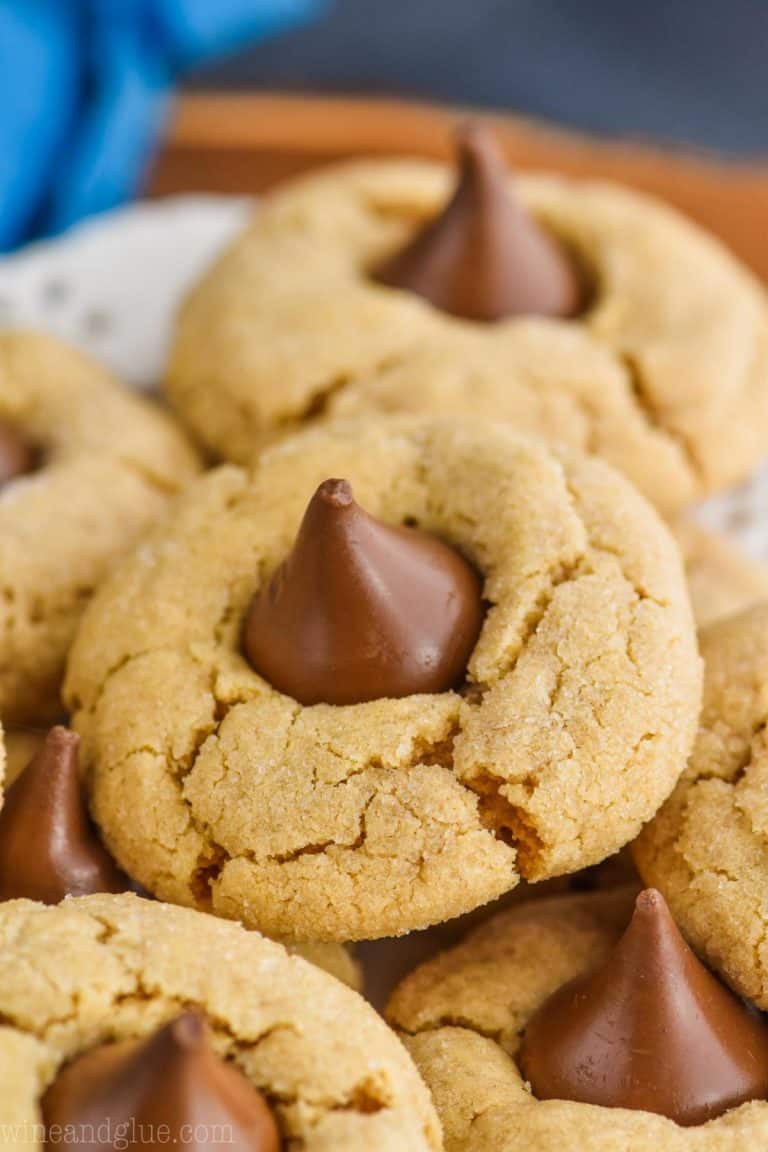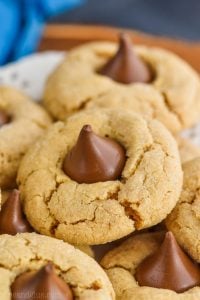 Peanut Butter Kiss Cookies
Peanut Butter Blossoms are the perfect trip back to childhood with their crisp outside, soft chewy inside, and perfect mixture of chocolate and peanut butter.
Ingredients
1 1/2

cup

all purpose flour

1

teaspoon

baking soda

1/2

teaspoon

salt

3/4

cup

creamy peanut butter

1/2

cup

butter

room temperature

1/3

cup

granulated sugar

plus more for rolling

1/3

cup

light brown sugar

packed

2

tablespoons

milk

1

egg

1

teaspoon

vanilla extract

24

Hersheys kisses or chocolate stars
Instructions
Preheat your oven to 375 degrees. Line rimmed baking sheets with parchment paper and set aside.

In a large bowl, whisk together the flour, salt, and baking soda. Set aside.

Using a handheld or stand mixer, beat together the peanut butter and butter until smooth. Add in the granulated and brown sugar, and beat until fluffy, between 3 and 6 minutes.

Add in the egg, then the milk, and then the vanilla. Fully blend in each ingredient before adding another.

Add the flour mixture all at once. With the mixer on low, mix in just enough so that there is not a loose flour – about 15 seconds. Turn the mixer on high, and mix the flour in just enough so that you do not see streaks of white. Be sure to scrape the bottom to bring up any loose flour.

Scoop out 1 1/2 tablespoons worth of dough, roll into a ball, roll the ball in the extra granulated sugar, and set on the parchment lined baking sheets. I like using a cookie scoop for this. (See recipe notes about making 4 dozen cookies instead of 2 dozen.)

Bake for 8 to 10 minutes or until the cookies begin to lightly brown aroudn the edges. While the cookies are baking, unwrap the chocolate kisses.

Immediately after pulling cookies out of the oven, lightly press one Hershey's kiss or one chocolate star into the center of each cookie. Let cool on the baking sheet for two minutes before transfering to a wire rack to cool completely.

Enjoy right away or store in an air tight container for up to one week.
Notes
If you would like to make four dozen cookies instead of two dozen, roll 1 inch balls. The cooking times and the rest of the instructions can remain the same.
Serving:
1
cookie
Calories:
156
kcal
(8%)
Carbohydrates:
16
g
(5%)
Protein:
3
g
(6%)
Fat:
9
g
(14%)
Saturated Fat:
4
g
(25%)
Polyunsaturated Fat:
1
g
Monounsaturated Fat:
3
g
Cholesterol:
19
mg
(6%)
Sodium:
146
mg
(6%)
Potassium:
6
mg
Fiber:
1
g
(4%)
Sugar:
9
g
(10%)
Vitamin A:
33
IU
(1%)
Calcium:
4
mg
Iron:
2
mg
(11%)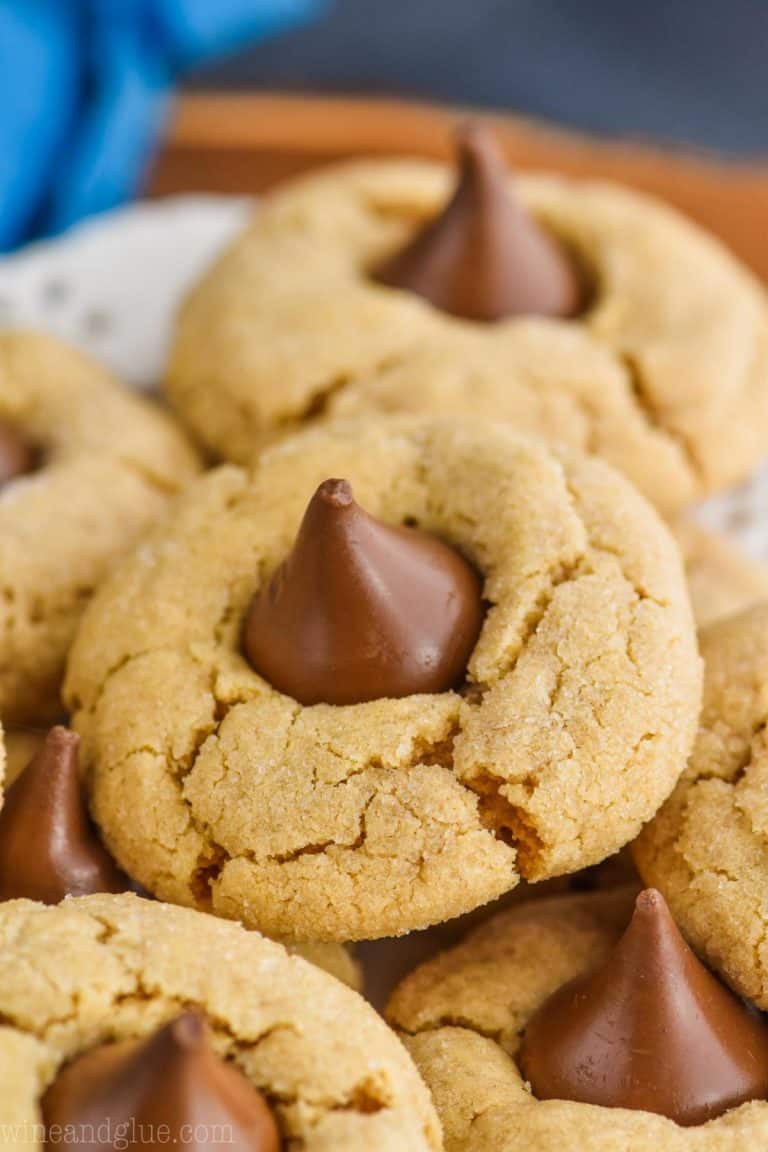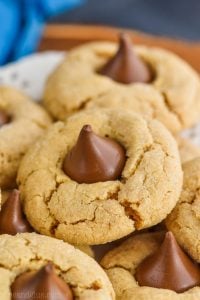 did you make this
Peanut Butter Kiss Cookies