These amazing Sugar Cookies with Sprinkles are perfectly crisp on the outside and soft and chewy on the inside. The best funfetti cookie recipe!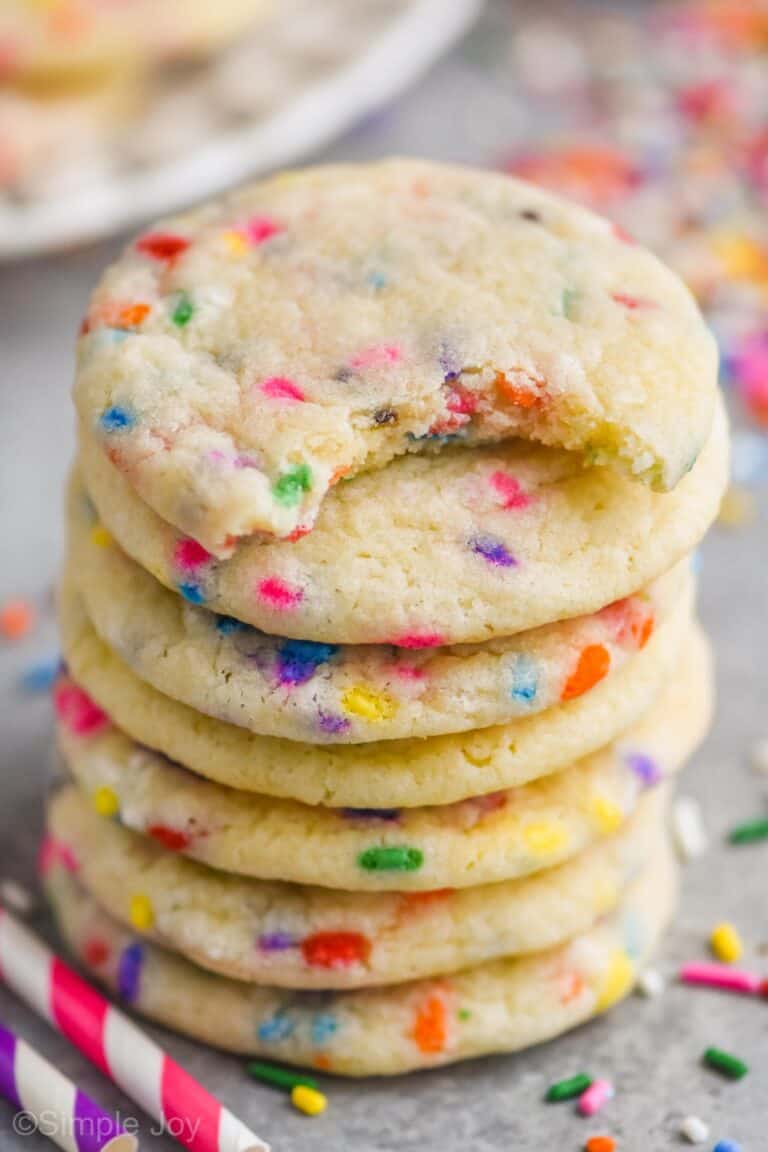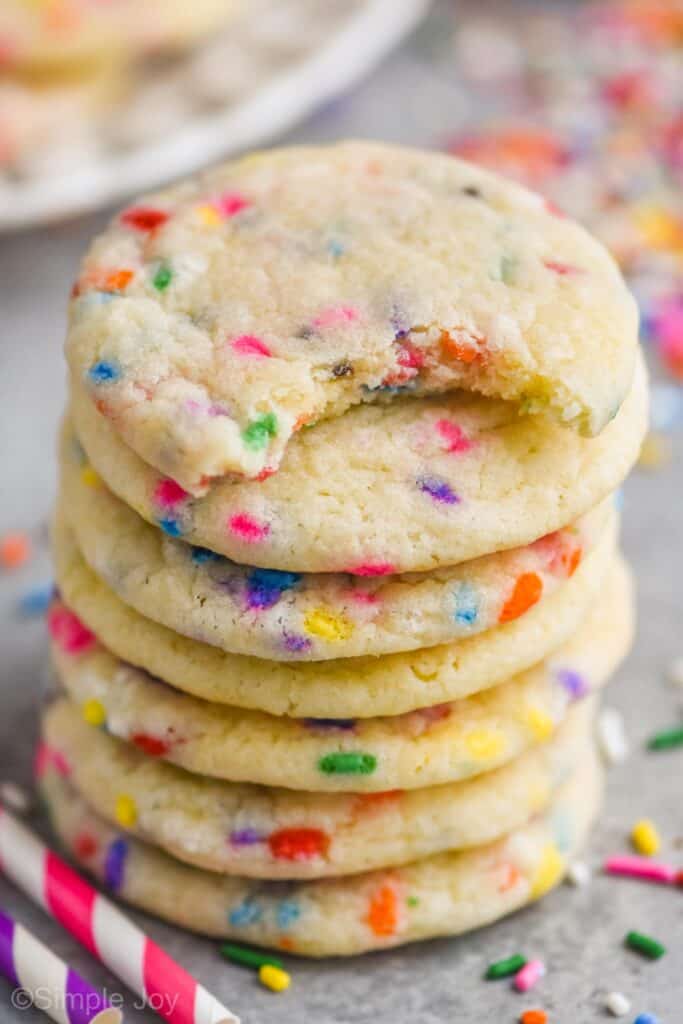 Our family got a dog! He is a 9 month old rescue puppy who is a mixed breed named Luca Remi. (Obviously we created an Instagram account for him, because why not.)
Luca is the perfect reminder that even when things are hard, like now, there are still things to celebrate and feel happy about. We can feel two things at once. Be sad about what we don't have, and celebrate what we do.
These Soft Sugar Cookies with Sprinkles are perfect for celebrating life's little wins, like buying a puppy. So we did just that. Perfect and crisp on the outside and delicious and chewy on the inside, you are going to fall in love with these Funfetti Cookies.
Reader Review
Amazing Recipe my kids love it and was so easy to make with them too we enjoyed this! Thank you very much!!
How to Make Sugar Cookies with Sprinkles
This funfetti cookie recipe is a simple riff on my soft sugar cookies. We are adding sprinkles to that great recipe and swapping out a little of the vanilla extract for some almond extract. The almond extract gives it a cake like taste.
If you wanted to, you could exchange the almond extract for butter extract. It would give even more of a cake flavor to it. That said, I really love almond extract and think it's perfect in this recipe.
Please know that I've had people who don't like almonds at all (or almond extract) fall in love with these cookies.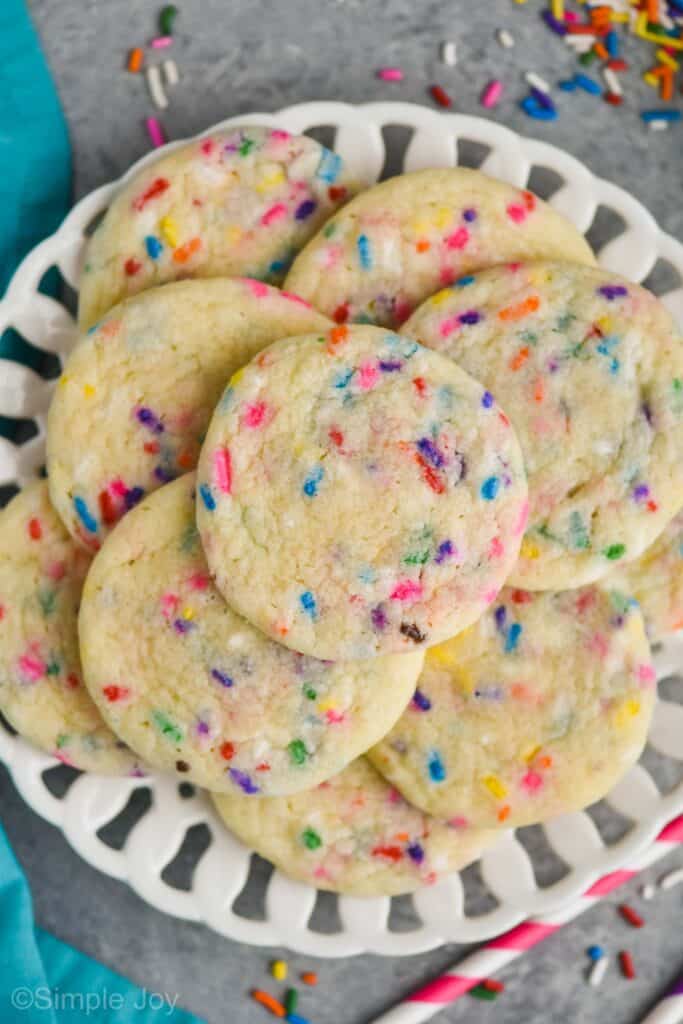 Cookie Tips and Tricks
Cookies can be a hard thing to get right because it's baking, and baking is science. Here are my tips to give you the best chance at making delicious cookies like the ones you see here.
Start with room temperature butter. You should be able to easily dent it with your finger without going all the way through. It will still feel cold to the touch.
How you measure flour matters. Scoop it with a large spoon into the measuring cup and then level off. This ensures you don't get too much flour in your recipe.
Make sure your baking powder isn't too old. You can throw a little in a cup of water and it should fizzle immediately. Baking powder should be replaced every six months.
Preheat your oven. I hope this goes without saying, but it is important the dough goes into a hot oven.
Use a cookie scoop (1 1/2 tablespoons) so that your cookies are the same size and cook evenly. This is the one I use and love.
Watch those cookies. Without opening your oven a lot, make sure that your cookies come out before they begin to brown at the edges. Oven temperatures vary, so how they look is more important than how long they've been in.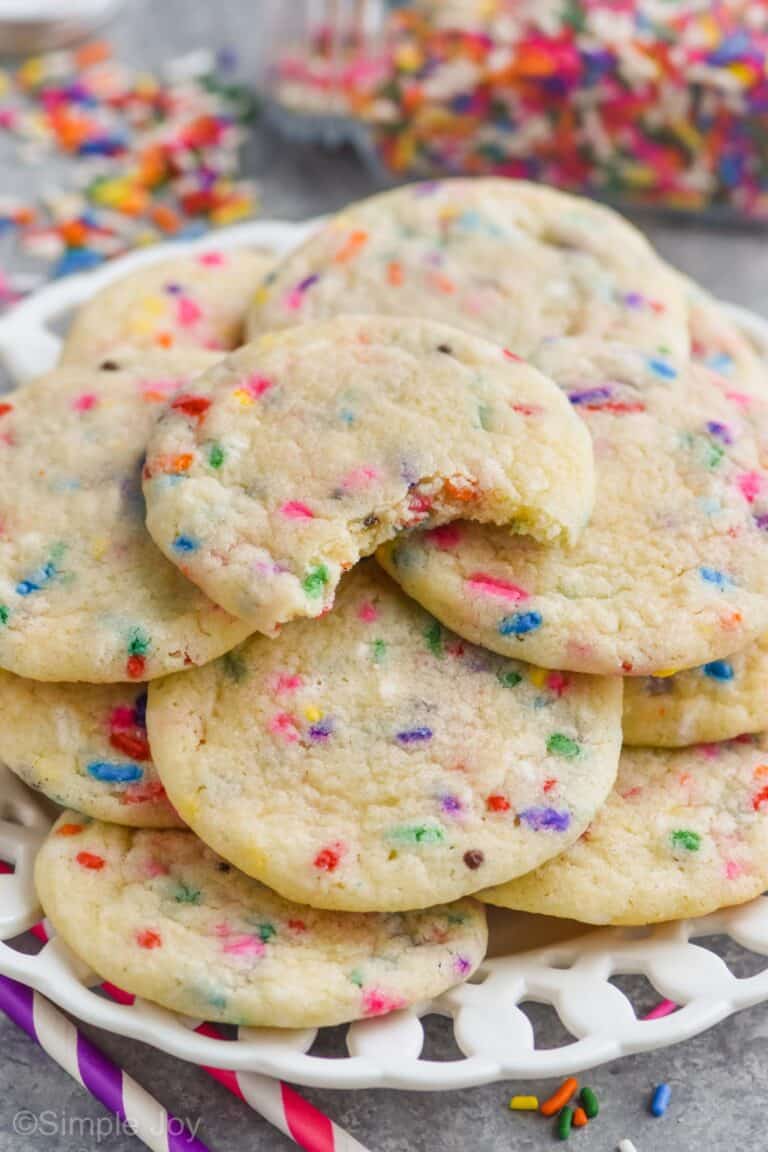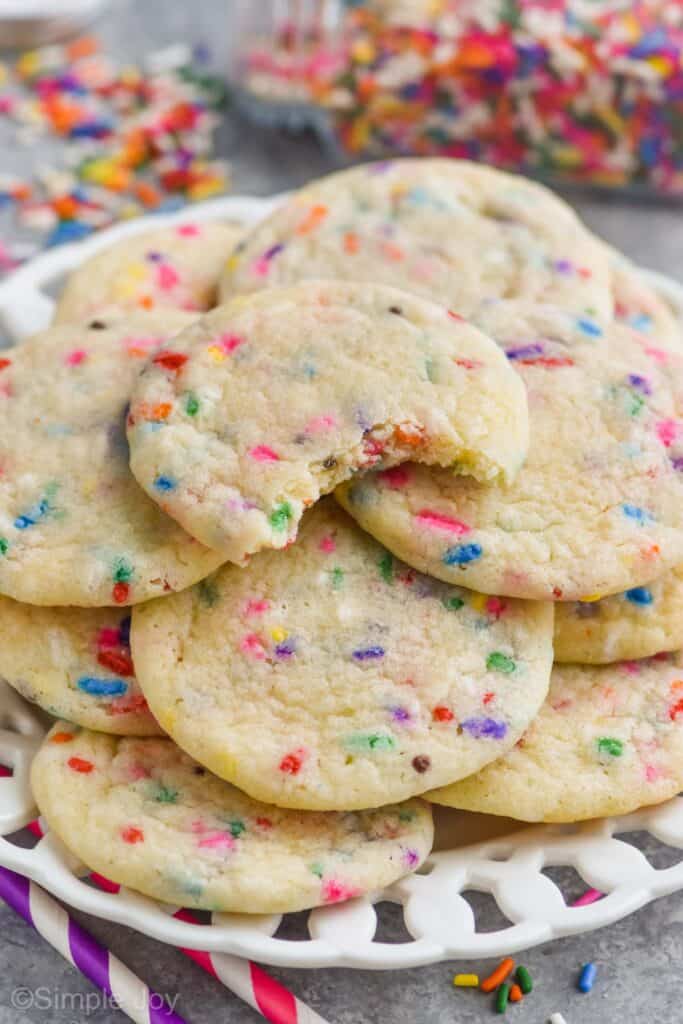 Creaming Butter and Sugar
If you are new to cookie making, let's talk about creaming butter and sugar! This is the part in the recipe when you are working with just room temperature butter and sugar – either granulated or brown, but in this case granulated.
We are using the sugar to beat air into the butter. It helps make the cookies light and fluffy after baking, so it's pretty important. The more cookies you make the better you will get at this step and making sure they are fluffy enough.
Additionally, creaming butter and sugar very well helps actual produce more cookies.
Adding Flour
Another key in any type of baking is when you add the dry ingredients to the wet. You want to do this with minimal mixing. When you add flour to the wet ingredients you activate the proteins in the gluten. Too much mixing means cookies that are chewy in a bad way.
The way I like to add flour is to add it all at once, rather than a little at a time.
Add all of the flour (with salt and baking powder already whisked in).
Turn on the mixer low and let it incorporate so it won't fly all over.
Then turn it up high for just a few seconds until there aren't streaks of flour.
You may need to scrape down the mixing bowl and do one more 2 second mix to make sure all the flour is added.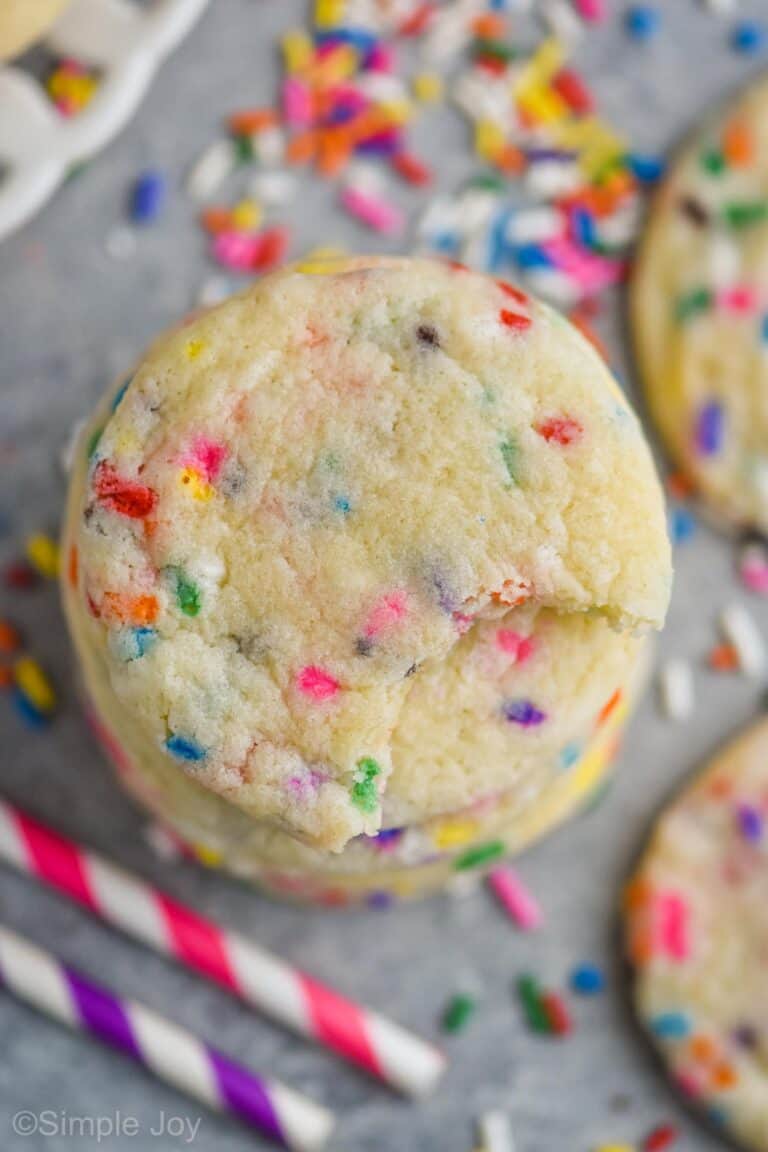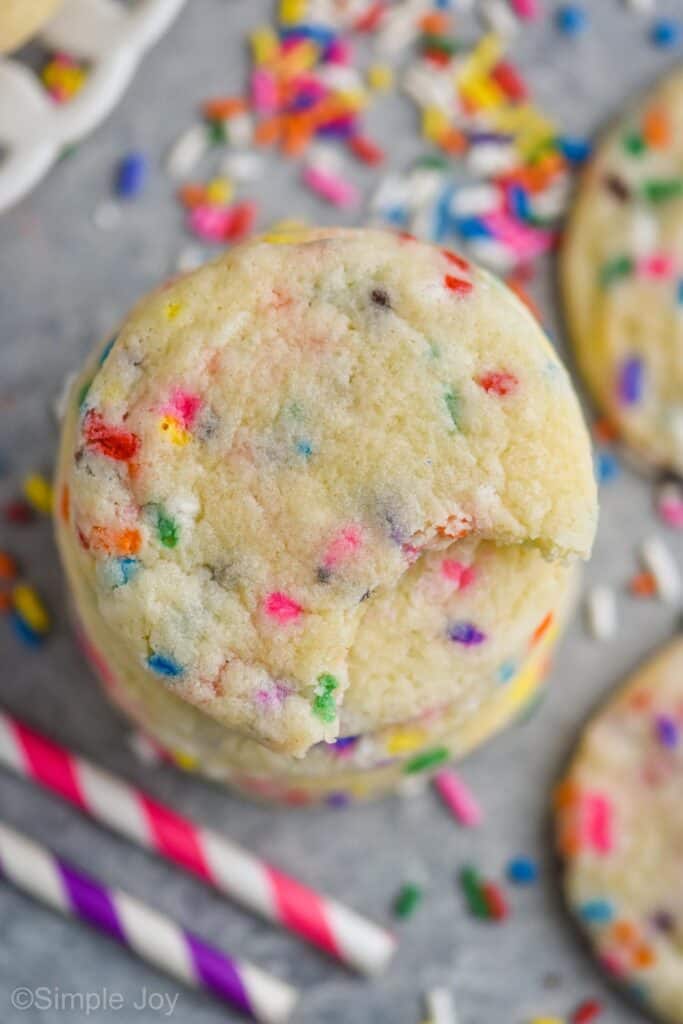 Storing and Freezing
These cookies will store in an airtight container for about a week. Word to the wise: Most cookie jars are not air tight.
These cookies freeze very well. This sugar cookie recipe can be stored in an air tight container in your freezer for up to three months.
Baking Cookie Dough From Frozen
Most cookie dough can bake from frozen really easily. These chewy sugar cookies with sprinkles are no exception.
Follow the recipe up to the point of baking.
Put the formed and pressed dough balls on a parchment lined plate (making sure they aren't touching).
Freeze for at least an hour.
Transfer to an airtight container and store for up to three months.
Bake 1 cookie or all of them from frozen for 11 to 12 minutes at 350 degrees Fahrenheit or until the cookies become just barely golden along the edges.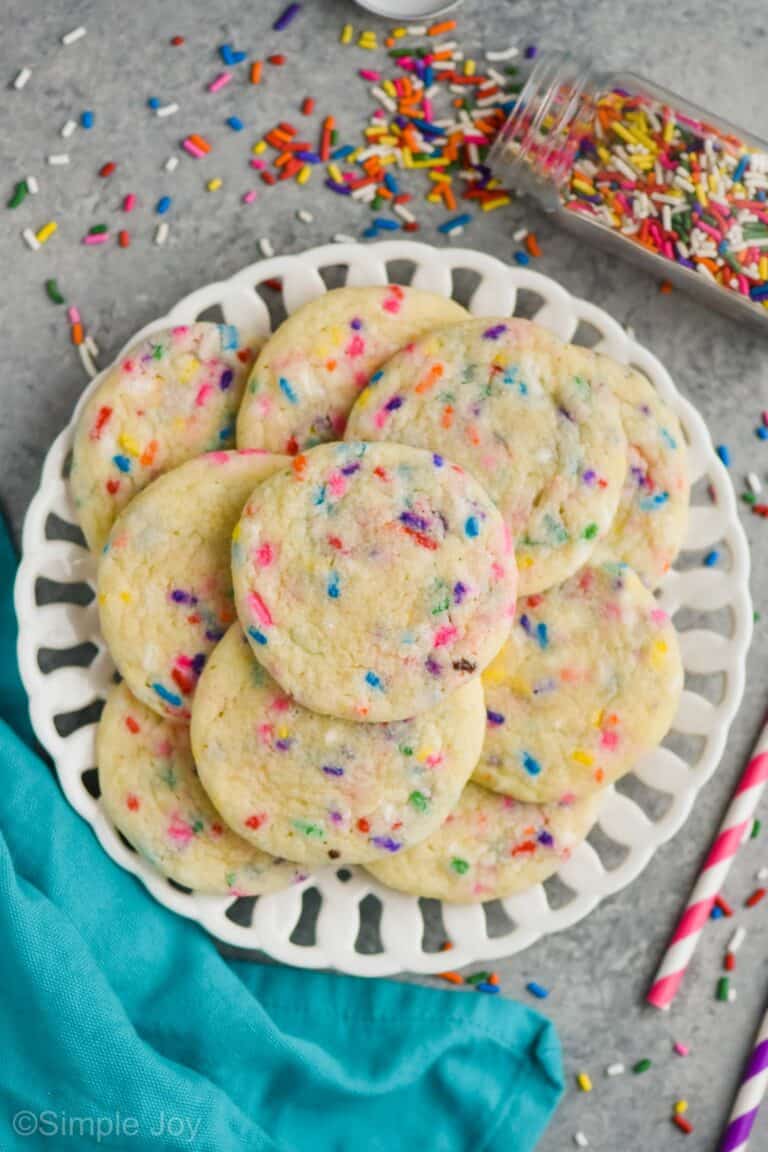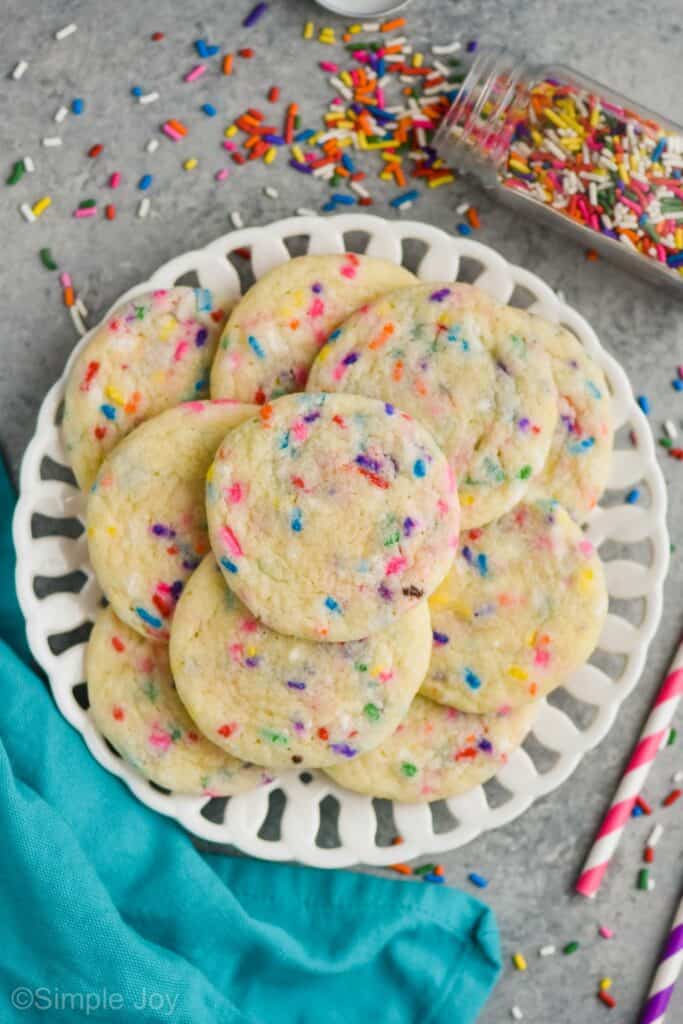 If You Love Sugar Cookies
If you love sugar cookies, I have more great recipes for you to try. Because I am obsessed with them.
First and foremost, make these Perfect Sugar Cookies.
Then you will want to try my Sugar Cookie Bars with their perfect frosting.
You also need to make my Lemon Sugar Cookies.
And finally, whether it is pumpkin season or not, you will love these Pumpkin Sugar Cookies.
If you make this recipe or any of my other cookie recipes, please leave me a comment and let me know what you think. I love hearing from you.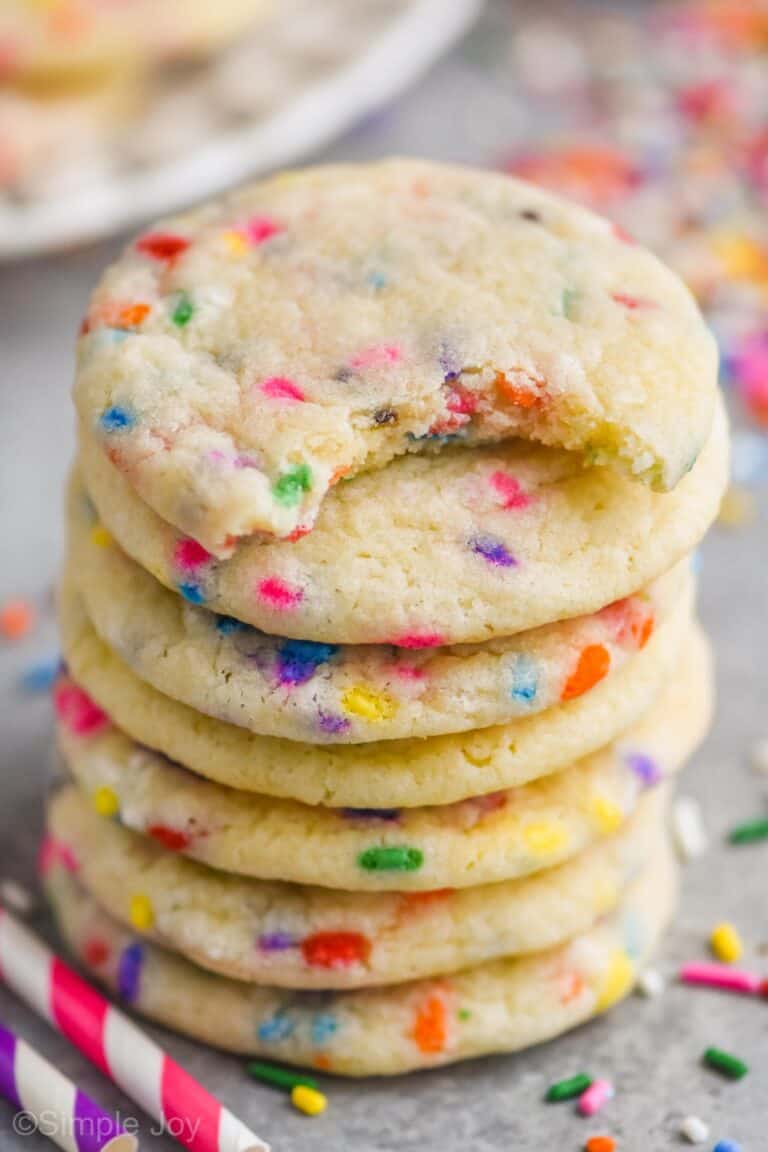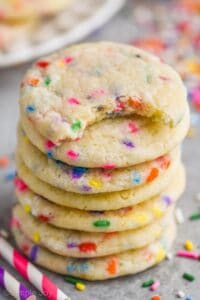 Funfetti Sugar Cookies
These amazing Sugar Cookies with Sprinkles are perfectly crisp on the outside and soft and chewy on the inside. The best funfetti cookie recipe!
Ingredients
2 1/2

cups

all purpose flour

1/2

teaspoon

baking powder

1/2

teaspoon

salt

1 1/2

cups

sugar

14

tablespoons

butter

room temperature

1

teaspoon

vanilla extract

1

teaspoon

almond extract

see note in post under "How to Make Sugar Cookies with Sprinkles"

2

large eggs

room temperature

1/2

cup

sprinkles
Instructions
Preheat your oven to 350 degrees Fahrenheit. Prepare baking sheets with parchment paper.

In a large mixing bowl whisk together the flour, baking powder, and salt. Set aside.

Using a hand mixer or a stand mixer, beat together the room temperature butter and the sugar. Beat for 3 to 6 minutes until light and fluffy ensuring that you beat plenty of air into the butter.

Add the eggs, one at a time. Then add the vanilla extract and the almond extract.

Pour the flour mixture into the wet ingredients. Turn the mixer on low, beating for about 10 seconds. Now turn the mixer on high for 2 to 3 seconds or just until all of the flour is combined. You may need so scrape down the mixing bowl and beat another 2 to 3 seconds.

Gently stir in the sprinkles.

Using a 1 1/2 tablespoon cookie scoop, scoop out the cooke dough, roll into balls and lightly press down on the prepared baking sheet. Place the cookies 2 inches apart to account for spreading.

Bake for 10 minutes, rotating once in the middle, or until the edges of the cookies just barely begin to turn golden brown. Remove from the oven and use a spatula to transfer to a wire rack to cool completely. Store in an air tight container for up to one week.
Serving:
1
cookie
Calories:
192
kcal
(10%)
Carbohydrates:
25
g
(8%)
Protein:
3
g
(6%)
Fat:
9
g
(14%)
Saturated Fat:
5
g
(31%)
Monounsaturated Fat:
2
g
Cholesterol:
64
mg
(21%)
Sodium:
77
mg
(3%)
Potassium:
20
mg
(1%)
Sugar:
15
g
(17%)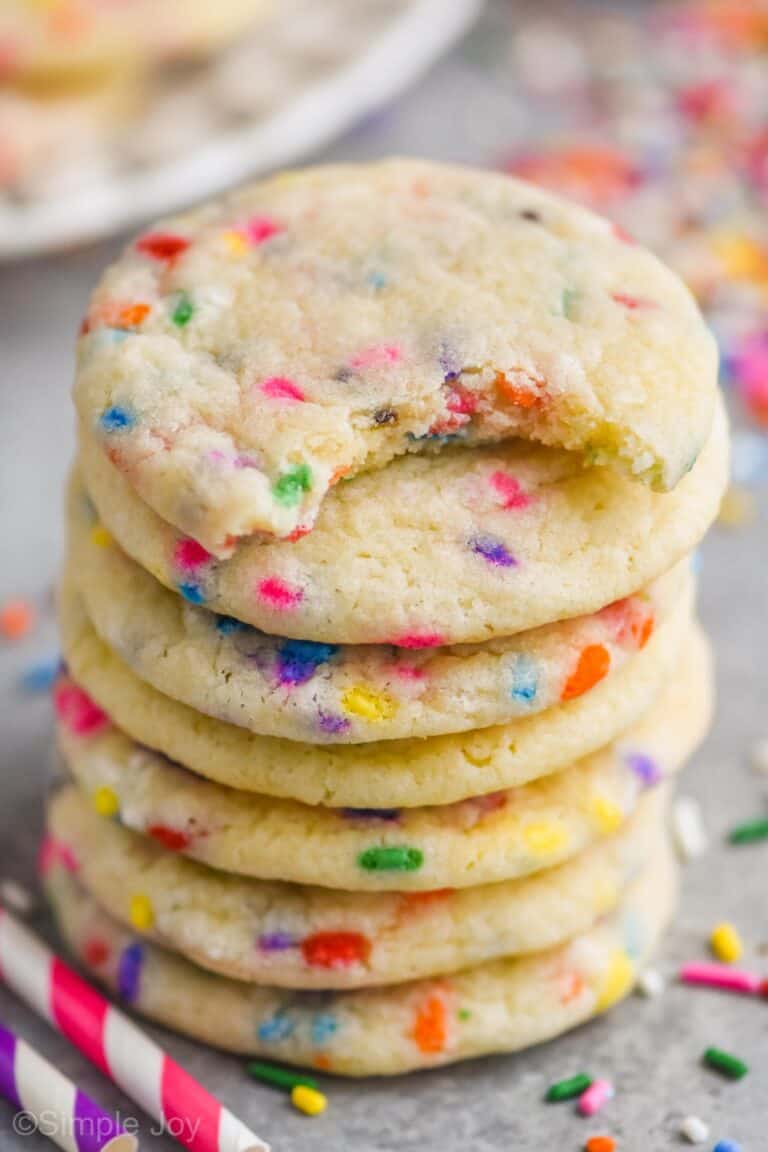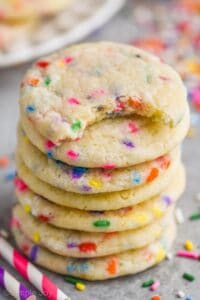 did you make this
Funfetti Sugar Cookies