This No Bake Birthday Cake Lasagna is the perfect dessert! Full of delicious cake flavor in the form of a creamy no bake dessert!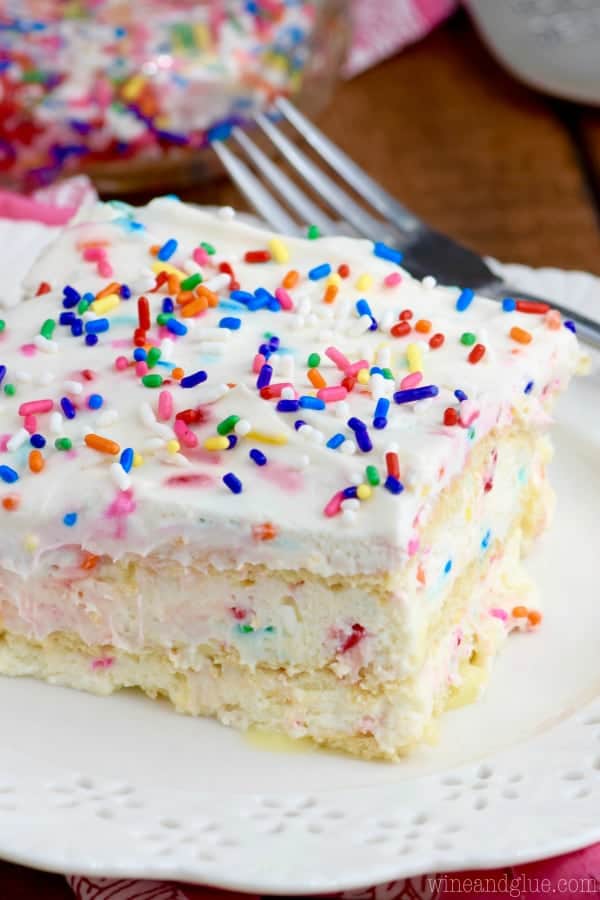 I have told this secret before, but if you're new . . . (or if you don't read every single word I right, which would be weird if you didn't . . . . ) I am a batter addict. "Hello my name is Lisa and if you are raw I want to eat you." #toomuch?
I wish that meant that I could get into one of those raw diets, but nope. Pretty much if you are raw and you contain eggs, flour, and sugar, I want you. Also . . . weirdly . . . pizza dough. But let's not talk about that one. I feel like it might be slightly less relatable.
So when my friend, Julianne asked me to write a review of her book, No-Bake Treats, and I saw that THIS Birthday Cake Lasagna was in there, my mouth started watering before I even read the recipe. And then I read the recipe and I started crying sprinkle filled tears of joy.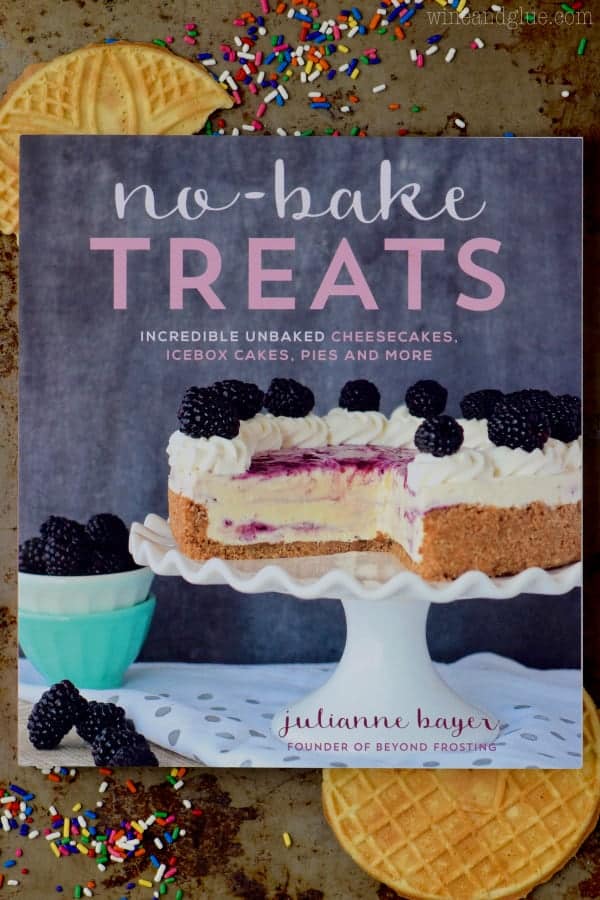 Her book is PACKED full of amazing no bake recipes, and I know how much you all love those. You will love all the great recipes in this cookbook!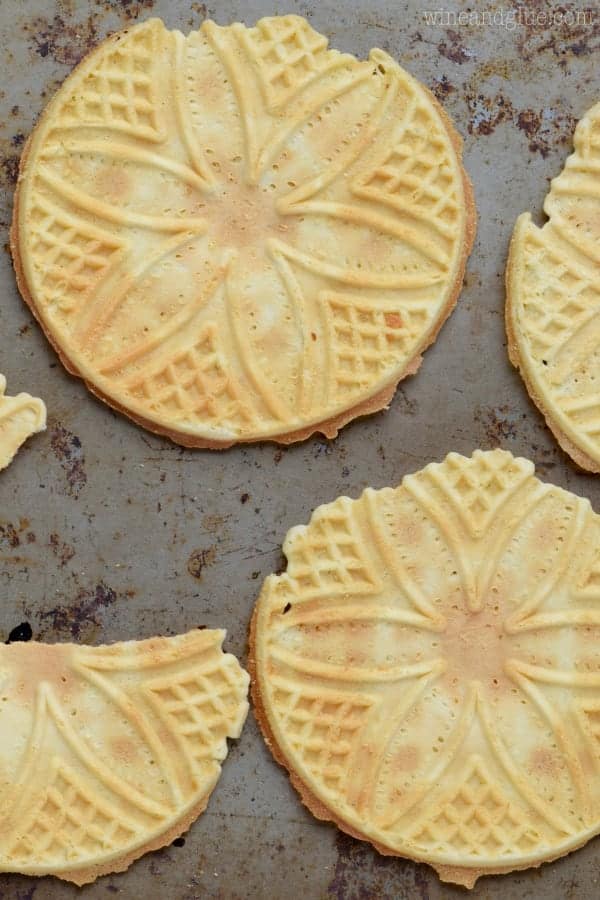 This Birthday Cake Lasagna starts with these amazing little vanilla waffle cookies. It was slightly tricky to find them, but I ended up finding them in the bakery section of my grocery store. They are amazing. If you can't find them, then just sub in some graham crackers. It will still be delicious!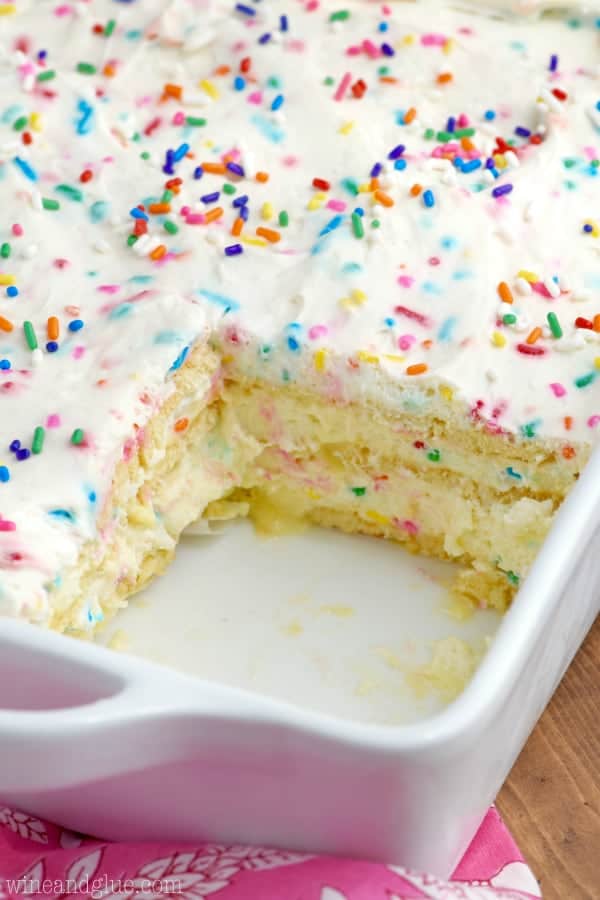 I met Julianne for the first time at BlogHerFood in Chicago (a giant blogging conference that is like a work from home blogging food lover's dream) last November, though we have been online blogging buddies for ages. She is the absolute sweetest and didn't even slap me in the face when I called her Julia . . . . you guys. I wasn't even drunk. #wth #mommybrainproblems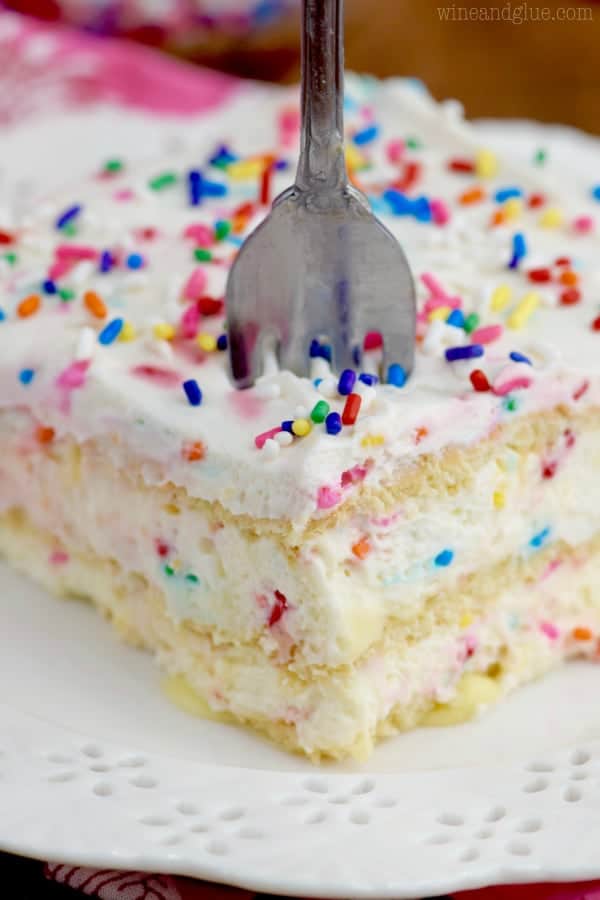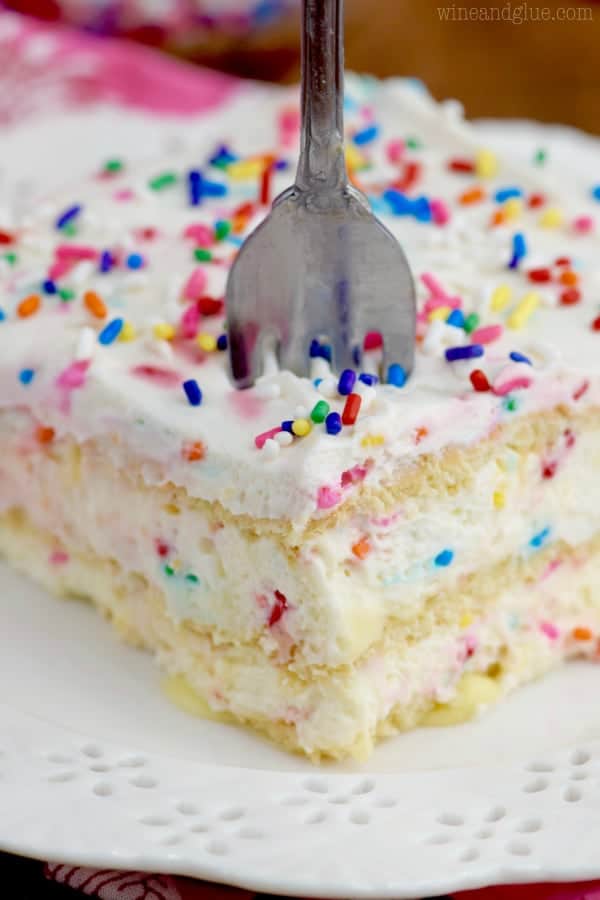 If you are familiar with Julianne's blog, Beyond Frosting, you know that it is jam packed with tons of delicious and amazing no bake treats, like this Apple Pie Lasagna and this Reese's Peanut Butter Cup Cheesecake. But it also has amazingness like this S'mores Cookie Dough Dip . . . #omgomgomgomgomg #cometomommy  Her book is like her blog taken to the next level and you must buy it. And until it comes, you can feast on this amazing Birthday Cake Lasagna!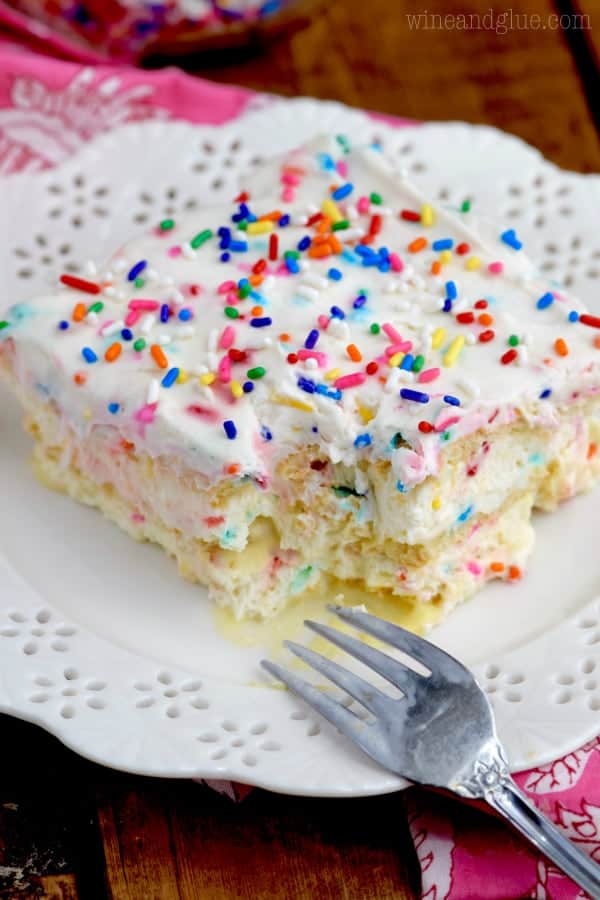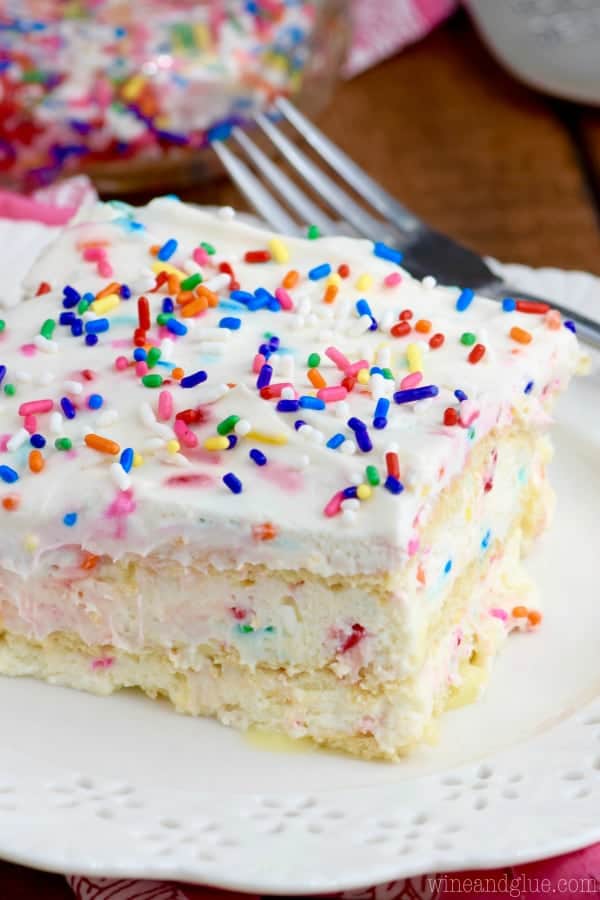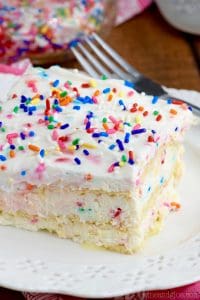 No Bake Birthday Cake Lasagna
Ingredients
For The Pudding

3

large egg yolks

slightly beaten

2/3

cup

granulated sugar

4

TBSPs

vanilla cake mix

2

TBSPs

cornstarch

2

cups

heavy whipping cream

1/2

tsp

vanilla extract

For The Filling

2

cups

heavy whipping cream

2/3

cup

plus 2 TBSPs vanilla cake mix

1/2

cup

sprinkles

8

oz

cream cheese

room temperature

For The Layers

11

oz

Belgian waffle crisps

found in the bakery department

3

TBSPs

sprinkles
Instructions
In a medium sized bowl, whisk the egg yolks and set them aside.

Combine the remaining ingredients (sugar, cake mix, cornstarch, heavy cream, vanilla extract) for the pudding in a medium sauce pan and heat over medium heat until it is warm, but not boiling. Add 1/4 cup of the warm liquid to the egg yolks and whisk to temper them (so they don't cook). Whisk the yolk/liquid mixture into the rest of the liquid over the heat and continue whisking until it thickens.

Transfer the pudding to a bowl and cover with plastic wrap right up against the top of the liquid (to prevent a skin from forming). Cool on the counter for an hour and then in the refrigerator for two to three hours.

Once the pudding has cooled, make the filling by chilling a metal mixing bowl and whisk for 15 to 20 minutes and then beating the heavy cream in the chilled bowl on high until peaks form. Next beat in the cake mix. Next gently fold in the1/2 cup sprinkles.

Take out two cups from the whipped cream mixture you just made and set the rest back in the refrigerator.

Beat the cream cheese for two minutes until light and fluffy, scraping down the bowl as you go. Add 1 cup of pudding to the cream cheese, beating it in until combined. Finally, add the two cups of the whipped cream mixture, gently folding it in.

To layer your Birthday Cake Lasagna, start with a 9 by 9 inch pan. Add a layer of waffle crisps to the bottom. You may need to break up some crisps to make sure the bottom is covered. Cover it in half of the pudding. Then add half of the whipped cream mixture. Now add another layer of waffle crisps, followed by the rest of the pudding and the rest of the whipped cream. Add a final layer of crips and then the whipped cream you stored in the refrigerator to top. Finally, top with sprinkles.

Cover the lasagna and let set for 3 to 4 hours before serving.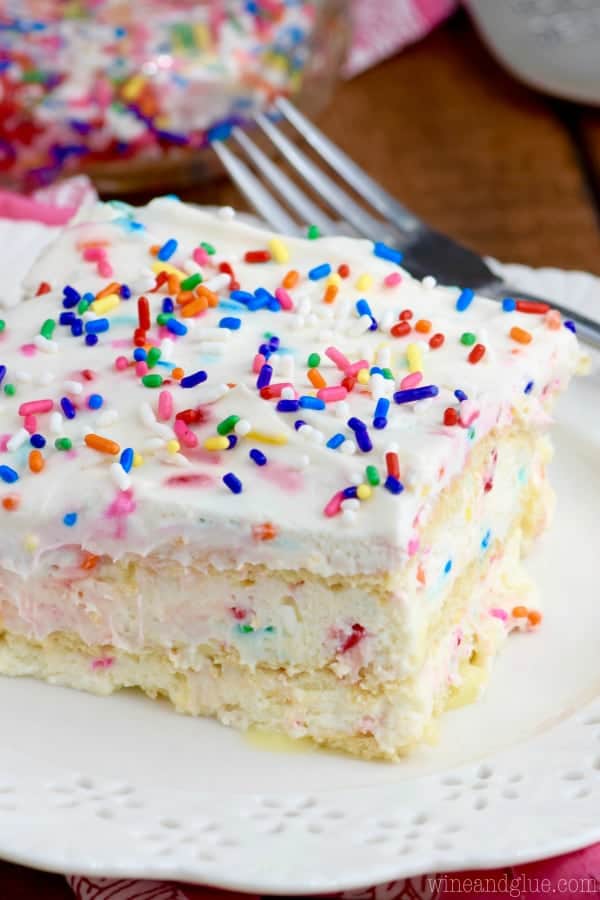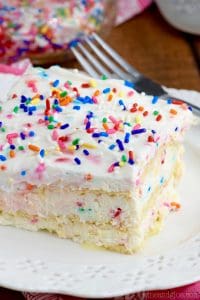 did you make this
No Bake Birthday Cake Lasagna

This post contains affiliate links, if you click on them and then make a purchase, I make a small amount of money at no additional cost to you. Thank you in advance for supporting Wine & Glue.