This Nutella Magic Shell is simple to make and works just like the original magic shell. Just two ingredients makes the perfect ice cream topper!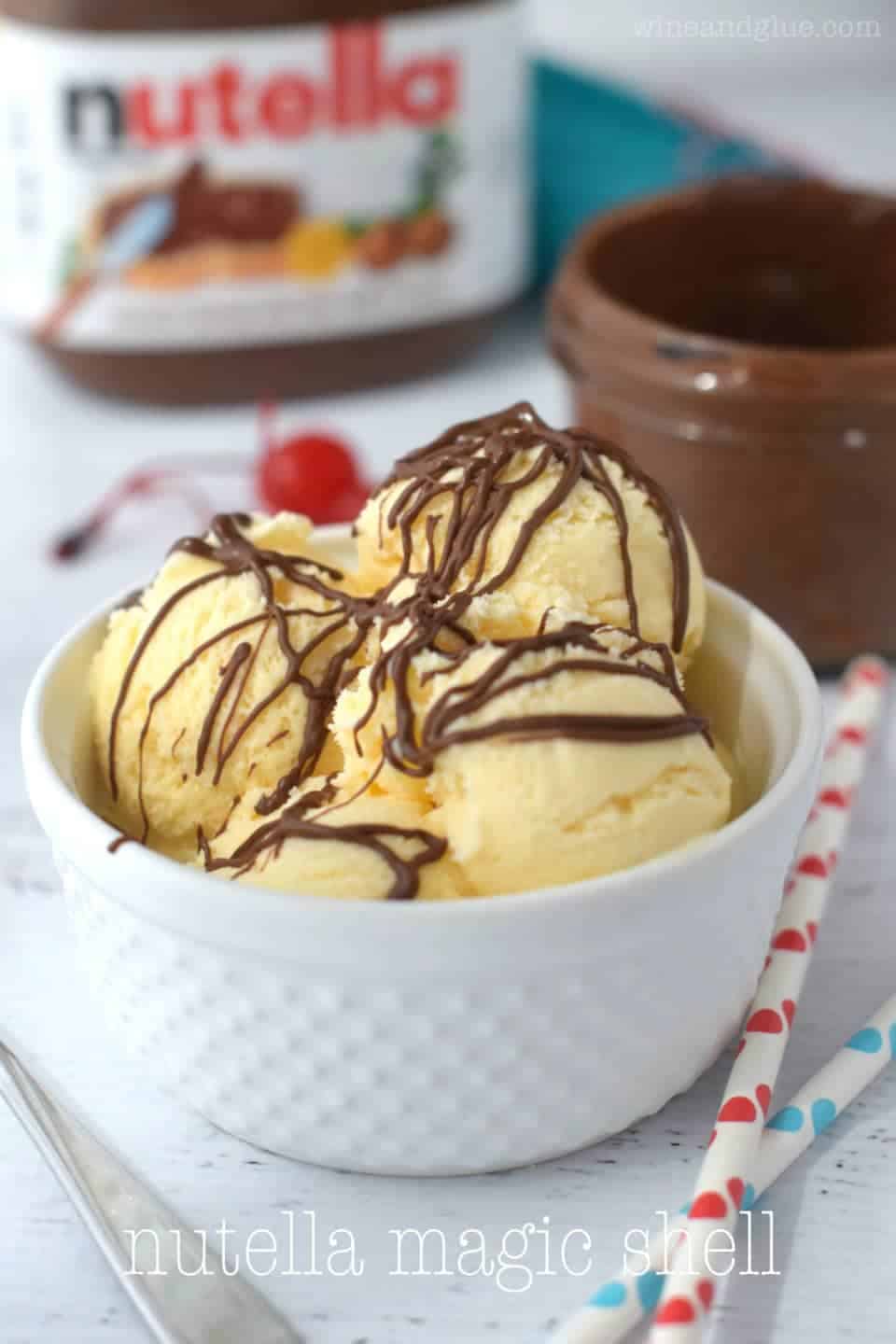 This Nutella Magic Shell is our favorite ice cream topping of all time, and that's saying something. We take our ice cream sundaes very seriously around here. My kids know that when I say we're having ice cream, that means sprinkles, hot fudge, mini marshmallows, chocolate chips, cherries, whipped cream, and sprinkles and more sprinkles. And of course, this Nutella Magic Shell recipe. It's so simple to make and fun to drizzle over ice cream of any flavor. The perfect addition to any ice cream bar, whether it's for a birthday party or a bribe to get your kids to clean their rooms (ahem..)
What are your favorite ice cream toppings? Do you go directly for the hot fudge? I love hearing your ideas, so please leave me a comment below!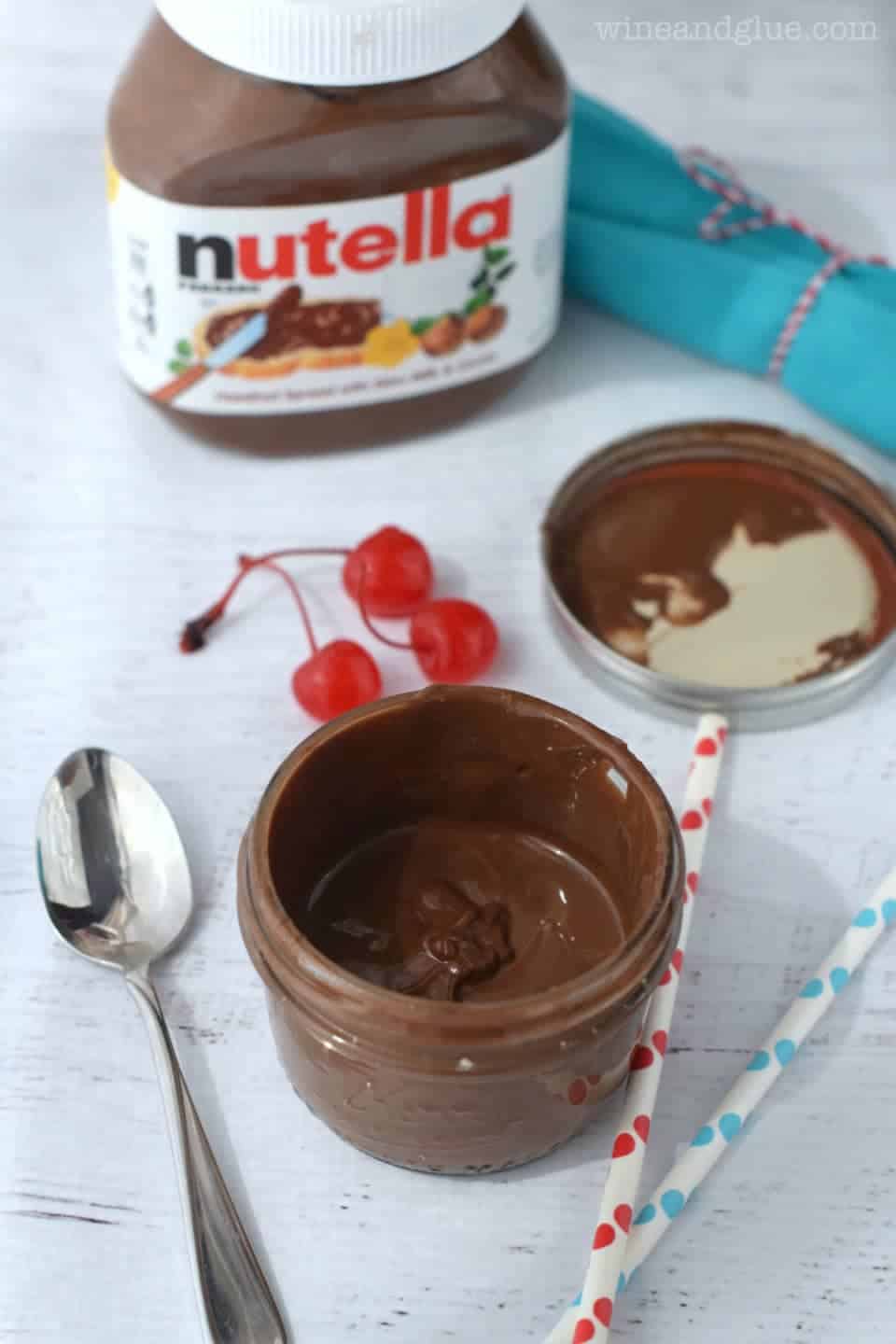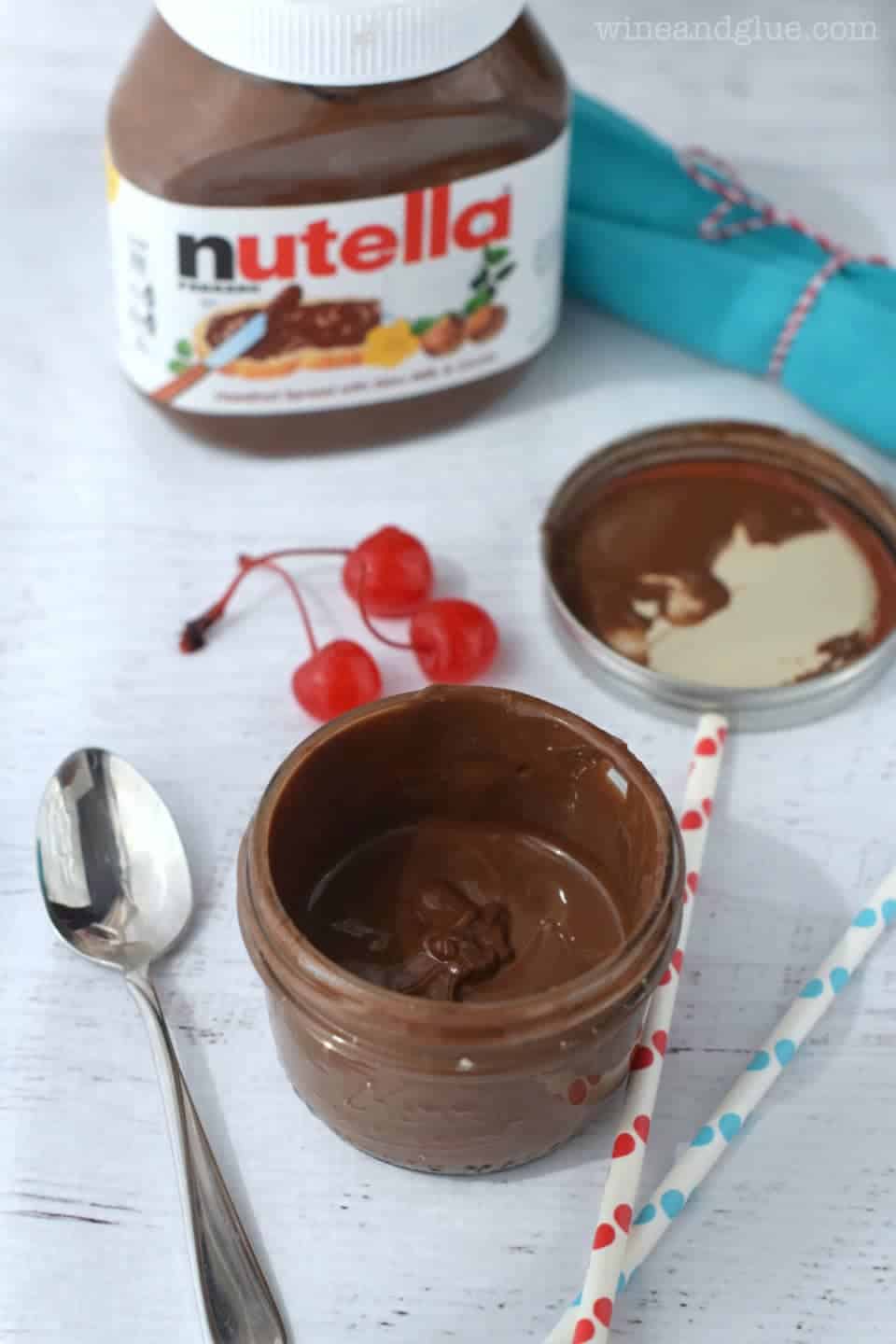 WHAT IS IN MAGIC SHELL CHOCOLATE ANYWAY?
Basically magic shell is chocolate and oil. It's just all in getting the right consistency so that it is a liquid in the container and a solid on the ice cream. When you do that with something solid like chocolate chips it's a little easier than when you do it with something like Nutella or peanut butter, which is obviously already not a solid. Our first version tasted bad. Just really really bad. But I'm not one to give up, so I kept the ice cream handy and kept trying.
TIPS FOR PERFECT HOMEMADE MAGIC SHELL
This version of my Nutella Magic Shell has that wonderful hazelnut taste and a really cool consistency.
It doesn't get completely hard like a shell and it works better as a drizzle, but it definitely solidifies and is a perfect ice cream topper. But don't expect a "crunchy" texture.
Make sure to use the exact measurements listed in the recipe card below.
Microwave at 50% power, stirring often in between thirty second intervals. It should be ready in about a minute and a half.
Let the mixture cool completely before drizzling over ice cream.
Do not store leftovers in the fridge! It needs to be stored at room temperature, tightly covered.
This homemade drizzle works best on ice cream straight from the freezer. It will get more solid as it comes in contact with really cold ingredients.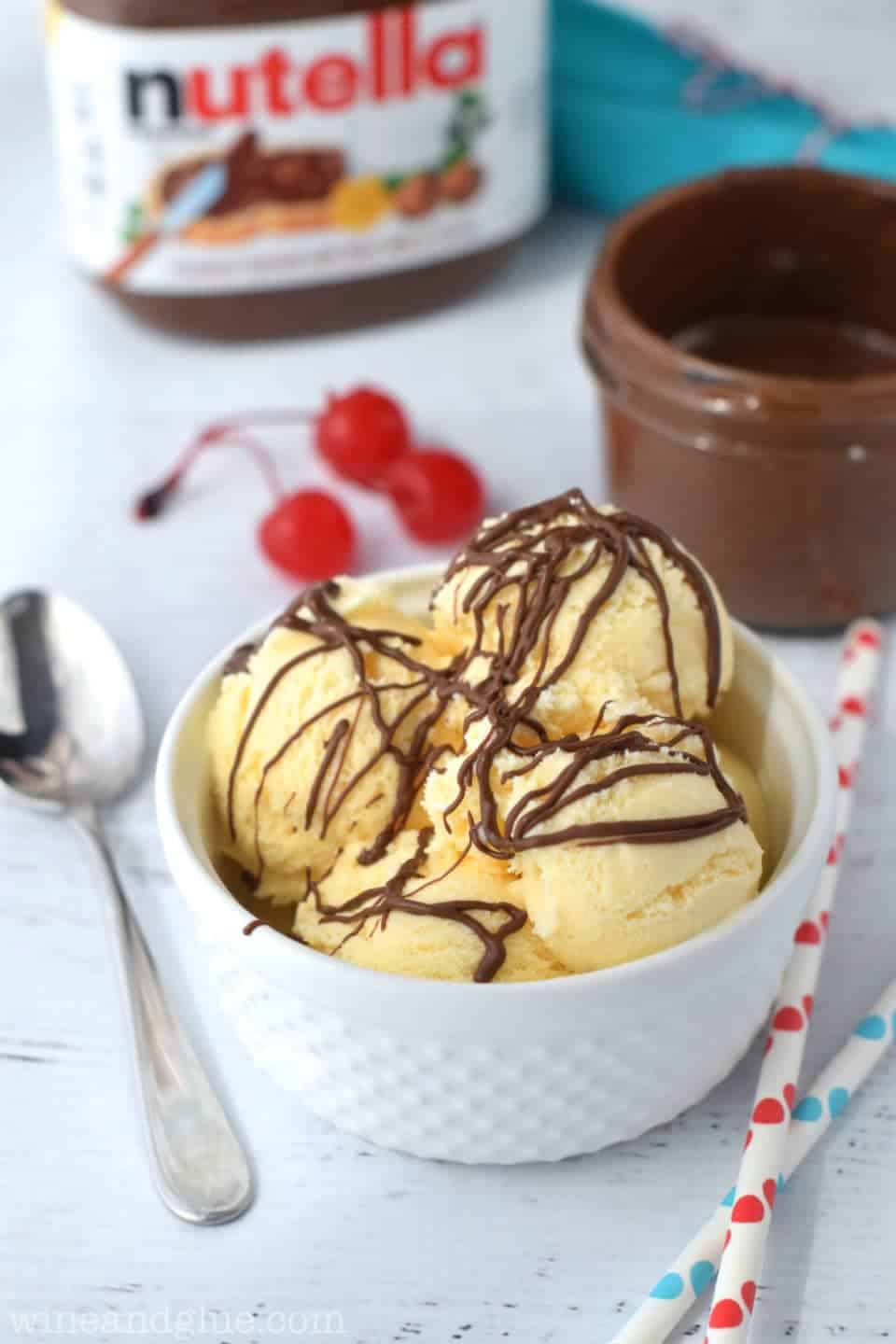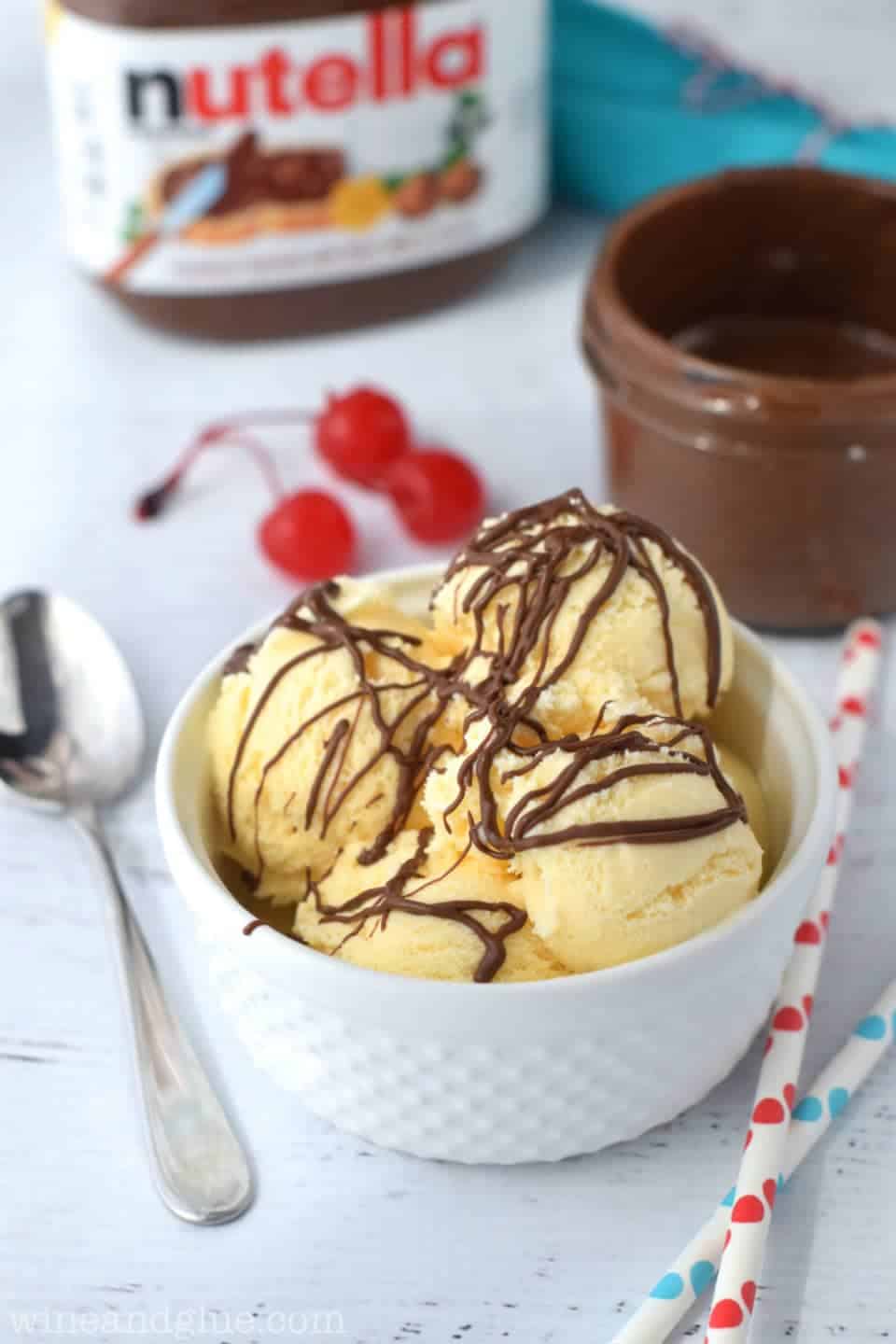 HOMEMADE ICE CREAM RECIPES
Homemade ice cream is so much fun to make with the family and there are so many options! Try a few of my favorite ice cream recipes and then top with this yummy Nutella Magic Shell. So good!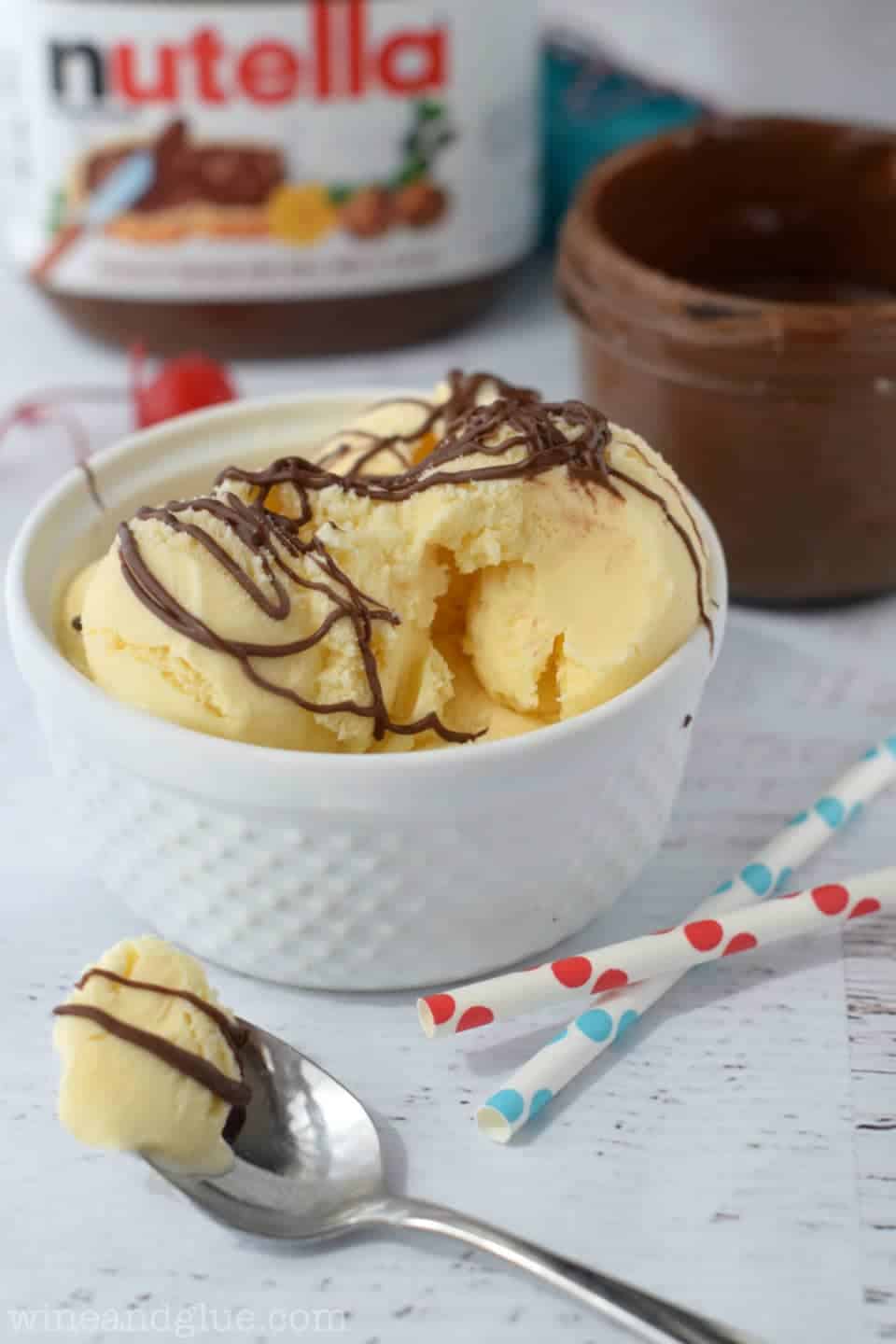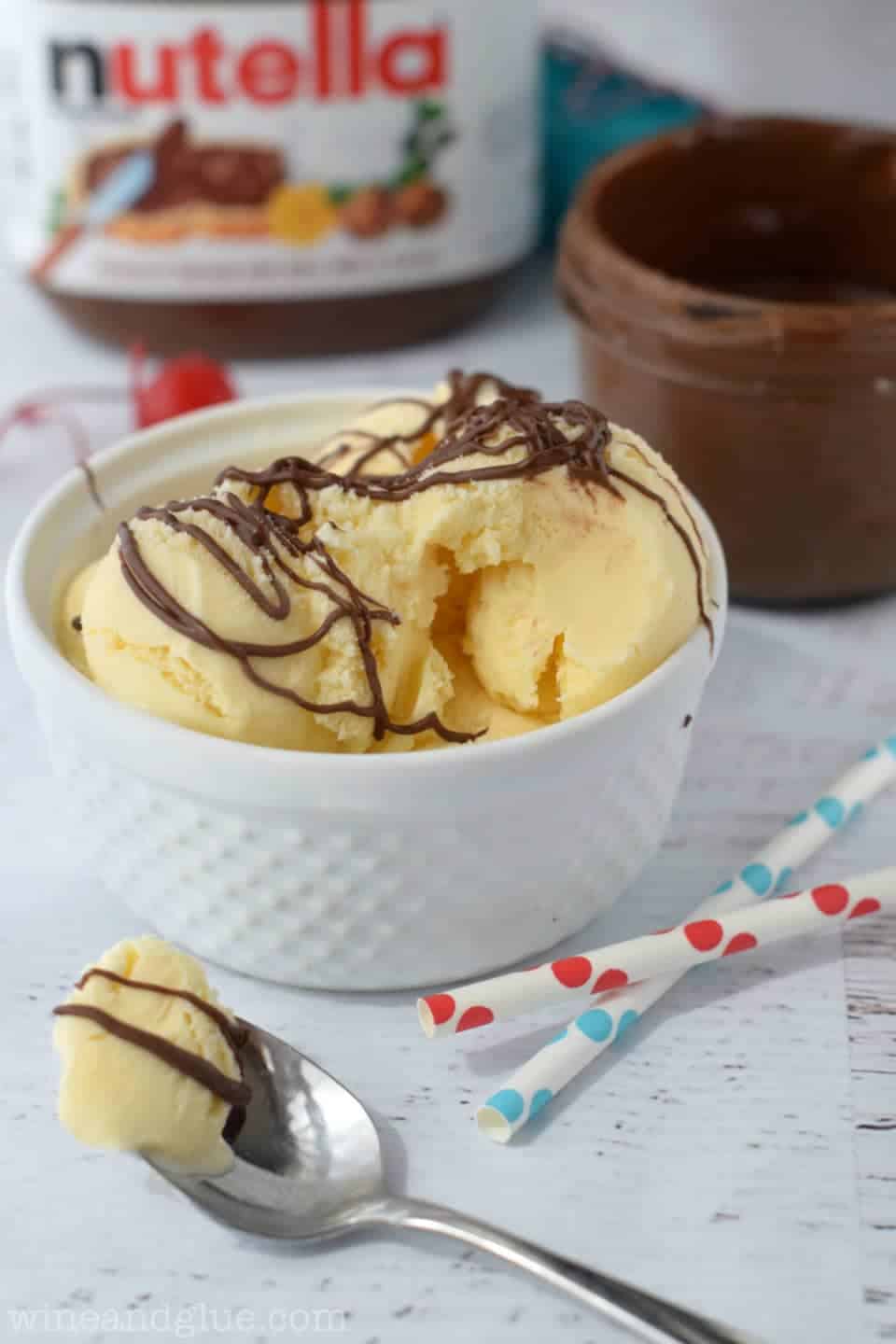 Love Magic Shell? Try my Cookie Butter Magic Shell recipe for a delicious cookie flavor on your ice cream. There's nothing more fun than digging into a sundae bar with family and friends, so next time try these scrumptious homemade recipes and really wow your guests! Drop me a comment below if you have any questions on this or any recipe on my site. Enjoy!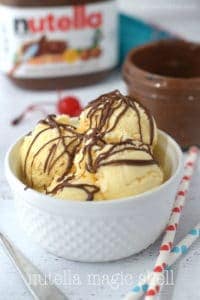 Nutella Magic Shell
Ingredients
1/2

cup

Nutella

1

TBSP

vegetable oil
Instructions
In a microwave safe bowl, combine the oil and Nutella.

Microwave in 30 second intervals at 50% power, mixing in between, until fully combined. About a minute or a minute and a half.

Once cooled, drizzle over ice cream.

Store at room temperature.
Notes
This magic shell works best on ice cream right from the freezer. While it will solidify on the ice cream, it won't get quite the crunch that traditional magic shell does.
Serving:
1
g
Calories:
380
kcal
(19%)
Carbohydrates:
40
g
(13%)
Protein:
2
g
(4%)
Fat:
25
g
(38%)
Saturated Fat:
9
g
(56%)
Polyunsaturated Fat:
5
g
Monounsaturated Fat:
2
g
Sodium:
20
mg
(1%)
Fiber:
2
g
(8%)
Sugar:
38
g
(42%)
Calcium:
16
mg
(2%)
Iron:
8
mg
(44%)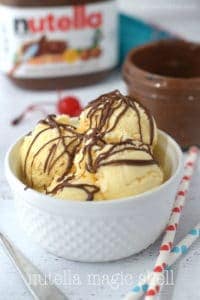 did you make this
Nutella Magic Shell