These One Bowl Chocolate Chip Muffins never last long in my house! They are easy and so delicious!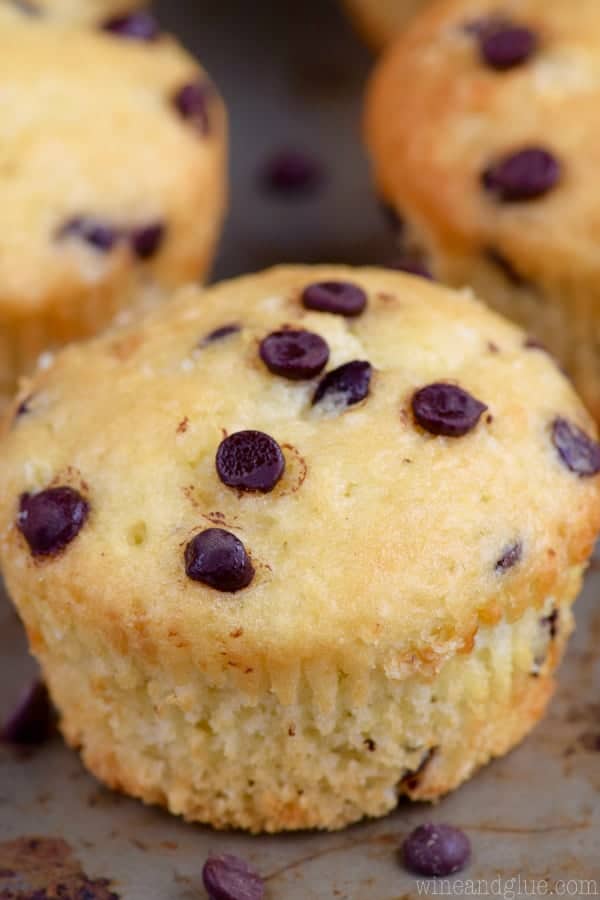 Guys, I have to brag about my cousin. Random, right? But when I tell you the brag, you'll totally understand.
My cousin is on a . . . . REALITY TV SHOW.
Crazy, right?? So, what makes it even more fun is that she is on SyFy's FaceOff, which if you haven't watched it (and I hadn't before Melissa made it on), they are doing complex make up. You know, like you would find on an alien in Star Wars. (If Melissa is reading this, she is totally shaking her head because I'm doing such a bad job explaining this.)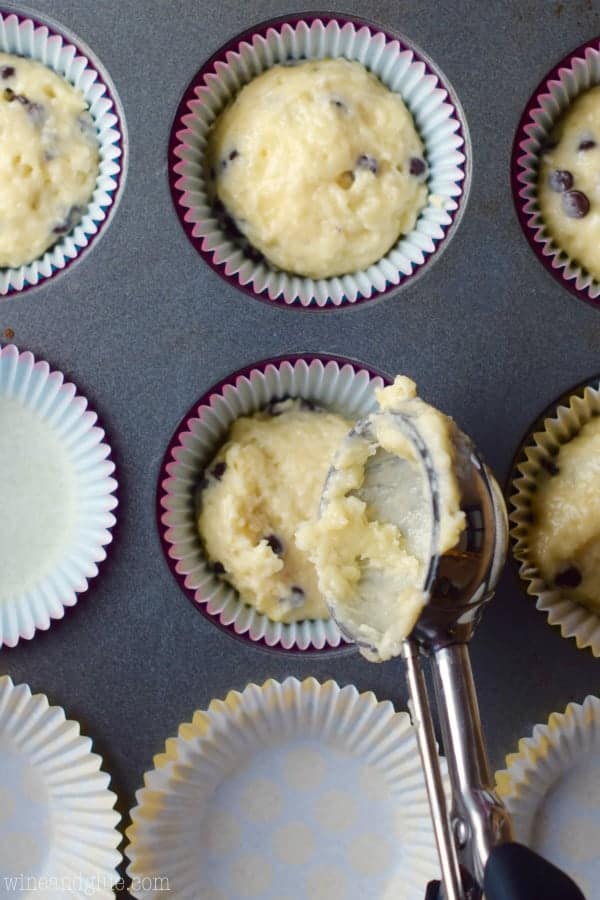 What makes it even better, besides the fact that she isn't a 22 year old who is "falling in love" on the Bachelor, is that she is crazy talented and my whole family gets to see Melissa in action once a week. It airs Wednesday nights past Gavin's bedtime, but he loves it so much that as soon as we get home on Thursday after school he wants to watch the episode from the night before.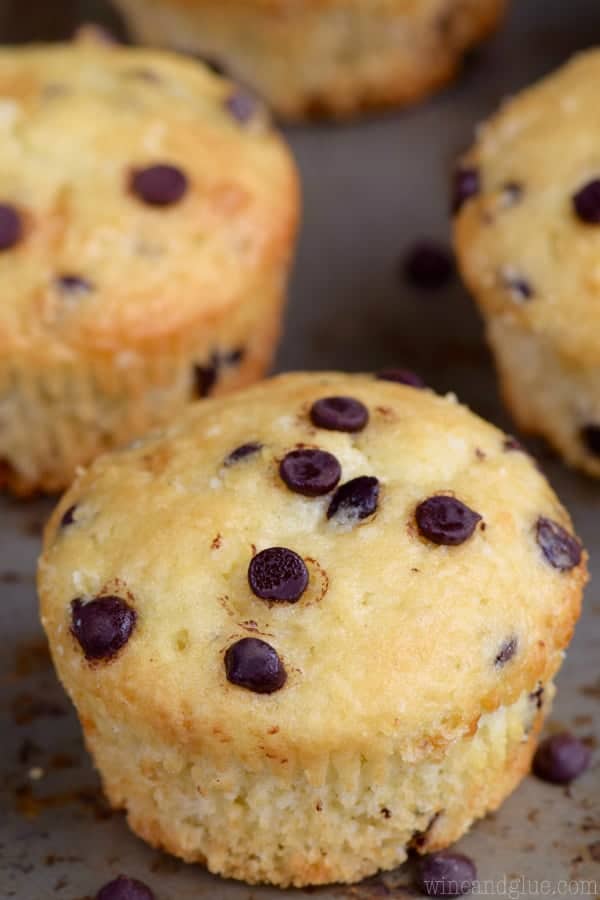 You guys, she won the first episode. She is so talented! Though I would cheer for her regardless . . . it makes it way more fun to cheer for a winner. Anyway. GO MELISSA GO!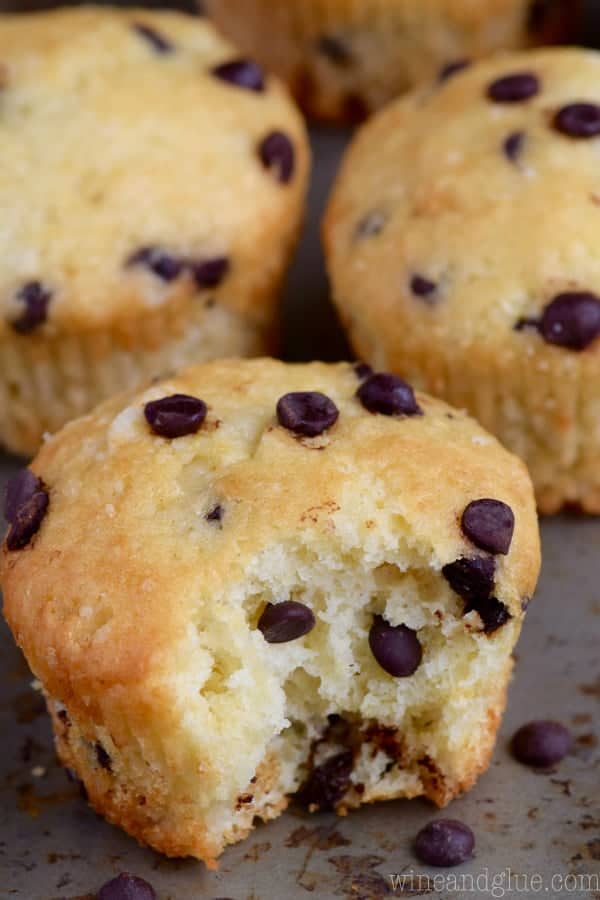 Also a winner . . . these muffins! (Hey, Melissa, I bet that's the first time you were ever compared to a muffin.) These guys come together in one bowl! Okay, if we are going to get really technical, you need another bowl to melt the butter. But lets not get technical. Let's just eat muffins.
I first made these kind of on a whim for Quinn's kindergarten class when she had snack duty. Girl has a thing for chocolate chips. And they were a huge hit! Not a single muffin left. So I managed to remember what I threw in that one bowl and made them for you! My kids flipped when they saw I had made them again and they have been having them left and right for snacks and breakfast part 2.
Two things about these muffins:
You really need the butter to cool. If you don't, they will start to cook the eggs before you can get your muffins in the oven, and no one wants scrambled eggs in their muffins.
Make sure you don't over measure your flour or your muffins will be too dry. You want to scoop the flour into the measuring cup with a spoon and then level off. If you scoop with the measuring cup the flour will get packed and you will get a lot more.
I really love using this scoop (pictured above) to scoop out my muffins. It makes them all the same size, puts the perfect amount in each cup, and it makes it really easy to fill the muffin cups neatly.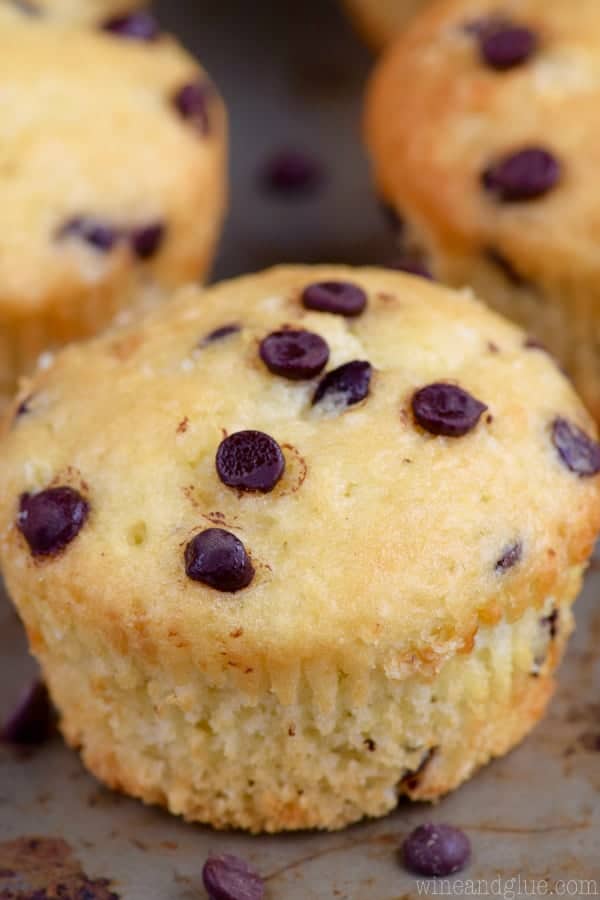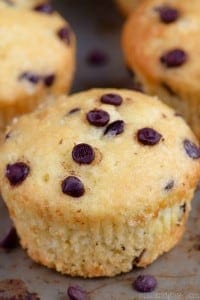 One Bowl Chocolate Chip Muffins
Ingredients
3

cups

all purpose flour

1

cup

granulated sugar

1

TBSP

baking powder

1/2

tsp

baking soda

1/2

tsp

salt

1 1/2

cups

low fat vanilla yogurt

3

large eggs

8

TBSPs

butter

melted and cooled

1

tsp

vanilla extract

1

cup

mini chocolate chips
Instructions
Preheat your oven to 375 degrees

Whisk together the flour, sugar, baking powder, baking soda, and salt in a large bowl.

Add the butter, eggs, yogurt, and vanilla. Gently break up the eggs and then fold the ingredients together.

Fold in the chocolate chips.

Scoop

3 TBSPs of batter

into muffin tins lined with paper. Bake for 20 to 25 minutes (mine took 22) or when a toothpick inserted into one of the middle muffins comes out clean.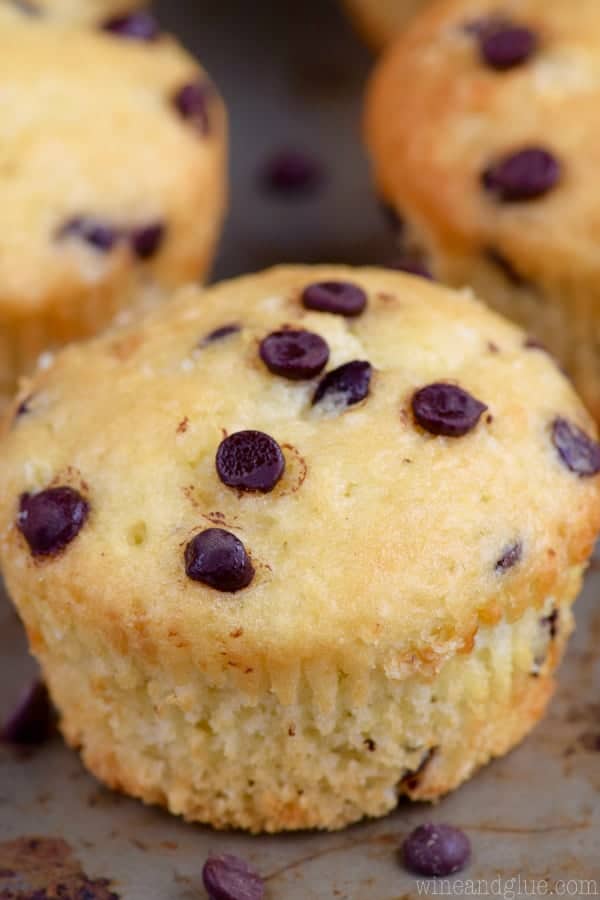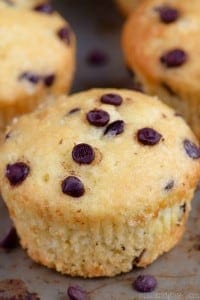 did you make this
One Bowl Chocolate Chip Muffins

You might also like

This post contains affiliate links, if you click on them and then make a purchase, I make a small amount of money at no additional cost to you. Thank you in advance for supporting Wine & Glue.