This Overnight Spinach Artichoke Strata makes for a delicious breakfast casserole ready to throw in the morning!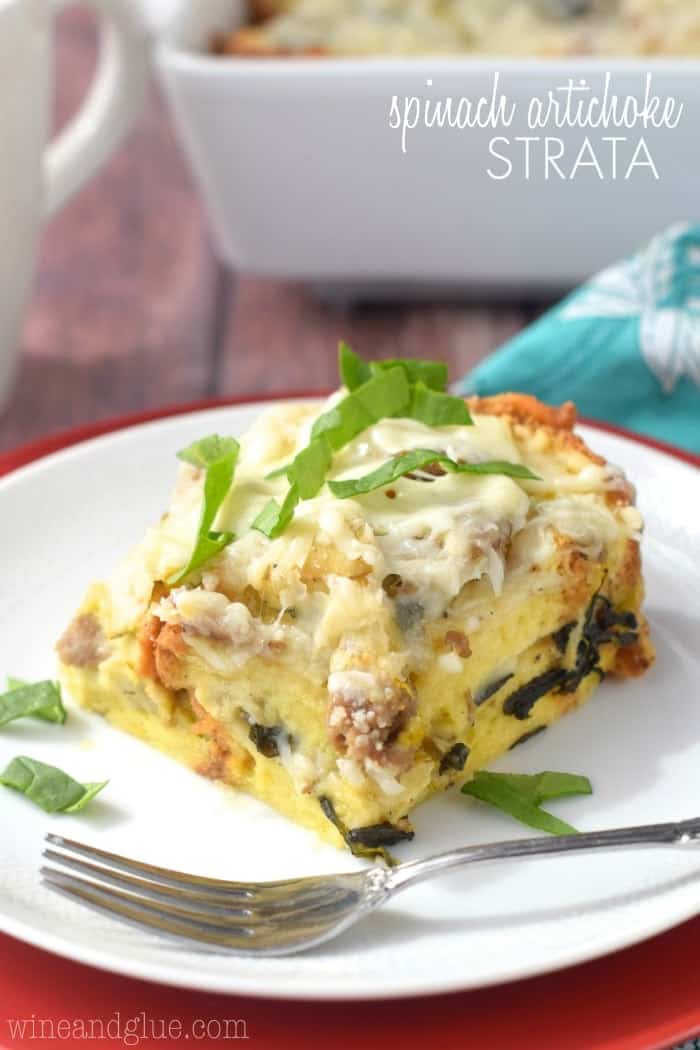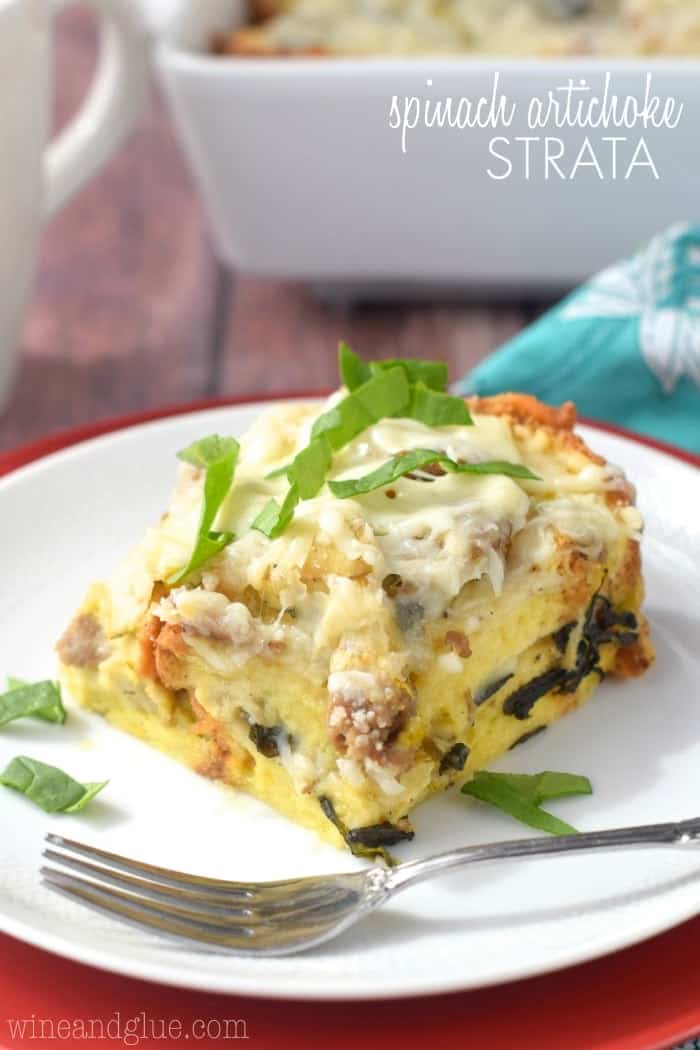 It's come to my attention that Piper was most certainly a Ninja or a Green Beret in a past life. (Note: Do not come to Wine & Glue for historical facts or general information about Ninjas, Green Berets, or reincarnation.)
It was a couple of months ago and Nathan and I were snuggling with Piper in bed while the other kids slept in (snort laugh, they never sleep in, I seriously have no idea what they were doing and why they weren't harassing us to get out of bed). Any who, Nathan was talking to Piper when all the sudden she stuck her tiny knife like fingers up his nose and grabbed with a mighty death grip.
Nathan screamed some expletives that I'm going to hope Piper doesn't remember and said, "Who knew that a grip on the inside of your nose could render you completely defenseless!!"
Since then she has been known as, Baby Ninja.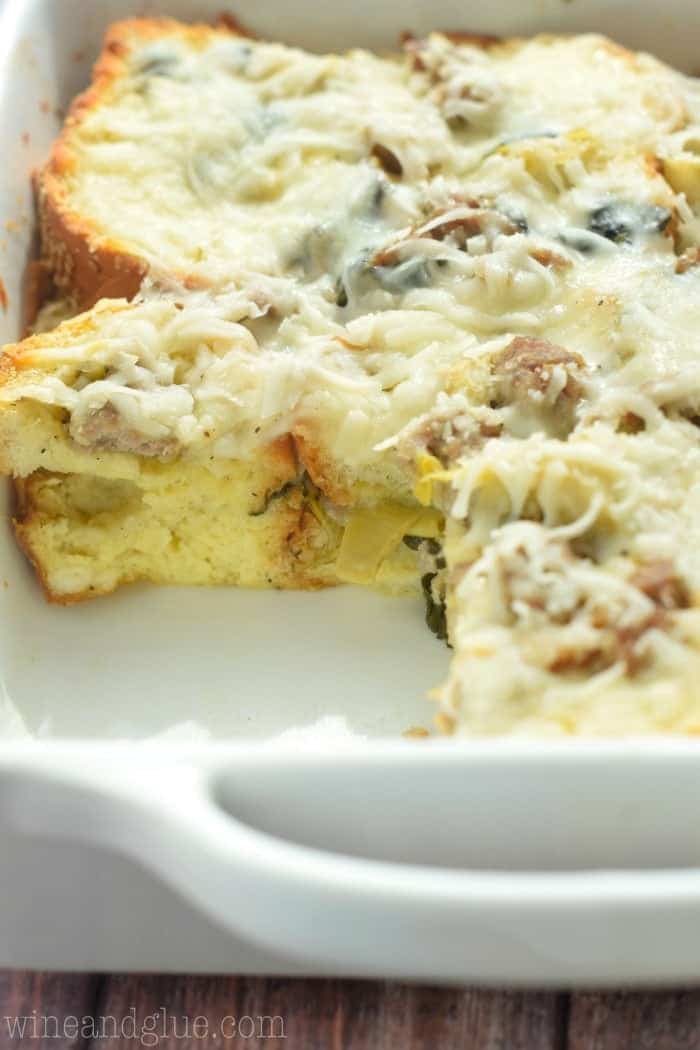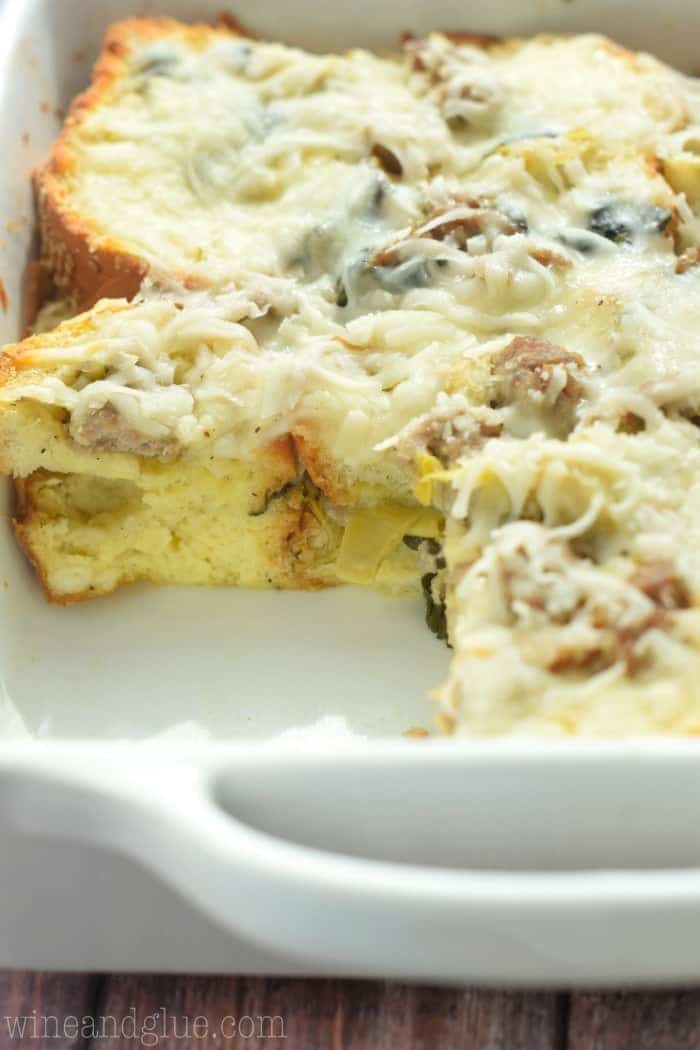 A few weeks ago when I was nursing Piper she was playing with my hand, sort of gently, with her tiny knife fingers and then all the sudden she found a nerve ending and dug in with all her might. My entire arm went numb. For most of the day. I told Gavin about it and he laughed harder than I've heard in a while, and then said,
"Baby Ninja."
Yesterday I was nursing Piper and, because I didn't learn from the incident with Nathan in the bed, she clawed me in the nose and I got a nose bleed.
Baby Ninja.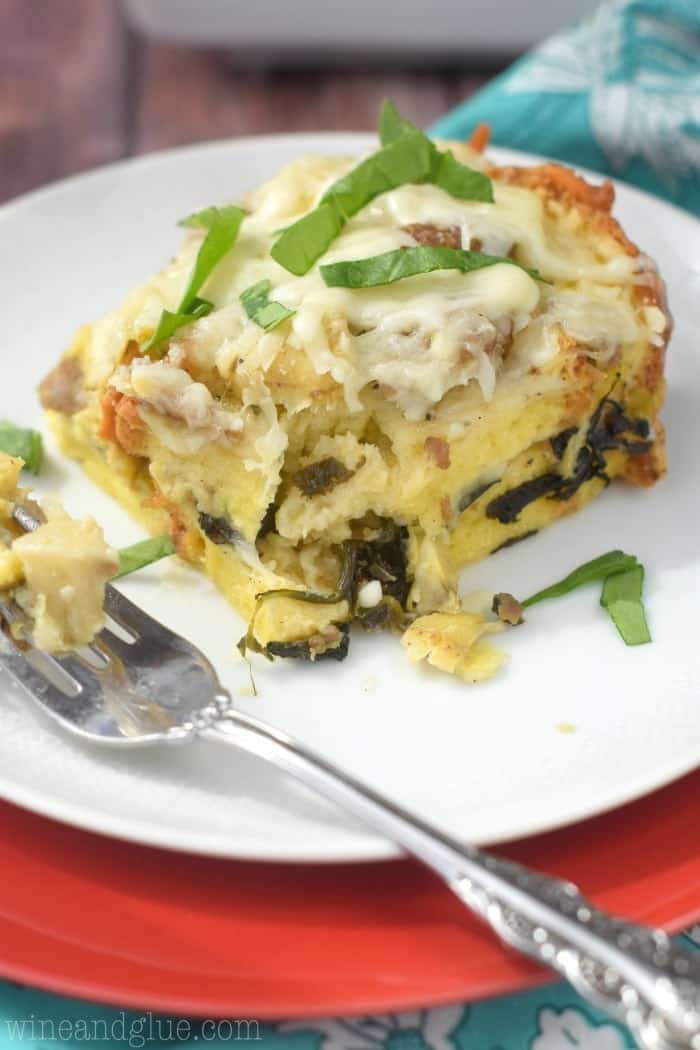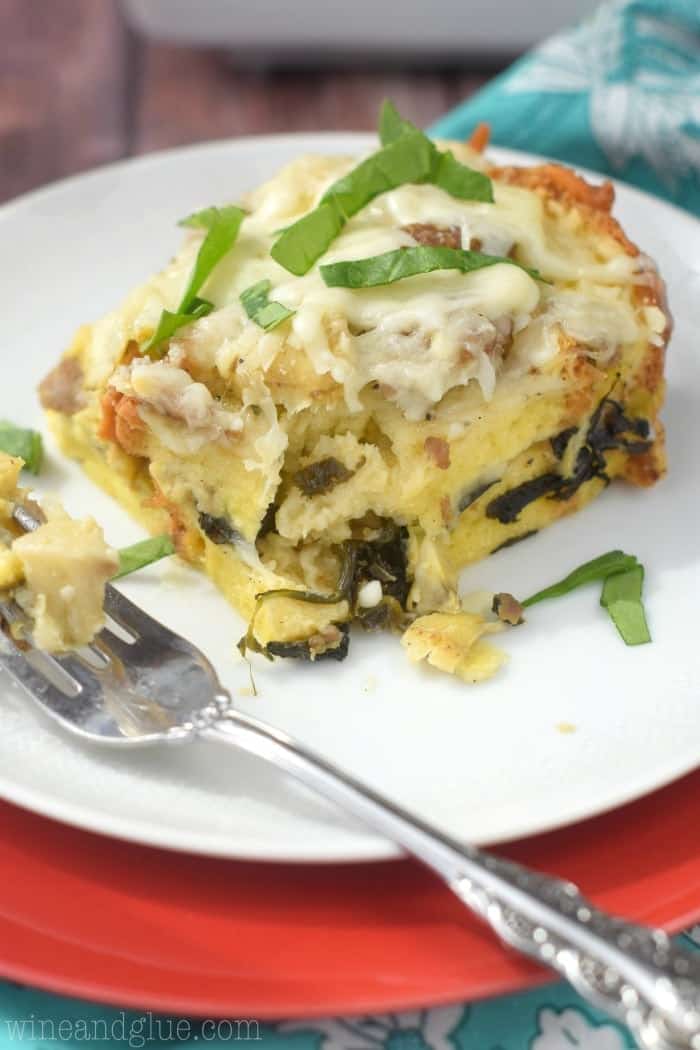 Guess what will also bring you to your knees?
That's right friends, this Overnight Spinach Artichoke Strata! I looooooove a good strata, and this one is amazing! As if the combo of spinach and artichoke weren't enough, I use some sweet Italian turkey sausage in there, a little white wine, and some garlic that will make you weep with joy, which honestly is so much better than weeping because your is slowly but surely proving to you that she can without a doubt kill you in your sleep with a flick of her pinky finger.
FOR PHOTO INSTRUCTIONS CLICK HERE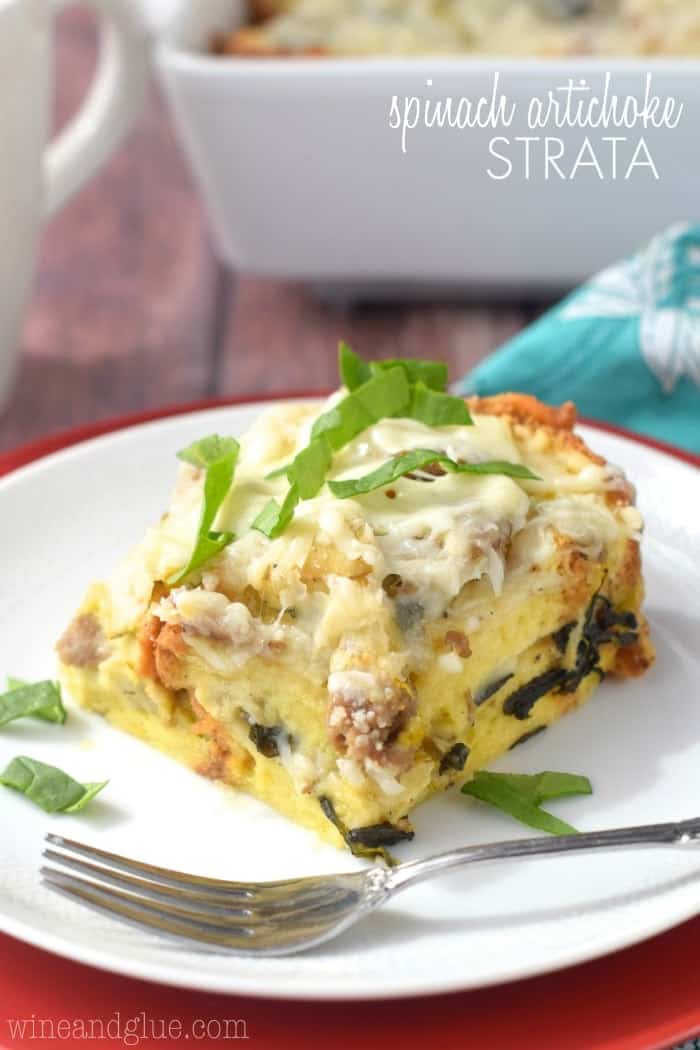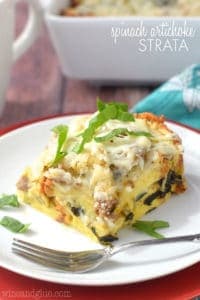 Overnight Spinach Artichoke Strata
Ingredients
French Bread

about half a long loaf sliced into 1/2 inch pieces and dried overnight, or baked at 200 about 30 minutes

1/2

pound

sweet Italian turkey sausage

I used Jennie-O

2

cloves

garlic

crushed

1

cup

artichoke hearts

chopped

2

cups

spinach

1/2

cup

white wine

6

eggs

1 1/2

cups

whole milk

1

tsp

salt

1/2

tsp

pepper

1 1/2

cups

mozzarella

shredded
Instructions
Sauté the the sausage over medium heat until no longer pink. Add the garlic and artichokes and cook for about two minutes. Add the spinach and sauté until completely wilted. Add the wine and cook until the wine has reduced by about half. Remove from the heat and set aside.

Whisk together the eggs, whole milk, salt and pepper in a large bowl.

Spray an 8 by 8 baking dish with cooking spray. Cover the bottom of the dish with a layer of the sliced dry bread.

Cover the bread with half of the sausage vegetable mixture. Top it with half a cup of the cheese. Repeat for a second layer, making sure that you use all the liquid from the pan.

Pour the milk and egg mixture over the top evenly. Cover with saran wrap and weigh down with something heavy, like a bag of sugar.

Refrigerate for 1 to 24 hours.

After refrigerating, remove the plastic wrap, and top with the final half cup cheese. Preheat the oven to 325 degrees and let the strata sit out for about 20 minutes before baking.

Bake for 40 to 45 minutes or until the eggs start to pull away from the side of the pan.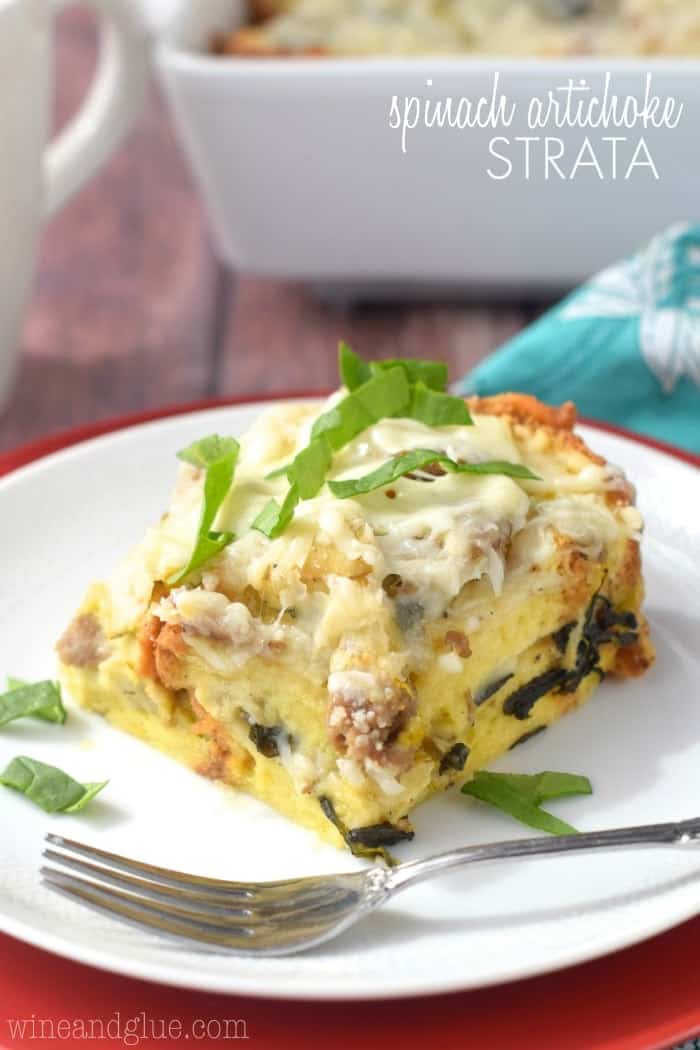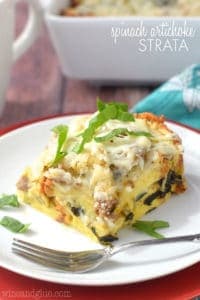 did you make this
Overnight Spinach Artichoke Strata
You might also like
Sausage and Mushroom Overnight Breakfast Strata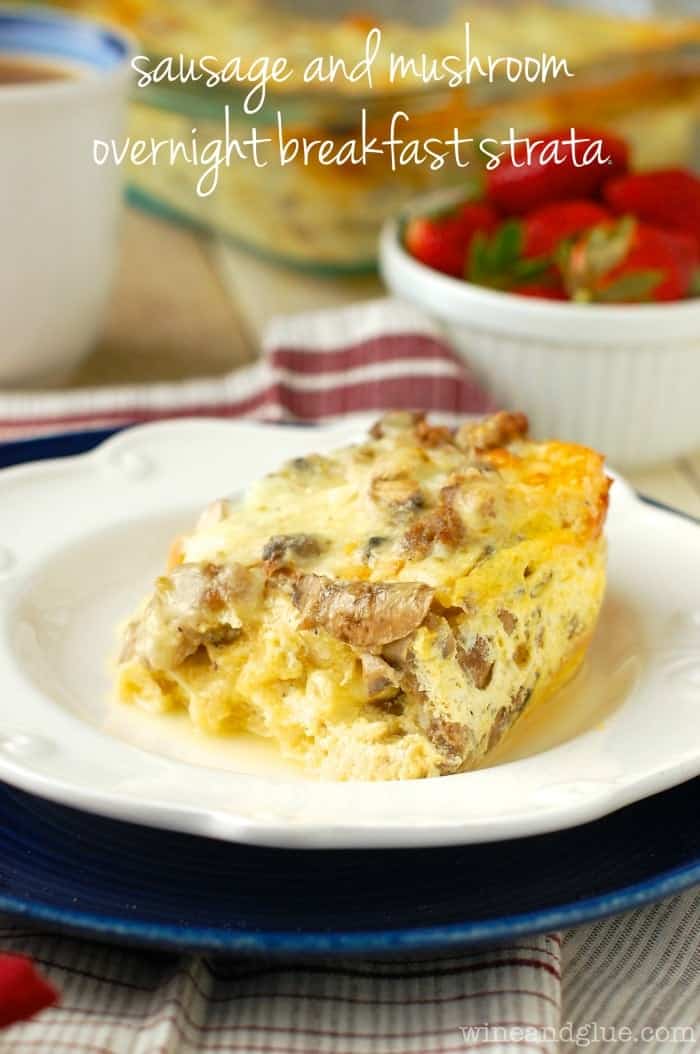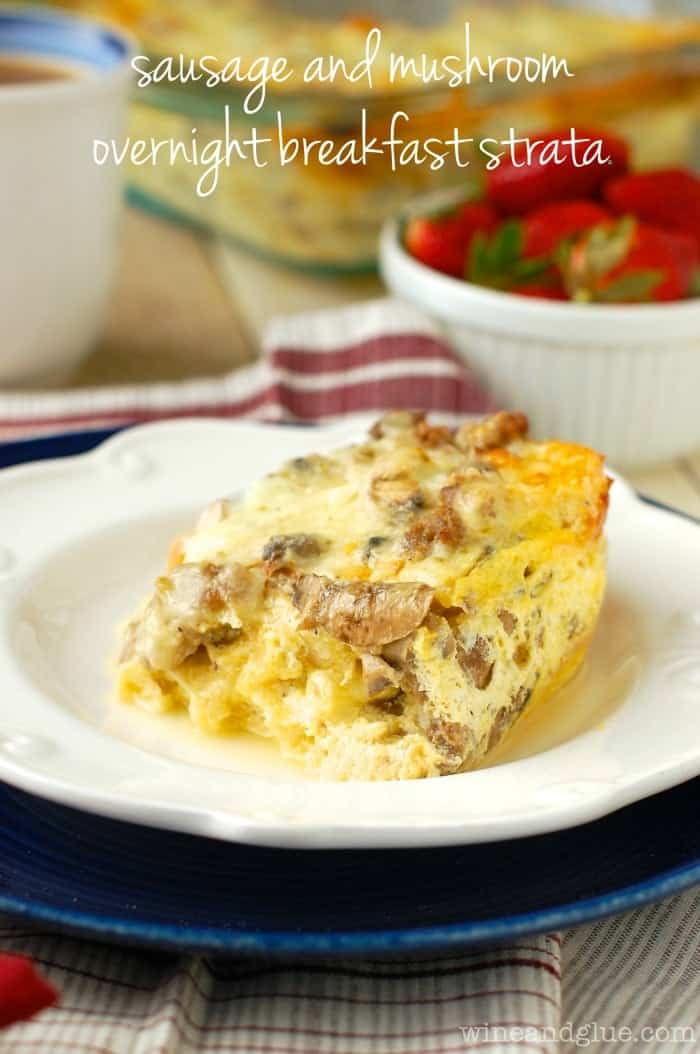 Apple Cheddar Quiche