This Peanut Butter Cup Pie recipe has layer upon layer of amazingness! Peanut butter lovers, this peanut butter pie recipe is for you! Make it for someone you love!
This amazing Peanut Butter Cup Pie has been posted for a while now, and it has gotten some amazing rave reviews. It is decadent, rich, and wonderful. This is the perfect pie to make for someone you love on their birthday or just to tell them how sweet you think they are.
LAYERS AND LAYERS OF AWESOME
One of the best things about this pie are the layers of wonderfulness packed in it. So let's talk about each one.
Vanilla Wafer Crust: A simple crust recipe that you are sure to fall in love with.
Chocolate Ganache: This gives this pie sort of a black bottom feel to it.
Peanut Butter Cups: Because it could really be a peanut butter cup pie without them.
Peanut Butter Filling: It is like a decadent peanut butter mousse.
Drizzle of Chocolate: The easiest layer to be sure, but it gives the pie a gorgeous look.
Chocolate Whipped Cream: It gives the pie a glorious finish.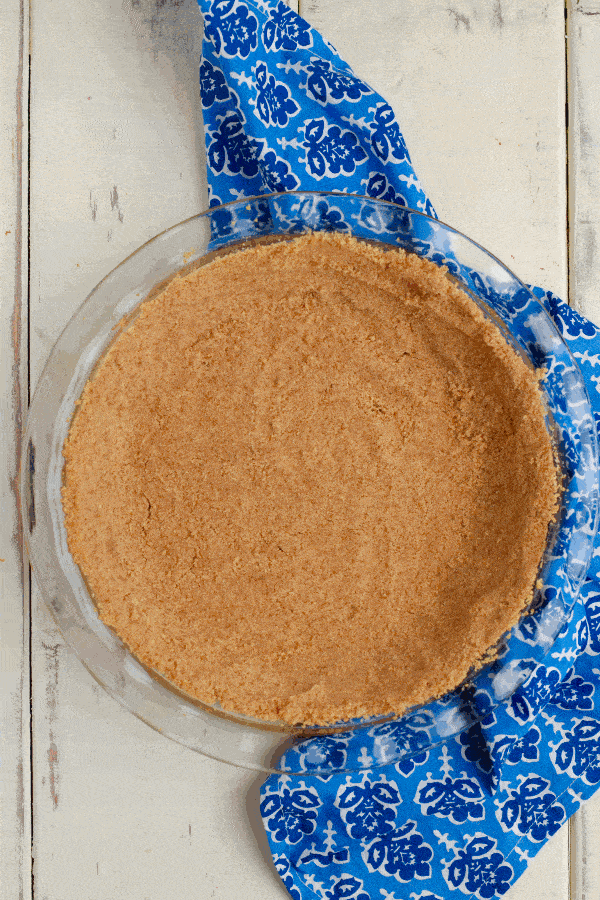 PLANNING AND MULTITASKING
Because of all of it's glorious layers, this pie takes a little planning. Here are a few ways to make it easier for yourself.
This pie needs to cool in the fridge for four hours before cutting. So keep that in mind.
At the same time that you bake the crust, put a metal bowl and metal beaters in the freezer. They need to be really cold to make the peanut butter mousse.
Then make the chocolate ganache.
The ganache and the pie crust will need to cool a little. Use that time to make the peanut butter mousse.
Make the chocolate whipped cream right before serving.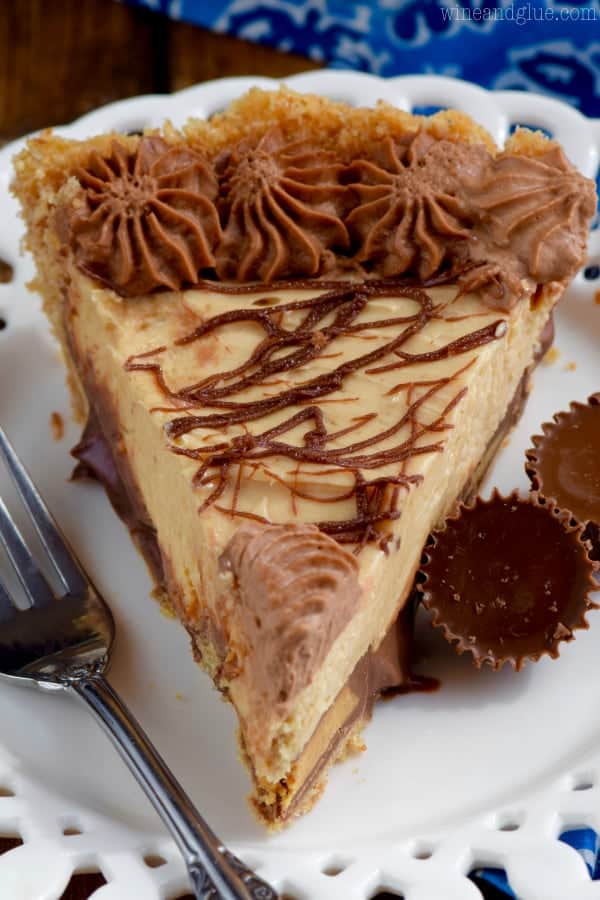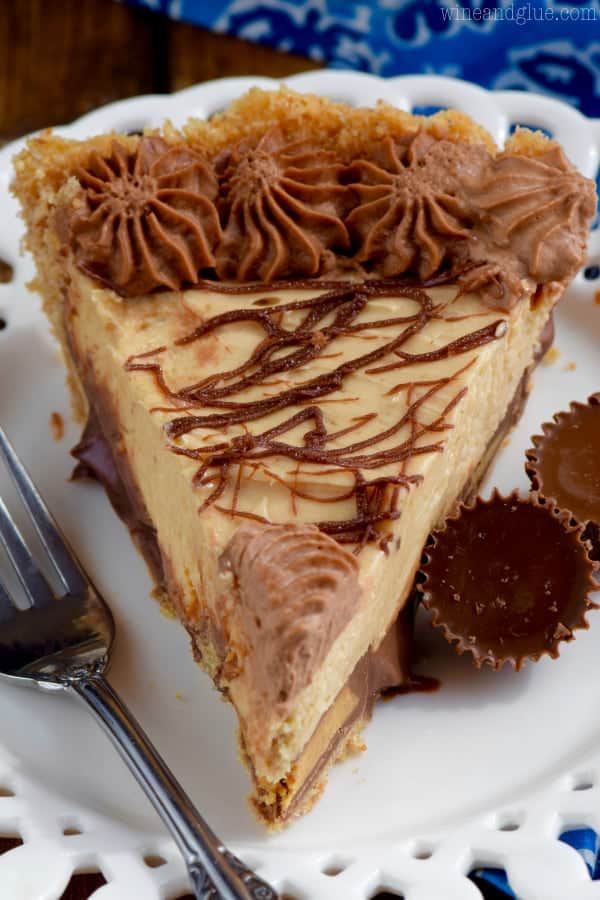 STORING AND FREEZING
This pie can be kept in the refrigerator, covered, for up to three days.
A lot of readers have had good success with freezing this pie. You may want to consider cutting it before freezing so that you don't have to thaw the whole portion of the frozen pie.
Please keep in mind that if you choose to freeze it, you should not put it back in the freezer a second time after thawing.
The frozen pie can be kept, wrapped tightly, in the freezer for up to three months.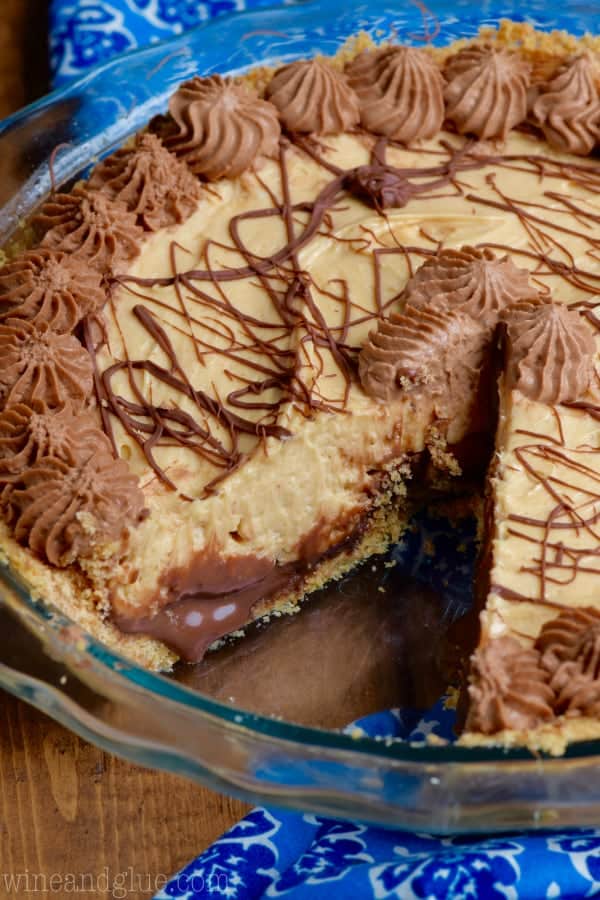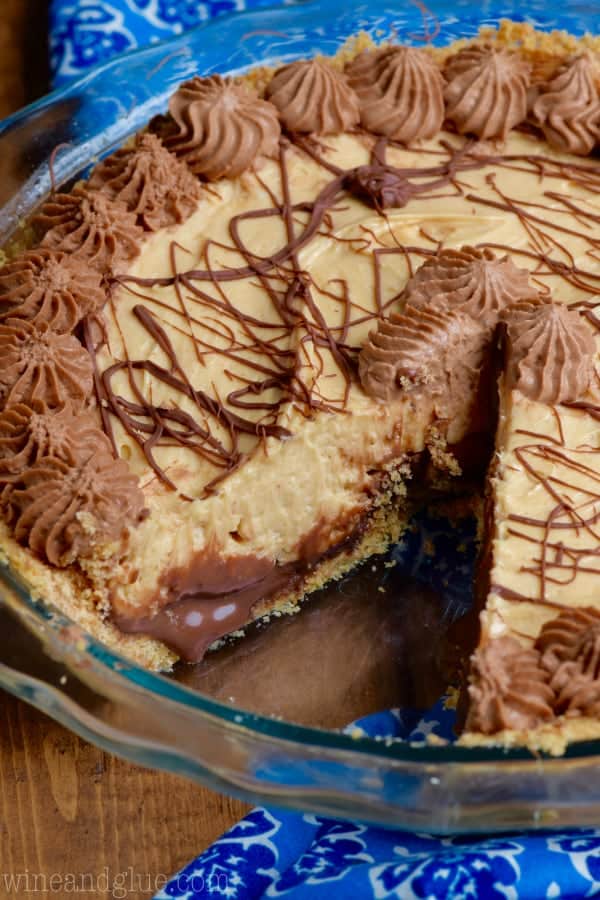 PEANUT BUTTER DESSERTS YOU WILL LOVE
If you can't get enough peanut butter desserts, make sure to try some of these other winners:
If you make this pie or any of my other desserts, leave me a comment and let me know. I love hearing from you!
This post contains affiliate links, if you click on them and then make a purchase, I make a small amount of money at no additional cost to you. Thank you in advance for supporting Wine & Glue.