This Pina Colada Rum Punch is the perfect easy recipe for your parties! With only FOUR ingredients, you can make this in about five minutes! File this one with all your party punch recipes! Made with champagne and rum, this is a great punch for a crowd! This would be a great summer champagne punch or a great holiday punch recipe! Perfect year round! If you are looking for other great party cocktails make sure you try this caramel apple sangria, this cranberry pomegranate champagne cocktail, and of course this lemon champagne cocktail.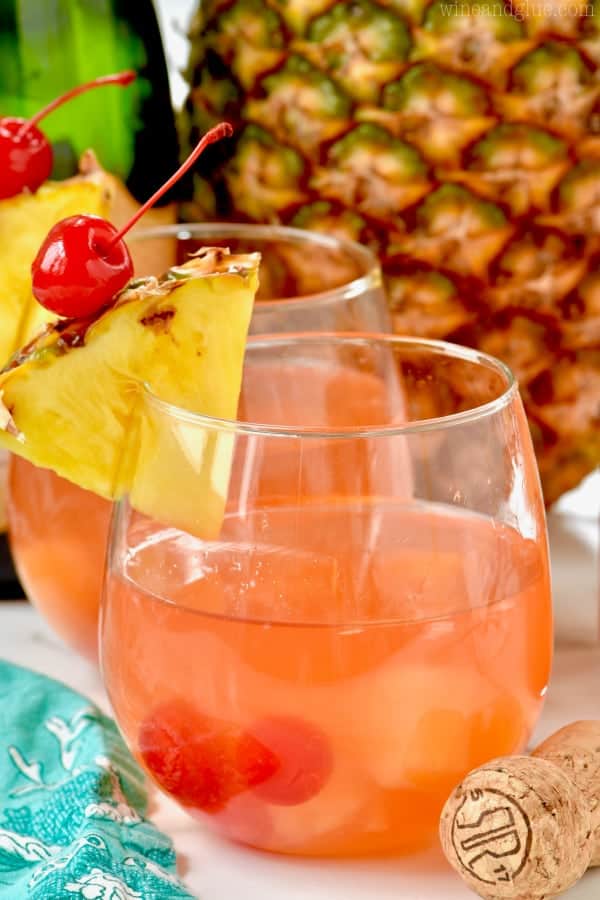 Are you guys done with your holiday shopping?
My husband and I are going for ONE last round of shopping this morning like the weirdos that we are. I mean, seriously. At a certain point you just have the pull the plug on operation Buy All The Things, but we just can't quit Christmas shopping.
This year, I feel like I deserve a gold medal because it is not midnight on Christmas Eve and most of our gifts are wrapped . . . of course if we buy more this morning . . . no, never mind. I'm going to stick with me deserving a gold medal.
Or if not a gold medal, then at least a glass of this Pina Colada Rum Punch.
It's only four ingredients, guys. It's like BEGGING you to make it for New Year's Eve. Or Christmas Eve Eve. Whatever.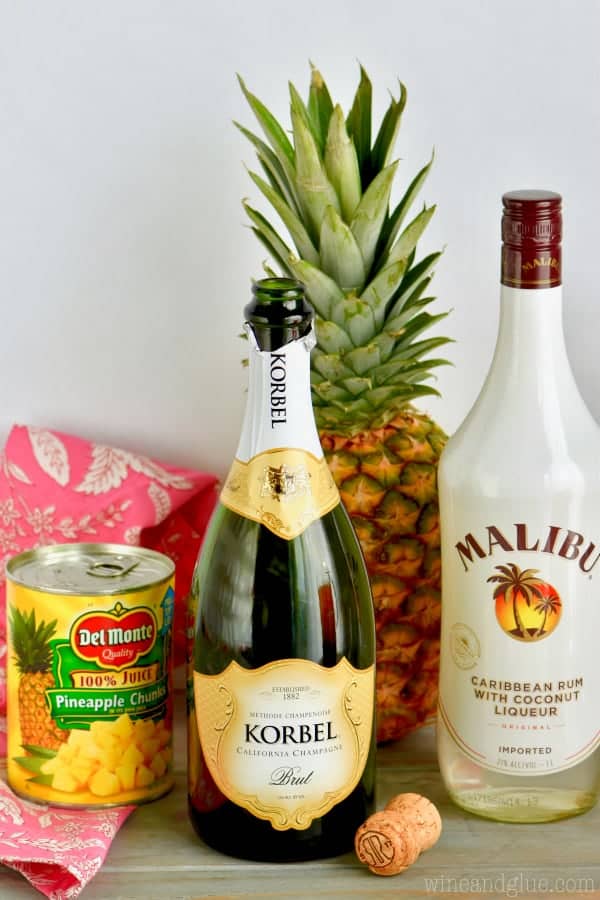 HOW TO MAKE PINA COLADA RUM PUNCH
This is a spin, and I use spin realllllly loosely here because basically it's just about the same, on my Pina Colada Sangria – the cocktail that won't quit. The first cocktail to go viral for me.
I love that this is different though. Swapping out the Moscato for Champagne definitely changes the flavor of it. It makes it less sweet and I feel like it makes it more festive. You know, because bubbles.
Plus I added maraschino cherries.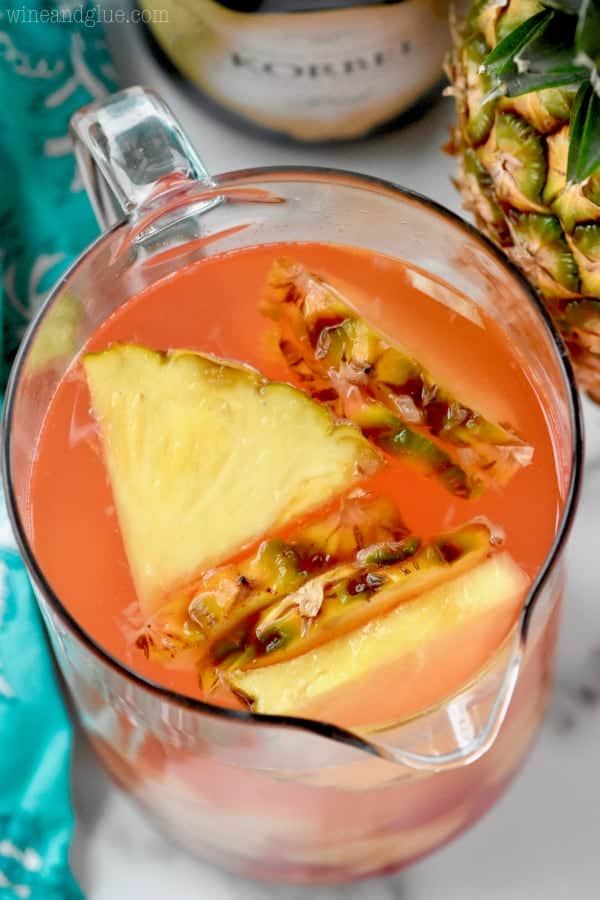 VARIATIONS ON PINA COLADA RUM PUNCH
This punch recipe literally takes about five minutes to throw together, so I'm not sure that I can really give you any tips for this recipe, but I do think I can give you some ideas.
If you want a sweeter drink, get a bubbly Moscato. It will be very sweet.
If you want to stretch the drink and make it less strong (but WHY I ask, WHY???) you could top off glasses with a white soda like Sprite or 7UP or even just some coconut flavored sparkling water.
Because this is such an easy cocktail to throw together, if you are going to a party bring all the ingredients for a second batch, but don't make it until you are ready. Because bubbles.
If you are looking for more great cocktails to serve to a thirsty crowd try this Sparkling Cranberry Vodka Punch Recipe, this Stormy Donkey Party Punch (<—— best cocktail name ever), and Strawberry Peach Ginger Ale Party Punch!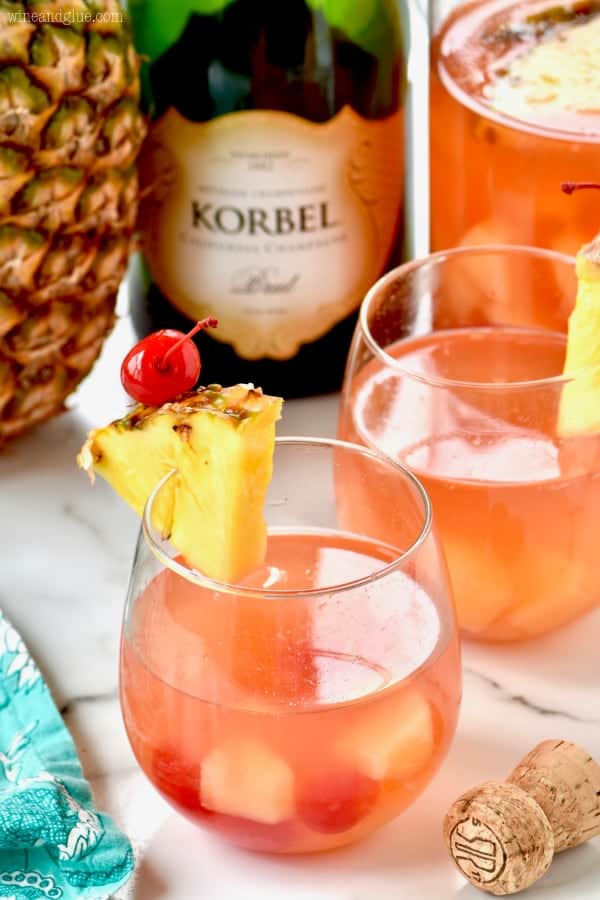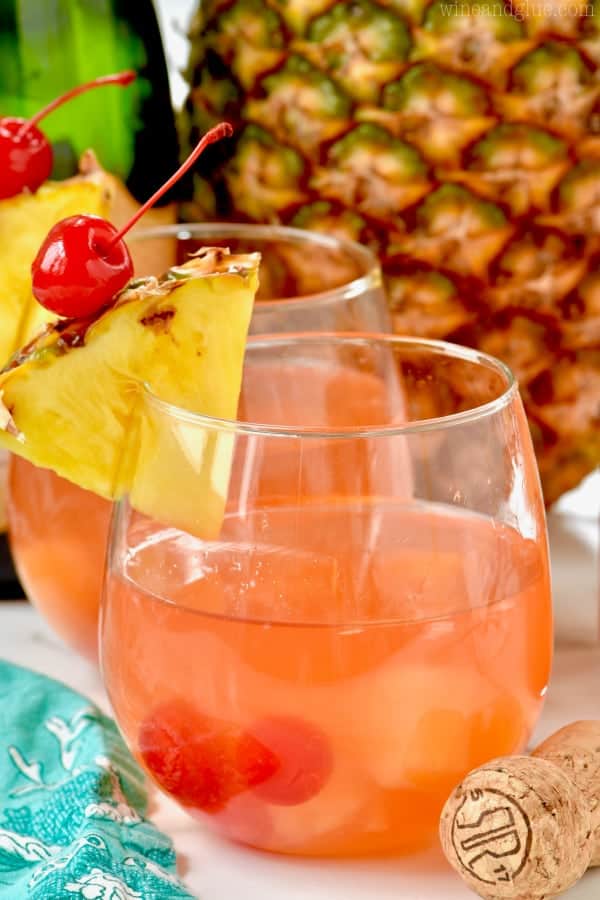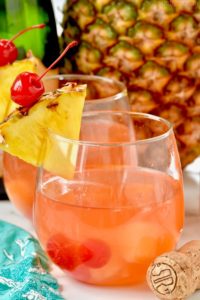 Pina Colada Rum Punch
This Pina Colada Rum Punch recipe is made with champagne and takes only five minutes to make!
Ingredients
1

750 ml

bottle of champagne

1

cup

coconut rum

1/2

cup

maraschino cherries

1

20 oz

can of pineapple chunks with it's juice
Instructions
Combine all ingredients in a pitcher. Enjoy!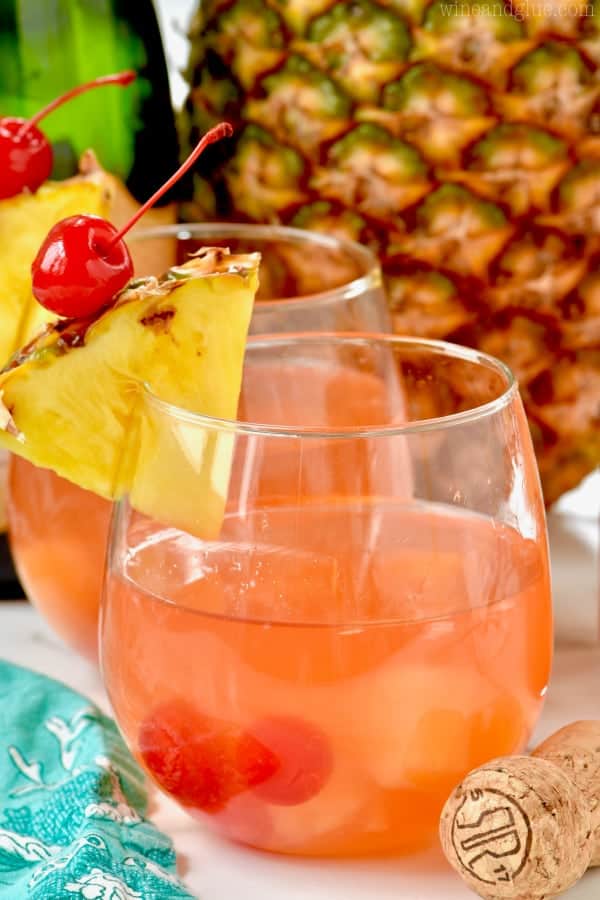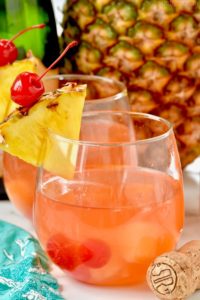 did you make this
Pina Colada Rum Punch
You might also like
Slow Cooker Spiked Apple Cider