These Pumpkin Brown Butter Cookie Bars are phenomenal! Deliciously soft and chewy, with the deep flavor of brown butter and pumpkin perfection!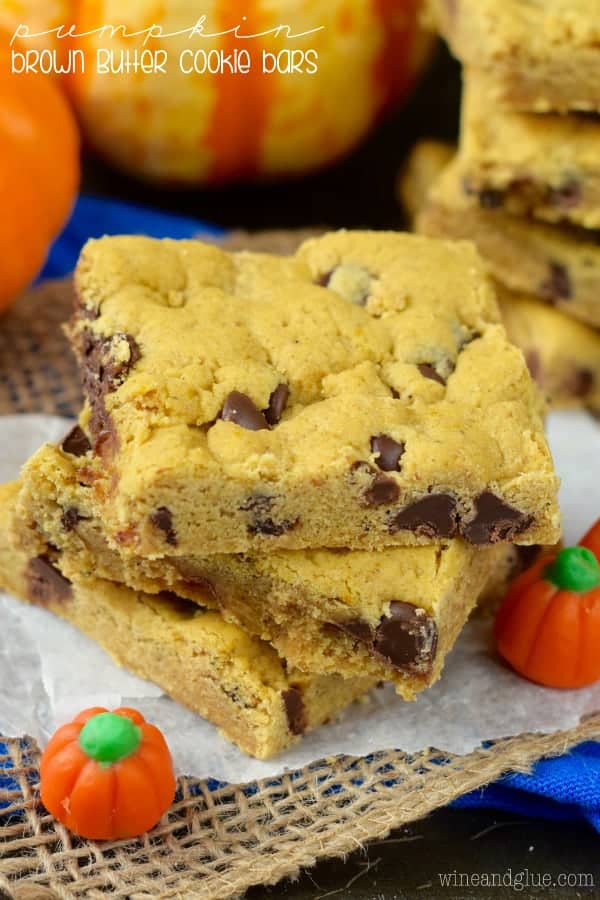 You guys, I've been SUCH a mush ball mom lately (unless it is the hours of 4 to 5 pm in which case I am a scarier version of that horrible creature in the movie Alien). I've just been thinking a lot about what great kids I have. I mean, they for sure have their moments . . . .
Like the other day when Gavin farted on Piper. On purpose.
Or when Piper unrolled an entire roll of toilet paper. And then shredded it.
Or how Quinn loves to push her siblings buttons. And does so expertly. Daily.
But over all, they are really just some of the best kids ever. They love each other fiercely and just have the sweetest little hearts. I've been thinking a lot lately that I don't know what I did to deserve these amazing little souls. (And between 4 and 5 pm I've been thinking that I don't know what I did to deserve such wretched little monsters #dontjudge)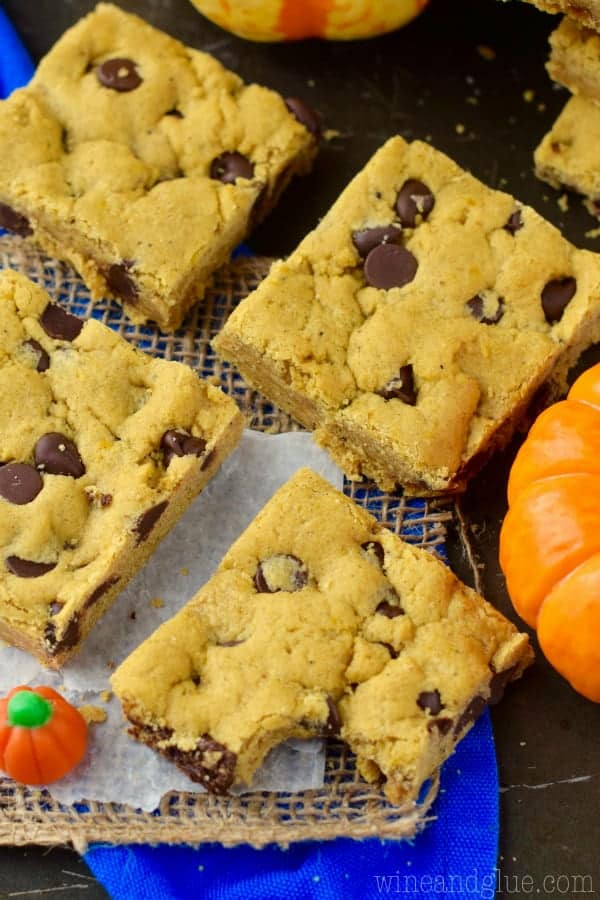 You know that scene from The Office in the Jim & Pam wedding episode? The one where they are taking mental pictures of each other? I keep doing that with my kids. Just taking these mental snap shots of these moments that I want to freeze in time with them.
Like last night Gavin as he described a burp in detail to me and it was the funniest thing ever. Or Piper yelling, "DA DA!!" when I ask her if she can say "Mama." Or Quinn running out of school talking a mile a minute about how one of the two library books she picked out was for Gavin.
See??? Mush ball! I swear I'm not pregnant. #forreal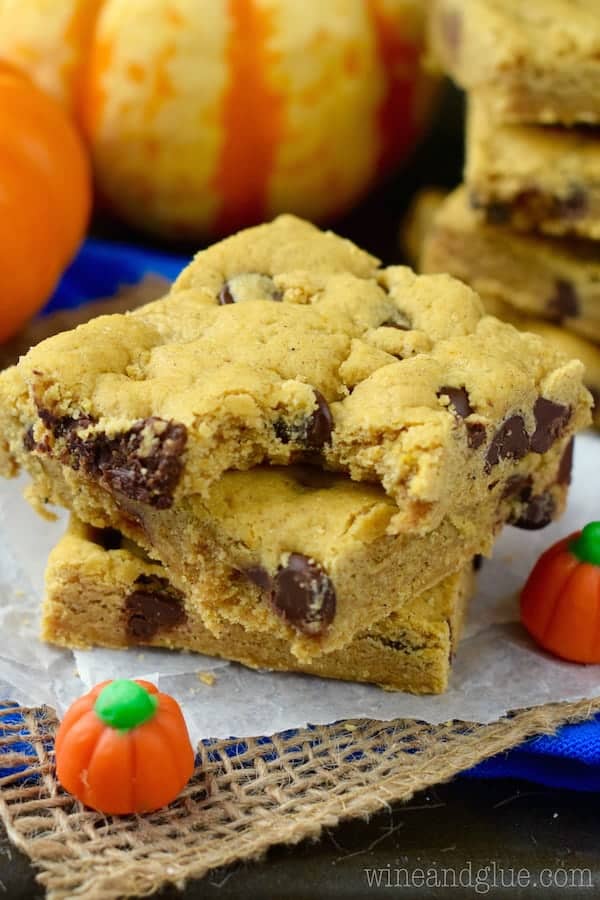 Okay. Let's talk about the important things:  These Pumpkin Brown Butter Cookie Bars. Guuuuuuuys! These are flippin' amazing! They took four tries to get them right plus a little help from my good friend Dorothy who, honestly, is such a genius baker.
But friends. It was worth it. They are chewy, full of deep brown butter flavor, and pumpkinirific! You need these bars in your life!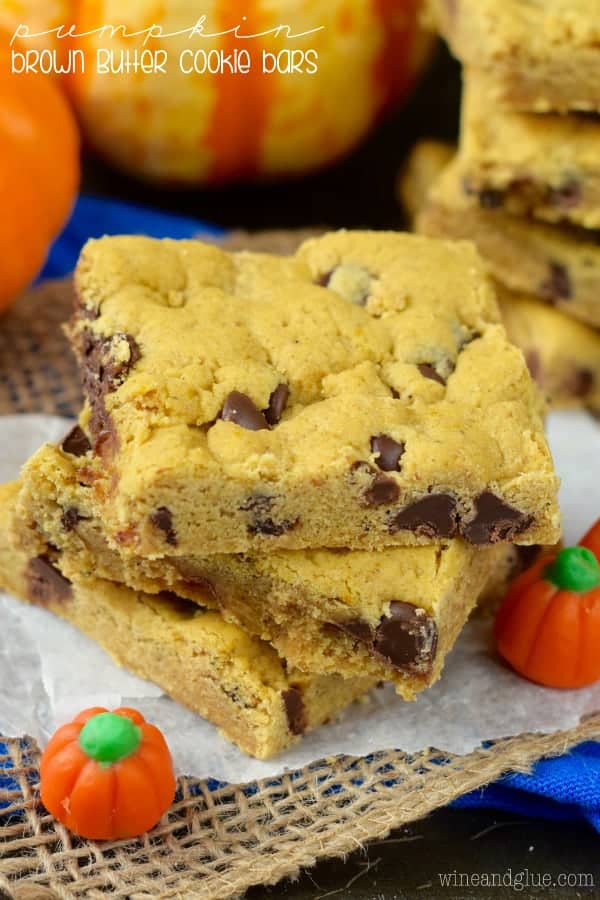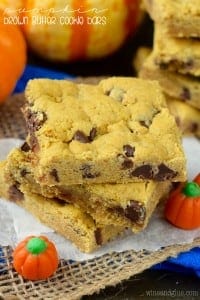 Pumpkin Brown Butter Cookie Bars
Ingredients
1/2

cup

butter

2

cups

all purpose flour

1/2

tsp

salt

1/2

tsp

baking soda

1/2

tsp

baking powder

1

tsp

cinnamon

1/4

tsp

ginger

1/4

tsp

nutmeg

1/8

tsp

cloves

1/4

brown sugar

3/4

cup

granulated sugar

1/3

cup

pumpkin

2

tsps

vanilla

1

egg yolk

1

cup

chocolate chips
Instructions
Preheat the oven to 350 degrees. Spray a 9 by 13 inch pan with cooking spray and set aside.

Over medium heat in a skillet melt the butter, stirring consistently. The butter will begin to foam and deepen in color and smell nutty. When small brown bits begin to show up at the bottom, remove it from the heat and allow to cool a little.

In a large bowl, mix the flour, salt, baking soda, baking powder together, cinnamon, ginger, nutmeg, and cloves.

In the bowl of a stand mixer, mix together the granulated sugar, packed brown sugar, and brown butter together until fully combined. Add in the pumpkin, vanilla, and then the egg yolk.

Slowly add the flour mixture, scraping down the sides as necessary. Mix until just combined.

With a spoon stir in the chocolate chips.

Press the dough into the prepared pan and bake for 20 to 23 minutes or until the edges just begin to turn golden brown. Allow to cool completely before cutting and serving.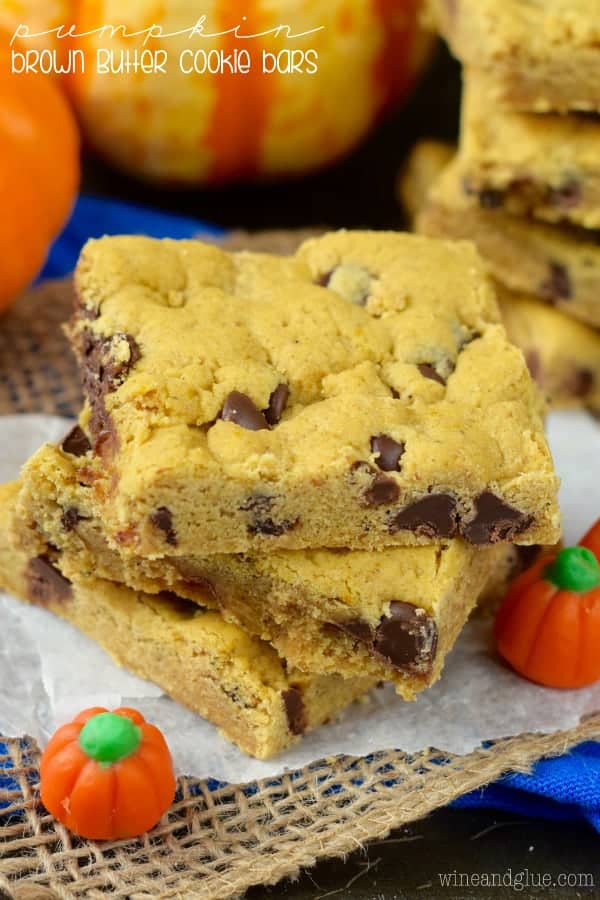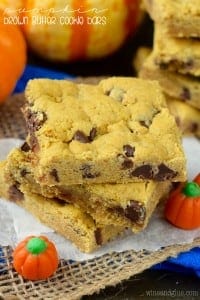 did you make this
Pumpkin Brown Butter Cookie Bars
Goodies from friends:
Nutella Stuffed Browned Butter Blondies
Pumpkin Scones with Brown Butter Glaze
You might also like: