This Pumpkin S'mores Lush is FAST to make and the perfect no bake treat!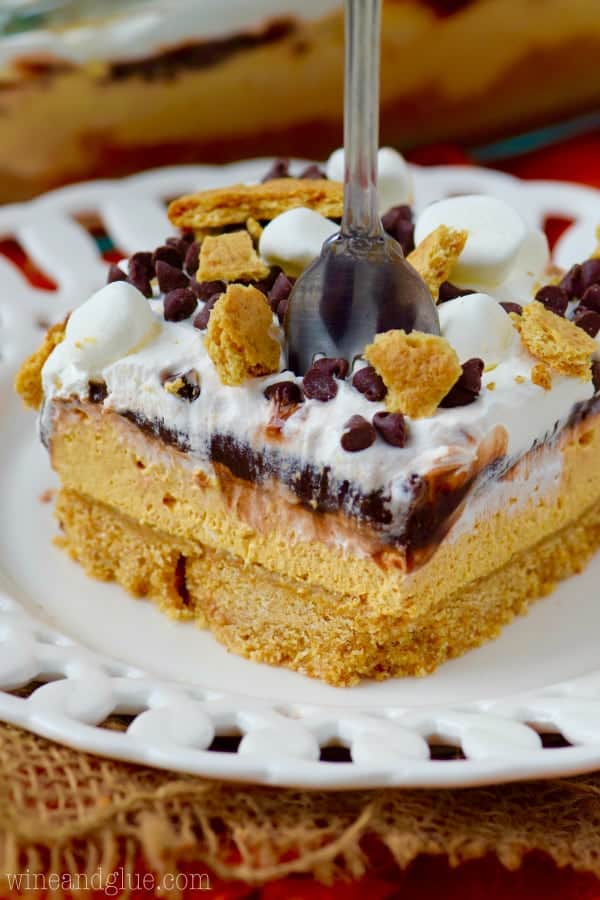 Can we just stop for a second and gaze at the beauty that is that crust. I mean, seriously. Check that thing out. It's like an inch thick! Okay . . . it isn't really. But it's a THICK crust, friends!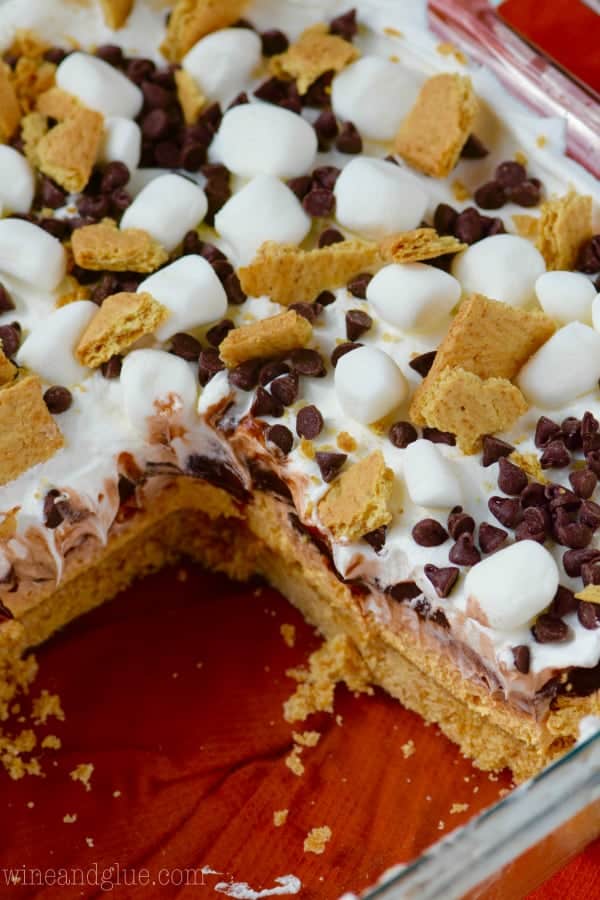 Full confession: I made too much graham cracker crust.
***scoffs**
Is there even such a thing??
So, at first I was thinking, "OMG. This crust is way too thick. People are going to be so irritated with this." And my literal next thought, a fraction of a second later, was:
There is NO.SUCH.THING. as too thick of a graham cracker crust!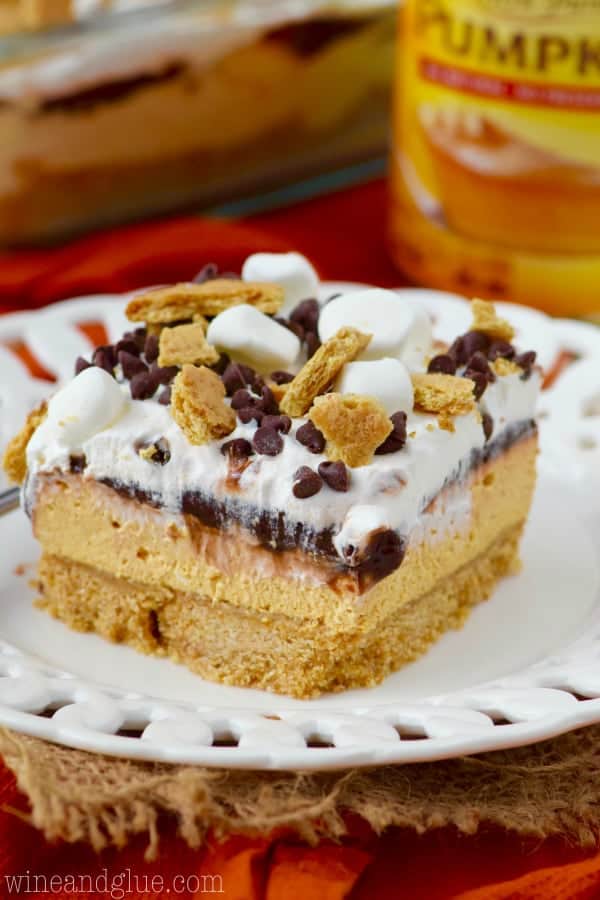 If you happen to be of a weird school of thought that is easily frightened off by a thick graham cracker crust . . . . then I'm not sure we can be friends anymore.
Just kidding! #sortof
But for real, if it is too much for you, then cut the crust recipe by like a third. But really? You can't have a good s'mores recipe without including the graham cracker and this it!
So this dessert combines the best of summer and the best of fall. No Bake + S'mores + Pumpkin = All the heart faced emojis! And honestly, this no bake treat was so easy to make! I did it in the middle of a CRAZY week for me and it was like less than a half hour start to finish. After you throw together all the layers you pop it in the fridge overnight to firm up and then you throw some chocolate chips, marshmallows, and graham cracker crumbles and top and serve it up!
It's so good! Piper saw a picture of it the day after tasting it and said, "Ooooo! Yummy cake!"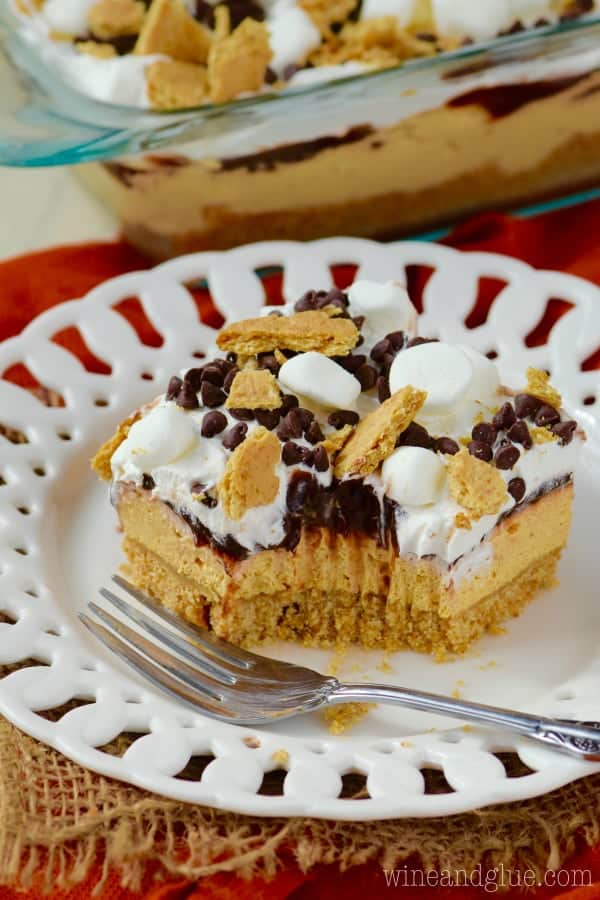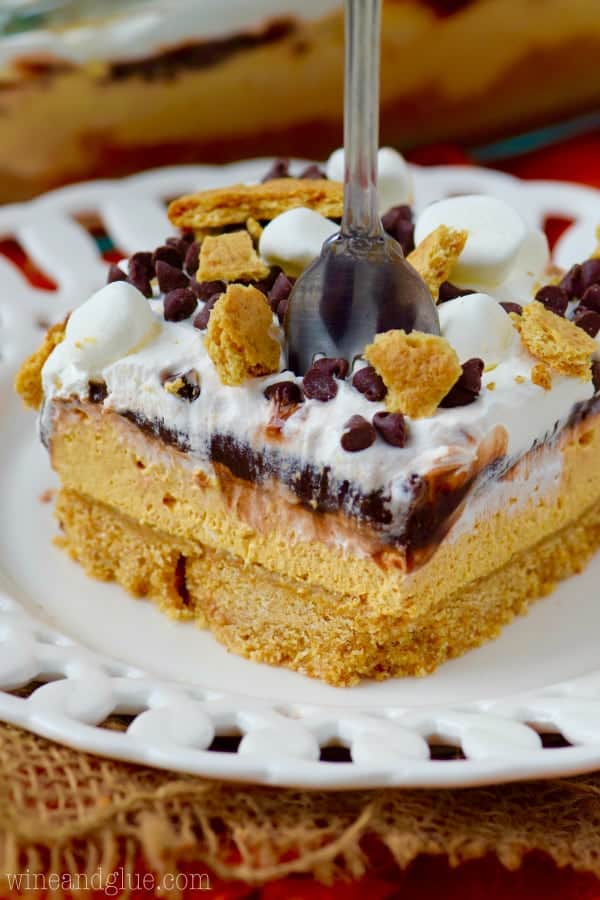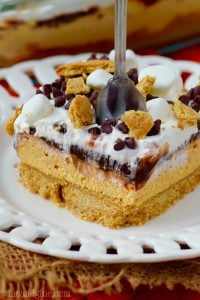 Pumpkin S'mores Lush
Ingredients
1 1/2

cups

ground graham cracker crumbs

6 oz or 12 sheets

1/3

cups

white sugar

6

tablespoons

butter

melted

8

oz

cream cheese

room temperature

1/4

cup

powdered sugar

1/2

cup

pumpkin

8

oz

whipped topping

divided

1

tsp

cinnamon

1/8

tsp

nutmeg

3.4

oz

instant chocolate pudding

1 1/2

cup

milk

I used skim

1/2

cup

graham cracker crumbles

about two sheets

1/4

cup

mini chocolate chips

1/2

cup

mini marshmallows
Instructions
Combine the 1 1/2 cups graham cracker crumbs, 1/3 cups white sugar, and 6 TBSPS melted butter. Press into the bottom of an 8 by 8 inch pan (9 by 9 would work as well).

Mix together the softened cream cheese, powdered sugar, 1/2 cup pumpkin, 4 ounces of the whipped topping, 1 tsp cinnamon, and 1/8 tsp nutmeg until well combined and smooth. Spread gently over the graham cracker crust.

Mix together the chocolate pudding mix and 1 1/2 cups milk until fully combined. Let sit for five minutes and then spread over the pumpkin layer.

Top with the remaining 4 ounces whipped topping. Refrigerate for at least four hours.

Right before serving, sprinkle on the chocolate chips, then the graham cracker pieces, and then the mini marshmallows. Use a sharpe knife to cut, and make sure to get to the bottom of the pan before using a metal spatula to remove the pieces.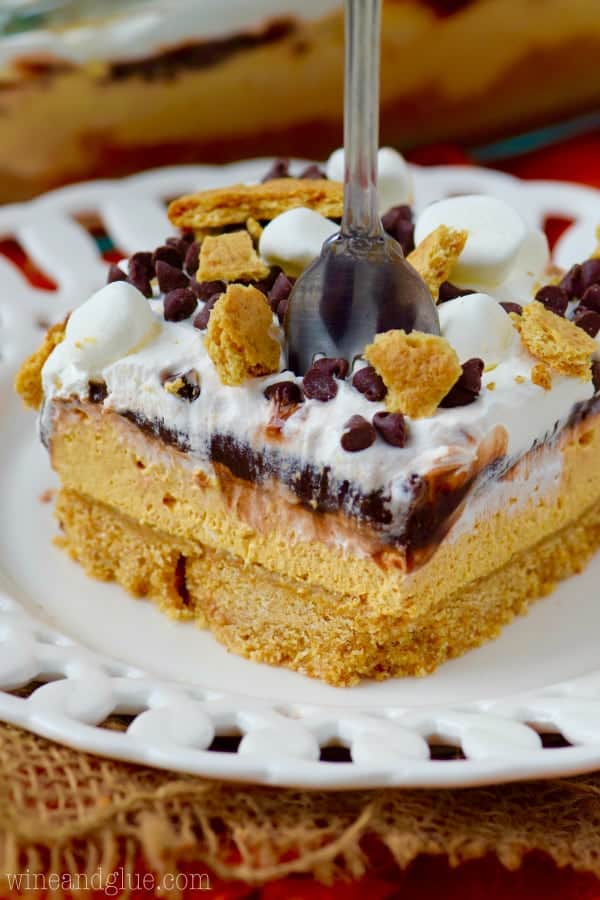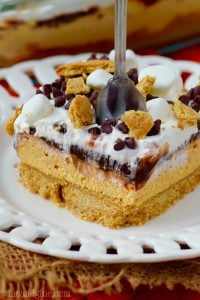 did you make this
Pumpkin S'mores Lush