This Quinoa Breakfast Recipe is a simple easy and healthy breakfast with only three ingredients. It comes together in about 20 minutes and can be made ahead for an easy grab and go breakfast in the morning. Quinoa for breakfast is a great option because it keeps you feeling full all morning.
This Quinoa Berry Bowl comes in at about 250 calories and 6 grams of protein! It's a great option if you are trying to keep things lighter in the new year.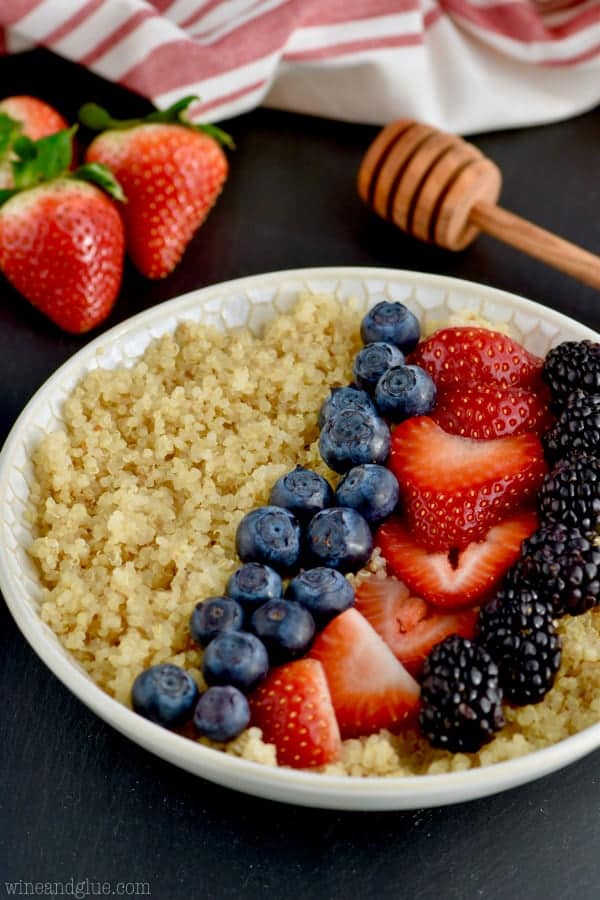 HAPPY NEW YEAR FRIENDS!!
So, I feel a little remorseful that I didn't thank you all for what a great year 2017 was! I did this in my personal life too, I waited until 2018 was already here and then I was like, "Oops! I didn't really reflect on 2017!" The end of the year is crazy busy in this line of work, and then being a mom and wanting to make Christmas magical . . . I guess it makes sense that I wasn't on top of reflecting, lol
Thank you all for making 2017 such a great year for me!
I had some really major challenges in my personal life, but with each challenge came an even more amazing blessing. And Wine & Glue grew so much in 2017. It was really amazing to watch and be a part of. Obviously, it wouldn't have happened at all without all of you, so really truly from the bottom of my heart, thank you.
How are you guys feeling about 2018? I am feeling so hopeful! Like we are standing on the edge of something amazing.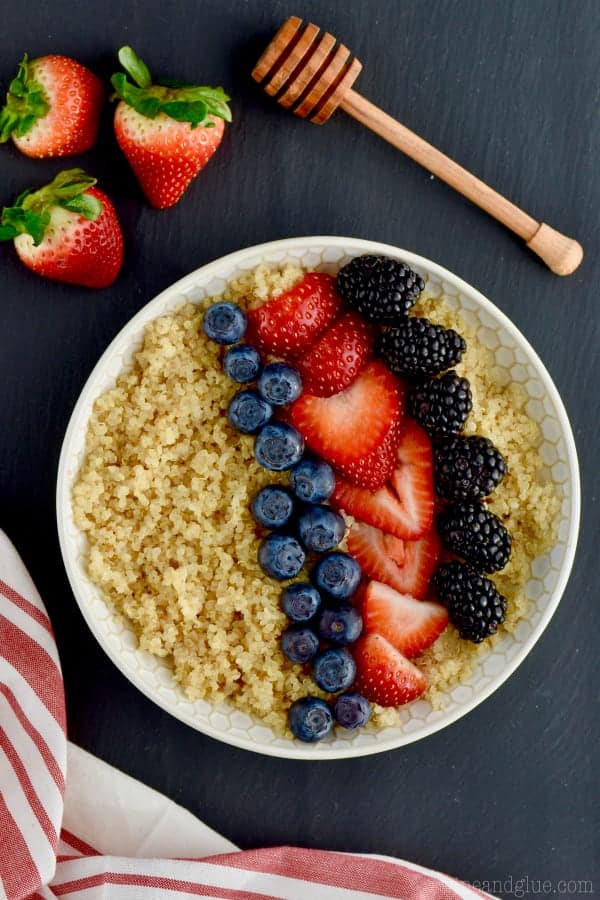 I know so many of you make a New Year's resolution to be healthier, and I thought I could add a recipe into that mix that I have been loving! This quinoa breakfast recipe, the Quinoa Berry Breakfast Bowl, is so easy to make and it is such a great healthy breakfast recipe! I have been having this regularly, and it really does hold me through the morning.
Because I know that quinoa isn't a staple in all of your kitchens, should we talk about it for a minute?
WHAT IS QUINOA?
Quinoa is a super grain. Technically, that is not even true. It is actually a gluten free seed. My favorite benefit to quinoa, though, is it's protein content. You are eating something that feels like a carbohydrate, but in 1/4 cup of dry quinoa you are getting 6 grams of protein. That's super impressive. It's also a complete protein, which means it has all 20 amino acids.
Quinoa can be eaten in all sorts of different ways. If you are looking for other great quinoa recipes, make sure you check out these Greek Salad Quinoa Bowls – perfect for lunch or a light dinner! And if you want to make your Taco Tuesdays a little lighter, skip the shell and make a taco bowl with this Cilantro Lime Quinoa.
But maybe a better question is
HOW DO YOU COOK QUINOA?
The process is so simple you really will be able to make this every day if you want.
Measure the amount of quinoa you want. In this recipe we use 1/4 cup of dry quinoa. You could certainly make 1 cup and then divide it into fourths for four make ahead breakfasts.
Rinse the quinoa. I would argue that this is an important step that you don't want to skip. There is a certain bitterness to quinoa that you get rid of when you rinse it.
Whatever amount of quinoa you are making, add double the amount of water. So if you stick with the 1/4 cup dry quinoa, add 1/2 cup of water. If you are making more ahead of time and add 1 cup of dry quinoa, add 2 cups of water.
In a small saucepan bring the rinsed dry quinoa and the water to a boil. Once it is boiling, cover it, turn the heat all the way down (but not off) and set your timer for 15 minutes.
When the timer goes off, the quinoa should have absorbed all the water. Remove it from the heat, fluff it with a fork and you are ready to go!
Ingredients two and three in this recipe are fresh berries and just a touch of honey. Honestly, I don't measure when I make this. I probably go heavier on the berries than is listed here and lighter on the honey. But find the ratio that is right for you.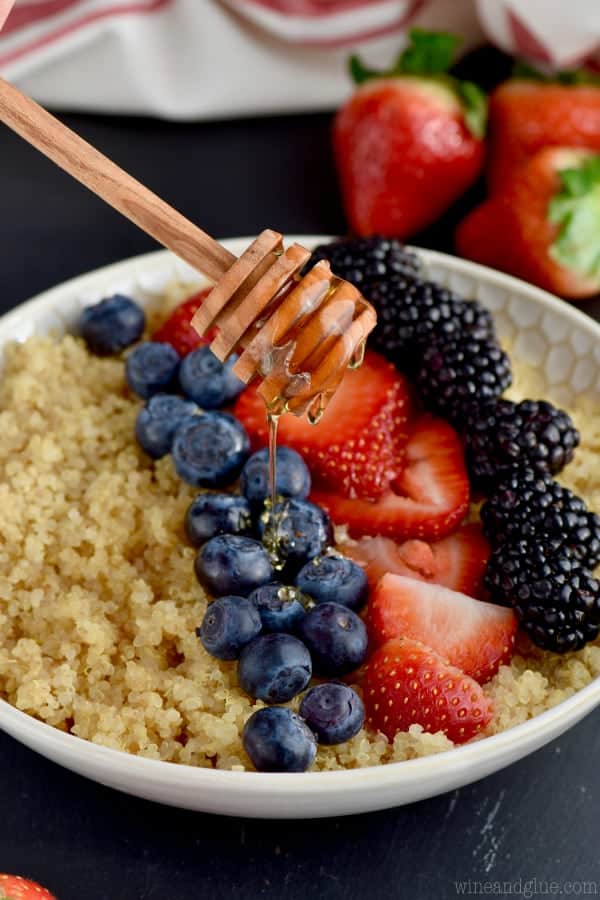 Other Great Breakfast Ideas
Still need more make ahead breakfast ideas and easy fast breakfast recipes? Check out these Four Easy Overnight Oats and these Four Easy Three Ingredient Smoothie Recipes!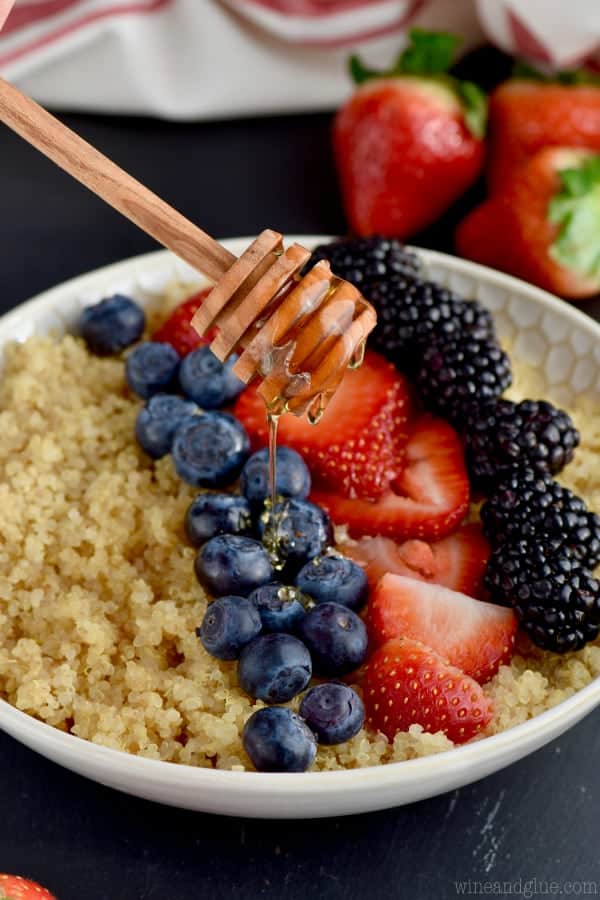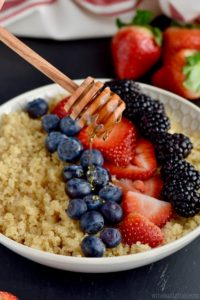 Quinoa Breakfast Recipe
This Quinoa Breakfast Recipe is a simple easy and healthy breakfast with only three ingredients. It comes together in about 20 minutes and can be made ahead for an easy grab and go breakfast in the morning.
Ingredients
1/4

cup

dry quinoa

rinsed

1/2

cup

berries

1

tsp

honey
Instructions
Place the rinsed quinoa and 1/2 cup water in a small sauce pan over high heat. Bring to a boil. Turn the heat down all the way (but not off), cover, and let simmer for 15 minutes.

When the quinoa is done cooking, pour into a bowl, mix in the berries and honey and enjoy!
Notes
This recipe can be made ahead of time into small mason jars. Or you could prepare 1 cup of dry quinoa at once, divide it into four mason jars and then add the berries the night before eating!
Serving:
1
bowl
Calories:
244
kcal
(12%)
Carbohydrates:
48.1
g
(16%)
Protein:
5.6
g
(11%)
Fat:
3.2
g
(5%)
Sodium:
8.7
mg
Potassium:
4.3
mg
Fiber:
4.5
g
(19%)
Sugar:
19.5
g
(22%)
Vitamin A:
50
IU
(1%)
Vitamin C:
8.3
mg
(10%)
Calcium:
43
mg
(4%)
Iron:
2.2
mg
(12%)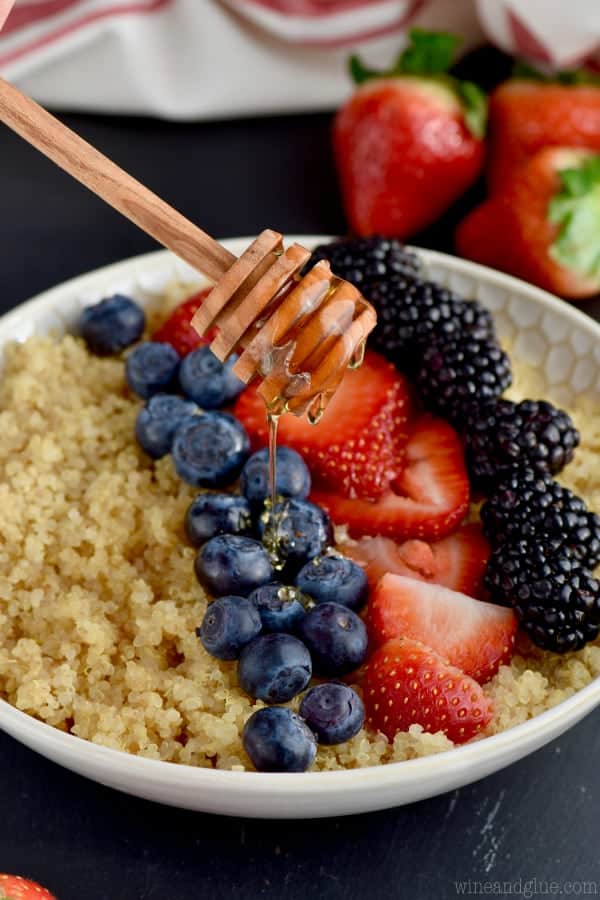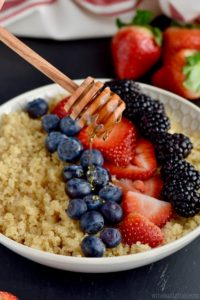 did you make this
Quinoa Breakfast Recipe