These Quinoa Taco Bowls are a lighter way of enjoying taco night without giving up the flavor!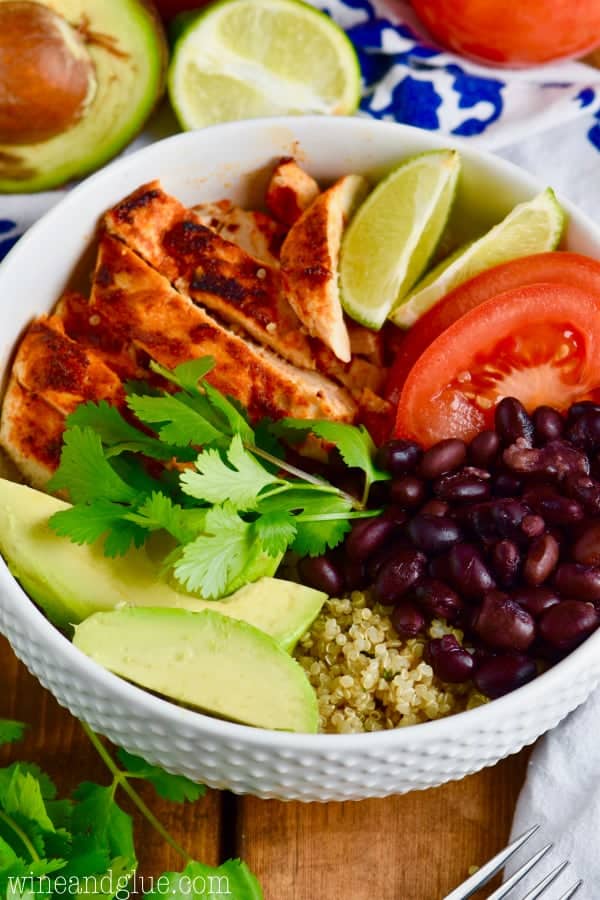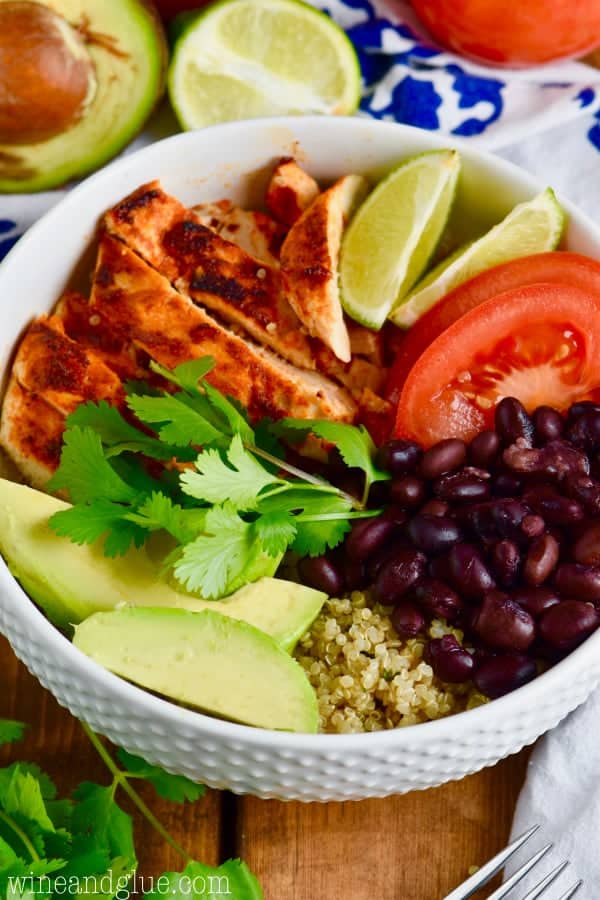 I got into a Facebook argument a few weeks back with a friend who I totally respect and admire.
Stop. I can see you shaking your head. I get it. Grown adults do not get in Facebook arguments with friends. I know! And it wasn't even over politics.
This friend was referencing an article where a wife went off (humorously) about how little her husband did over the holidays. (Can I get an AMEN?!?!?) And this friend was kind of giving push back. She was saying that the wife shouldn't be a martyr. That her husband should do more or she should do less and not have big as a holiday and it should be fine. But she shouldn't go online and complain about how little her husband does. Be an adult and talk about it.
And I don't disagree with any of that, however . . . . Marriage with little kids is F**$&ING hard.
I saw a tweet recently that said something along the lines of: Marriage is like being on a reality TV show and both parties feeling certain that the audience sympathizes with them.
So spot on.
I also added that I have so many friends who (and I'm only hearing it from their perspective) are married to amazing wonderful men who are still not doing as much as they should around the house. We live in a culture where for the most part families need two incomes. That means both parents are working . . . . and yet I see a lot of wives doing the lion's share. It's hard. My friends aren't martyrs. They complain. They try to talk to their spouses. Some of them even bring up going to see a counselor. And they are married to GREAT guys.
It's still F**$&ING hard.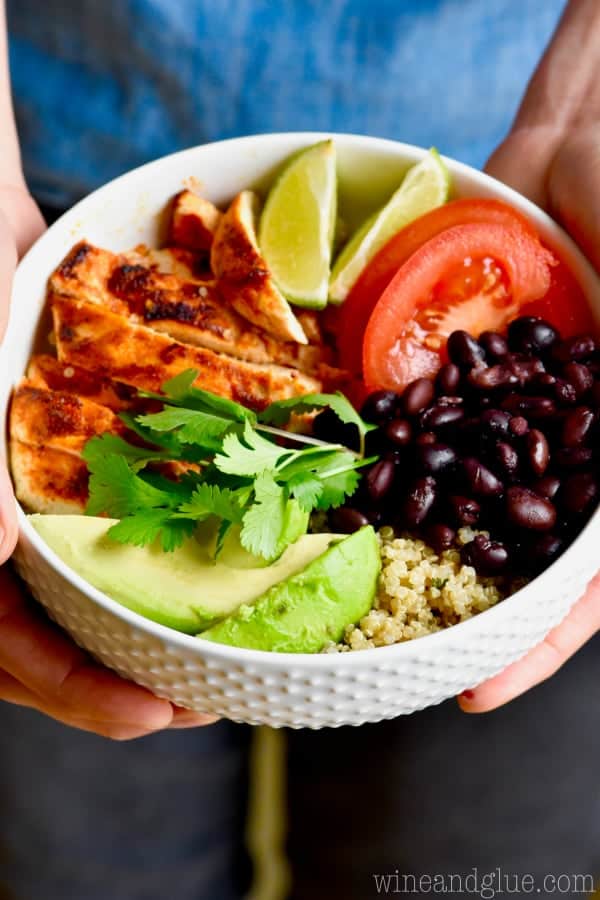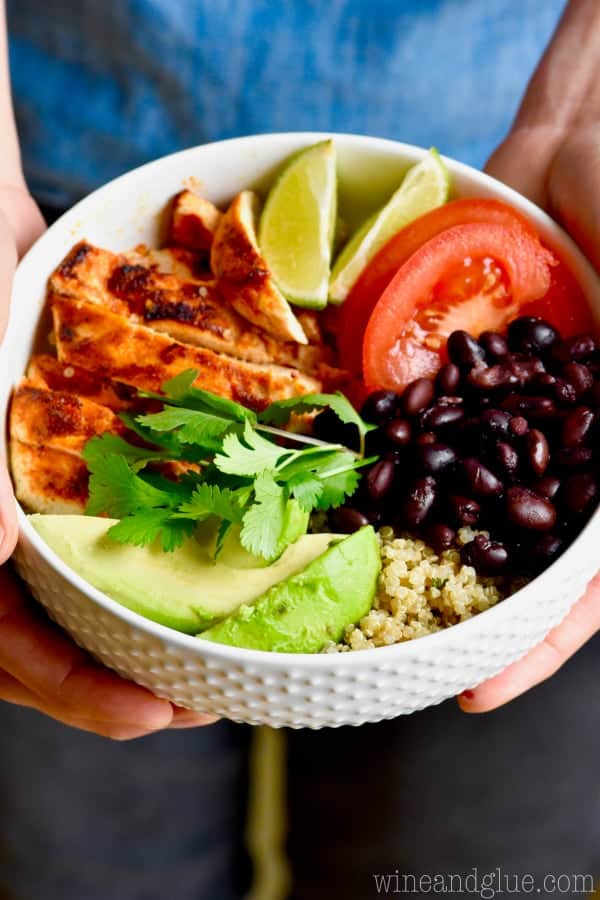 So I just wanted to put this out there.
If you are married to an amazing person and you have little kids and you sometimes want to strangle your beloved, you are not alone. You aren't in a bad marriage. You just have little kids. Hang in there, friend. It will get better.
I promise.
And you know what? Life doesn't have to be all hard! These Quinoa Taco Bowls are easy. And good for you. (That was like the most ridiculous segue ever.)
They have the amazing base of Cilantro Lime Quinoa and then you add some great taco toppings: taco seasoned chicken, black beans, avocado, tomatoes, and fresh cilantro. You could also throw on some salsa and some light sour cream. This is a super light and healthy dinner and makes for some great leftovers for lunch.
And if you are wondering about my Facebook friend and I, we agreed to disagree . . . who knew that mature discussions on Facebook were actually possible. Go figure.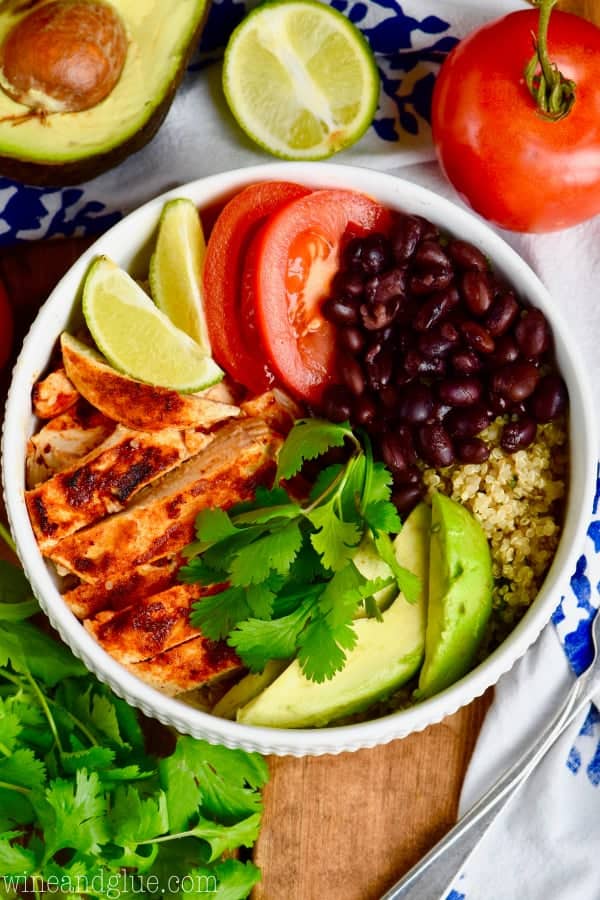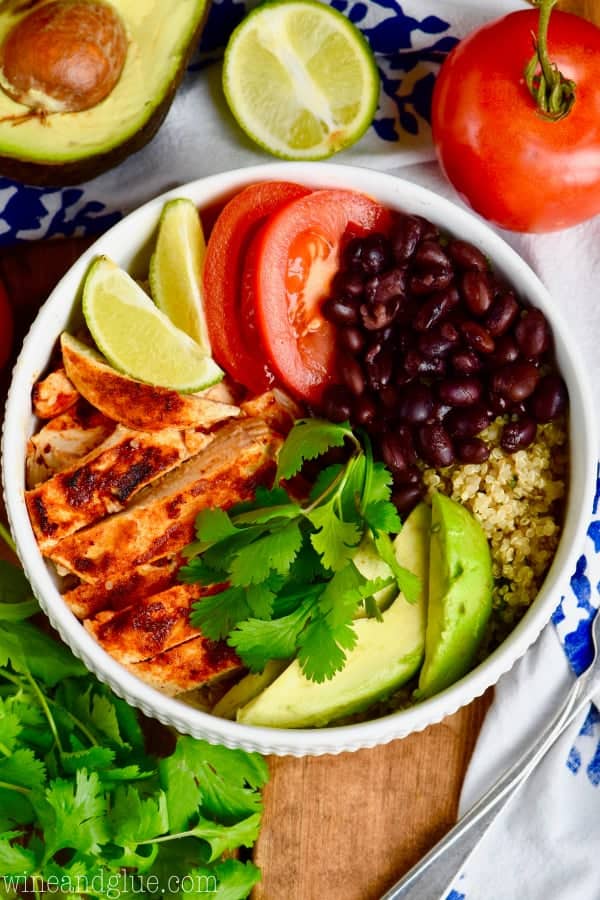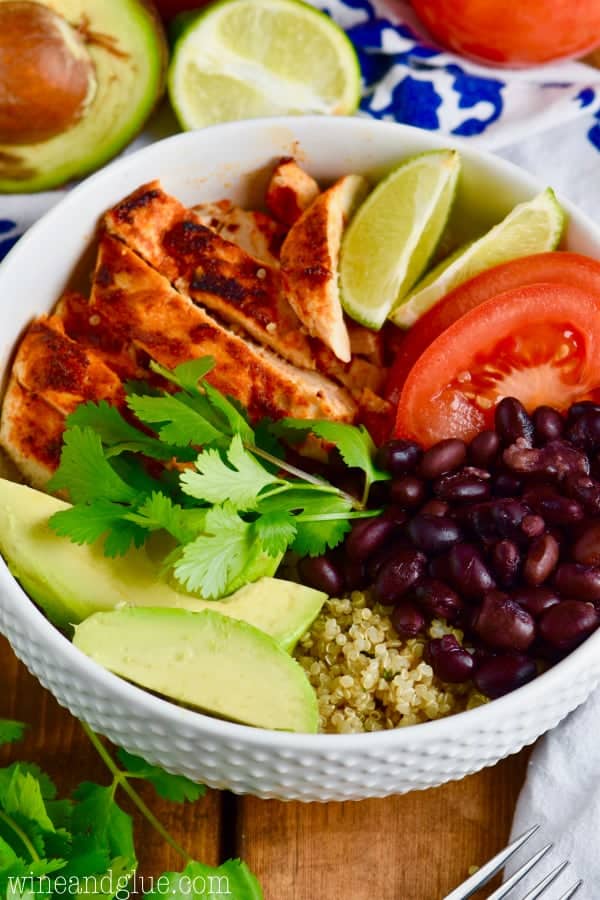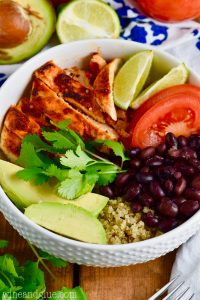 Quinoa Taco Bowls
Ingredients
1

pound

chicken

2

TBSPs

lime juice

15

oz

black beans

drained and rinsed

cilantro lime quinoa

1

avocado

sliced

2

vine ripened tomatoes

lime

1

lime

cut into wedges

fresh cilantro for garnishing

optional

light sour cream

optional

salsa

optional
Instructions
Preheat an indoor grill on your stove top. (See note)

Flatten your chicken by pounding it with a meat hammer or a rolling pin. Rub both sides of the chicken breasts with taco seasoning. Spray the grill with cooking spray (Skip this step if using an outdoor grill). Grill the chicken for about four minutes on each side or until the inside reads 165 on an instant read thermometer.

Remove chicken from the grill, slice and divide the chicken and the remainder of the ingredients into four equal parts. Serve immediately or store in the refrigerator for up to three days.
Notes
An alternative to grilling the chicken indoors (or outdoors) is baking it. You won't get the seared taco taste, but it's still delicious)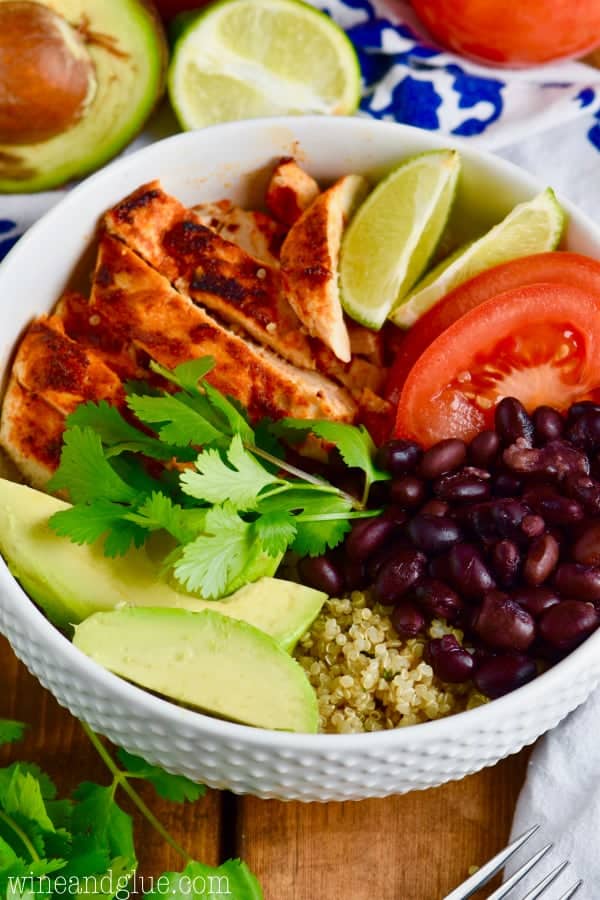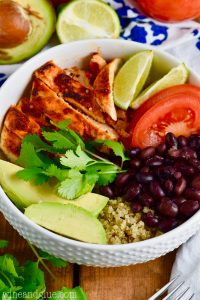 did you make this
Quinoa Taco Bowls
Quinoa bowls from friends:
Roasted Chickpea and Vegetable Quinoa Bowls
Thai Chicken Thigh Basil Quinoa Bowls
You might also like: