These Red Velvet Bars are decadent, delicious, and topped with the best cream cheese frosting! If you love red velvet cake, then these red velvet sugar cookie bars are the thing for you! They are melt in your mouth delicious!
These cookie bars would make the a great Valentine's Day dessert. If you need more ideas, or just can't get enough of red velvet recipes, try this Red Velvet Sour Cream Bundt Cake, these Red Velvet Sugar Cookies, or this Red Velvet Buttercream Frosting.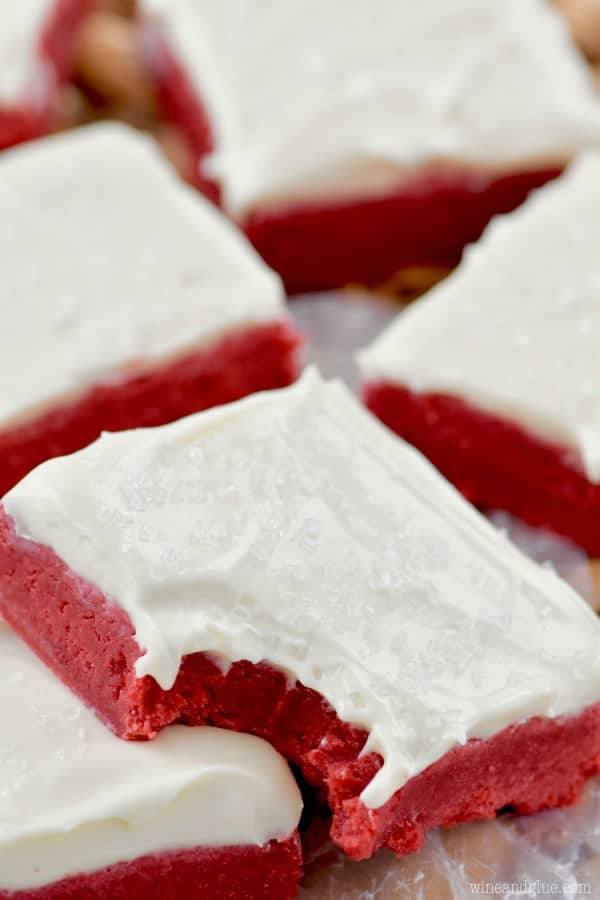 You guys, I can't even tell you how long I have been waiting to write this post.
Actually, I can tell you exactly how long I have been waiting to write this post. Just a little over two years.
It was November of 2015, and I was at BlogHer Food in Chicago – a huge food blogging conference – with some of my closest blogging friends. It was honestly one of the most fun blogging events I had ever been to before or since. I was standing in Eataly with my friend, Lindsay of Life Love and Sugar. You probably know her from her drool worthy layered cakes, but I knew her as a friend who was struggling with infertility.
I remember standing there with her in the midsts of people ordering gelato, espresso, and pastries, picking out pasta and dinnerware, hugging her, trying my best to reassure her it would all turn out okay, and truly feeling for her after my own struggles with infertility.
Flash forward to this past summer and me getting a message from her that her IVF not only took . . . she was pregnant with TWINS. You guys, I will never forget sitting at my desk, covered in goosebumps, and tears in my eyes.
And now here we are having a virtual baby shower for her! We internet friends do a lot of things virtually (hugs, cocktail parties, you name it), but it doesn't make the friendship any less real. Congratulations, Lindsay. I couldn't be happier for you. You are already making such an amazing mom. Your boys are so lucky. ???? ????
Join all the friends who are busy showering Lindsay!
See what everyone's bringing to the party!
Banana Pudding Cupcakes, Lemon Coconut Cupcakes, Chicken Salad Cups,
Soft and Chewy Chocolate Chip Cookies, Star and Moon Decorated Cookies,
Lemon Poppy Seed Cupcakes, Cream Cheese Cookies with Nutella Glaze,
Salted Caramel Popcorn Brownies, Sugar Cookie Bars, Funfetti Cheesecake Pie,
Banana Chocolate Chip Cheesecakes, Sweet and Sour Slow Cooker Smokies , Veggie Egg Muffins, 2 Layer Espresso Chocolate Cake
Should we talk about what I'm bringing??
These Red Velvet Cookie Bars are ammmmmmazing! They are just one more iteration of my Perfect Sugar Cookie recipe and then topped with my Cream Cheese Frosting and they *do not* disappoint.
WHAT IS RED VELVET?
The red velvet taste in a red velvet cake recipe comes from the combination of vinegar or buttermilk combined with cocoa powder. It makes for a tangy moist cake that is absolutely delicious. In these bars, we just use a little bit of both vinegar and cocoa powder to get that traditional taste, while still holding up with the other ingredients needed to pull of sugar cookie bars.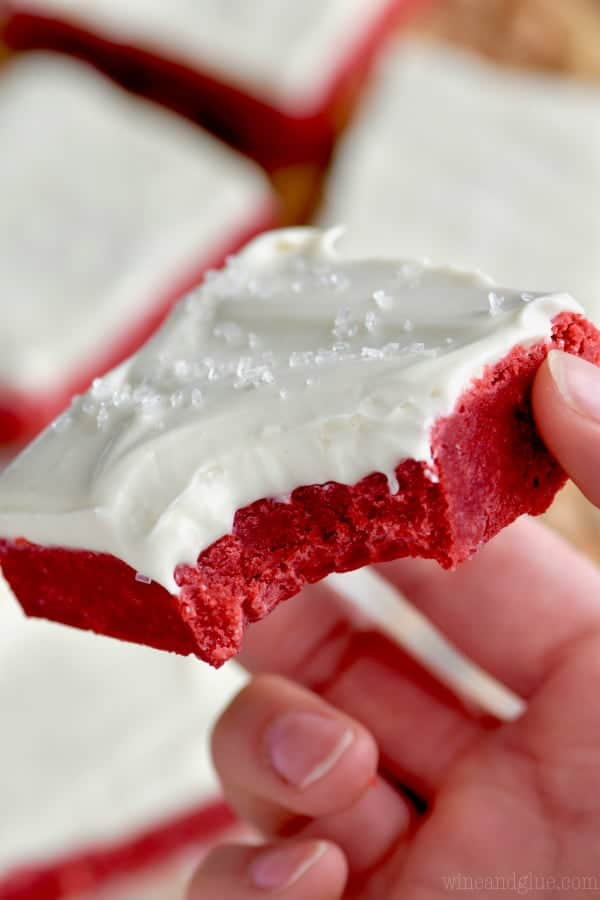 TIPS TO MAKE THIS RECIPE TURN OUT GREAT
When measuring the flour for this recipe, scoop the flour into the measuring cup and then level off. This will prevent you from measuring too much flour.
The butter for this recipe should be room temperature. That means you should be be able to easily dent the butter with your finger but not push it all the way through. A way to bring it to room temperature faster is cut the butter into one inch pieces and leave it on the counter for a half hour.
Make sure the eggs are room temperature. To do this quickly, fill a bowl with warm water and let the eggs sit in it for a few minutes.
When making the frosting for this recipe, make sure you do the same thing with the butter and cream cheese – make sure that they are at room temperature, but not melted.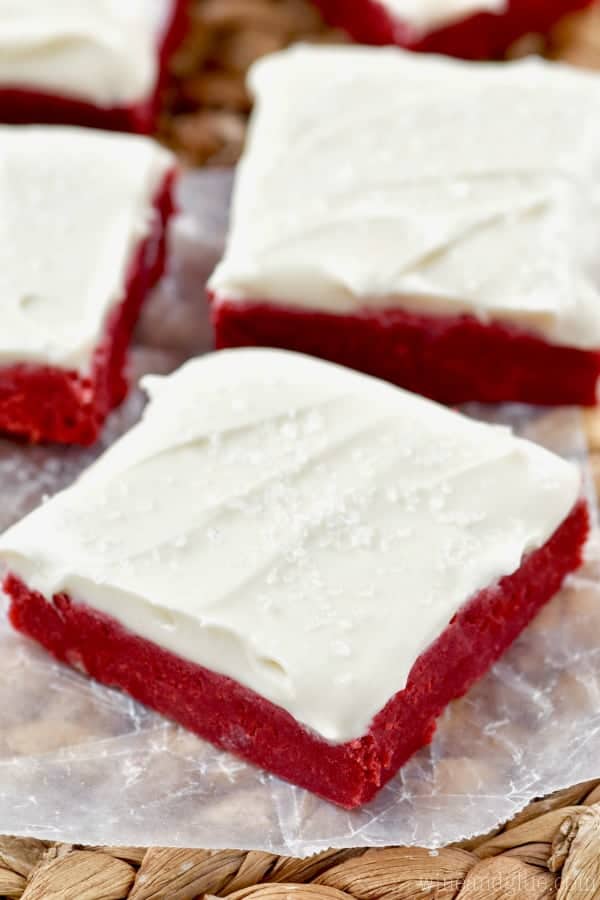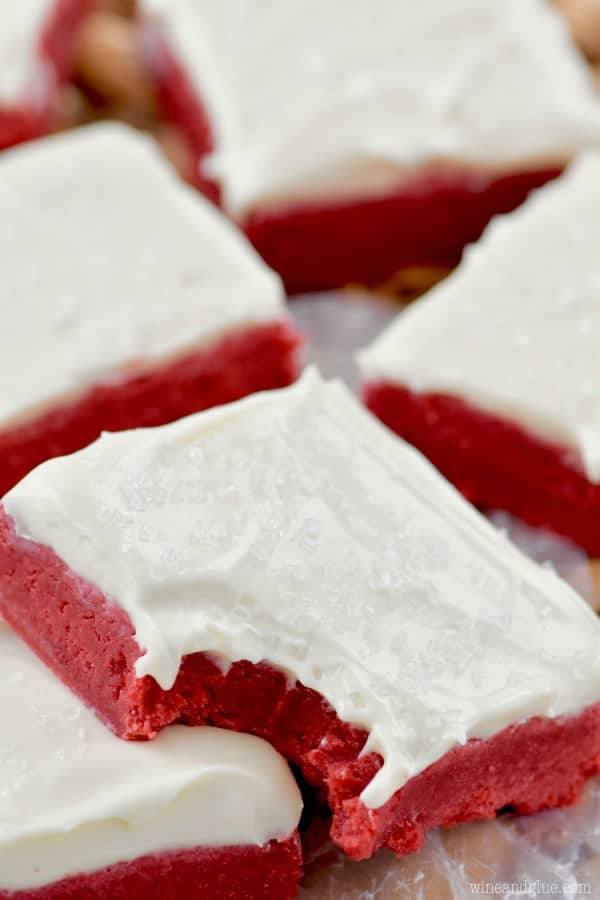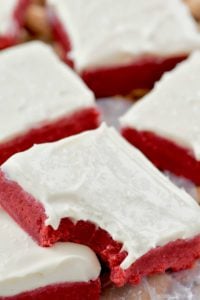 Red Velvet Bars
These Red Velvet Bars are decadent, delicious, and topped with the best cream cheese frosting! If you love red velvet cake, then these red velvet sugar cookie bars are the thing for you!
Ingredients
2 1/2

cups

all purpose flour

2

TBSPs

unsweetened cocoa powder

1/2

tsp

baking powder

1/2

tsp

salt

14

TBSPs

unsalted butter

room temperature

1 1/2

cups

sugar

2

eggs

room temperature

1

TBSP

vinegar

1

TBSP

red food coloring
Instructions
Preheat your oven to 350 degrees. Spray a 9 by 13 inch glass baking dish with cooking spray and set aside.

In a large bowl mix together 2 1/2 cups all purpose flour, 2 TBSPs cocoa powder, 1/2 tsp baking powder, and 1/2 tsp salt.

Cream together the 14 TBSPs (1 3/4 sticks) butter and 1 1/2 cups sugar until light and fluffy. Add in the eggs, one at a time, then 2 tsps vanilla, 1 TBSP white vinegar, and 1 TBSP red food coloring.

Slowly add in the flour mixture a little bit at a time until the dough is fully combined.

The dough will be very sticky. Press it into the bottom of the baking dish and bake for 20 to 25 minutes.

Allow to cool completely before frosting and adding sprinkles.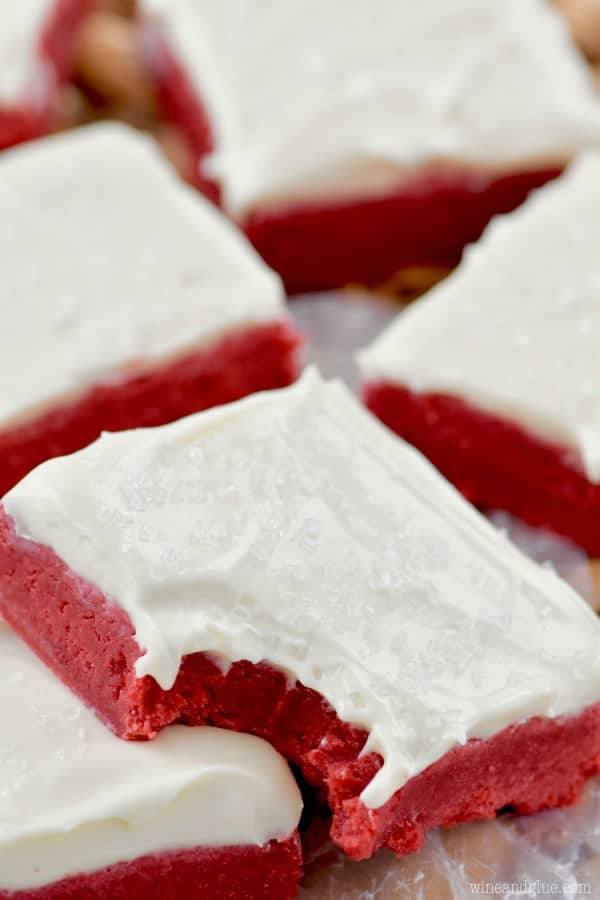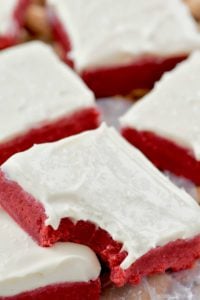 did you make this
Red Velvet Bars
Other great Valentine's Day recipes
Chocolate Covered Cherry Magic Bars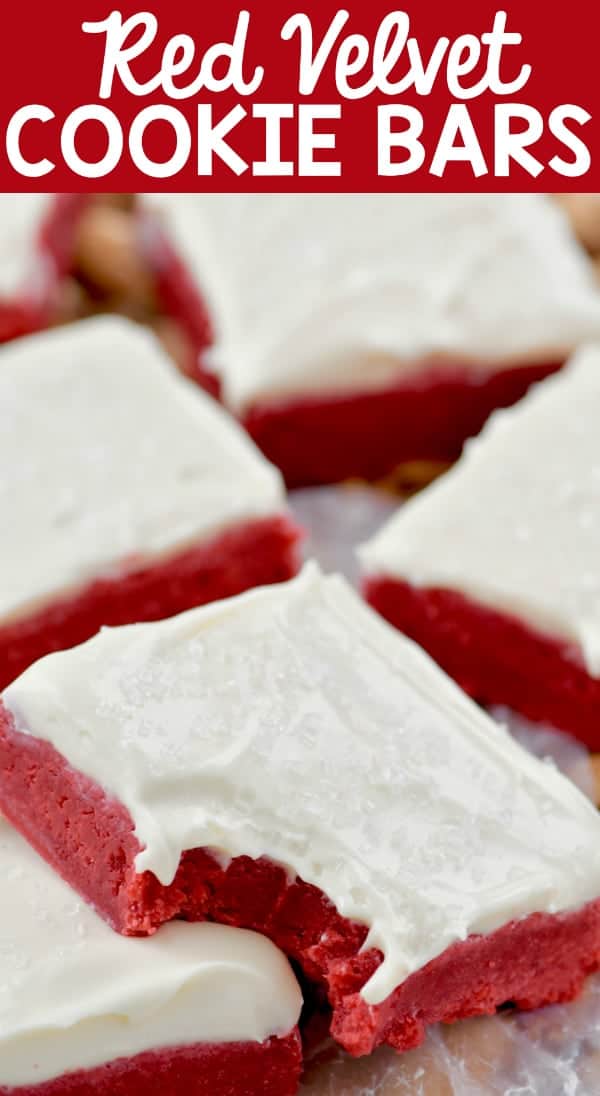 SaveSave