These Red Velvet Chocolate Ganache Truffles are red velvet cake balls with an amazing gooey chocolatey center!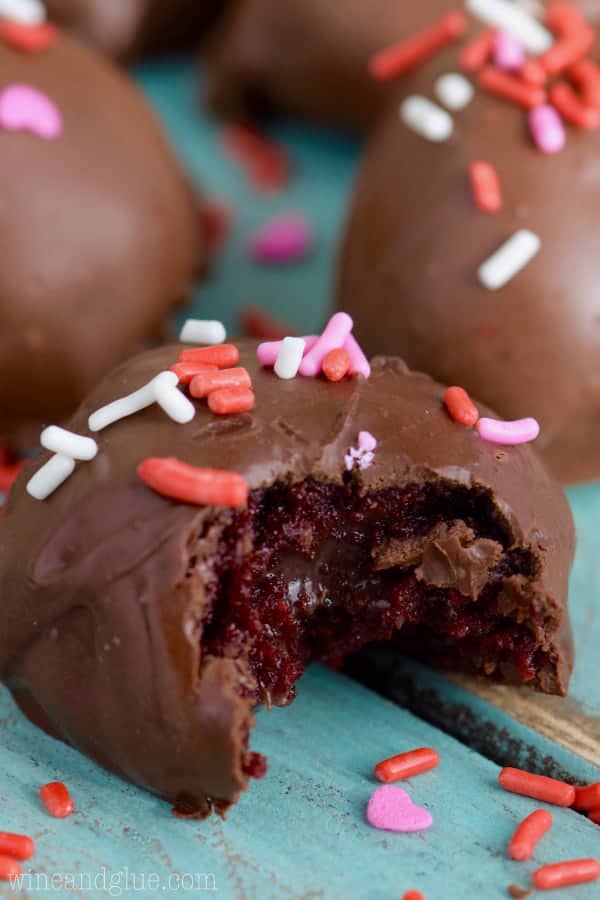 I feel like, perhaps, one of the most painful things in life is furniture shopping.
Only slightly less painful, of course, than furniture shopping with small children.
I really don't like shopping in general. Or, that's not entirely true. Maybe I just don't like shopping with kids, and I literally am never without my kids, so in the last nine years I have come to the conclusion that I don't like shopping . . .
*light bulb*
But you guys! It's just my kids!
Holy crap.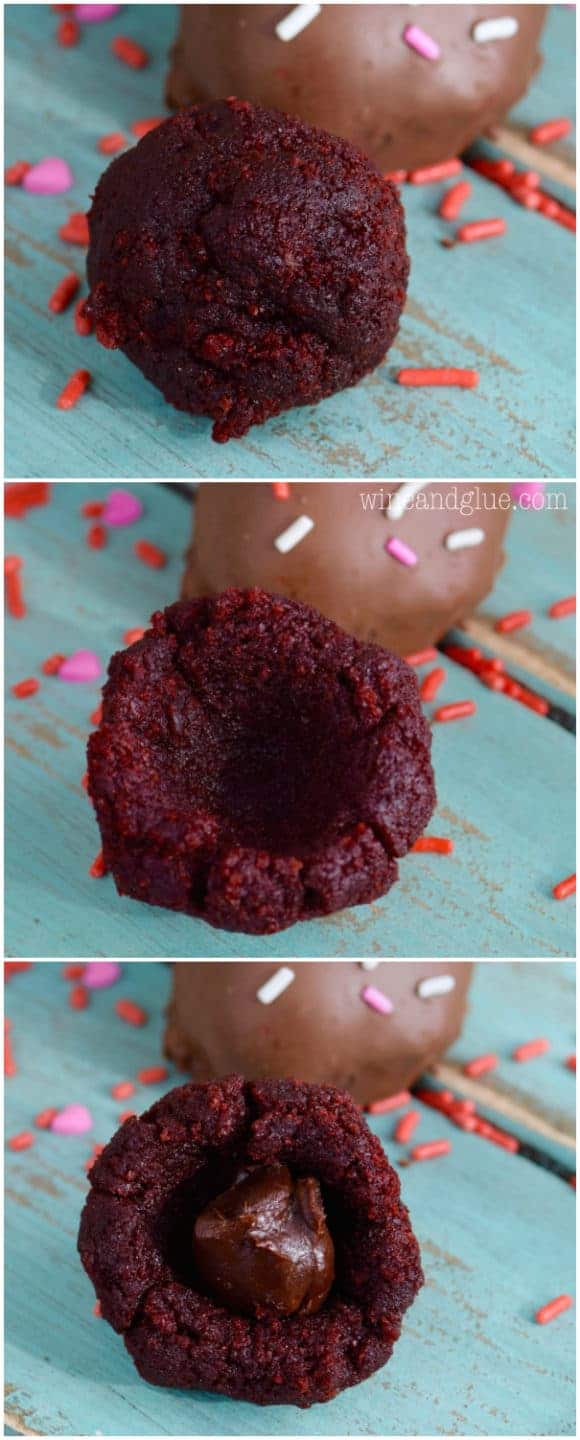 And is it just my kids or are all children's naughty behavior directly correlated to how expensive of a store you are in? Target? Walking along like perfectly normal human beings. Expensive furniture store with ridiculously priced vases placed at perfect toddler knocking over height? Like a wild wilder beast who has been ripped away from it's mother and starved for two days.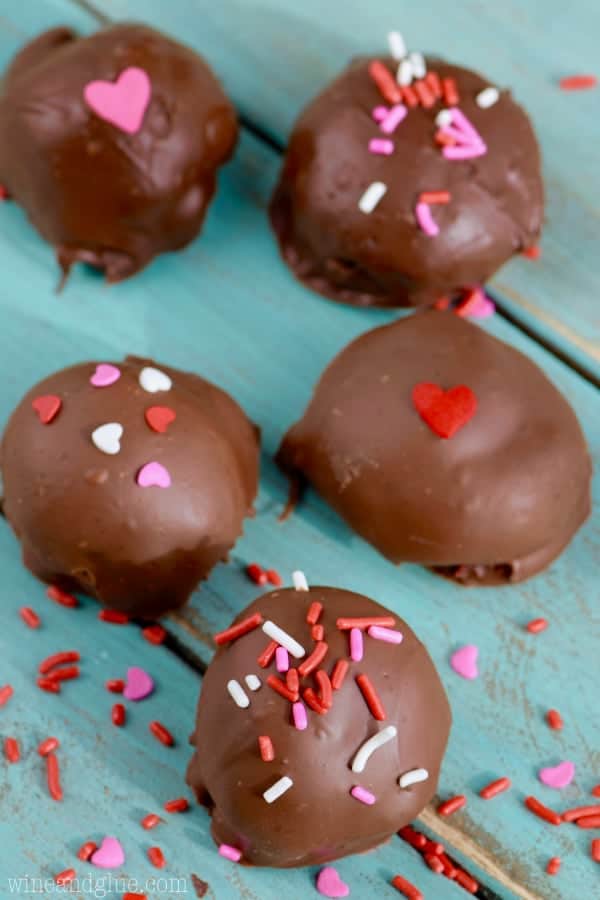 I am now convinced that the inventor of Amazon was a mother of five.
Anyway!
Should we talk about these Red Velvet Chocolate Ganache Truffles? They are like normal cake balls, except they aren't! Because you shove a little ball of chocolate ganache in the middle. They are seriously too good.
They are a tiny bit putsy, but such is life when you are making truffles.
Roll the cake + frosting mixture into balls, put a little dent in the middle, throw a teaspoon of chocolate ganache in the dent, close it up, throw in the feezer for a bit, and dip in chocolate! Or! Shove a spoon in the cake + frosting mixture, and then shove that spoon in the ganache and THEN shove that spoon in the melted chocolate.
You know. One or the other.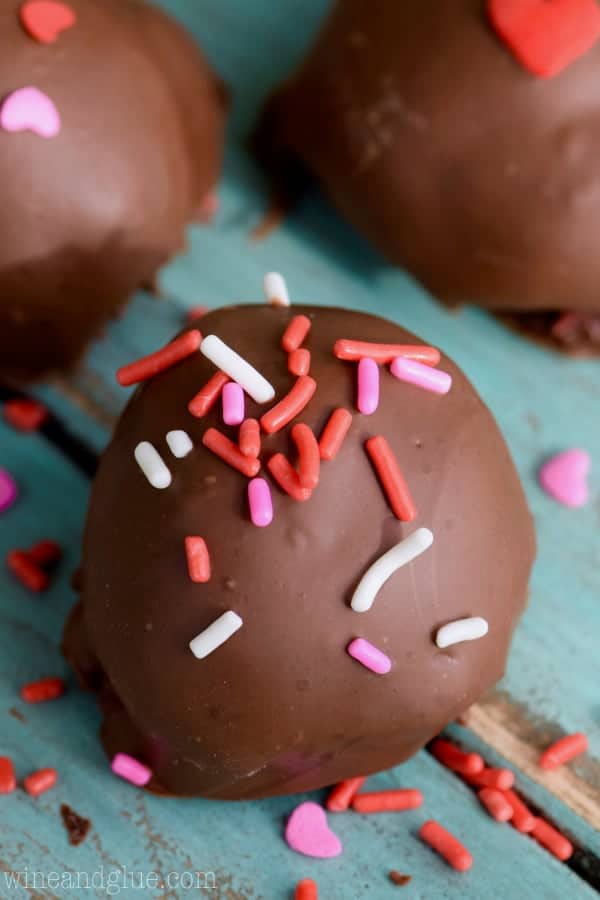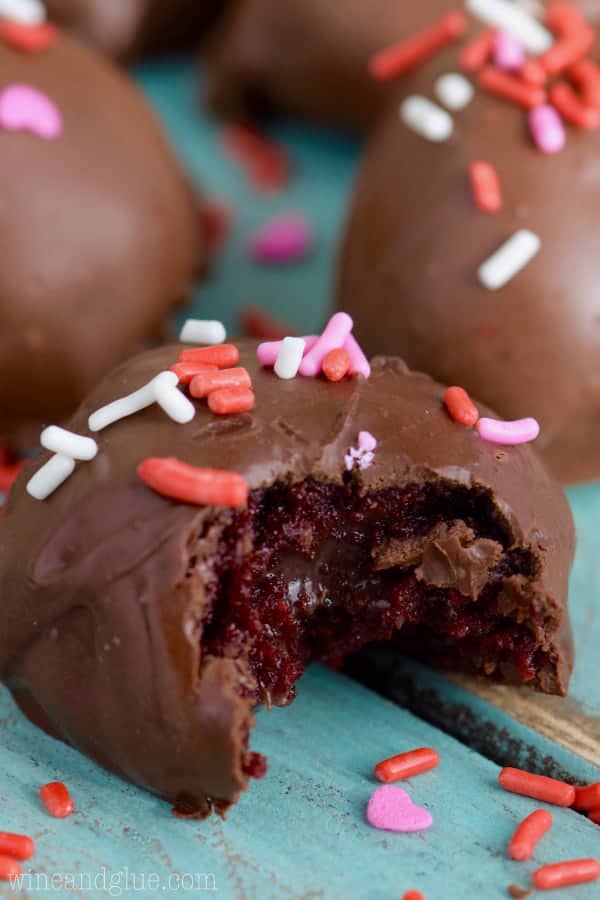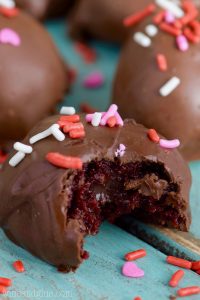 Red Velvet Chocolate Ganache Truffles
Ingredients
Red Velvet Cake Mix

plus the fixings it takes to make it

1

cup

chocolate frosting

1

cup

chocolate chips

1/2

cup

heavy cream

3

cups

milk chocolate chips

sprinkles

optional
Instructions
Bake the cake according to instructions and refrigerate overnight.

Combine the cream and chocolate chips in a microwaveable bowl. Microwave in 30 second intervals, stirring in between in each one, until it is fully melted and smooth. Cool overnight in the refrigerator.

Crumble the cake into a large bowl, and mix with the frosting. Using a small cookie scoop, make small one inch balls. Make a dent in the ball, add 1 tsp of ganache, close the ball. Freeze the truffles for 20 minutes.

While the balls are freezing, melt the chocolate. Move the truffles from the freezer to the refrigerator. Taking out only a few truffles at a time, dip them in the melted chocolate, scoop them out with a fork, tap off the excess chocolate and transfer to wax paper. Top with sprinkles and allow the chocolate to set completely.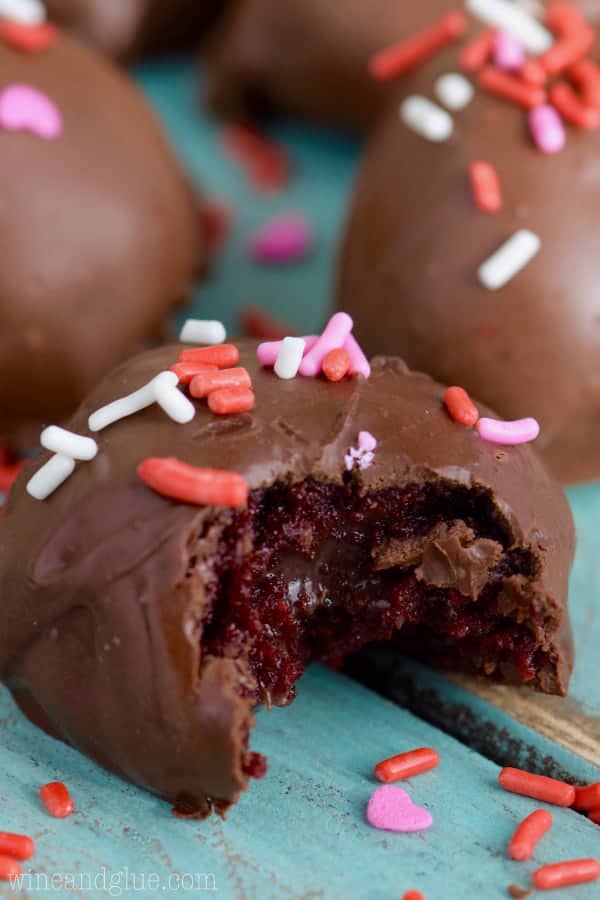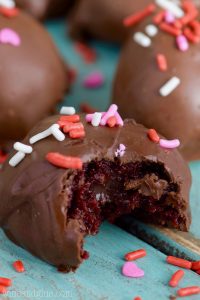 did you make this
Red Velvet Chocolate Ganache Truffles