This Red White and Blue Fudge is super simple to make in the microwave, but it is a showstopper!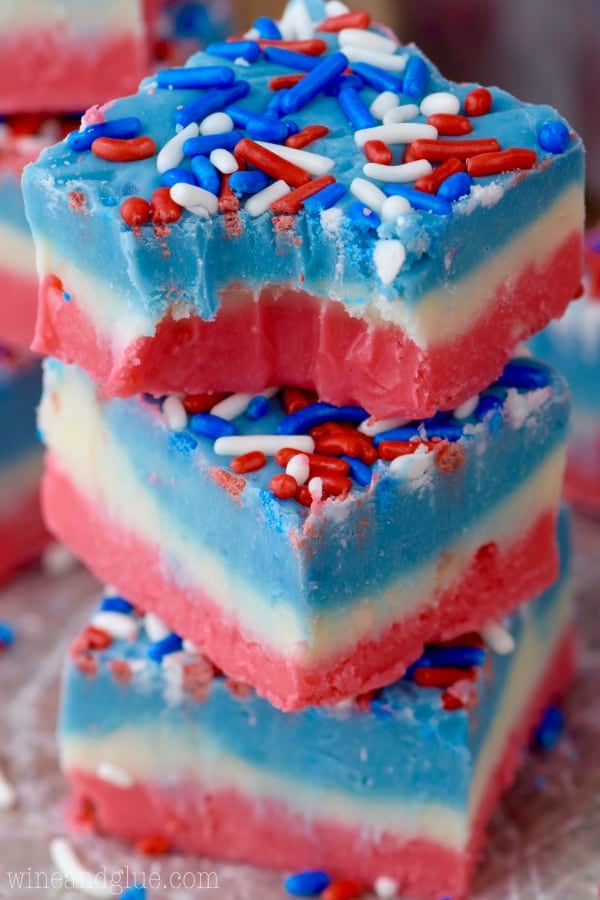 Picture me at just about dinner time in the kitchen getting the food ready in my work out clothes (okay . . . . this is kind of a weird start to a post, but I promise it's not going to be creepy . . . . actually, it kind of is). I worked out hours ago, but such is life, 95% of the time I'm in clothes that aren't right for the situation and I'm overdue for a shower. The kids are in the basement rotting their brains out watching TV and are blissfully out of my way while I make dinner.
Nathan walks in from work, the kids come upstairs after I yell 800 times to turn off the TV and come bother their dad. They follow him upstairs and harass him while he changes out of his work clothes. There is laughter, screaming, running, a few moments when I'm pretty sure one of them is murdering another.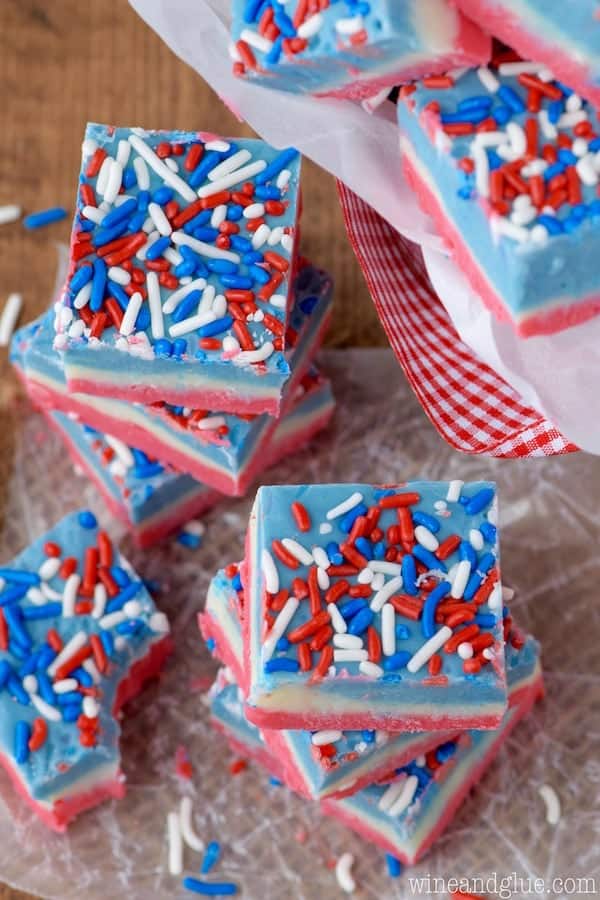 I get the food on the table, yell for them all to come down and then I go upstairs to change out of my workout clothes, while they all head down.
Everything seems normal.
Gavin isn't with them, but his door is shut, and I figure that he is in there imagining how he can transform himself into a ninja and conquer the world. You know, the ushe.
I'm in my room, with the door shut. Blissfully alone. Taking my sweet time getting some clothes out . . . and naked now.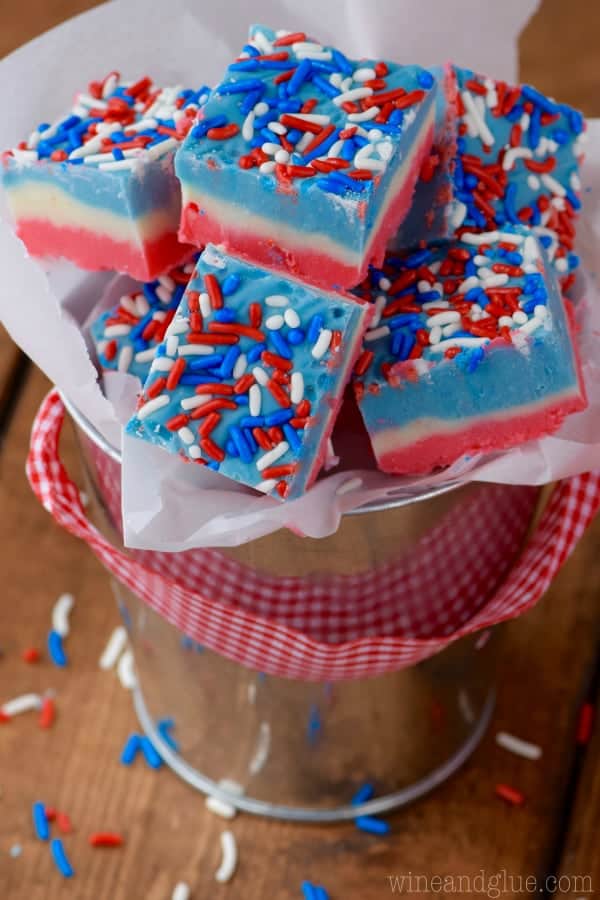 When all of the sudden the tall laundry basket that had been overturned on my bed with all the clothes that had been in it strewn about (a very normal sight in my house), jumps up and Gavin is screaming, "BOO!!!!"
You guys.
I screamed SO LOUD and SO LONG that Nathan came running upstairs to make sure that I wasn't hurt. Gavin is now laying on his back on my bed laughing so hard, I think there are tears. And I'm cowering in my bathroom with just my head peeking around the door, yelling at him and threatening to send him to boarding school. Okay, not really. I was shaking too hard to be screaming all the threats that were racing through my brain.
After I pulled myself together and GOT DRESSED, and was dishing out pizza off the grill to the kids around the table, because we had approximately 10 minutes before we had to leave for baseball (isn't summer supposed to be relaxing???), Nathan is saying to the kids:
"I will give five dollars . . . NO TEN!! to the next kid who makes mom scream like that again!"
I made Gavin swear right then and there that he would never jump out at me again in my bedroom because he is eight years old and he DOES NOT want memories of his mother naked.
He said, "Okay, I promise. If you are alone in your bedroom I won't scare you. But if you and dad are both in there, well . . . . "
Nathan and I in unison:
NOPE. That would be even worse.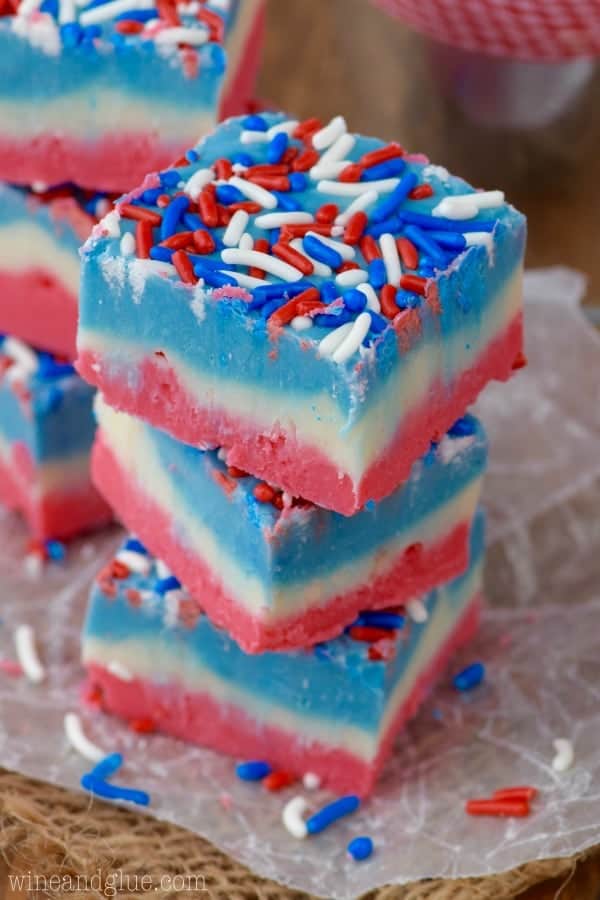 Okay! This fudge. It's so ridiculously simple that you only need these three sentences of description :)
Really though, so easy, and it can be any flavor you want. You just add some extract to the sweetened condensed milk before you divide it with the chocolate and make the different color layers. This is the same basic principal as my Rainbow Fudge, but made fun for the Fourth of July. And the fun news is that you could do this with any colors, so it would be fun for Christmas (you know you are going to see this again in six months) or a graduation party with school colors!
And it takes almost no time at all to make, so you have plenty of time to research boarding schools and plot revenge :)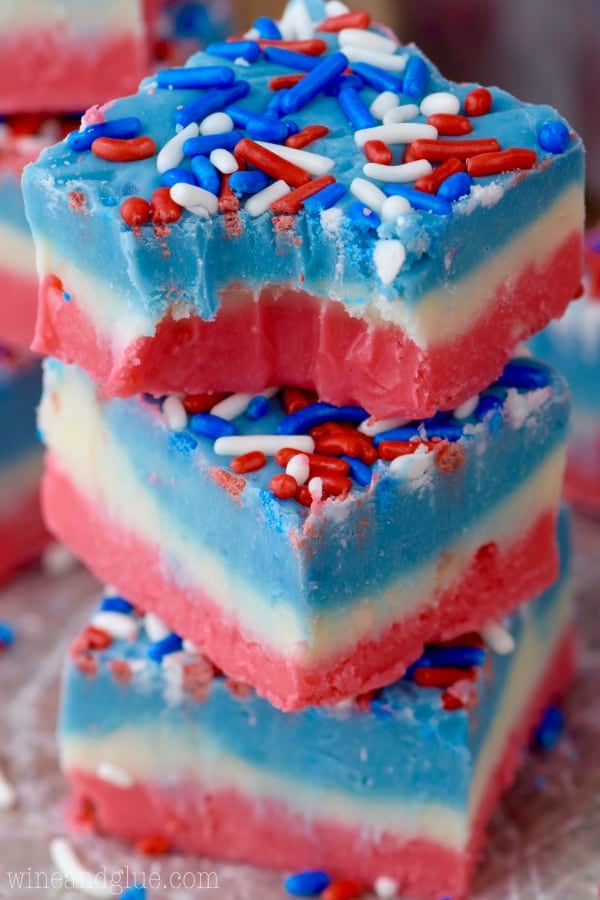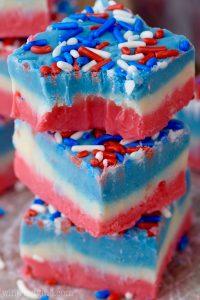 Red White and Blue Fudge
Ingredients
3

cups

white chocolate chips

divided

14

oz

by weight sweetened condensed milk, divided into 1/3 cups

1/2

tsp

mint extract

or any extract flavor

20

drops red food coloring

see note

10

drops blue food coloring

red

white and blue sprinkles
Instructions
Line an 8 by 8 inch pan with aluminum foil.

While the sweetened condensed milk is still in it's can, give it a good stir. Then add the extract, stirring again. Pour 1 cup into a glass measuring cup.

Divide the white chocolate chips into three bowls.

Pour 1/3 cup sweetened condensed milk into the first bowl. Microwave in 30 second intervals, stirring very well after each interval. (Mine only took one minute total.) Be careful not to over heat. Once melted, add the red food coloring. Depending on your brand, you may need to add more than is listed here. Once combined, pour into the 8 by 8 pan and spread out evenly. Put it in the refrigerator.

Repeat the process, though this time do not add any food coloring. Pour the white layer over the red layer.

Repeat the process a third and final time, though this time add the blue food coloring. Very carefully spread over the white layer. Add the sprinkles on top immediately after spreading and press into the top of the fudge.

Let cool completely. Remove from the pan, peal off aluminum foil. Cut into squares and serve or store in an airtight container for up to two weeks, unrefrigerated.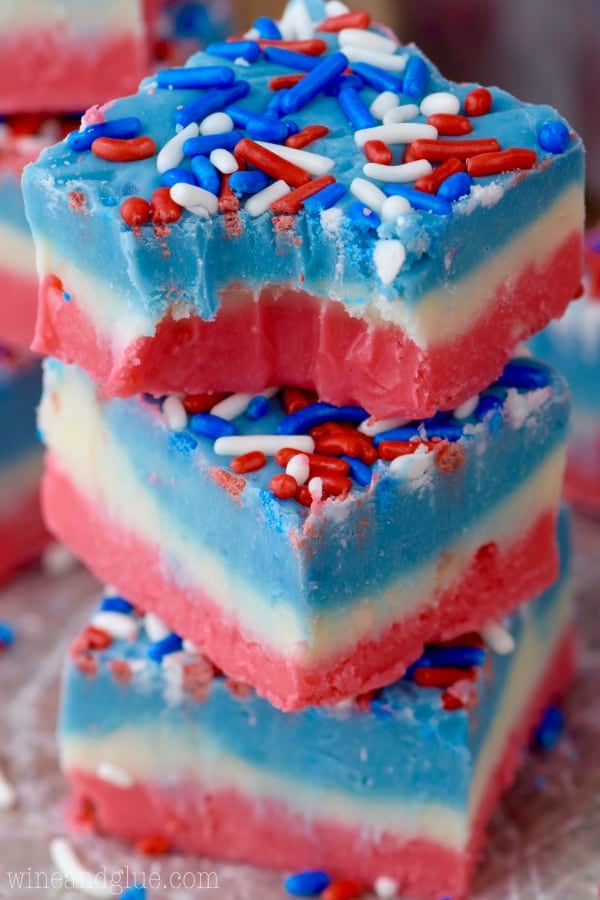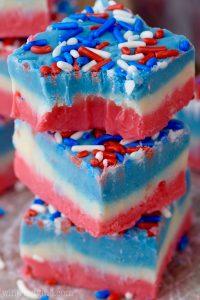 did you make this
Red White and Blue Fudge