This Red Wine Chocolate Cake is deep, delicious, rich and perfect to entertain with!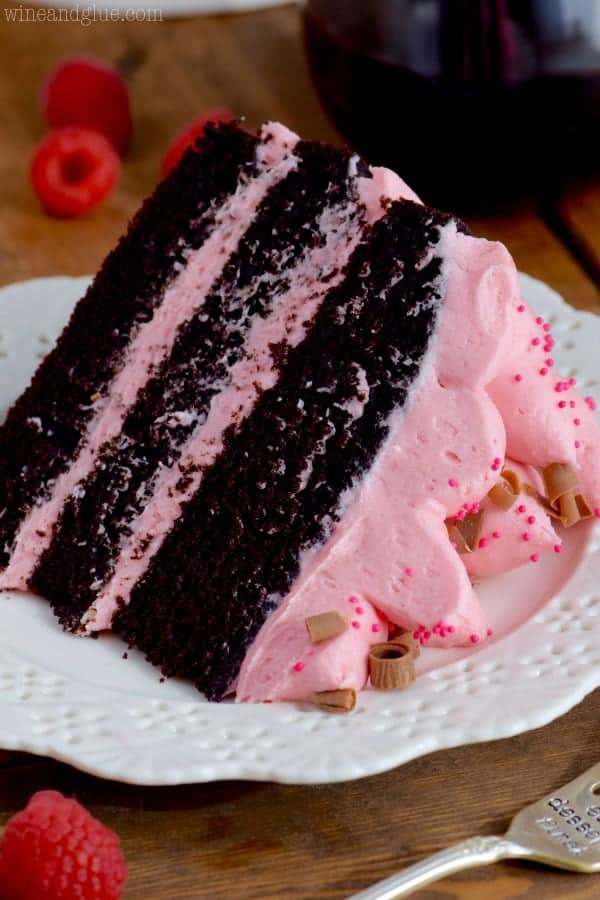 I have SUCH an amazing post for you guys today.
It starts with this amazing book, Simply Beautiful Homemade Cakes, by my friend, Lindsay.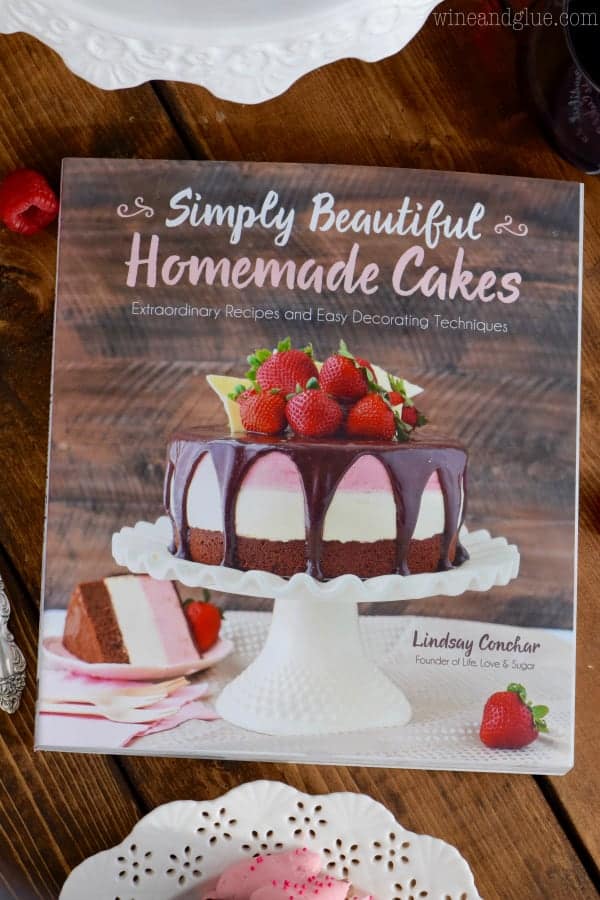 She is the amazingly talented blogger behind Life, Love, and Sugar. And before I tell you about her book and about her blog, can I tell you about her?
I first met Lindsay in person at BlogHer Food last year in Chicago. She has blogged in the past about her struggles with infertility. And though there are a lot of things that connect Lindsay and I, I will never forget standing in Eataly with her in Chicago and just talking about how heartbreaking it is to want a baby that you can't have. Between my own struggles with infertility and losing Elliot . . . I get it.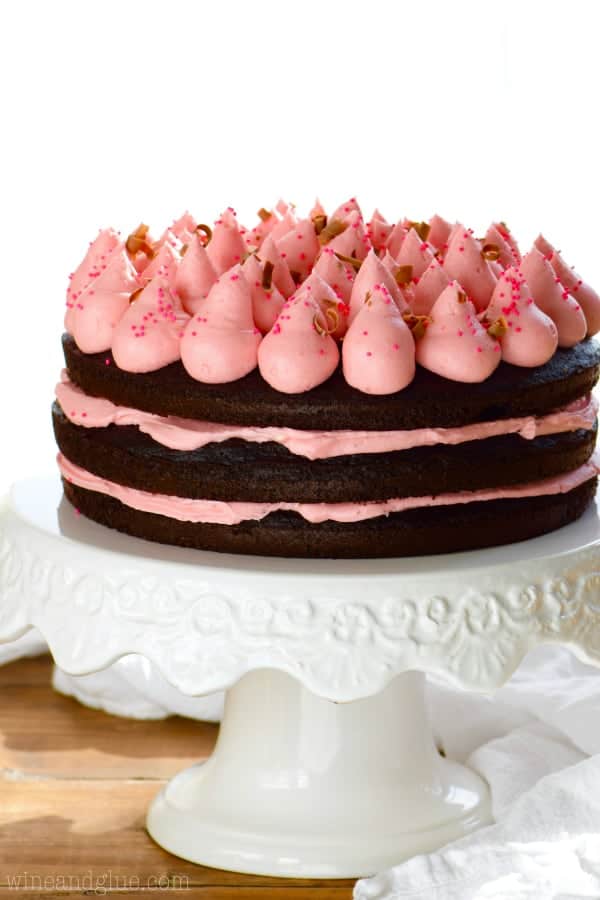 Beyond the bond that comes from something like that, Lindsay is such an amazing blog friend. Every time I hang out with her in person she reminds me of just how amazing it is that someone that you talk to online can be an actual friend.
And you guys.
You HAVE to check out what she can do with a cake. Every.single.time. she posts a new cake, I have major #cakeenvy <—- it's a thing.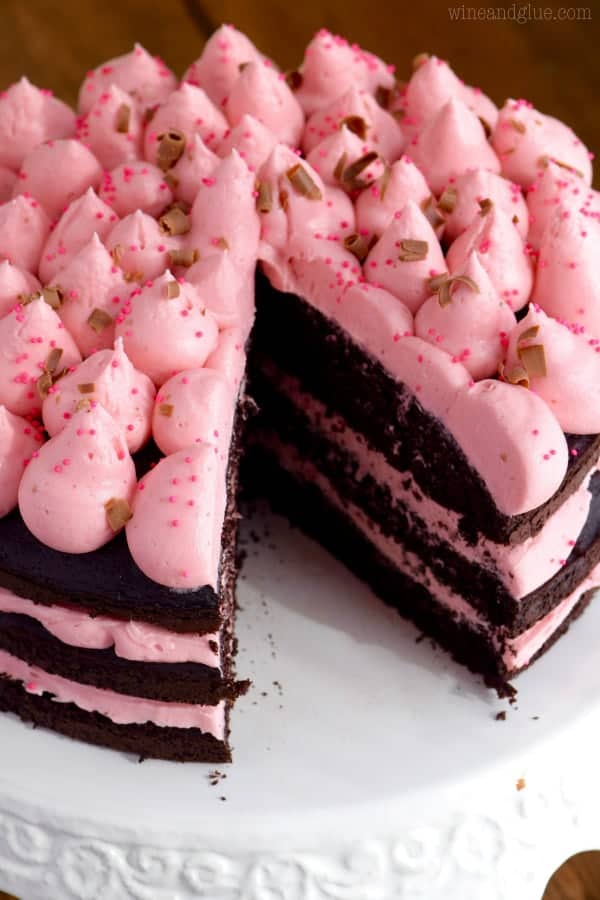 She is crazy talented, and that is exactly why you need to buy her book. Not only does she give you tons of amazing cake recipes in her book, she also gives you so many techniques to make you decorate cakes like a master. And not just tips, she gives you photo tutorials, so you can really see how to do it.
If baking beautiful cakes has been a wish of yours, you need to buy this book. Or if you know someone who has a passion for baking, they need this book for the holidays.
Red Wine Chocolate Cake
Obviously, when I saw that there was a cake made with red wine, I knew that was the one I had to share with all of you. In Lindsay's book, it is a sheet cake, and my good friend, Holly, showed ya'll yesterday how to do that. So today I turned it into a layer cake.
Red Wine Chocolate Cake with Raspberry Buttercream
It has a beautiful and delicious Raspberry Buttercream Frosting that is perfection with this cake. That combined with the Red Wine Chocolate Cake makes this a decadent dessert that is perfect for the holidays or just a great birthday celebration!
If you make this cake, leave me a comment and let me know what you think!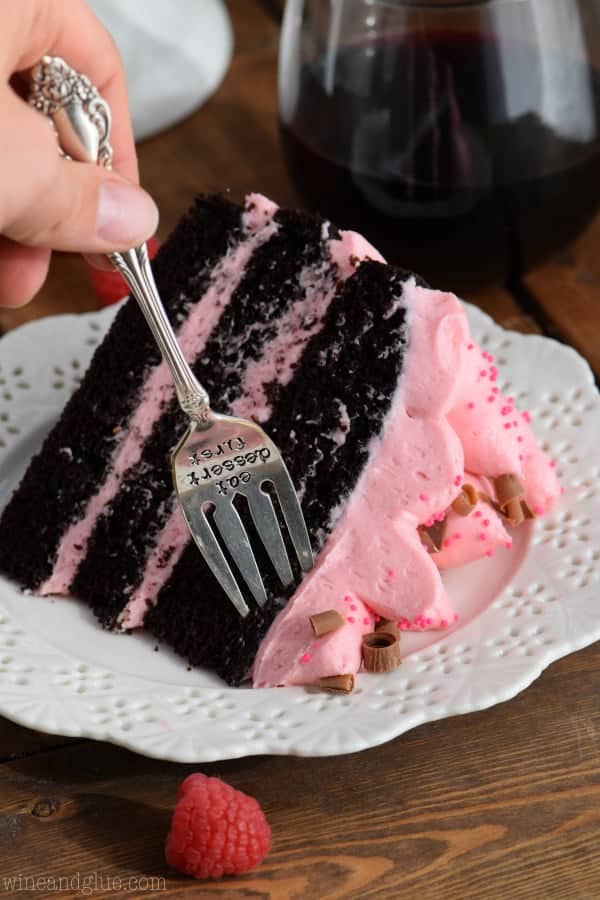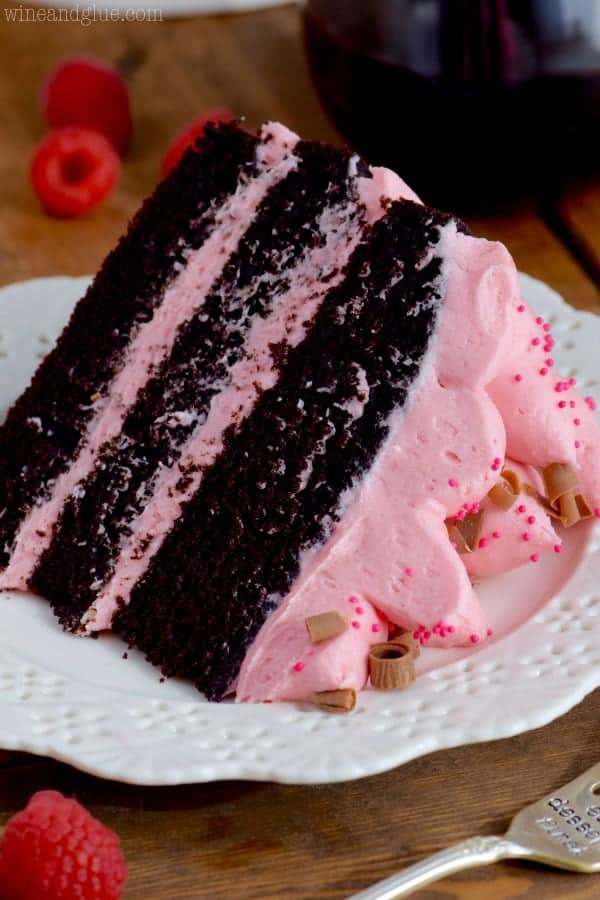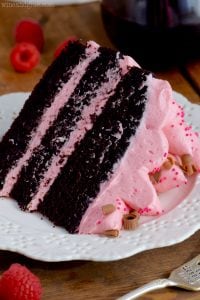 Red Wine Chocolate Cake
This Red Wine Chocolate Cake is deep, delicious, rich and perfect to entertain with!
Ingredients
For Cake
2

cups

all-purpose flour

2

cups

sugar

3/4

cup

dark cocoa powder

1

tbsp

baking soda

1

tsp

salt

1

cup

sweet red wine

3/4

cup

milk

room temperature

3/4

cup

vegetable oil

1 1/2

tsp

vanilla extract

3

large eggs

room temperature
For Frosting
2

cups

fresh raspberries

1 1/2

cups

salted butter

room temperature

1

cup

2 TBSPs vegetable shortening

9

cups

powdered sugar

sprinkles

chocolate for shaving
Instructions
Preheat your oven to 350 degrees. Prepare three 9 inch cake pans by place parchment paper in the bottom and spraying the sides with cooking spray.

In a large bowl, combine the flour, sugar, cocoa powder, baking soda, and salt. In a medium bowl, whisk together the salt, red wine, milk, vegetable oil, vanilla, and eggs. Pour the wine mixture into the flour mixture and stir until smooth. The batter will be thin.

Distribute the batter evenly between the three pans and bake until a tooth pick comes out with just a few crumbs, 22 to 25 minutes. Remove from the cake pan a few minutes after baking, remove parchment paper, and let it cool completely.

To make the frosting, puree the raspberries until smooth. Strain to remove the seeds. You should have approximately 1/2 a cup of raspberry puree. Beat the butter and vegetable shortening until smooth. Add the raspberry puree. Slowly add the powdered sugar one cup at a time until it is all added and the frosting is smooth.

After the cakes have cooled, level the tops of the cakes using a serrated knife. Place the first of those two on the cake stand. Add one cup of the frosting. Add the second cake, with the removed dome top. Add another cup of frosting. Finally, add the third layer. Pipe on dollops of frosting using an 808 icing tip. Hold the tip approximately 1/2 an inch over the top of the cake and put pressure on the frosting bag, piping a dollop of frosting onto the edge of the cake, releasing once it has spread outwards, touching the dollop next to it. (It's helpful to practice on a plate first.) Make a ring of dollops around the outside of the cake, and then repeat, working your way inward.

Add sprinkles, and chocolate shavings to the top of the cake. A vegetable peeler works well to create chocolate shavings.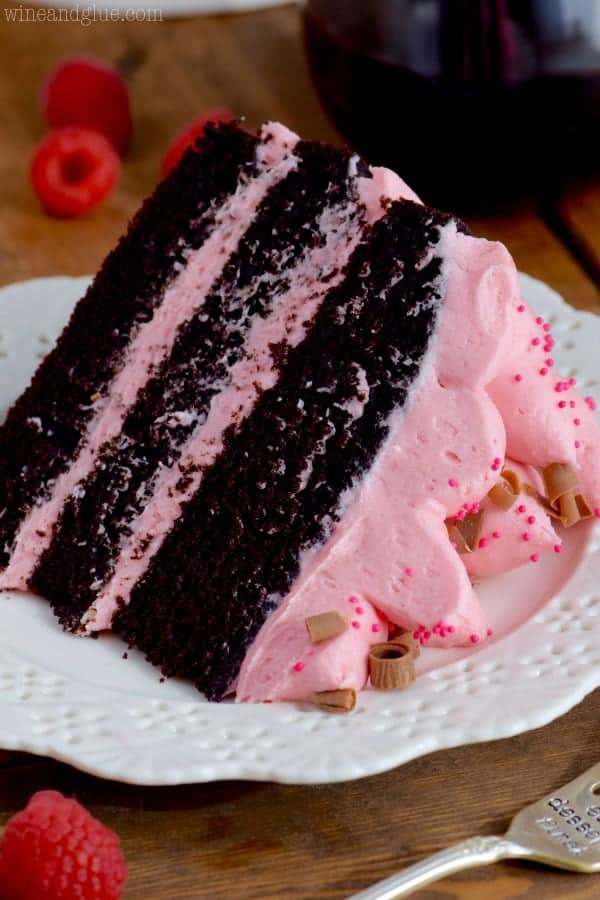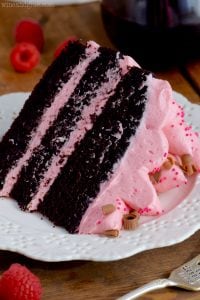 did you make this
Red Wine Chocolate Cake