Sheep Cupcakes! Cute and unbelievably delicious!!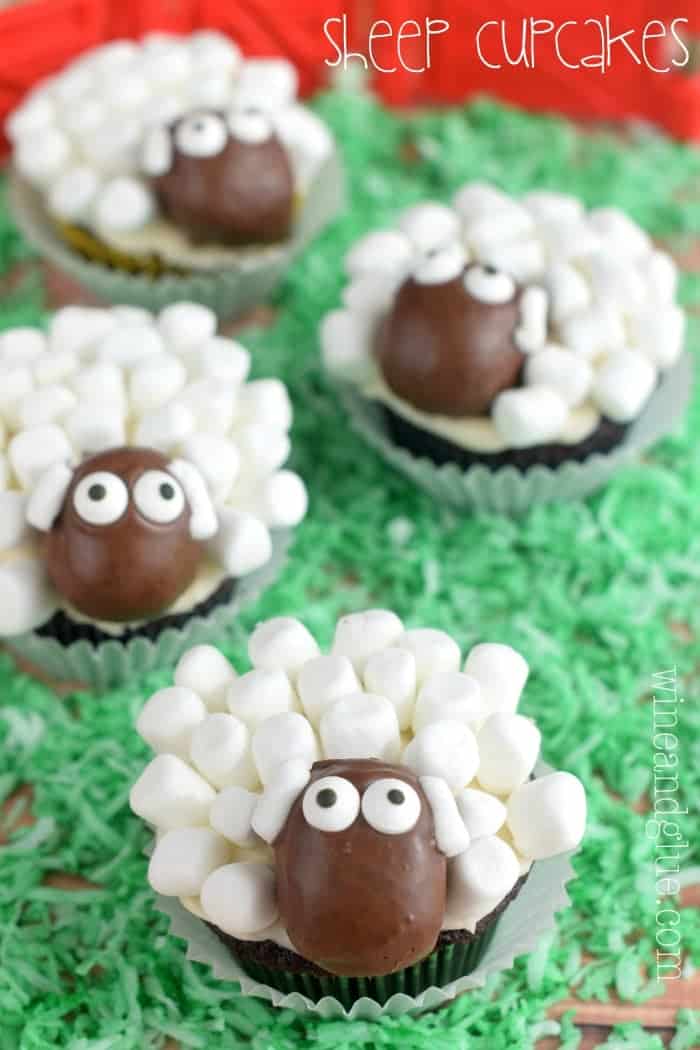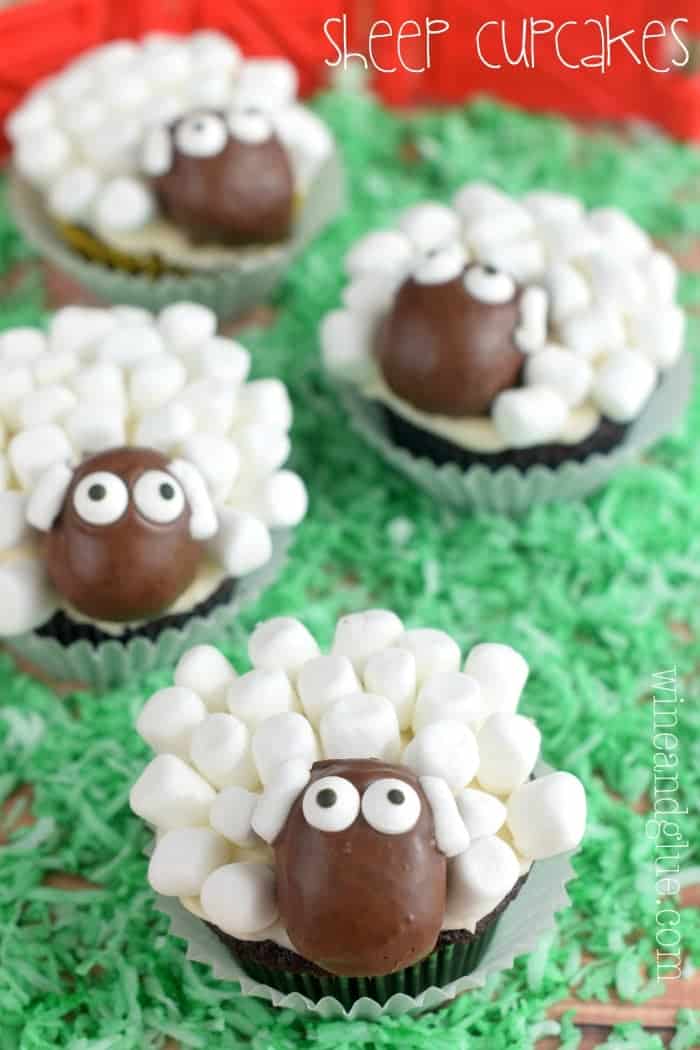 I originally made these sheep cupcakes back when Gavin was turning five for his Skylander party.
Aren't they almost too cute to eat?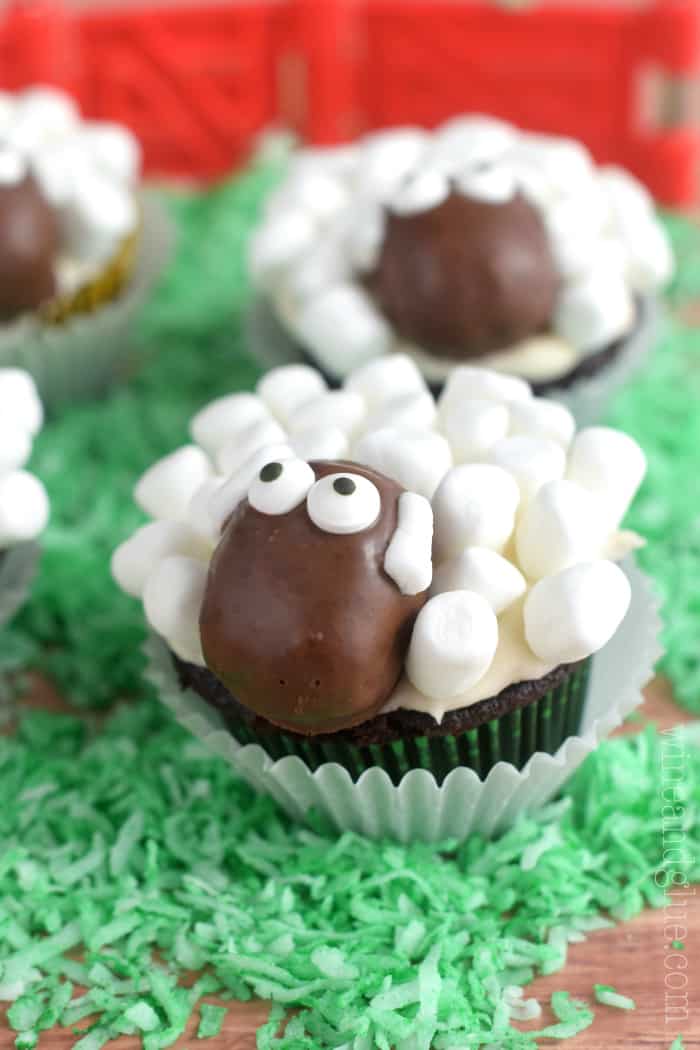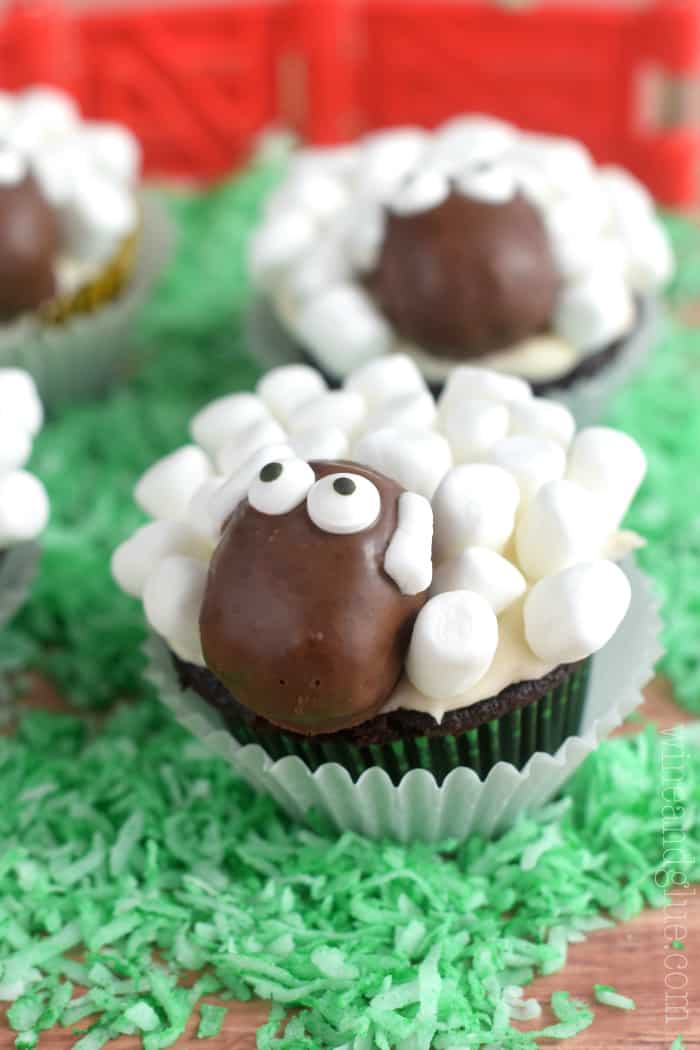 Well, since it's almost Easter, and sheep are so cute and spring like, I thought the recipe and the photos could use a little updating.
Well . . . that and we had another Skylander party.
Don't judge us.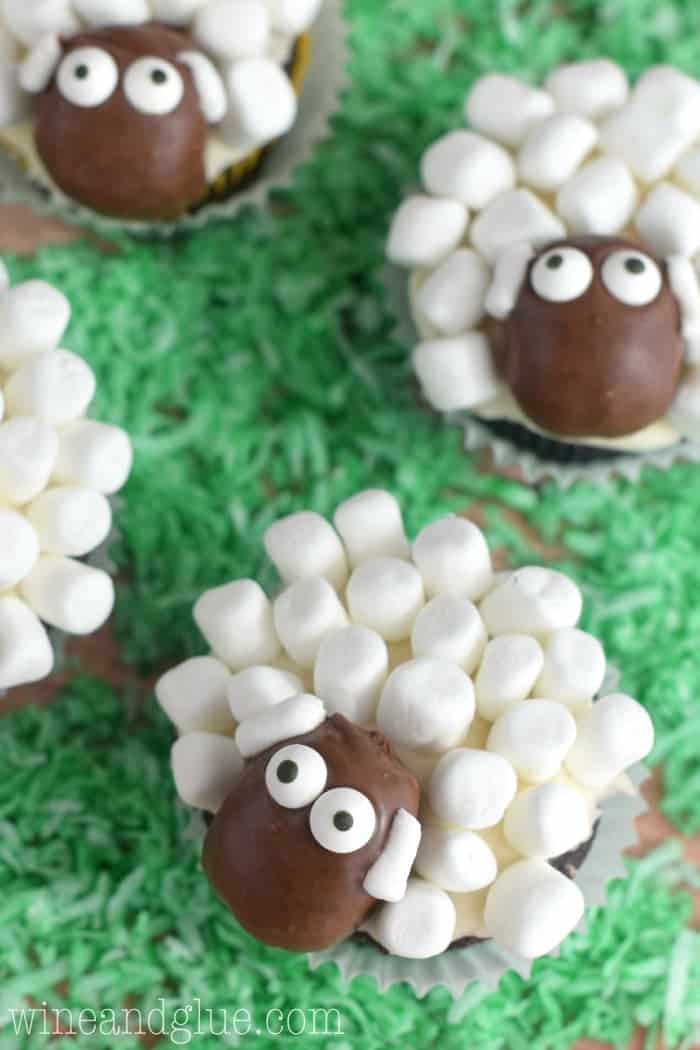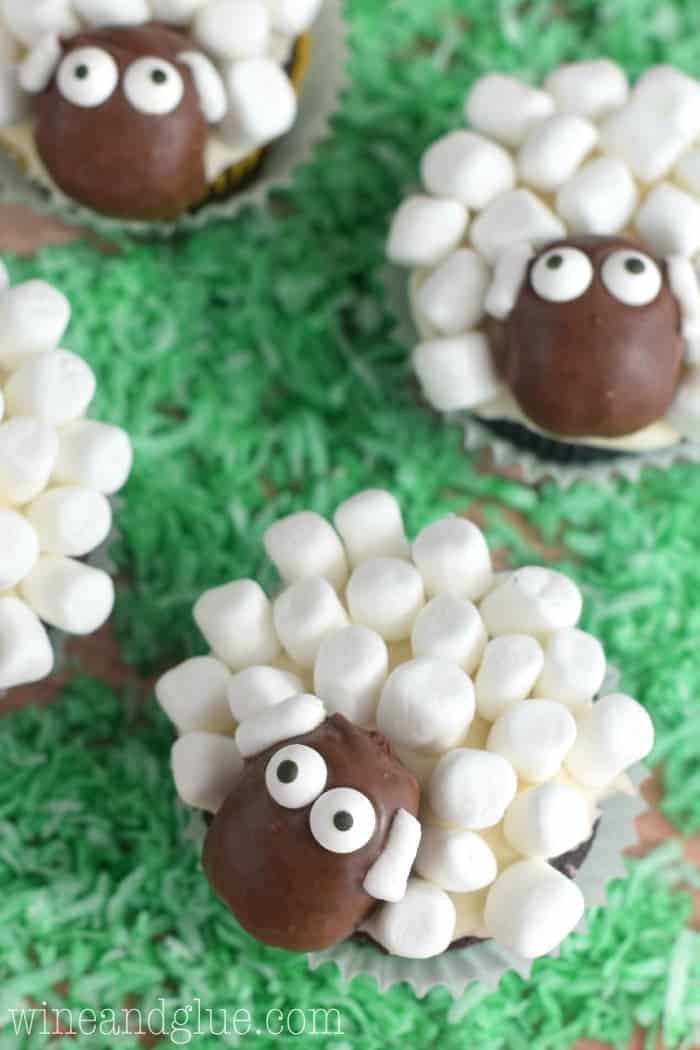 These bad boys are completely from scratch. They have an awesomely moist chocolate cupcake body, that is just so good! You make 24 cupcakes, but I only needed 16 cupcakes for our party. The rule of sheep head here is that you get about four sheep for every cupcake that you crumble and add 1/2 tablespoon of frosting too. And this frosting is kind of ridiculous. Like hand me a spoon ridiculous. You use some little candy eyes for the eyes, and you rip the sides off a mini marshmallow for the ears (about 1/3 of a mini marshmallow = one ear).
Fact:  I have eaten two sheep heads while writing this post.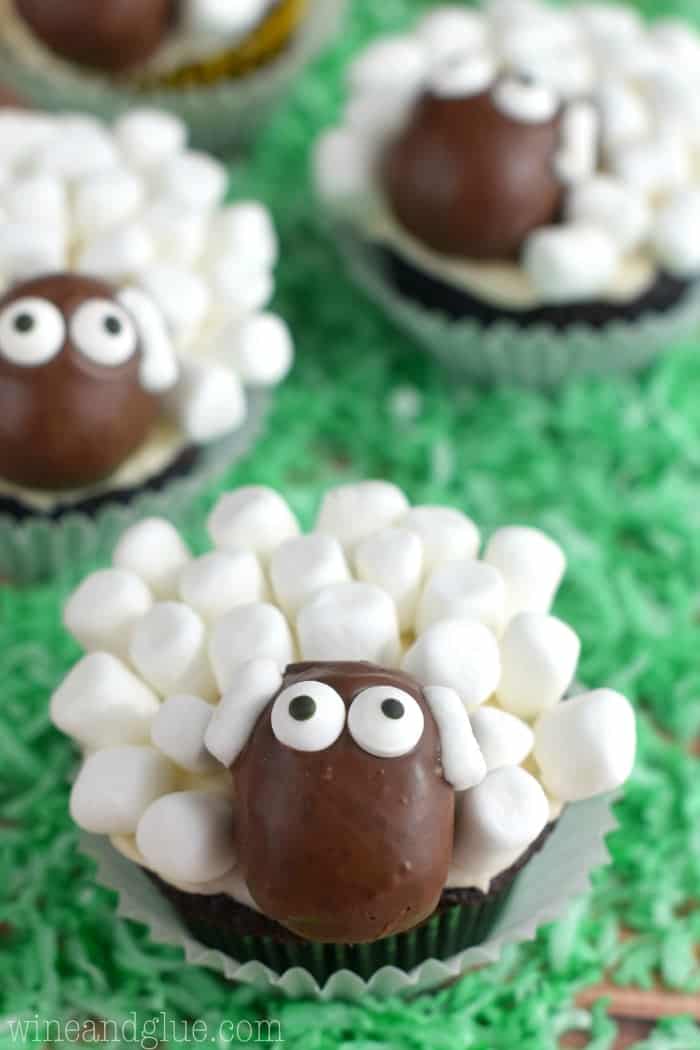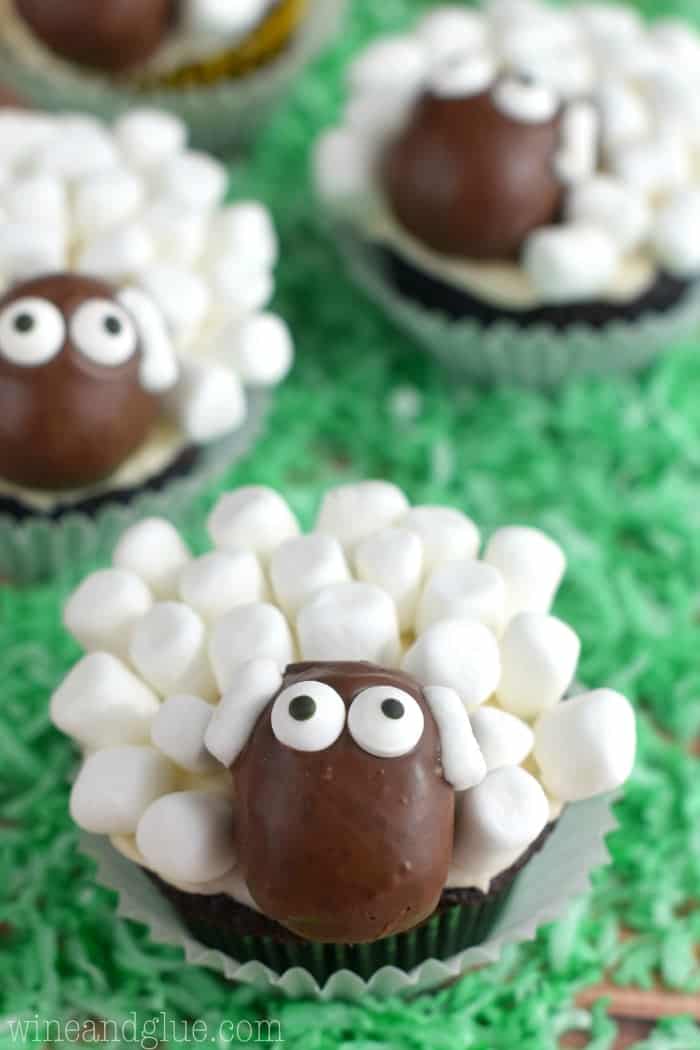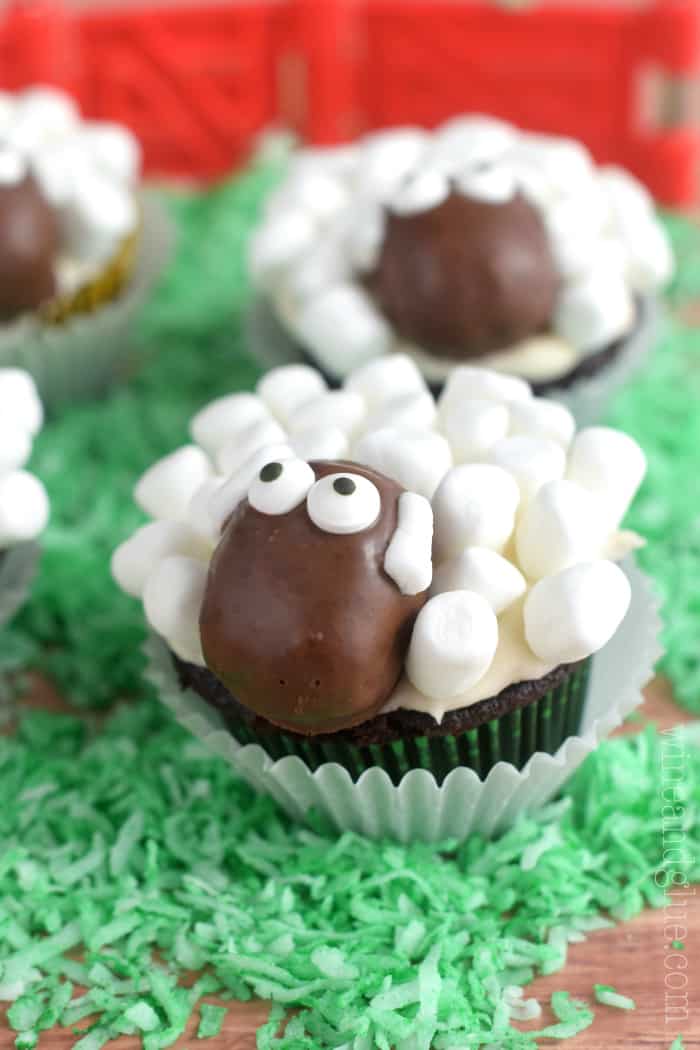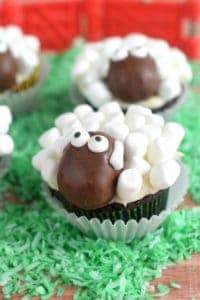 Sheep Cupcakes
Serves:
24
chocolate cupcakes, or 16 sheep
(tap # to scale)
Ingredients
For Cupcakes

1 1/2

cups

granulated sugar

1 3/4

cups

all-purpose flour

3/4

cup

unsweetened cocoa powder

1 1/2

tsps

baking powder

1 1/2

tsps

baking soda

1

tsp

salt

3

eggs

1

cup

milk

I used skim

1/2

cup

vegetable oil

2

tsps

vanilla extract

For Frosting

1/2

cup

unsalted butter

room temperature

5

cups

powdered sugar

2

tsps

vanilla

1/4

cup

milk

For Decorating

2

cups

milk chocolate chips

approximately

2

cups

mini marshmallows

approximately

candy eyes

1

cupcake + 1/2 TBSP of frosting = 4 sheep heads
Instructions
Preheat your oven to 350 degrees. Line two muffin tins with 24 cupcake liners.

In a large bowl, mix the the granulated sugar, flour, cocoa powder, baking powder, baking soda, and salt.

Add in the eggs, milk, vegetable oil, and vanilla. Stir until the batter is fully combined.

Fill each cupcake liner approximately 2/3 full.

Bake for 15 to 18 minutes (in two batches), or until a tooth pick inserted in the middle of a cupcake comes out with just a few crumbs. Allow to cool completely.

To make frosting, beat the butter until fluffy. Then add the powdered sugar gradually, one cup at a time. Add in the vanilla and milk.

To make the sheep heads, break up four of the cooled cupcakes into crumbs. Mix in two tablespoons of the vanilla frosting. This will make approximately 16 heads. (1 cupcake + 1/2 TBSP of frosting = about 4 sheep heads) Roll the mixed frosting and cupcake crumbs into 16 ovals for heads.

Place the heads on a wax paper lined plate for about 15 minutes. Then me them to the refrigerator.

Melt the 2 cups chocolate chips. Taking just two or three sheep heads out of the refrigerator at a time, drop them in the chocolate and then use a spoon to cover completely. Pull out with a fork and tap it on the edge of the bowl to get off the excess chocolate. Set it on the wax paper.

Break a mini marshmallow up into thirds. Use the two outer thirds for the ears of the sheep and two candy eye balls for the eyes. Let dry completely. Repeat with the rest of the sheep heads.

Frost the cupcakes with a small amount of frosting, just enough to cover the top. Set a dry sheep head on top. Then surround the sheep head and the rest of the top with mini marshmallows. Repeat with the rest of the cupcakes.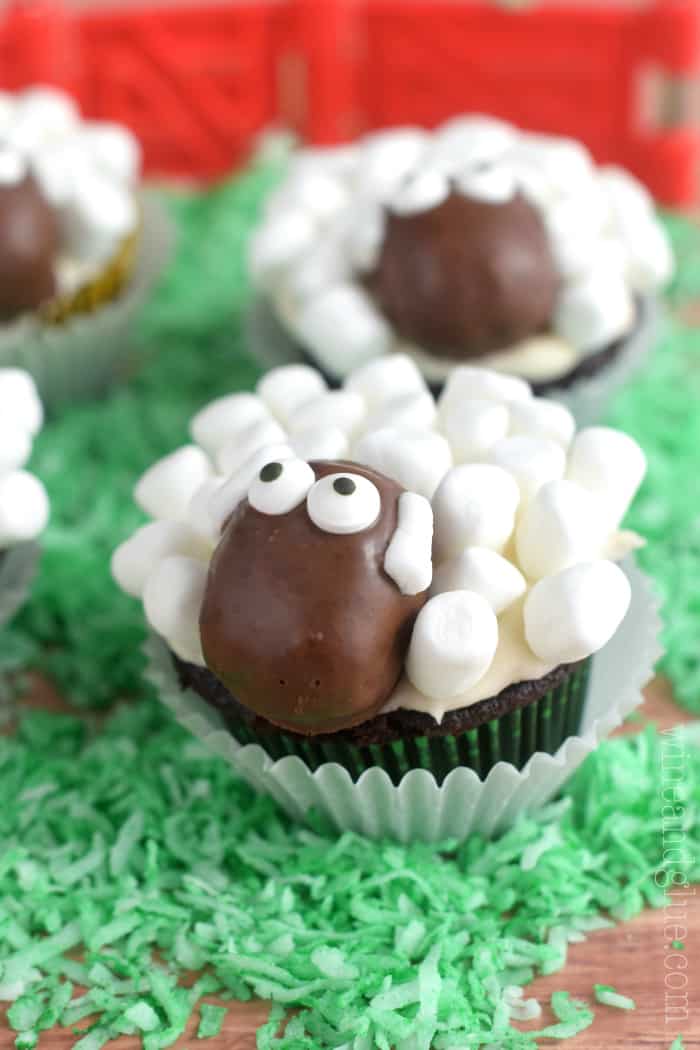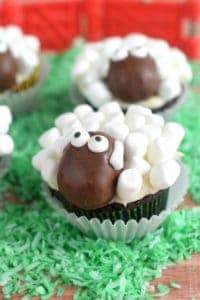 did you make this
Sheep Cupcakes
This post contains affiliate links, if you click on them and then make a purchase, I make a small amount of money at no additional cost to you. Thank you in advance for supporting Wine & Glue.