Our family loves this Crockpot Chicken Enchilada Soup! It comes together in only a few minutes, has the perfect flavors, and it is a healthy well rounded dinner too!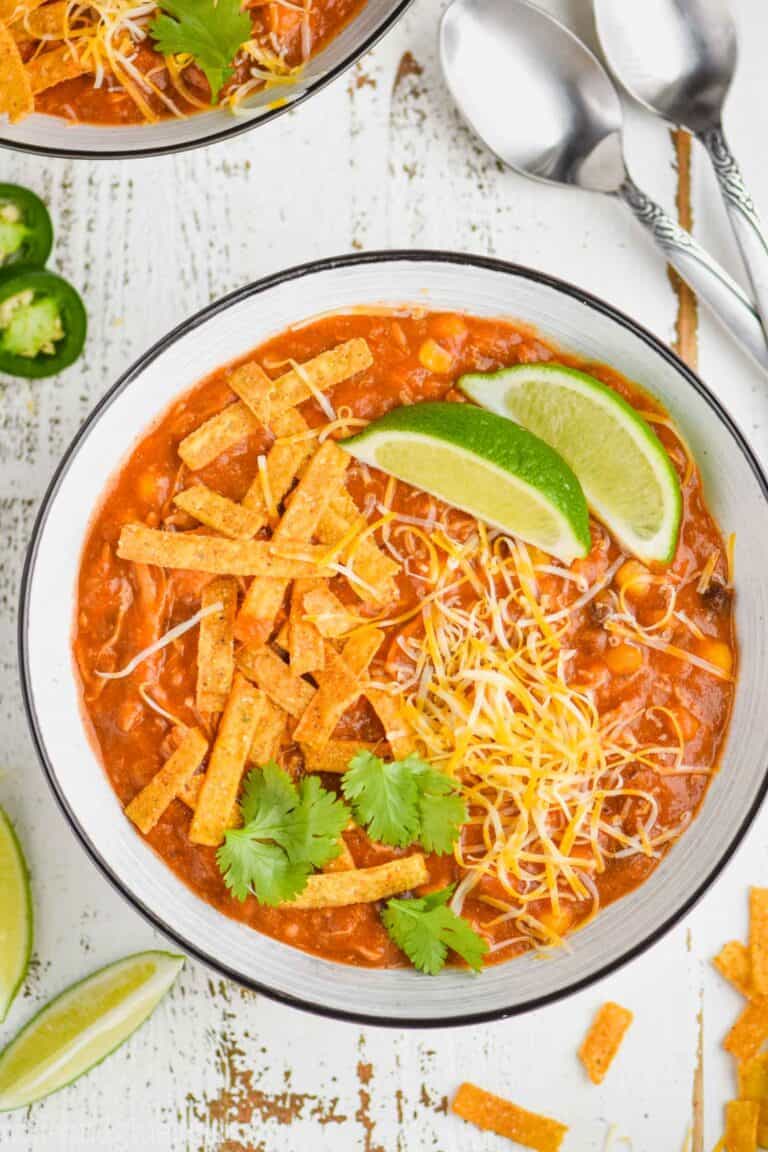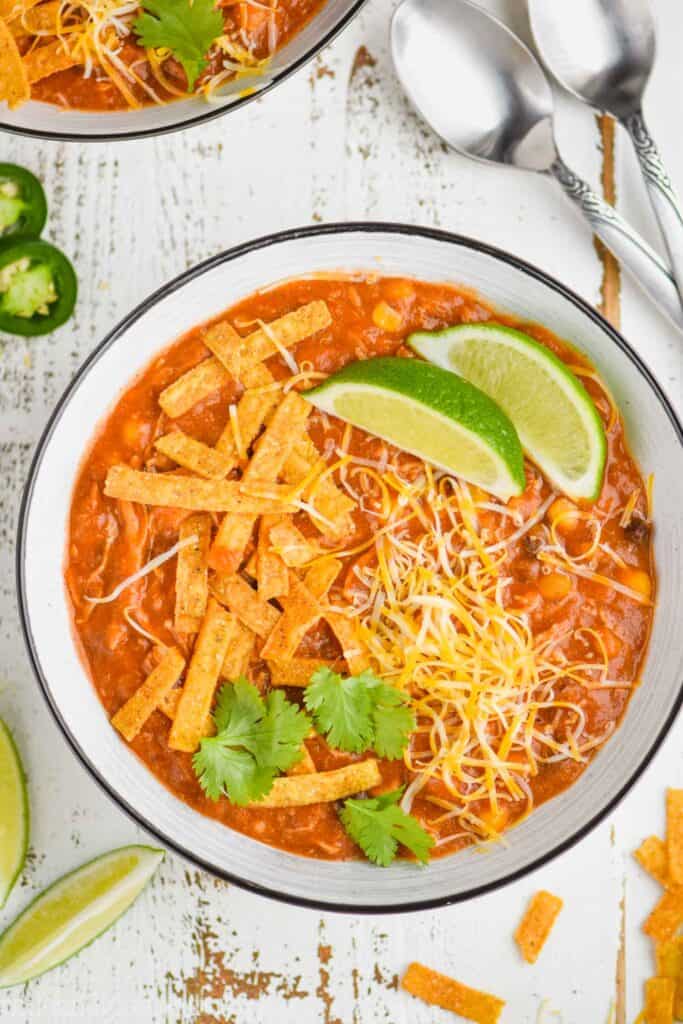 Last spring, as I was leaving for a work trip I decided that my family really needed to come home to a warm dinner. I didn't want Nathan to have to make something while taking care of the kids, so I thought: Enchilada Soup!
This Enchilada Soup has been a hero in our house for years. It comes together so quickly that you can literally make it in 10 minutes before grabbing your suitcase and running out the door. (Can I get a high five from all the working moms out there who know all too well what I'm talking about??)
This soup is perfect for when you don't have time to make Beef Enchiladas. I have updated this recipe recently to accommodate my Homemade Enchilada Sauce (which I'm totally obsessed with – we are picking out China together). But you can absolutely take the store bought short cut too.
This soup is the complete package of protein, carbs, and vegetables in the form of black beans. And at only 380 calories a bowl, it's a healthy dinner my whole family loves.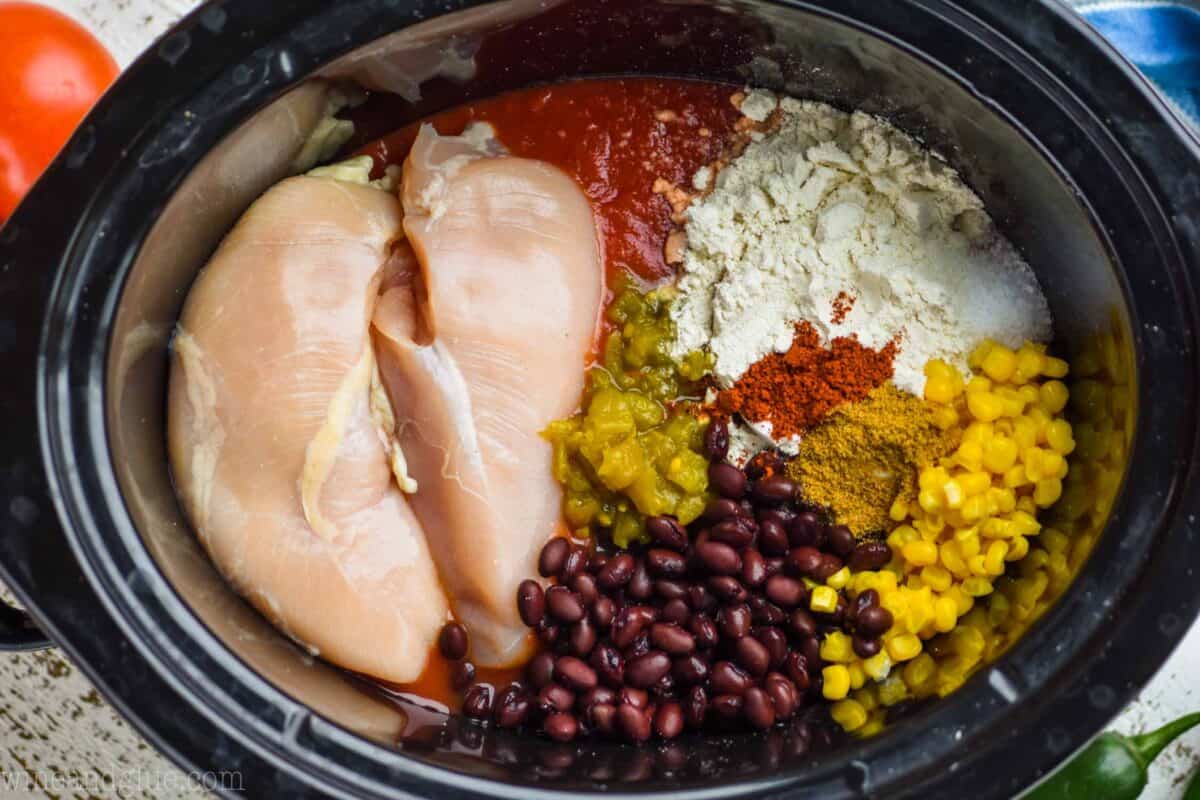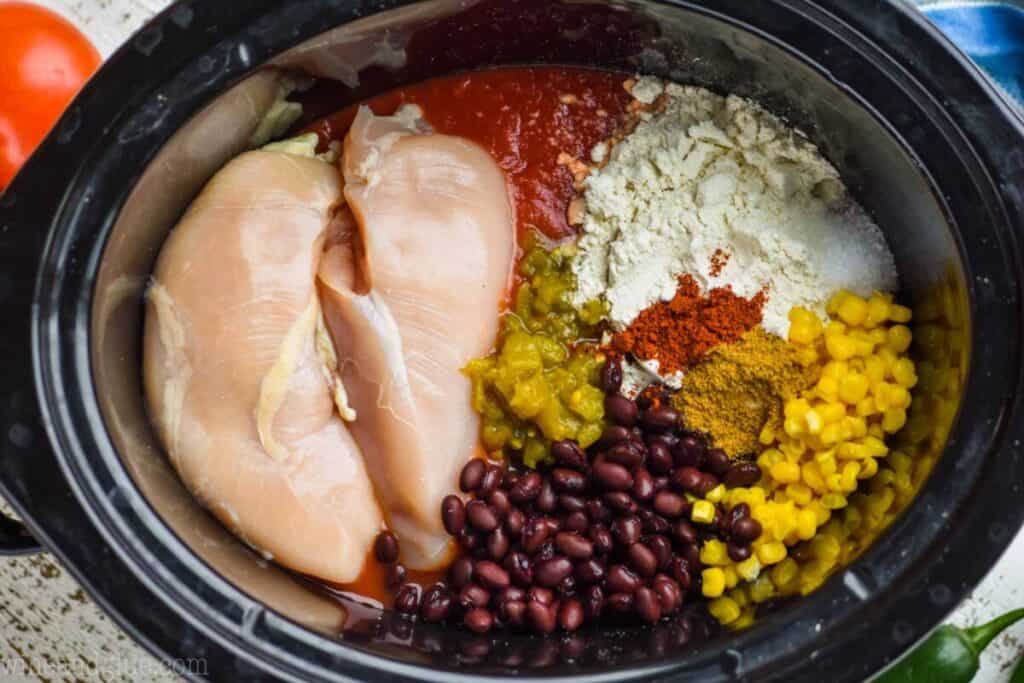 HOW TO MAKE ENCHILADA SOUP
This recipe could not be more simple. It is just dumping things into your slow cooker. (Be sure to head to the bottom of the post to get all the measurements and cooking time.)
In the base of your slow cooker whisk together the Masa Harina and the chicken stock.
Stir in the crushed tomatoes, enchilada sauce, and spices.
Then add in the chicken, beans, corn, and chiles.
Cook on low and enjoy!
The most time intensive part of the process is measuring out the spices, and even that is really not a big deal.
Please note that you can actually make the decision to just dump it all in your slow cooker. It will just be a little harder to whisk the Masa Harina in and get it smooth.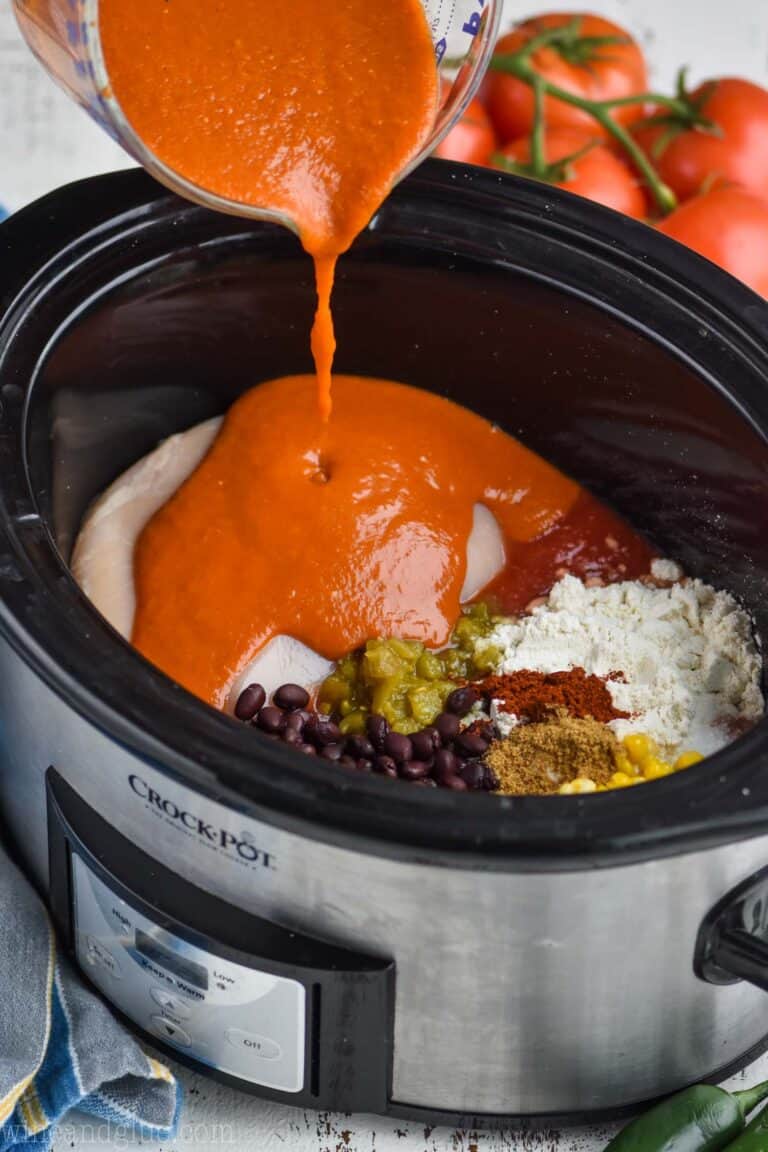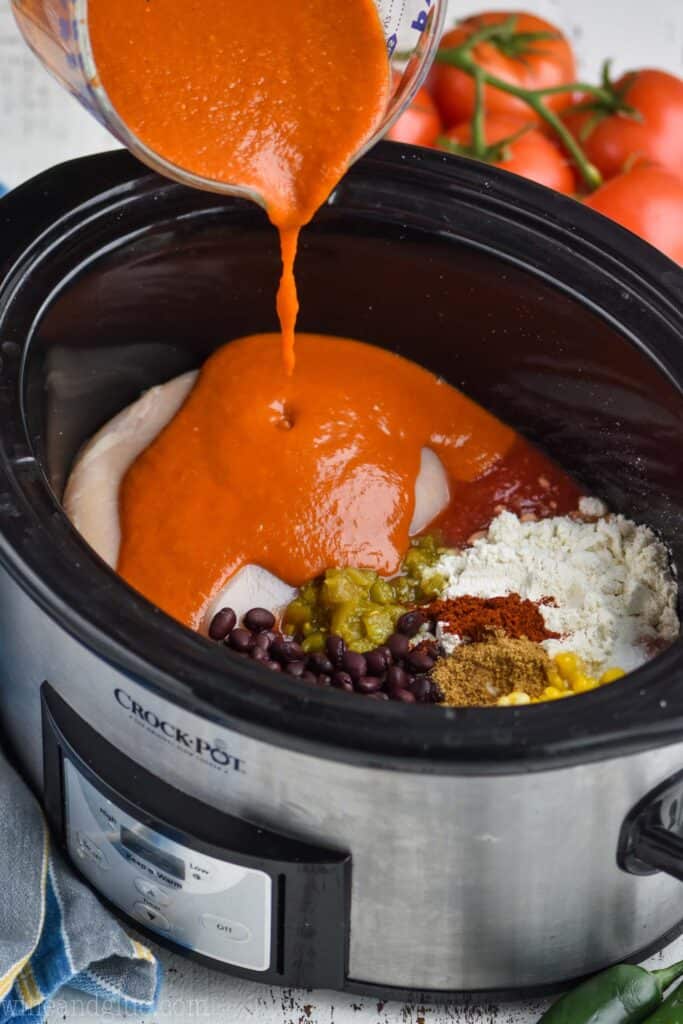 WHAT IS MASA HARINA?
Masa Harina is what gives this recipe the flavor that corn tortillas give an actual enchilada. It is not the same thing as corn flour.
It is dehydrated corn dough. With a little water you can use it to make a corn tortilla. It gives the perfect flavor and thickness to this soup.
If you can't find it, you can make this soup without it, and it will still be delicious, just not thick.
SPICINESS
This soup is not spicy at all. Even with the green chiles. My kids are super averse to spice in their dinners, and they love this recipe.
That said, if you would like a spicy chicken enchilada soup, I would suggest making the homemade enchilada sauce and adding 1/4 a teaspoon of cayenne pepper to the recipe. Taste it and add more to get the desired level of spice you are looking for.
You also can buy hot green chiles to bring some spice to this dish.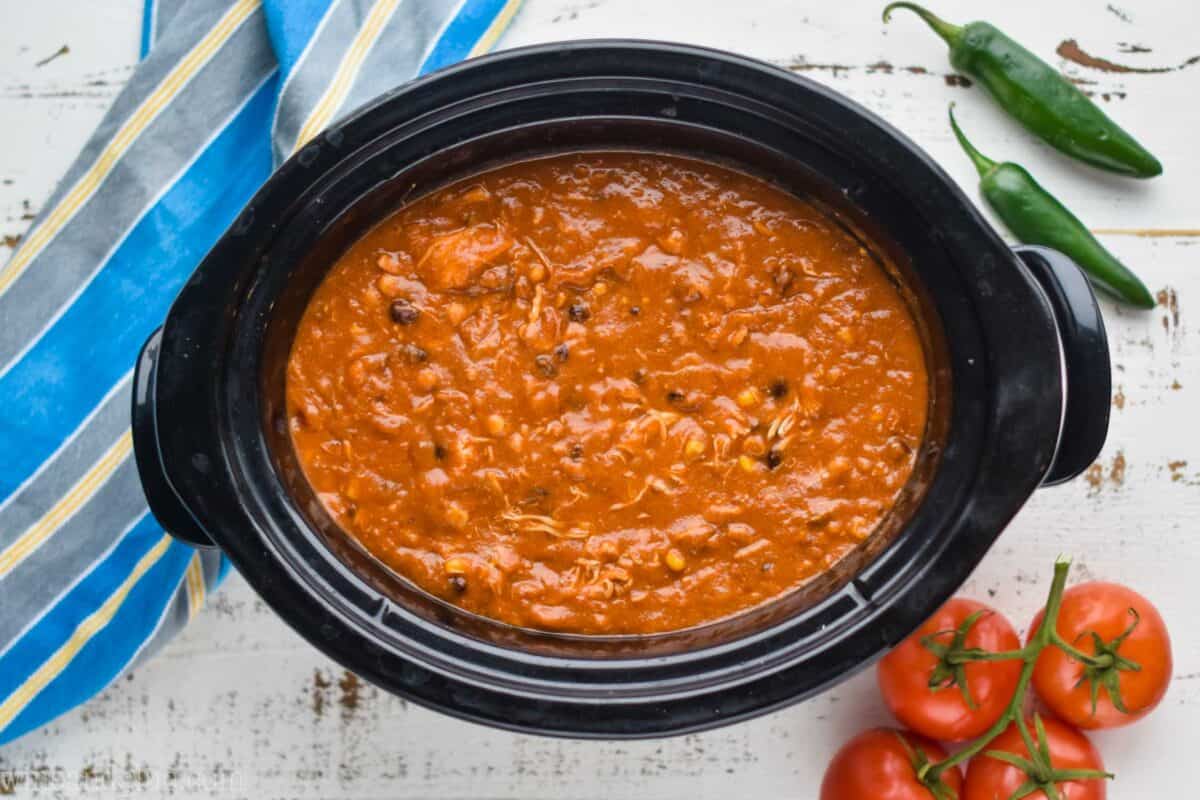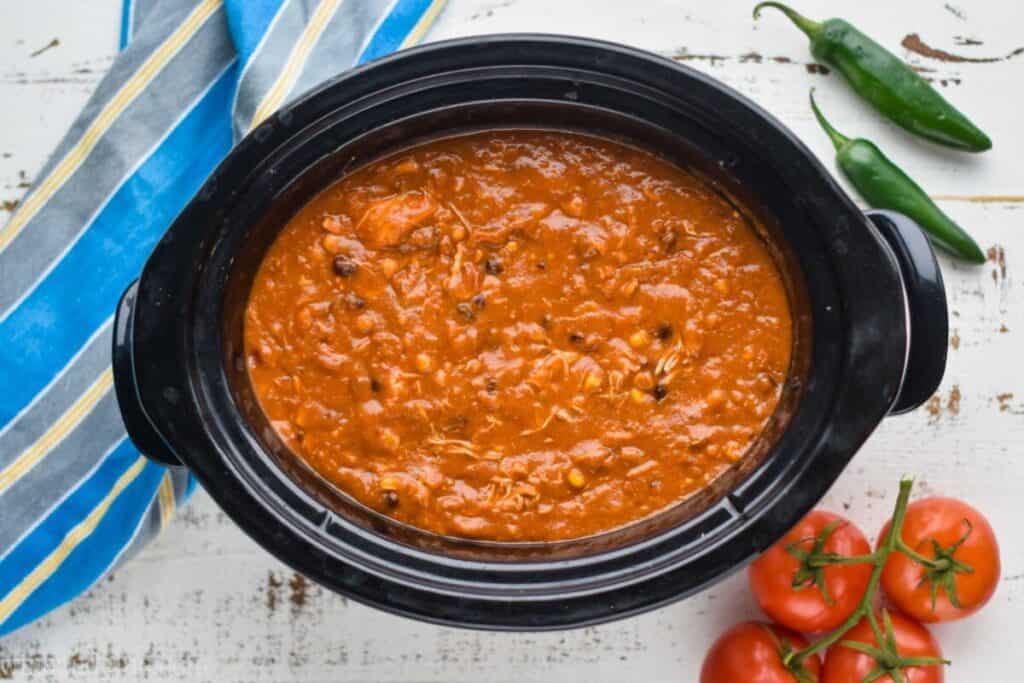 STORING LEFTOVERS
This recipes makes a ton of soup, 6 large bowls. So our family with our tiny eaters, tends to have left overs.
I store this in the refrigerator for up to four days, and when reheating only reheat the bowl I am going to eat. Please do not store left overs that have been warmed up more than once.
This recipe is great for freezing. Freeze in individual servings sizes, thaw in the refrigerator over night and have a great lunch to take to work with you the next day.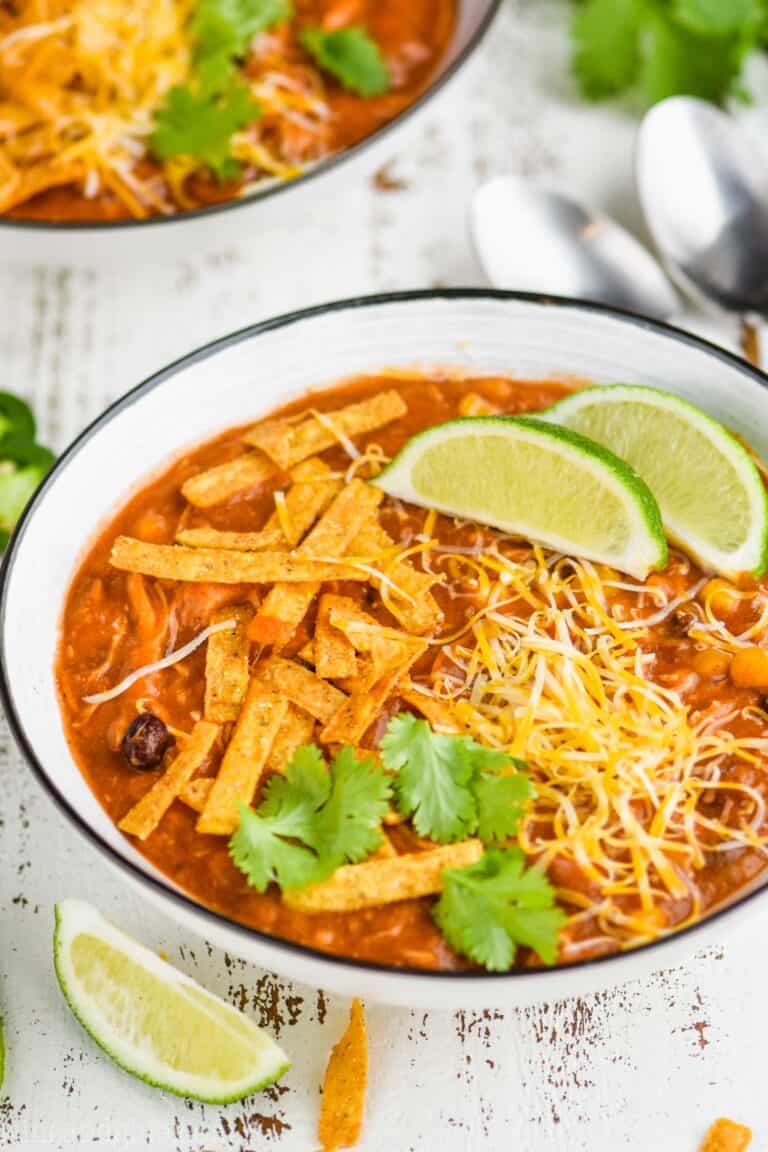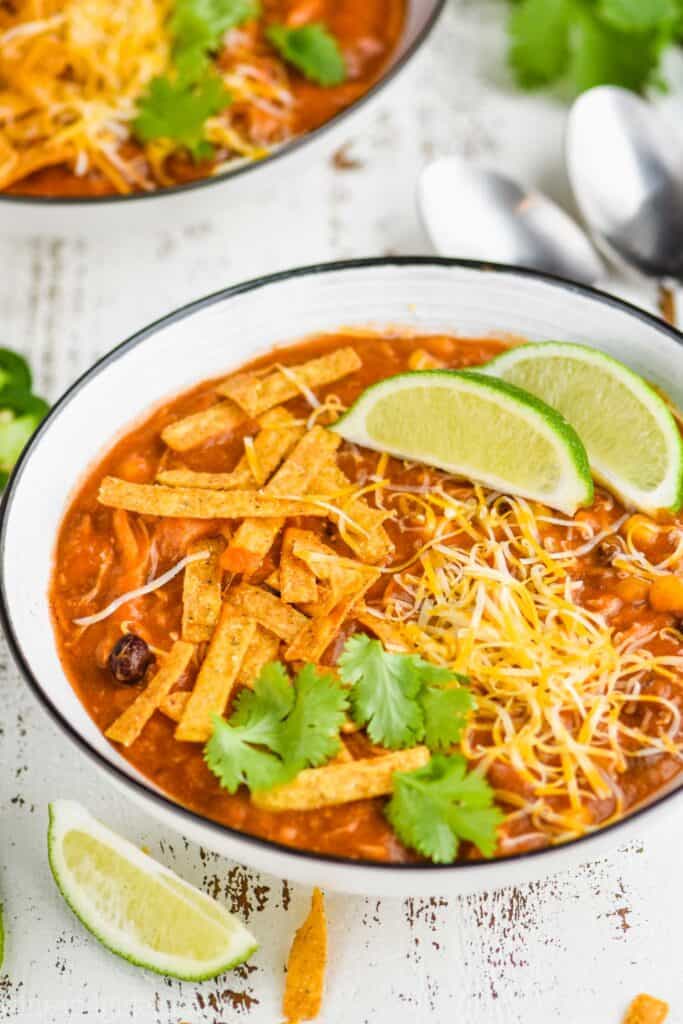 OTHER GREAT SLOW COOKER MEALS
We use our slow cooker about once a week – even in the summer. It is great for our busy life. Here are a few more dinners we fall back on regularly: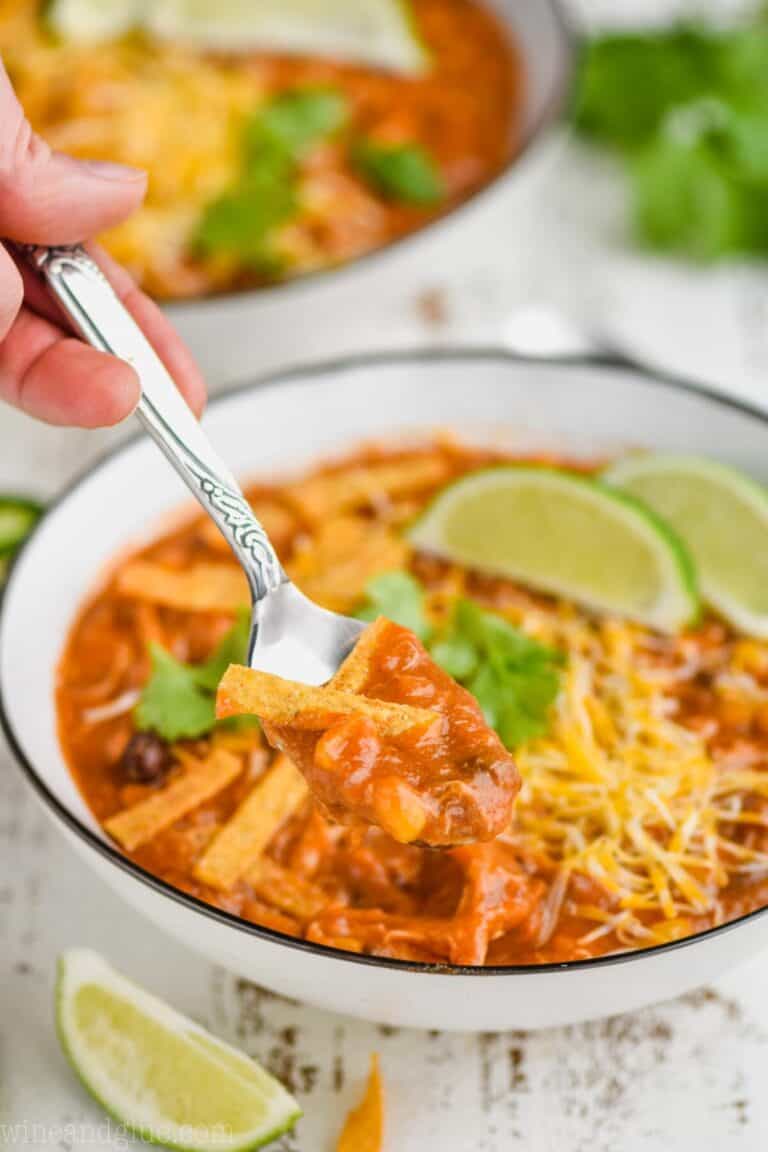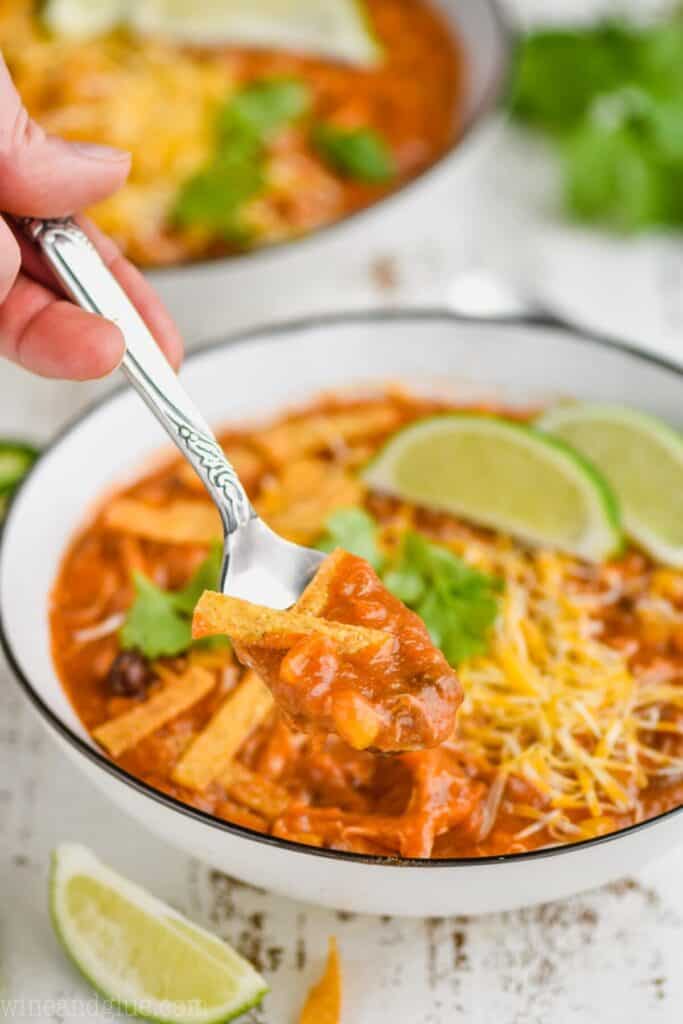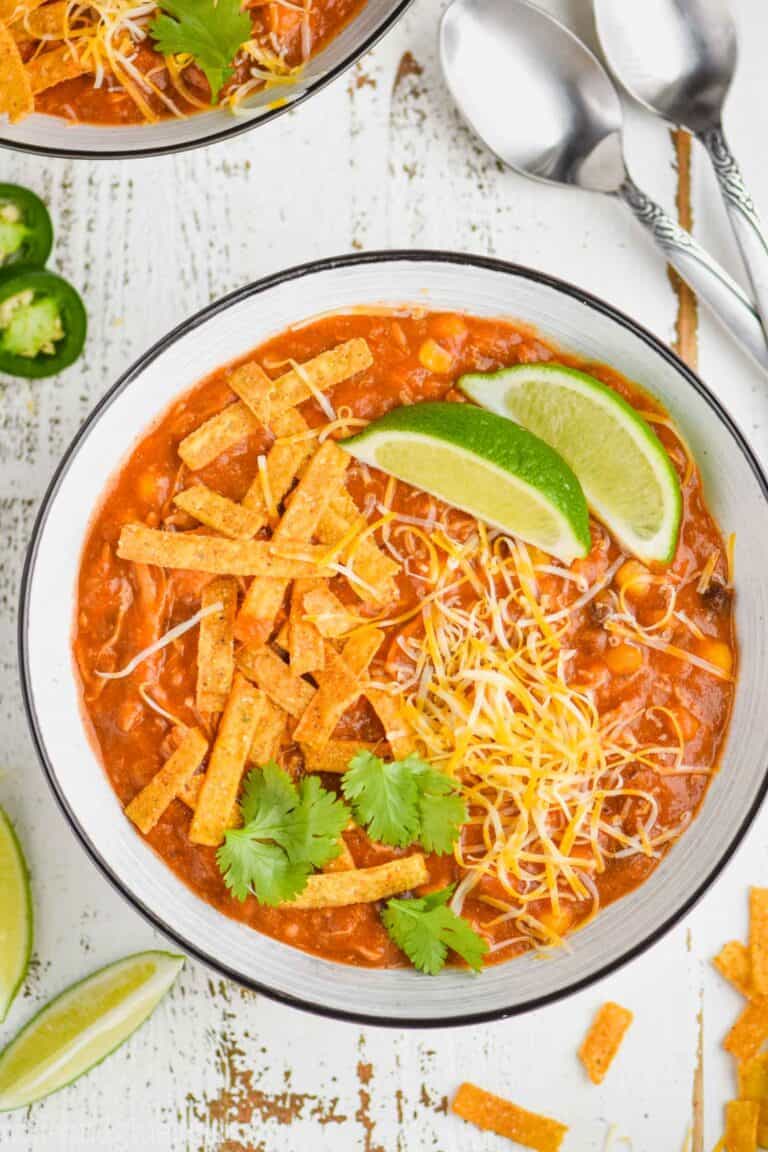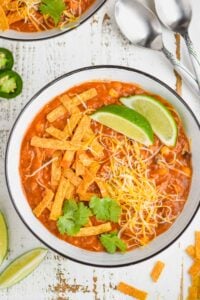 Slow Cooker Chicken Enchilada Soup
Total:
6
hours
10
minutes
Our family loves this Crockpot Chicken Enchilada Soup! It comes together in only a few minutes, has the perfect flavors, and it is a healthy well rounded dinner too!
Ingredients
4

cups

chicken stock

1

cup

masa harina

2

cups

enchilada sauce

(or a 10 ounce can and 1/2 a cup of water)

15

ounces

crushed tomatoes

1

garlic clove

minced

1

teaspoon

chili powder

1

teaspoon

salt

1/2

teaspoon

cumin

4

ounces

green chilies

11

ounces

roasted corn

drained (you can also use regular corn or a cup of frozen corn)

15

ounces

black beans

drained and rinsed

1

pound

chicken
Instructions
Whisk the chicken stock and masa harina together in the base of the slow cooker.

Pour in the enchilada sauce, crushed tomatoes, garlic, and spices. Give it a stir.

Stir in the green chiles, roasted corn, black beans, and chicken.

Cook on high for 3 to 4 hours or low for 6 to 8. Remove the chicken from slow cooker, shred, and return to the soup.

We enjoy this soup most with sour cream, shredded cheese, and pickled jalapenos on top.
Notes
Please note that the nutritional information is based off of using my homemade enchilada sauce. That said, with the store bought sauce and water it is very similar nutritional information.
Calories:
379
kcal
(19%)
Carbohydrates:
53
g
(18%)
Protein:
28
g
(56%)
Fat:
6
g
(9%)
Saturated Fat:
1
g
(6%)
Polyunsaturated Fat:
1
g
Monounsaturated Fat:
2
g
Cholesterol:
50
mg
(17%)
Sodium:
1564
mg
(68%)
Potassium:
738
mg
(21%)
Fiber:
5
g
(21%)
Sugar:
8
g
(9%)
Vitamin A:
15
IU
Vitamin C:
10
mg
(12%)
Calcium:
13
mg
(1%)
Iron:
25
mg
(139%)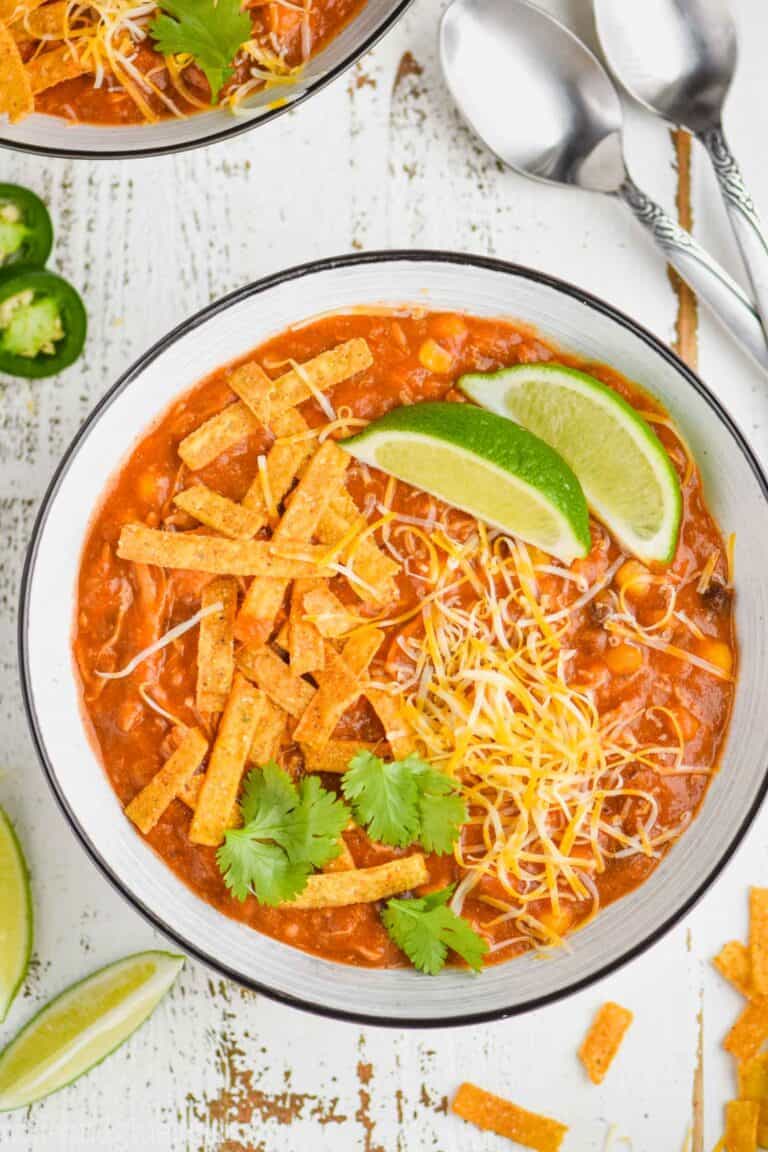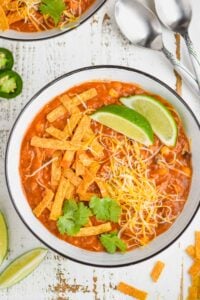 did you make this
Slow Cooker Chicken Enchilada Soup