This Slow Cooker Sweet and Sour Chicken is a lighter version of the take out, and so easy to make at home!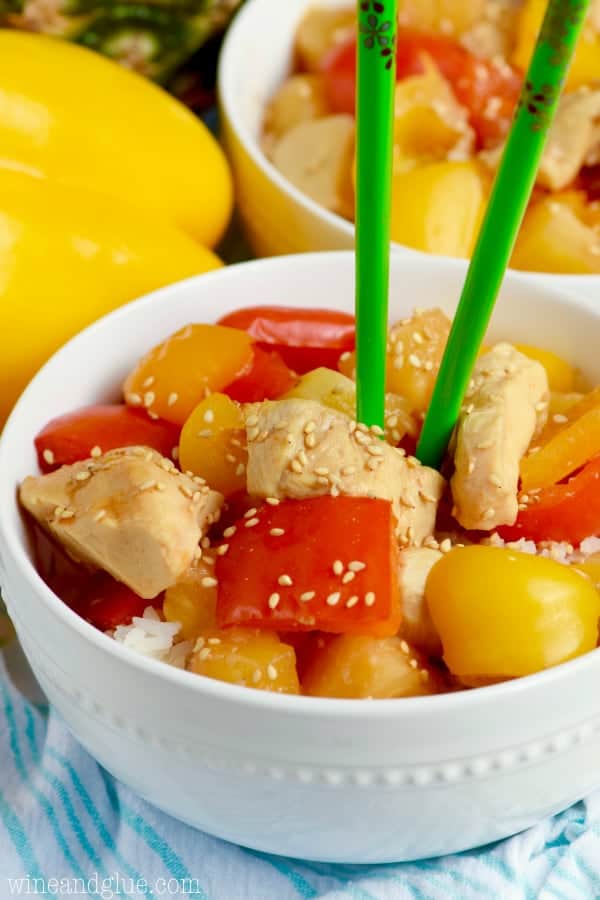 Yesterday we celebrated Nathan's birthday by . . . wait for it . . . going to play Pokemon Go as a family. *hangs head in embarrassment*
Pssst . . . . I caught like four I don't have! *high fives self*
So we are walking around this park playing, and Piper is insisting on being carried, Quinn was having a hangry five year old not adjusted to all day school yet melt down, and Gavin . . . actually Gavin had it together pretty well because his sweet spot is playing Pokemon Go ???? . . . Anyway, the other two were hot messes and I looked at Nathan all shruggy shoulder like and said,
Happy Birthday Babe.
I kept trying to get the kids to realize it was dad's birthday so be nice to him and get it together, but honestly, children are the most self centered people ever and kept looking at me like I had four heads.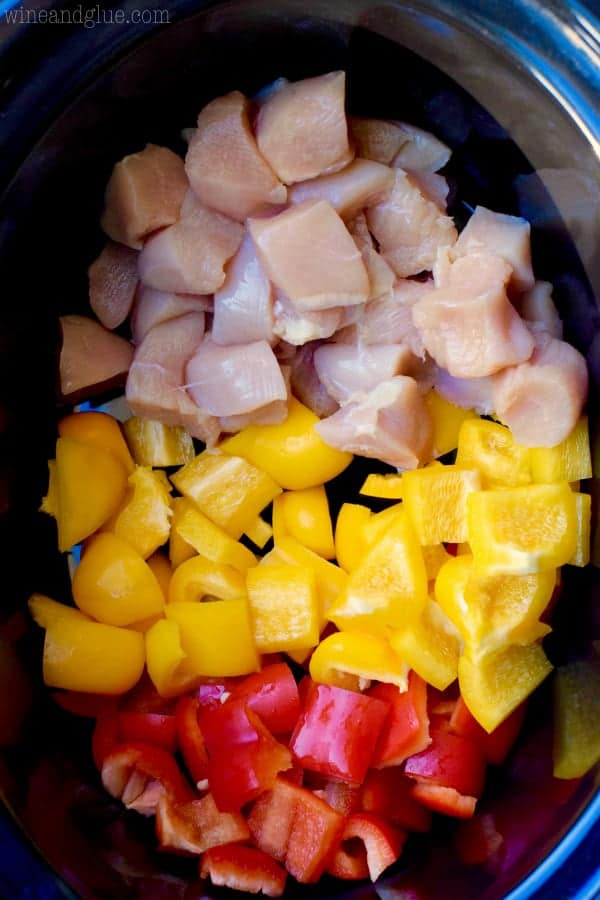 Their utter self centeredness has made from 4 pm to bedtime absolute insanity in my house lately. Think of it like this: I pick up the big kids and they both tell me about their days while Piper plays with them. Except all of this is happening all at the exact same time. So both kids are talking at me . . . . at the same time . . . and Piper is trying to play with them while they talk to me. While I am trying to get snacks, unpack backpacks, and get homework going.
And then my head explodes all over the place.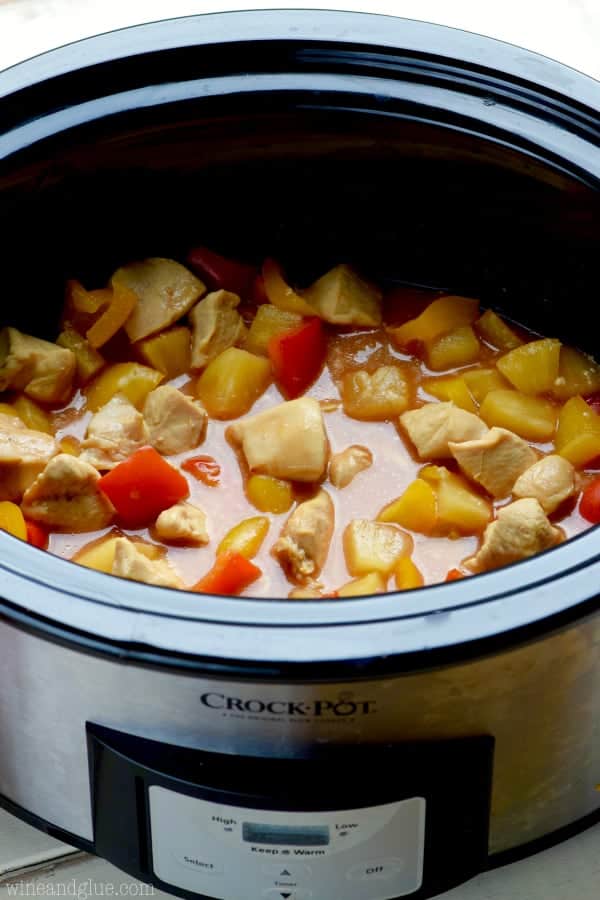 Dinner around here has been sketchy lately! Like can you really call cut up cold turkey dogs with a side of ketchup and red peppers dinner? So I am in desperate need of *more* easy dinner recipes. Like I want at least 60 that I feel good about that I can rotate through. So that has been the goal lately of the blog. To bring myself and you guys more easy dinner recipes for all.the.days when the head is exploding.
This is one of them!
This Slow Cooker Sweet and Sour Chicken took a couple tries to get right, but I'm so happy with the final results. The sauce is thinner than what you would get at a restaurant, but I like it way better. It isn't syrupy sweet, and the chicken tastes 10 million times better because it has the flavor of the sauce and not the fried batter around it. Plus you throw it over some rice and the sauce mixes in with it, and it is super delicious! Plus so easy to throw together.
Make sure you read through the instructions completely before you start and keep in mind that all slow cookers are a little different and so yours might need more time or less.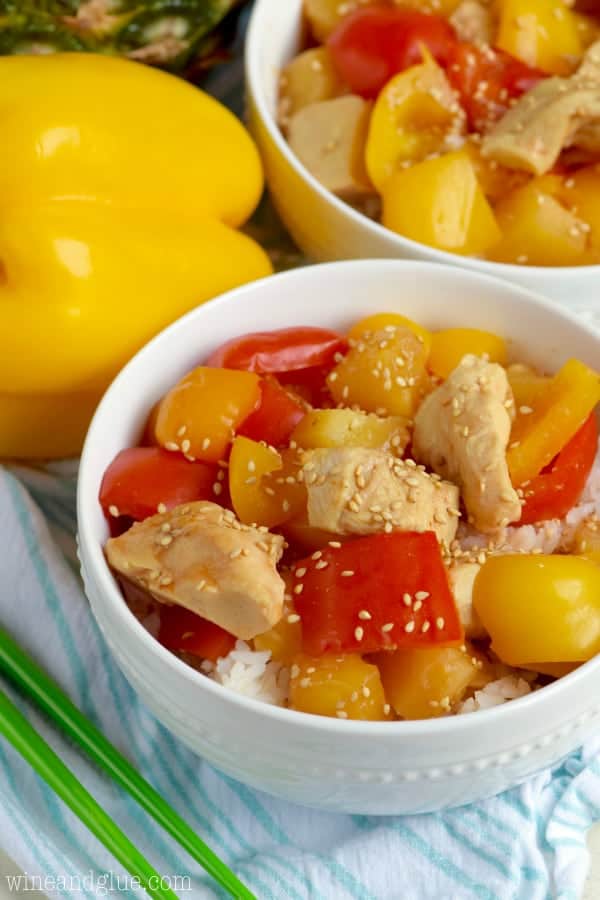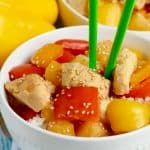 Print Recipe
Slow Cooker Sweet and Sour Chicken
Ingredients
1

pound

chicken

cut into bite sized pieces

1

red bell pepper

cut into bite sized pieces

1

yellow bell pepper

cut into bite sized pieces

20

oz

canned pineapple chunks

1/2 cup juice reserved

3

TBSPs

brown sugar

3

TBSPs

apple cider vinegar

2

TBSPs

cornstarch

1/4

cup

ketchup

1/2

tsp

garlic powder

1

TBSP

soy sauce
Instructions
Dice the chicken and the bell peppers and cook on low in the

slow cooker

for an hour.

After the hour, remove the chicken and peppers, and drain your slow cooker.

Mix the ingredients for the sauce (pineapple juice, brown sugar, vinegar, cornstarch, ketchup, garlic powder, and soy sauce) on the base of the slow cooker, making sure the cornstarch dissolves completely.

Return the chicken and peppers to the slow cooker, add the pineapple, and toss making sure that the sauce completely coats everything.

Cook on LOW for an hour and a half and then on HIGH for a half hour. (All slow cookers are different, yours might need more time or less)

Serve over rice.
You might also like: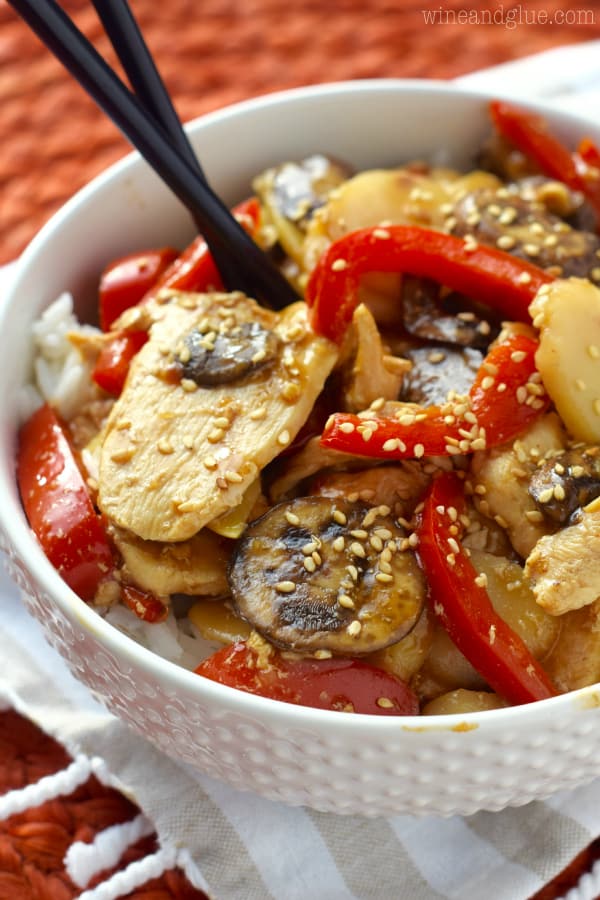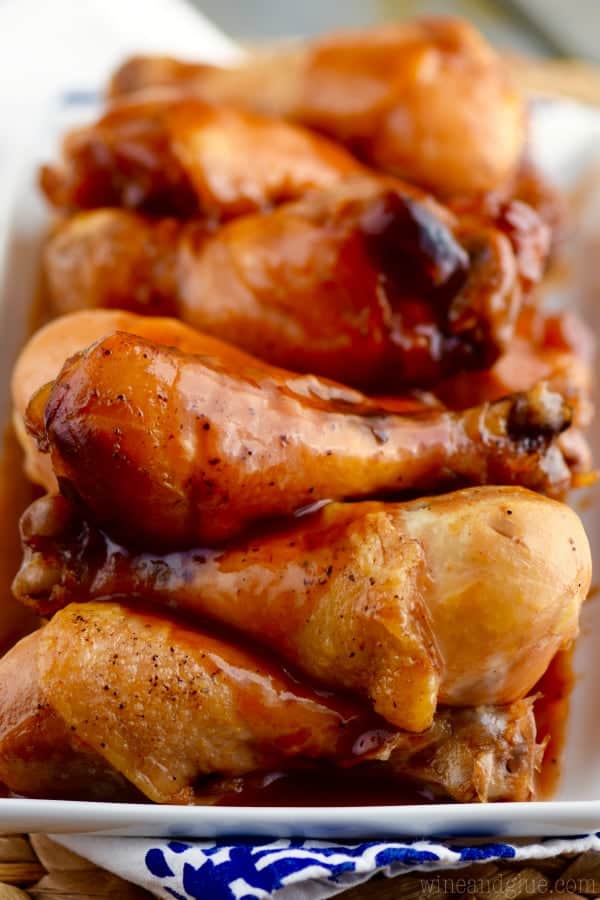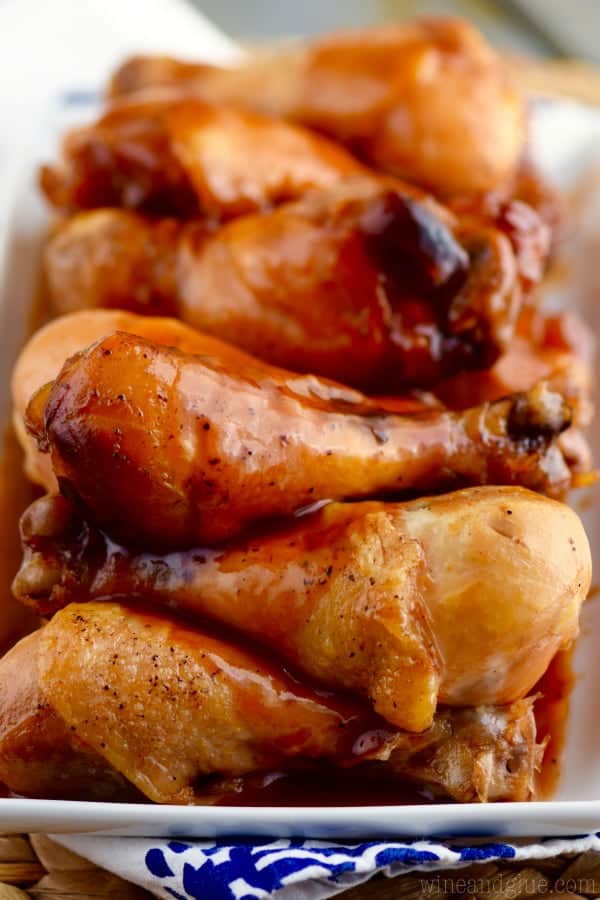 This post contains affiliate links, if you click on them and then make a purchase, I make a small amount of money at no additional cost to you. Thank you in advance for supporting Wine & Glue.