Crockpot Lasagna is a delicious slow cooker meal with the best sauce ever. Make this recipe and come home to an amazing and comforting dinner.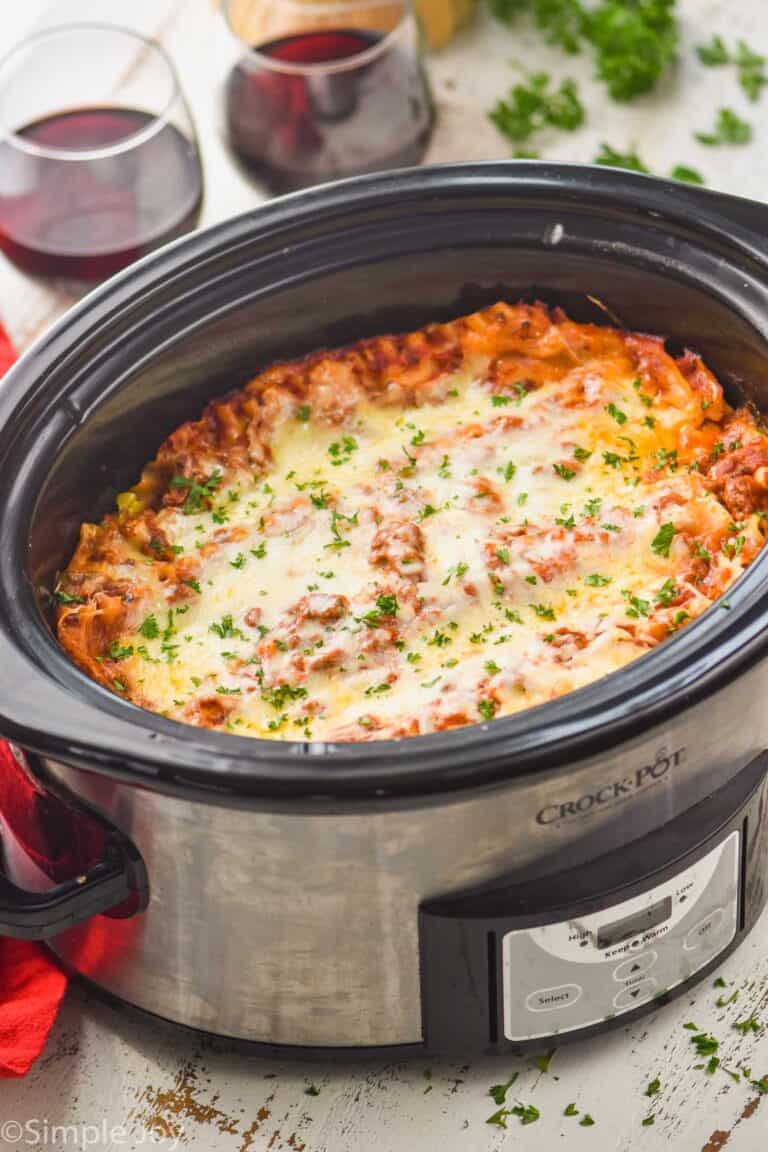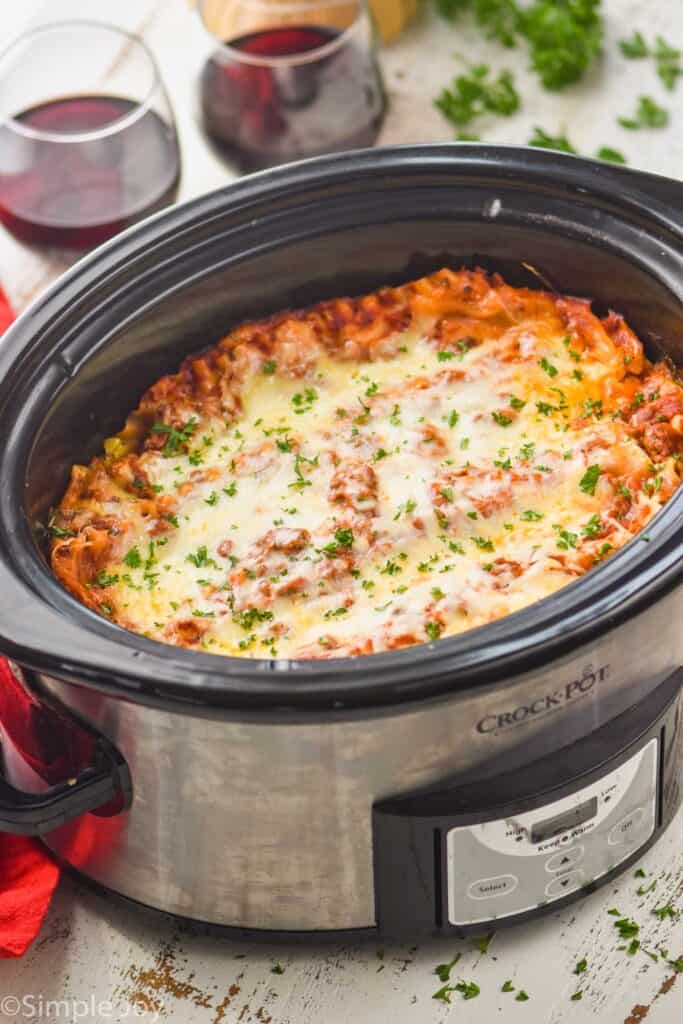 I'm not sure if there is anything that says comfort food to me in the same way lasagna does. Noodles, delicious sauce, and cheese come together in a magical way to make a dinner that just the smell of makes you feel warm inside.
This Crockpot Lasagna is everything you love about a traditional lasagna without boiling noodles or the need to be home while it cooks. Our slow cooker lasagna comes together while you are busy dealing with other things, and is perfect to come home to. Your family will love this amazing and delicious recipe.
Reader Review
Positively the best lasagna ive ever had! Easy Peasy!! Don't have to worry about heating up the house with the oven in the summer time!
Why Make Lasagna In a Crockpot
The major benefit to this recipe versus lasagna in the oven is that you don't have to be home while it cooks. In a world where we are often running kids here and there and leading busy lives, the ability to leave the house to get stuff done while dinner cooks is priceless.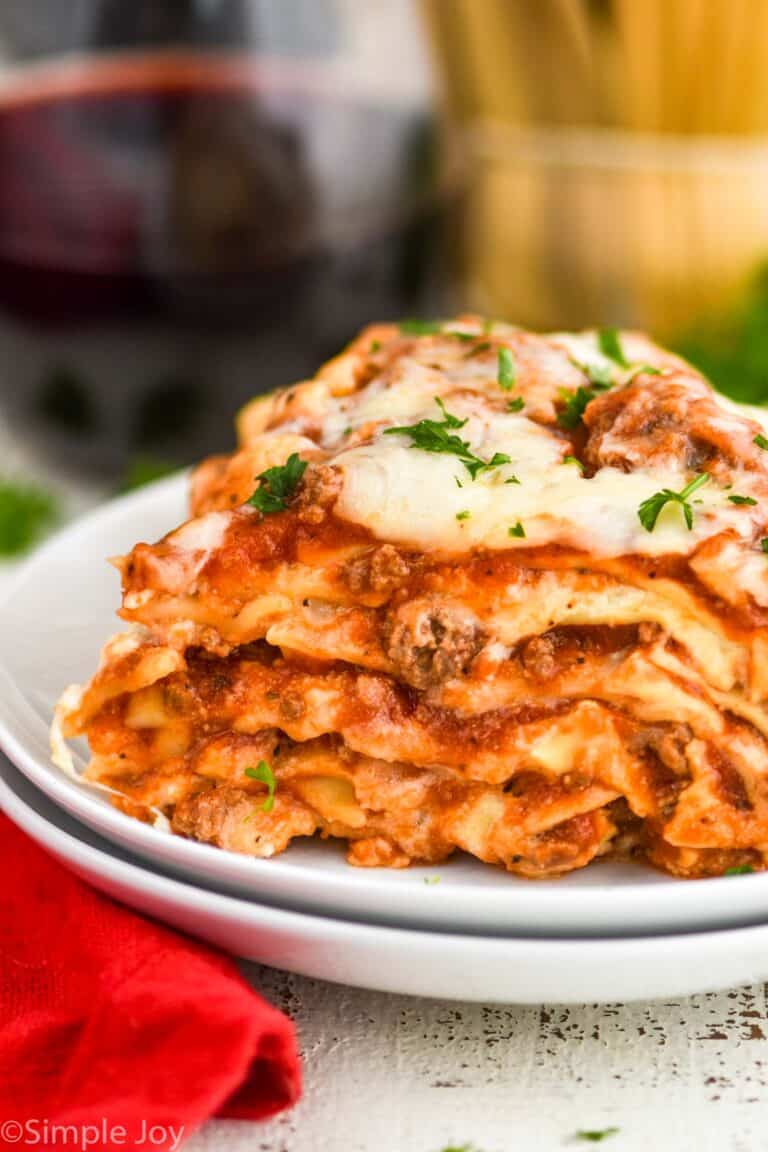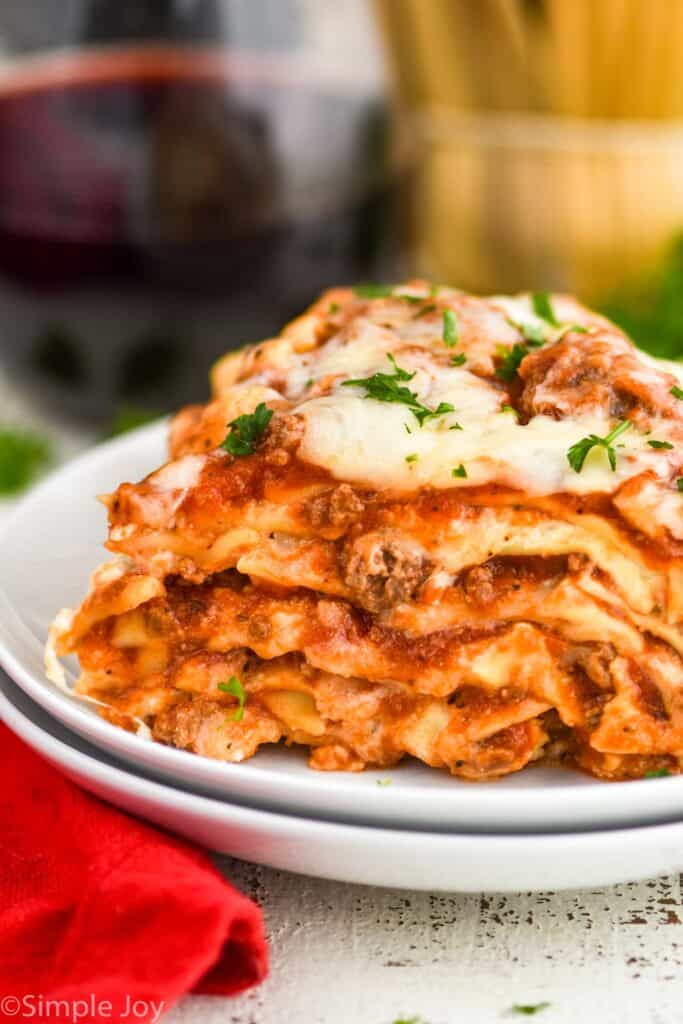 How to Make Crockpot Lasagna
This is just a brief overview of the recipe so you can see how it comes together. Make sure you get the full instructions and ingredient measurements in the recipe card below.
Make the sauce. Browne ground beef garlic and onion. Next add tomato sauce, tomato paste and seasonings.
Make the filling. In a bowl mix together ricotta cheese, eggs, and Parmesan and mozzarella cheeses.
Put it all together. Add a small amount of sauce to a greased crockpot. Layer uncooked lasagna noodles (you may have to break them up to fit). Add a layer of the cheese and egg mixture. Repeat the layers until you've used all the ingredients.
Add cheese to the top. Cover the last layer with more mozzarella and parmesan cheeses.
Cook on low for about 4-6 hours.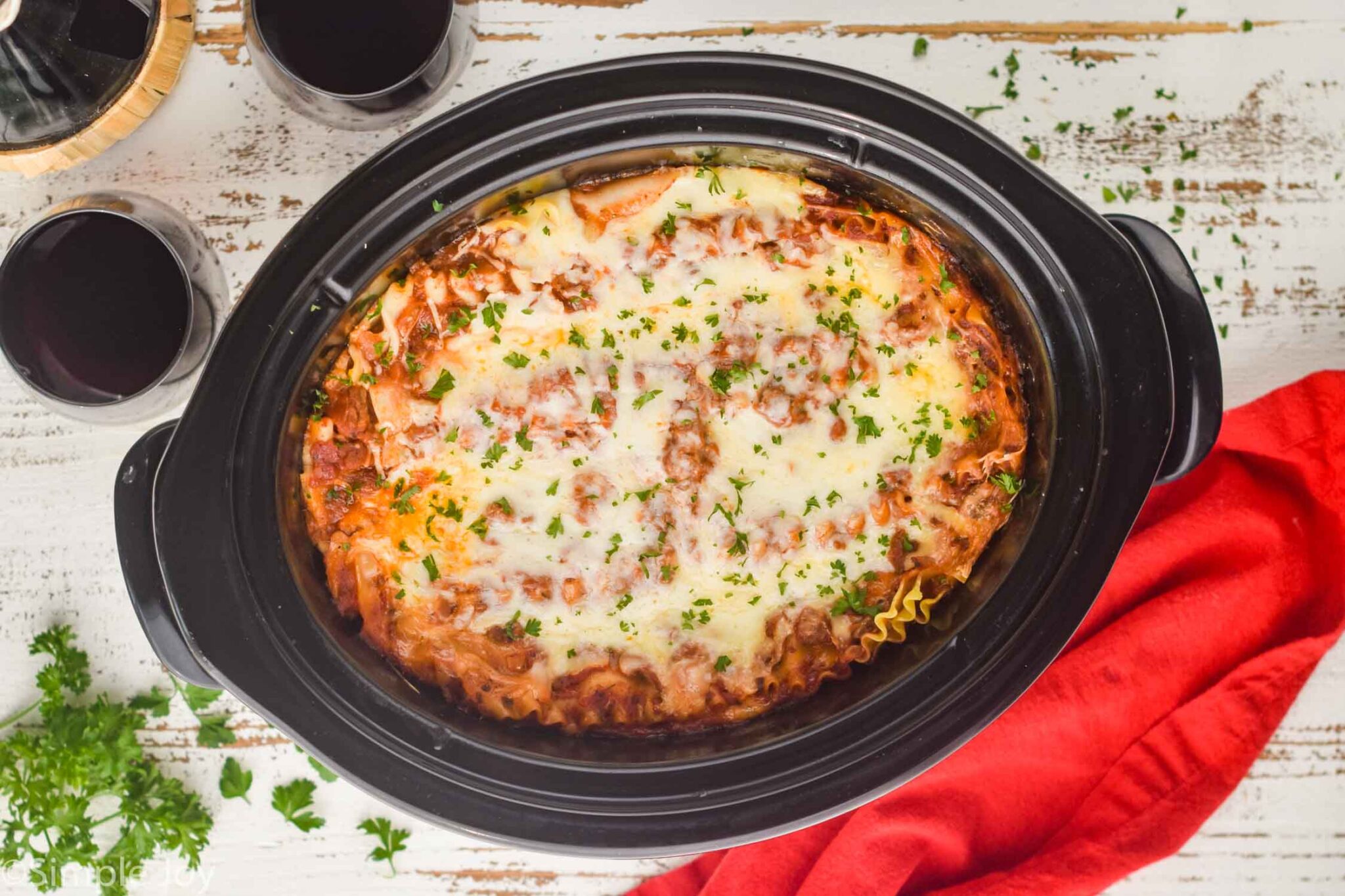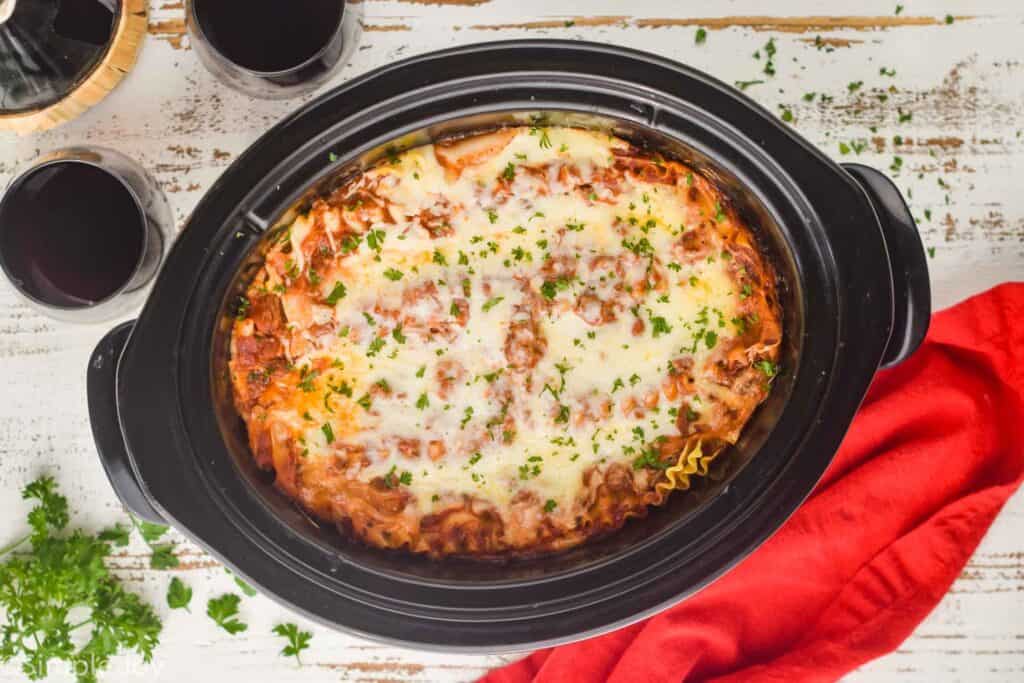 Skip Boiling the Noodles
One of the things we love about this recipe is that there is no need to cook the noodles before layering the lasagna. There is enough liquid in the tomato sauce mixture to cook the noodles thoroughly. A huge bonus is that they take on the flavor of the delicious sauce. Everything bakes up brown and bubbly right there in the crockpot.
Please note that we are using regular lasagna sheets. This recipe has not been tested with the no boil sheets.
The Best Lasagna Sauce
The sauce in this lasagna is seriously the most incredible meat sauce you'll ever taste! It comes together with simple ingredients and can be used on lots of other pasta dishes. It's thick and rich without being too spicy or overbearing. Trust me, when I tell you it is the star of the whole recipe!
Shredding Your Own Cheese
Another vote here for shredding your own cheese from a block rather than buying pre shredded cheese. You will see me advocate for this in a lot recipes – most recently in my Spinach Artichoke Dip.
The reason I always make a point of saying this is because it really can make a huge difference in a recipe. Pre shredded cheese does not melt as well as block cheese you shred at home. It is covered in preservatives that help it keep its shredded form, but also keeps it from melting well. I firmly believe you won't be as satisfied with the results if you use pre-shredded cheese.
Please take the extra five minutes to do this, it is well worth it.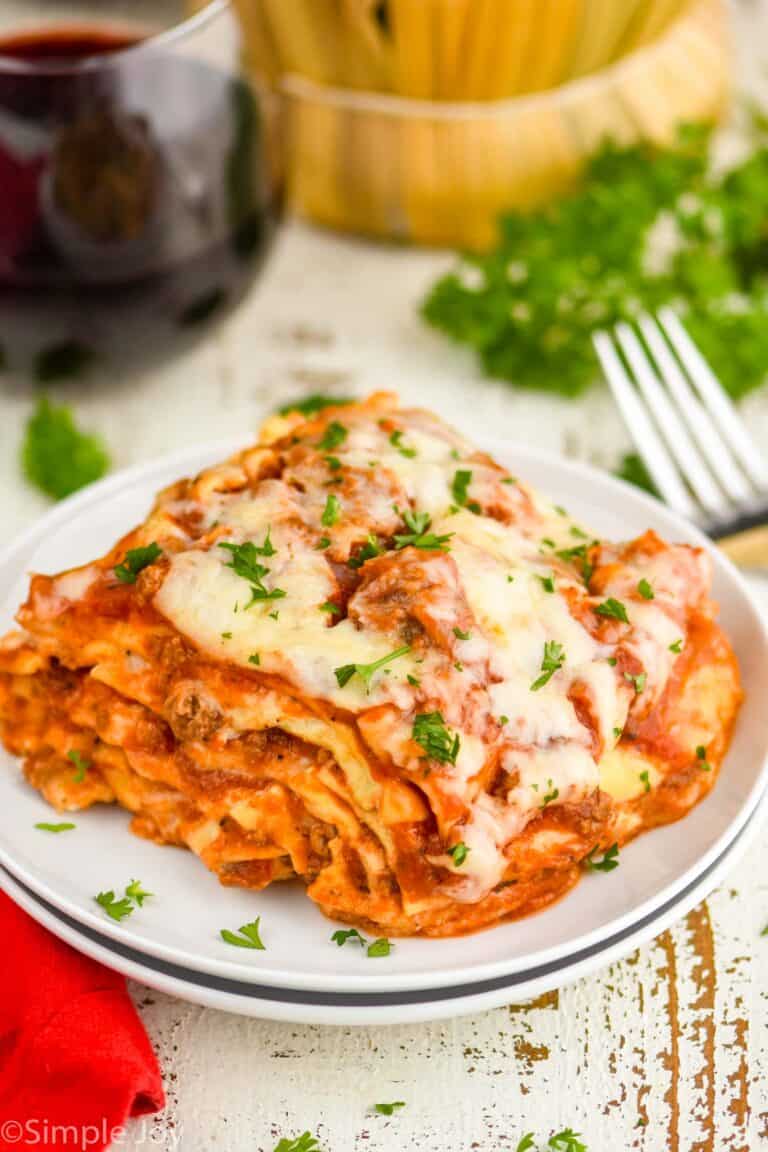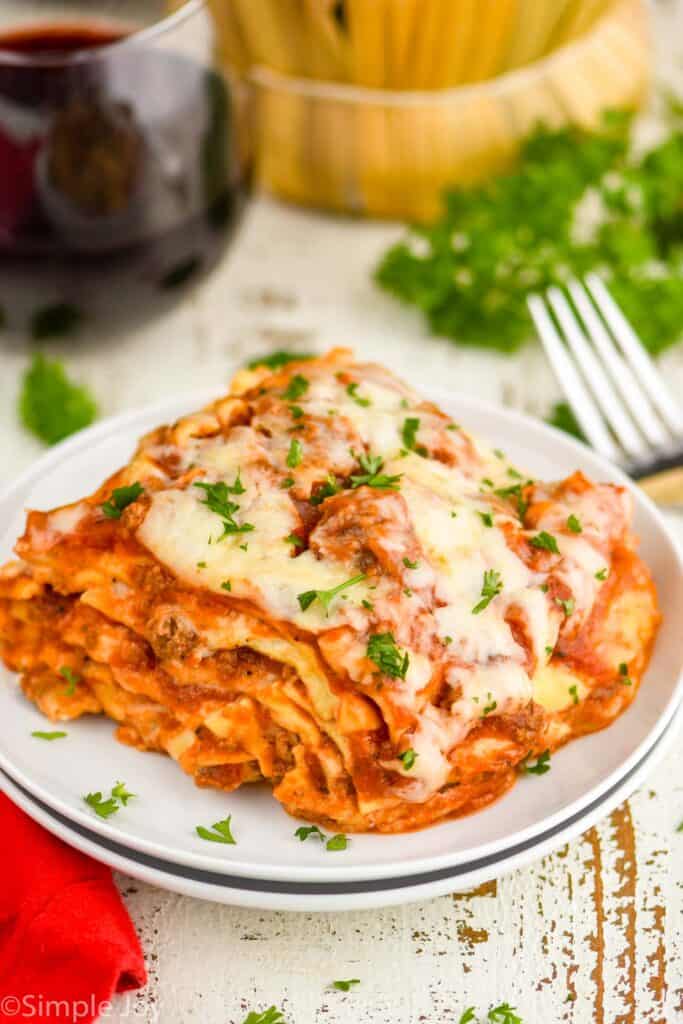 A Note on Salt and Pepper
You will notice that I suggest you taste the sauce at the end of making it. This is an important step, please do not skip it. The sauce is delicious and makes the whole recipe. But only if you love it. You should taste it and add more salt and pepper to accommodate your tastes.
Salt can make or break a recipe. Start by adding just a little bit more, tasting, and adding a tiny bit more (I'm talking less than 1/8 teaspoon) until you get the taste you like.
What Noodles to Use
It's important to get the regular lasagna noodles. You'll see no-boil noodles right next to them at the grocery story, but do NOT use these. Plain lasagna noodles will work great in this crockpot lasagna recipe.
What Size Crockpot to Use for Crockpot Lasagna
You'll need at least a six-quart crockpot or larger for this recipe. You'll notice that the lasagna fills the whole crockpot pictured here. If you have a smaller slow cooker, you can cut the recipe in half for a smaller batch.
Storing and Freezing Leftovers
Since first publishing this, I've been told two important things.
First, many a reader have told me that this is even better when it is made the day before. I can't verify this, but given how many have told me, I'm thinking there is something to it.
Second, other readers have told me that this freezes very well. They recommend cutting it into slices, flash freezing it in single layers for eight hours, and then storing it in an airtight container.
Leftovers should be eaten within four days. Frozen lasagna can be stored for up to three months. Please use your best discretion when it comes to leftovers.
FAQ
Shouldn't you make this with no boil noodles?
Nope! The sauce in this recipe is enough to cook the noodles in the crock pot. I have had readers make this with no boil noodles, and they liked it. That being said, I would recommend sticking with regular lasagna sheets.
What can I use in place of ricotta cheese?
Many readers have made this with cottage cheese in place of ricotta. That is not my favorite swap, but if you prefer cottage cheese to ricotta it is a great choice and will work.
What do you mean by tomato sauce?
In the United States, we have canned tomato sauce that is labeled as such and the only ingredient in it is tomatoes. It is pureed tomatoes in which all the seeds, pulp, and skin have been removed. That is what you are looking for.
Can this be made gluten free?
One of my readers told me that they made it with no cook gluten free noodles and it turned out perfect.
Can this recipe be doubled?
If you want to double this recipe, you will need two slow cookers. As you can see, this recipe makes a very full slow cooker of lasagna, it would not work to double it in one slow cooker.
Can this recipe be made in the oven?
Unfortunately, this recipe with these measurements and methods have only been tested in the crockpot. If you want an oven based lasagna recipe, I highly recommend my Turkey Lasagna (which can also be made with ground beef).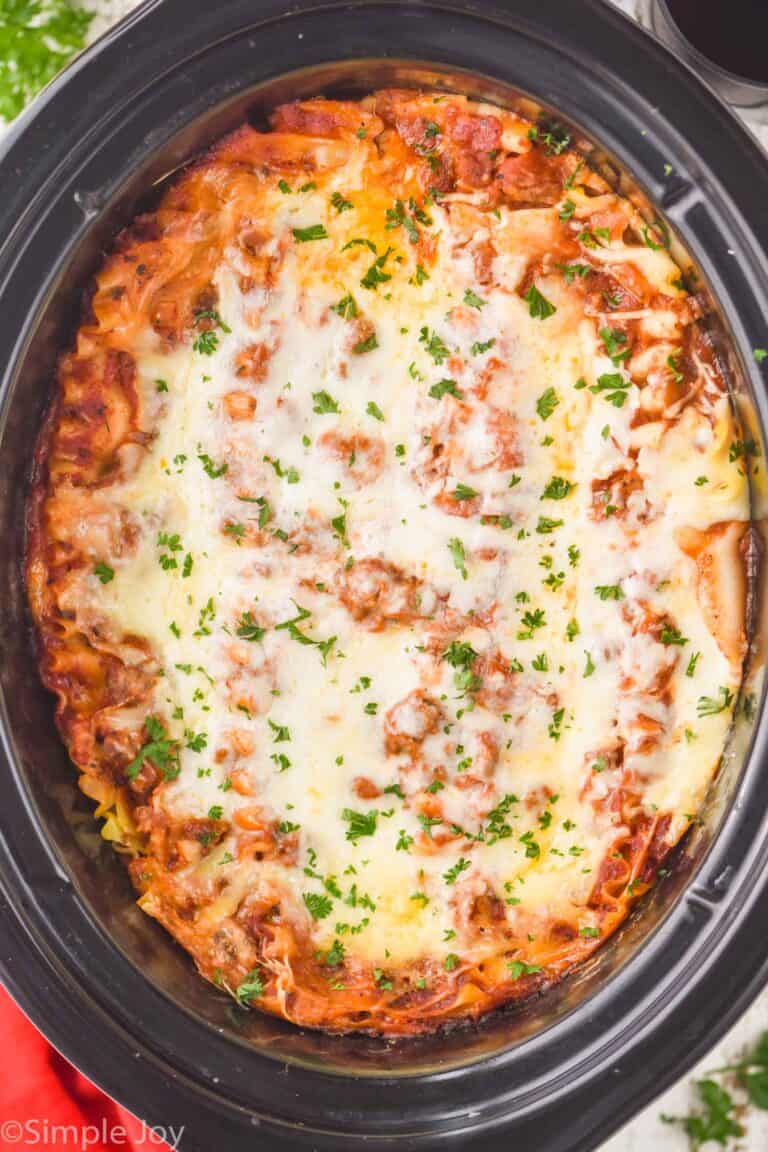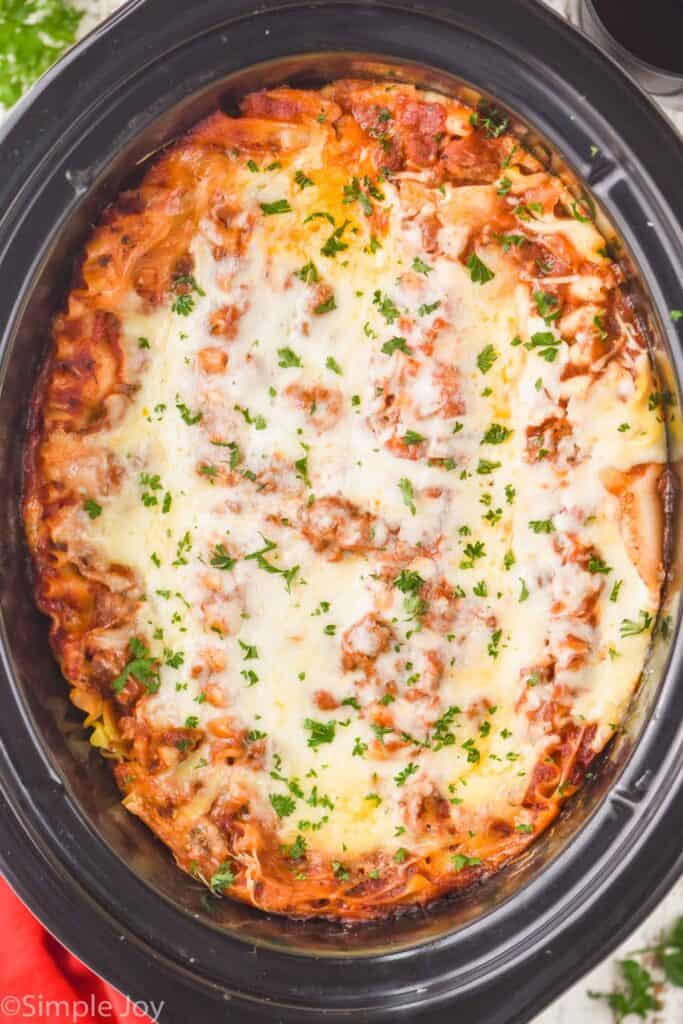 What to Serve with Crockpot Lasagna
I can't wait for you to enjoy this cozy crockpot lasagna with your family. Please leave a comment below with questions or comments on this or any of my other recipes. Enjoy!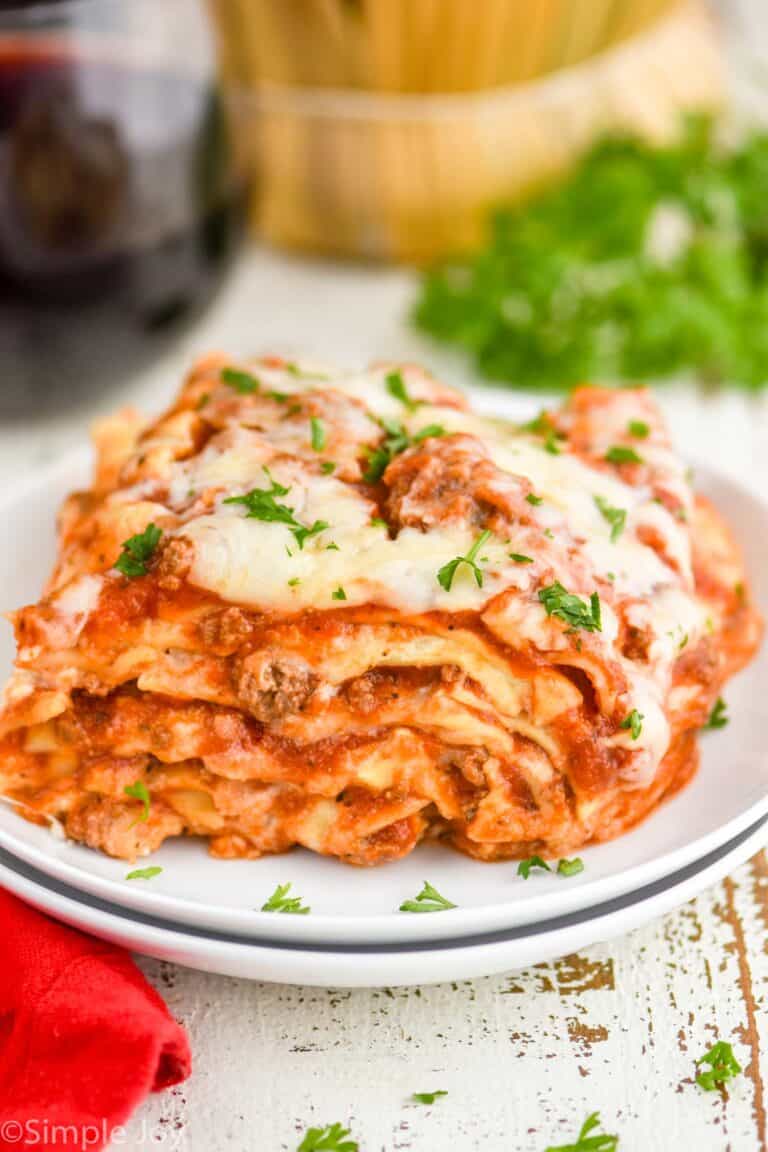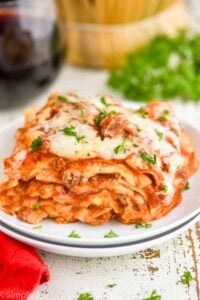 Crockpot Lasagna
Total:
4
hours
40
minutes
Crockpot Lasagna is a delicious slow cooker meal. Make this recipe and come home to a delicious and comforting meal.
Ingredients
1

pound

ground beef

1

small yellow onion

diced

3

cloves

garlic

minced

44

ounces

tomato sauce

(29 ounce and 15 ounce can of just tomato sauce, not spaghetti sauce with seasoning)

6

ounces

tomato paste

1

tablespoon

dried oregano

1

tablespoon

dried basil

1 1/2

teaspoon

kosher salt

(if you only have table salt, start with less)

1/2

teaspoon

black pepper

1/2

teaspoon

red pepper flakes

12

ounces

lasagana noodles

the regular kind, not the no boil kind

15

ounces

ricotta cheese

2

large eggs

16

ounces

mozzarella

shredded

1

cup

Parmesan cheese
Instructions
In a large skillet over medium heat, add the ground beef. Cook until it begins to brown, breaking it up as you cook. Add the onion and garlic. Cook until the onions are soft, about 5 minutes. Drain the excess fat.

Add the tomato sauce, tomato paste, salt, oregano, basil, and pepper to the meat mixture and set aside. Taste and add more salt and/or pepper to taste.

Set aside 1 1/2 cups of mozzarella and 1/4 cup of parmesan cheese.

In a large bowl mix together the ricotto, eggs, and the remainder of the mozzarella and Parmesan. This will be for topping at the end.

Spray your 6 to 8 quart crockpot with cooking spray. Add a ladle full of the sauce and meat mixture to the bottom. Add a layer of uncooked lasagna noodles. You will need to break them and rearrange them to fit. Top the noodles with some of the cheese mixture and then more sauce and meat. Repeat until you have used all the ingredients (save the set aside cheese). Top with the set aside cheese.

Cover the crockpot and cook on low for 4 to 6 hours. Cooking times on crockpots vary greatly. It was finished in my crockpot after four hours.
Serving:
1
serving
Calories:
520
kcal
(26%)
Carbohydrates:
30
g
(10%)
Protein:
36
g
(72%)
Fat:
28
g
(43%)
Saturated Fat:
15
g
(94%)
Monounsaturated Fat:
1
g
Cholesterol:
155
mg
(52%)
Sodium:
2137
mg
(93%)
Potassium:
743
mg
(21%)
Fiber:
5
g
(21%)
Sugar:
10
g
(11%)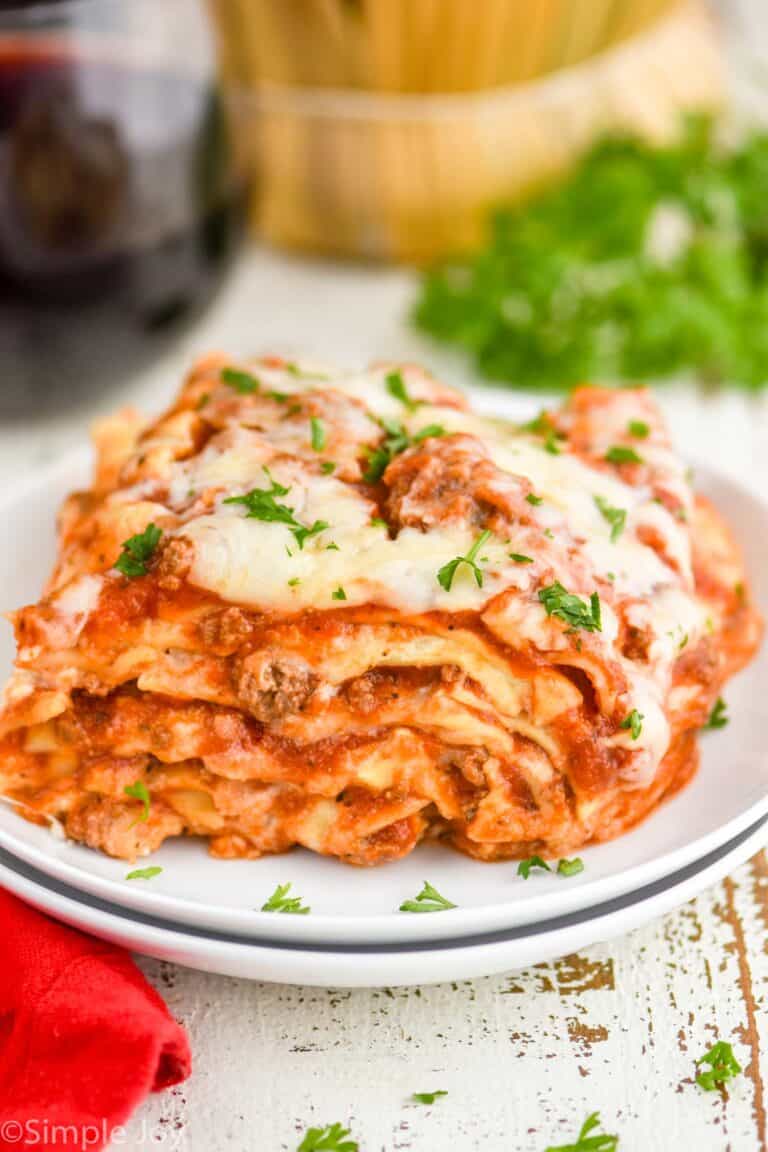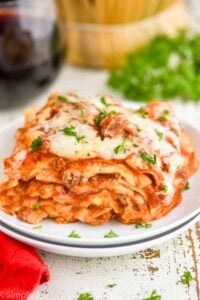 did you make this
Crockpot Lasagna