These Strawberries and Cream Magic Bars are pure magic. Made with fresh strawberries and a sugar cookie layer, they are seriously amazing!
I also have a recipe for the original seven layer bars!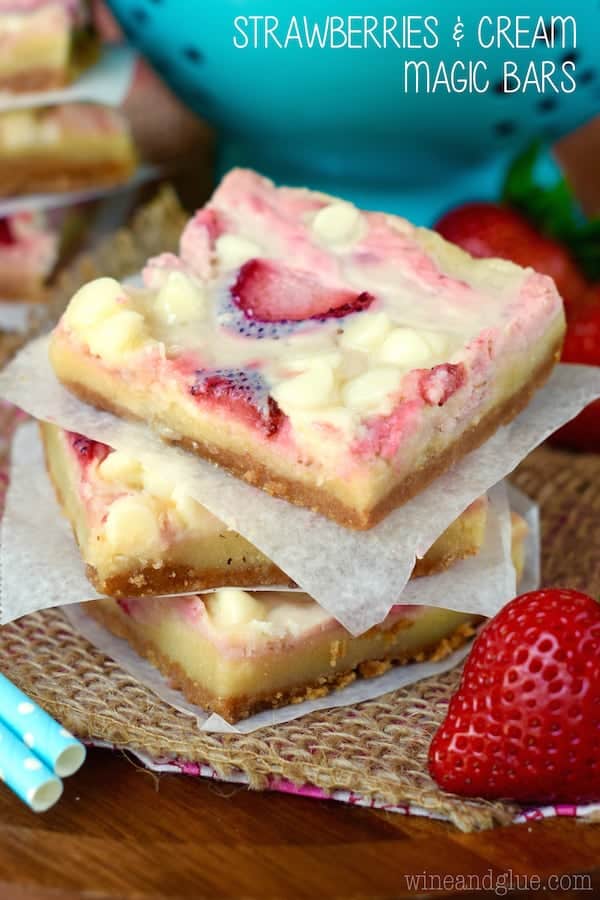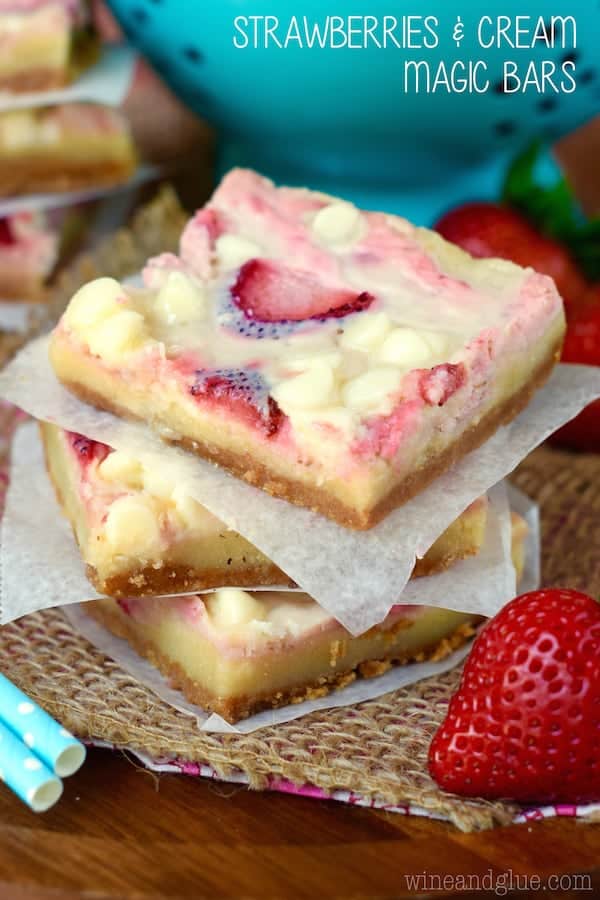 I had another Grinch heart growing by 8 sizes I guess I won't trade my children for goats moment the other day.
So we were at the zoo, and I was pretty sure that I could find a group of three goats while we were there who would be easier to manage than my three monsters. I was just making my selections when the most magical parenting moment happened.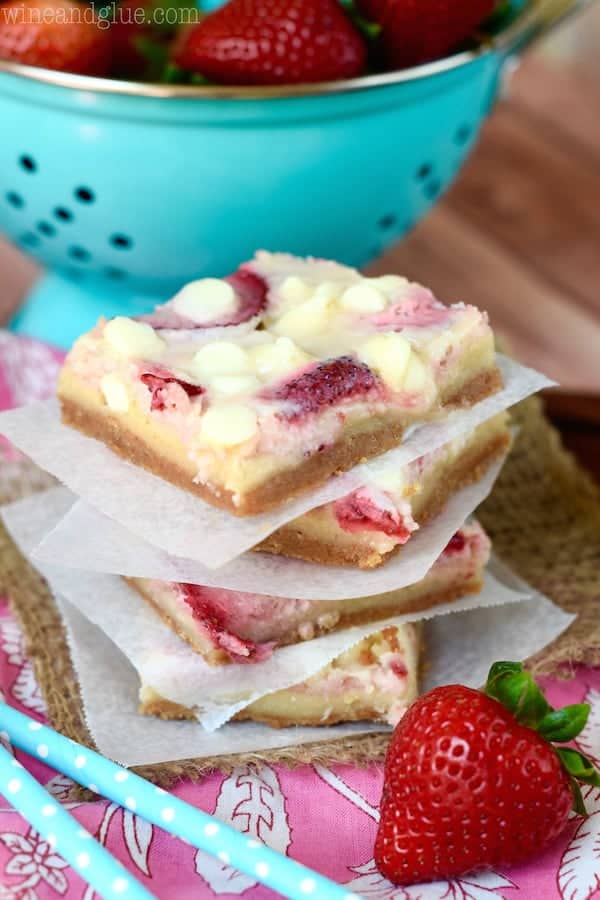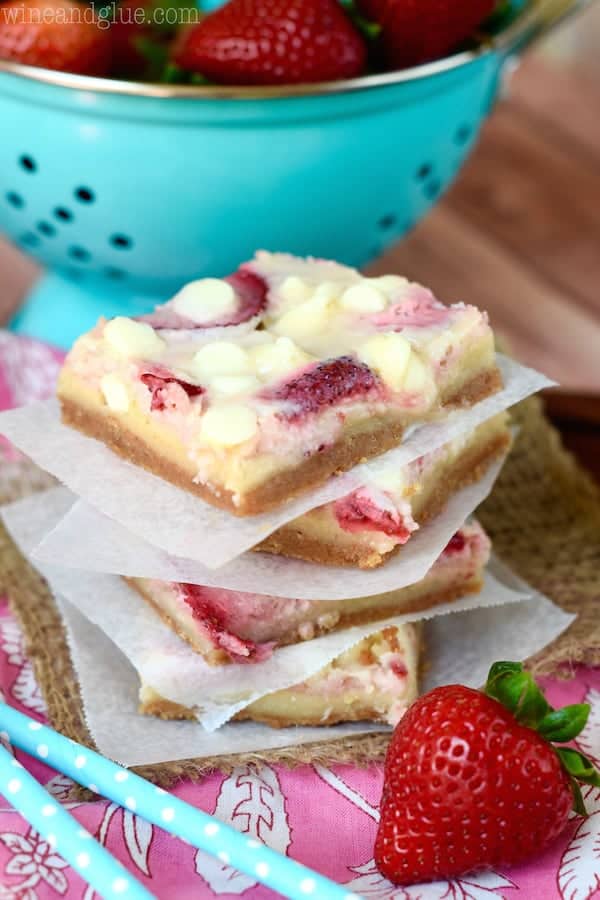 We were playing at the playground, because, obviously why would you want to talk to an African Elephant when you could, oh, I don't know, go down a slide 7,432 times? Anyway, we were playing at the playground and it is a brand new one, so the kids were extra pumped.
Gavin was climbing to this extra high level and Quinn was following him. I was standing off at the edge of the playground with Piper and the stroller reminding myself every three seconds that checking my email on my phone was not an option. Anyway, I see Gavin come sliding down the extra high slide  . . . . but Quinn is not sliding down right behind him. I look up to see Quinn poking her little nose through the bars at the top . . . tears in her eyes . . . looking at me pleadingly.
She was too scared to come down.
Well. This is a fine pickle. Options:  Abandon the baby to climb to the top and coax the toddler down the slide . . . . Nope.
I know! Scream at the toddler to come down! "Quinn! You are fine! It is a slide! Come down, buddy!!!"
More tears.
Gavin looks at me from across the playground and I swear something came over him. He looks at me and says, "Mom, is Quinn stuck at the top? Don't worry! I've got her!" And he runs up to the top of the playground. I'm thinking to myself, "Yeah, good luck, kid," when I see them talking to each other. He is being super animated and before I know it, they are both flying down the two slides. They pop out of the bottom and Gavin high fives Quinn and tells her she did a great job!
When they got to me I gave Quinn a huge hug and congratulated her and then I turned to Gavin and said, "What did you say??" And he said, "I just told her that she needed to be brave. She's always brave when I tell her she needs to be."
Cue the heart swelling.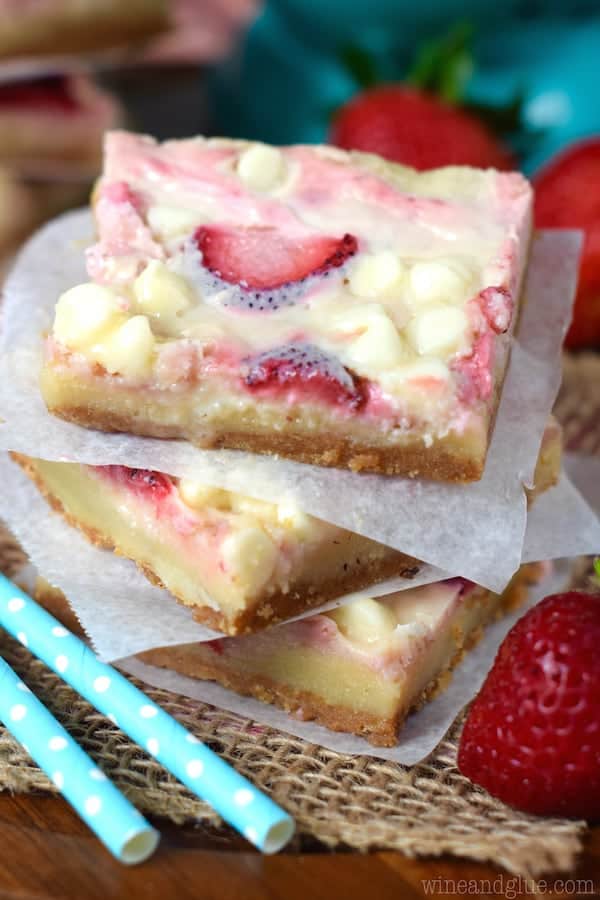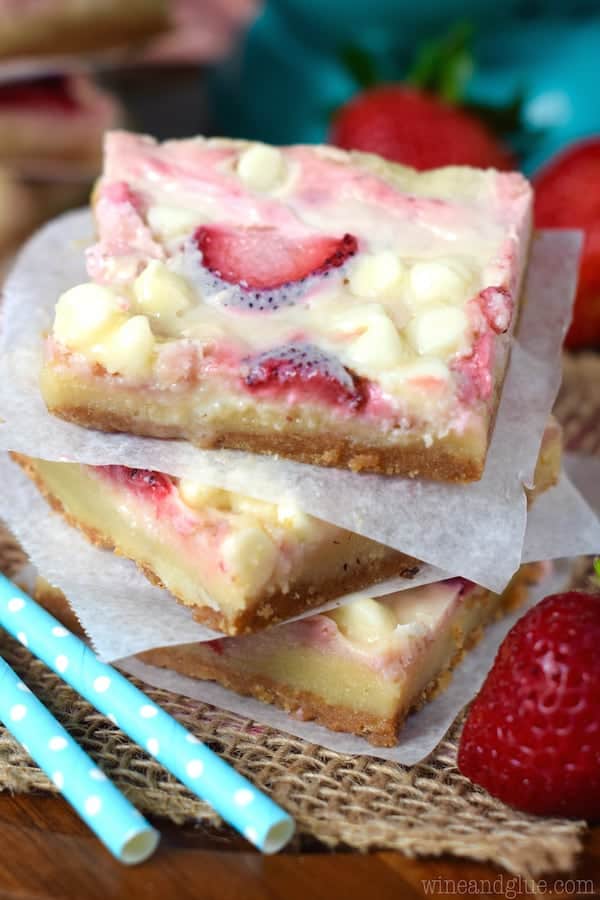 So, in all honesty, these bars aren't even a half as magical as that moment, but they are still pretty amazing. They are a tiny bit putzy. I mean you have to make the graham cracker layer, the sugar cookie layer, and the strawberry cream layer, but they are totally worth it. They are gooey and delicious and so packed with strawberry goodness!
HOW TO MAKE STRAWBERRIES AND CREAM MAGIC BARS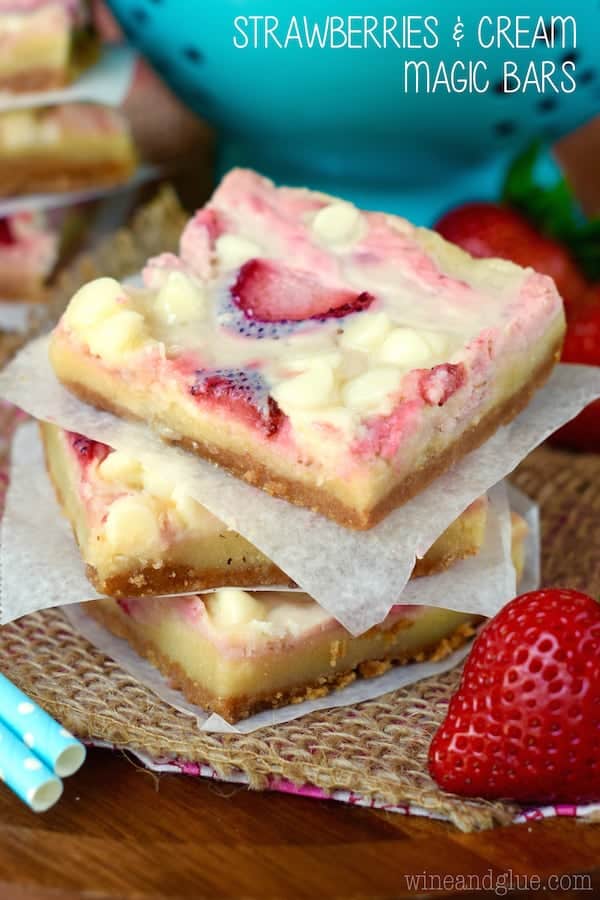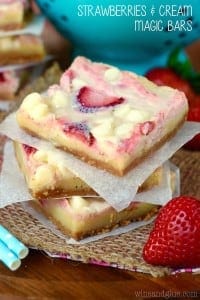 Strawberries and Cream Magic Bars
These Strawberries and Cream Magic Bars are pure magic. Made with fresh strawberries and a sugar cookie layer, they are seriously amazing!
Ingredients
9

graham cracker sheets

approximately 5.4 oz worth, crushed

6

TBSPs

of unsalted butter

melted

2

TBSPs

granulated sugar

1 1/4

cup

all purpose flour

1/4

tsp

salt

1/4

tsp

baking powder

3/4

cup

granulated sugar

1/2

cup

unsalted butter

room temperature

1

tsp

vanilla extract

1

large egg

1/2

cup

quartered fresh strawberries

pureed

4

oz

room temperature cream cheese

1/2

cup

thinly sliced fresh strawberries

1/2

cup

white chocolate chips

1/2

cup

sweetened condensed milk
Instructions
Preheat your oven to 350 degrees. Spray a 9 by 13 inch pan with cooking spray and set aside.

In a large bowl, mix together the graham crackers, the 6 TBSPs of butter (melted) and the 2 TBSPs of sugar. Press into the bottom of the pan.

In a different bowl, mix together 1 1/4 cup flour, 1/4 tsp salt, and 1/4 tsp baking powder, set aside.

Beat together 3/4 cup of granulated sugar and 1/2 cup unsalted butter until creamy, about two minutes. Add in the egg and then the vanilla until just combined. Slowly add in the flour mixture until it is fully combined.

Very carefully spread the cookie dough mixture on top of the graham cracker crust. The easiest way to do this is to take small amounts, flatten it in your hands, and set it on the crust. You may not be able to entirely cover the graham cracker crust, that's okay.

Beat together the cream cheese and the 1/2 cup pureed strawberries. Spread evenly over the cookie dough.

Evenly spread the 1/2 cup sliced strawberries over the cream cheese layer. Top with the white chocolate chips and then evenly cover with the sweetened condensed milk.

Bake for 30 minutes. Refrigerate overnight before slicing. Store in the refrigerator in an airtight container.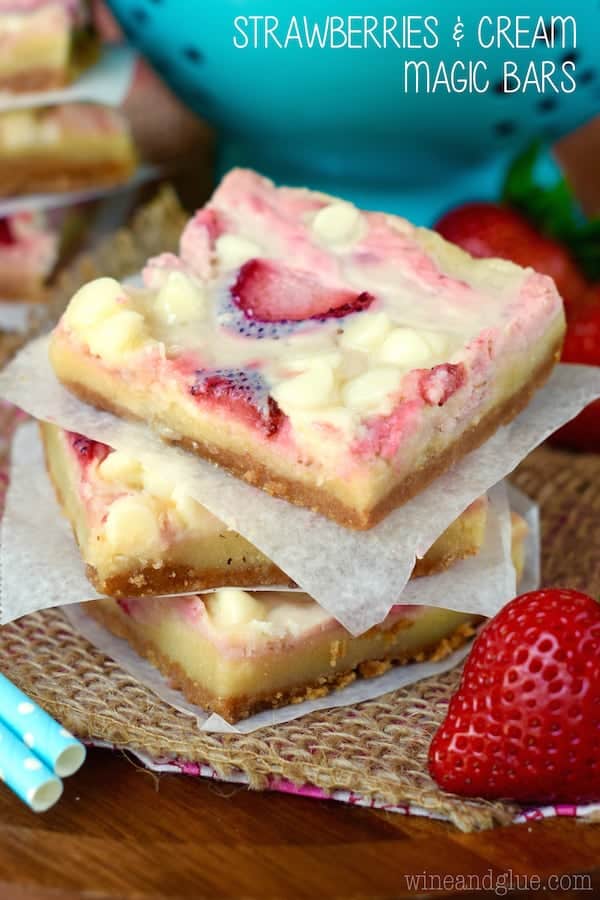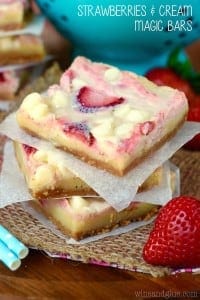 did you make this
Strawberries and Cream Magic Bars
You might also like
Milky Way Magic Bars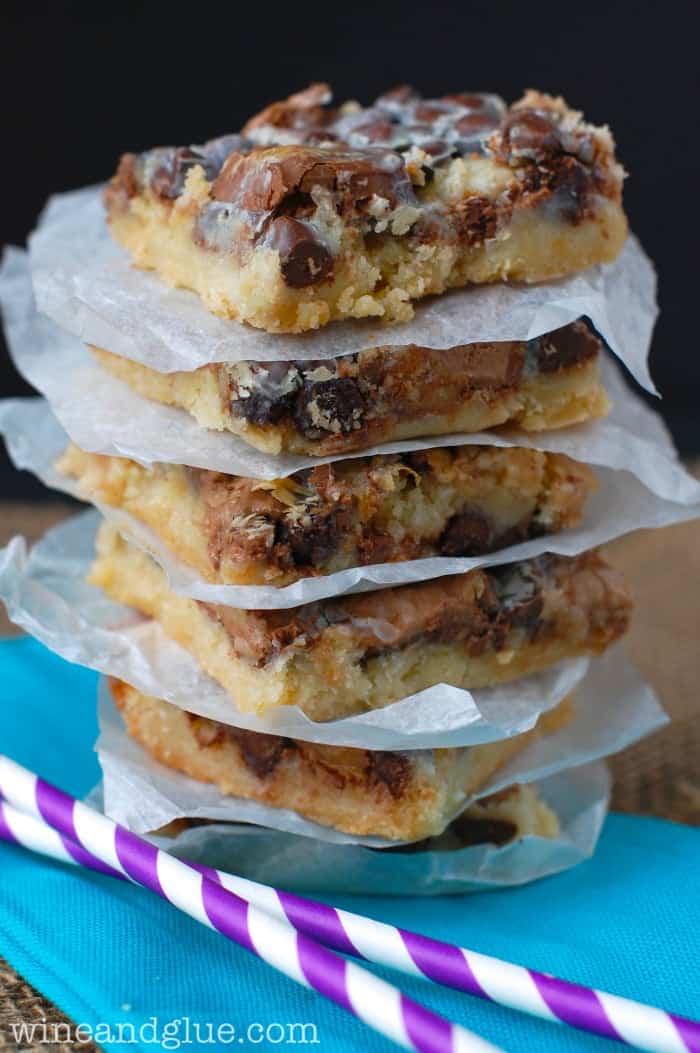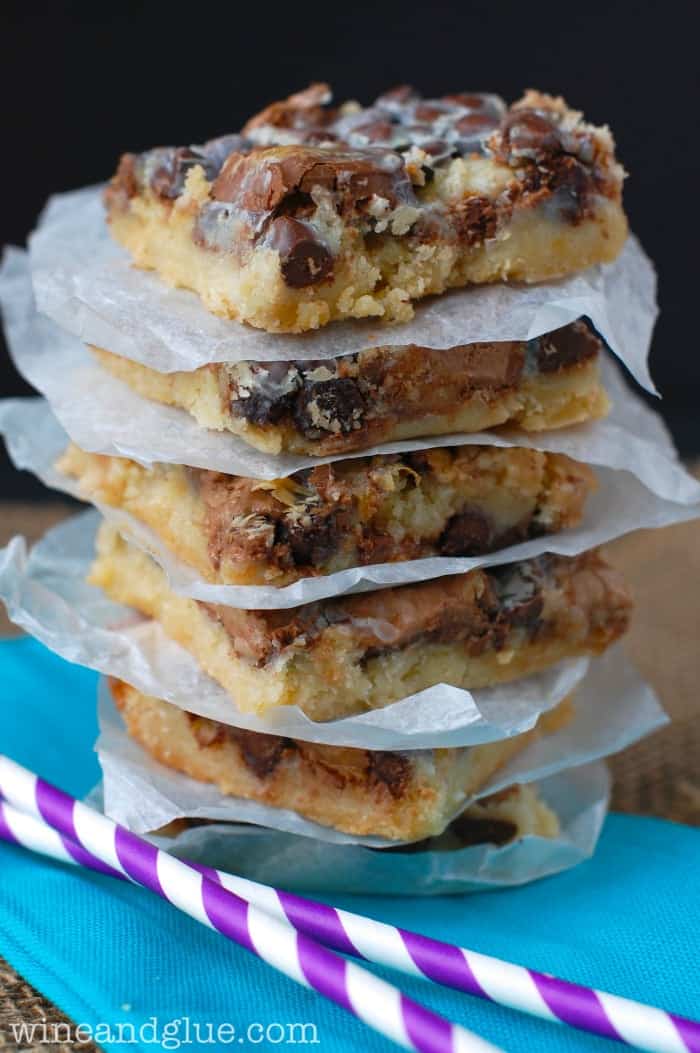 Chocolate Dipped Strawberry Cookies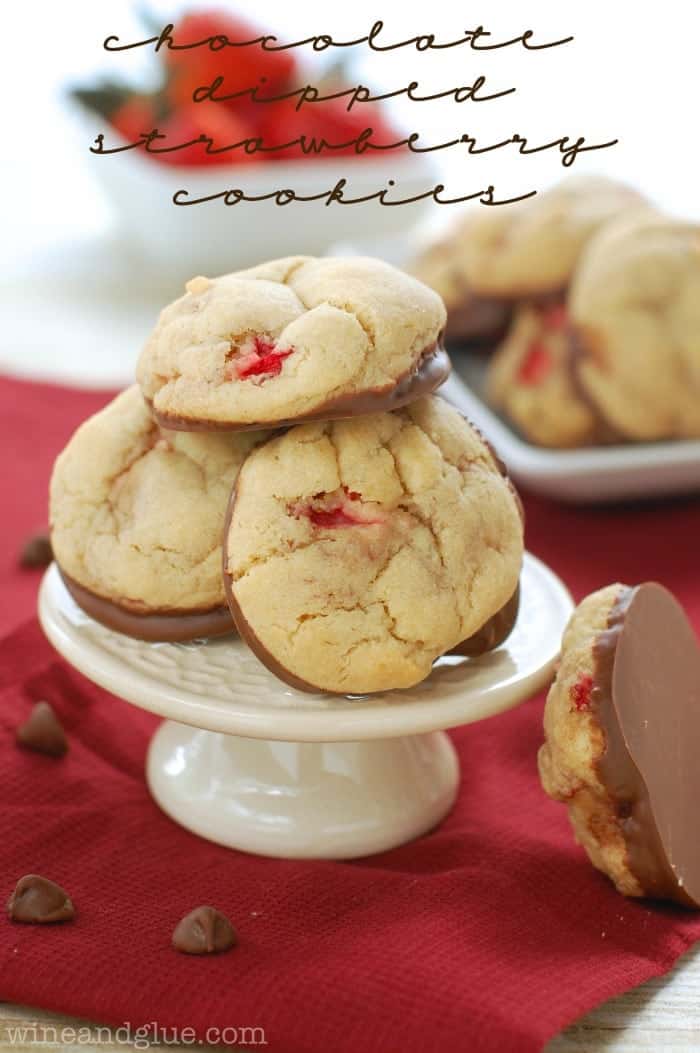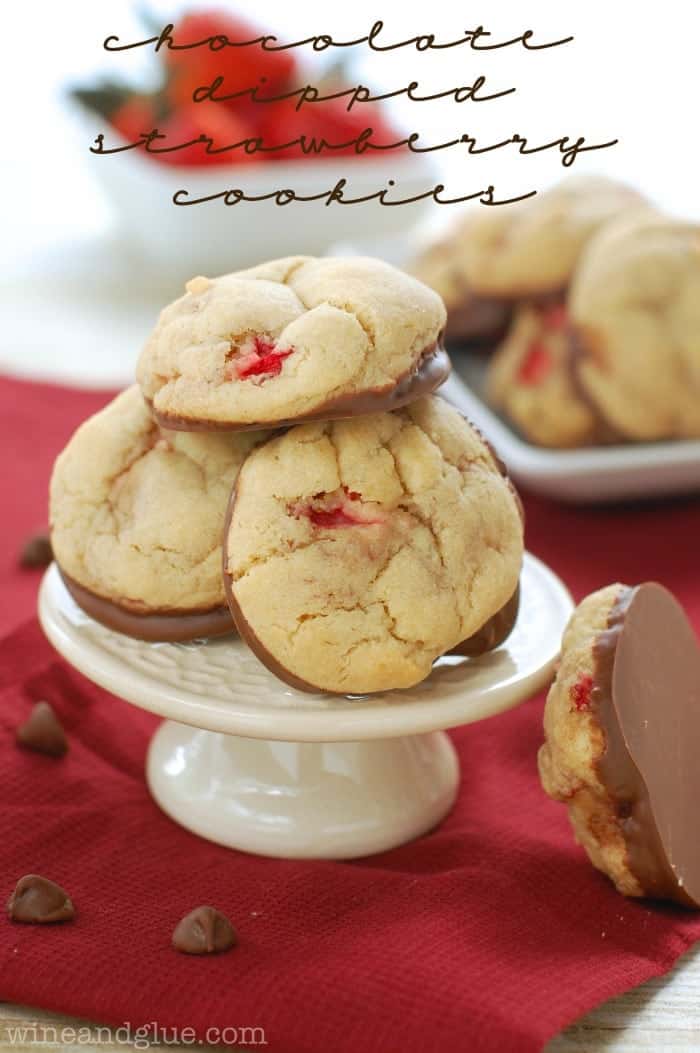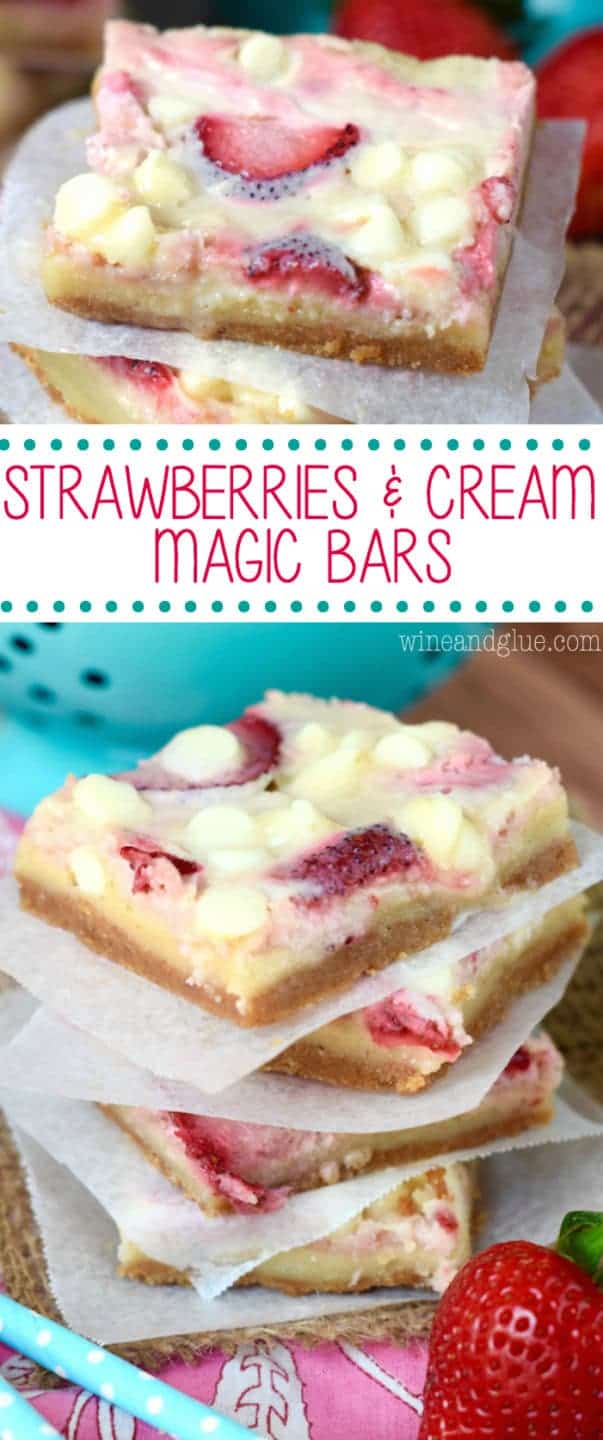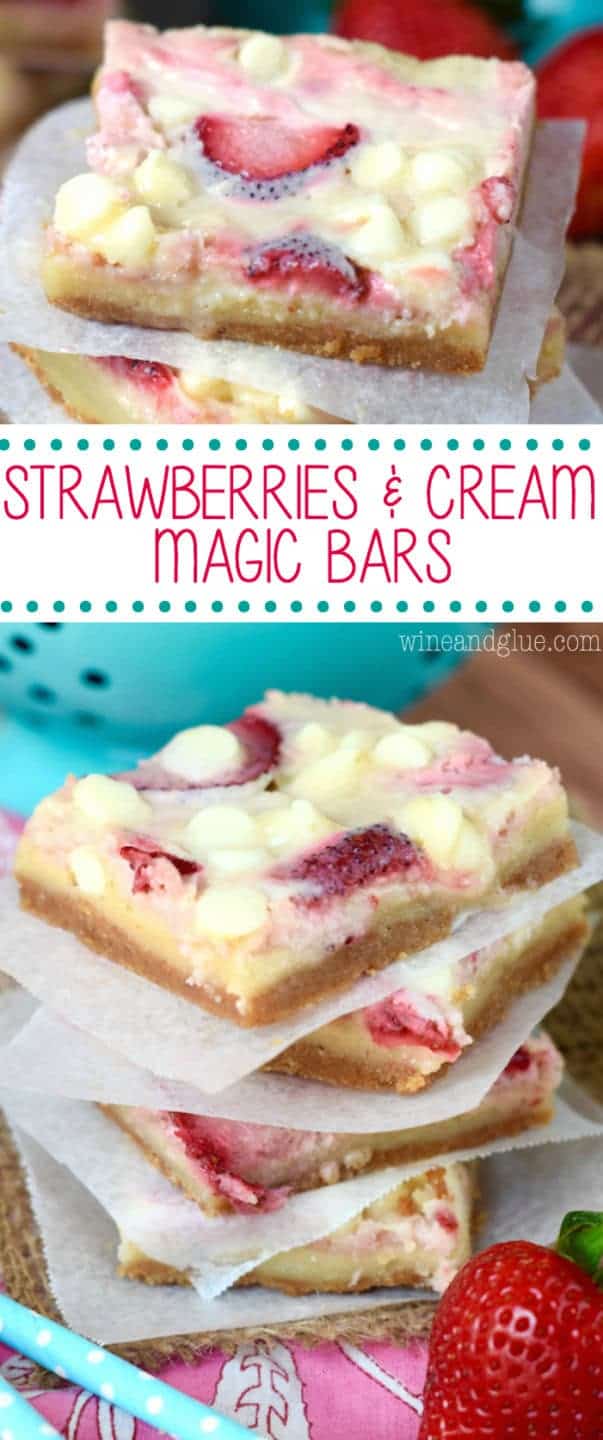 SaveSave