I'm proud to be partnering with Meijer to bring you this amazing and easy salad recipe!
This Summer Salad Recipe is full of delicious fresh ingredient and made perfect with my Lemon Poppyseed Dressing. This is a fast summer salad that you will want to bring to all the summer picnics and BBQs!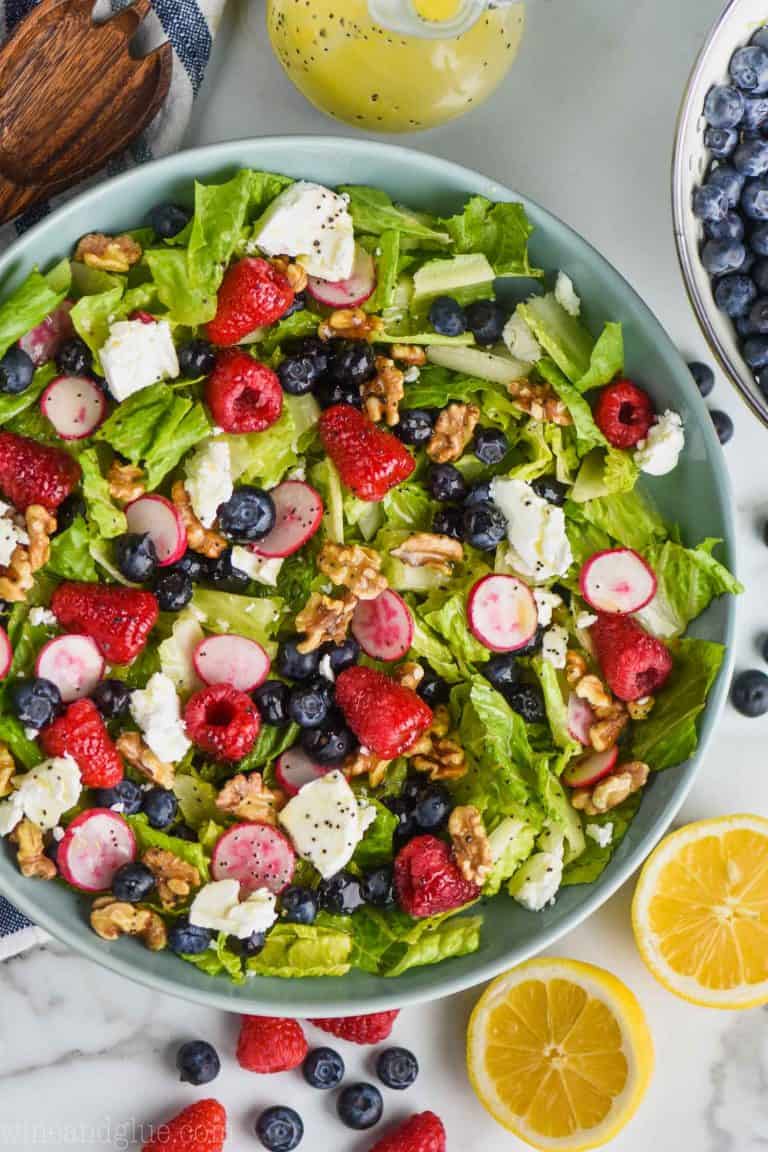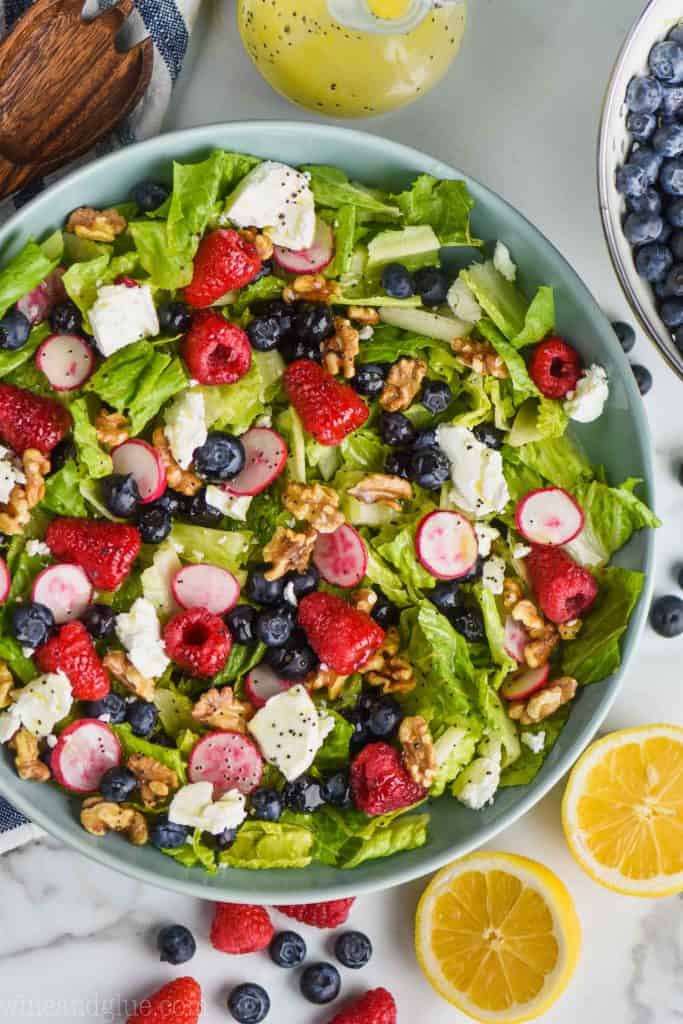 It is getting so hot around here, and I'm getting to that point in summer where if I eat too much, I feel extra hot and sticky. Guess what that means it's time for?? A great delicious summer salad recipe that makes a perfect lunch entree, or a simple option to bring to a potluck.

Making the Perfect Summer Salad
I love making salads in the summer for a meal because it is the best time to find super fresh ingredients that work perfectly in a salad. While, I love buying fresh produce for side dishes (like my roasted beets or my oven roasted asparagus) at the local farmer's market, that doesn't always work because it's just one day a week.
Imagine my joy and excitement when I was with Meijer in Grand Rapids, Michigan earlier this year and they told me all about how hard they work to make sure they source produce as close to their stores as possible! Being a midwestern company, it is extremely important to Meijer that they support local businesses, including local farmers. There are some farmers that they have had relationships with for more than 30 years!
So even though I can only go to my local farmer's market once a week, I can feel like I'm at the farmer's market, buying local, every time I visit my Meijer store.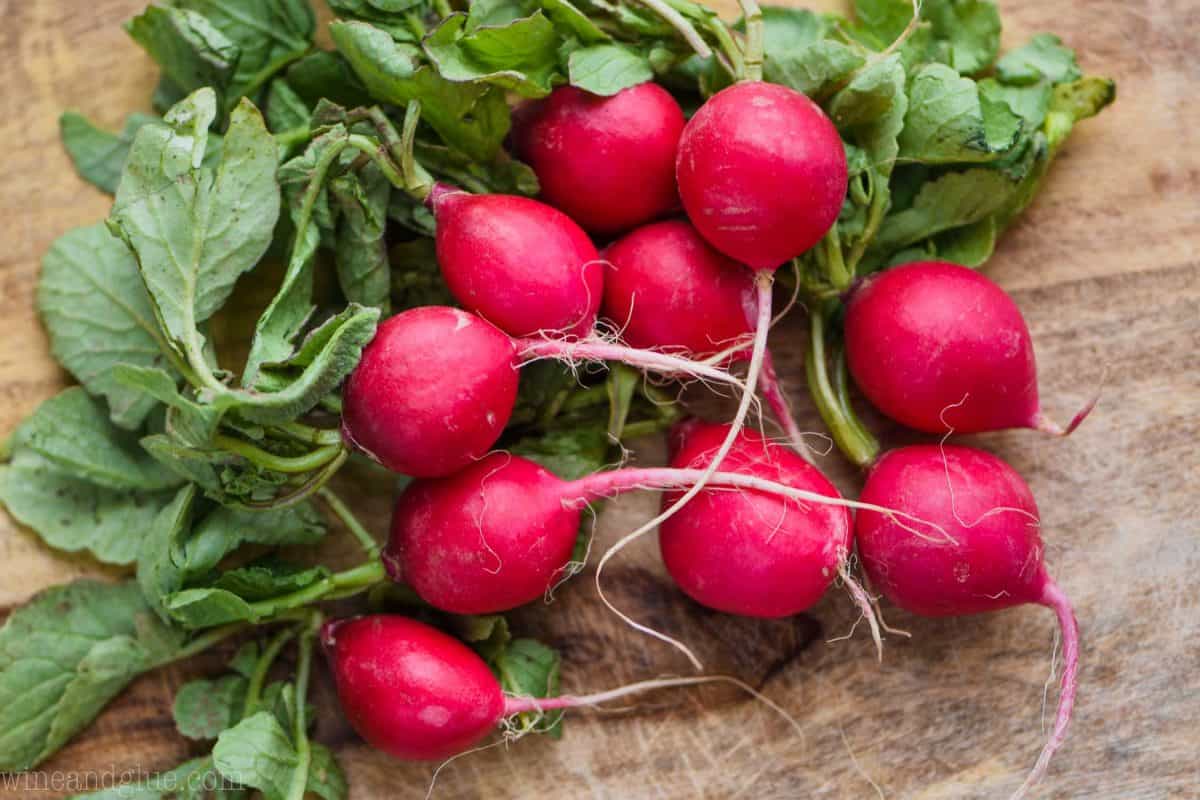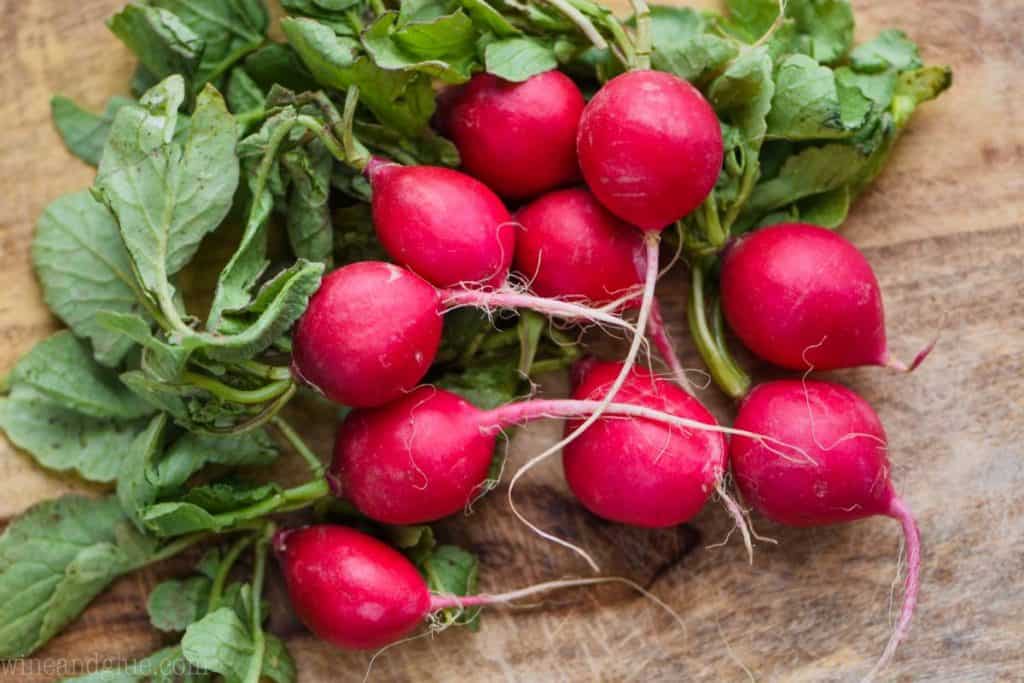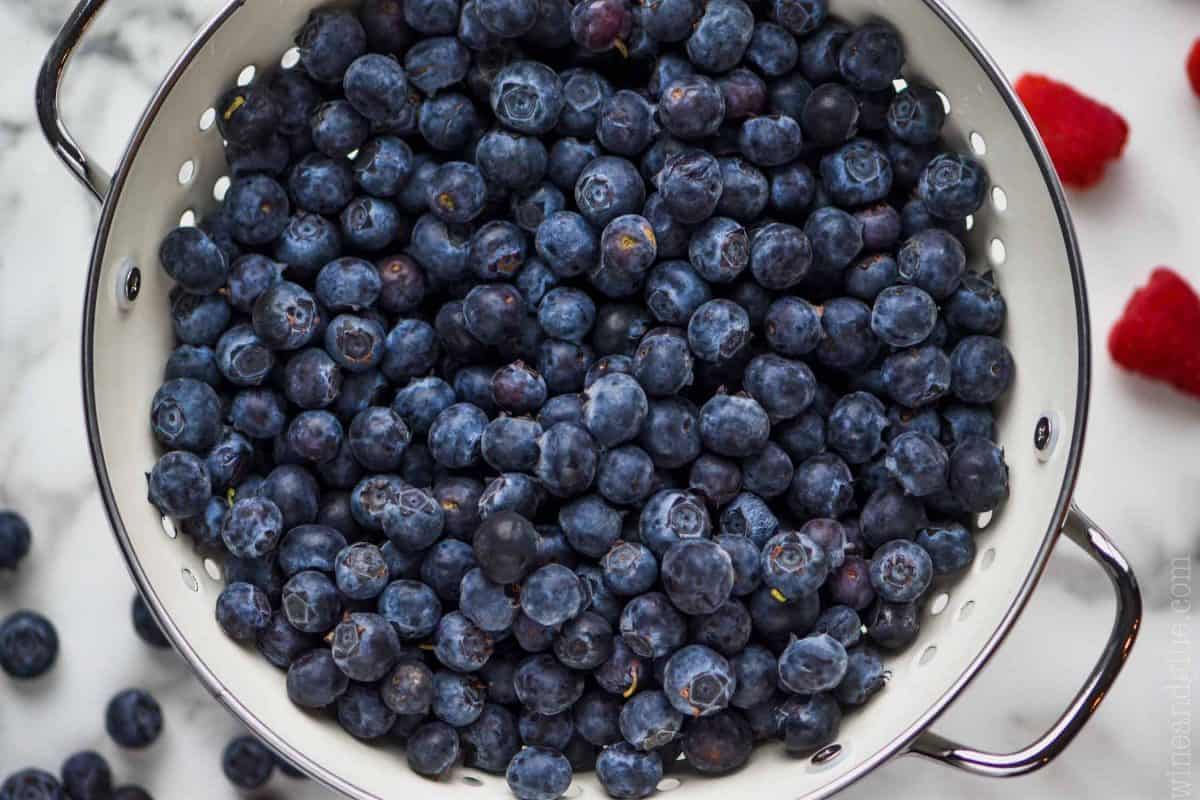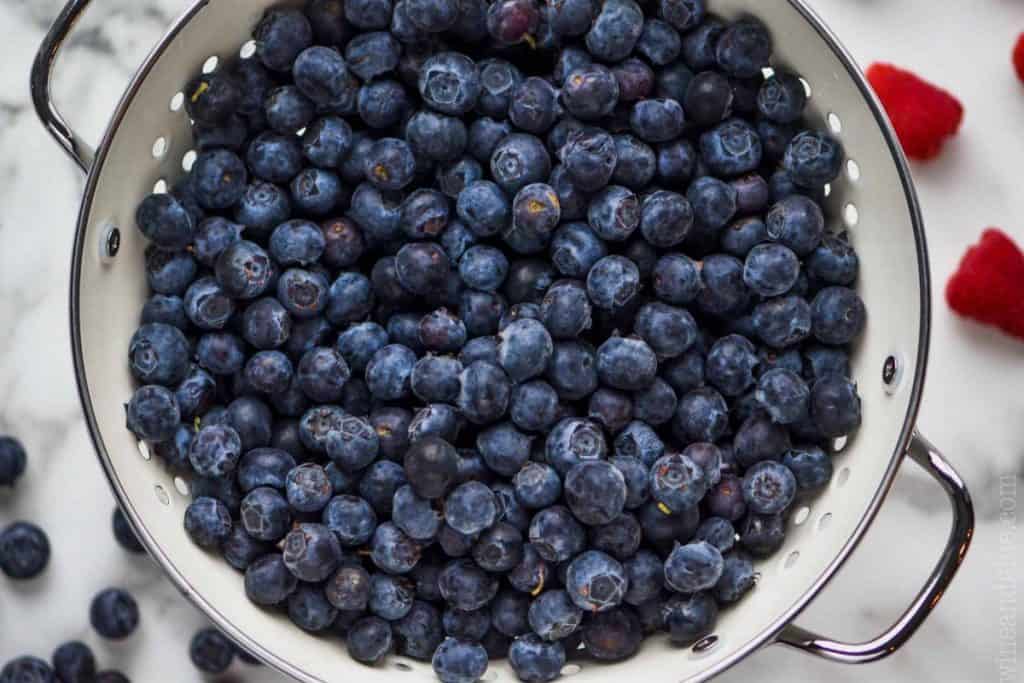 For this delicious summer salad recipe, I thought it would be good to balance out the sweet and savory flavors of summer. I grabbed some fresh radishes and some gorgeous plump blueberries from Mejier. The blueberries are sweet and perfect in a salad because they just need a fresh rinse and no additional chopping. The radishes balance them perfectly with the zip they add to this salad.
From there, I grabbed some raspberries (yay! another thing I don't have to chop), some walnuts, and some goat cheese. The goat cheese also has a nice tang that compliments the sweetness of the blueberries, raspberries, and lemon poppyseed dressing that finishes off this salad.
I was so happy to find packs of three Romaine hearts at my local Meijer. They are so easy to slice down the middle, flip, give another slice to, and then roughly chop. They make this salad come together fast.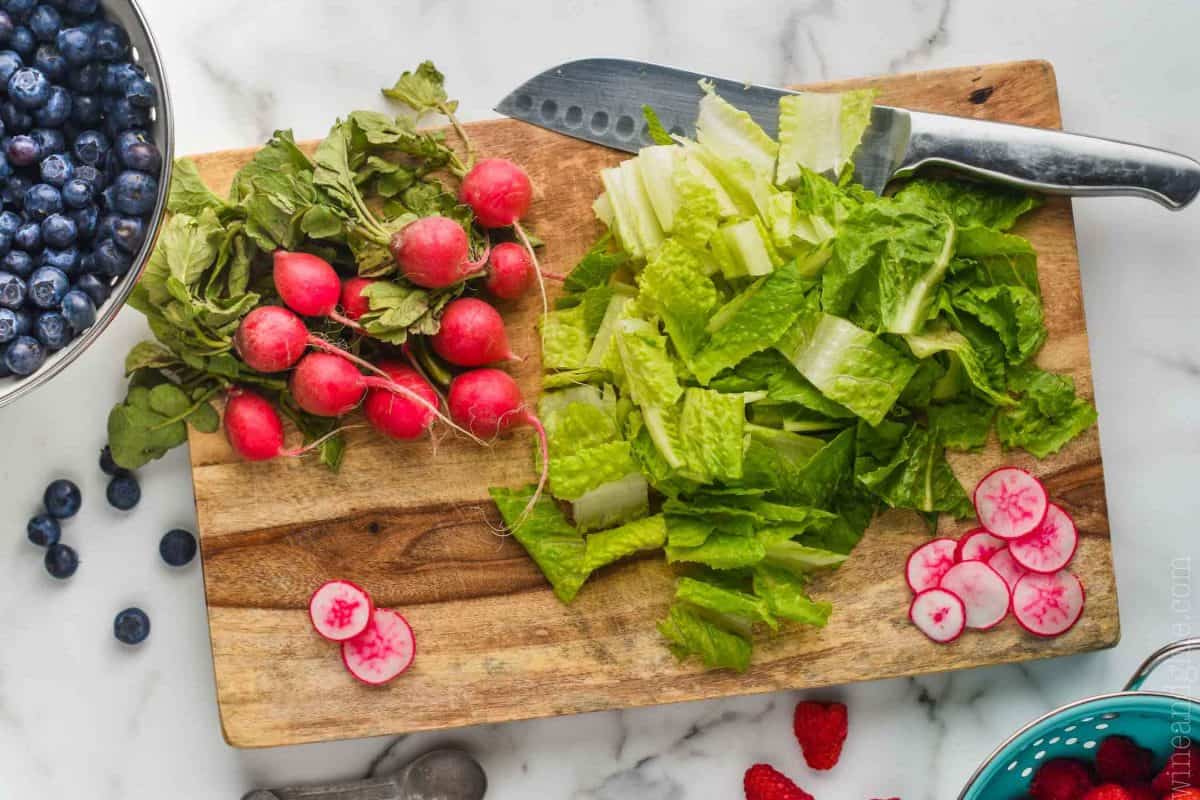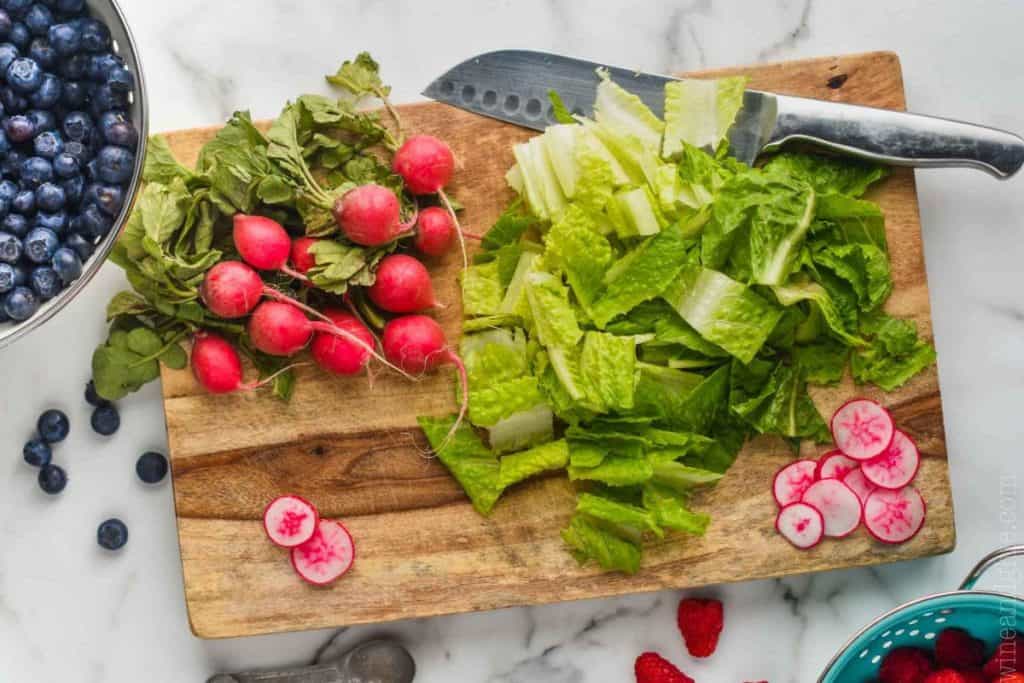 Ingredients for this Summer Salad
There are so many different ways you could make a summer salad, but I think this is such a good summer salad recipe with its fresh ingredients and beautiful colors.
You will need:
three heads of romaine lettuce
small bunch of radishes
blueberries
raspberries
goat cheese
roasted walnuts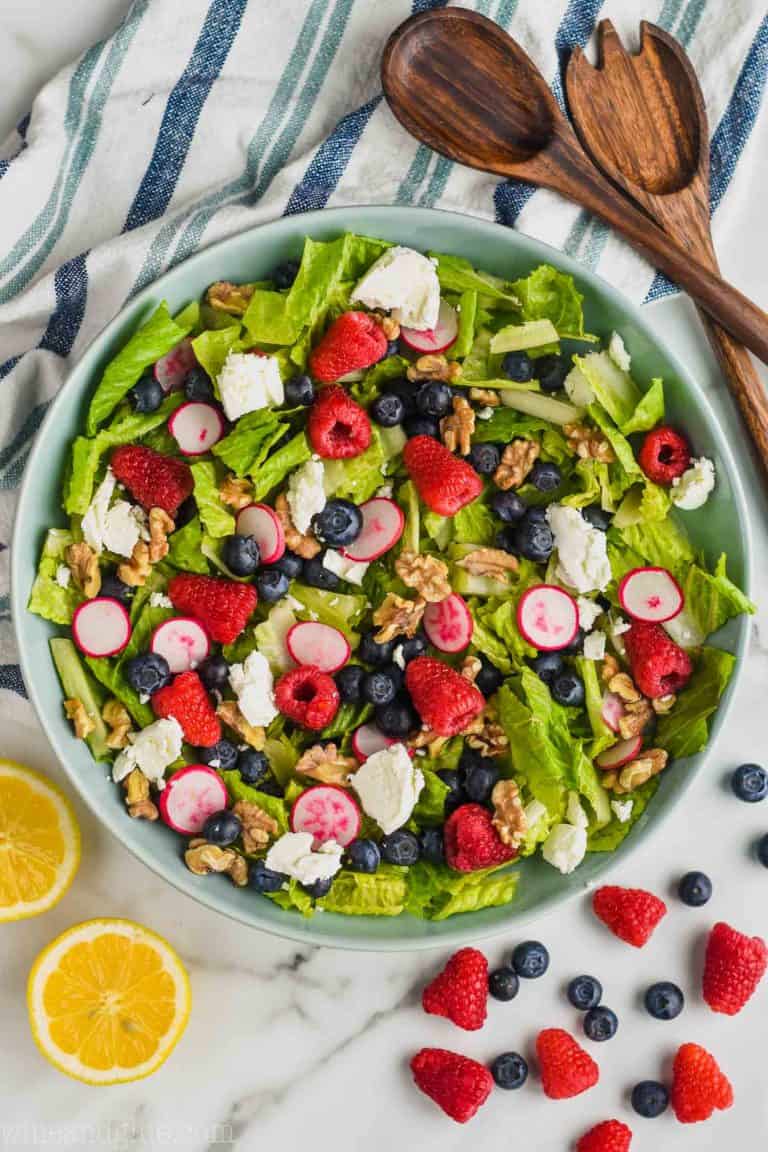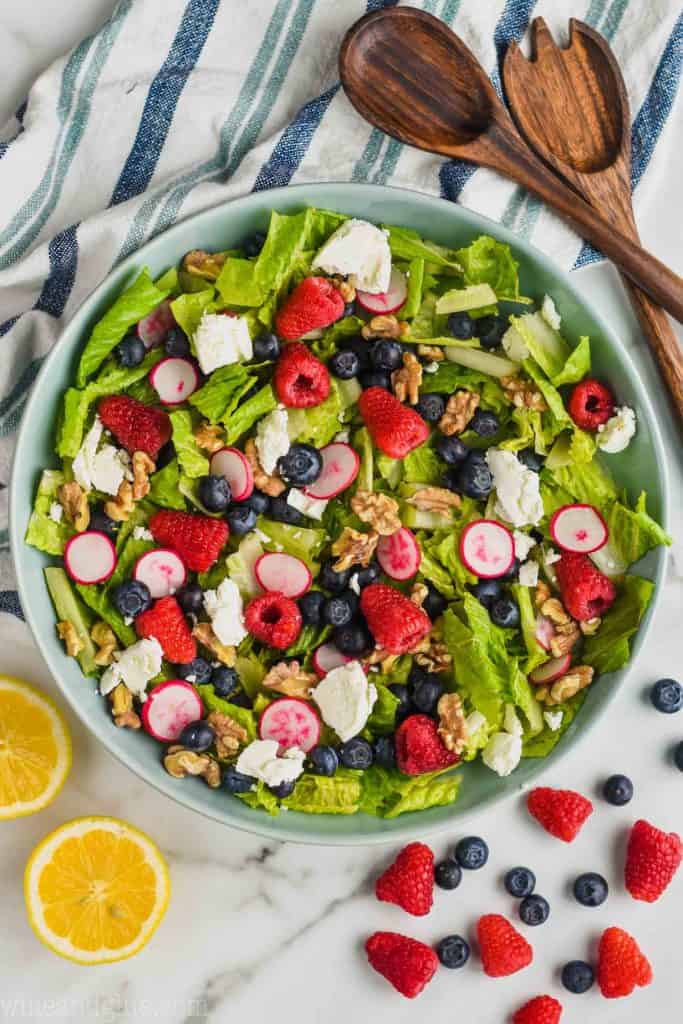 Summer Salad Dressing
For this salad, I made a really simple Lemon Poppy Seed Dressing. I bet you already have most of the ingredients you already need!
olive oil
lemon juice
granulated sugar
salt
dry mustard
poppy seeds
If you want to stretch this dressing further or make it creamy, add a little non flavored greek yogurt to it! About a half cup for the whole recipe.
Serving Sizes
I always struggle with writing the actual recipe when it comes to salads because I don't like measuring! I just throw things in as my mood strikes me. But I know that's a really bad way to write a food blog.
I will absolutely give you directions and measurements, but if you are making it for yourself, just do what your mood says. And enjoy it. That's part of the joy in cooking.
For One: Chop up one Romaine Heart and add in handfuls of the remaining ingredients. Top with a little dressing (about two tablespoons), and add more to taste.
For Two: Half of this recipe will make two lunch sized portions of this recipe (that is the amount you see pictured).
For More: This recipe makes 14 cups. That is a nice side salad for 6 people, and a sweet little side dish for 10 or more.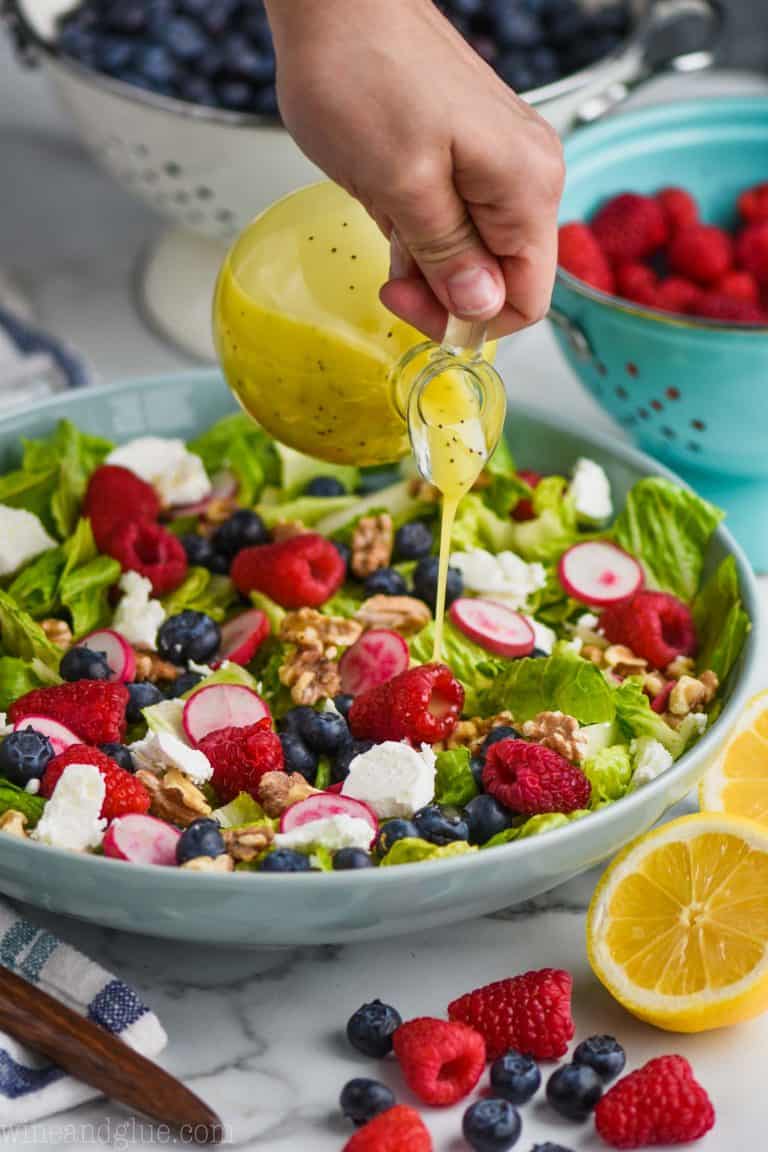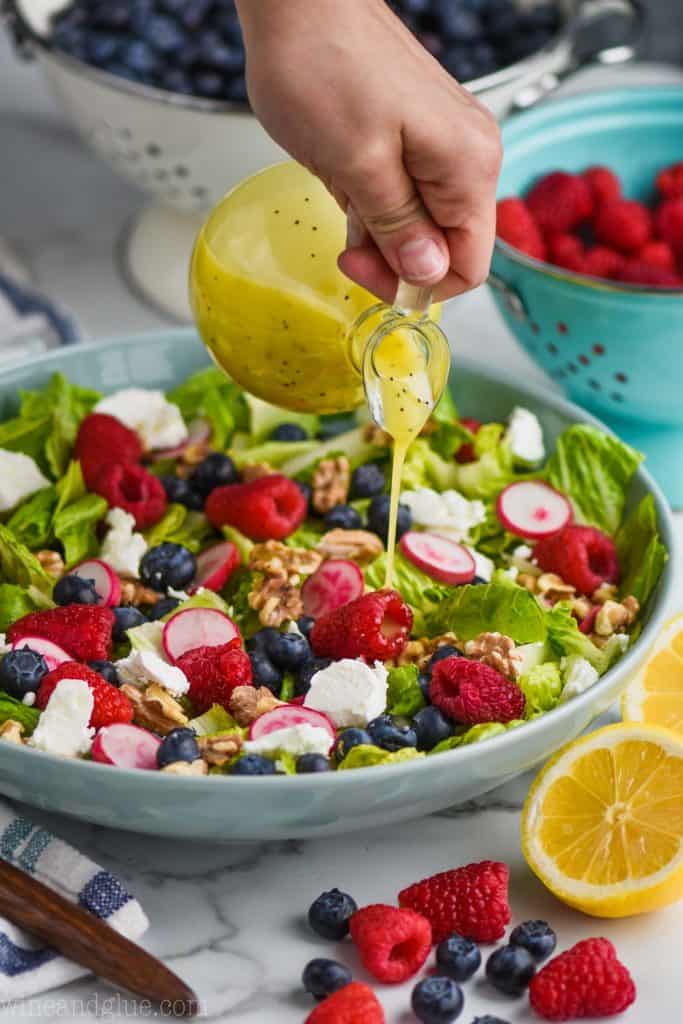 Substitutions and Variations
One of my favorite things about salads is how easy they are to mix up and change. You can switch this or that and it's not going to greatly complicate or change things.
I used roasted walnuts, but you could add sliced almonds you lightly toast or any other nut. Nut allergy? Just leave them out.
If you want to make this even fancier, use candied walnuts!
Don't like goat cheese? Swap it for feta or shaved parmesan!
Swap the Romaine lettuce for spinach for a whole different feel to this salad.
If you don't love lemon, you will love the dressing on this Strawberry Spinach Salad instead!
Other Great Summer Salads
If you find your cart at Meijer completely full of delicious fresh summer produce and you aren't sure what to do with it all, try some of these other great summer salad recipes: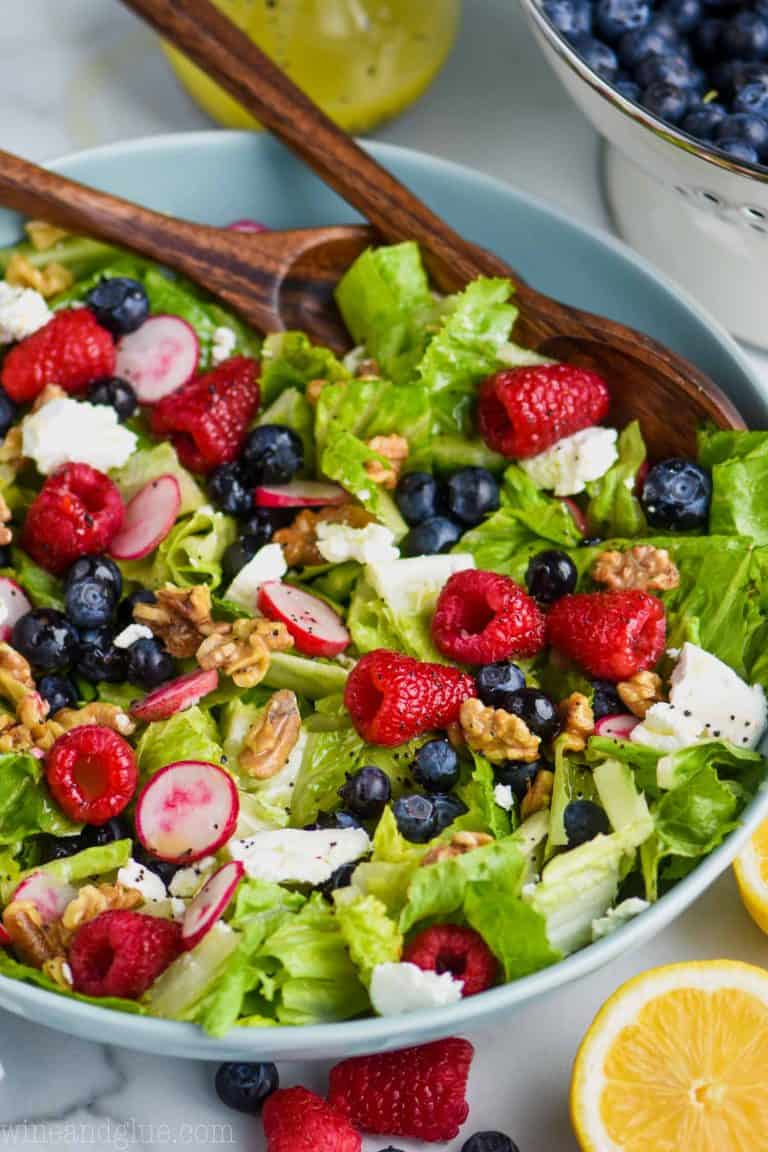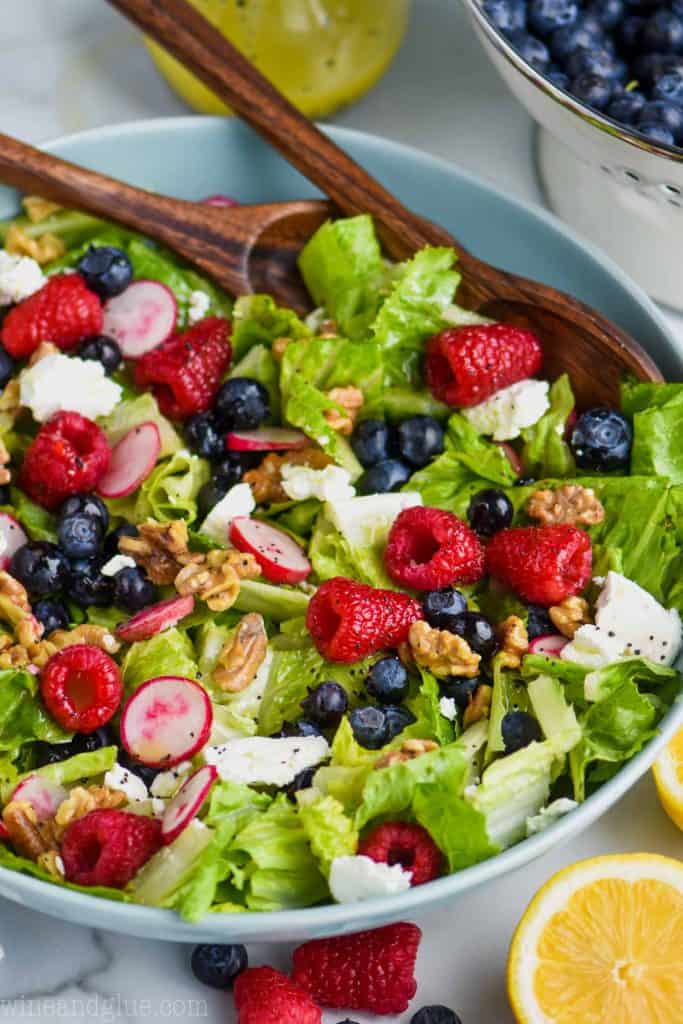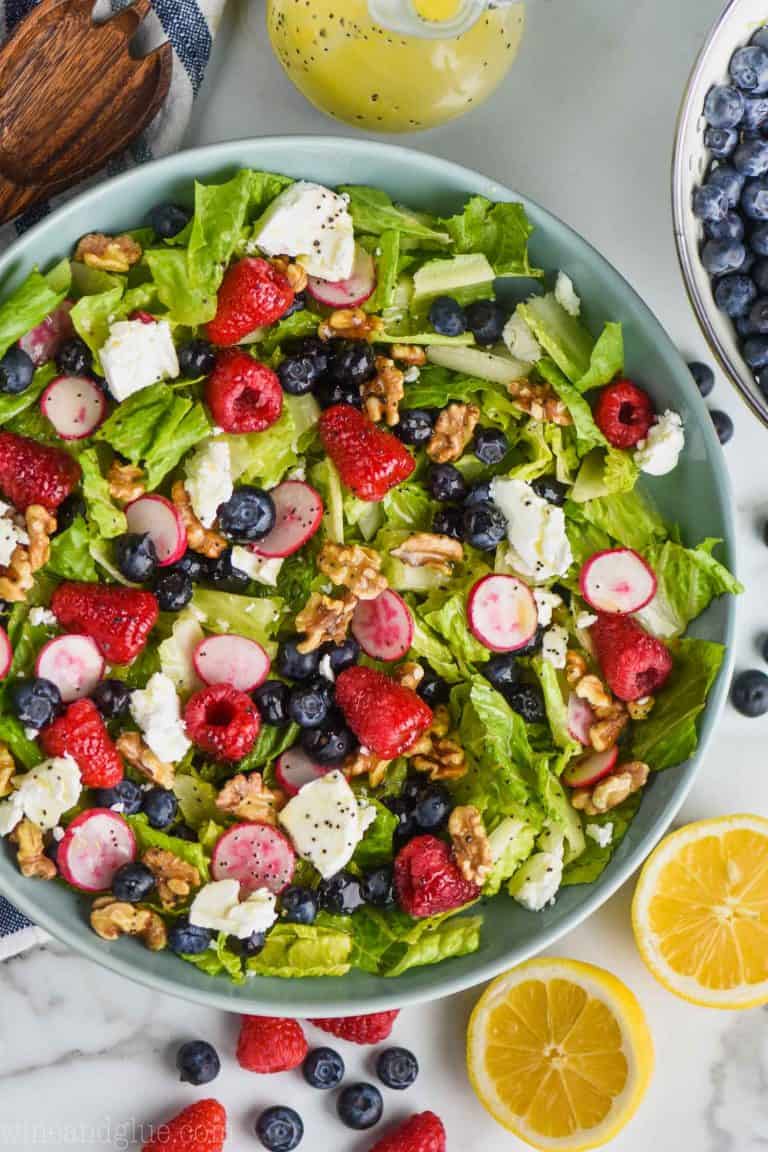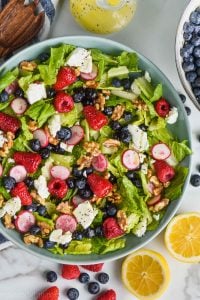 Summer Salad Recipe
This Summer Salad Recipe is full of delicious fresh ingredient and made perfect with my Lemon Poppyseed Dressing.  This is a fast summer salad that you will want to bring to all the summer picnics and BBQs!
Ingredients
Salad Ingredients
3

Romain hearts

chopped

1

cup

roasted walnuts

see note #1

1

cup

blueberries

1

pint

raspberries

10

small radishes

washed, trimmed, and sliced thin

5

ounces

goat cheese

crumbled
Lemon Poppy Seed Dressing
2/3

cup

olive oil

1/3

cup

lemon juice

see note #2

1/4

cup

granulated sugar

1/8

teaspoon

salt

(or just a pinch)

1

teaspoon

ground mustard

1

tablespoon

poppy seeds

1

tablespoon

honey

optional
Instructions
Toss all of the salad ingredients.

Whisk together the olive oil, lemon juice, sugar, salt, and mustard until the sugar is completely dissolved. Taste and add more lemon until it has enough of a lemon flavor for you. Add more honey if it becomes overwhelmingly acidic.

Stir poppy seeds into the dressing.

Serve salad dressing on the side and allow people to dress their salad to taste.
Notes
Roast the walnuts at 400 degrees on a parchment lined baking sheet for 5 minutes to deepen their flavor. (Optional step.)
  The balance of sweet and acid in this salad dressing is really important. Start with 1/3 cup lemon juice. If it doesn't taste enough like lemon to you add a little more, about a teaspoon at a time.  If you go too far, add a tablespoon of honey to counter balance it.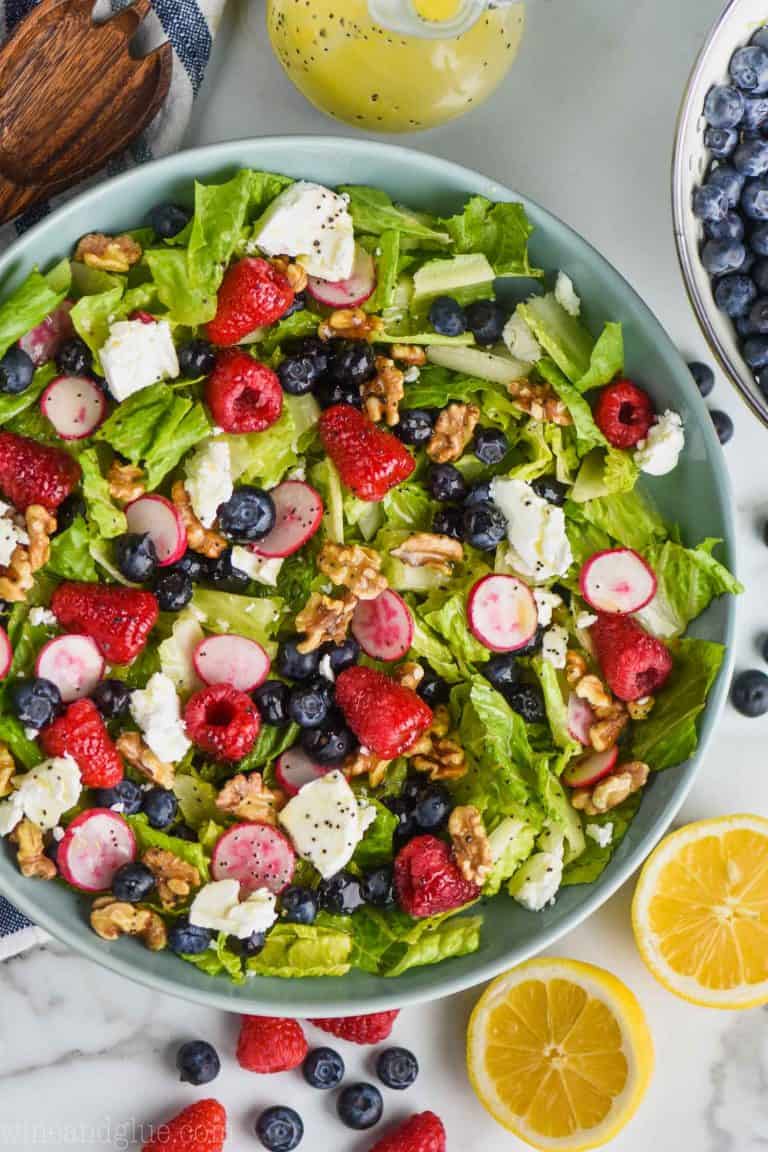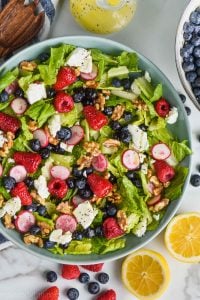 did you make this
Summer Salad Recipe
you might also like . . .