Who doesn't love a big giant Caesar Salad? This Caesar Salad recipe is easy to make with a simple delicious dressing. It is the perfect add on to dinner and great to bring to a BBQ or picnic.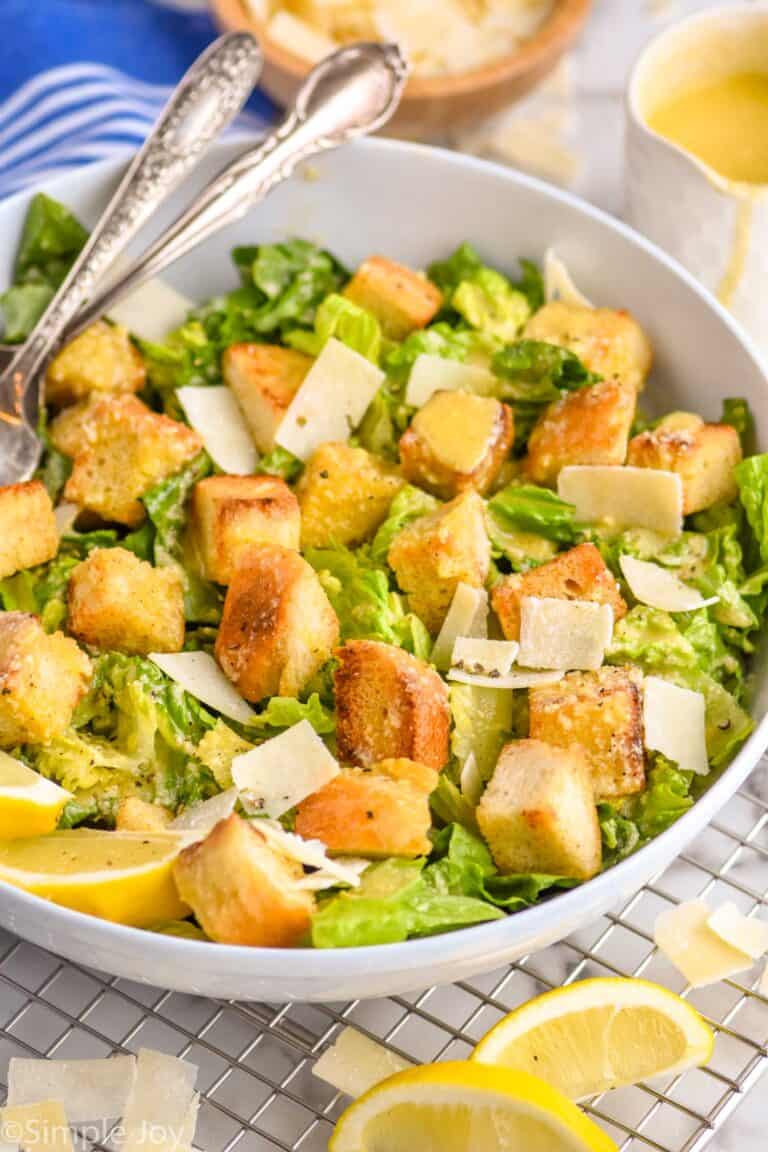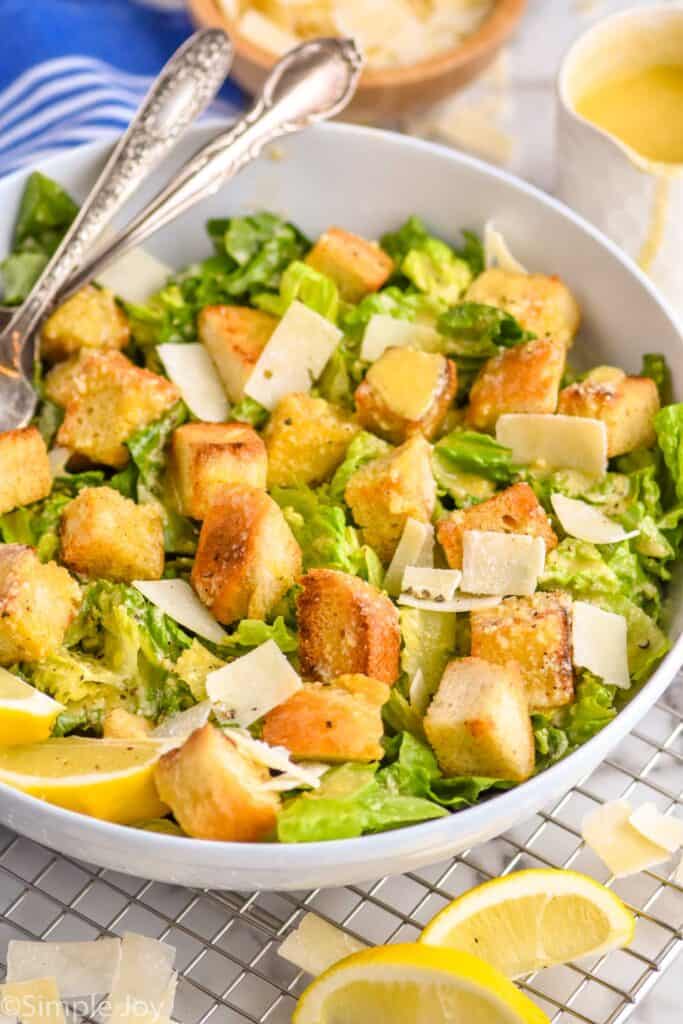 With as much cooking as I do, as a food blogger and as a mom, it still surprises me that I sometimes forget that when I'm craving something I can just make it.
Do you do that too?
Maybe you do that with something as simple as a Caesar Salad. You love it, you find it so delicious, but you only have it when you go out to eat.
Let's make a new resolution together that we won't deprive ourselves of cravings that are super easy to make at home. And let's start with this Caesar Salad recipe. You are going to love every single piece of this recipe and want to make it every week as a dinner side salad.
How to Make Caesar Salad
There are two major components to this recipe, the dressing and the croutons. Both can be made ahead of time, making this an ideal side dish on a busy weeknight.
Make the Croutons: We are going to follow the directions for my Homemade Croutons. This involves cubing bread, tossing it with oil and seasonings and baking it.
Make the Caesar Salad Dressing: The dressing for this recipe involves a few steps that I urge you to look at closely in the recipe card. It is simple once you make it, but it does require following steps rather that just whisking ingredients together.
Toss the Salad: After the croutons and dressing are made, everything gets tossed with torn up Romain lettuce and we add some shaved Parmesan to the top.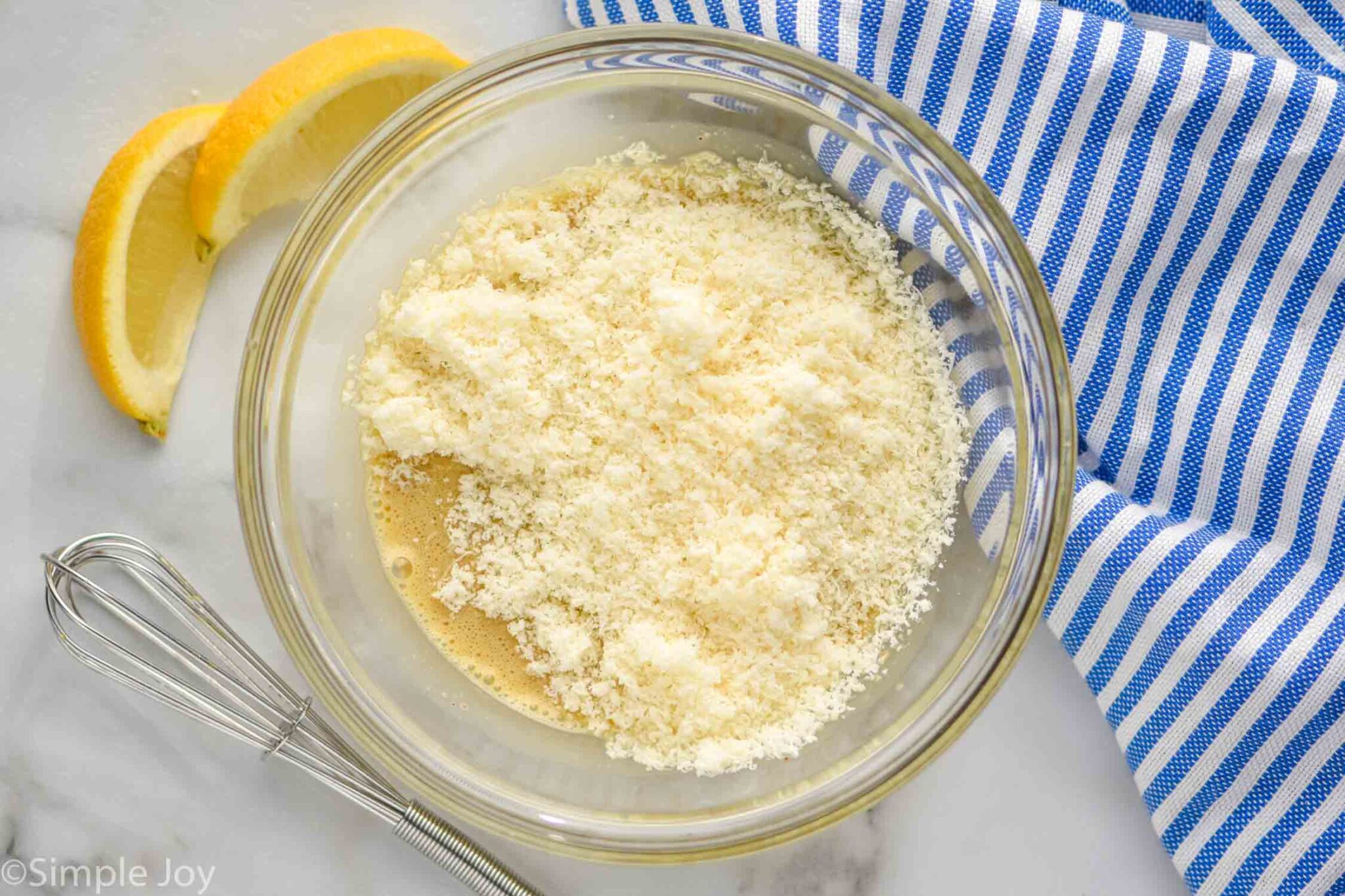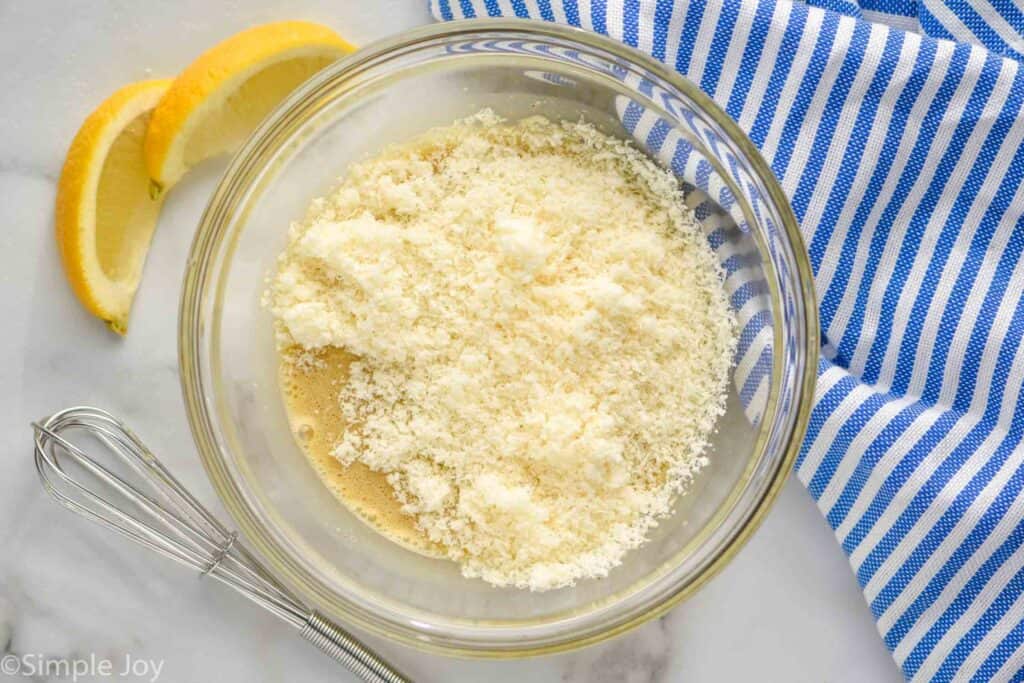 Caesar Salad Dressing Recipe
The thing that makes a Caesar Salad what it is, is the dressing. It is just a few ingredients, but when they come together, they create a signature taste that makes this salad so popular.
Caesar Salad Dressing Ingredients
garlic
anchovy paste
egg yolks
salt
black pepper
lemon juice
olive oil
Parmesan cheese
How to Make Caesar Salad Dressing
A key to making the salad dressing is following the steps as written. This is particularly true about adding the olive oil. Be sure to add the olive oil slowly. The other ingredients can only absorb so much olive oil at a time. By going slowly, it incorporates evenly and you end up with a smooth dressing.
Whisk together the garlic and anchovy paste.
Then whisk in the salt, pepper, and egg yolks.
Adding just a little at time, whisk in the olive oil until it is fully incorporated.
Finally, add in the finely grated Parmesan cheese.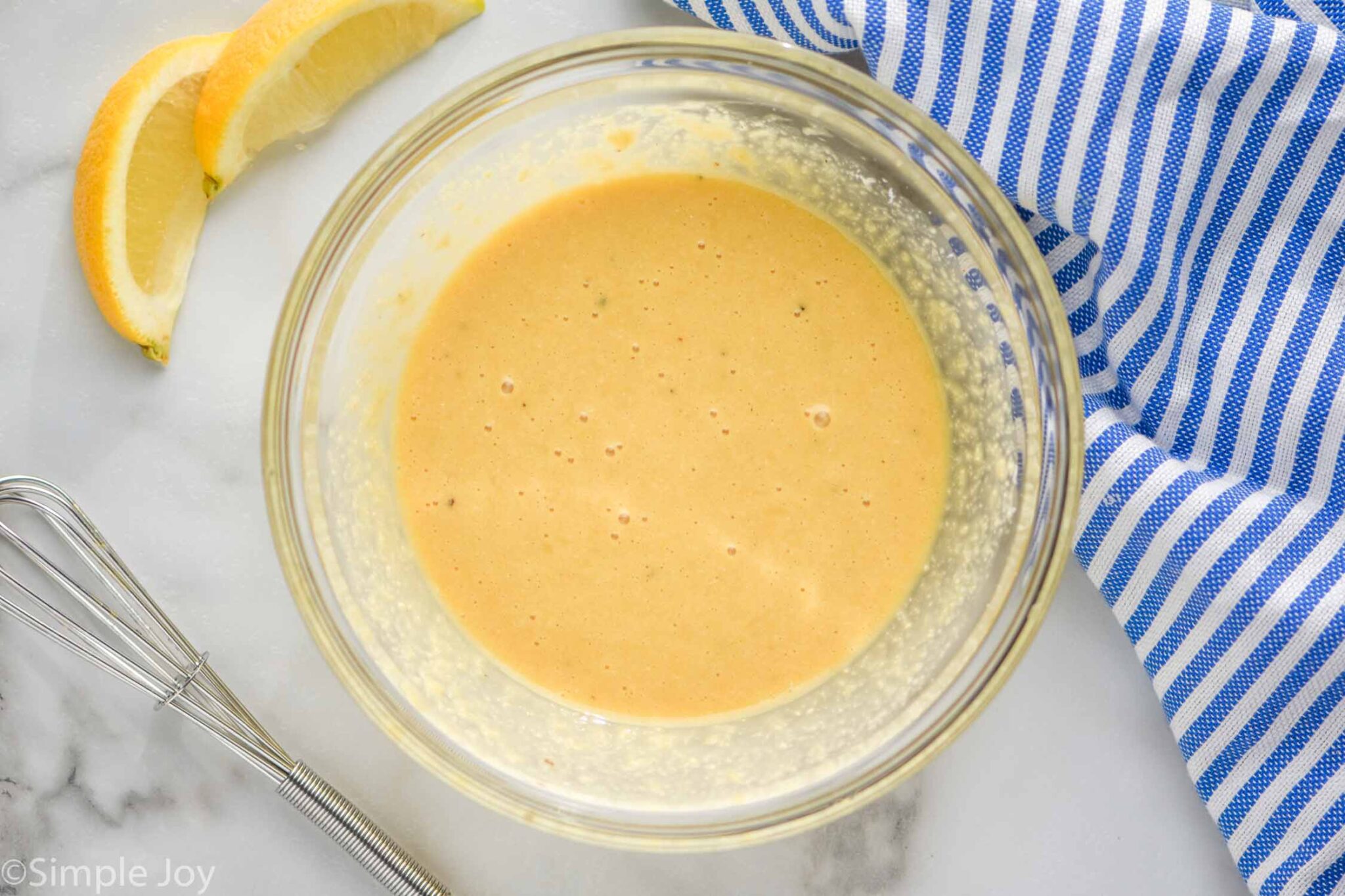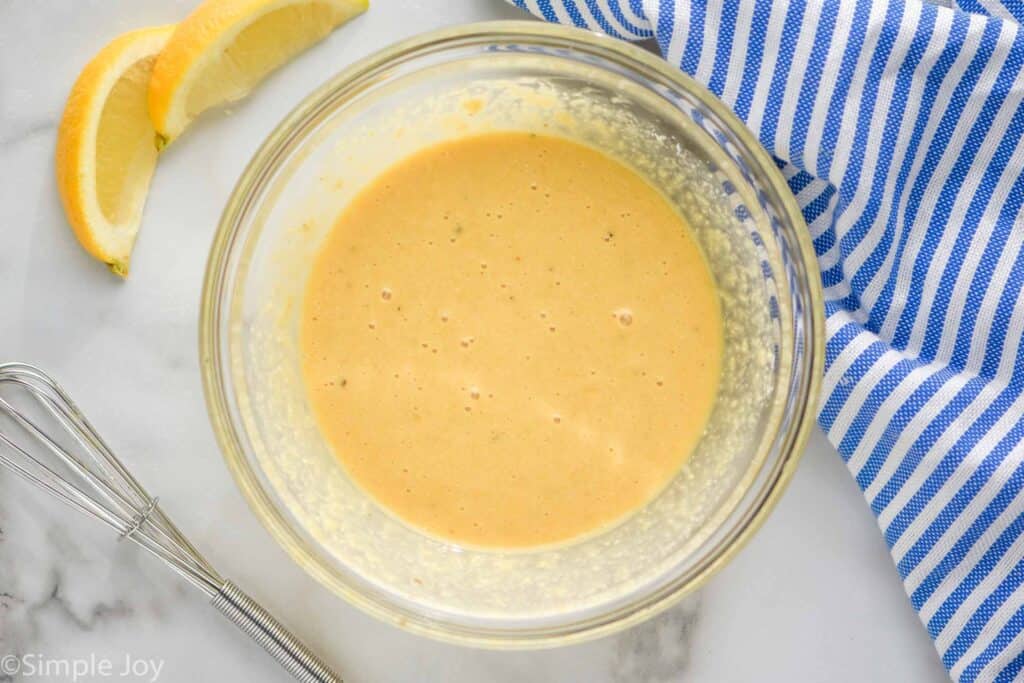 Using Raw Egg Yolks
This recipe does call for raw egg yolks. I recommend using pasteurized eggs. These are eggs that have been briefly heated to kill bacteria.
If you are unable to find pasteurized eggs, you can follow these instructions to make your egg yolks safe to eat.
Parmesan Cheese
Whenever Parmesan is called for in a recipe, I advocate for you to buy a block and grate it. This is especially true in my Broccoli Pasta.
For this recipe, I am going to tell you that freshly grated Parmesan absolutely works best for consistency. That being said, please use what you can afford. I know blocks of Parmesan can be expensive, and I would hate for you to skip out on this recipe for that reason.
Making Your Own Croutons
Croutons, in my humble opinion, are 1 million times better when they are homemade. I strongly encourage you to whip up a batch for this salad. They are easy to make, and you can bake them while you work on the salad dressing.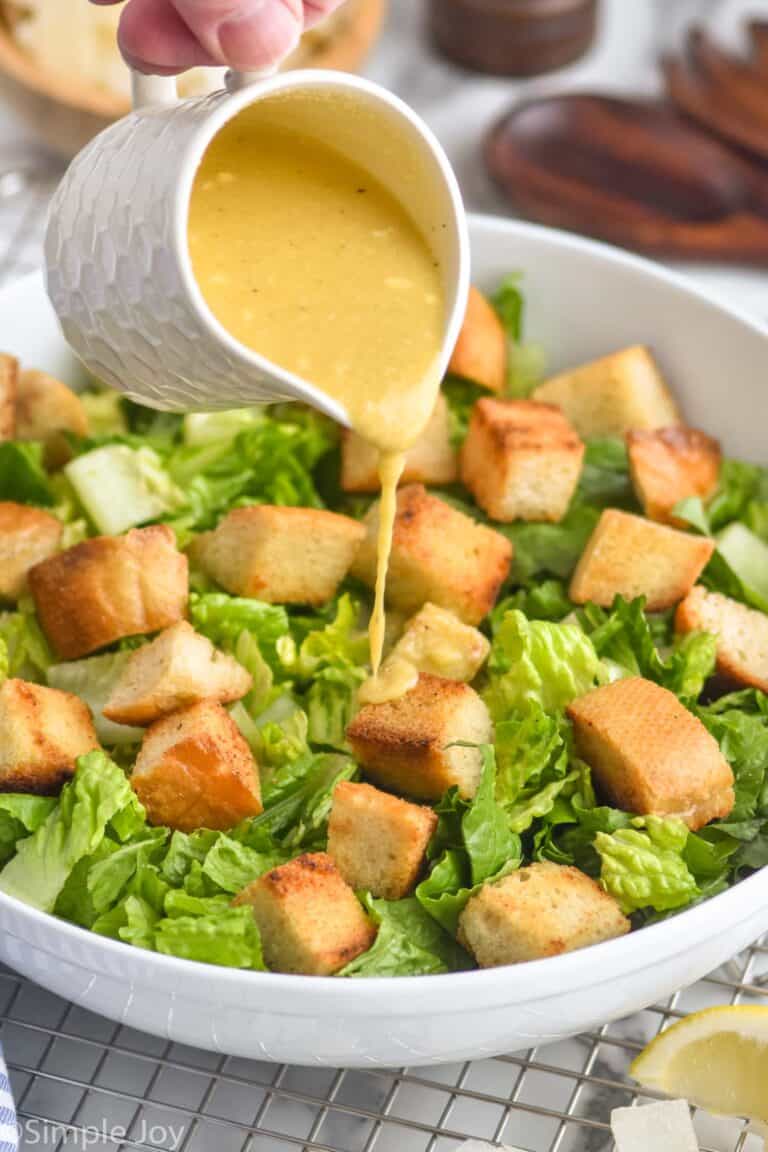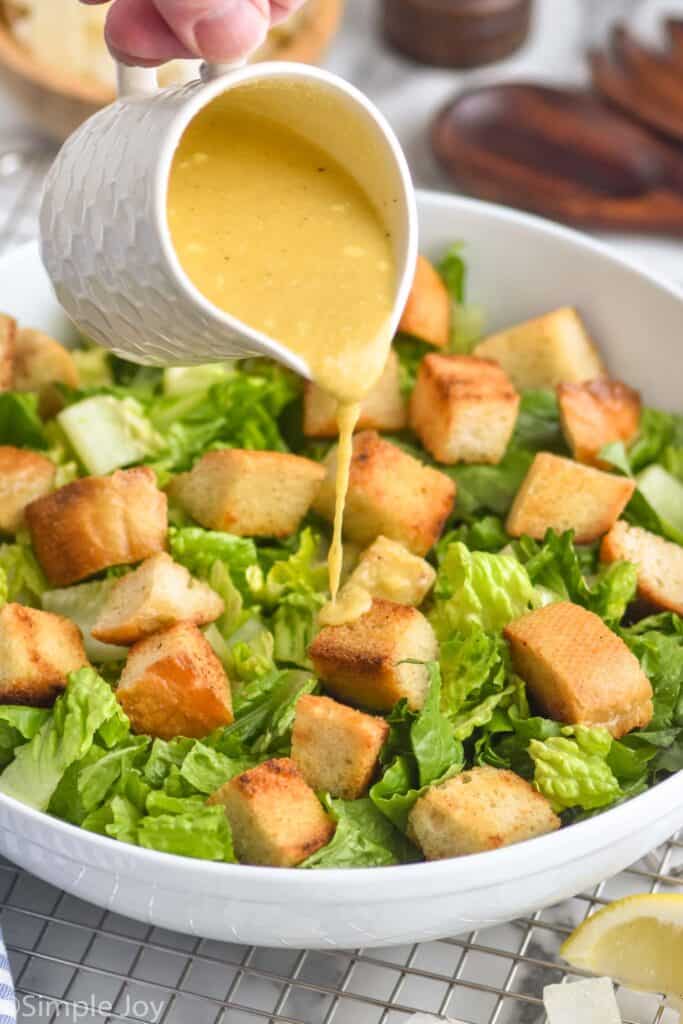 Anchovies vs. Anchovy Paste
Most Caesar Salad recipes call for canned anchovies. I decided that since this recipe typically calls for those to be worked into a paste with garlic, we could skip the middle man and go right to paste.
Additionally, buying it as a paste instead of a can allows us to easily keep the leftovers and use it two weeks from now when we make this recipe again.
Anchovy paste is a totally acceptable replacement in thin sauces and salad dressings. When you need that texture, like in my Puttanesca, you want to rely on the full canned fish.
If you would like to go the traditional route, please note that 1/2 a tablespoon of anchovy paste is equal to 3 anchovies.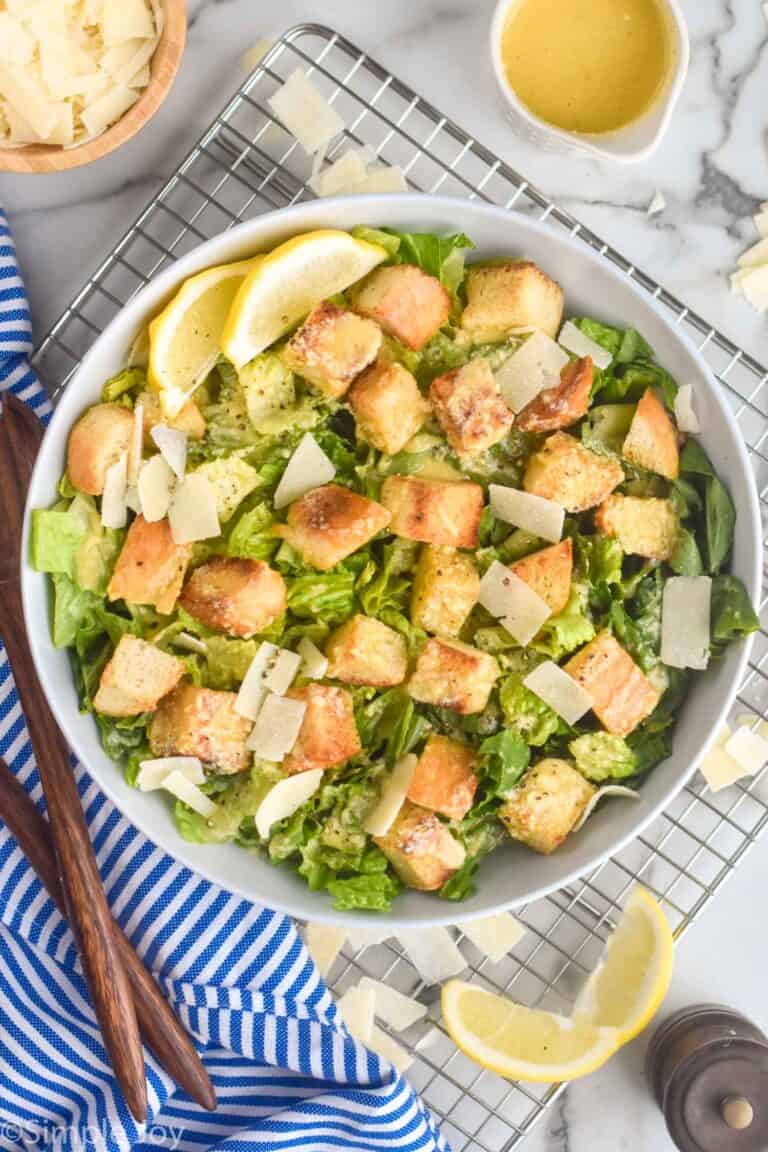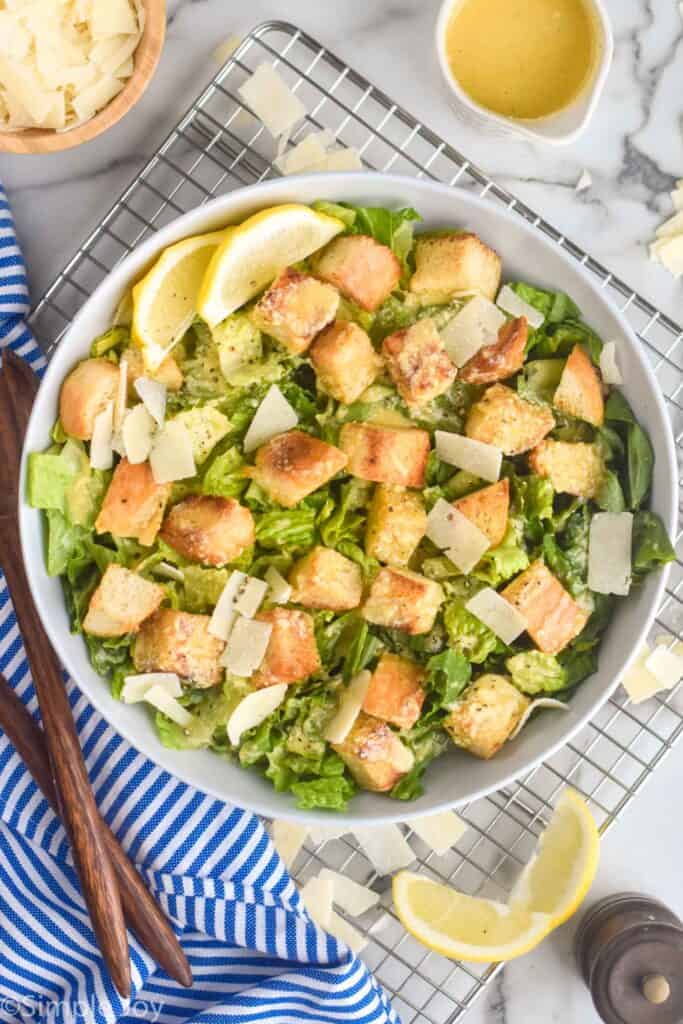 Make it a Meal
You can easily make this a meal by adding some grilled chicken or shrimp to the top of this.
Lightly season whatever protein you choose with salt and pepper before cooking.
Double the dressing for this recipe and add the cut up chicken or shrimp before topping with the dressing.
FAQ
Is Caesar Salad vegetarian?
It is not. The anchovies in the dressing are what stand between this recipe and vegetarianism.
Is Caesar Salad gluten free?
It is not. If you have guests who are gluten free, I suggest making croutons and serving them on the side to keep your guests safe.
Can Caesar Salad dressing be made in advance?
Yes! A great time saver is to make the dressing ahead of time. And the time you take whisking in that olive oil will keep it from separating.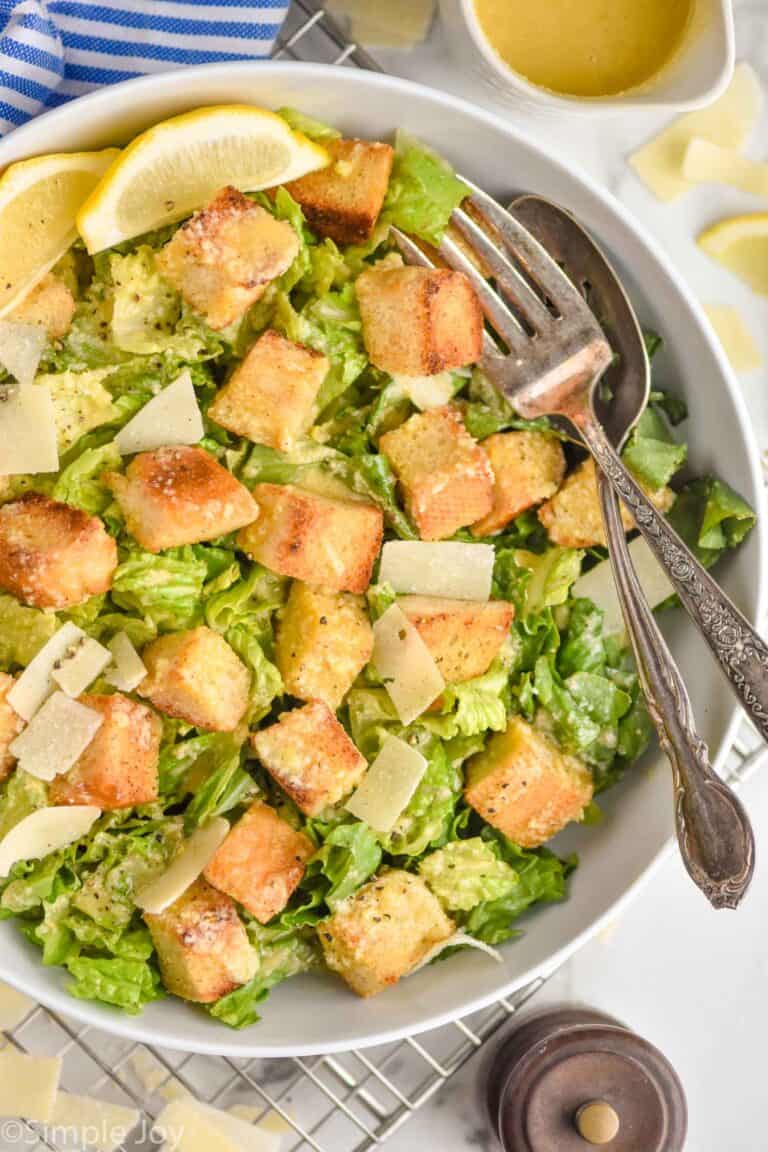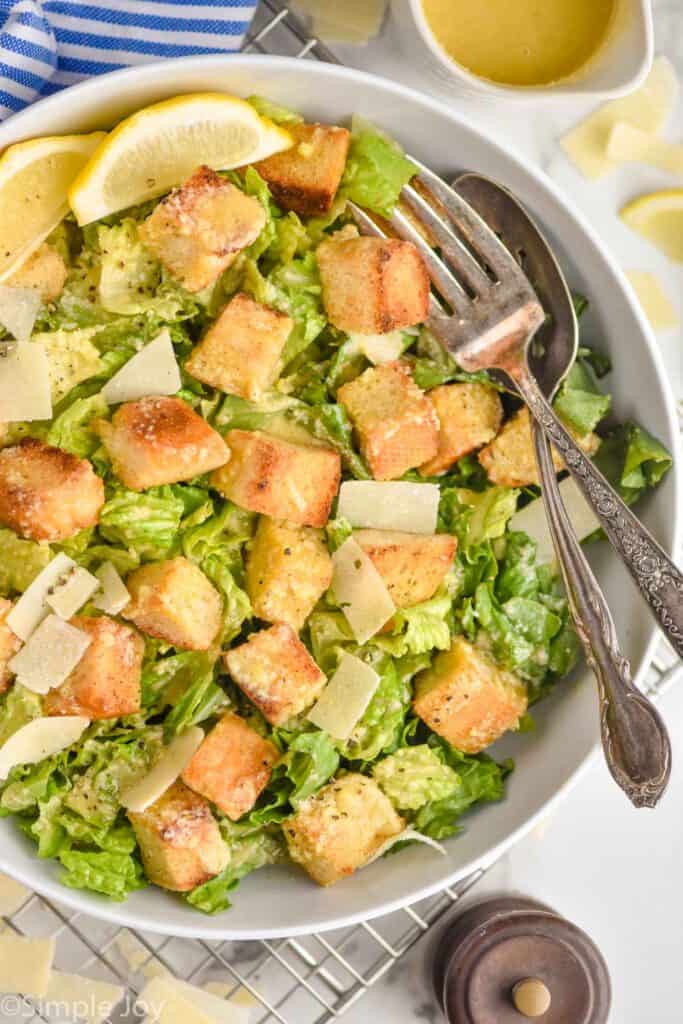 I love hearing from you! If you make this Caesar Salad please leave me a comment and let me know what you think!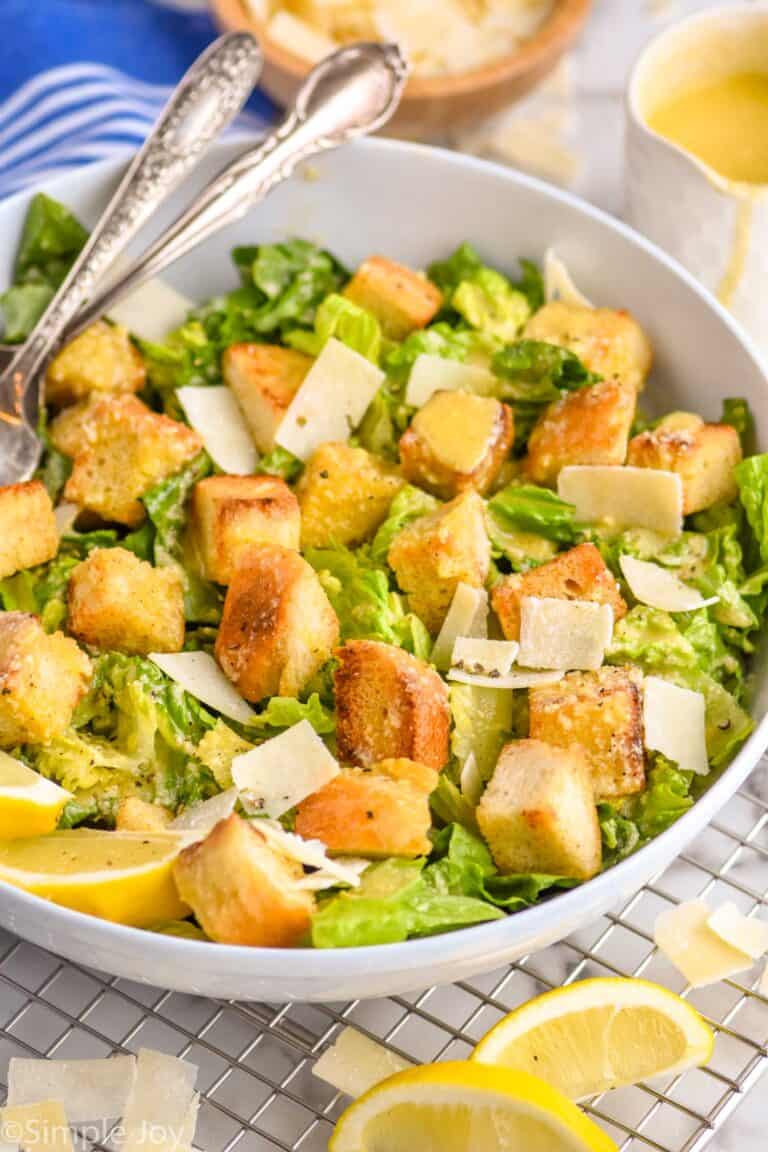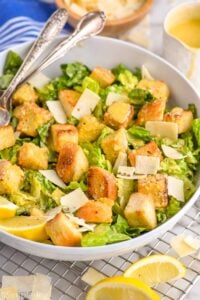 Ceasar Salad
Who doesn't love a big giant Caesar Salad? This Caesar Salad recipe is easy to make with a simple delicious dressing.
Ingredients
Homemade Croutons
4

cups

cubed French Bread

1/4

cup

extra virgin olive oil

1/2

teaspoon

garlic powder

1/2

teaspoon

kosher salt
Caesar Salad Dressing
2

cloves garlic

finely minced

1/2

tablespoon

anchovy paste

2

egg yolks

(if you are nervous about raw eggs, please see these notes)

1/2

teaspoon

salt

1/8

teaspoon

black pepper

2 1/2

tablespoons

lemon juice

1/4

cup

olive oil

1/2

cup

Parmesan cheese

finely grated
Salad
2

medium heads of Romaine lettuce

chopped to bite size pieces

more Parmesan

cut with a vegetable peeler for topping
Instructions
To Make Croutons
Preheat your oven to 350 degrees. Line a baking sheet with parcment paper and set aside.

In a small measuring cup, whisk together the olive oil, garlic powder, and salt. Toss with the bread cubes in a large bowl.

Transfer to the preapred baking sheet and bake for 12 to 15 minutes, tossing them once during baking. Bake until they are golden brown.
To Make Dressing
In a small bowl, combine the garlic and anchovy paste. Whisk in egg yolks, salt, black pepper, and lemon juice. Starting a little at a time, whisk in the olive oil. Please see my notes in the post about why adding the olive oil slowly is important. Finally, whisk in the grated Parmesan cheese.

Taste the dressing and add more salt, pepper, or lemon juice to taste.
To Make Salad
Toss with Romaine lettuce in a large salad bowl. Top with croutons and more Parmesan.
Calories:
301
kcal
(15%)
Carbohydrates:
19
g
(6%)
Protein:
9
g
(18%)
Fat:
24
g
(37%)
Saturated Fat:
18
g
(113%)
Polyunsaturated Fat:
3
g
Monounsaturated Fat:
15
g
Trans Fat:
2
g
Cholesterol:
74
mg
(25%)
Sodium:
854
mg
(37%)
Potassium:
53
mg
(2%)
Fiber:
1
g
(4%)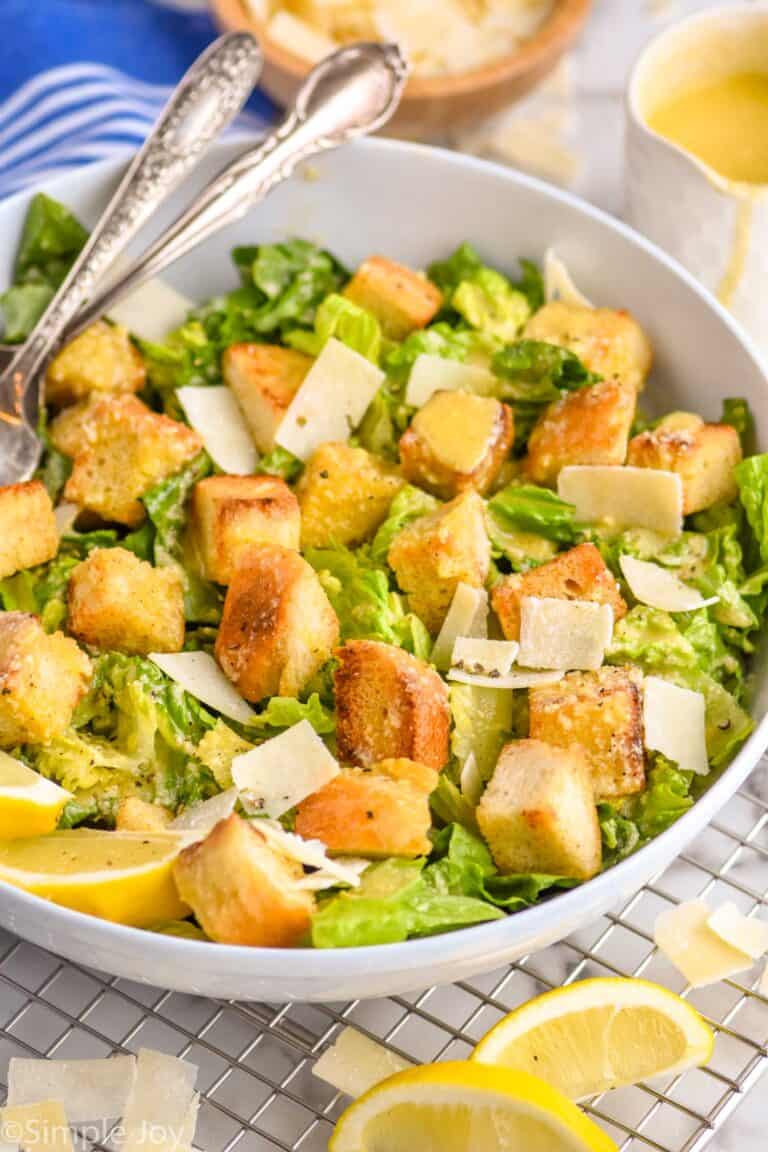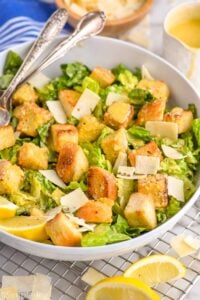 did you make this
Ceasar Salad