These Super Bowl Slammers are a simple Dr Pepper Cocktail that is perfect for gameday or any day! Make them even more fun sharing them in these easy DIY Football Glasses!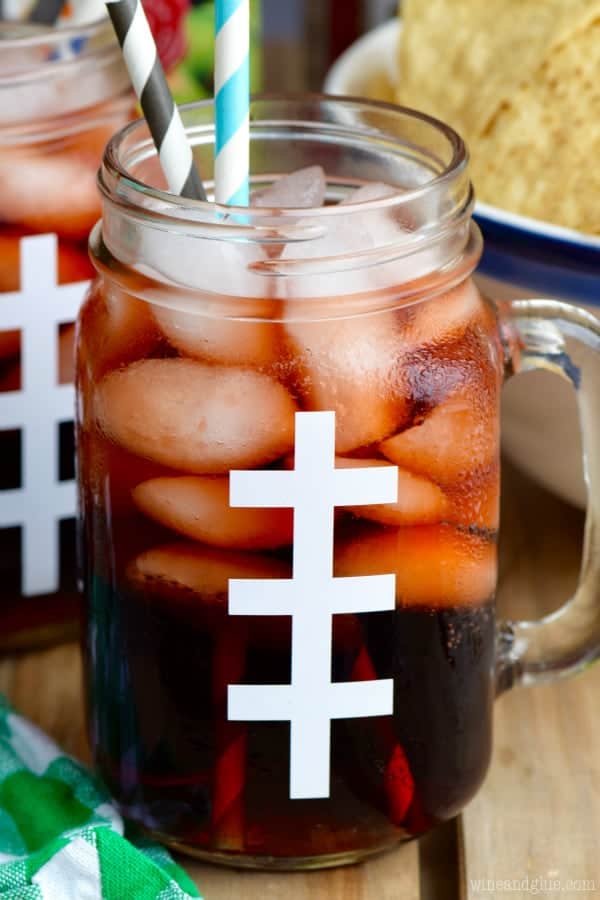 If it hasn't been made clear yet, I think this post should really straighten things out . . . I only am interested in football for the food. I mean, I will watch the game (usually the Packers) and I know what's going on. I can follow along. But I really only want to do it all so that I can eat yummy snacks and drink yummy drinks. Basically I could start a whole new blog called, Game Day Grub.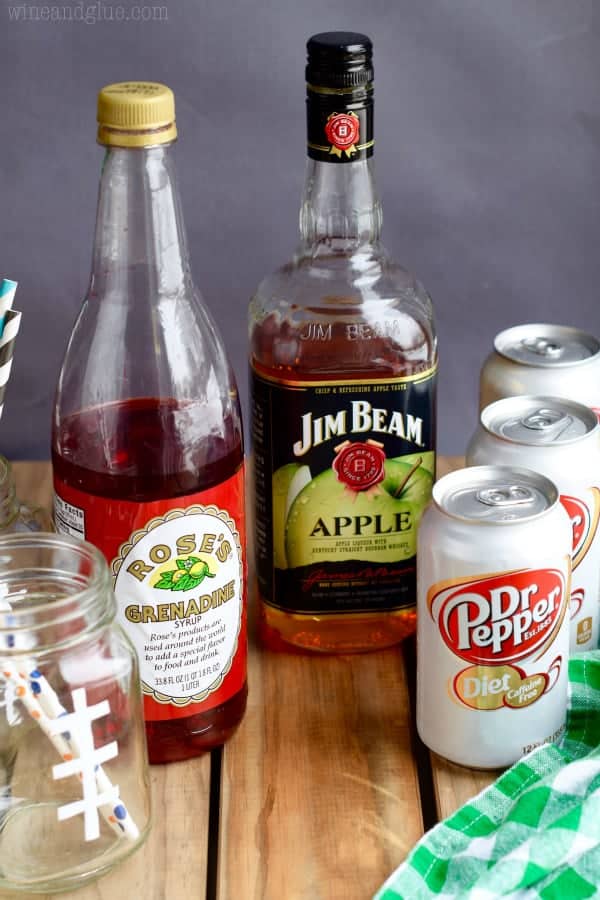 That's actually not a bad idea . . . okay, it's a horrible idea. I barely have the time to keep this blog a float.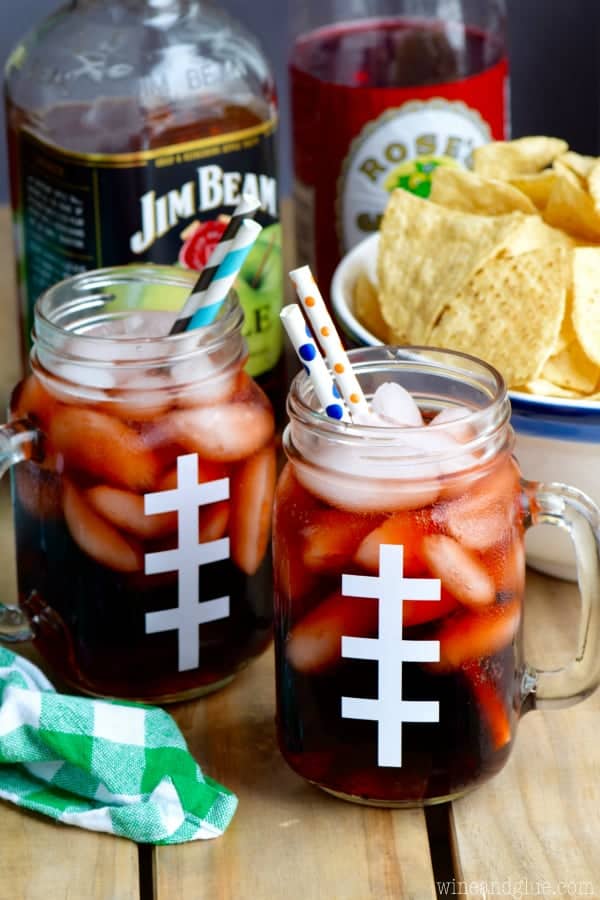 But hand me some of this bread or this soup or a pitcher of this and I'm a pretty happy girl. I'm always willing to dig into this cheeseball and I would never pass up one of these! See! It's all about the food for me! And now I have another drink that is perfect for gameday! These Superbowl Slammers!
I may or may not have made them up based on a rather famous wings restaurnt's drink menu. They were smart. Because these are FANTASTIC! And they are so super simple to make. Apple whisky, Dr Pepper, and grenadine. It's like apple and cherry combined. DELICIOUS! And I mean, how can you pass up a Dr Pepper cocktail?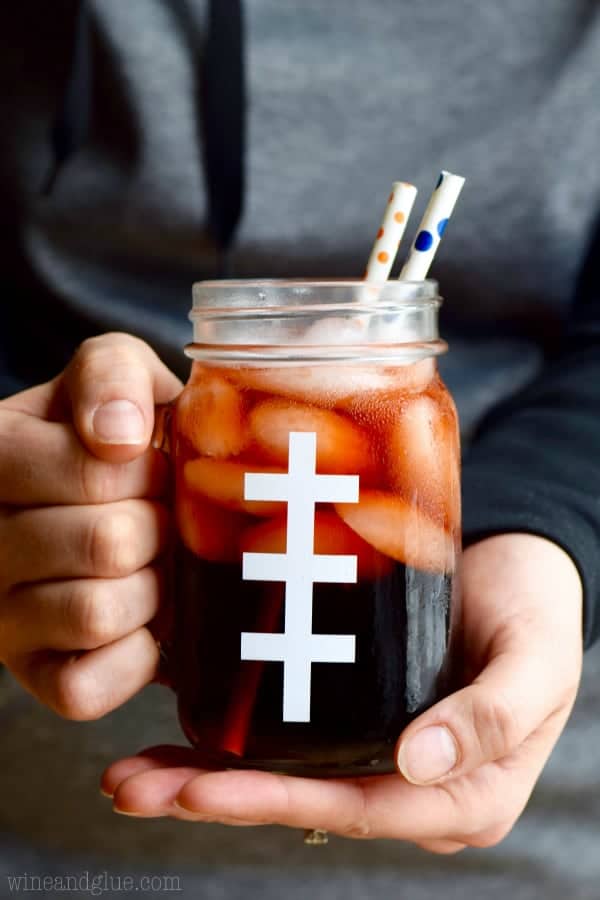 And if you want the tutorial on how to make these fun DIY Football Glasses, just scroll on down beneath the recipe!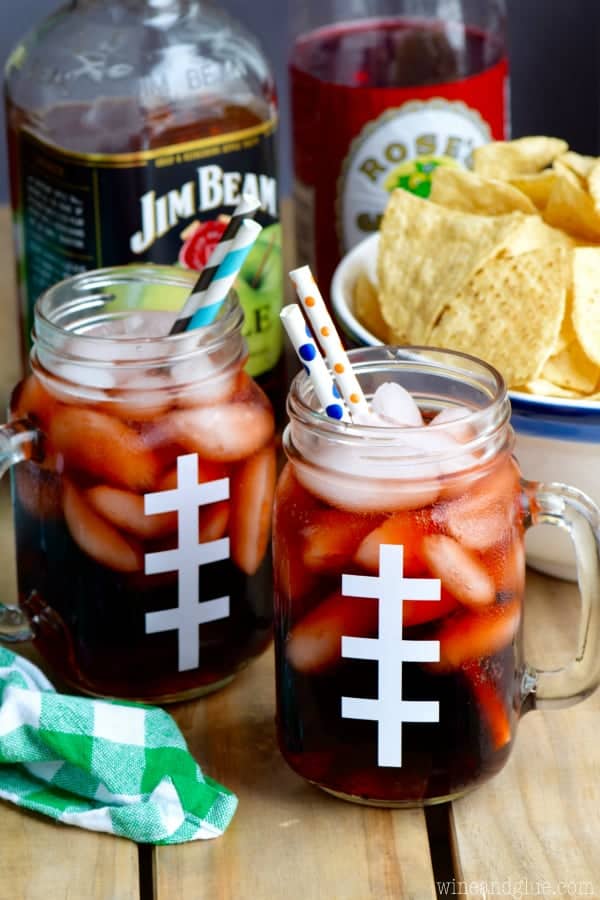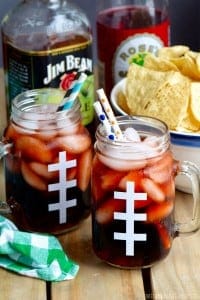 Super Bowl Slammer & DIY Football Glasses
Ingredients
12

oz

Dr. Pepper

2

oz

apple flavored whiskey

2

oz

grenadine
Instructions
Mix all ingredients together.

Fill two Football Glasses with ice and divide between the two glasses.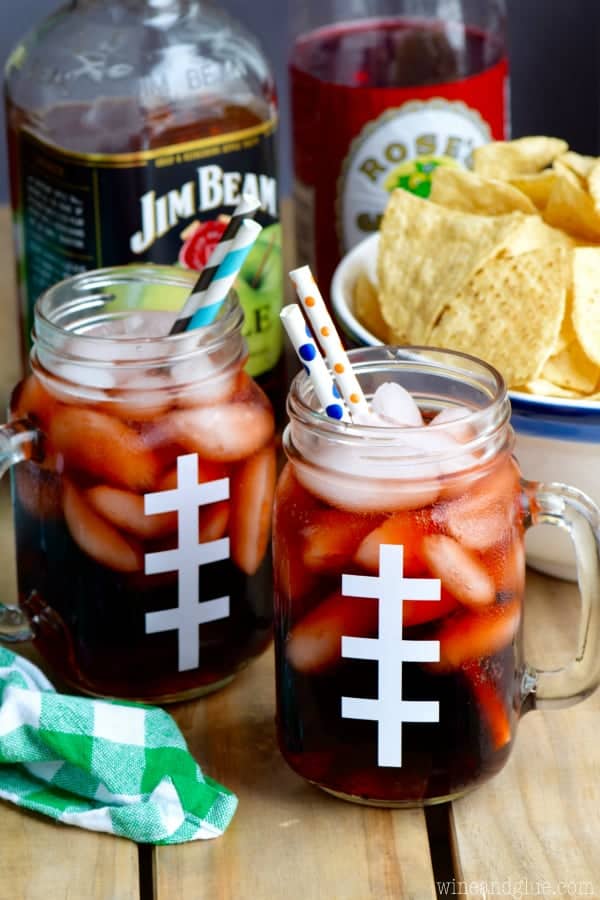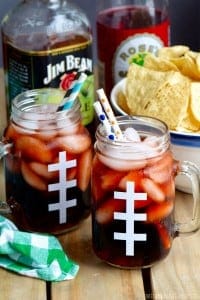 did you make this
Super Bowl Slammer & DIY Football Glasses
To make these awesome glasses you just need to pick up some of these fun mason jar glasses and some white vinyl. The glasses can be found at the dollar store. And you can get the vinyl online or at a craft store.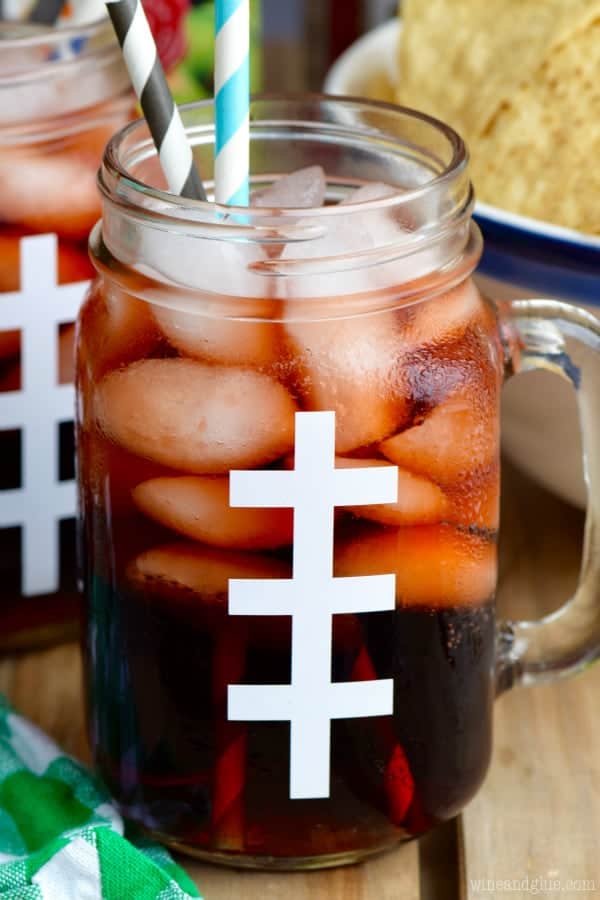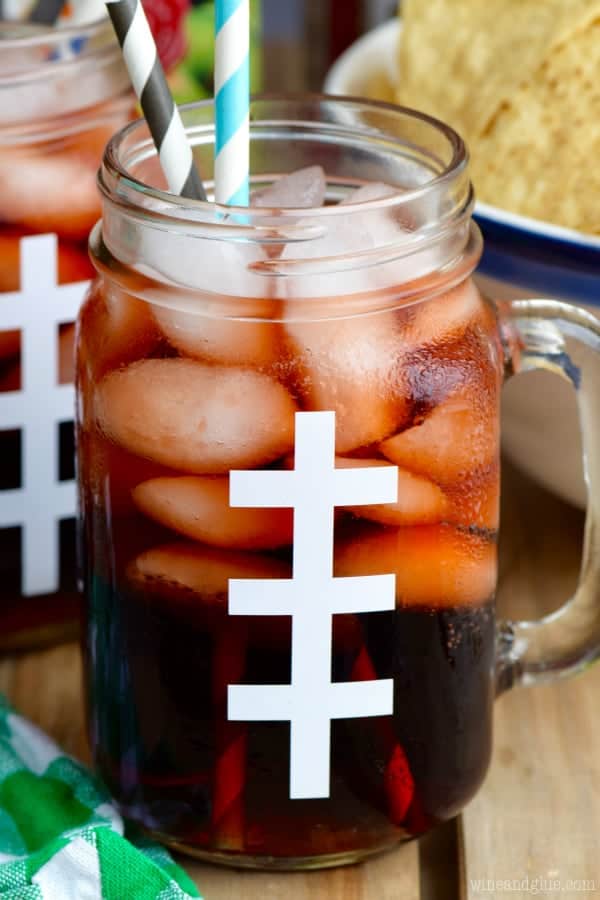 So, if you have a Silhouette, you can download this file and cut a bunch for a rocking Super Bowl Party.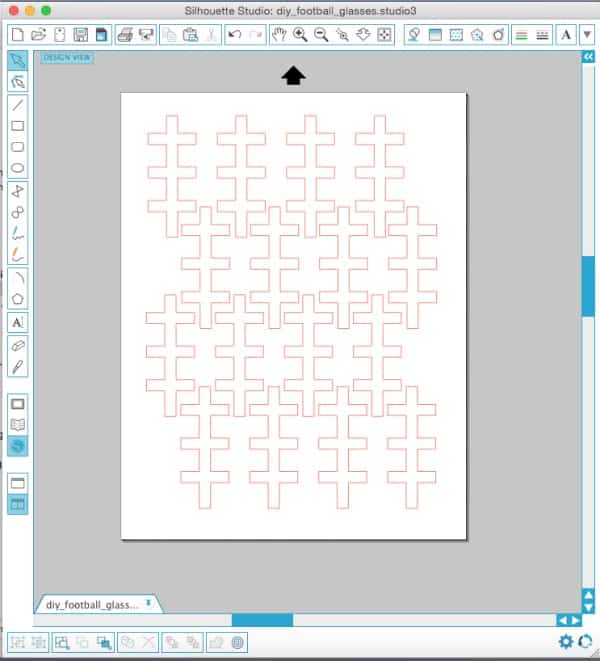 But if you don't have a Silhouette, have no fear! You can just draw some 3 inch laces on the back of the vinyl and cut them out!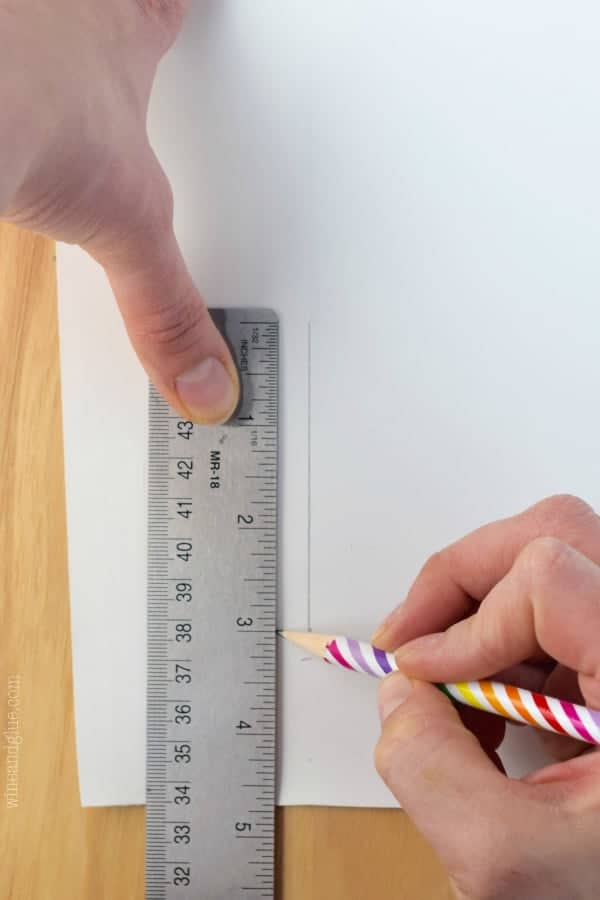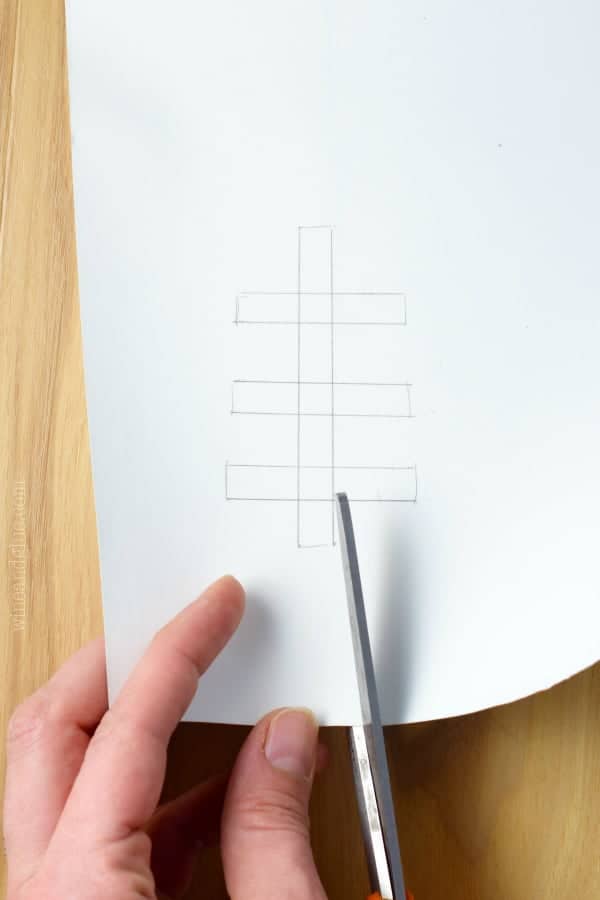 The glasses will hold up to your party but not your dishwasher, so just keep that in mind!