This Chicken Fried Rice is a simple one-pot dinner the kids will gobble up. Less expensive than takeout with the taste that you crave!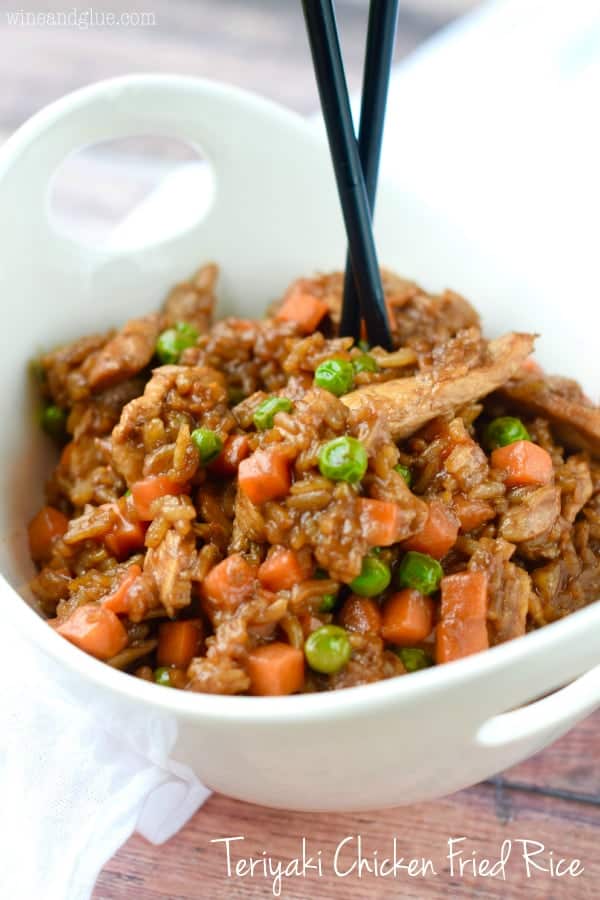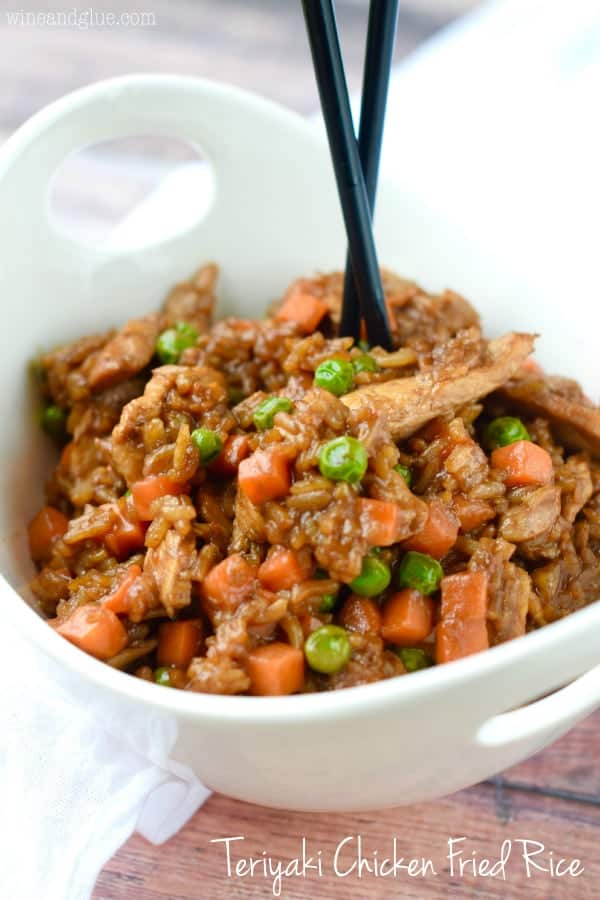 So the tagline of this recipe should be "An easy one pot dinner the kids will gobble up! . . . . You know, assuming that they are normal and not possessed by an evil spirit that has infested them for the sole purpose of making you certifiably insane before you turn 40." I thought for sure that this recipe would be a total win with my whole family. Delicious teriyaki? Check. Rice that everyone loves? Check. The neutral and go to chicken? Check. Peas and carrots that everyone always eats without protest? Check. But I didn't take into account MY kids, who are determined to drive me insane with their pickiness. Haha. I love them!
Nevertheless I'm calling this recipe a win. It's easy, nutritious, and you really can't go wrong with a one pot dish. Just make sure that no Quinnys sneak up to your dinner table and throw your sanity and sense of peace off.
Am I the only one whose kids are bound and determined to send me to the nut house? I'd love to hear from you, friends! Drop me a comment below. Meanwhile, let's talk teriyaki!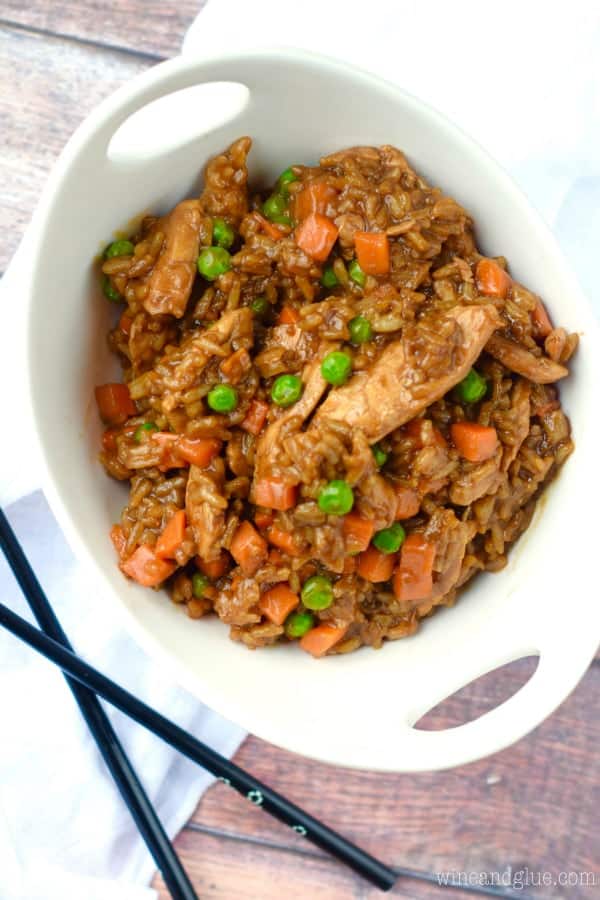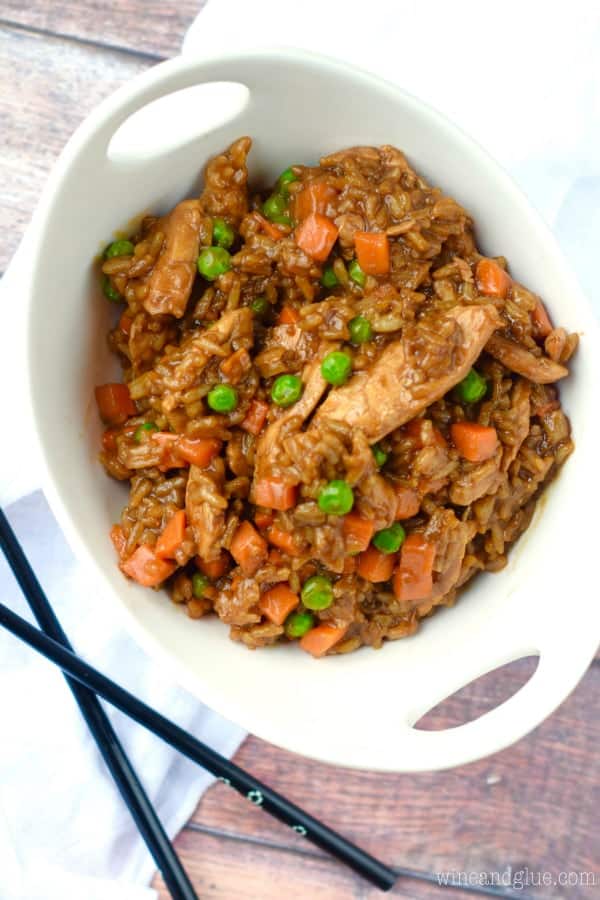 TASTES BETTER THAN TAKE-OUT
I love this recipe because I can get my take-out fix without spending a lot of money. This dish comes together with just a few simple ingredients:
Thinly sliced chicken: I like to keep a bunch of frozen chicken breasts on hand in the freezer for meals like this. Just thaw out two or three breasts and slice them up. The thin slices cook quickly, making this dish come together faster than you can go pick up take-out!
Cooked leftover rice: This recipe works best with rice that's at least four hours old. If you start out with sticky, freshly cooked rice, it'll turn out soggy without those separate grains that makes for good fried rice. Refrigerating about a day ahead of time will give the grains time to dry out and give your rice a perfect texture.
Next, you'll need some teriyaki sauce: Use your favorite brand, any kind will do. You can also make your own, but I tend to have a bottle in my fridge at all times. It's so easy to toss into noodles, rice, veggies, anything.
Speaking of veggies, that's your final ingredient. I like to use frozen peas and carrots since that's what my sweet darling picky eaters will tolerate. But you can use any kind of frozen vegetables you like!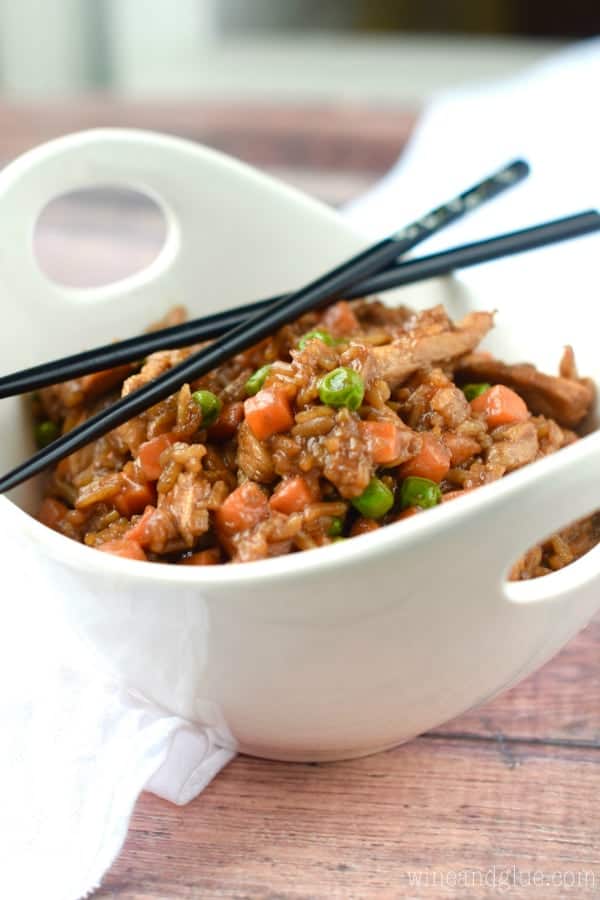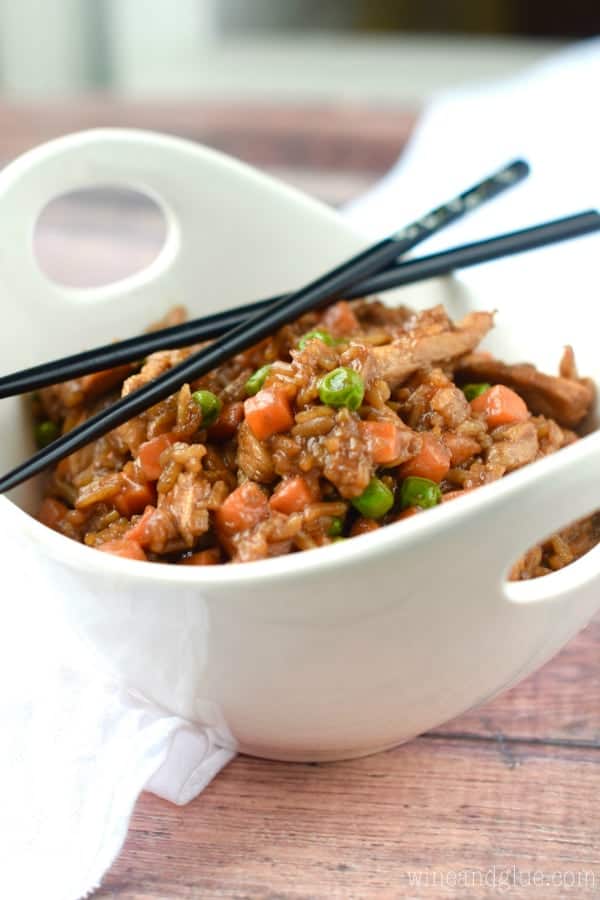 ADDITIONS AND SUBSTITUTIONS FOR THIS EASY FRIED RICE
Not a fan of peas and carrots? Try tossing in some broccoli, pea pods, green beans, corn, a stir-fry mix, frozen vegetables, anything you like! I like using frozen vegetables that are already cooked so it comes together even faster.
Swap out the chicken for sliced pork, steak or even ground turkey.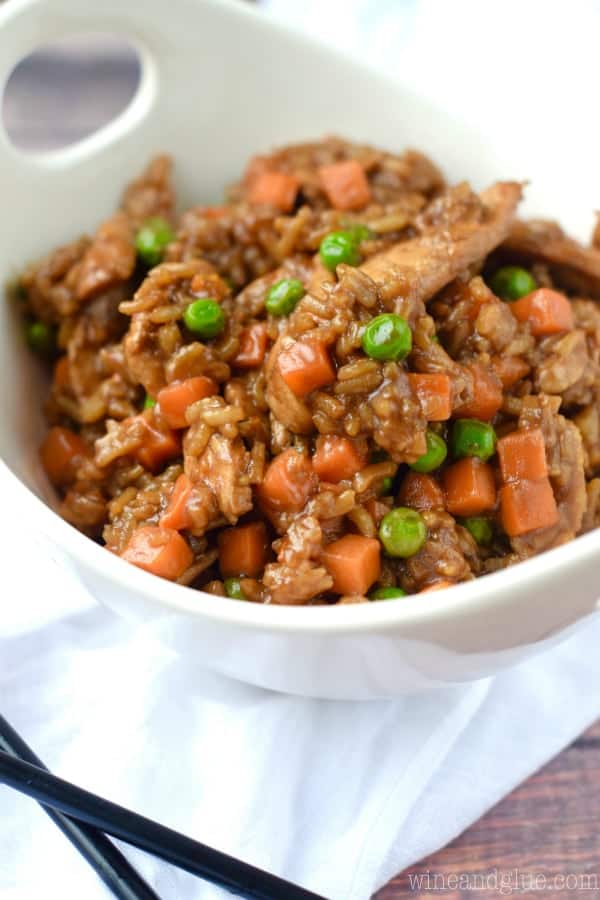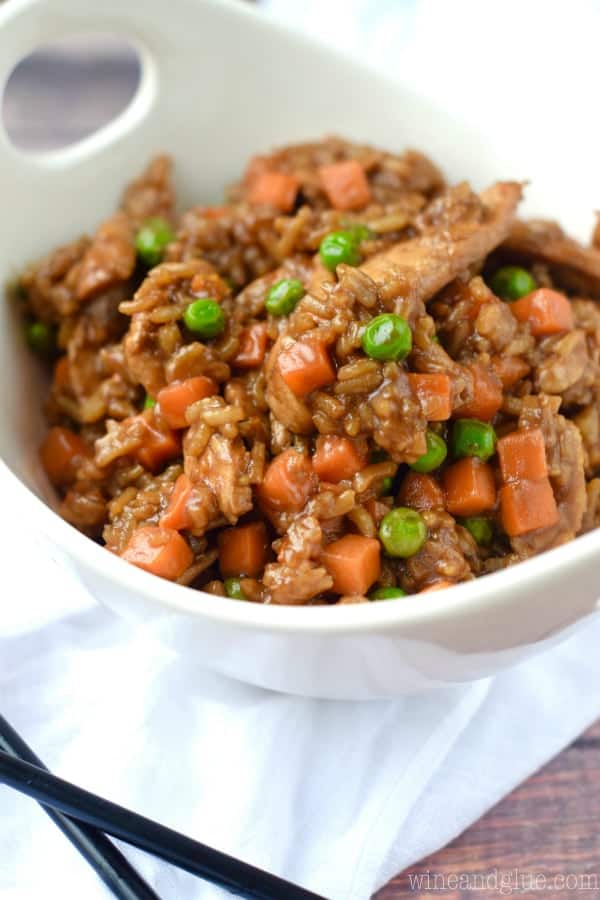 WHAT TO SERVE WITH CHICKEN FRIED RICE
This dish can be eaten all on its own, or you can serve with any of these delicious recipes for a full feast:
I hope you love this easy chicken fried rice recipe. It's absolutely delicious, full of flavor and could not be easier to prepare. Please drop me a comment below and as always, be sure to follow me on Facebook or Instagram for more ideas! Enjoy!!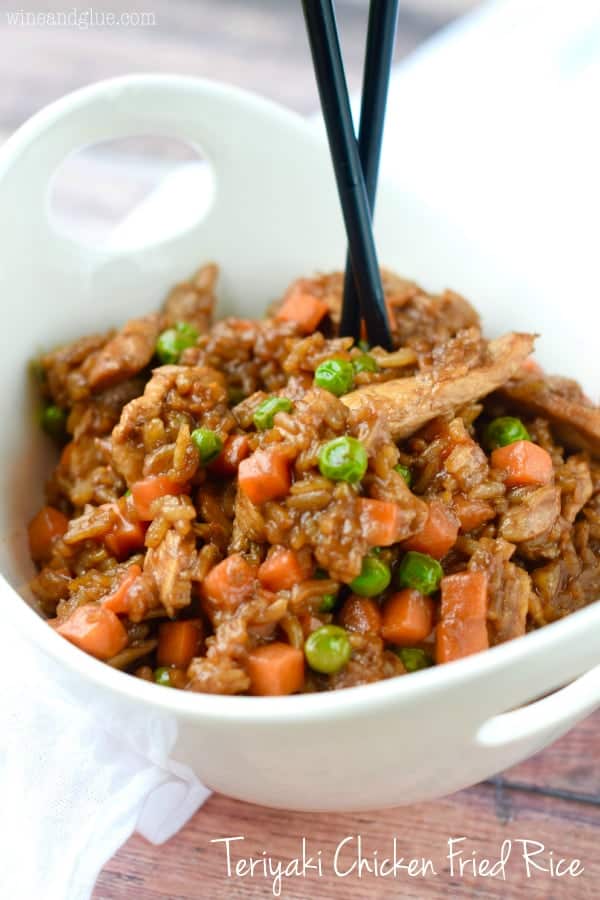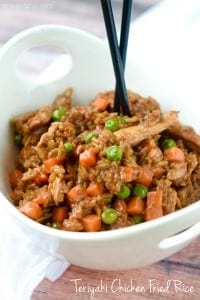 Teriyaki Chicken Fried Rice
This Chicken Fried Rice is a simple one-pot dinner the kids will gobble up. Less expensive than takeout with the taste that you crave!

Ingredients
1/4

cup

vegetable oil

1

lb

chicken

sliced thin

3

cups

cooked left over rice

at least four hours old

1

cup

teriyaki sauce

2

cups

frozen veggies

I used peas and carrots
Instructions
Heat the oil over medium high heat. Cook the chicken until it is browned on the outside.

Add the left over rice and cook for about five minutes.

Add the Teriyaki sauce and stir to coat the chicken and the rice.

Add the frozen vegetables and continue cooking another two to three minutes to ensure that they are warmed to the temperature of the rest of the dish.
Serving:
1
serving
Calories:
510
kcal
(26%)
Carbohydrates:
61
g
(20%)
Protein:
31
g
(62%)
Fat:
16
g
(25%)
Saturated Fat:
2
g
(13%)
Polyunsaturated Fat:
9
g
Monounsaturated Fat:
3
g
Cholesterol:
108
mg
(36%)
Sodium:
820
mg
(36%)
Potassium:
342
mg
(10%)
Fiber:
5
g
(21%)
Sugar:
28
g
(31%)
Vitamin A:
70
IU
(1%)
Vitamin C:
10
mg
(12%)
Calcium:
2
mg
Iron:
14
mg
(78%)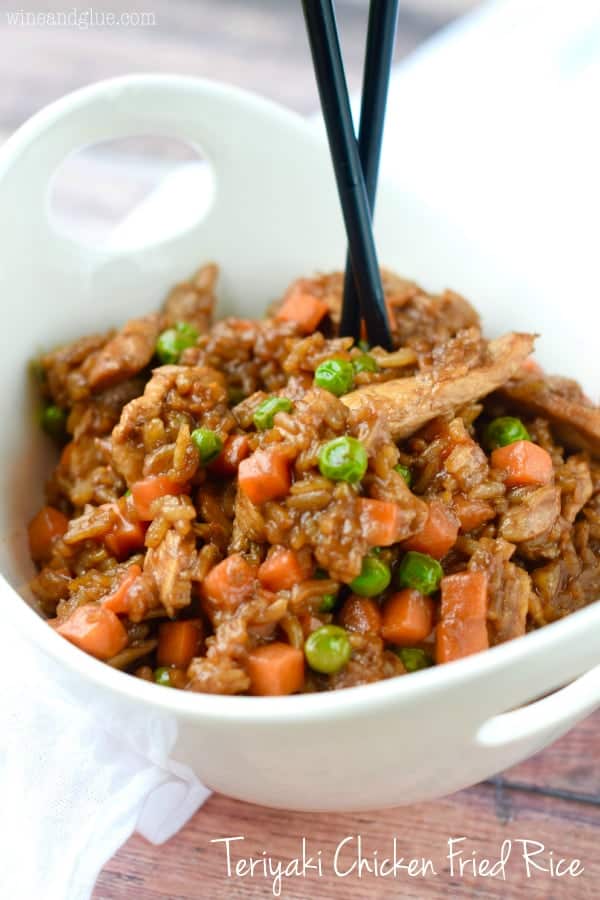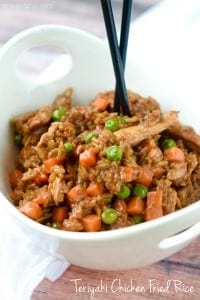 did you make this
Teriyaki Chicken Fried Rice