This Easy Shrimp Fried Rice recipe comes together in about 15 minutes and is sure to be a crowd pleaser. With just a few simple ingredients you can wow your family with shrimp and fried rice.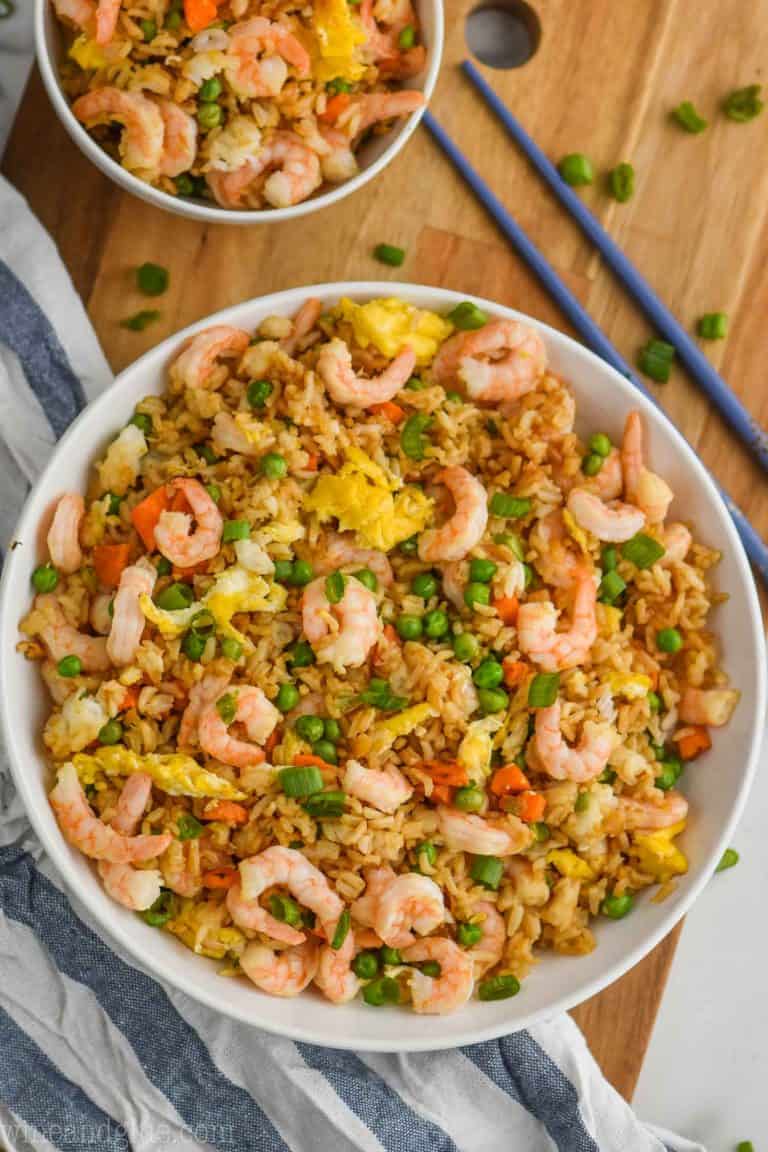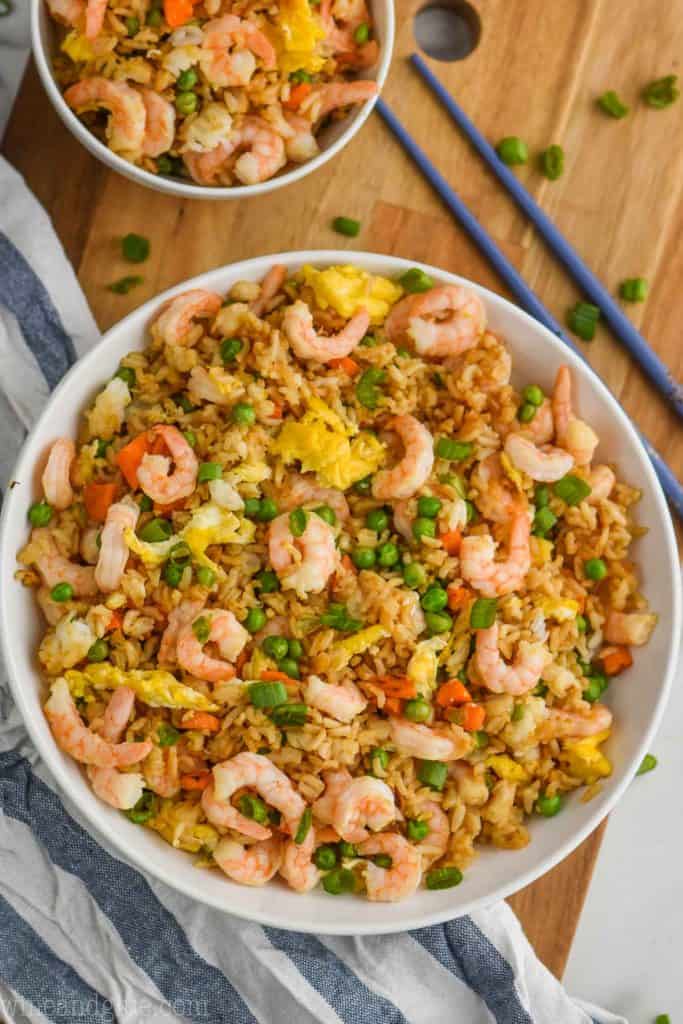 I'm proud to be working with Cuisinart to showcase their 360° Griddle Cooking Center! Make this great Shrimp Fried Rice recipe on it as well as a million other dinners!
With summer in full swing, I'm literally looking for any excuse possible to not make my family dinner. I will throw in a frozen pizza, I will order take out, and I will even beg my husband to make something . . . which is usually frozen chicken nuggets. (He has many redeeming qualities, but his skills in the kitchen aren't on the list.)
Cooking Shrimp Fried Rice Outside
Enter the amazing Cuisinart 360 Griddle Cooking Center! Guys. It turns out if I can be outside in the sunshine and holding a cold drink in my hand, I really don't mind cooking dinner as much.
There are so many things that I love about the 360° Griddle Cooking Center, but let me just highlight a few for you:
It is a full 22-inch diameter cooking top, so unlike a gas grill, everyone can stand around and talk to the person cooking. So much better than cooking at my stove.
The 360° Griddle Cooking Center is compact. It has a fold down side and is so neat and small, taking up very little space on my deck. But it still has a great giant surface area for cooking!
There is a clean-up tray around it. So the stray rice that got away from me while making this got neatly wiped away without a second thought.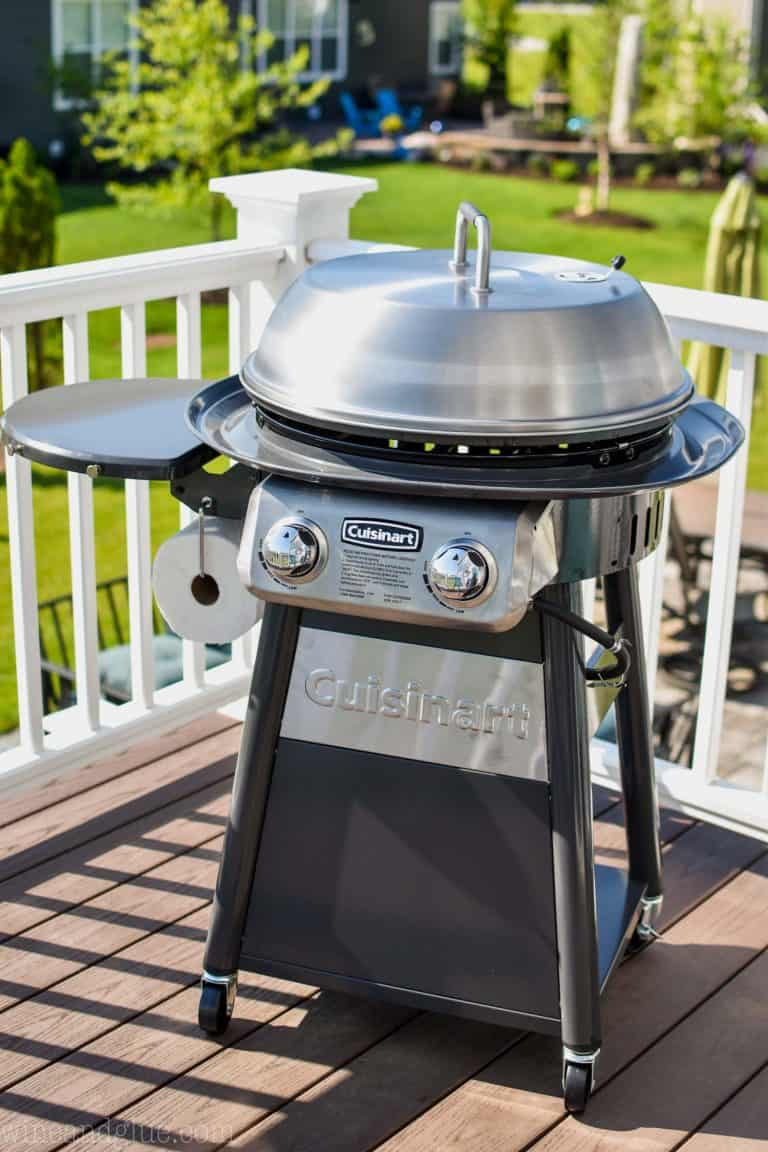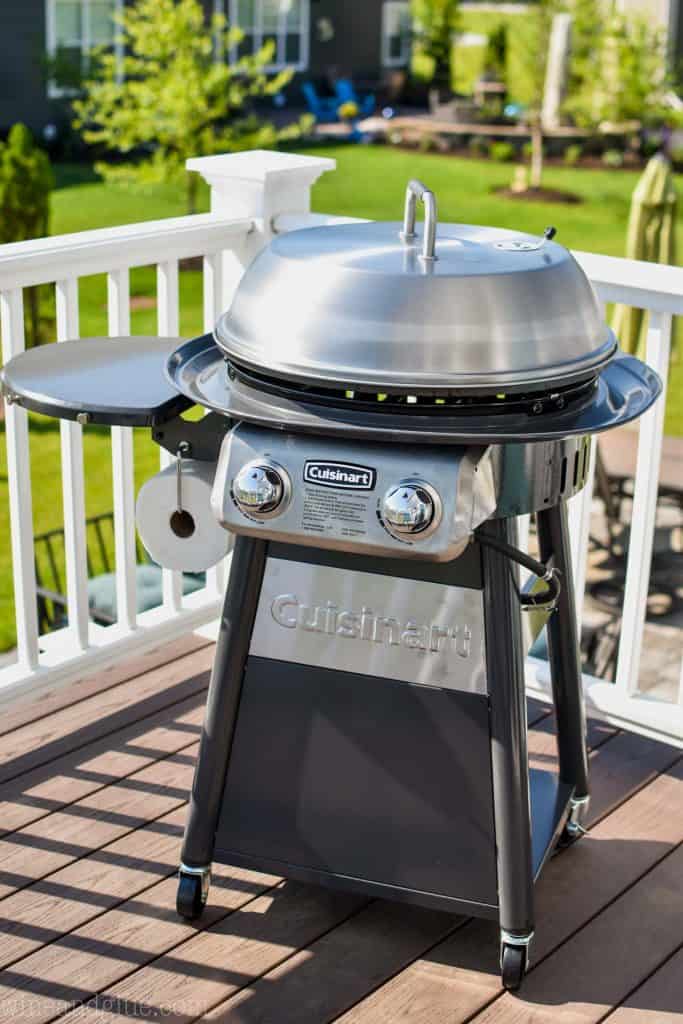 Given the nice flat griddle surface, the possibilities are endless. The next things I'm making on this (in no particular order) are: quesadillas, pizza, and breakfast sandwiches!
And with the venting lid, I can make great steamed vegetables to go on the side of all of that!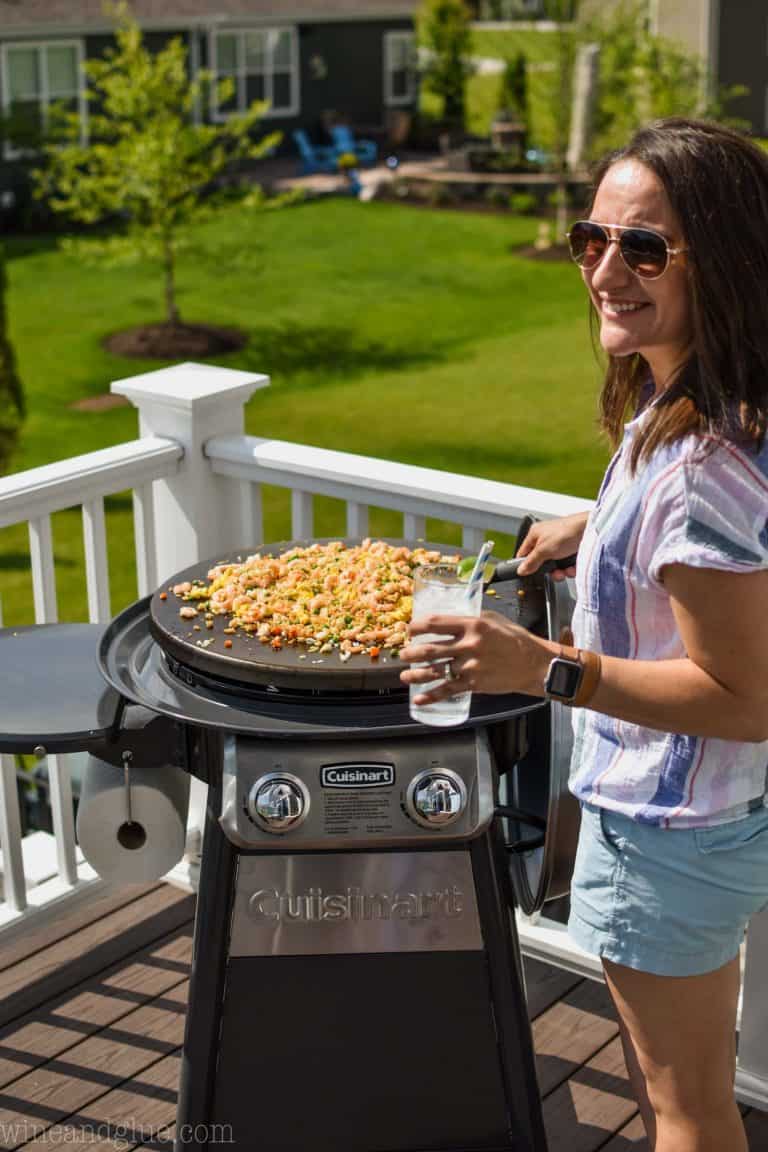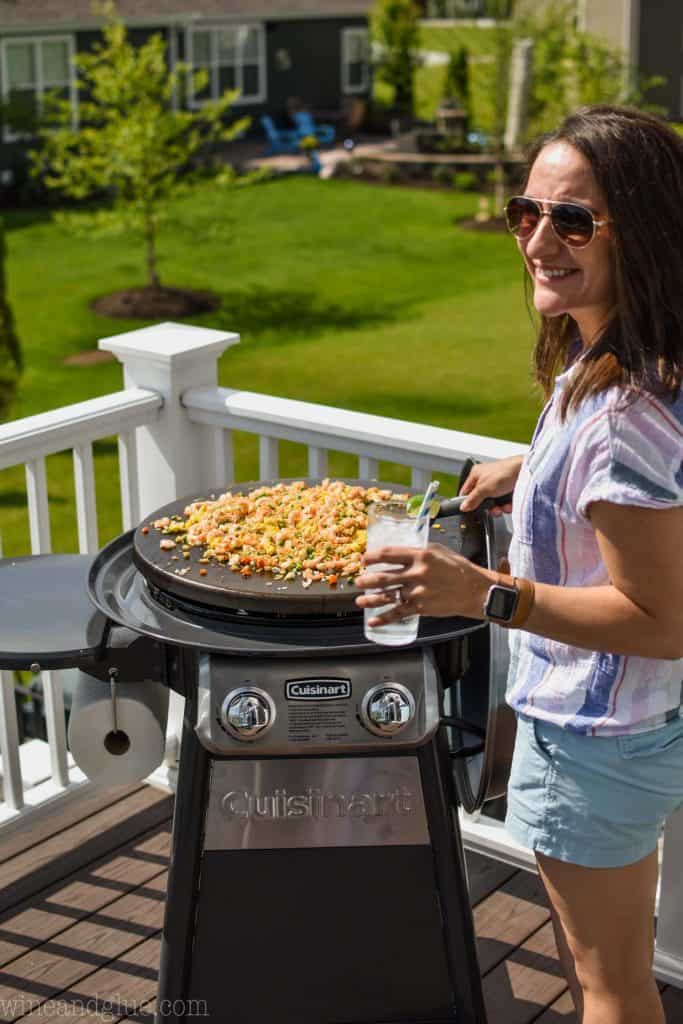 The 360° Griddle Cooking Center was great for cooking my shrimp fried rice recipe. I love that it didn't make my house smell like oil, and it was perfect to make out in the gorgeous weather.
How to Make Shrimp Fried Rice
This is a really simple dinner to make. It is done in about 15 minutes. But there are some things that make it easier.
The key to a great shrimp fried rice recipe is a hot cooking surface, with the dual cooking zones of the 360° Griddle Cooking Center, that was easy. You want your oil to smoke before you throw your shrimp on.
Cook your ingredients in batches. While we all love recipes that you can just throw everything on at once, this recipe really works best when you cook things separately. And guys. Still only 15 minutes.
Use old rice. You want to use left over rice or rice that has dried out, because it will absorb the flavors of this recipe so much better.
Get creative. This is an easy versatile recipe. If you want to throw in more vegetables like corn or broccoli, do it!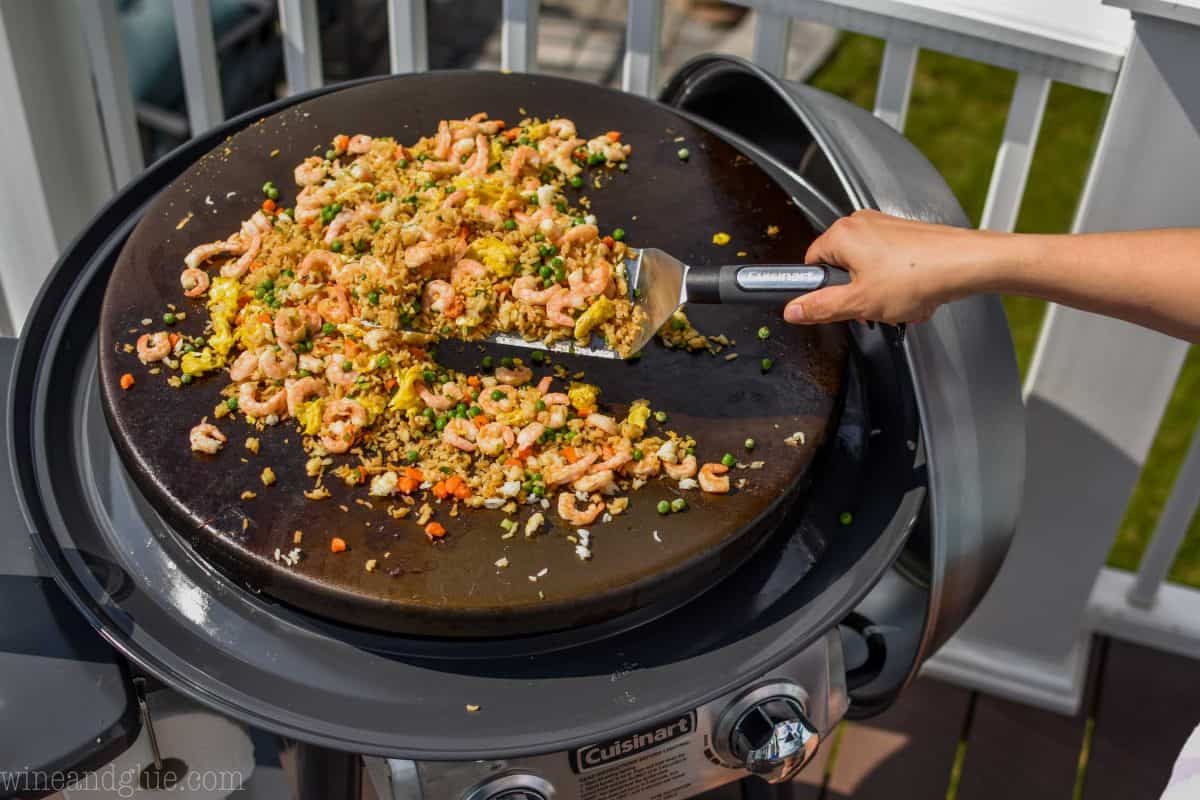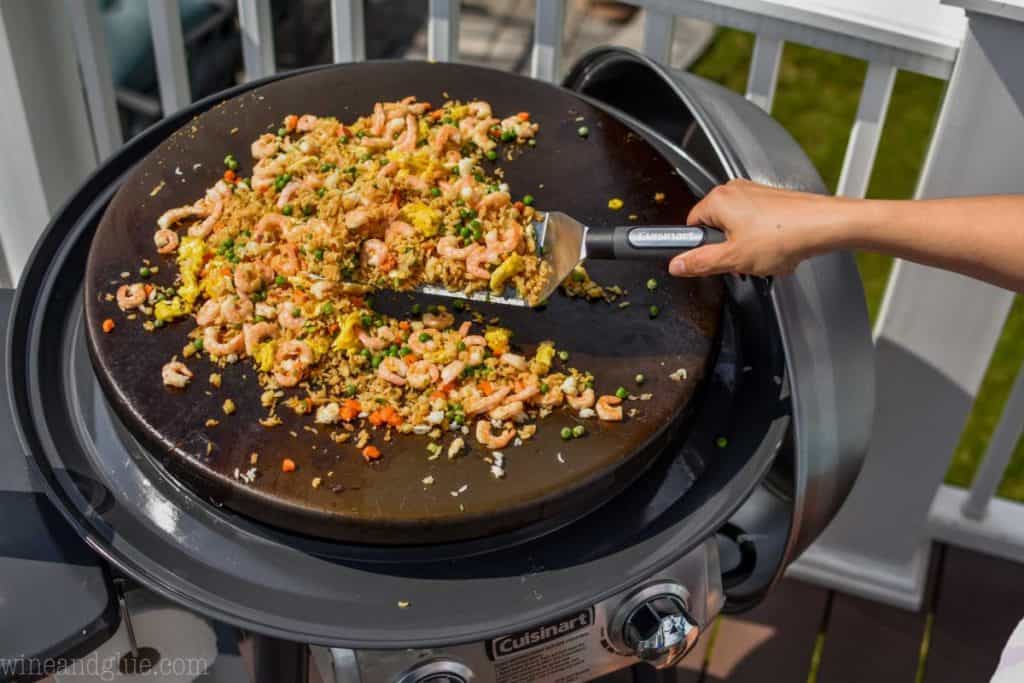 Other Recipes that would be Great to Make on the Griddle
These recipes would easily translate to cooking outdoors, making life much more fun in the summer!
If you try me this shrimp fried rice recipe, please leave me a comment and let me know what you think!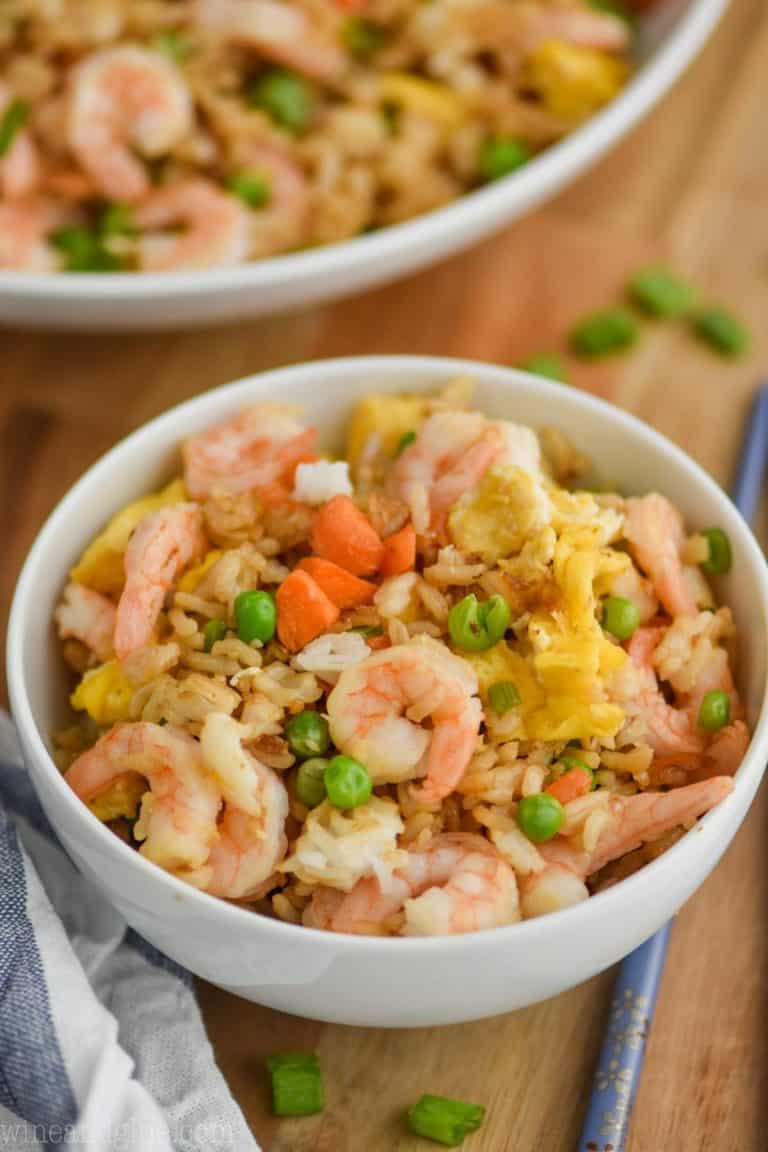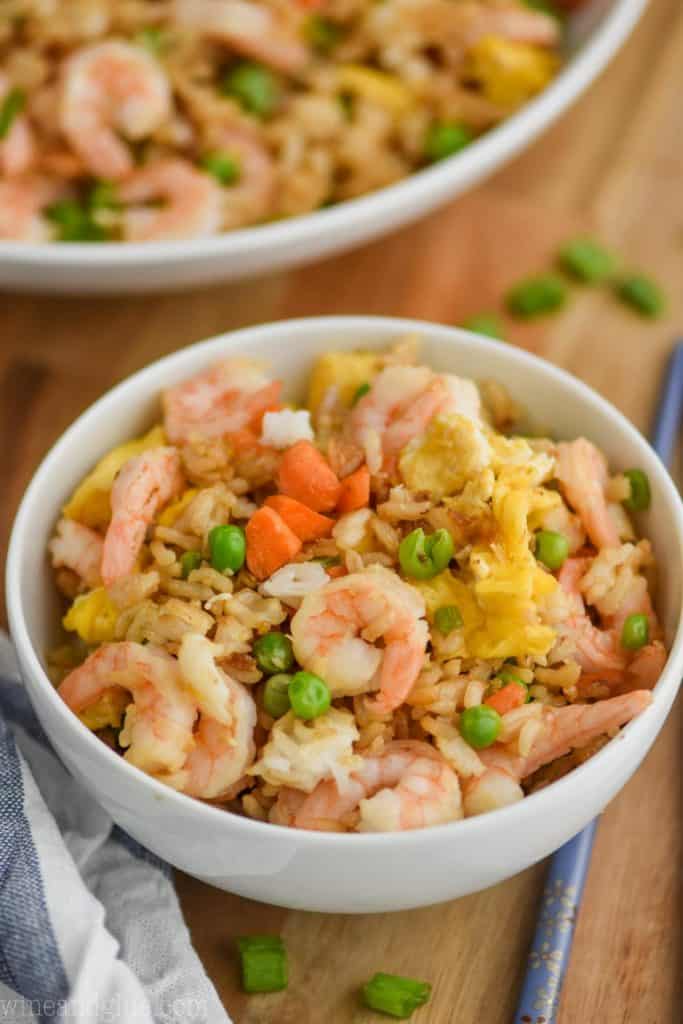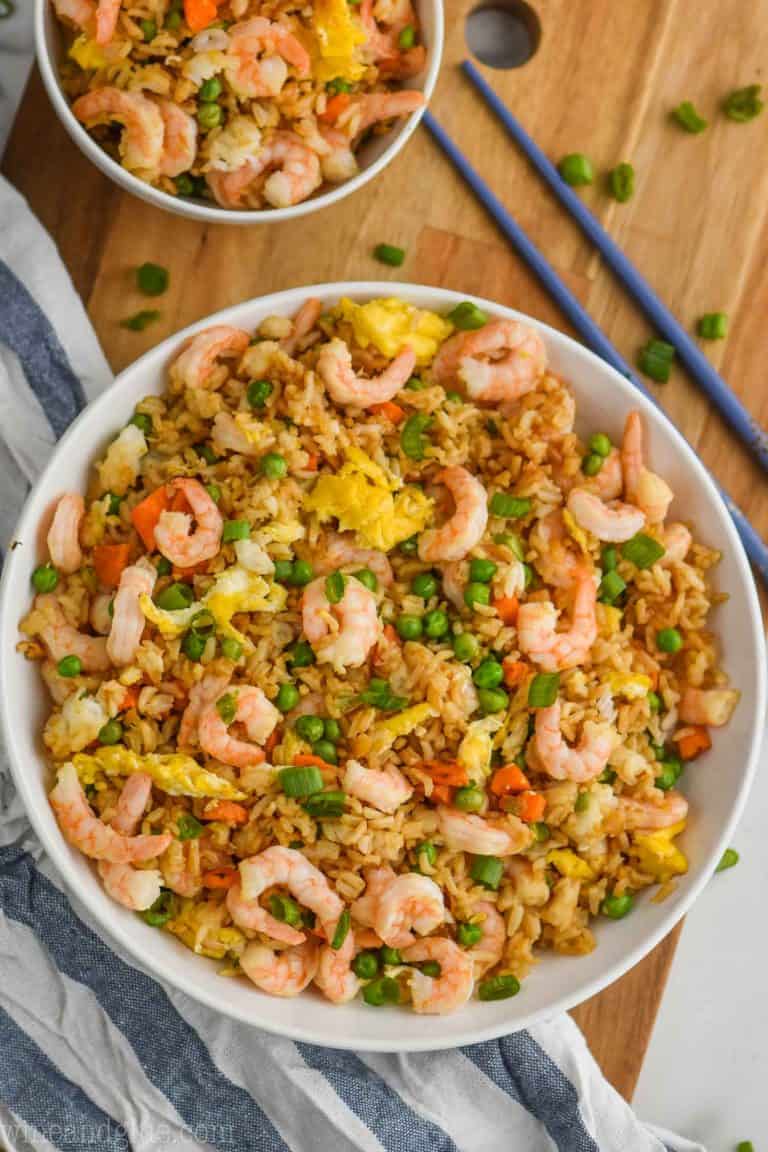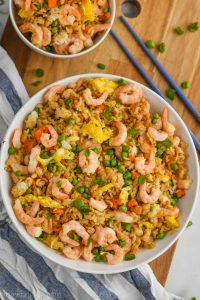 Shrimp Fried Rice Recipe
This Easy Shrimp Fried Rice recipe comes together in about 15 minutes and is sure to be a crowd pleaser. With just a few simple ingredients you can wow your family with shrimp and fried rice.
Ingredients
2

tablespoons

sesame oil

1

pound

raw frozen small salad shrimp

thawed according to package instructions

2

medium carrots

diced

3

eggs

whisked

5

green onions

diced

2

cloves

garlic

minced

4

cups

rice

(cooked, cooled, and refrigerated at least four hours)

3

tablespoons

soy sauce

1

cup

frozen peas
Instructions
Heat cooking surface over high heat.

Add oil and heat until smoking.

Add the shrimp and cook for 3 to 5 minutes or until they have just turned pink. Be careful not to overcook the shrimp. Remove the shrimp and set aside.

Add diced carrots, and cook until tender, about five minutes. Remove from the cooking surface and add to the shrimp.

Pour the eggs onto the cooking surface. Using a metal spatula, scrape from the outsides to the center, flipping them as you cook them. Cook until just done and remove.

At this point you may need to add a little more oil. If you do, add only a teaspoon or two.

Add the green onions and garlic to the pan, stirring well. Cook until fragrant, about thirty seconds, making sure not to burn the garlic. Stir in the rice, coating it completely. Add the shrimp, carrots, and eggs back to the rice. Stir in the frozen peas, and soy sauce and cook for another minute until the peas are just thawed.
Notes
Please note that this recipe serves about 5 people. Nutritional information is based on 1 cup of the recipe and the recipe makes 7 cups total.
Serving:
1
cup
Calories:
247
kcal
(12%)
Carbohydrates:
32
g
(11%)
Protein:
15
g
(30%)
Fat:
7
g
(11%)
Saturated Fat:
1
g
(6%)
Polyunsaturated Fat:
2
g
Monounsaturated Fat:
2
g
Cholesterol:
174
mg
(58%)
Sodium:
793
mg
(34%)
Potassium:
139
mg
(4%)
Fiber:
1
g
(4%)
Sugar:
2
g
(2%)
Vitamin A:
3650
IU
(73%)
Vitamin C:
5.8
mg
(7%)
Calcium:
110
mg
(11%)
Iron:
2
mg
(11%)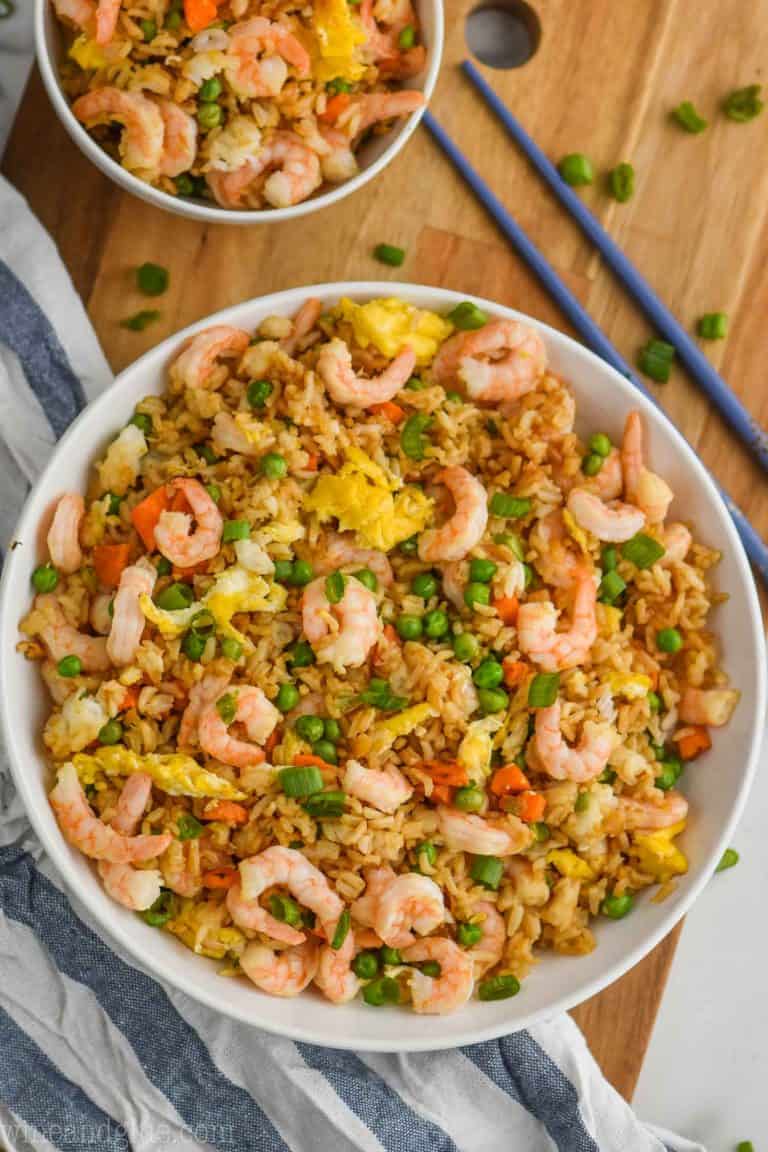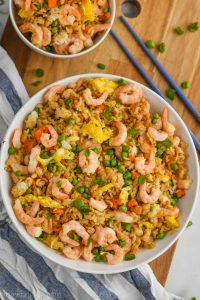 did you make this
Shrimp Fried Rice Recipe