These Winter Wonderland Shadow Box Ornaments are so easy to make! A perfect addition to your tree or to gift!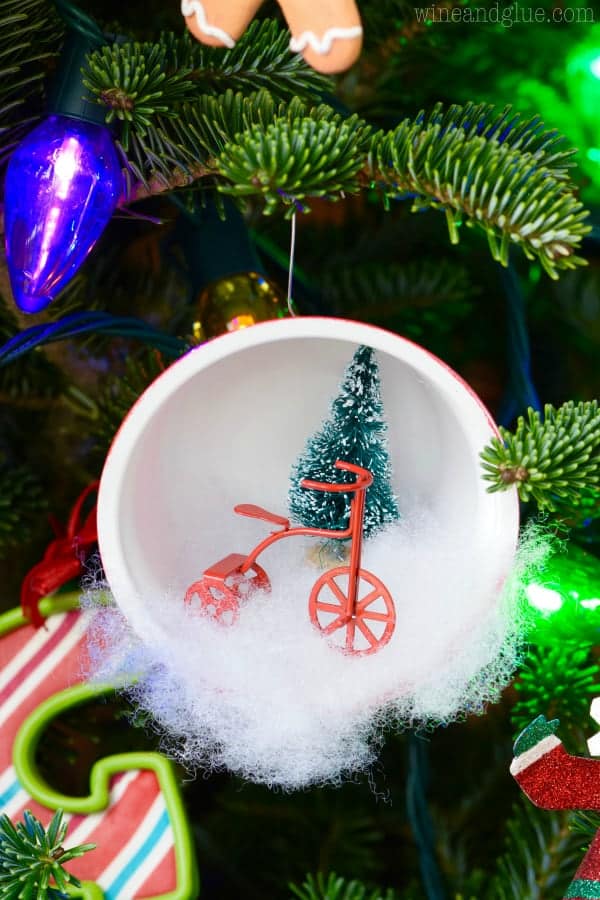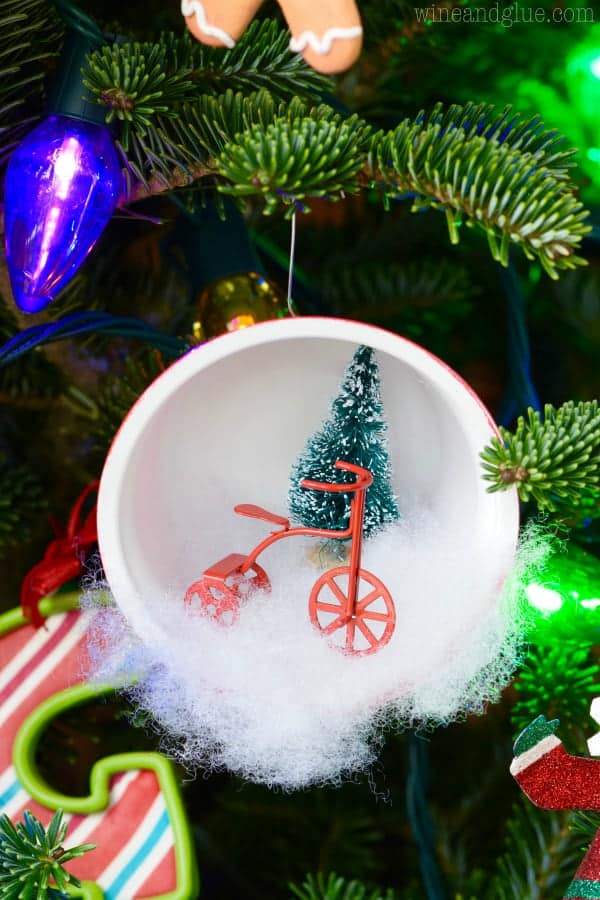 I'm so excited to be partnering with Yoplait to bring you this fun and easy craft. 
There is something about Halloween and Christmas that makes me want to be SUPER crafty. And probably . . . it is because these two holidays evoke all the CUTE out of me that I try to stifle all year round, lol!
And so if there is one word I would use to describe this particular craft with all it's tiny little details it would be cuuuuuuute. There are a few seriously awesome things about these ornaments. First, they start with the new Yoplait Greek 100 Protein, so you get to eat an amazing protein packed snack and be powered up and ready for your crafting. Second, the cups are super light! So that means you can stick a bunch in there without it taking down your entire tree. Third, there are so many different things and scenes you can make. Finally, I challenge you to find something miniaturized that is not cute.
Step 1: Grab Yoplait's new Greek 100 Protein yogurt, which is now available at your local grocery store. Don't forget to save the container!  Pssst . . . . I like mine with a few chocolate chips. It feels like a real treat!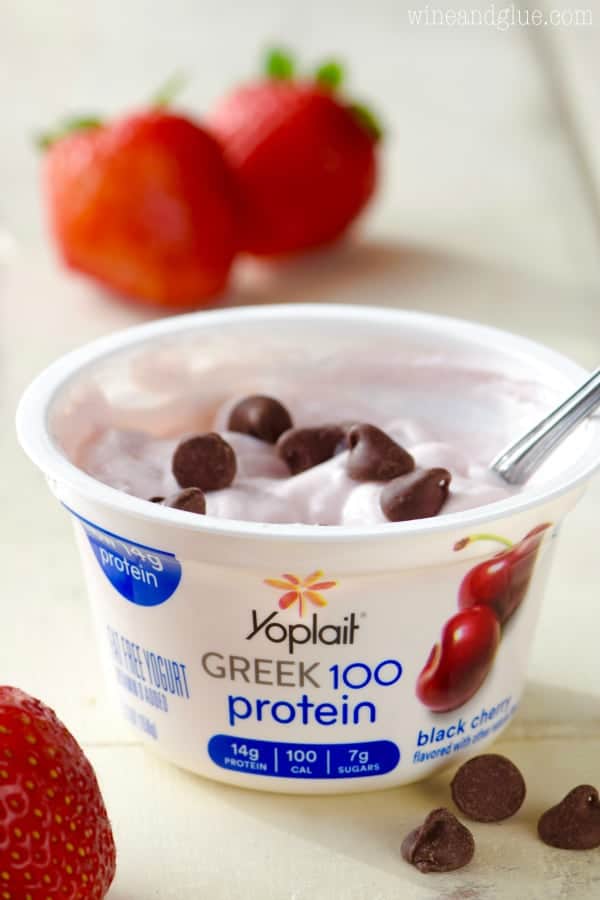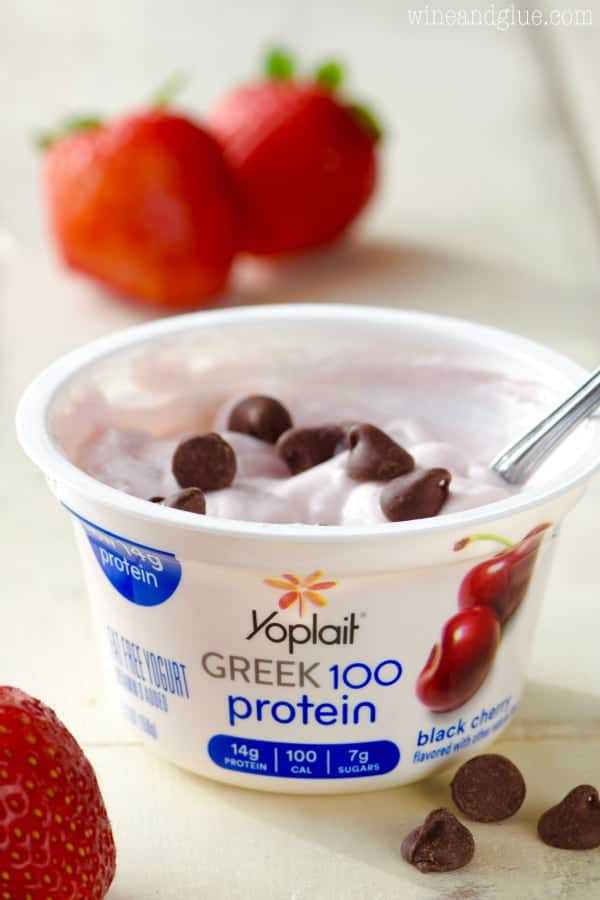 It's smooth, delicious, and only 100 calories. I love that it has natural flavors and colors. Plus this Black Cherry has 14g of protein, so it helps me stay full between meals. It's perfection! For more awesome snacking ideas, be sure to follow Yoplait on Facebook, Twitter, Instagram, and Pinterest! Check out their 100+ flavors HERE! And try all of Yoplait's 100+ flavors for a chance to win $100,000! Just enter the code from on top of specially marked lids at Yoplait.com/100Ways and you will have a chance to win one of more than 3,000 prizes!*
Step 2: Gather all of your other supplies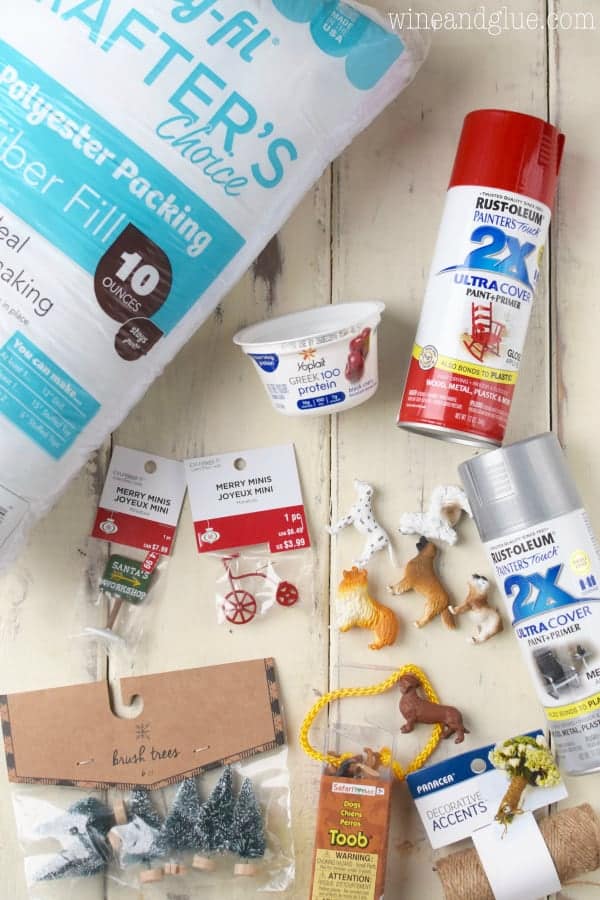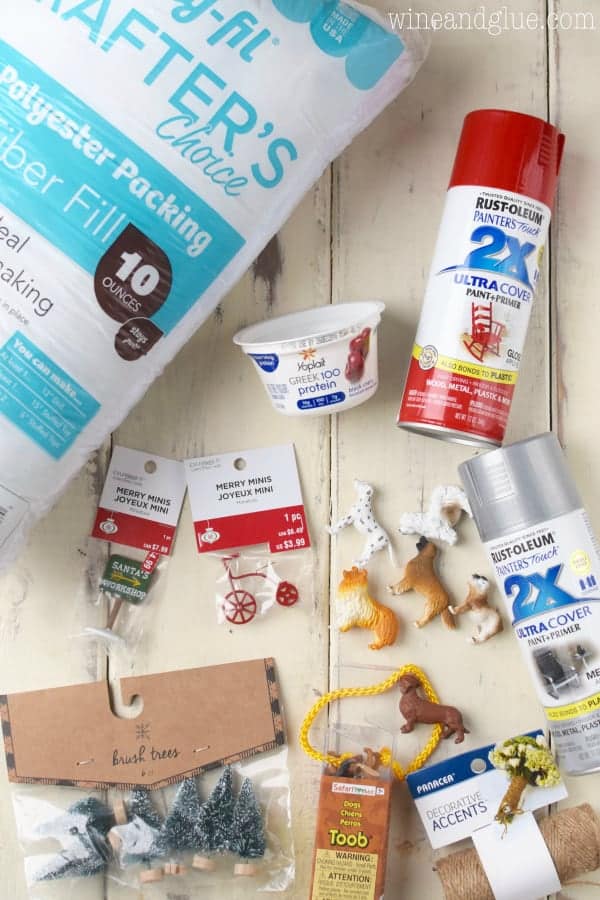 In addition to your Yoplait cup you will need:
fiber fill (or something equally fluffy to make your snow)
a glue gun
spray paint
twine or ornament hooks
tiny cute things (I found mine at the craft store on a random day for 70% off!! These cuties were meant to be.)
Step 3: Assemble! Please note that I spray painted my cups and then cut the holes, and I wish I would have reversed that. The paint chips a little during the cutting.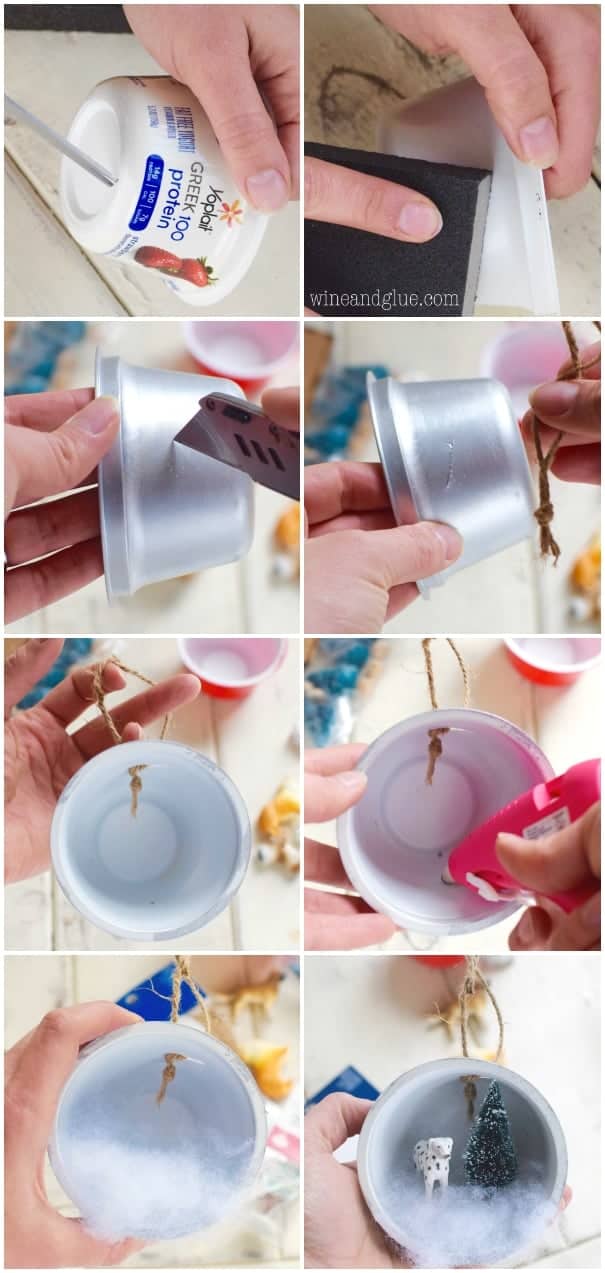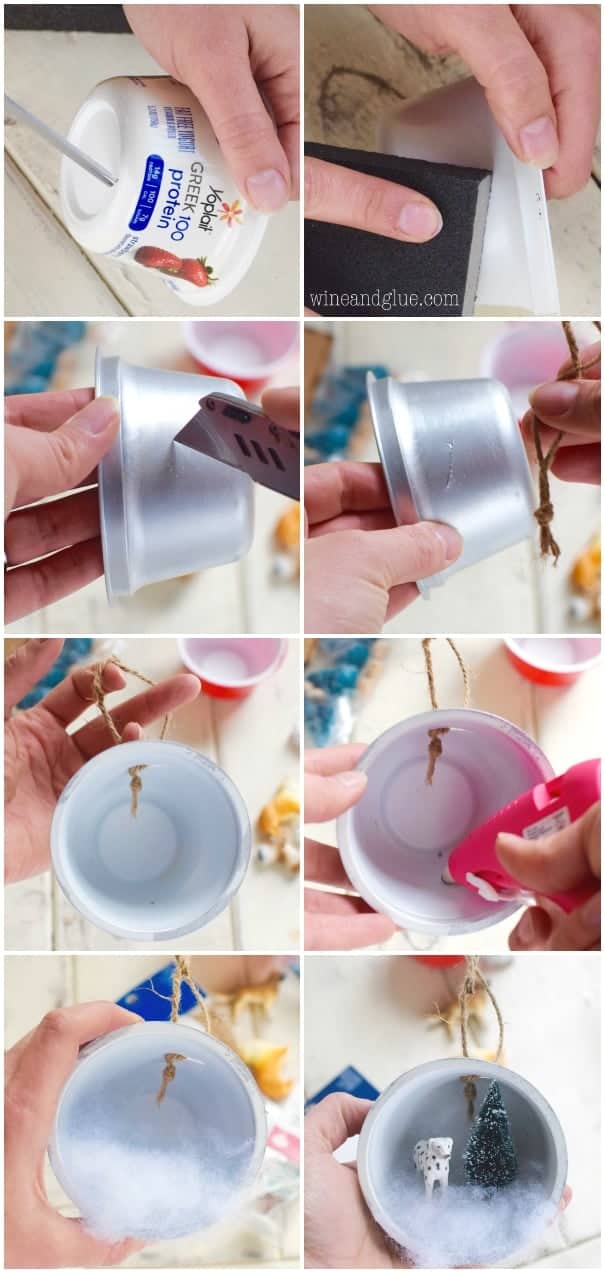 So, for assembling you want to
Cut off the wrapper from your clean Yoplait cup.
Sand it. This will help the paint stick and keep from chipping.
Cut a hole in the top of your yogurt container, or more like a slice.
Spray paint it and allow to fully dry.
Put either twine through the slit, or a bent ornament hook that you then glue in place.
Now apply some hot glue inside the cup at the bottom (as shown) and add the fiber fill.
Now add tiny cute things to make a cute Winter Wonderland Shadow Box Ornament! (And maybe help me come up with a shorter name, ha!)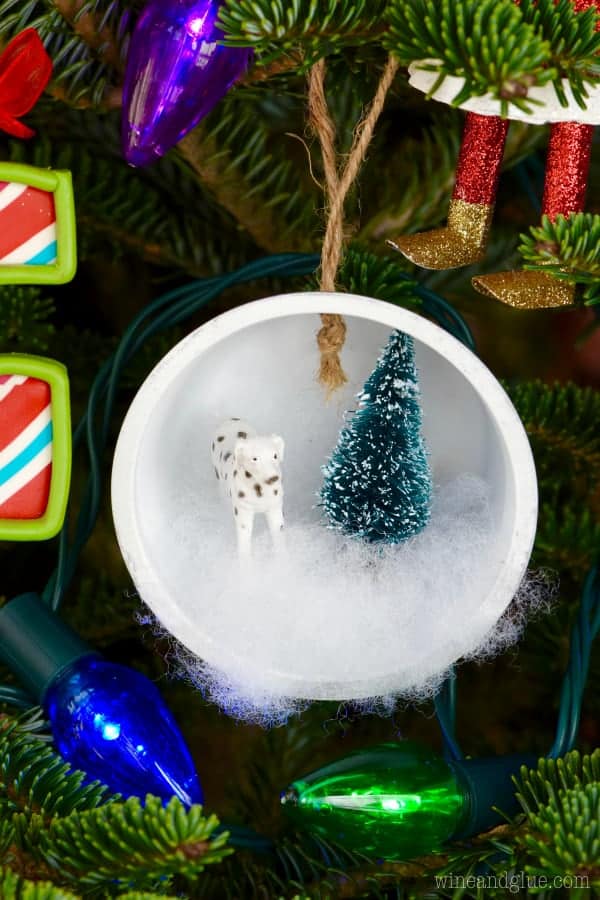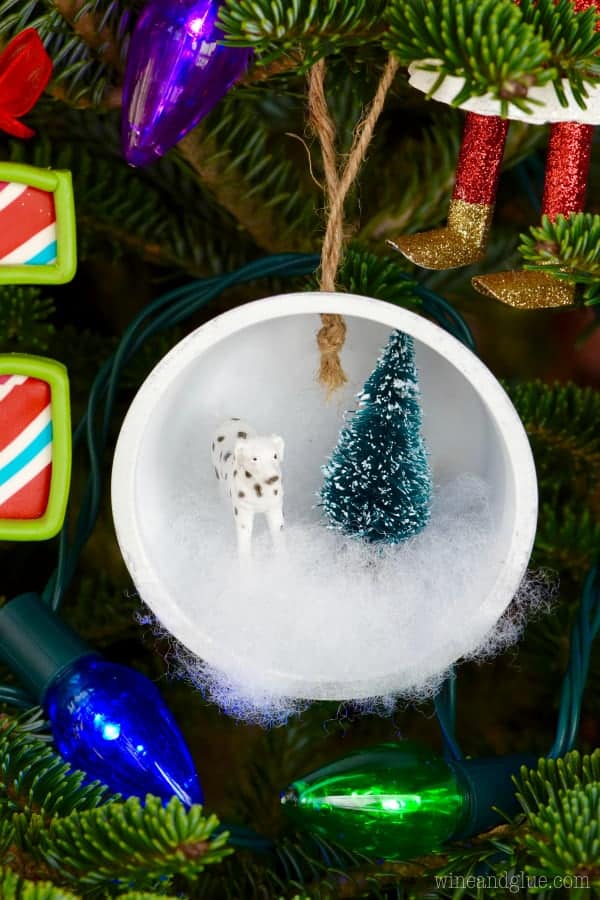 *NO PURCHASE NECESSARY. Ends 5/15/17. To play and find Official Rules, visit Yoplait.com/100ways.