Apple and pumpkin combine perfectly in this delicious FOUR INGREDIENT Apple Pumpkin Dump Cake!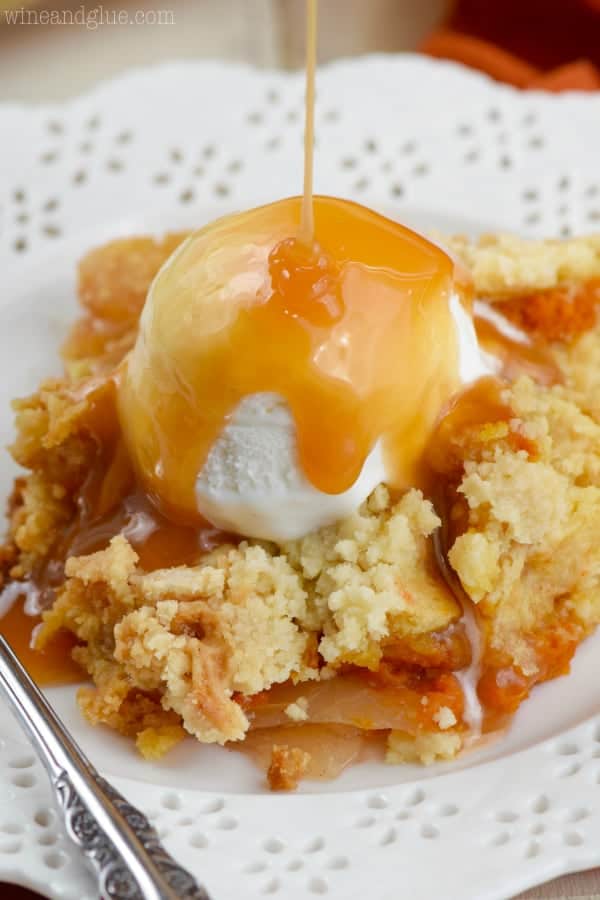 So I have this really . . . . weird personality trait.
Whenever I'm reading a book . . . particularly a really intense book . . . I sort of . . .
I don't even know how to describe it. It's not like I become the main character, because that would be a little psycho. It's more like I become so engrossed in it, that I get lost in the reality of the book. So if the main character in the book is a woman and she is fighting with her significant other, I have to regularly remind myself that Nathan and I are not in an argument. ????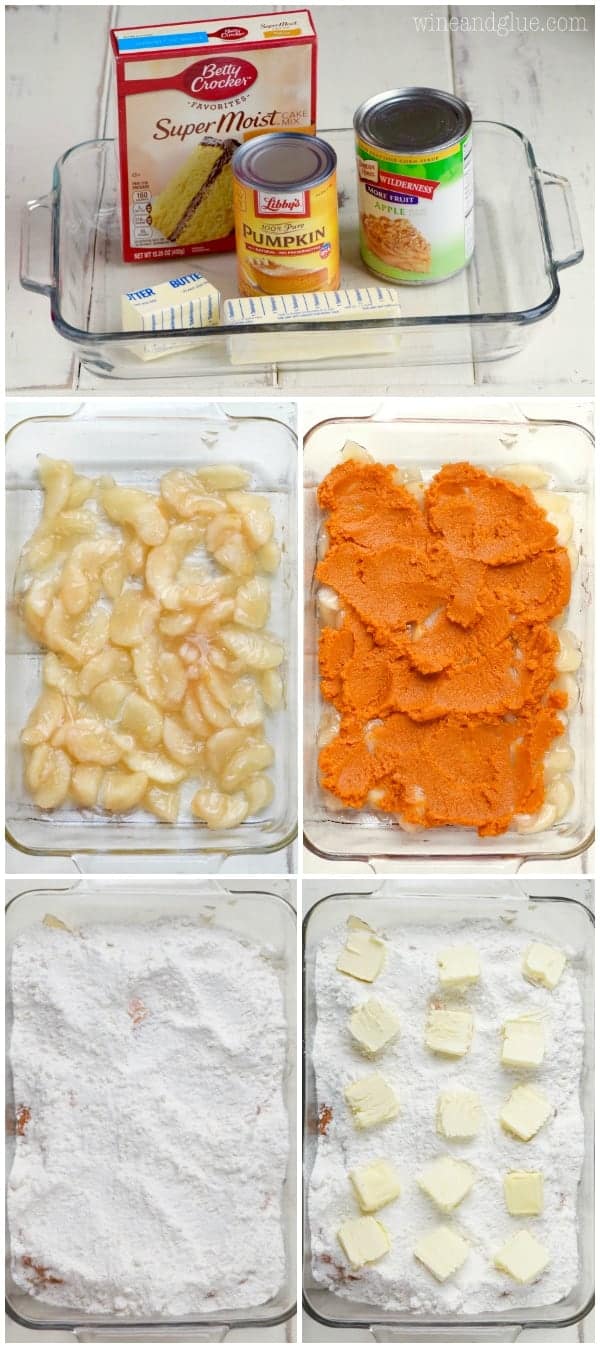 You guys . . . I'm such a nut.
Anyway, I've been binge watching Real Housemoms of New Jersey (it's okay, you can totally judge me, I judge myself . . . and my husband has been very open about his judgement of me) while my family is sleeping and I'm working or while I'm working out . . . .
So now I have to remind myself all the time that I have no drama in my life. That there aren't people regularly talking behind my back confessional style while wearing entirely too much make up. And, no, no I am not in fact capable of installing a pool with a swim up bar and grotto in my new backyard. ????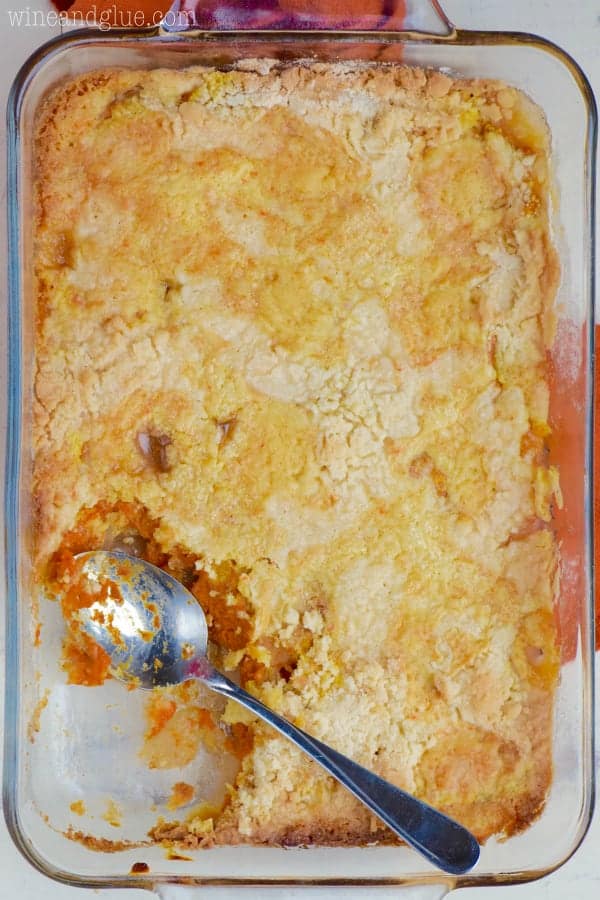 So much less complicated than the twisted relationships of RHONJ . . . or my brain . . . is this Apple Pumpkin Dump Cake.
You guys, it doesn't get much more simple than this.
It's literally four ingredients. Looooove desserts like that. Here are two things I'm going to say about this. Nope, scratch that, three:
For those of you who can't deal with all the premade ingredients – just skip this one and make my totally from scratch Caramel Apple Cobbler!
The pumpkin in this baby is intense! I loved it but if you don't love pumpkin, I suggest that you either not make it or you put in pumpkin pie filling instead of pure pumpkin.
The absolute best way to eat this is hot out of the oven with some vanilla ice cream and caramel sauce . . . . or straight from the pan once it has cooled and the photo shoot is over and it is nap time and you are watching RHONJ by yourself. #jussayn
Edited to Add:  So I just remade this for a video, and decided to throw some spices in with the pumpkin. I liked it better, guys. Why didn't I think of this before?? It's good in it's original form too, but I love the hint of fall the spices give it, which are now reflected in the recipe. It's worth the extra step and two more ingredients, right?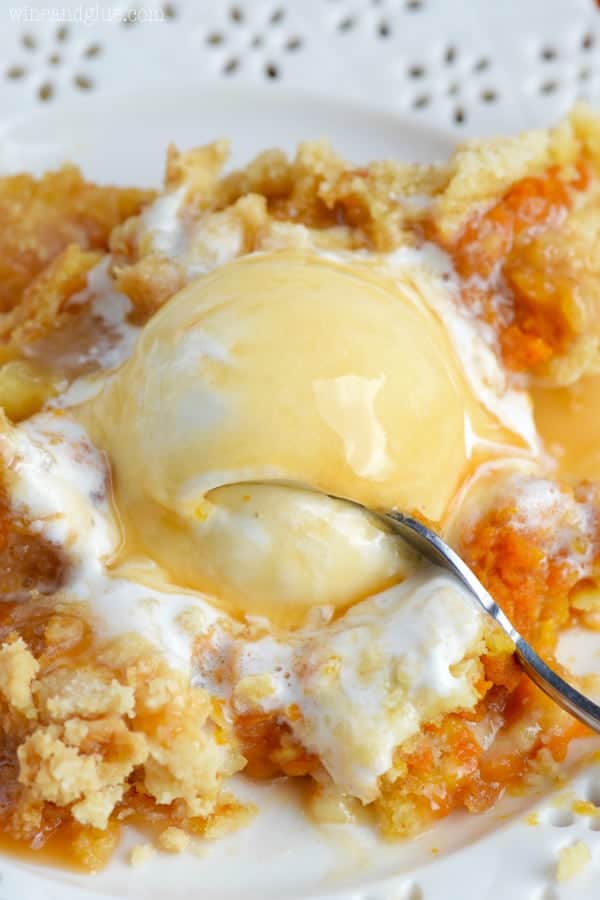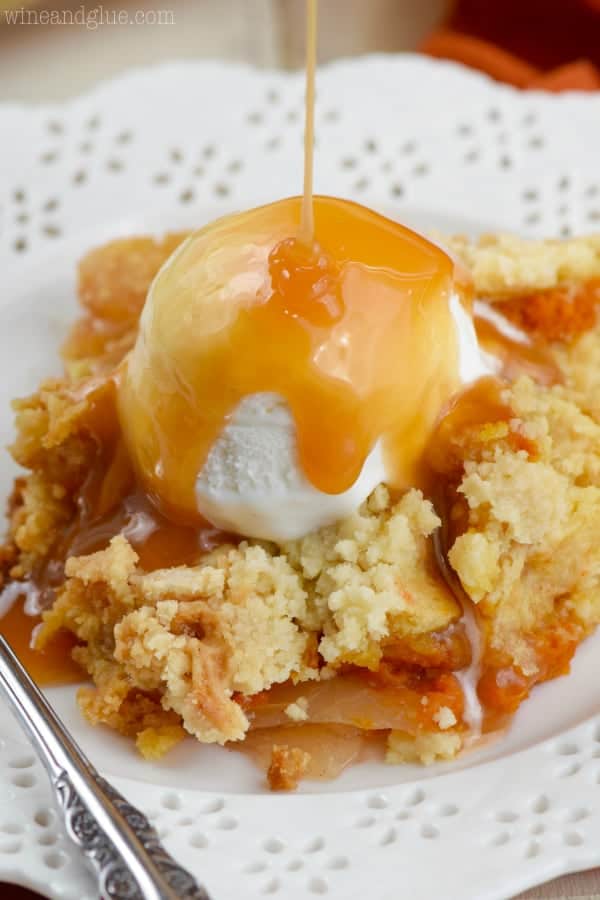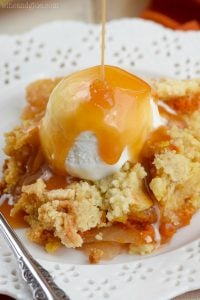 Apple Pumpkin Dump Cake
Apple and pumpkin combine perfectly in this delicious FOUR INGREDIENT Apple Pumpkin Dump Cake!
Instructions
Preheat your oven to 350 degrees. Spray a 9x13 inch glass baking dish with cooking spray.

In a small bowl, mix the pumpkin, cinnamon, and nutmeg together.

Spread the apple pie mix over the bottom of the pan. Spread the pumpkin over that. Sprinkle the cake mix (just the cake mix, none of the mix ins) over the pumpkin. Then cut the butter into equal pieces and set the tabs of butter on top of the cake mix.

Bake for 40 to 45 minutes uncovered or until the edges begin to brown.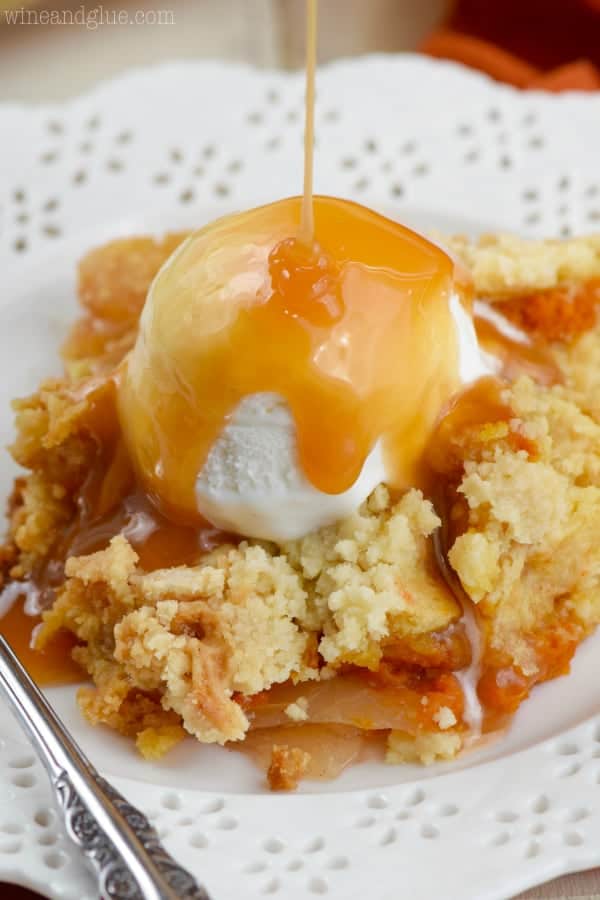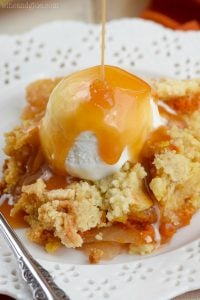 did you make this
Apple Pumpkin Dump Cake