Baked Chicken Thighs make such a great weeknight dinner. My chicken thighs marinade can be made the night before, making this a great 30 minute dinner!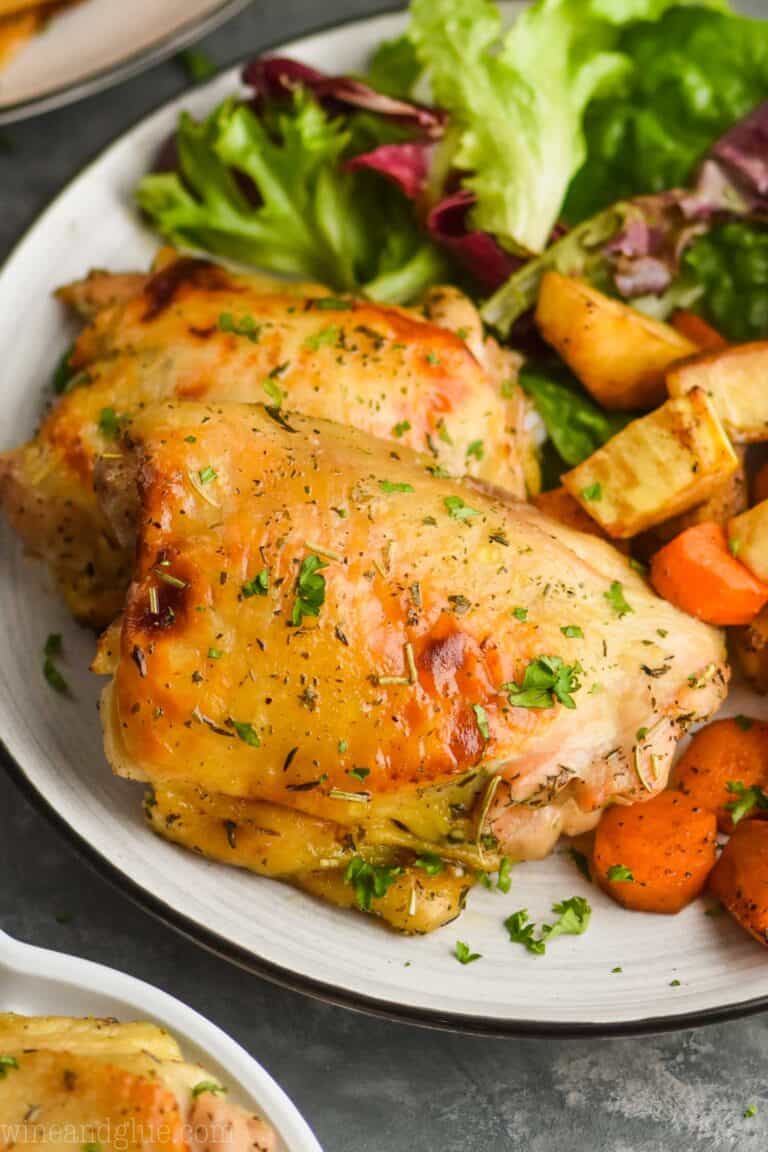 There are so many nights when I just want an easy dinner that I can throw in the oven and walk away from while I help with homework, comb syrup out of hair (true story), and give snuggles.
I'm a girl who always gravitates towards stove top meals and neglects my oven. But these Baked Chicken Thighs are a great reminder of how perfect oven ready meals are.
This chicken thigh recipe can be made the night before. Throw together a simple marinade and refrigerate overnight. The following day, you can just pop them in the oven when you get home from work.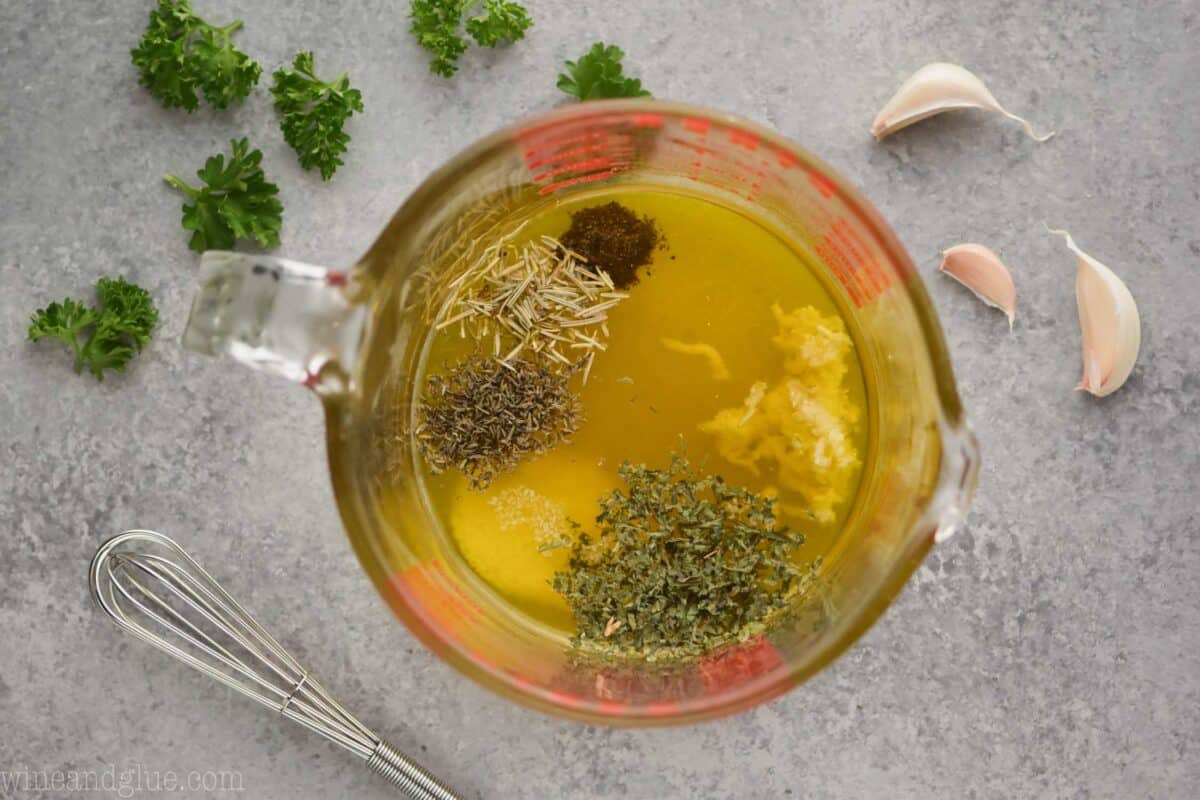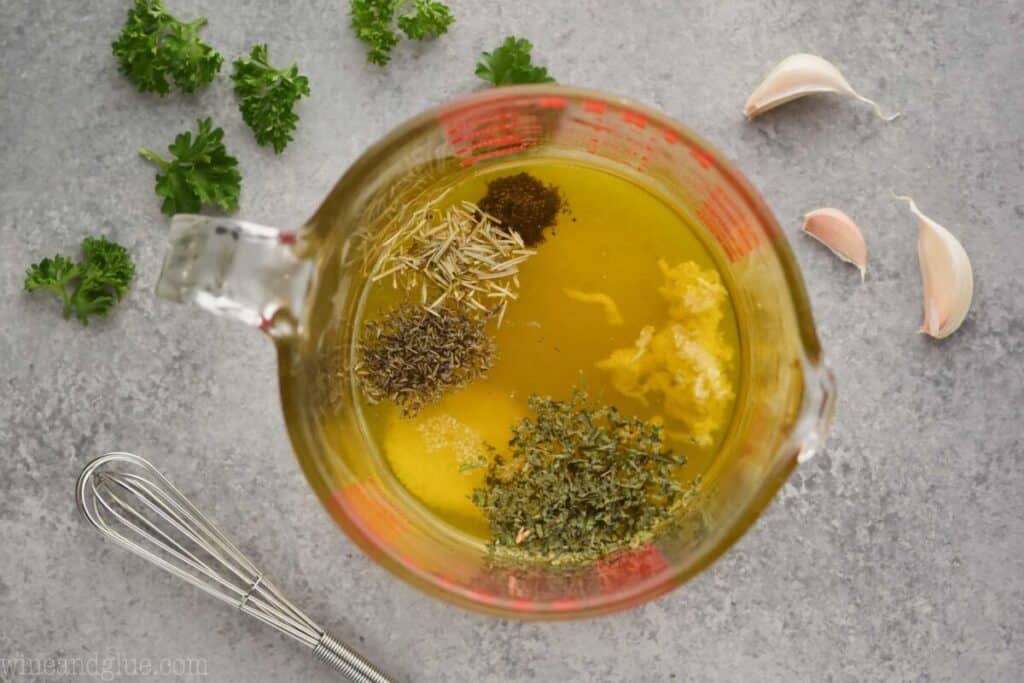 CHICKEN THIGHS MARINADE
The marinade for this recipe follows the basic principles of a lot of great marinades, an acid, an oil, some sweetness, and seasonings.
Olive Oil
Honey
Lemon Juice
Garlic
Parsley
Salt
Thyme
Rosemary
Pepper
Whisk all of it together and pour over the chicken thighs. I like using a reusable container. I'm so guilty of using single use plastic (like gallon bags for marinating), but it's terrible for the environment. I'm working on it.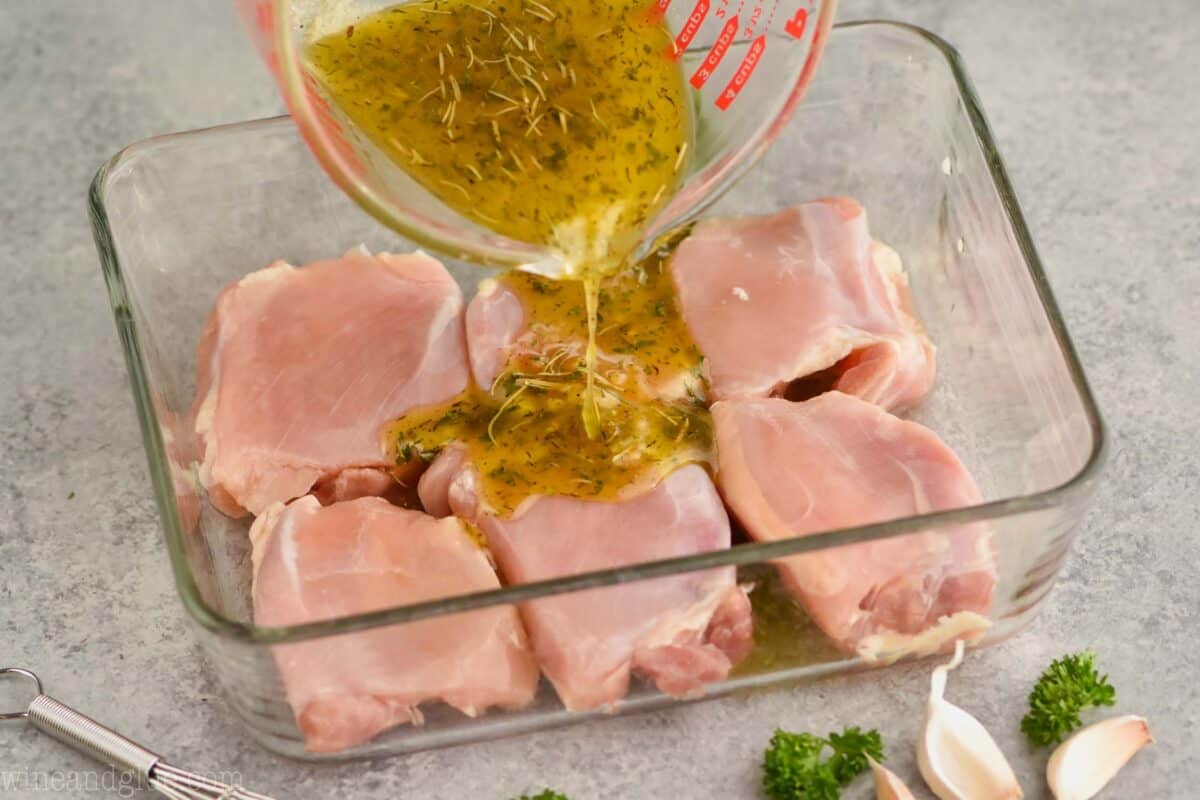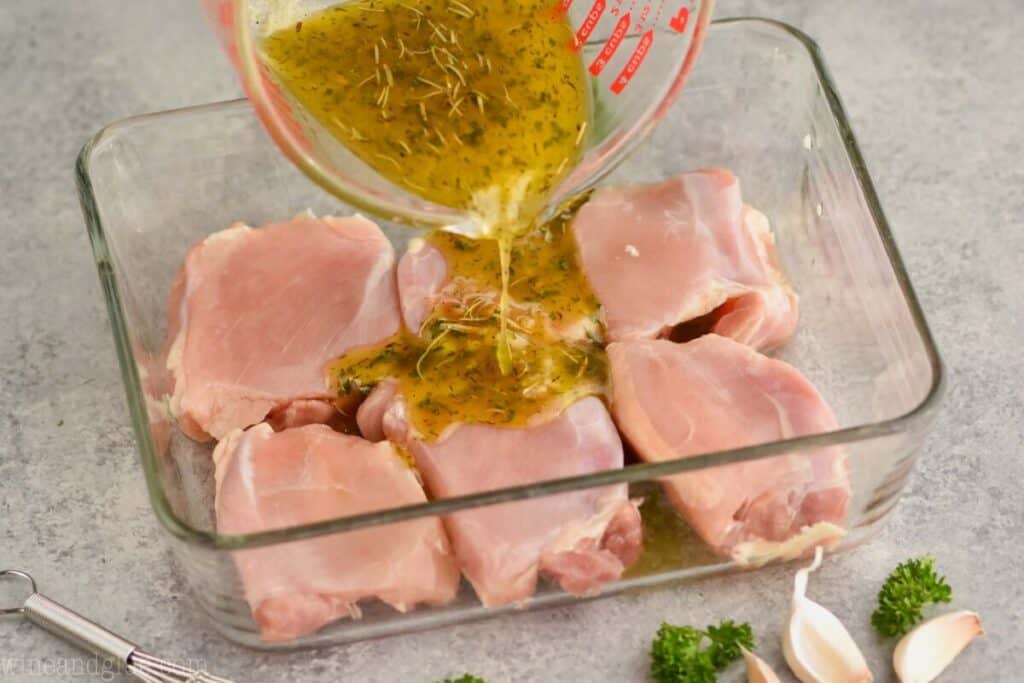 HOW LONG TO MARINATE CHICKEN
Here's the deal with marinating meat: You are looking to penetrate the surface, but not completely break it down.
Meat that marinates for too long can become mushy because the acid (in this case the lemon juice) in the marinade breaks down the meat.
We are looking to marinate for at least 20 minutes, but no longer than 24 hours.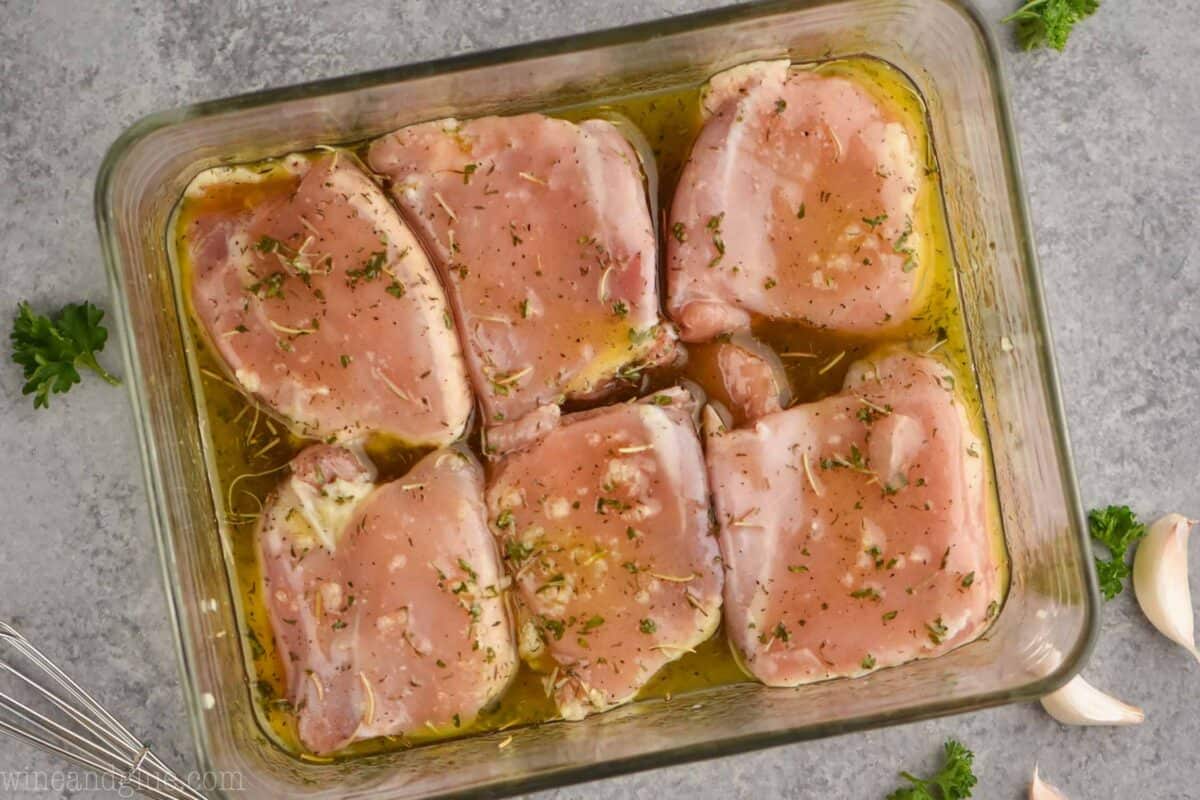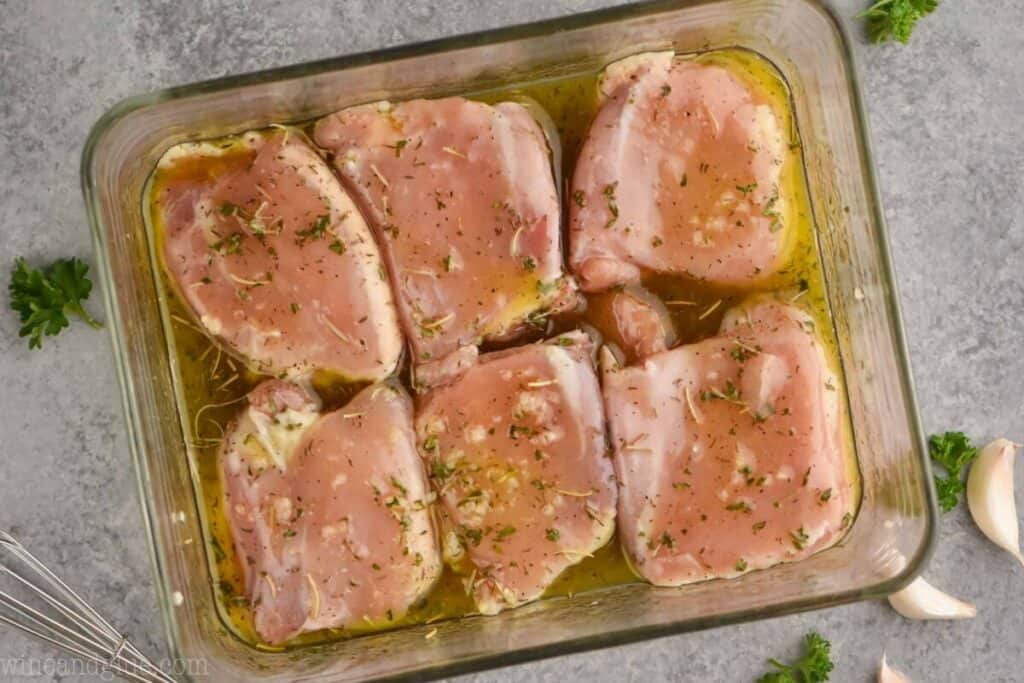 BONE IN OR BONELESS CHICKEN THIGHS
Good news! This recipe works for both boneless or bone in chicken thighs.
This recipe calls for 2 pounds of bone in chicken thighs. When you buy chicken thighs with skin on it you get that nice crispy layer of skin.
You can also use this marinade for 1 pound of boneless chicken thighs.
This is a great recipe to double if you are having company over. If you double the meat for this recipe, please also double the marinade.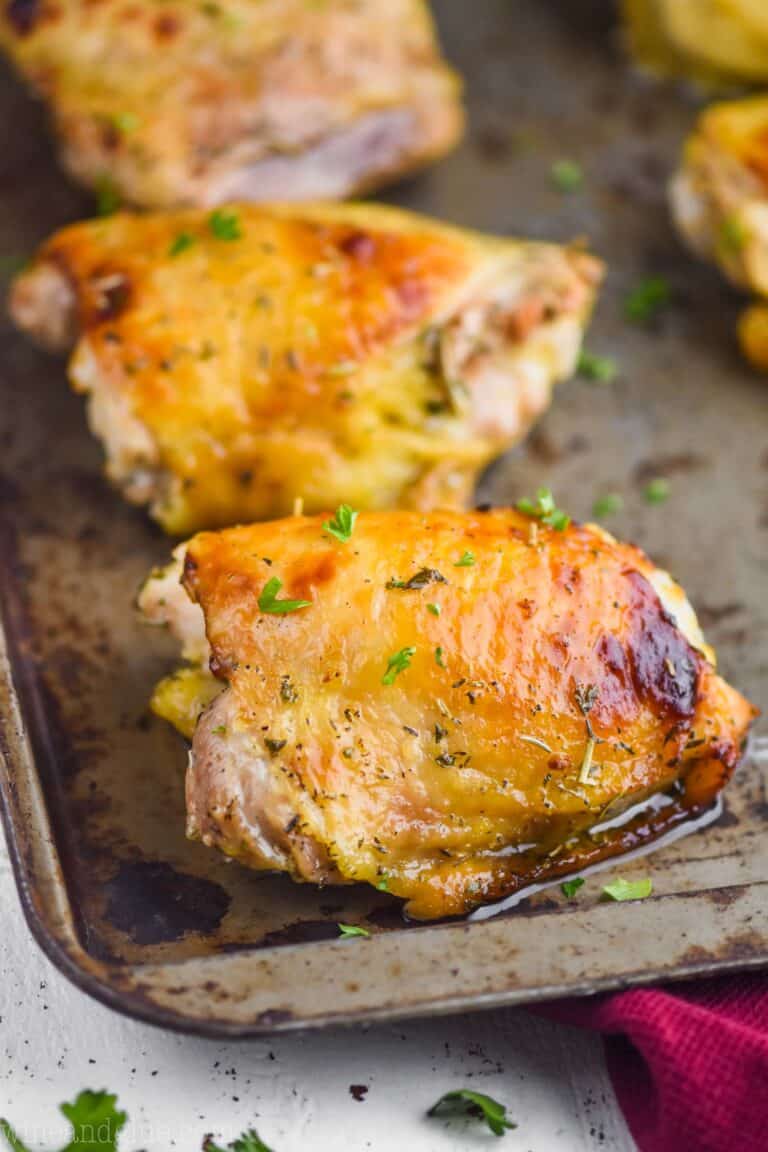 HOW LONG TO BAKE CHICKEN THIGHS IN THE OVEN
We are baking this at a really high temperature, so this is a fast cooking recipe. We will bake these chicken thighs at 425 degrees. Bone in chicken thighs will take between 20 and 25 minutes, with boneless thighs taking a little bit less time.
Because oven temperatures can vary, the most important thing is that you check the internal temperature of the meat with an instant read thermometer. When you cut into the chicken thighs the juices should run clear.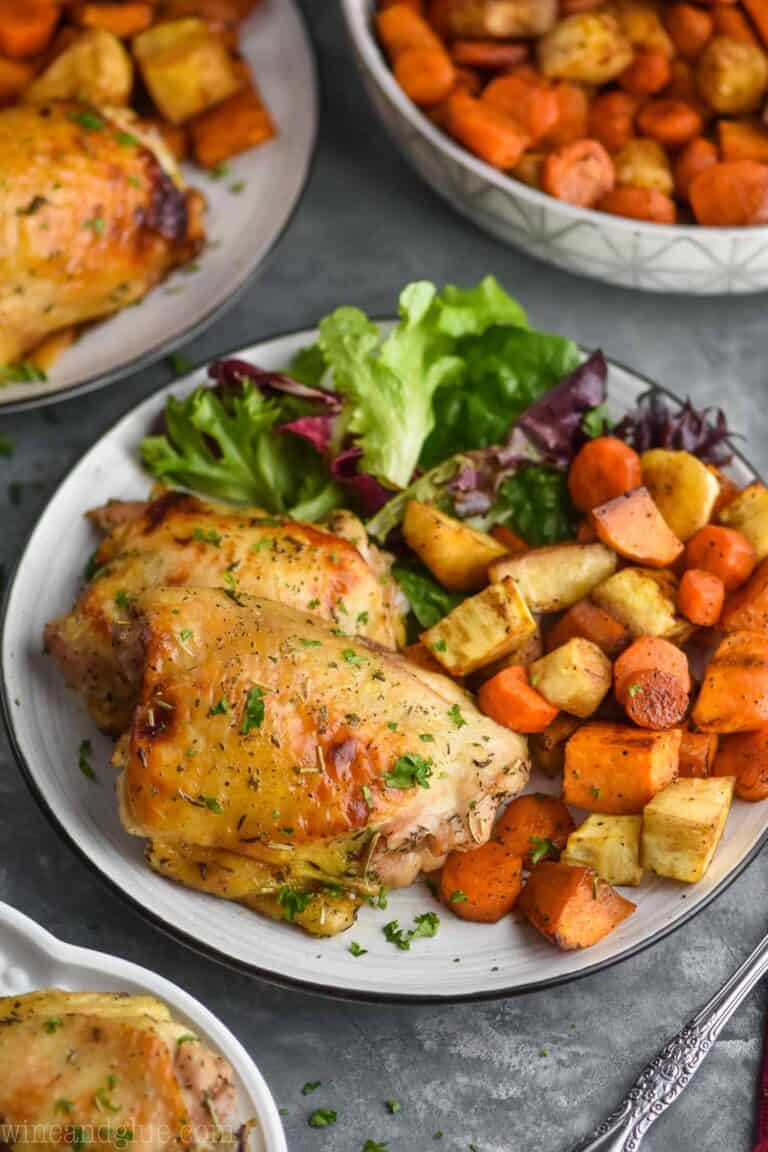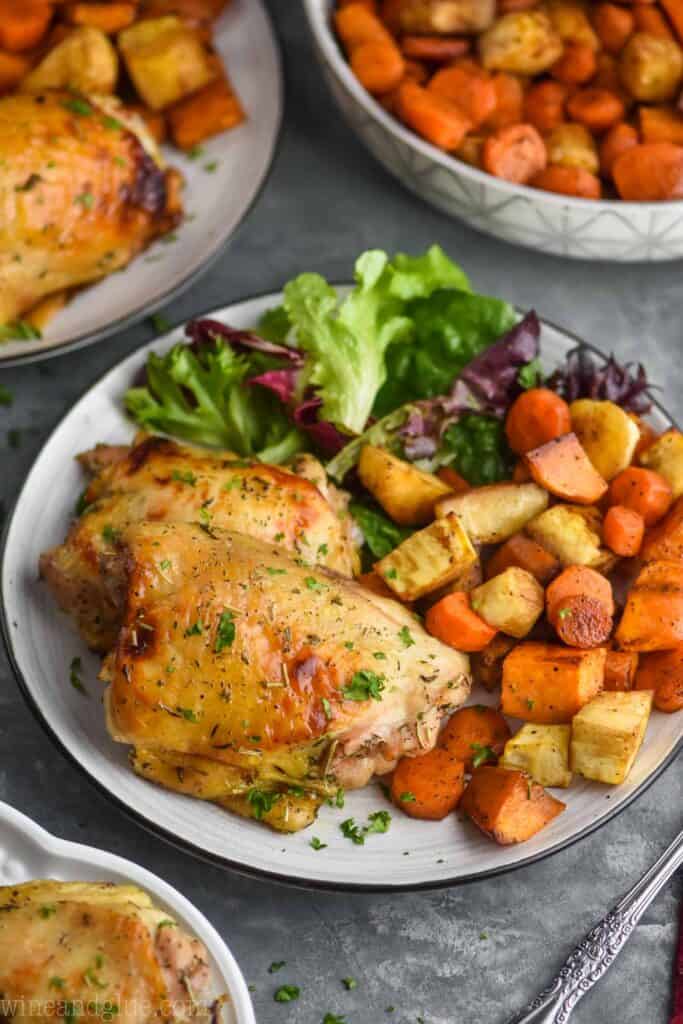 WHAT TO SERVE ON THE SIDE
Simple dinners make everything better, don't you think? So to go along with these simple chicken thighs should be simple sides. Thank goodness I'm the queen of simple sides. (Real title, true story.)
I made my Roasted Root Vegetables with this chicken. It is perfect because they both cook for about the same amount of time at the same temperature. And the flavors compliment each other perfectly.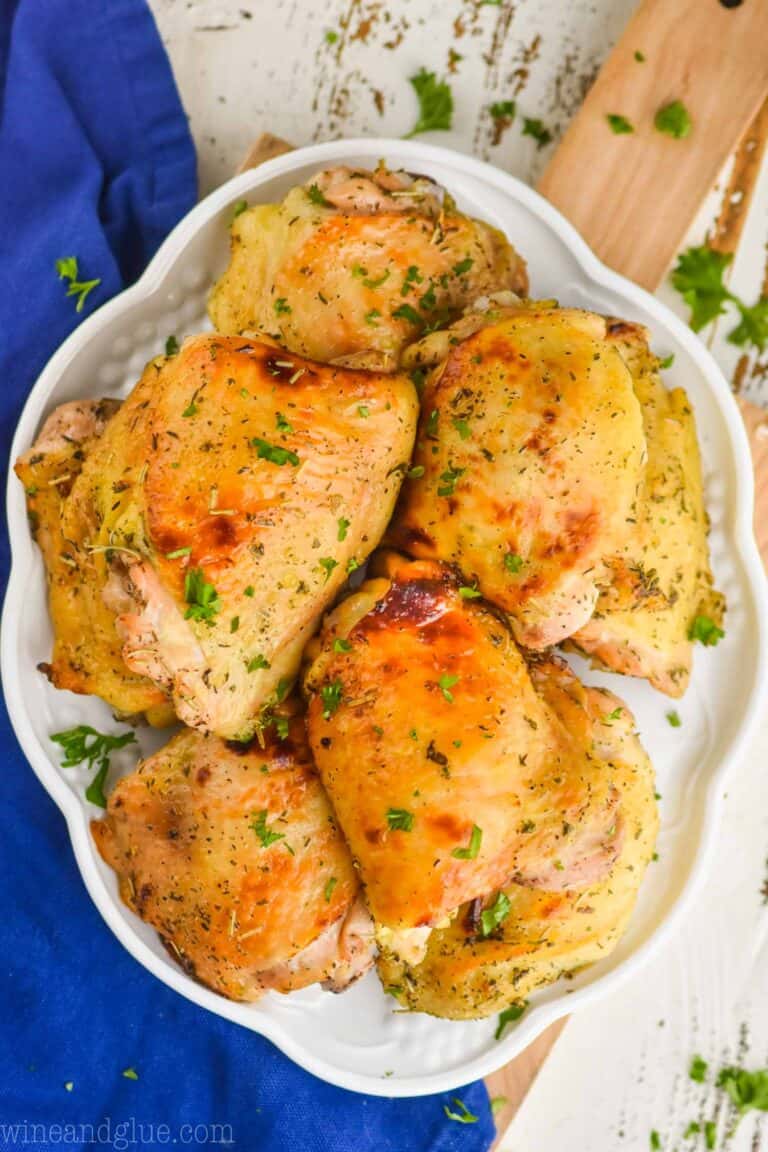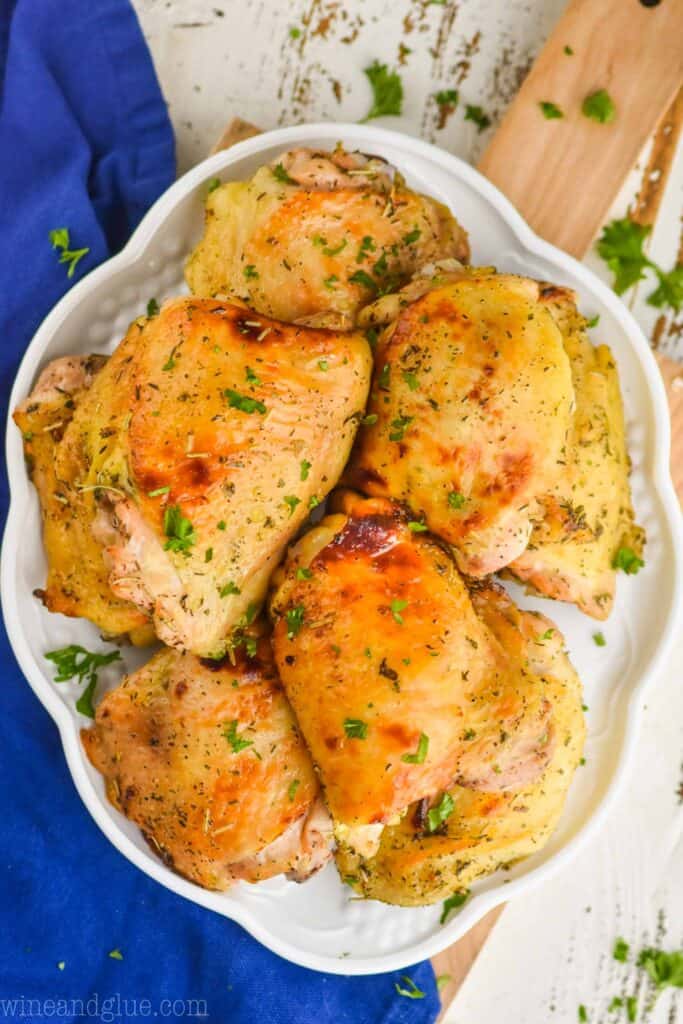 OTHER GREAT DINNER IDEAS
If you are always on the prowl for good dinner ideas for your family, here are some other great ideas:
If you try this awesome chicken recipe or any of my other recipes please leave me a comment and let me know what you think.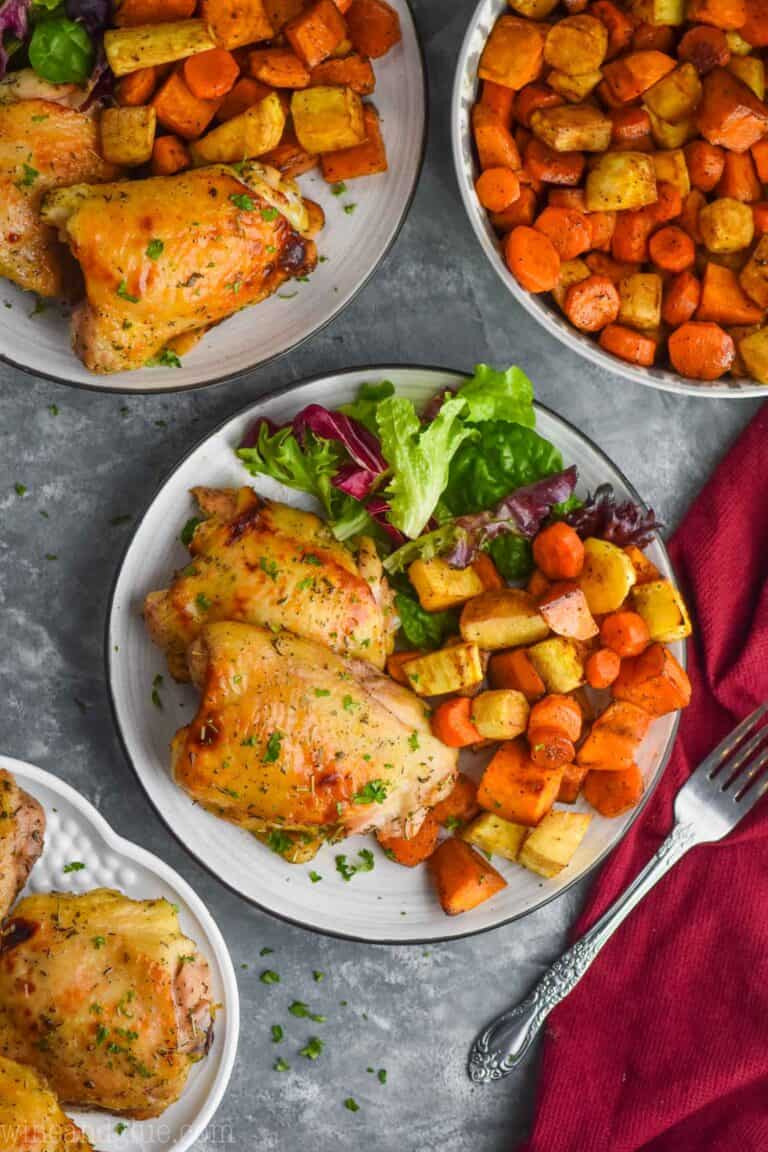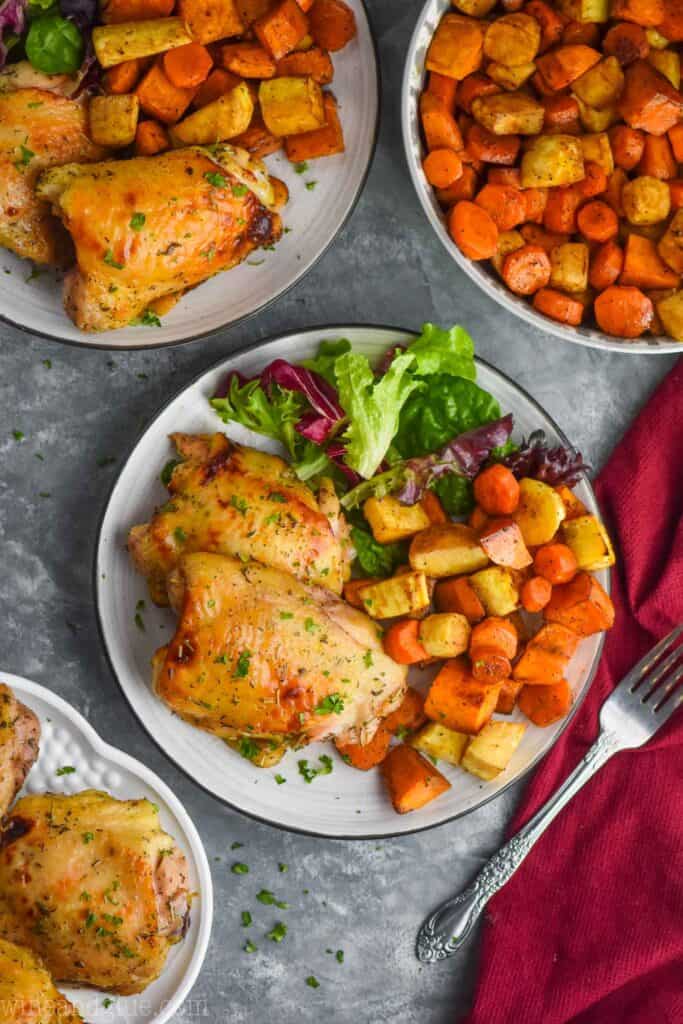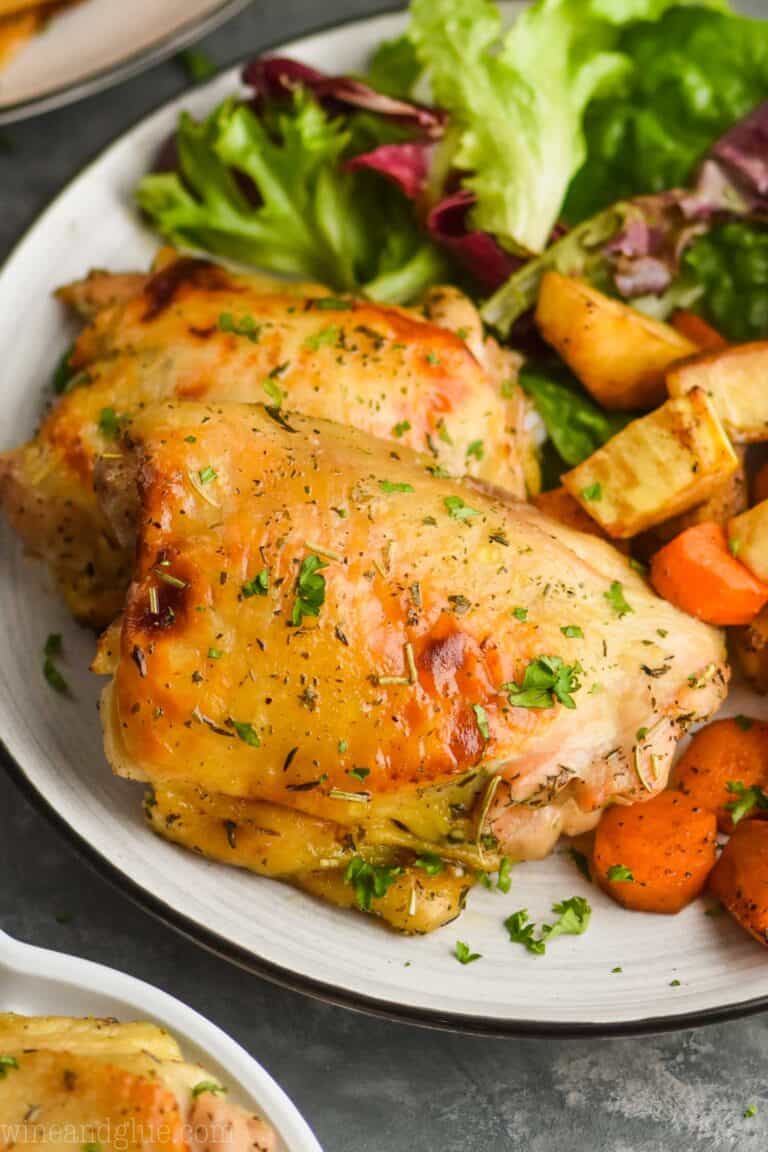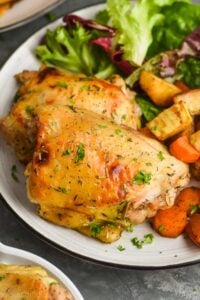 Baked Chicken Thighs
Baked Chicken Thighs make such a great weeknight dinner. My chicken thighs marinade can be made the night before, making this a great 30 minute dinner!
Ingredients
2

pounds

bone in chicken thighs
Chicken Thigh Marinade
1/3

cup

olive oil

2

tablespoons

honey

2

tablespoons

lemon juice

3

garlic cloves

minced

1

teaspoon

dried parsley

1

teaspoon

kosher salt

1/2

teaspoon

dried thyme

1/2

teaspoon

dried rosemary

1/4

teaspoon

black pepper
Instructions
Make the marinade by combinging all of the ingredients in a small bowl.

Put the chicken in a sealable container. Pour the marinade over the chicken thighs and move the chicken around as needed to ensure they are full coated. Place the container in the refrigerator for 20 minutes or up to 24 hours.

Preheat the oven to 425 degrees.

Place the marinated chicken onto the rimmed baking sheet and bake for 20 to 25 minutes or until a thermometer inserted in the chicken reads 165 degrees.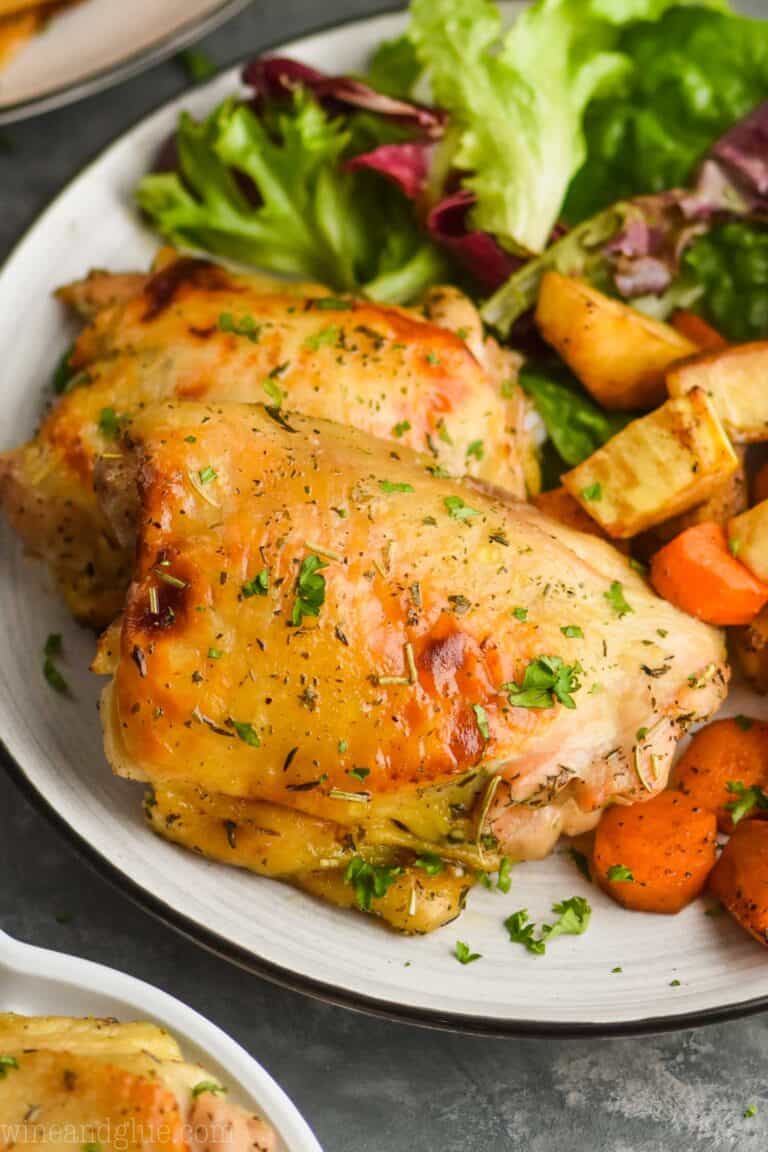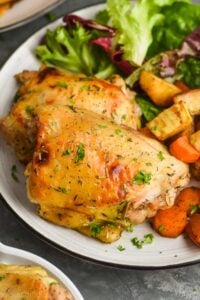 did you make this
Baked Chicken Thighs