Chicken Street Tacos are the greatest dinner! The perfect marinade for this chicken, with it's citrus, cilantro, and garlic, makes for street tacos that everyone will want over and over.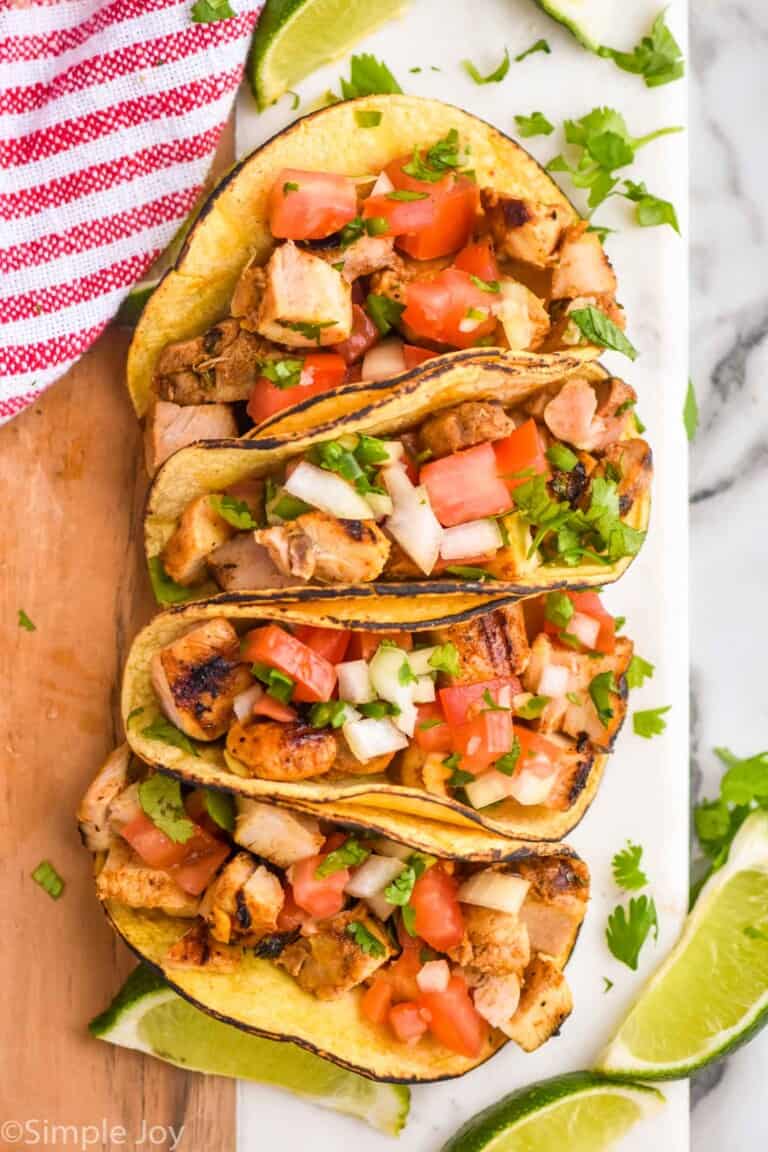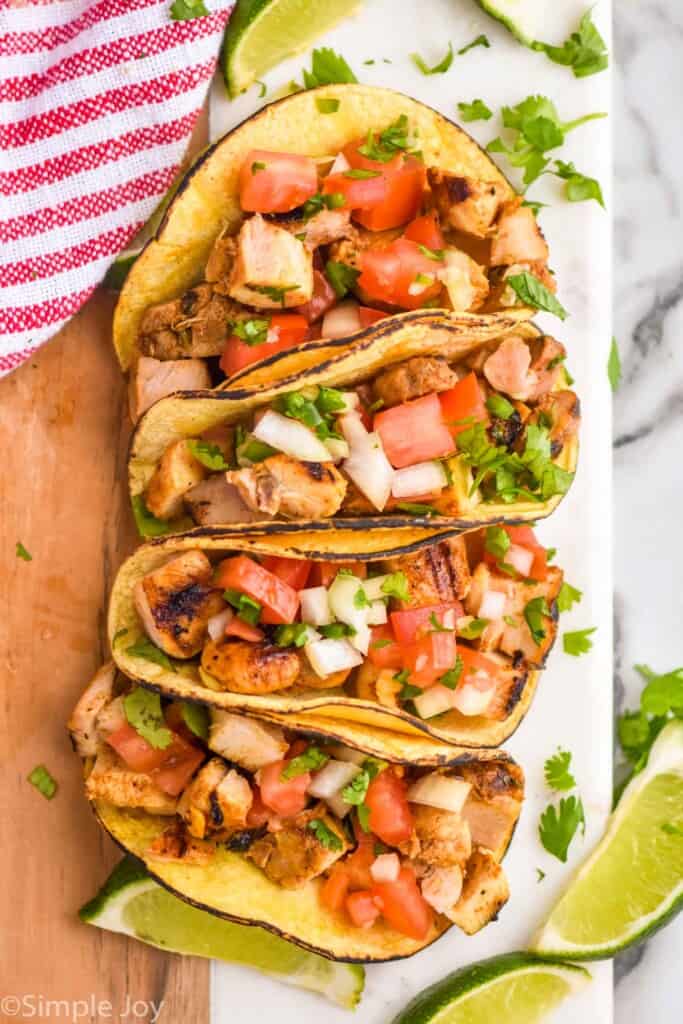 You guys know by now that every night in our house could be taco night and we would be happy campers. And honestly, when we aren't making chicken tacos, we are making some sort of weird spin on tacos. Its our favorite type of chicken dinner.
With this street taco recipe, we are making the cutest little handheld tacos. These chicken tacos look small but they pack a big flavorful punch. Even Nathan, who historically hates cilantro, absolutely loved this recipe. If you are craving a taco night – and honestly, I'm always craving a taco night – you have to try this recipe. I know it will be a huge hit with your whole family.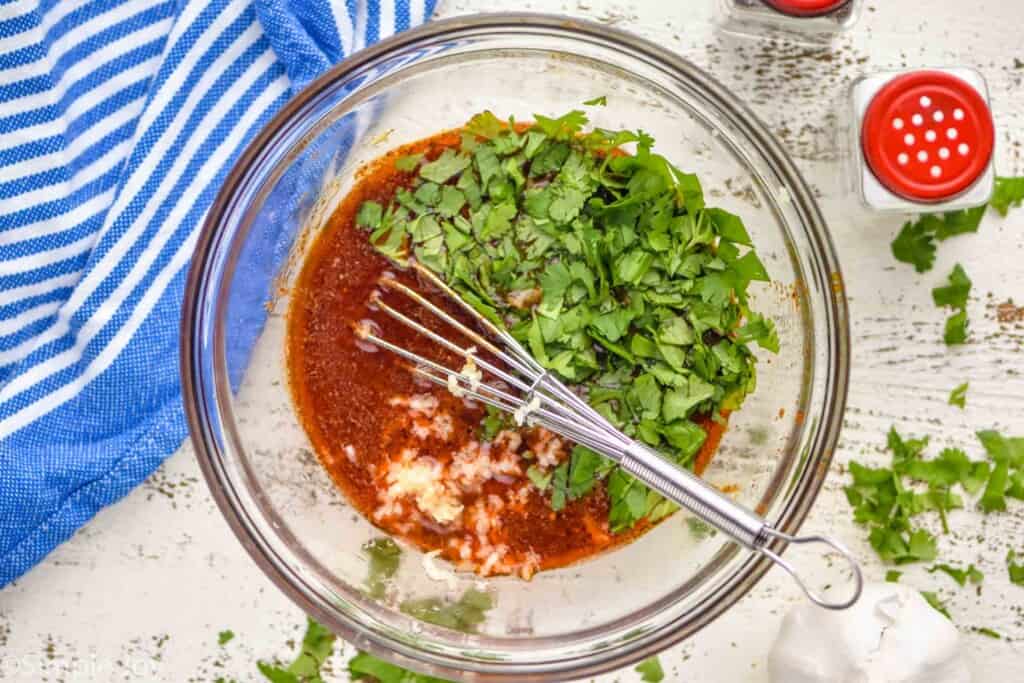 How to Make Street Tacos
Make the marinade: Combine orange juice, lime juice, vegetable oil, garlic, chili powder, salt, cumin, and fresh cilantro in a bowl. Whisk it together.
Marinate: Pour the marinade over the chicken thighs in a reusable container and marinate for 2 to 24 hours.
Grill the chicken: Remove the chicken from the marinade and discard the excess. On an indoor grill pan or an outdoor grill, grill the chicken for 6 minutes on each side or until the chicken reaches a temperature of 165 degrees.
Serve as tacos: Cut up the grilled chicken and serve on street taco tortillas with Pico de Gallo.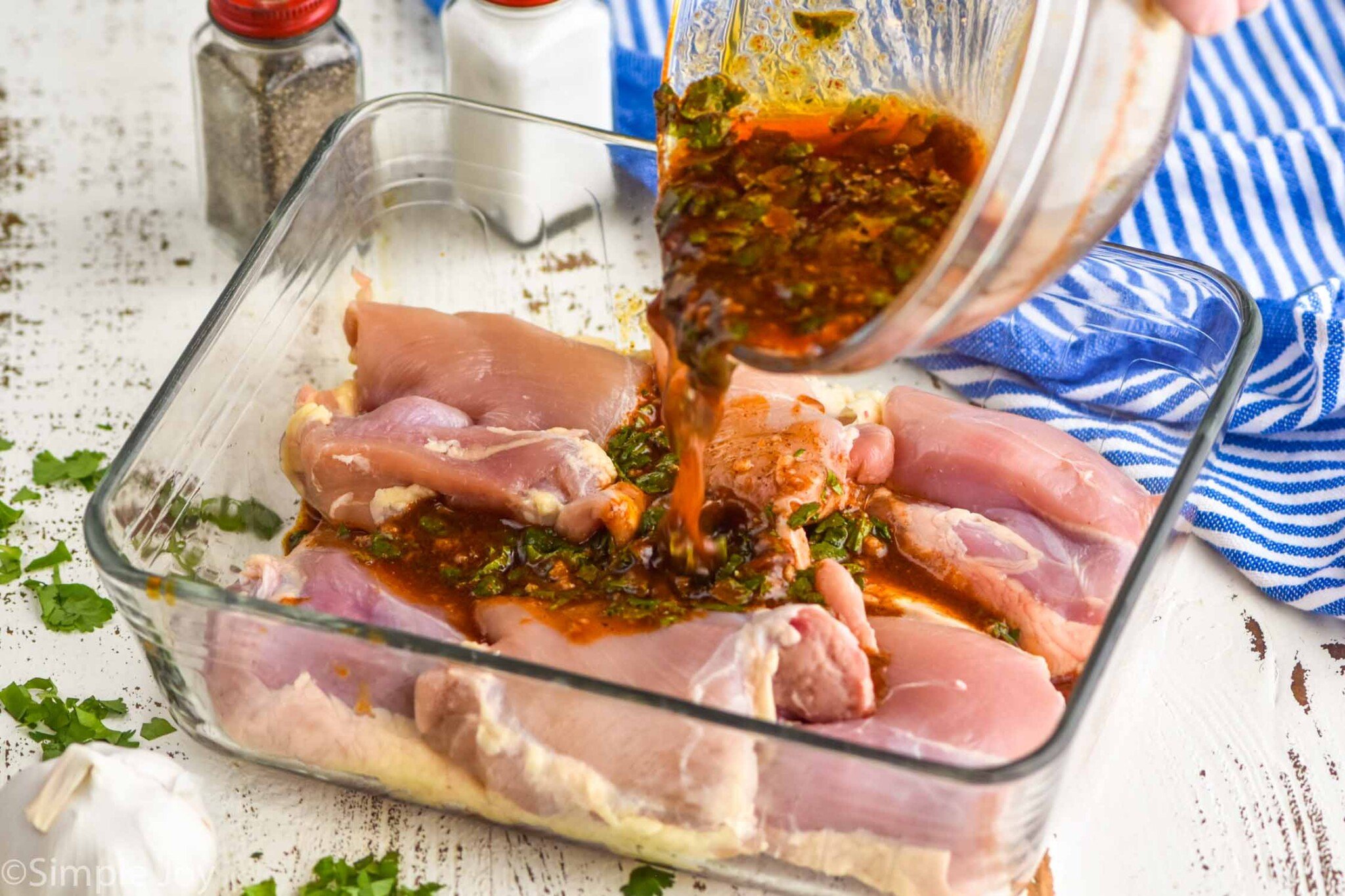 Marinating Chicken
The key to this recipe is marinating the chicken. It is what gives these tacos their amazing flavor. Here are a few things to know about marinating chicken in general.
A good marinade will break down the outer layer of the meat. It should have something acidic in it that will break down just the outside of the meat and let the flavor penetrate it. In this case our marinade has both orange juice and lime juice. Salt also helps break it down.
Marinate for at least two hours. This is a good length of time for the marinade to work it's magic, break down the meat, and let the flavor get in.
Do not marinate for more than 24 hours. Given that a good marinade will break down the meat, you don't want to give it so much time with your meat that it overly breaks it down. This will result in meat that isn't tender, but is gummy.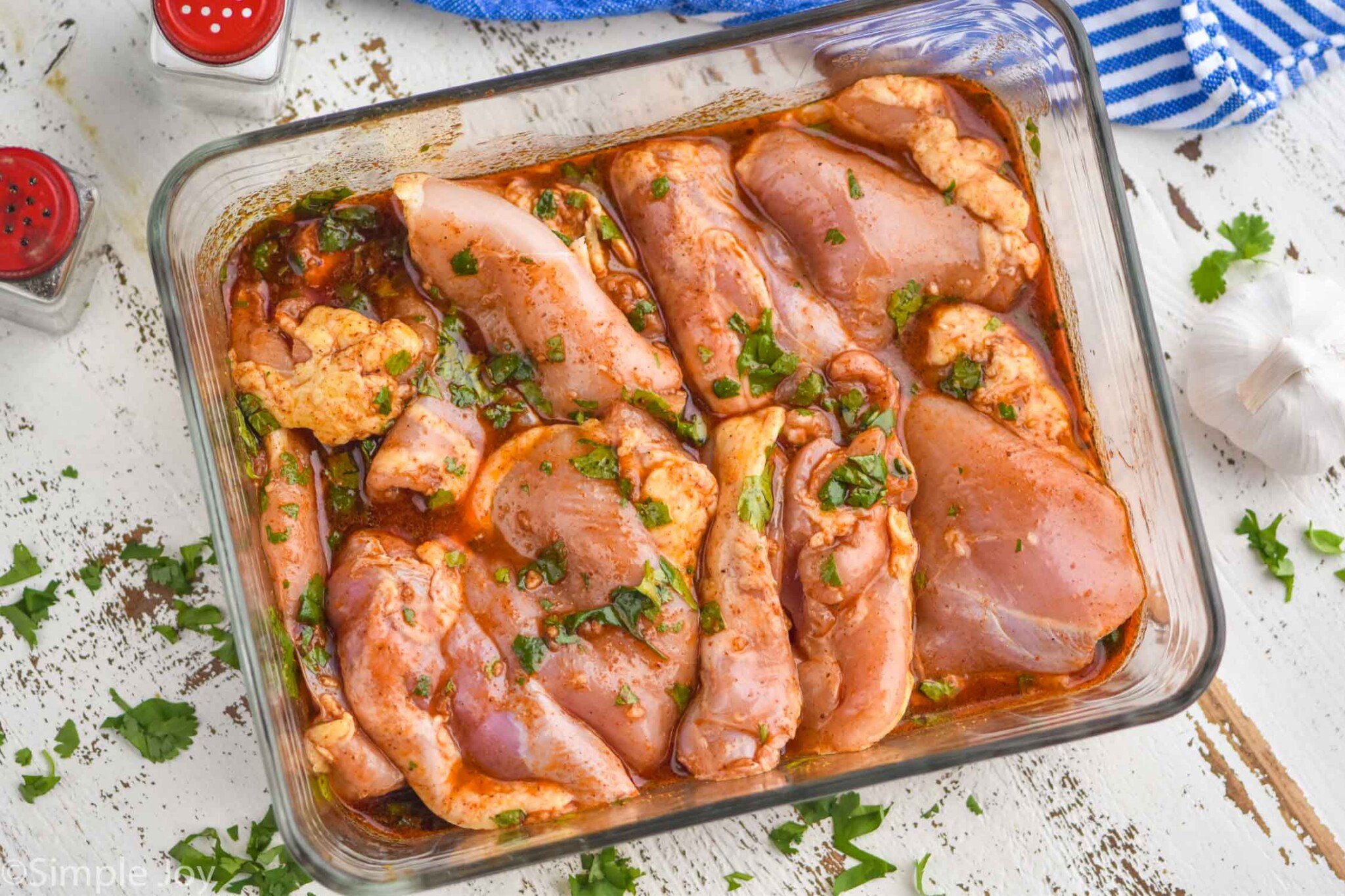 Cilantro
Cilantro can be a triggering ingredient for some people – my husband included. In fact, it surprised me to find out that some people are genetically predisposed to taste dish soap when they have cilantro. My goodness, no wonder he doesn't like it.
That being said, I would urge you to still try this recipe even if you have a cilantro hater in your house. As I mentioned above, even though there is 1/4 cup of cilantro in the marinade, Nathan loved this recipe. Perhaps there is something about the other ingredients in the marinade that neutralize that effect.
Buying and Storing Cilantro
When you buy cilantro at the grocery store, look for a bunch that is bright green. The vast majority of the leaves should be free from blemishes and vibrant.
When you get the cilantro home, I like to gently dry it with paper towels if the leaves and stems are wet. Then cut off the bottom inch of the stems. Place the bunch in a cup of water and cover the cup with a plastic bag. Cilantro can be stored like this in the refrigerator for up to two weeks.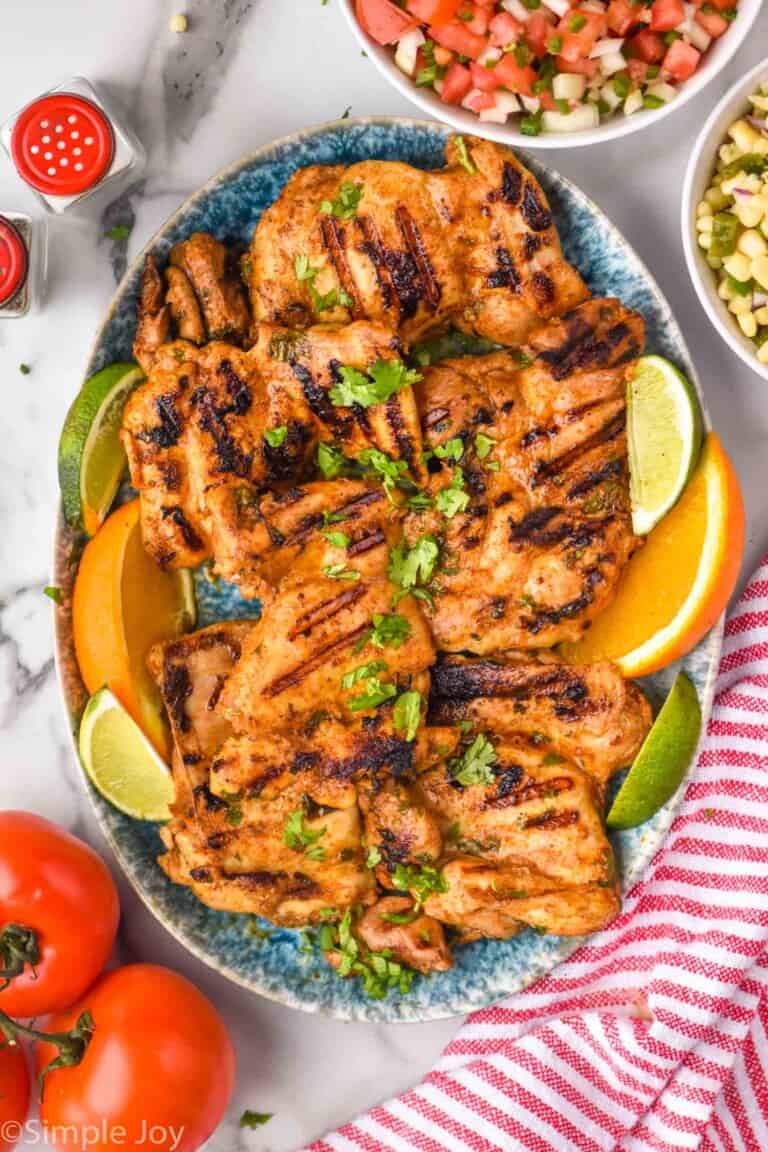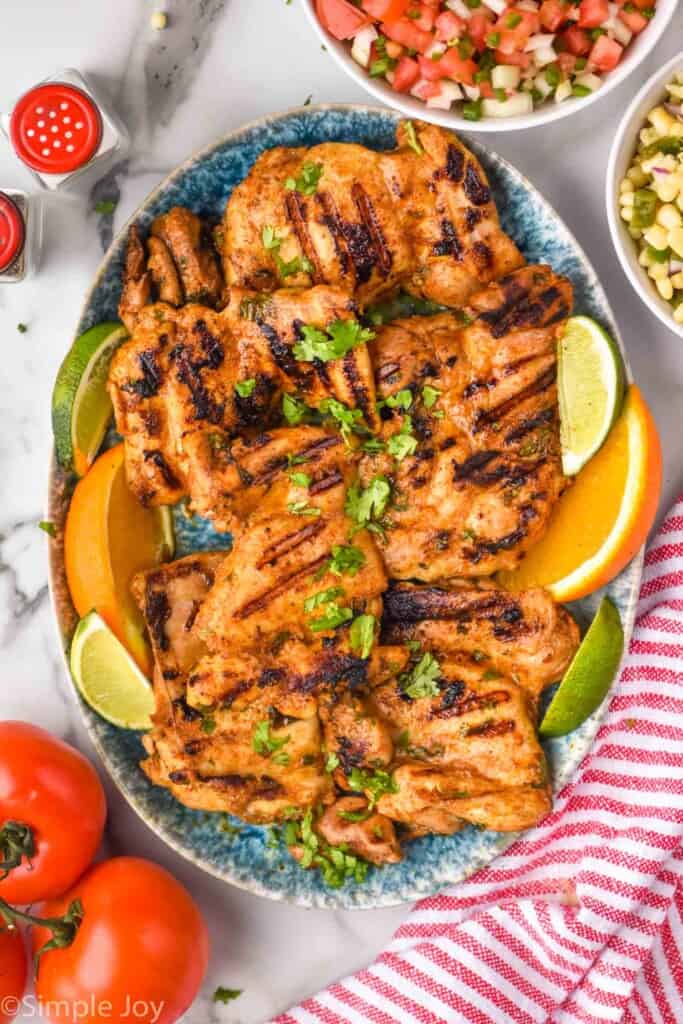 Grilling Chicken
This recipe calls for the chicken to be grilled. Aren't the grill marks on this chicken just perfect? We own a grill pan and find it works perfectly for this recipe, and things like my Chicken Wrap.
Cooking in a Skillet
That being said, if you don't have a grill pan and if you aren't ready to pull your grill out yet, make this recipe in a skillet. You can even cook it right in the marinade. Pour everything right in a skillet, cook it over medium heat, covered for seven minutes. Flip the chicken thighs and cook for seven more minutes. It will be just as delicious.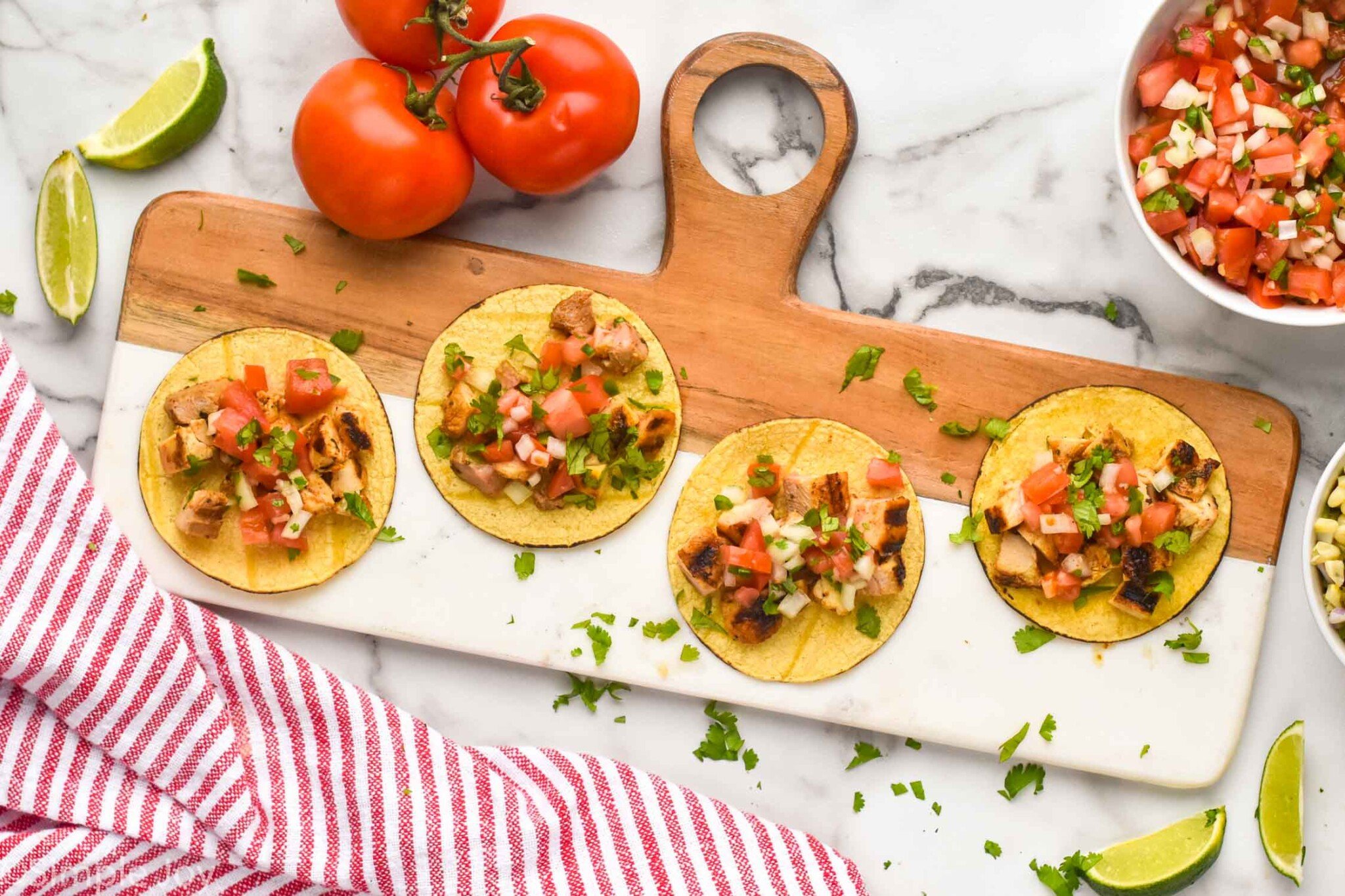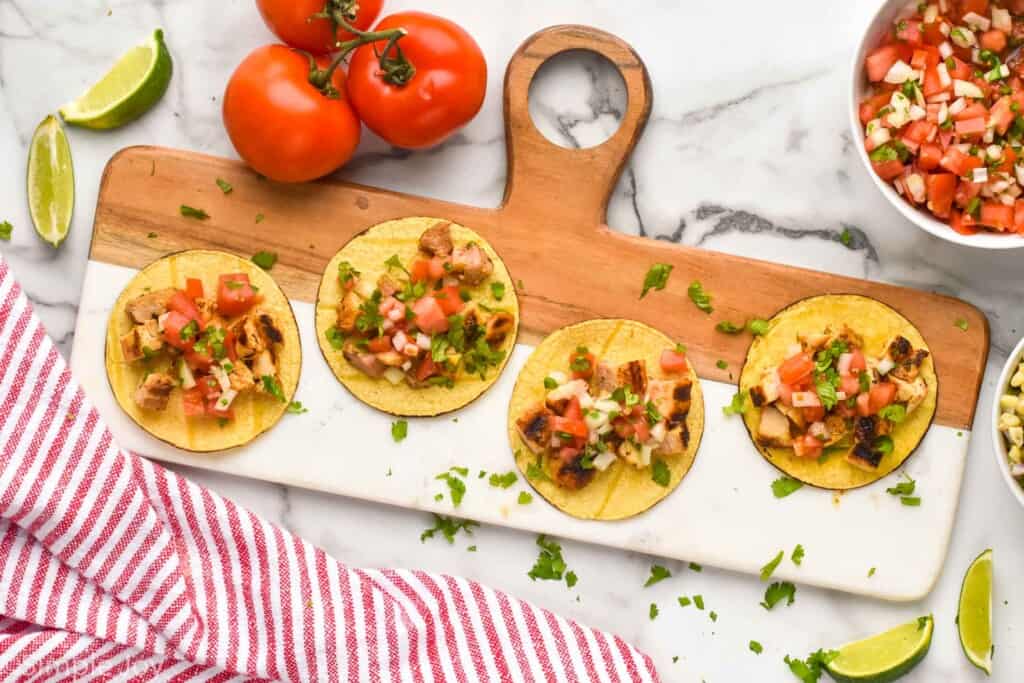 How to Top Street Taco Recipe
I always eat my street tacos with my simple Pico de Gallo recipe. It is absolutely amazing. But you could also just top this recipe with some onions and cilantro. My kids love their tacos with a little shredded cheese and some pickled jalapeños. While this isn't the traditional way to eat street tacos, the fact that they are happily eating is a win for me.
Truthfully, one of the reasons we love taco night so much is because each of my kids is able to put together their own tacos exactly the way they want. It is what has made this dinner the easiest to serve our family for literally more than a decade.
FAQ
Can I use chicken breasts for these street tacos?
Yes! Just make sure that you use an instant read thermometer when you are cooking it. That way you can pull the chicken off the grill right when it hits 165 degrees.
The benefit to using chicken thighs is that they stay really moist. It is easy for chicken breasts to dry out when they are cooking, so it is essential that it is not over cooked.
What if I don't like cilantro?
Fair question. Please read my small essay about cilantro above.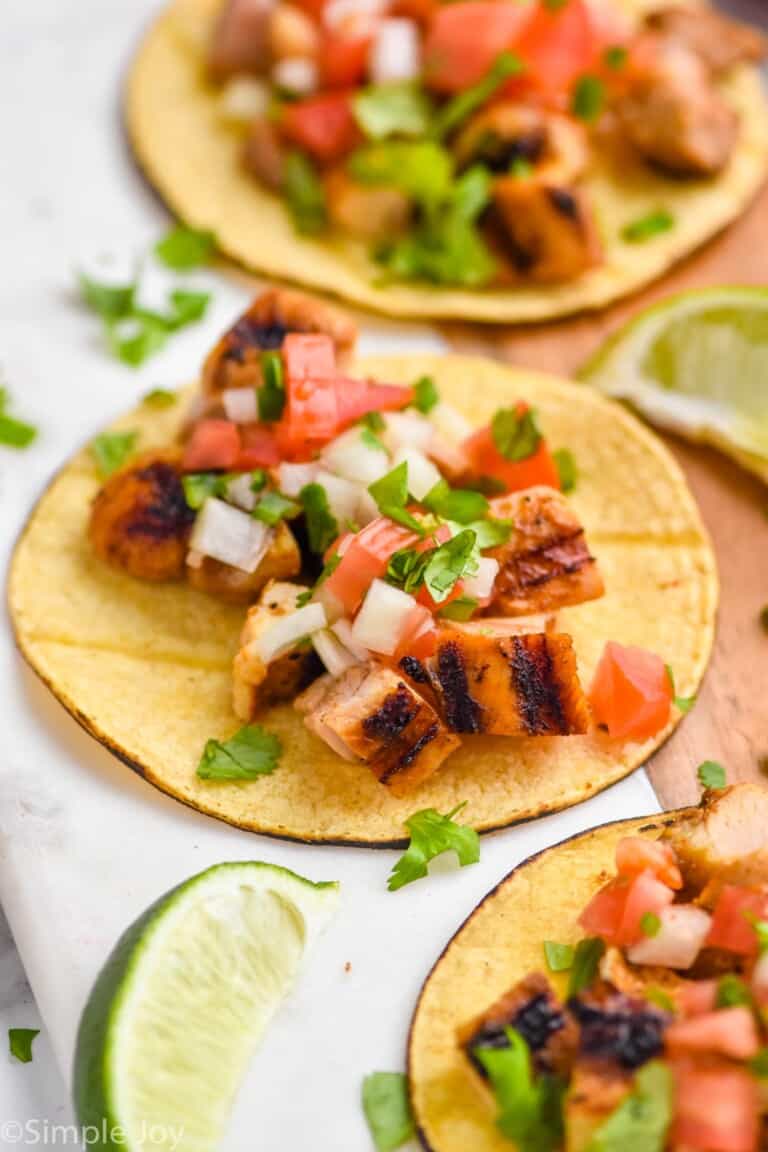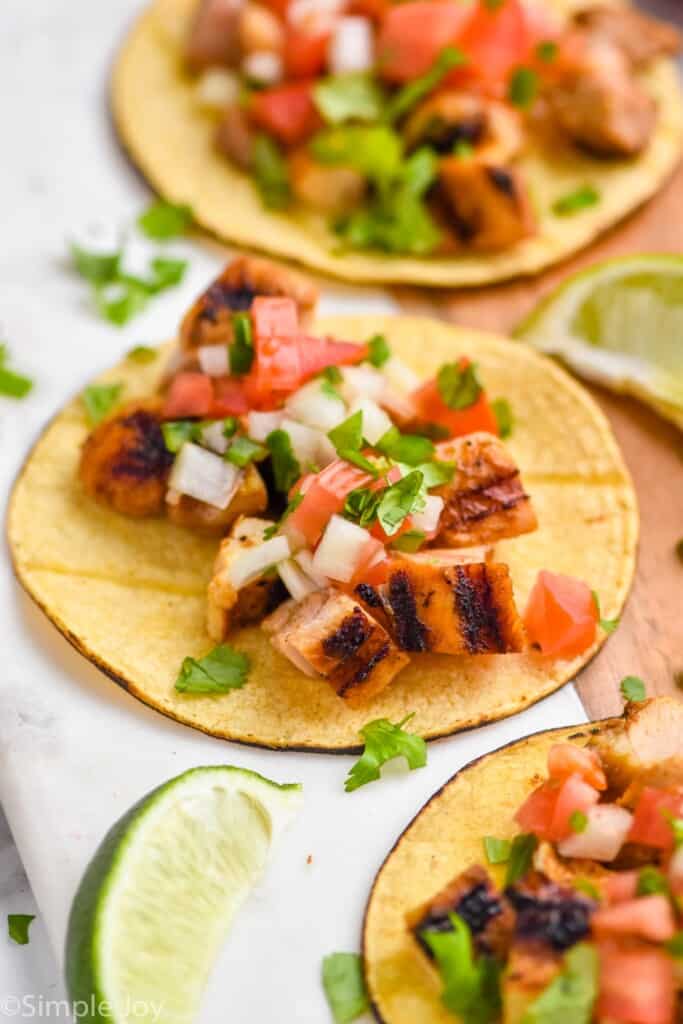 What to Serve with Street Tacos
If you make this chicken street tacos recipe please leave me a comment and let me know what you think!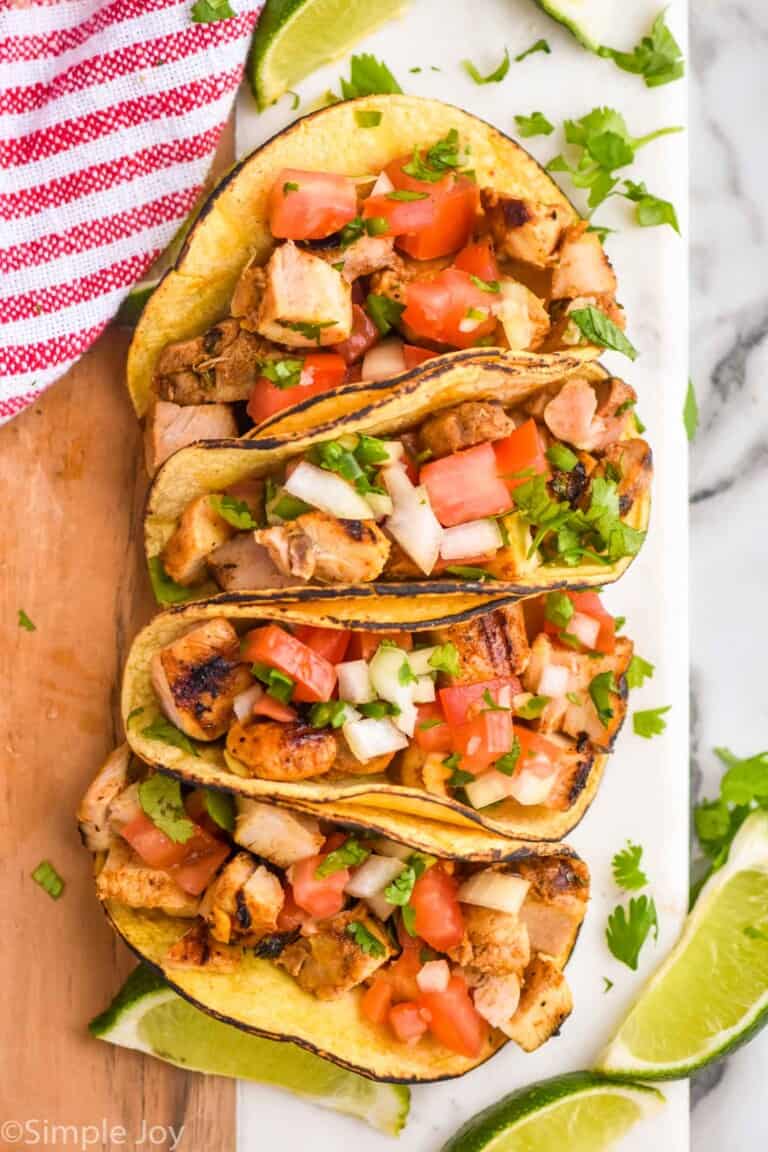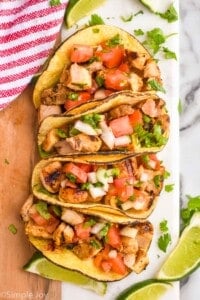 Chicken Street Tacos
Total:
2
hours
24
minutes
Chicken Street Tacos are the greatest dinner! The perfect marinade for this chicken, with it's citrus, cilantro, and garlic, makes for street tacos that everyone will want over and over.
Ingredients
1 1/2

pounds

boneless skinless chicken thighs
Chicken Street Taco Marinade
1/3

cup

orange juice

(the juice of one orange)

2

tablespoons

lime juice

2

tablespoons

vegetable oil

2

garlic cloves

minced

1

tablespoon

chili powder

2

teaspoons

kosher salt

1

teaspoon

cumin

1/4

cup

cilantro

minced
Instructions
Combine the orange juice, lime juice, vegetable oil, garlic, chili powder, salt, cumin and cilantro in a large bowl. Whisk until smooth.

Add the chicken to the marinade. Flip several times to make sure that the thighs are completely coated. Cover and marinate for 2 to 24 hours.

Pull the chicken from the marinade and discarde the excess marinade. Place on the grill and cook for 7 minutes. Flip and cook for another 6 to 7 minutes or until an instant read thermometer registers 165. (Depending on the size of the thighs, some might hit that temperature before others.)

Transfer to a cutting board and dice. Serve in taco shells with pico de gallo.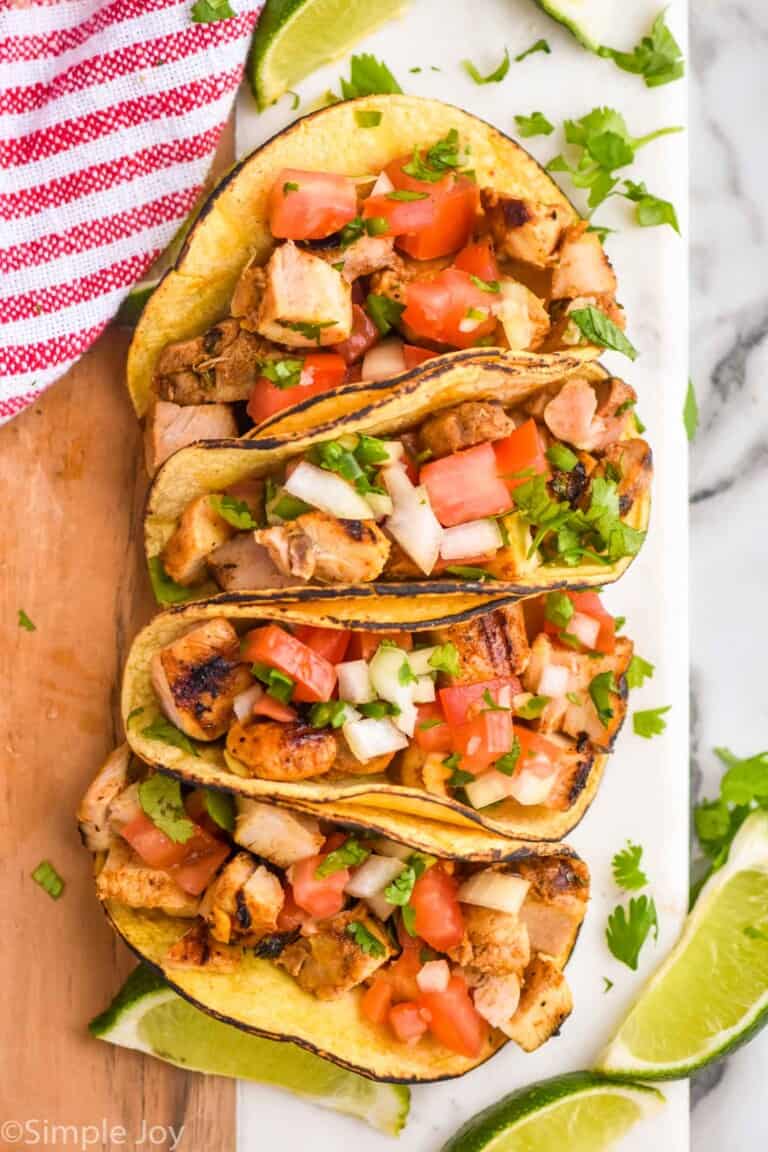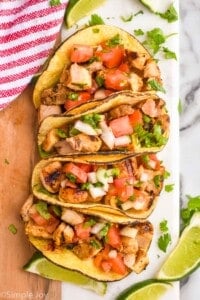 did you make this
Chicken Street Tacos
you might also like . . .