This BBQ Chicken Pizza Roll is a jam packed flavorful dinner you're family will love!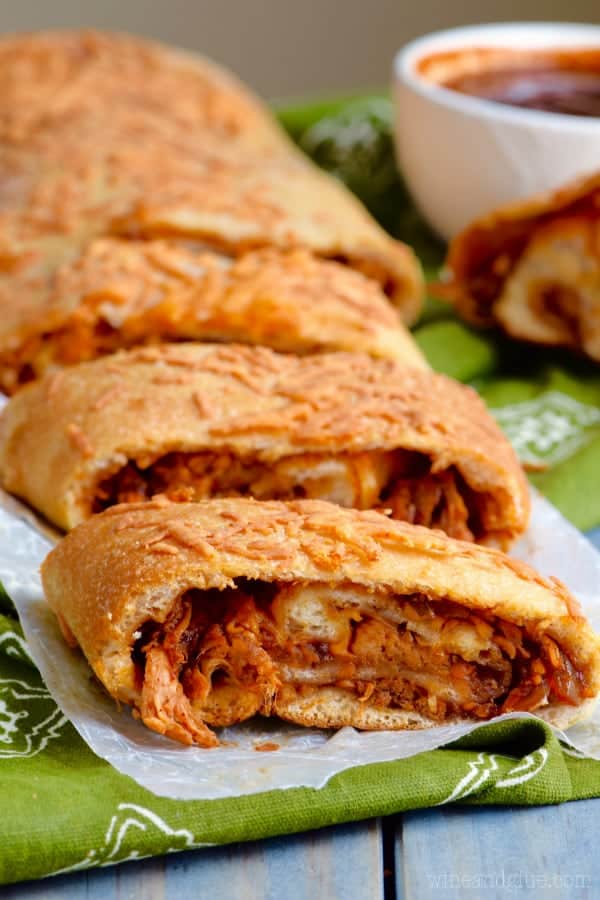 Have you guys seen the Activewear video yet?
Okay, if you haven't, go watch it and then come back.
I'll wait.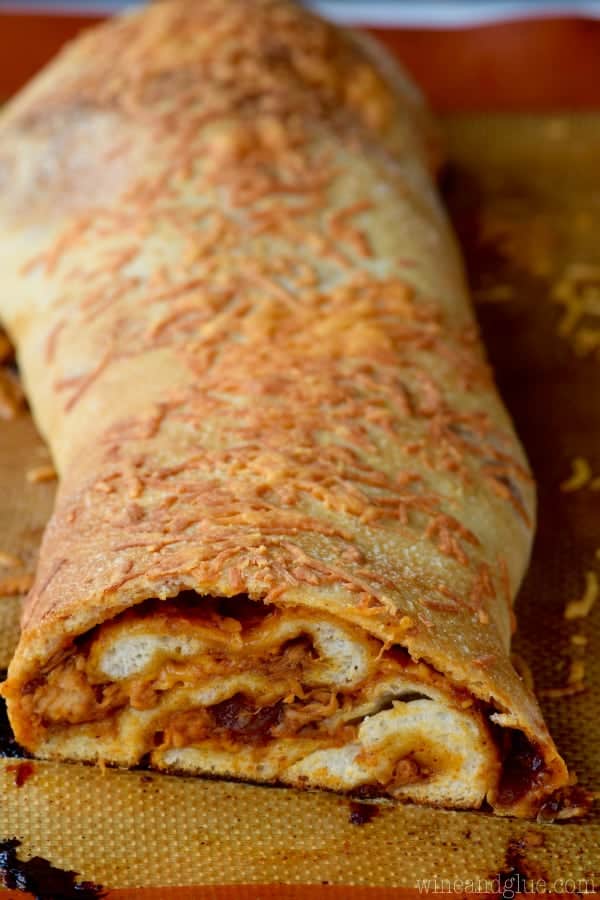 So the other night, Nathan came home from work and I was . . . . in Activewear. Which to be fair, I'm not one of those girls. I don't wear activewear around all the time. I just . . . . worked out and didn't shower.
Wait.
That's probably worse.
Anyway, he immediately felt the need to pull up that video. Which is hilarious. And my kids thought it was hilarious. And then for the rest of the night they were narrating what they were doing . . . in activewear.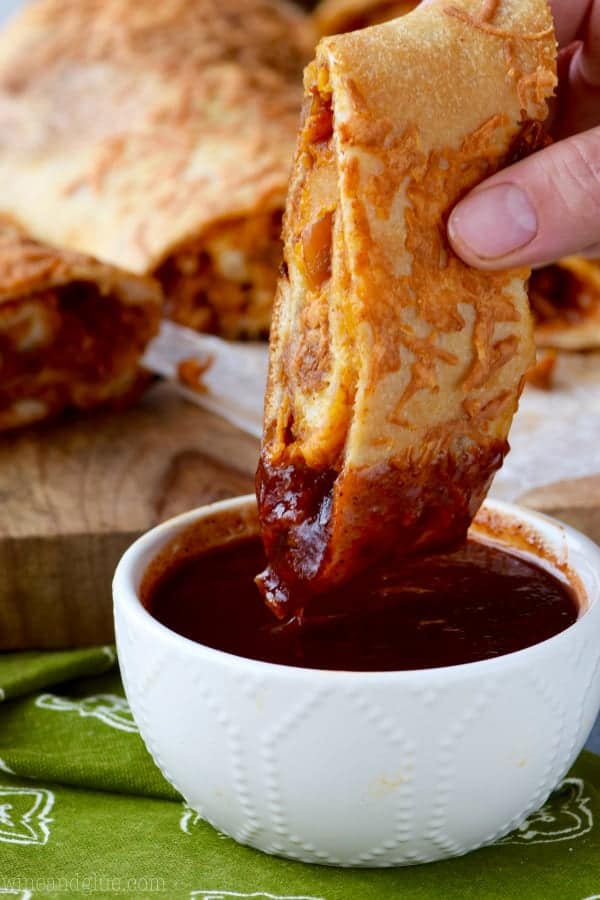 Gavin: "Brushing my teeth in my activewear, activewear>"
Quinn quietly under her breath: "Eating a bagel in my activewear . . . activewear, activewear . . . . going up to bed in my activewear."
I wanted to add to it, "Throwing a giant tantrum about absolutely nothing in your activewear . . . activewear."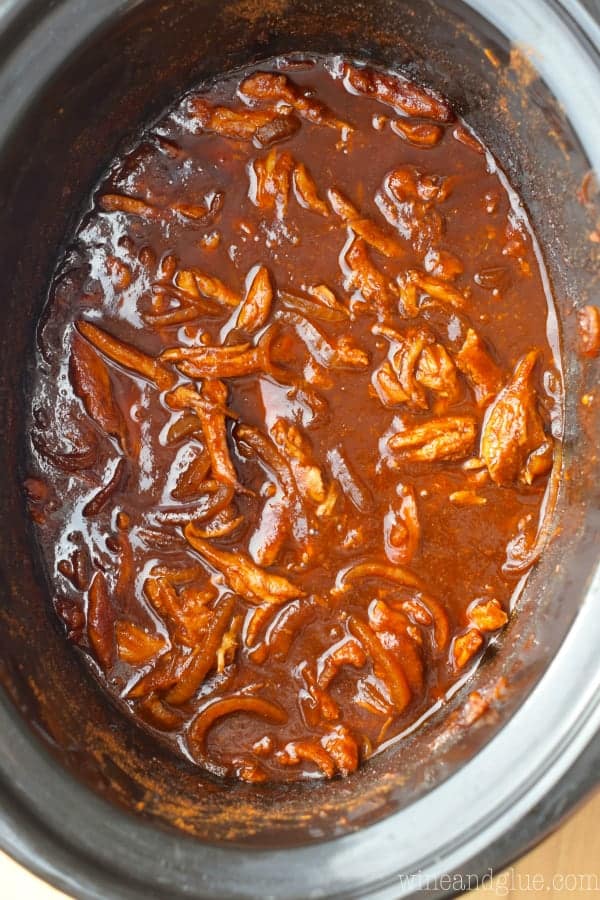 Let's talk about this BBQ Chicken Pizza Roll (in our activewear . . . . )!
So, technically this is a BBQ Chicken Stromboli, but I feel like a lot of people don't know what a stromboli is. It's basically a rolled up baked pizza. You can put just about anything in there, but I really think you should put some slow cooker bbq chicken in there. It's my own personal bbq sauce recipe with a little cheese on some refrigerator pizza crust. And you guys. It's amazing. It's seriously so good. You are going to make this all the time for weeknight dinners.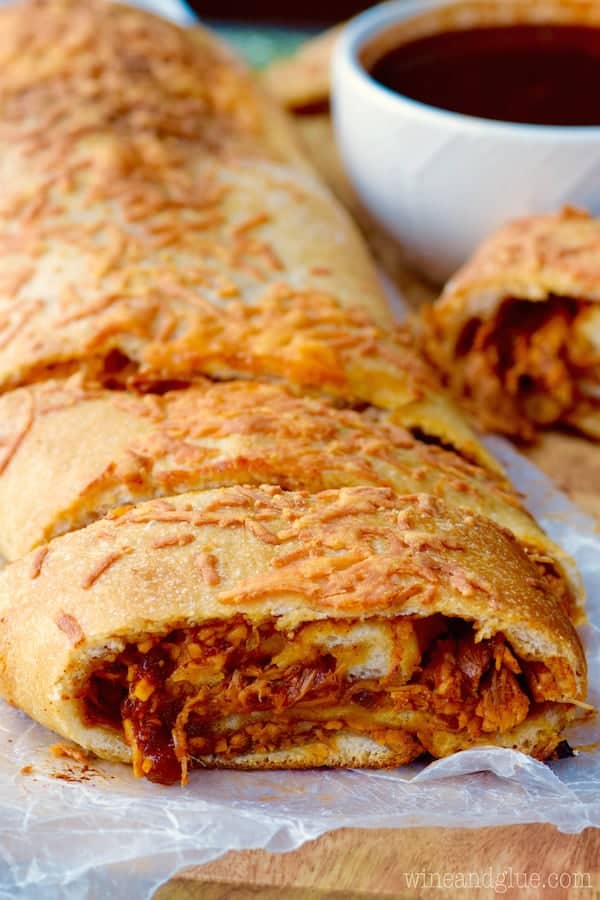 You can make the chicken ahead of time, shred it, and store in in the fridge and then throw together your pizza roll right before you want your dinner.
If you are looking for pictures on how to put this bad boy together, scroll beneath the recipe.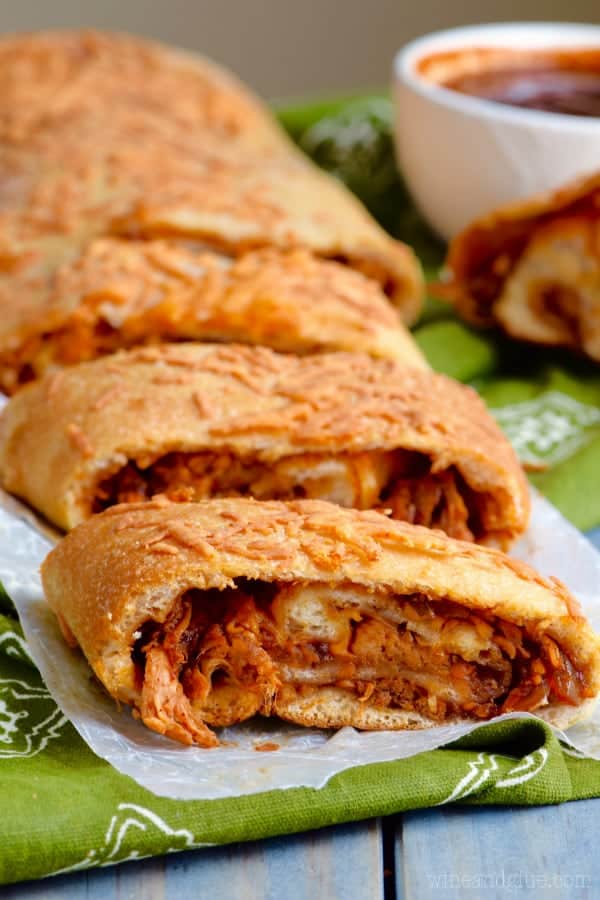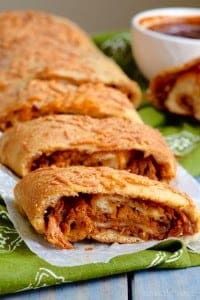 BBQ Chicken Pizza Roll
This BBQ Chicken Pizza Roll is a jam packed flavorful dinner you're family will love!
Ingredients
1 1/2

cup

ketchup

1 1/2

cup

brown sugar

3/4

cup

apple cider vinegar

1 1/2

tablespoon

Worcestershire Sauce

2

teaspoons

kosher salt

1 1/2

teaspoons

paprika

1 1/2

tsp

onion powder

1 1/2

tsp

garlic powder

1/2

a large red onion sliced thin

1

pound

chicken breasts

1

recipe

pizza dough

2

cups

cheddar cheese

1

tablespoon

butter

melted

1/4

tsp

garlic salt

1/4

cup

finely grated cheddar cheese
Instructions
Make sure you read through all of these instructions before you start! This chicken is slow cooker, so you need to start 4 hours before you want dinner or the day before.

Whisk together ketchup, brown sugar, apple cider vinegar, Worcestershire sauce, salt, paprica, onion powder, the garlic powder in the slow cooker. Add the chicken and sliced onions. Cook on low for three hours. Shred the chicken.

Preheat your oven to 375 degrees.

Roll out the pizza dough to 10 by 15 inches on a parchment lined baking sheet. Top with 2 cups of the chicken. Add 2 cups of shredded cheese and onions.

Starting with the long side (the 15 inch side), roll up the dough and chicken. Tuck the ends in. Position in the center of the baking sheet. Brush with melted butter, top with garlic salt and cheese.

Bake for 34 to 38 minutes, or until it is golden brown and when tapped on top sounds hollow.

Let rest for about 10 minutes before slicing and serving with the remaining barbecue sauce.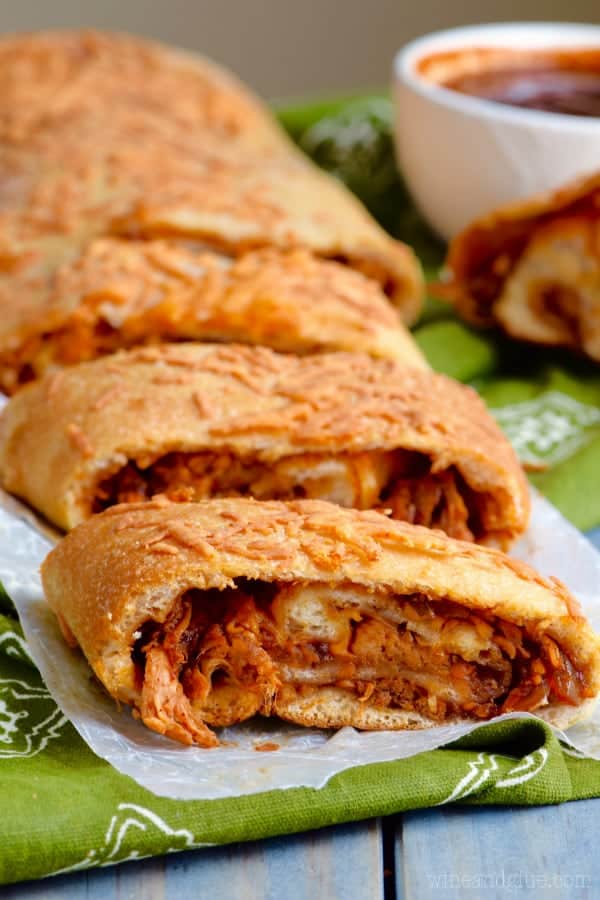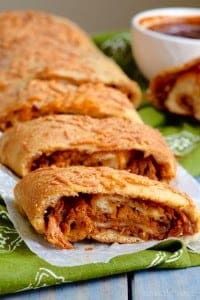 did you make this
BBQ Chicken Pizza Roll