The Secret to the Perfect Pizza Dough Recipe! Easy to follow step by step photos that will give you the perfect pizza dough! And if the pictures aren't enough to help you out, I have a video that shows the whole process. Read the reviews on this recipe, you will never use another pizza crust recipe!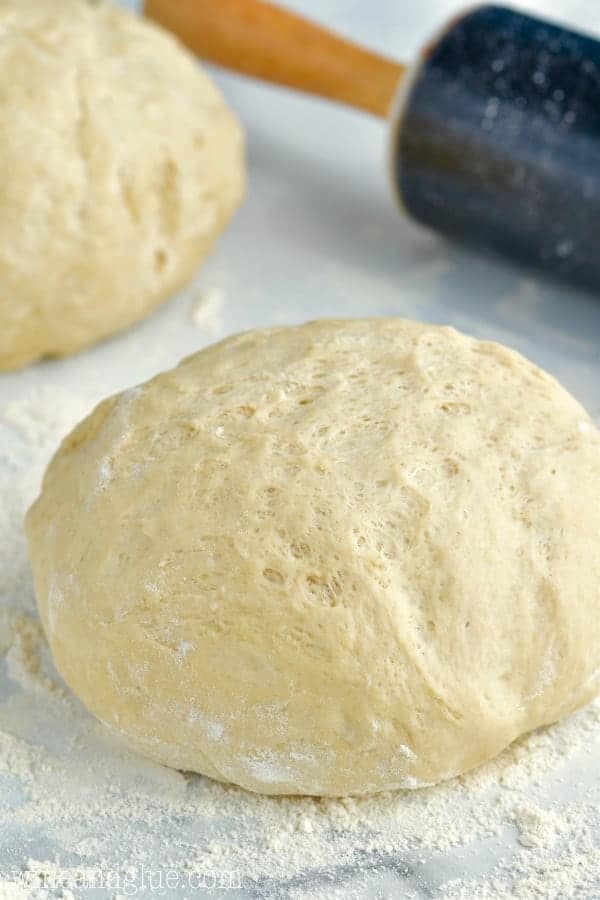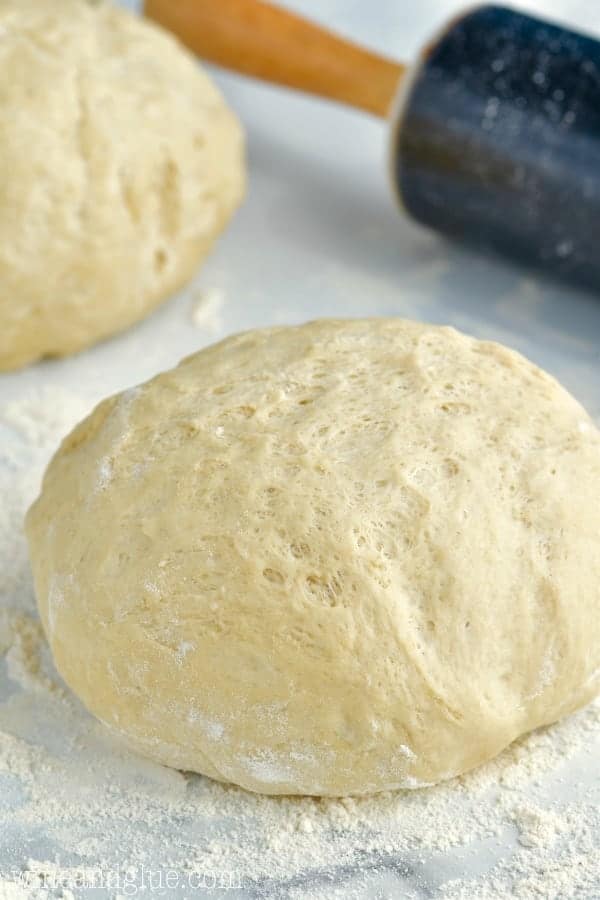 This pizza dough recipe is a family recipe passed down from my mom, and it is an absolute winner. It is one that we use in our house weekly and it always turns out perfectly.
The secret to this recipe is both very simple and very important.
READER REVIEW
"I'm definitely saving this recipe because I just made the most perfect pizza for dinner and it's because of this perfect crust. Absolutely the perfect balance of tender/chewy/fluffy/crispy." – Rebecca
The Secret to the Best Pizza Dough Recipe
So here is the secret to making your perfect pizza dough at home, water temperature.
Yup. That's it.
You just have to make sure that your water is in the zone. I'm not going to tell you how many seconds to microwave it, because water comes out of the faucet/fridge tap at different temperatures and microwaves all work differently.
You really need to use a thermometer. If the water isn't hot enough, it won't wake up the yeast. If it is too hot it will kill the yeast. If it is in the correct temperature window, it will bubble up just perfectly.
Believe me, I wasted lots of dough before my mom, fed up with my phone calls to her about why it wasn't working, just gave me her thermometer. She could tell the correct temperature by touch and after many batch of dough you'll be able to also.
Temperature to Proof Yeast
In order to proof your yeast, the temperature of the water needs to be between 110 and 115 degrees Fahrenheit.
How to Make Perfect Pizza Dough
Now that you know the secret, we can get started.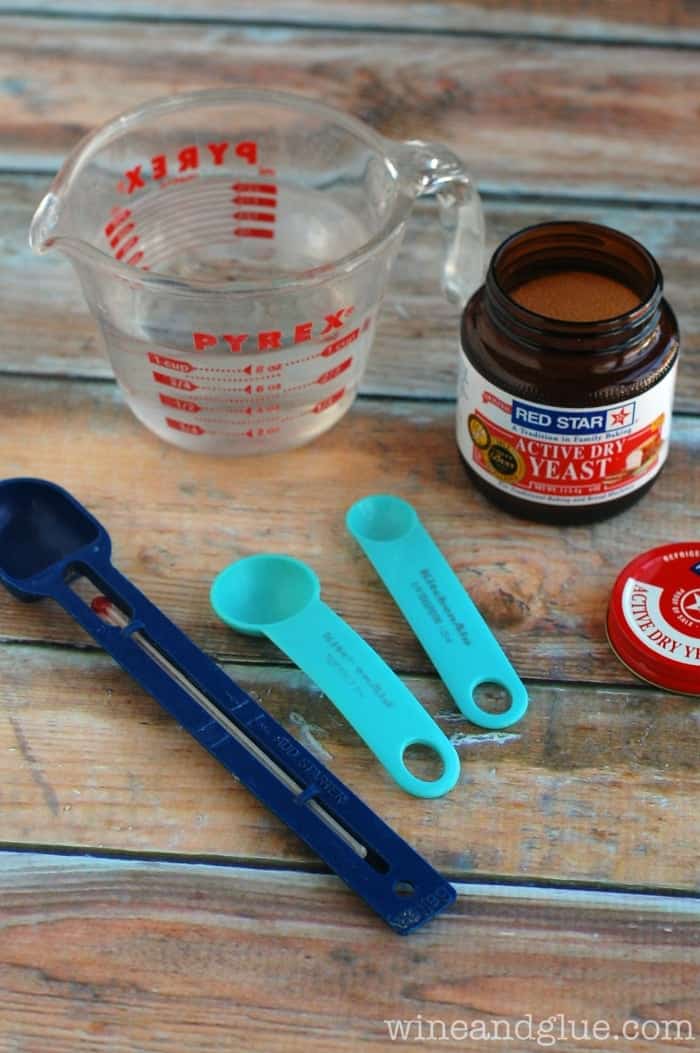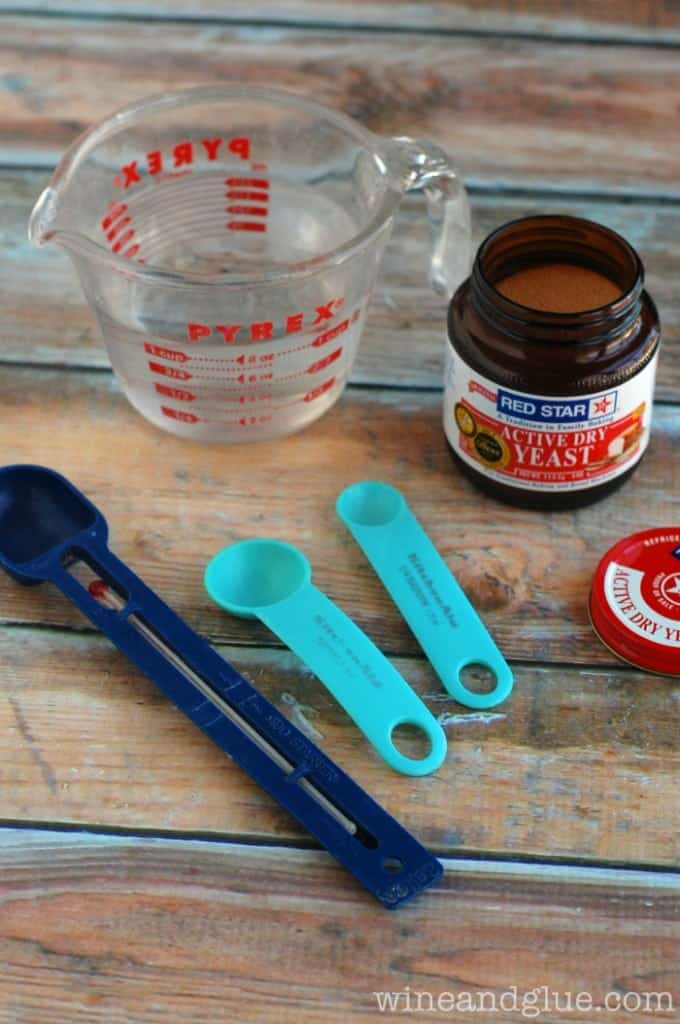 This thermometer taught me the feel of the right temperature for water. For years, I used it every single time I made dough. I doubt you'll be able to find another just like it, but a candy thermometer will work just as well.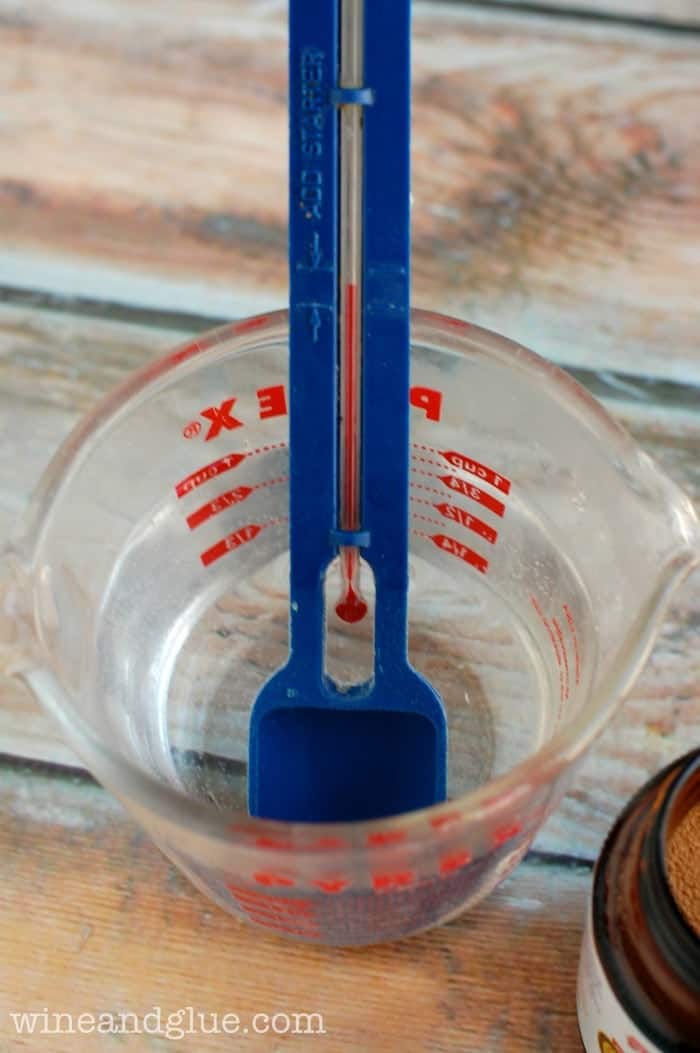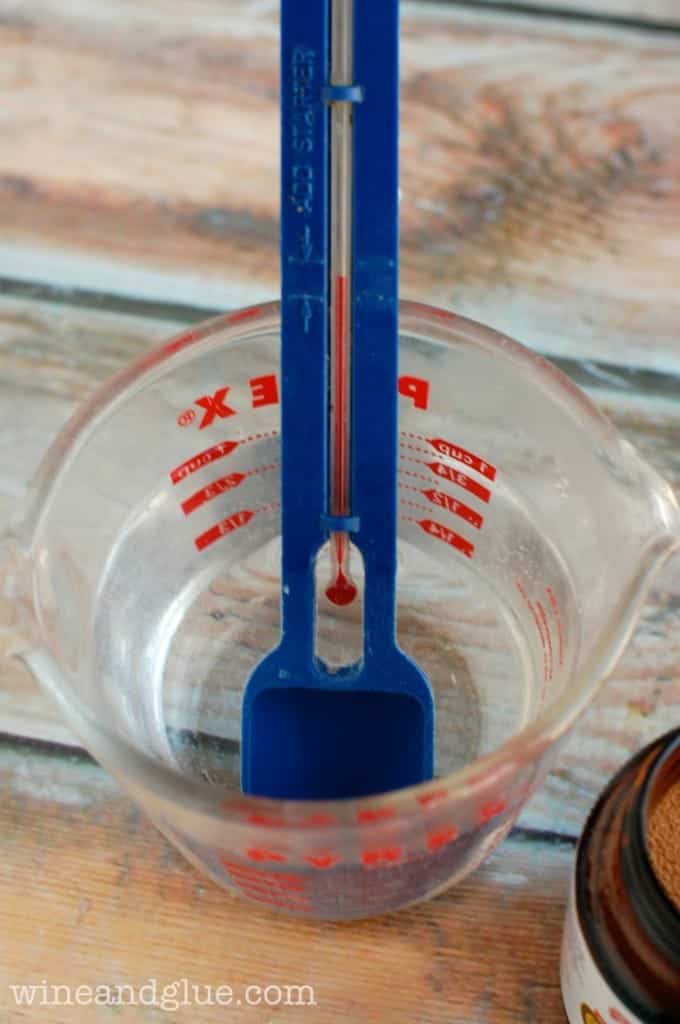 Once you get it in the temperature window (and sometimes I have had to dump my water and start over), you add 2 1/4 teaspoons of active dry yeast and one teaspoon of sugar. You don't really have to stir, it will work it's way in.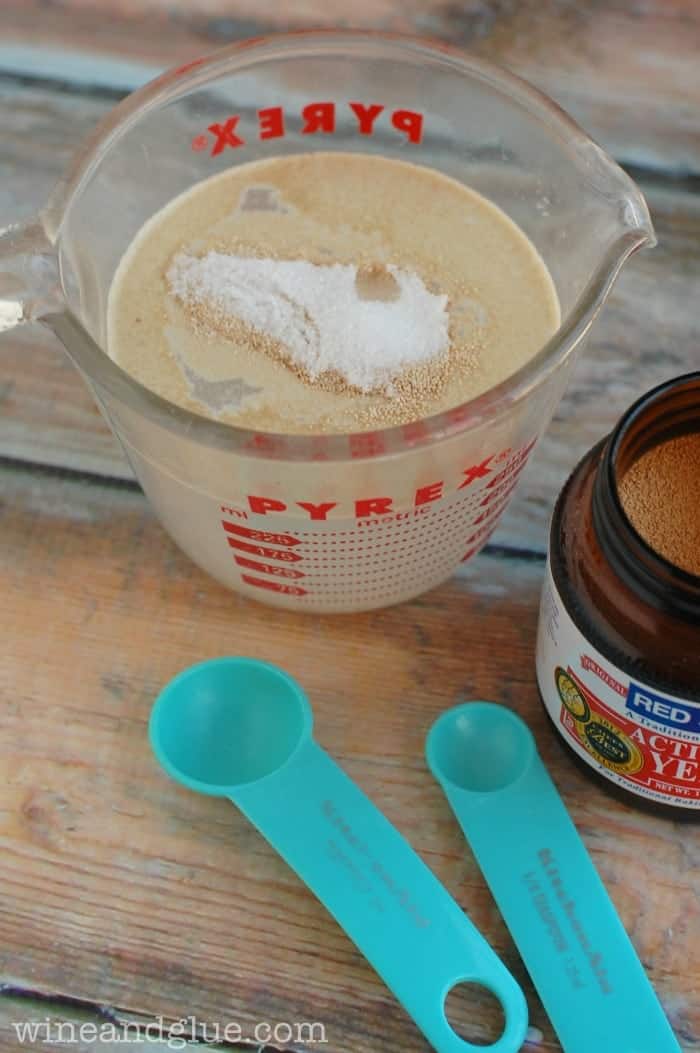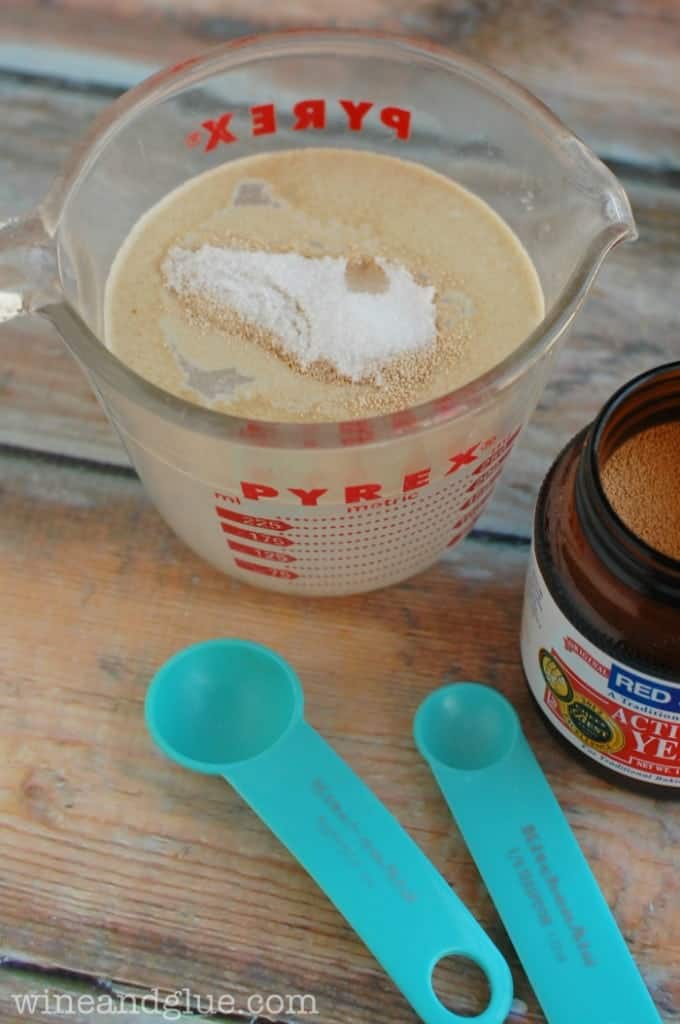 Let it sit for about five minutes until it is nice and frothy on the top.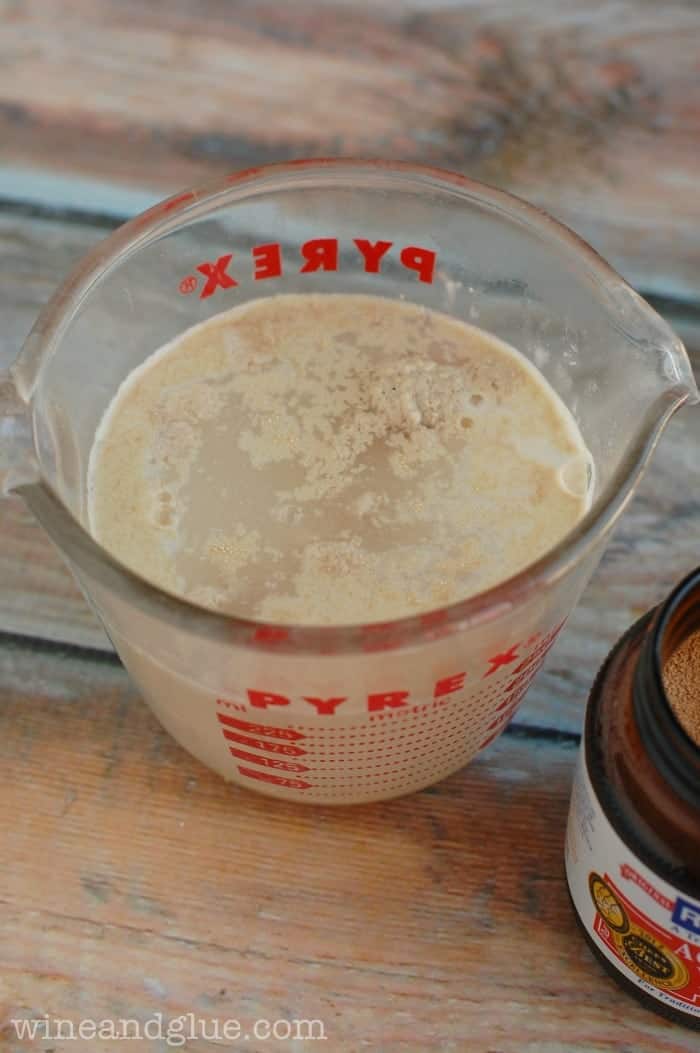 If it doesn't look like the picture below after you let it sit for five minutes, dump it and start over. I would much rather you waste a little yeast, sugar, and water than end up with a bad batch of dough or pizza.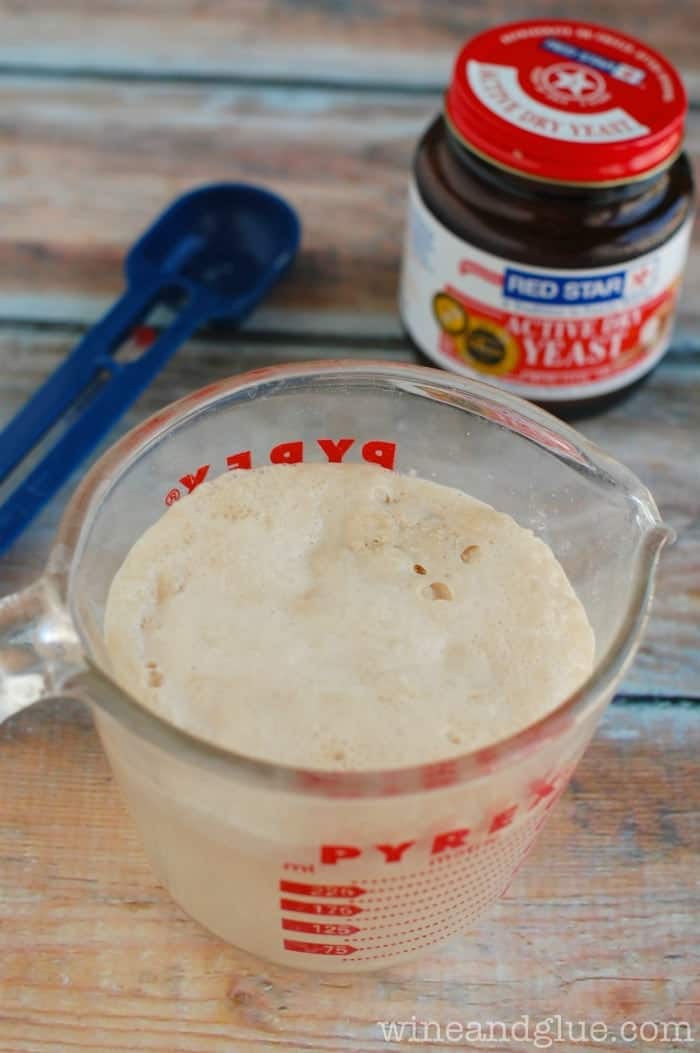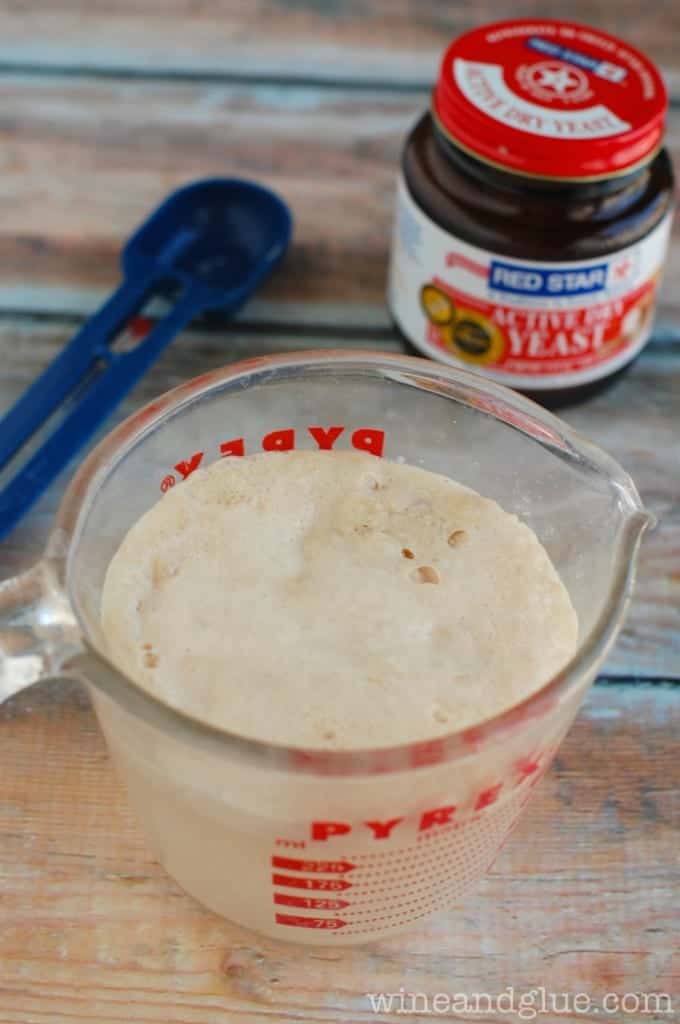 In the bowl of a food processor, mix together:
3 cups of all purpose flour
1 teaspoon of Kosher salt
Now add the water yeast mixture and then 1 TBSP extra virgin olive oil.
Spray a large bowl with cooking spray, and then drop in your dough. (I use this large bowl for about 75% of my recipes I swear.) Cover with plastic wrap and let it sit for at least one hour, but two is better.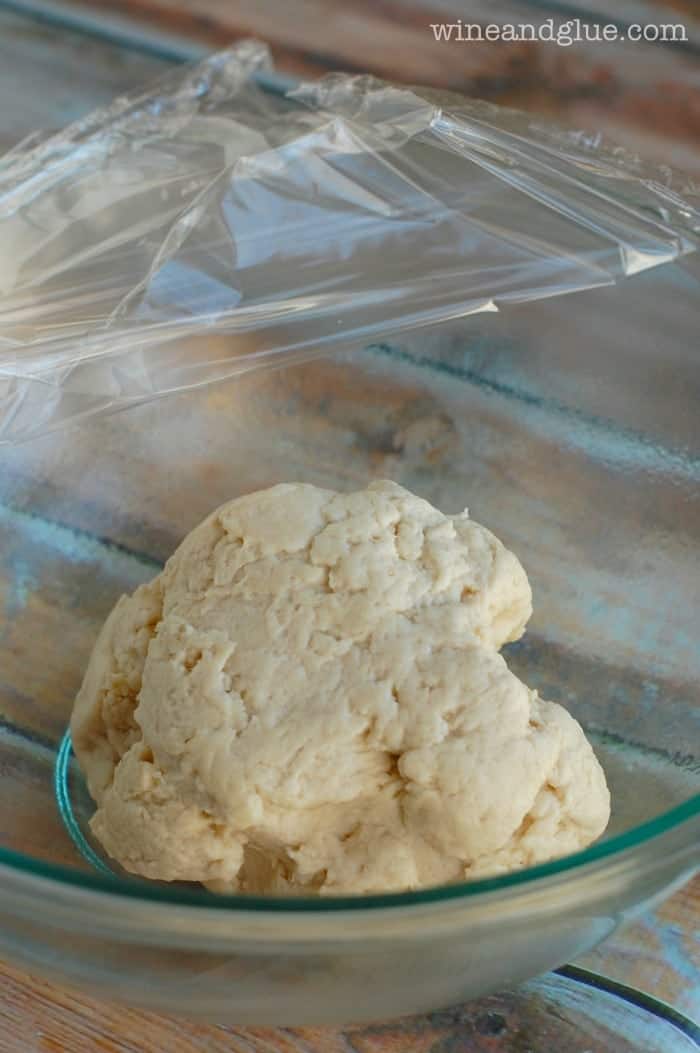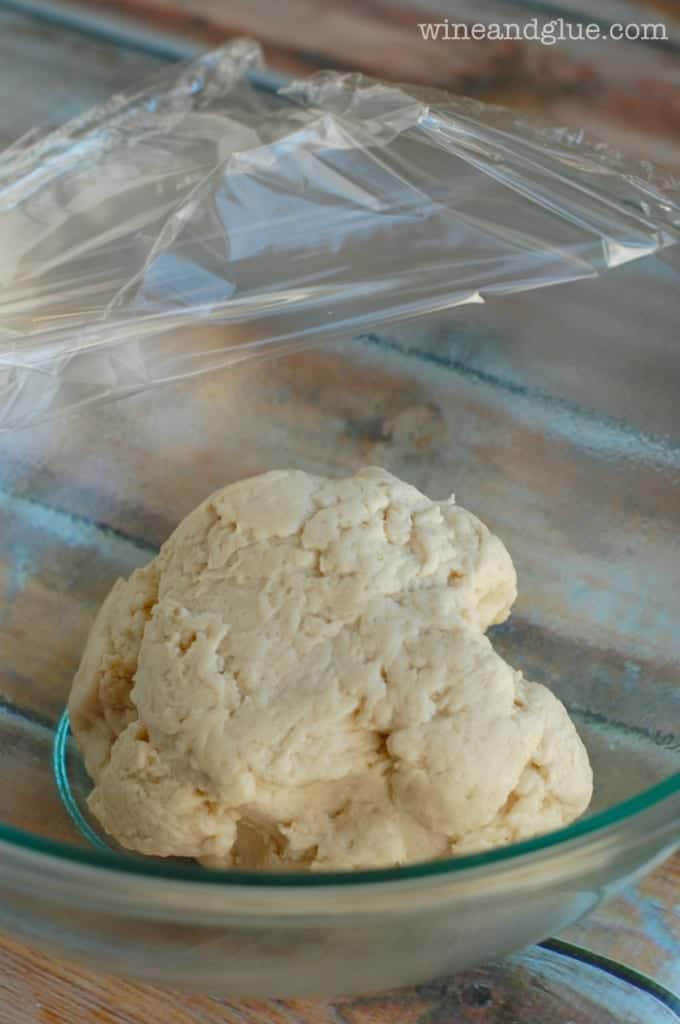 Your dough should have doubled in size. And will ultimately should look like the photo below.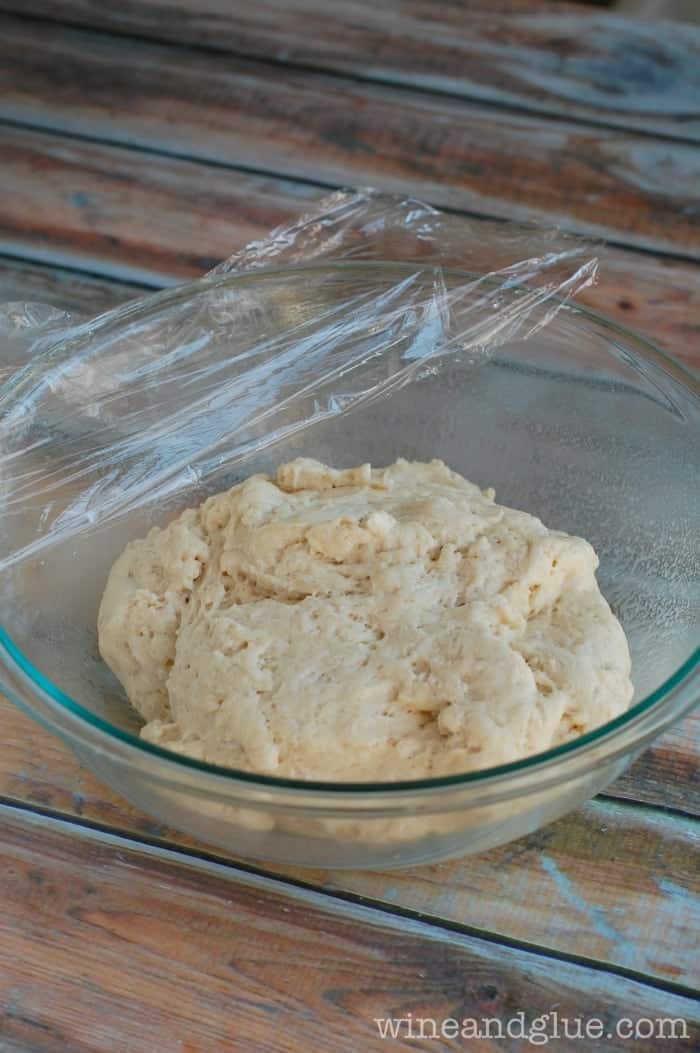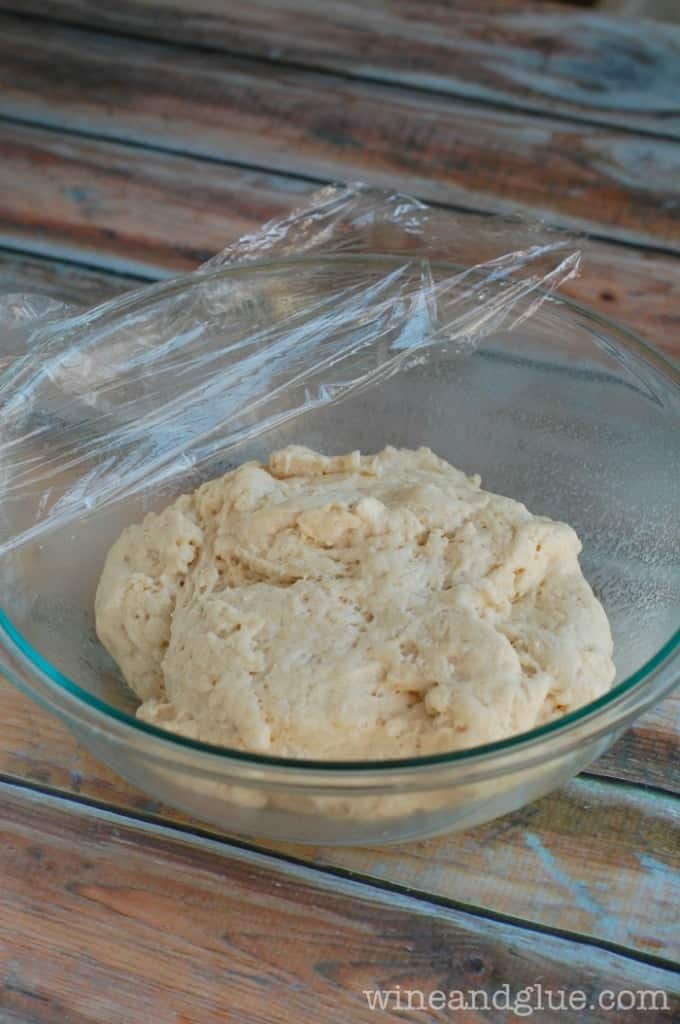 Pizza Recipes
This recipe makes two pizza crusts. Rip it half and roll it out for two different pizzas. This recipe also works well for 5 small individual pizzas.
Try some of my different pizza sauce recipes!
In the summer months try making your pizza on your grill! It cooks fast and is a big hit every time we do it.
Storing Leftover Dough
When we only make one pizza, I store the extra crust in the refrigerator and we get to have pizza again tomorrow night too! When pulling the crust out the next day, just make sure to bring it to room temperature for about 5 to 10 minutes before you start working with it.
I haven't personally frozen this pizza dough recipe (we eat it too fast!), but several readers have at the "divide into two dough balls" stage and have had great results.
Perfect Pizza Dough Cheat Sheet
Here are all the tips you need to make sure it comes out perfect every time:
Make sure that your water is the right temperature (between 110 and 115 degrees Fahrenheit or between 43 and 46 degrees Celsius). After a while of making this recipe, you will be able to do it without the thermometer.
Once you add the yeast and sugar, leave it for five minutes and wait for your yeast to proof. If it isn't nice and frothy like the picture above, dump it and start over.
When measuring the flour for this recipe, make sure to scoop the flour into the cup and level off. If you scoop right from the flour container, you might end up with more flour.
If your dough isn't coming together well (because maybe you did add a little too much flour), add a tiny bit of warm water, just a few teaspoons at a time until it comes together.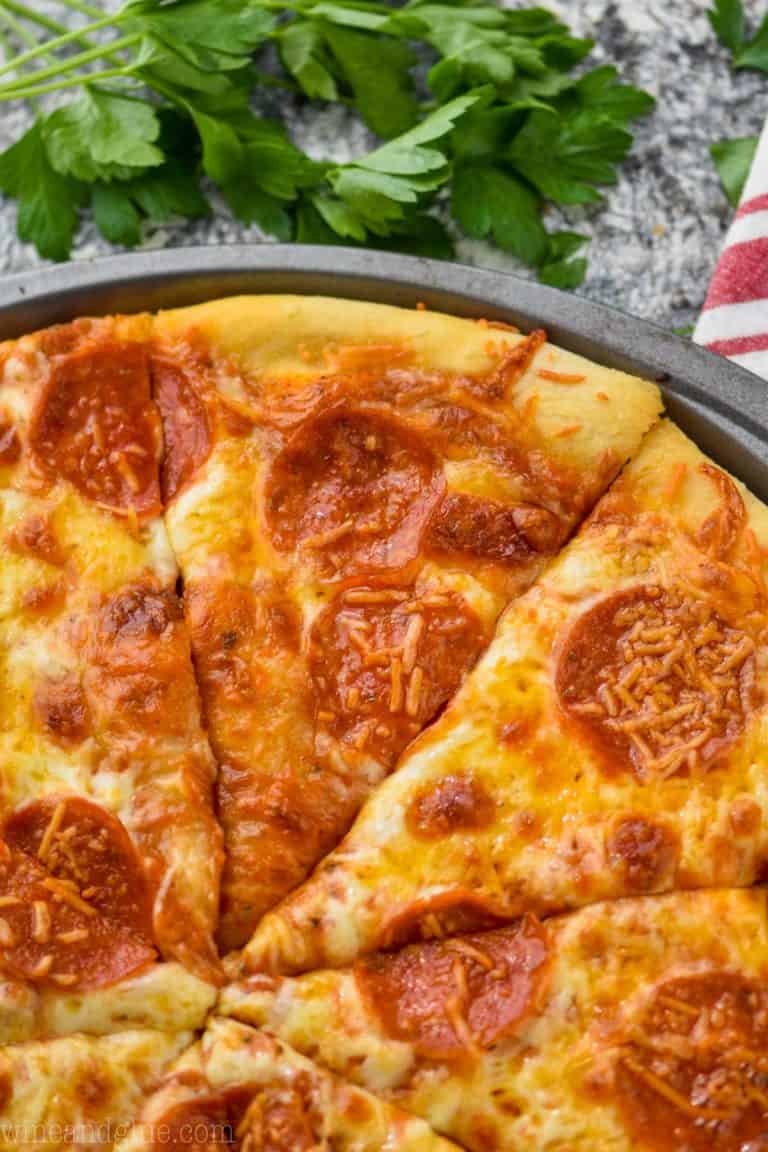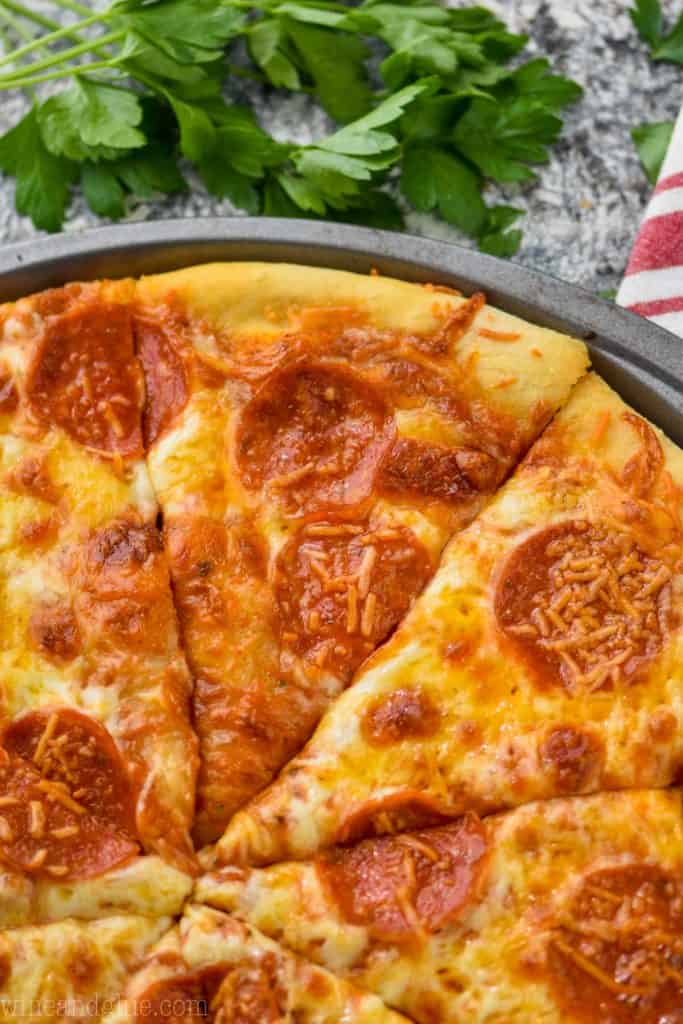 If you make this pizza dough recipe, leave me a comment to let me know how it went and what you topped your pizza with!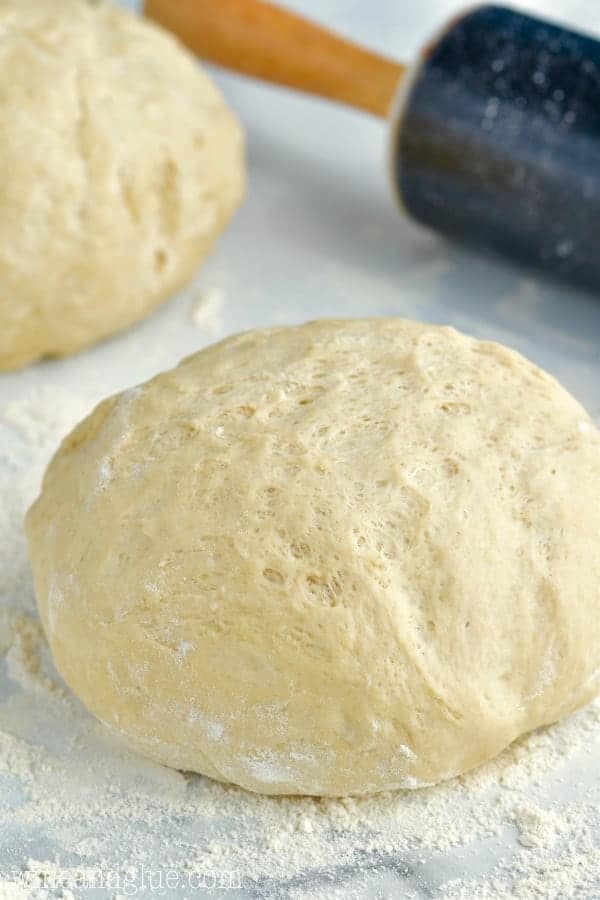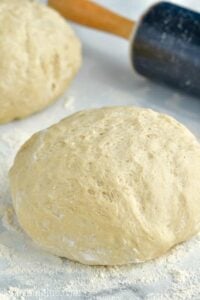 The Secret To Perfect Pizza Dough
The Secret to the Perfect Pizza Dough Recipe! Easy to follow step by step photos that will give you the perfect pizza dough!
Ingredients
1

cup

+ 1 tablespoon water

heated to 110 to 115 degrees

2 1/4

tsps

active dry yeast

1

teaspoon

granulated sugar

3

cups

all purpose flour

1

teaspoon

Kosher salt

1

tablespoon

extra virgin olive oil
Instructions
Heat water to between 110 and 115 degrees. (You will use the full 1 cup and 1 tablespoon all at once.)

Sprinkle 2 1/4 tsps active dry yeast over the water. Then sprinkle 1 tsp of sugar over the yeast. Let it sit until the water has become frothy. If it doesn't froth as pictured above, dump your water and start again.

In the bowl of a food processor add three cups all purpose flour and salt. Pulse for a few seconds to evenly distribute the salt.

With the food processor running, add the oil. Then add the yeast water combination with the food processor still running until a dough ball forms.

Spray a large bowl with cooking spray. Put the dough ball in and cover with plastic wrap. Allow it to double in size, about an hour to an hour and a half.

Pull the dough apart to create two dough balls for two pizza crusts.

Preheat your oven to 400 degrees.

Roll out the pizza dough and place on a pizza stone or pizza baking sheet, add pizza sauce, your favorite toppings, and bake for 20 to 25 minutes.
Serving:
1
slice
Calories:
91
kcal
(5%)
Carbohydrates:
16.8
g
(6%)
Protein:
2.2
g
(4%)
Fat:
1.2
g
(2%)
Saturated Fat:
0.1
g
(1%)
Polyunsaturated Fat:
0.1
g
Monounsaturated Fat:
0.6
g
Sodium:
70
mg
(3%)
Fiber:
0.8
g
(3%)
Sugar:
0.3
g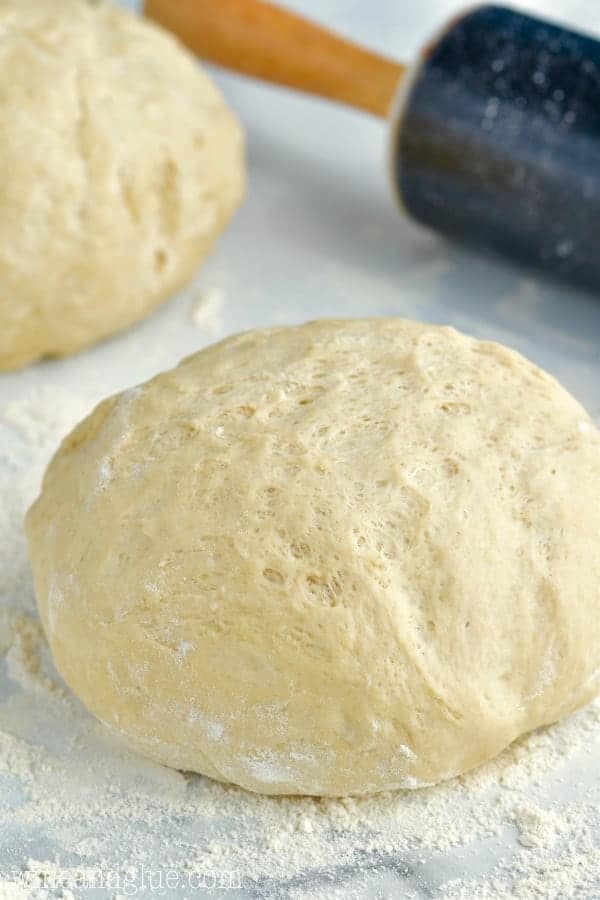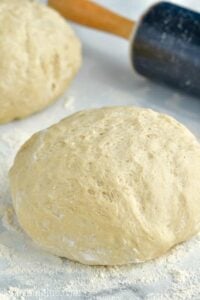 did you make this
The Secret To Perfect Pizza Dough