Black Bean Chorizo Soup | Delicious black bean chorizo soup made even more hearty and filling with sweet potatoes. The perfect soup for fall and winter!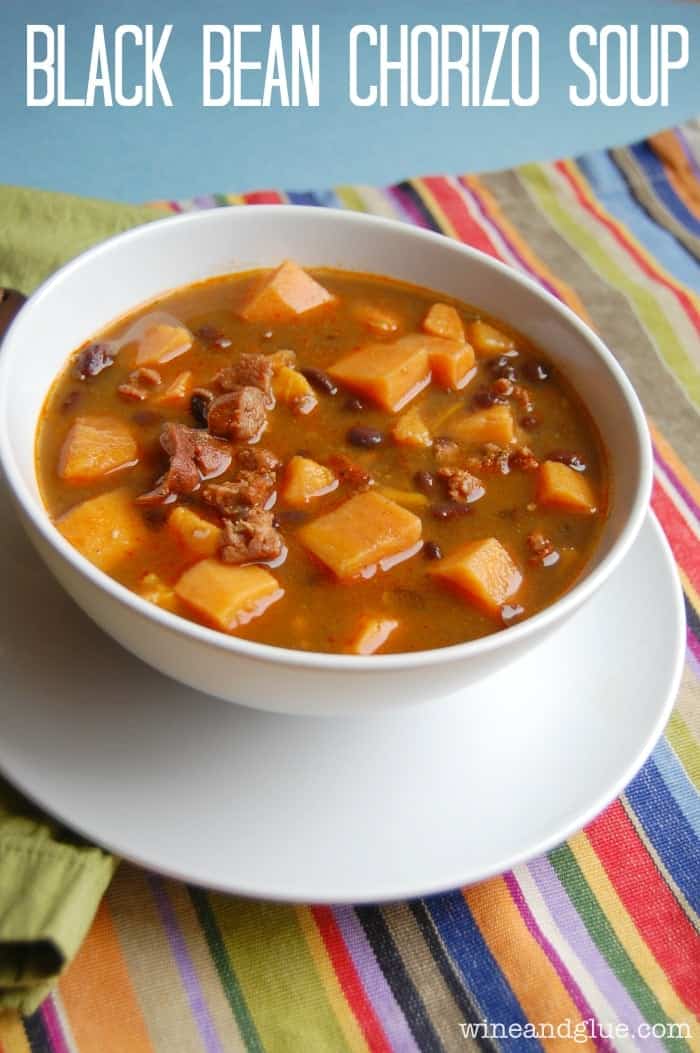 My family is  . . . special. And I'm not talking special like diamonds in the rough. Sure, they are wonderful. But I'm talking about special as in  . . . unique. Particularly when it comes to dietary needs. All of them. Sigh.

About this time last year, Nathan was doing an elimination diet to figure out what foods were making him sick. He wasn't just willy nilly picking foods to cut out of his diet and eating other things instead. It wasn't like he came home one day and said, "Honey. I am going to need a filet and home cooked apple pie. Nightly. It's an elimination diet." He was working with a doctor, and based on some testing, he had to cut out some foods. Like a lot of foods. Like a lot of major foods that I was used to cooking with. We're talking dairy, soy, gluten (say WHAT!?!?!?), eggs, pork, tomatos (SAY IT ISN'T SO!), bell peppers, spinach, and carrots to name a few. Plain chicken and rice anyone? Did I mention these were SO MANY things that I was used to cooking with?!?!? Seriously, it was right around this time that I was praying we would win the lottery and I could hire a personal chef. Actually, that still would be sort of awesome.
So I was forced to come up with and alter some recipes. This is not something I'm good at. One of the recipes I went to was Racahel Ray's Black Bean Stoup. But then when I cut out everything that he couldn't eat, plus everything he wouldn't eat, I was left pretty much with black beans. Not super awesome. Not super awesome at all.
And then I came across this at the super market!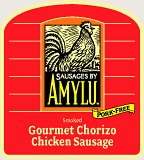 It gave me the idea for this delicious soup! It is very yummy, made from chicken, and relatively healthy as far as chorizo goes. I'm sure that I am committing meat blasphemy by calling this chorizo, but it's so good I don't care. (You may not be able to find this particular brand, but any chorizo will do.)  After the chorizo, I decided that the one thing the soup was missing was sweet potatoes and it was all genius from there. This really is the one and only time that I have put together a recipe (and it was based off of someone else's recipe!!), so this will likely be my one and only dinner post. None the less, this soup makes the two most important men in my life very happy. And look at them. How could you not want to make these two happy??
This is them watching a toy rocket go off in the park in August. Aren't they awesome? They love this soup and ask for it every week. That is a bit much for me, but seeing as how this is the one and only meal that makes Nathan excited about left overs, it does make the rotation fairly regularly. And though it is yummiest when eaten on a very cold day, and we don't have so many of those left, it is delicious year round.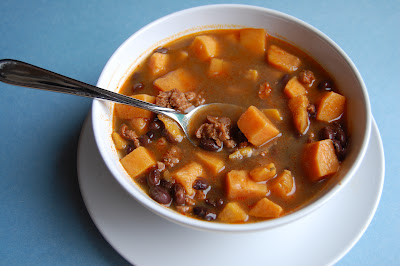 Black Bean and Chorizo Soup
Ingredients:
1 TBSP olive oil
2 large sweet potatos, pealed and diced
9 ounces chicken chorizo, sliced into half moons
1 15 oz can black beans
1 30 oz can black beans, drained and rinsed
2 TBSPs cumin
2 tsps coriander
4 cups chicken stock
2 TBSPs hot sauce (I use Franks)
 Heat the olive oil over medium heat and then add the sweet potatoes. Season with salt and pepper. Cook about10 minutes, stirring occasionally, until the sweet potatoes are soft.
Add the corizo and cook another one to two minutes until it is shiny and most delicious looking.
Add the 30 oz can of black beans. Then add half the beans with its liquid from the 15 oz can. Using Rachael Ray's method, smash up the other half of the can with a fork and then add it to the soup.
Add the cumin and coriander, and stir.
Add the chicken stock and the hot sauce. Bring to a boil, and then let simmer for 10 minutes.
Eat it. Love it. Make it again and again.