This Beer Bread recipe could not be more simple to make or delicious! Made with only three ingredients, it is the easiest way to make homemade bread.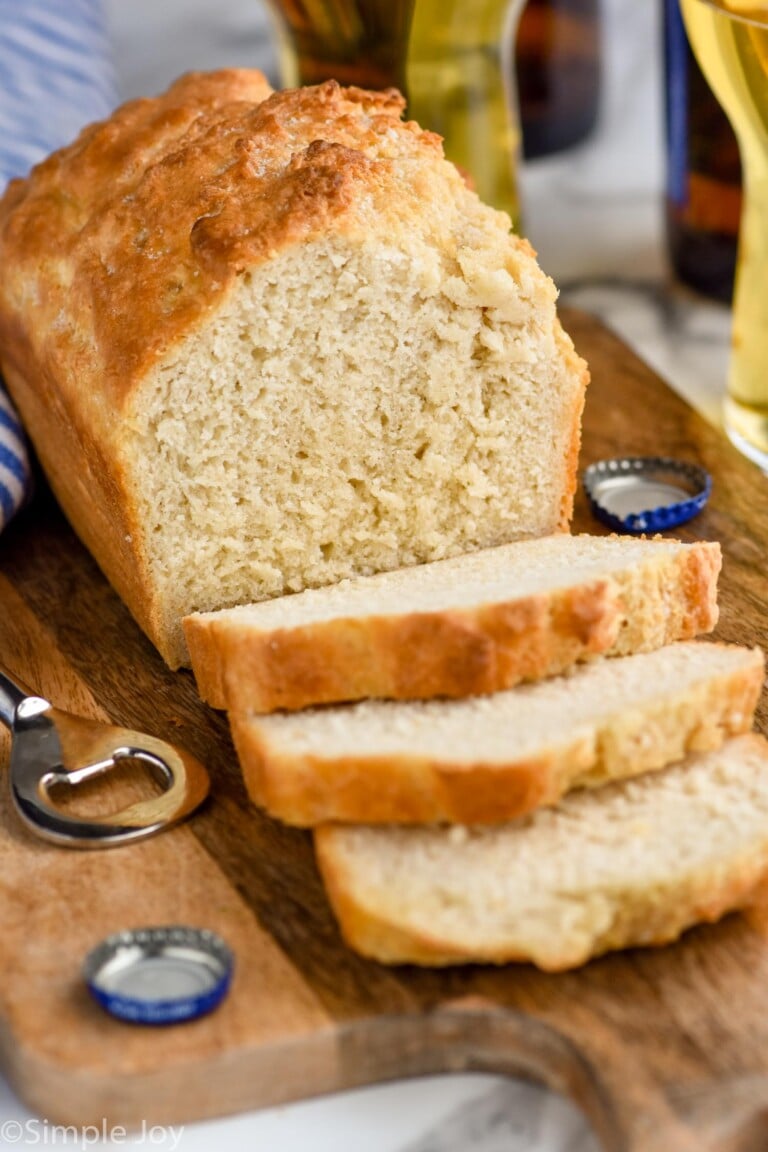 Three Ingredient Beer Bread is so much better than what you get using a mix, and it is just as easy to make! It doesn't require you to proof yeast and it's only three ingredients. Plus it's so easy to add in other mix-ins, like honey or cheese! As an added bonus, you don't even need a bread machine.
READER REVIEW
Was looking for a simple bread recipe, and it cant be any simpler. Love it, love it, love it.
Why this Beer Bread Recipe Works
This beer bread recipe starts with self-rising flour. Self-rising flour is a combination of flour, baking powder, and salt. The combination of the baking powder and the salt work together to act as a leavening agent.
In my Pizza Dough recipe, you can see how we add yeast (the leavening agent) to warm water and wait for it to proof before adding it to the flour mixture and letting that dough rise. By using self rising flour, we skip that step in this recipe.
How to Make Beer Bread
This is just a brief overview of this delicious and easy bread recipe. For the full recipe with all of the measurements, please see the recipe card at the bottom of the post.
Prepare the bread pan. Spray a 9 by 5 inch bread pan with cooking spray. Be sure to see my bread pan recommendation below, as pans can make a huge difference.
Whisk together the dry ingredients. In a large bowl, whisk together the self rising flour and the sugar.
Stir in the beer. Read below for my recommendations on beer and alternatives.
Bake the bread. After adding the dough to the prepared bread pan bake the bread. In the last three minutes of baking, add melted butter if desired.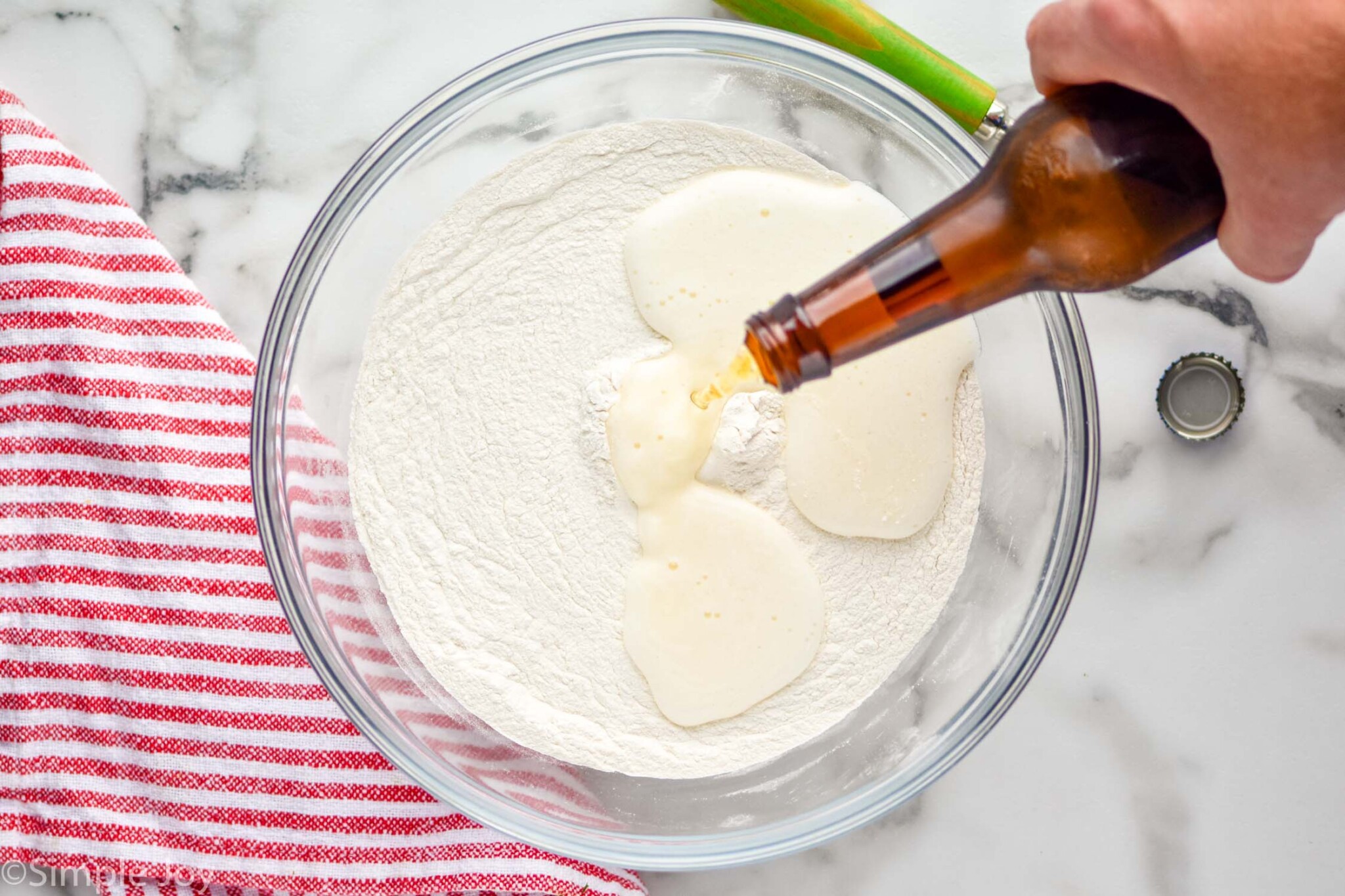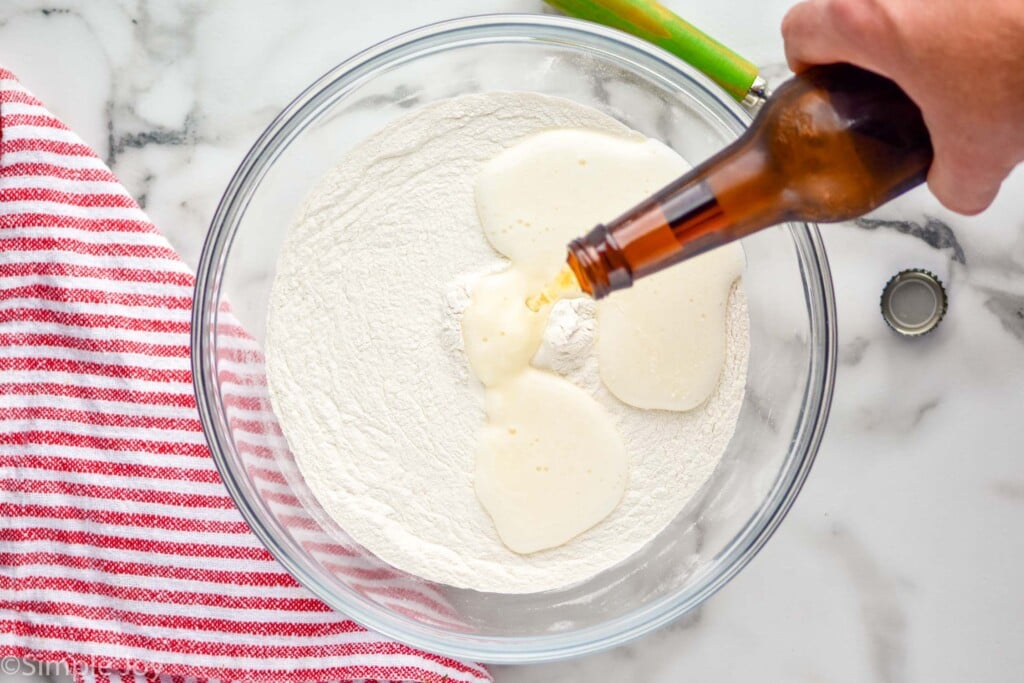 How to Make Self Rising Flour
There are a few differences when it comes to all-purpose flour and self-rising flour. Self-rising flour contains baking powder and salt, all-purpose flour does not. Additionally, self-rising flour is made with wheat and is lower in protein than all-purpose flour.
It is possible to make a substitute for self-rising flour with all-purpose flour, but keep in mind it won't be exactly the same because you are changing the protein level.
For every one cup of flour you use, you need one teaspoon fresh baking powder and 1/4 teaspoon table salt. So for this recipe, you can replace the self-rising flour with:
3 cups all-purpose flour
3 teaspoons baking powder
3/4 teaspoon table salt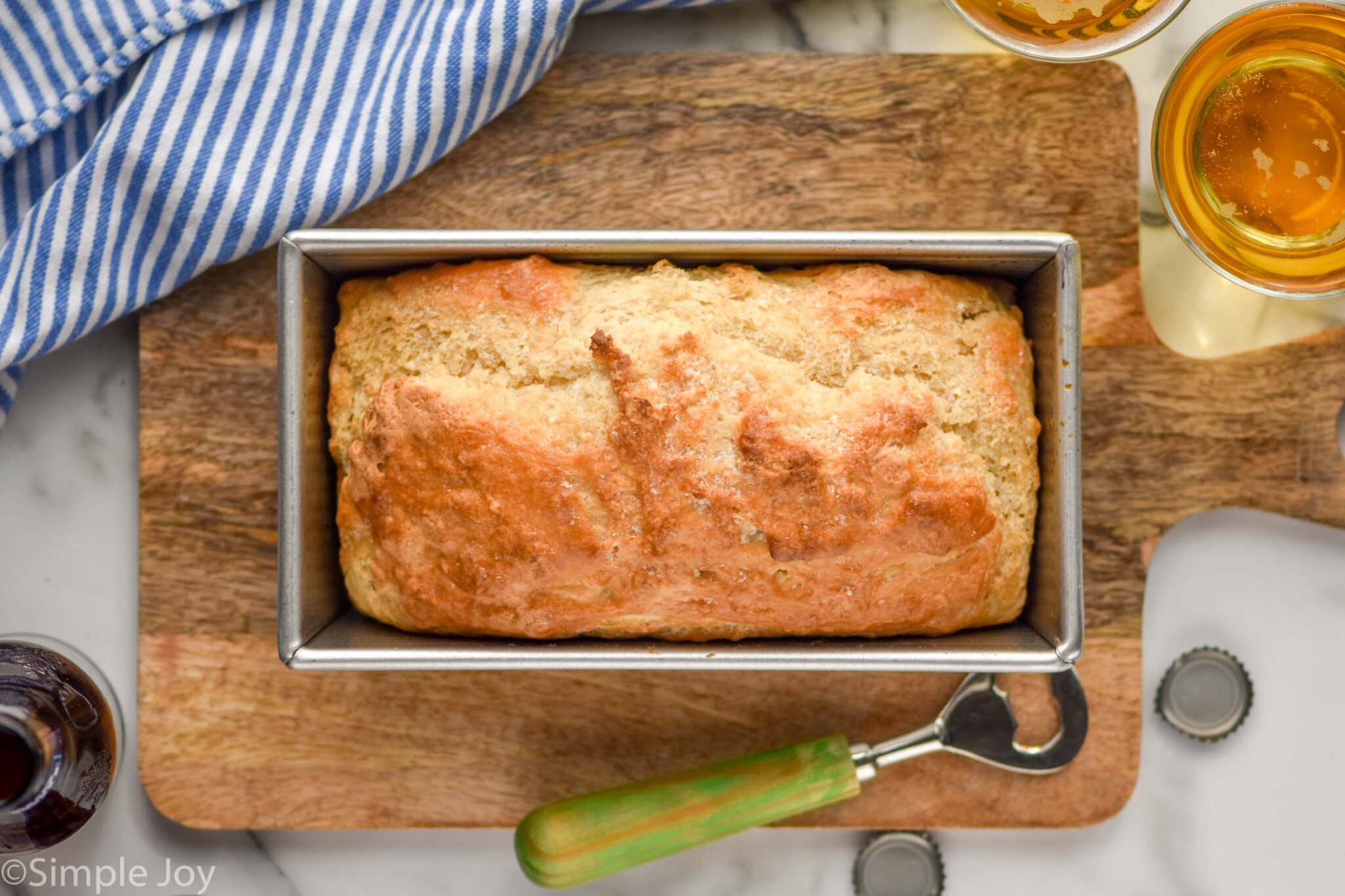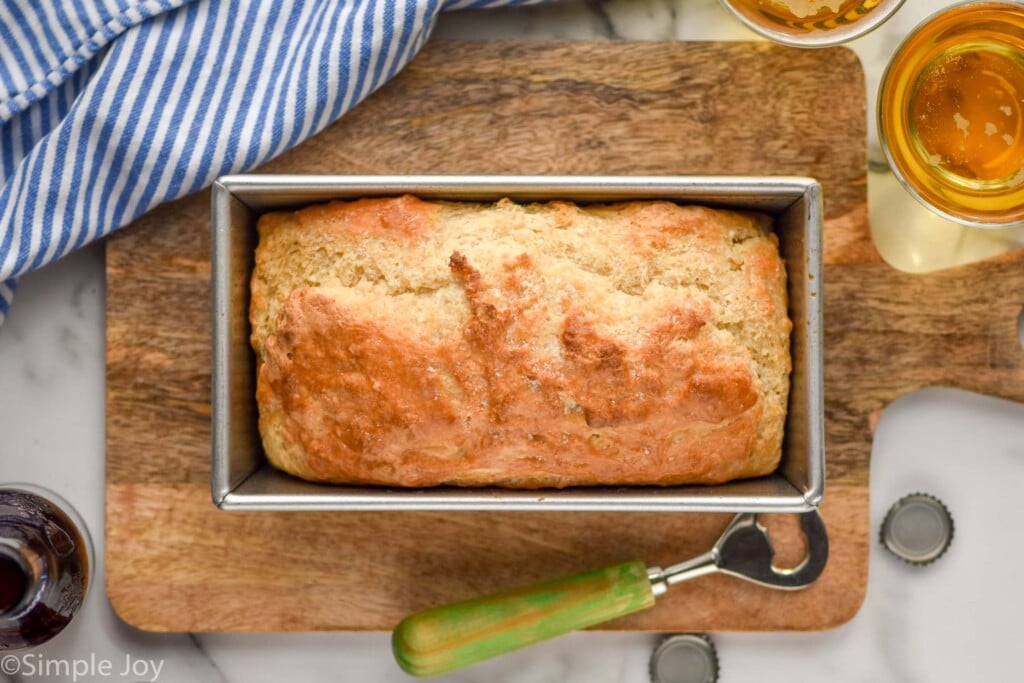 Best Bread Pan
The first question I ask people when they tell me a bread recipe didn't work was what kind of pan they used. Metal, ceramic, and glass all conduct heat differently and will have a different impact on your baking recipe. I opt for metal for all my baked goods because it conducts heat the best.
The bread pan you see here is this one from USA Pans. It is my favorite and cooks bread perfectly every single time.
TOP PICK
Best Bread Pan
This pan is such a favorite that I own two of them so I can double my bread recipes!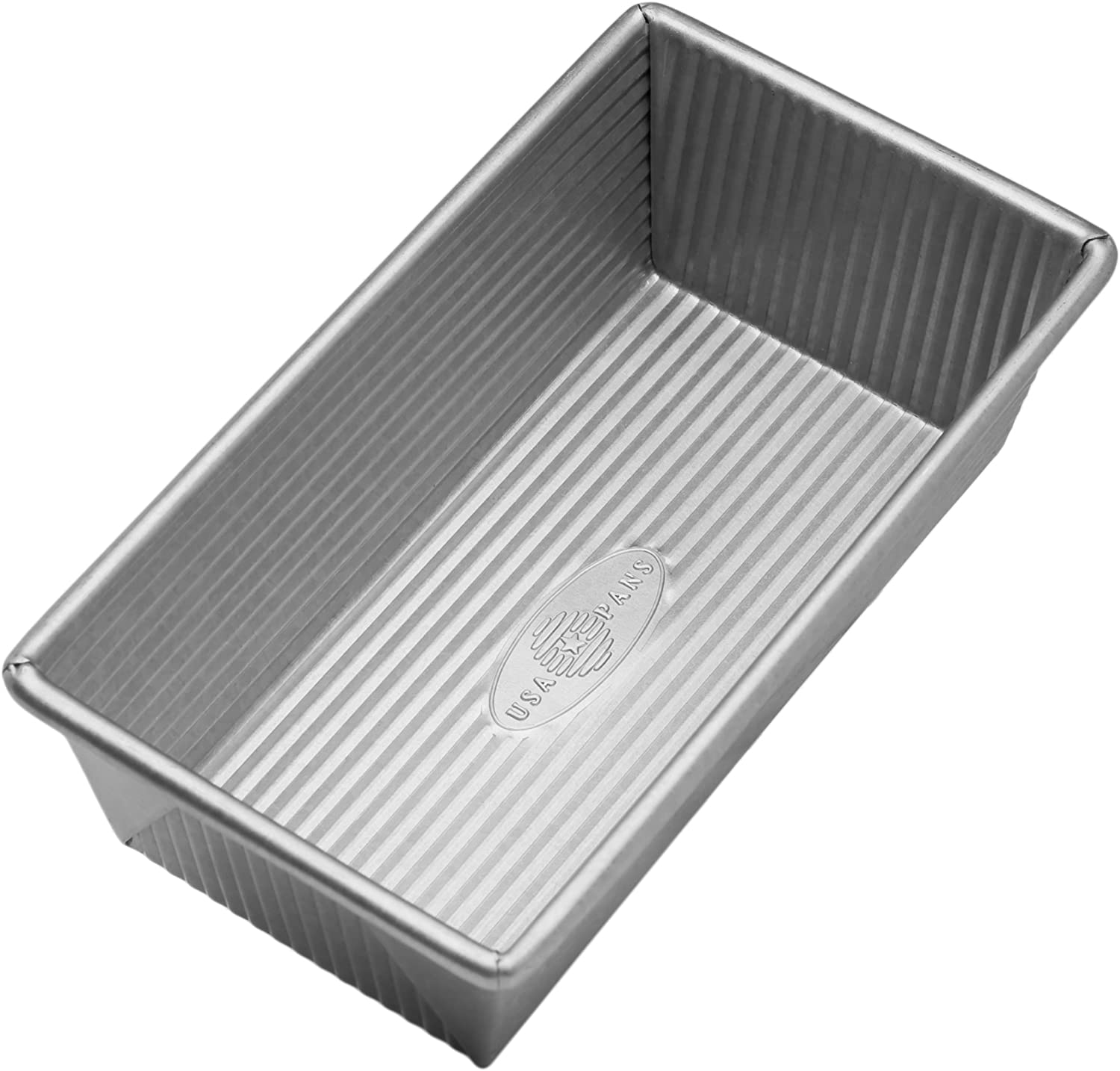 Best Beer for Beer Bread
I get that question a lot with this recipe. The answer is: Whatever type of beer you like. It is important to use a beer that you would drink on it's own because it can be a strong flavor in this bread.
I use a pilsner because it is light and doesn't have an intense flavor. Though I have only made this recipe with pilsner beers, this bread will work with any type of beer. It also works with soda (read more on that below). This is a great recipe to play around with and figure out what you like.
Making Beer Bread with Soda
If you have someone in your life who is sober, you can still make this great bread! This recipe works great with soda. I make it with lemon-lime soda (like Sprite or 7-Up). It has just a slightly smaller rise that is barely noticeable. Because of the additional sugar content, it browns just slightly more.
Overall, soda is a great substitute for beer in this recipe. I think that a lemon lime soda is the best choice because it has the mildest taste of sodas.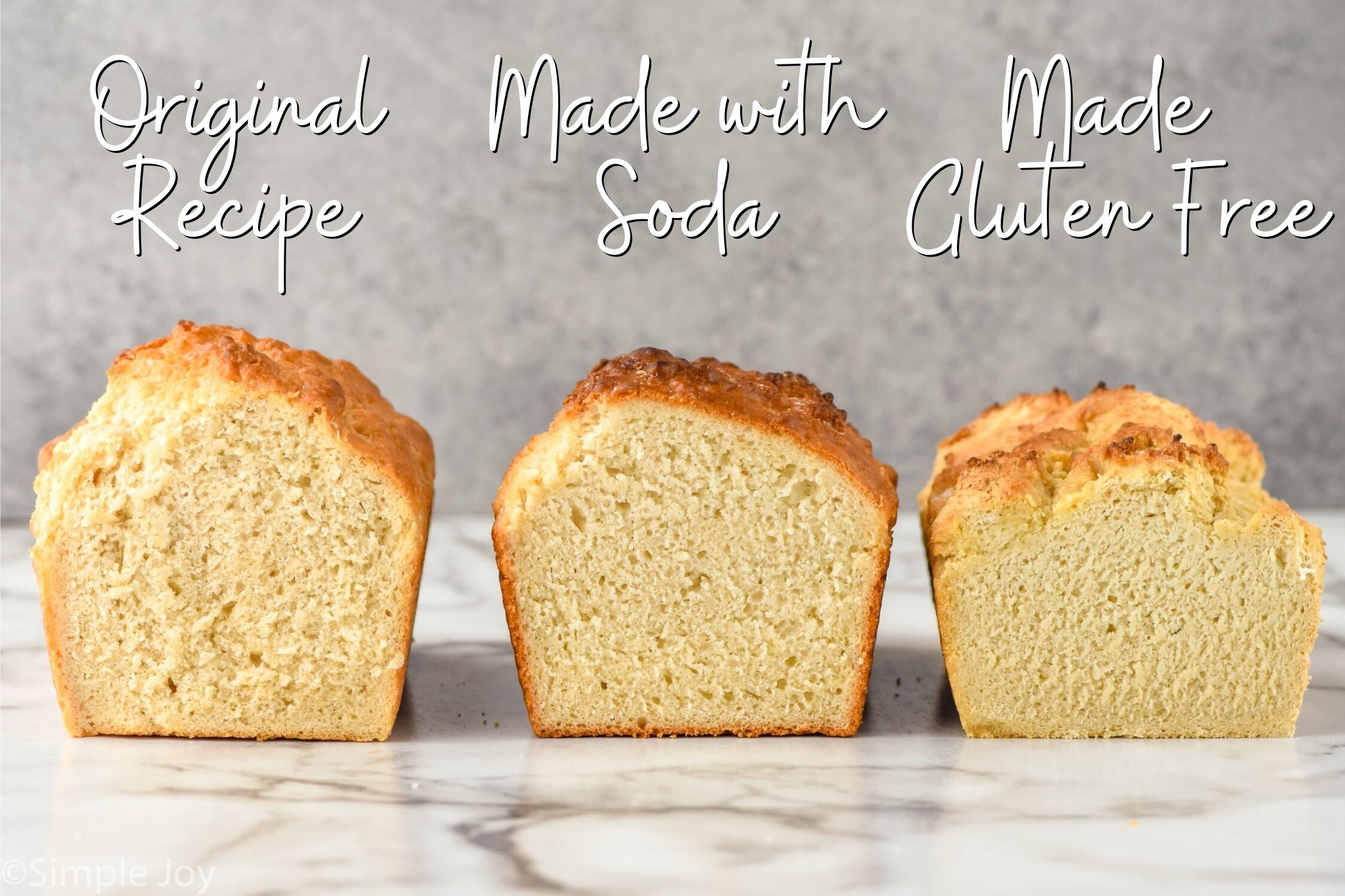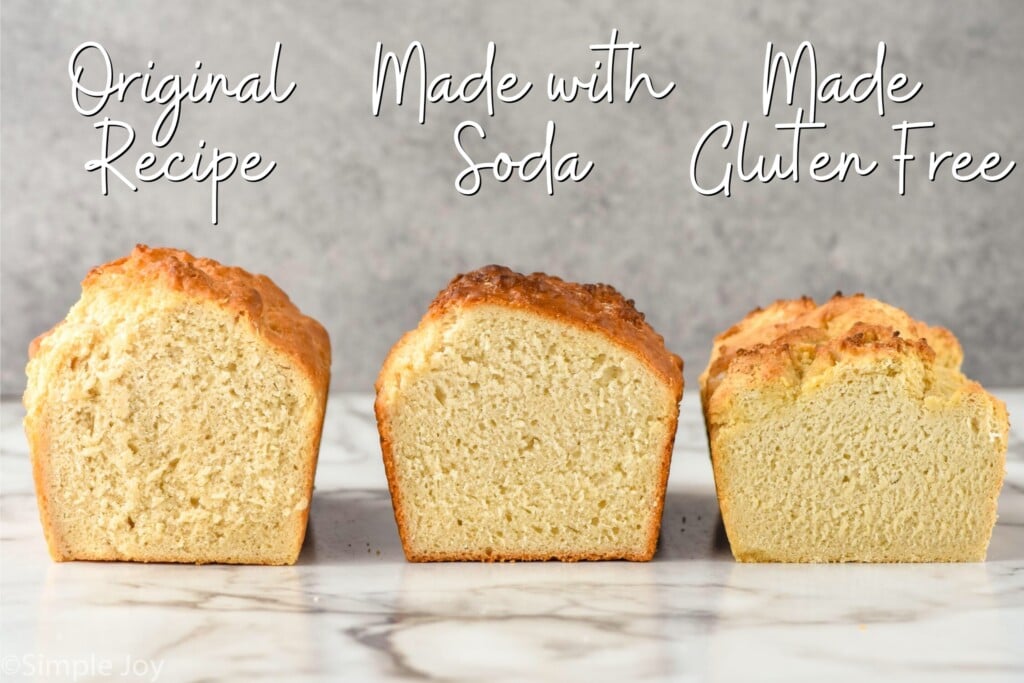 Making Beer Bread Gluten Free
This recipe can be made gluten-free if you make your own self-rising flour with gluten-free flour. As you can see, it doesn't have quite the same rise as when you use flour with gluten, but it absolutely does work.
I suggest using a gluten-free flour that is meant to replace all-purpose flour one-for-one. I used King Arthur's brand in this test. You will want to use:
3 cups gluten-free one-for-one flour substitute
3 teaspoons baking powder
3/4 teaspoon table salt
Butter on Top
A lot of recipes call for a few tablespoons of melted butter on top of the bread. I call this a three ingredient beer bread because my family loves this recipe without the butter on top. If you want the butter, have at it. I recommend using three tablespoons of melted butter and pouring it over the bread in the last three to five minutes of baking to prevent it from browning or burning.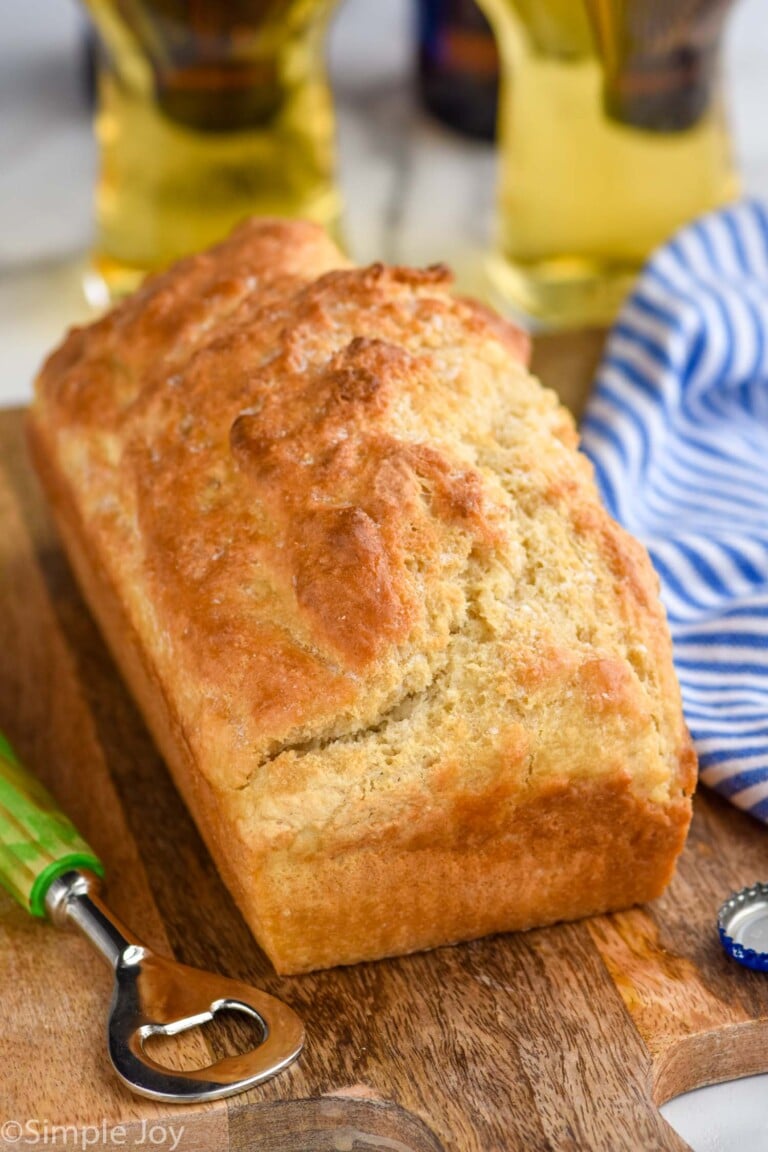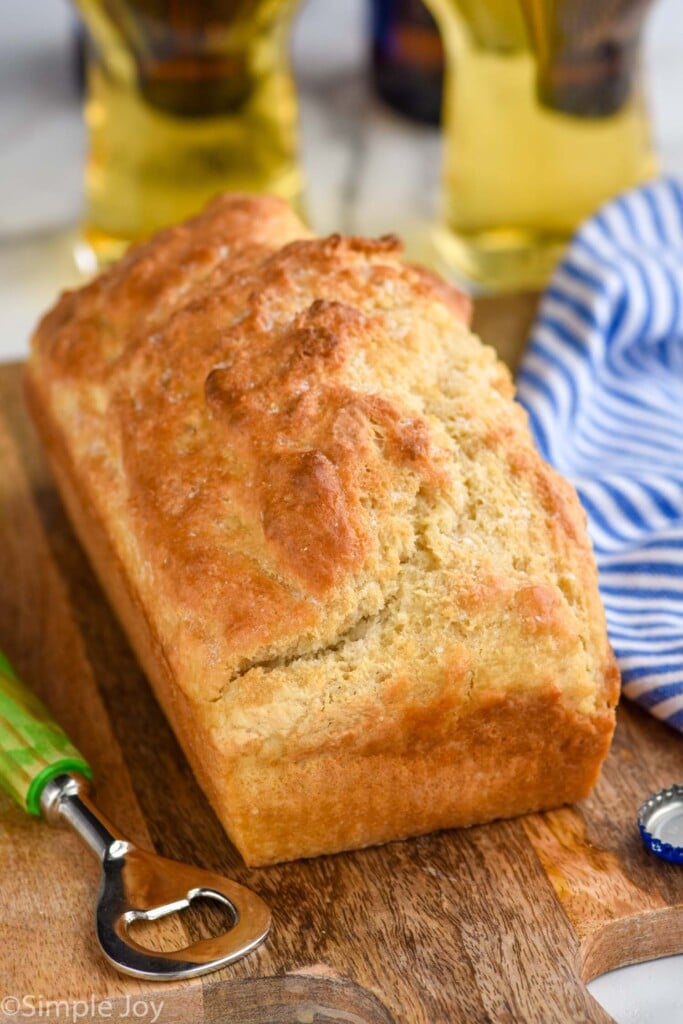 Tips and Tricks
Use fresh self-rising flour. Self-rising flour, because of the baking powder, only has about a six month shelf life. The further you get out from that six month mark, the less of a rise you are going to get in your bread.
Use a great bread pan. See my recommendation above.
Avoid overmeasuring your flour. This will lead to dried out bread. Make sure you whisk the flour in the container you are storing it in, and then use a spoon to fill your dry measuring cups before leveling it off.
Resist the urge to slice into it right away. Bread really does need to cool before you can slice into it. It needs almost a full hour to get nice solid slices.
Storing and Freezing
Store this bread in an airtight container, once it has fully cooled, for up to a week. It can be stored at room temperature. As with all recipes, use your best discretion when it comes to leftovers.
This bread freezes great. Store in an airtight container (a gallon ziplock bag works great), and keep in the freezer for up to three months. It will also work great to cut it into slices, freeze them in a single layer for a few hours, and then transfer them to an airtight container.
Beer Bread Mix as a Gift
This would be a fantastic gift for a new neighbor or around the holidays.
Combine the flour and sugar together in a mason jar.
Add the mason jar, a bottle of beer, and a bread pan to a basket.
Beer Bread Recipes
Because this recipe is so simple, there are a lot of variations that can be done. Really the sky is the limit when it comes to mix-ins.
FAQ
What type of beer is best for beer bread?
I love making this with a light beer like a pilsner because it has such a mild flavor. That being said, this recipe will work with any beer.
Can I use soda to make beer bread?
Yes! A can of soda will make a perfect substitute for beer in this recipe.
How do I make gluten-free beer bread?
This recipe can be made gluten-free by replacing the self-rising flour with a one-for-one gluten flour replacement and adding in baking powder and salt. You can see the exact instructions above.
Does the alcohol cook out of beer bread?
Simply put, no. It takes three hours to completely cook alcohol out of food. That being said, this bread bakes for a little under an hour, so it will bake off about 75% of the alcohol. So you have 1/4 of a low-alcohol content beer over 10 slices of bread.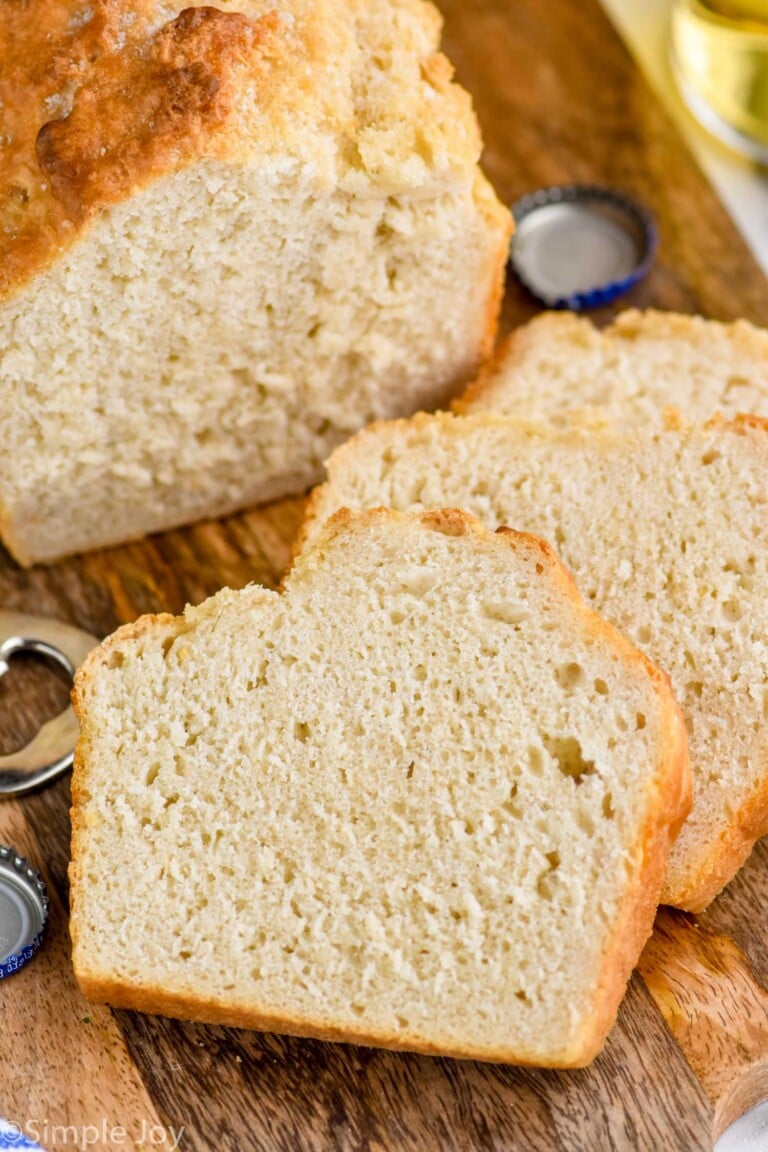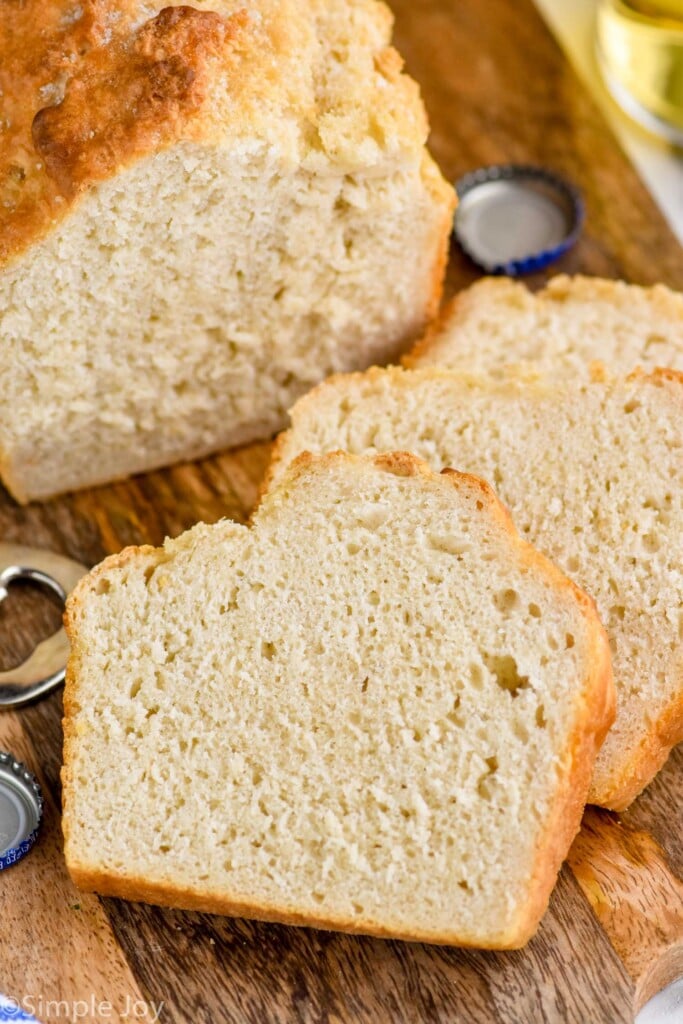 What to Serve with Beer Bread
Honestly, I want to answer this question with nothing. Just eat it, it's so good. But! I really do love it as a simple bread to make with my soup recipes. Here are a few of my favorites to serve it with:
If you make any of these recipes, please leave me a comment and let me know. I love hearing from you!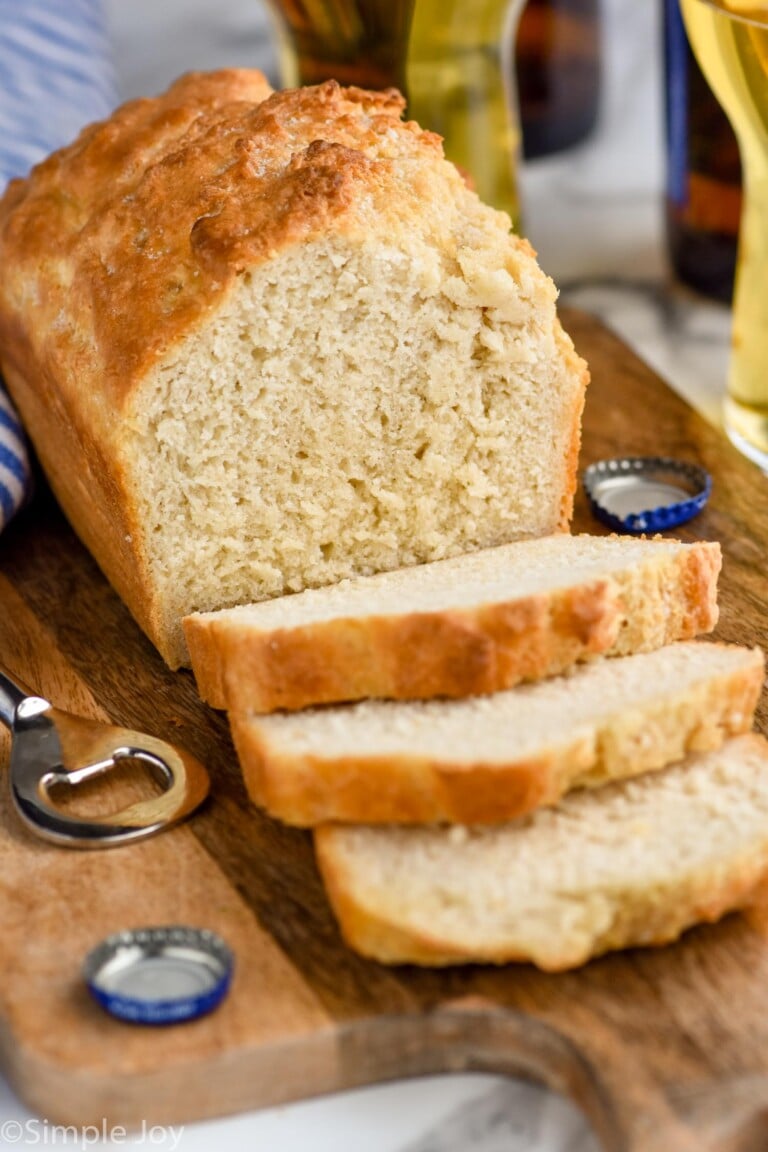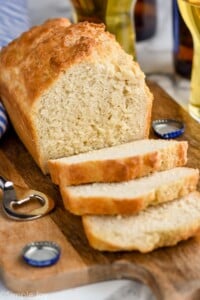 Three Ingredient Beer Bread
This Three Ingredient Beer Bread could not be more simple to make or delicious! This beer bread recipe is the easiest way to make homemade bread.
Ingredients
3

cups

self-rising flour

(339 grams) read here for how to make self-rising flour

1/2

cup

sugar

(99 grams)

12

ounces

beer

(354.88 ml)

3

tablespoons

unsalted butter

melted (optional)
Instructions
Preheat the oven to 375 degrees Fahrenheit.

Spray a 9 by 5 inch bread pan with cooking spray.

Whisk together the flour and sugar. Mix in the beer until it is thoroughly combined. The batter may be thick.

Pour the batter into the bread pan and bake for 40 minutes. If you want to use butter, pour it over the batter in the last 3 to 5 minutes of baking.

Take out of the oven and let sit for five minutes in the pan, remove and let cool completely before slicing.
Notes
Please note that the nutritional information includes using butter. Without the butter it has 189 calories per slice and 1 gram of fat.
Serving:
1
slice
Calories:
219
kcal
(11%)
Carbohydrates:
38
g
(13%)
Protein:
5
g
(10%)
Fat:
4
g
(6%)
Saturated Fat:
2
g
(13%)
Polyunsaturated Fat:
0.4
g
Monounsaturated Fat:
1
g
Trans Fat:
0.1
g
Cholesterol:
9
mg
(3%)
Sodium:
3
mg
Potassium:
48
mg
(1%)
Fiber:
1
g
(4%)
Sugar:
10
g
(11%)
Vitamin A:
106
IU
(2%)
Calcium:
8
mg
(1%)
Iron:
0.4
mg
(2%)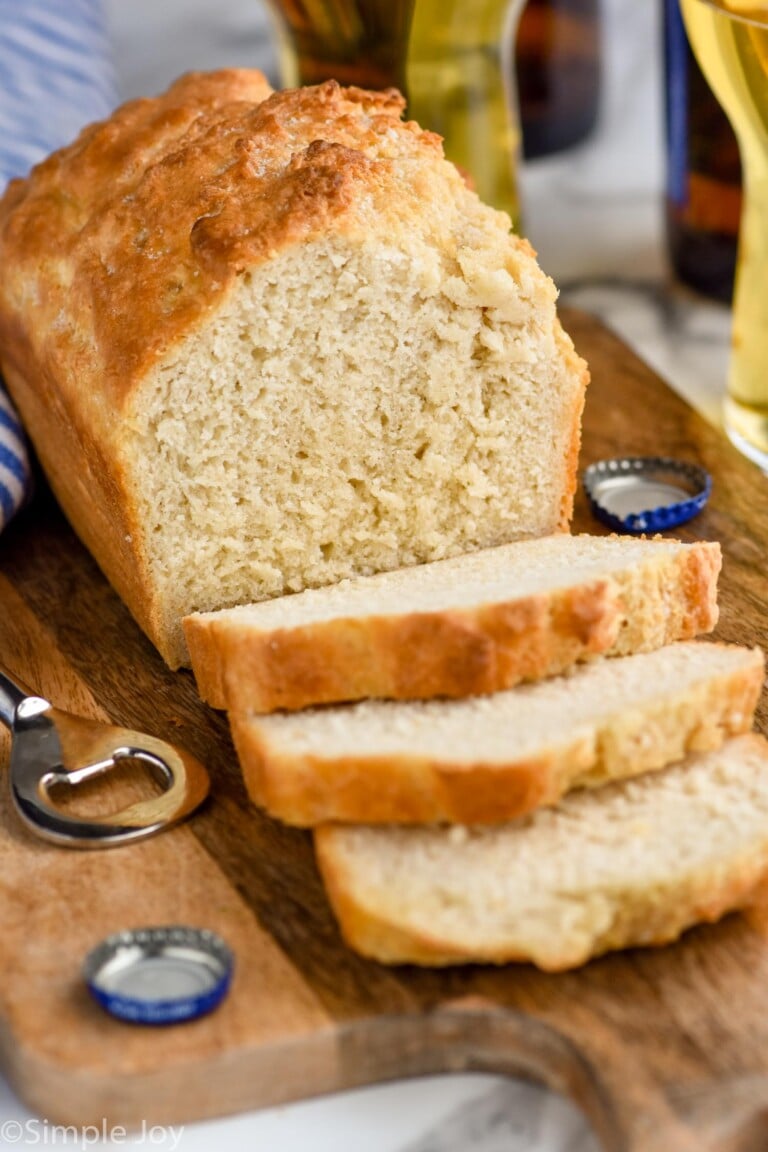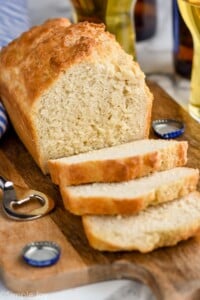 did you make this
Three Ingredient Beer Bread