This Bread Bowl Pizza Dip comes together so easily, and is a deliciously perfect appetizer!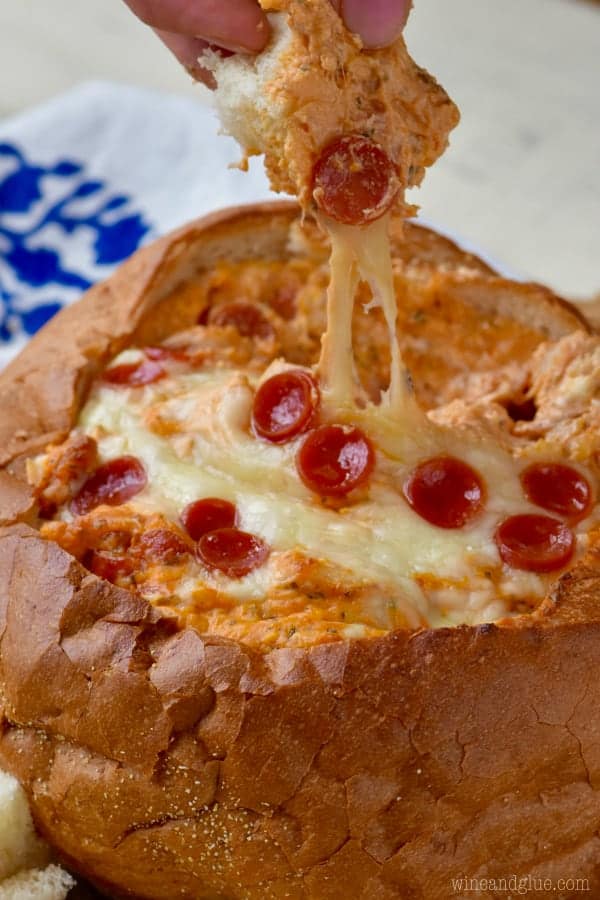 Is anyone else ready to just sign off of Facebook for good?
I mean . . . I get it. It's great for keeping up with friends and family, and for me, it's a major part of running my business . . . but for love of Zuckerberg, it's getting nuts on there, friends.
Am I the only one who just wants to look at videos of cats?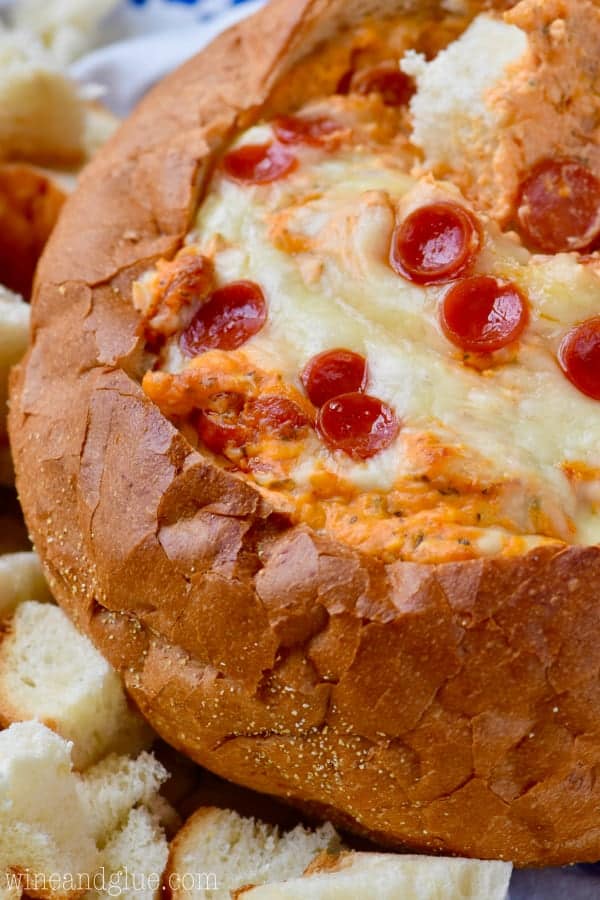 So in the spirit of ignoring the real issues in our world, can we talk about this Bread Bowl Pizza Dip??
Guys. It's Pizza Dip IN a Bread Bowl!!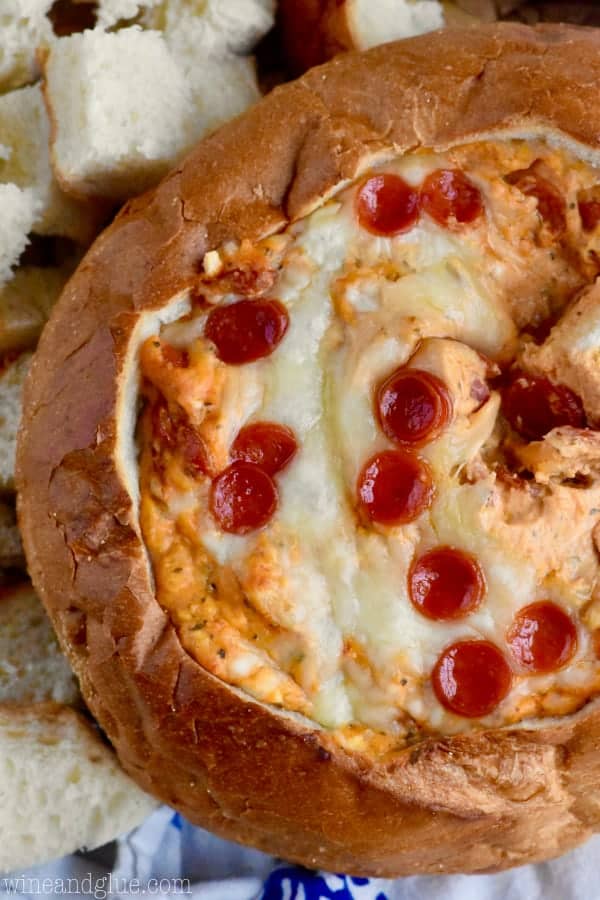 This guy is so super easy to throw together. It's blend all the ingredients, cut out the center of the bread (cut it up for serving), throw all the goodness inside the bread and bake it. YUMMY!
It is guaranteed to make you forget things you want to forget, like politics, lack of cute cat videos, and being on a juice diet (don't ask).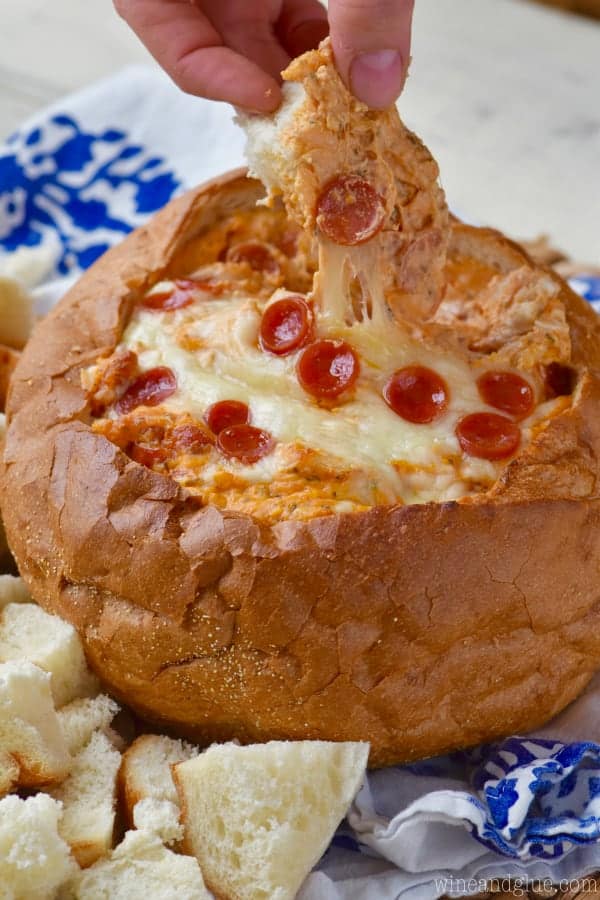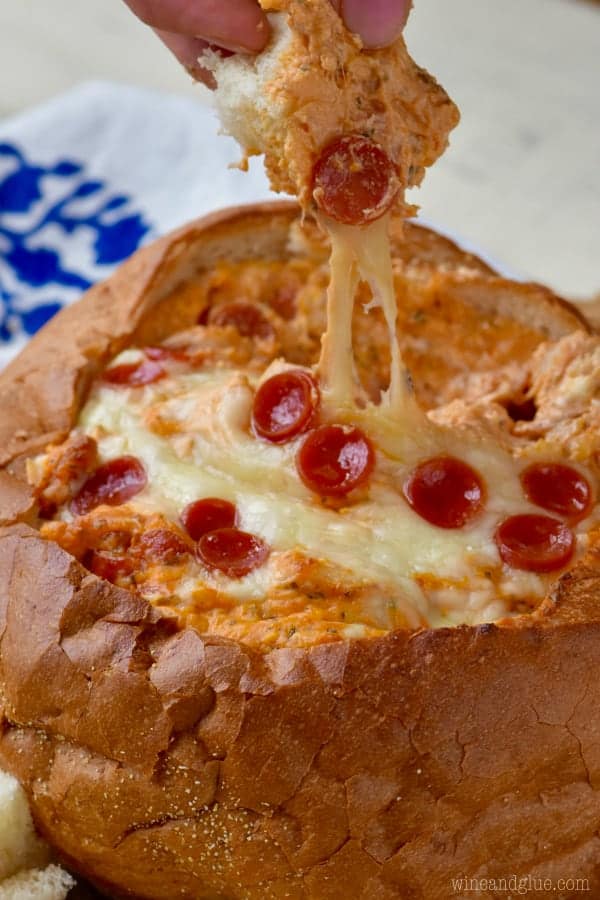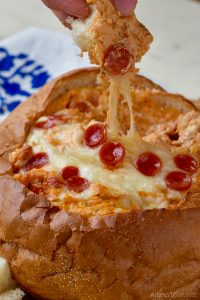 Bread Bowl Pizza Dip
Ingredients
14

oz

loaf of bread

8

oz

cream cheese

room temperature

1

cup

mozzarella cheese

divided

1/2

cup

parmesan cheese

1/2

tbsp

dried oregano

1/2

tbsp

dried basil

1/2

tsp

garlic salt

1/2

cup

pizza sauce

1

cup

mini pepperoni

plus more for topping

dried bruschetta chips
Instructions
Preheat your oven to 350 degrees.

In a large bowl, mix together the cream cheese, 1/2 cup of mozzarella cheese, parmesan cheese, oregano, basil, garlic salt, pizza sauce, and mini pepperoni.

Using a serrated knife, cut out the middle of the round loaf of bread, like you would do to make a bread bowl for soup. Cut the part of the bread that you removed up into cubes and reserve for serving.

Put the cream cheese mixture into the loaf of bread. Top with the remaining mozzarella cheese and then some mini pepperoni. Cover with aluminum foil and place directly on the oven rack. Bake for 20 minutes. Uncover and bake for a remaining 10 minutes.

Serve immediately with the reserved bread and bruschetta chips.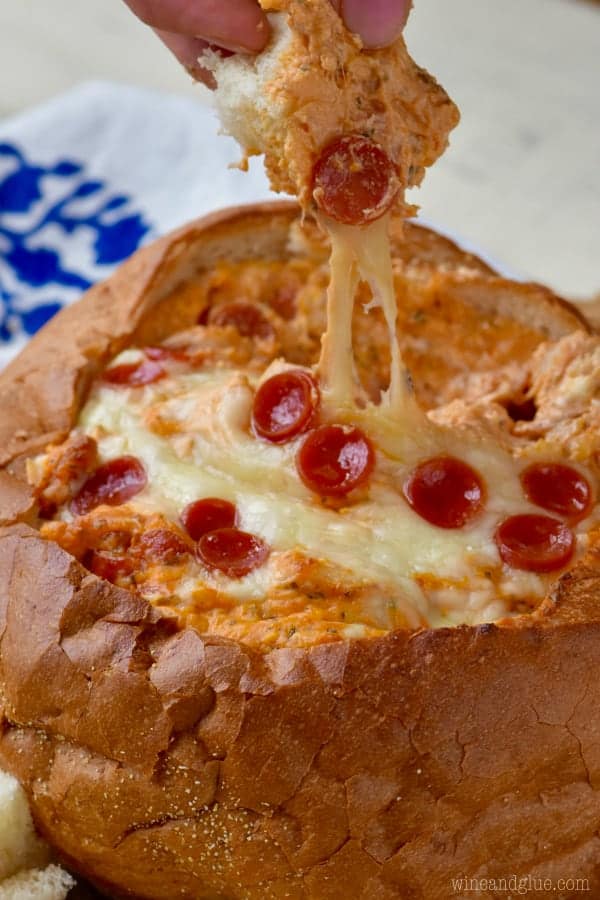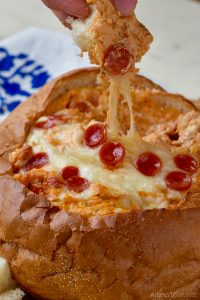 did you make this
Bread Bowl Pizza Dip