This Homemade Pizza Sauce comes together with just a few ingredients in the blender and adds the perfect flavor to your homemade pizza. You probably already have the ingredients waiting in your pantry! Add this sauce to my pizza dough recipe and pizza night is set!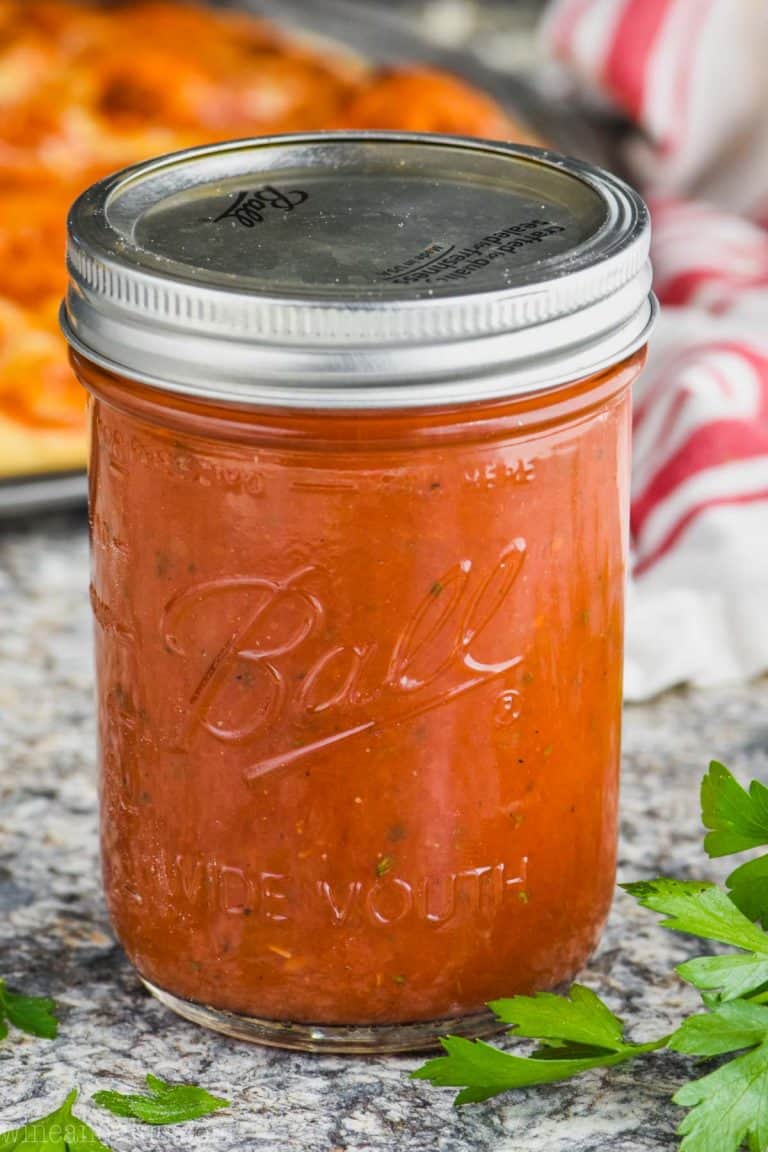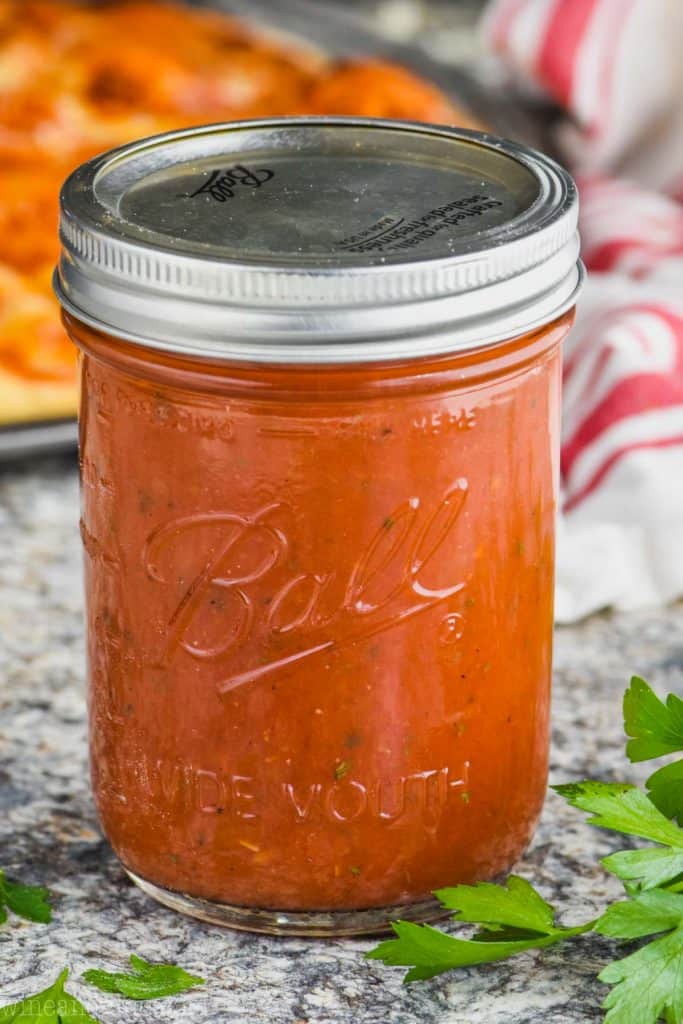 Even though it snowed here over the weekend (!!!!) I am still prepping for summer mentally and with recipes for you! (P.S. Did you catch my Instagram Story where I looked 100% insane walking in the snow storm? It was cute . . . NOT.) I am thinking about Peach Sangria and Grilled Chicken Sandwiches and lots of other great recipes you can throw on the grill or enjoy outdoors. One thing we love to make outside is pizza from scratch on the grill. It cooks up quickly and is so delicious every single time.
I have a great from scratch pizza dough recipe, but I thought it might be time to give you a great Homemade Pizza Sauce recipe to go along with it. This is a versatile recipe that you will love and enjoy again and again.
Pizza Sauce Ingredients
You will need these simple ingredients:
two cans of diced tomatoes
olive oil
balsamic or red wine vinegar
fresh garlic
dried oregano
dried parsley
salt & pepper
sugar
See! I bet you might already have all of that. And this sauce is only going to take about 5 minutes for you to make, so there's no reason not to have some of this on hand all of the time.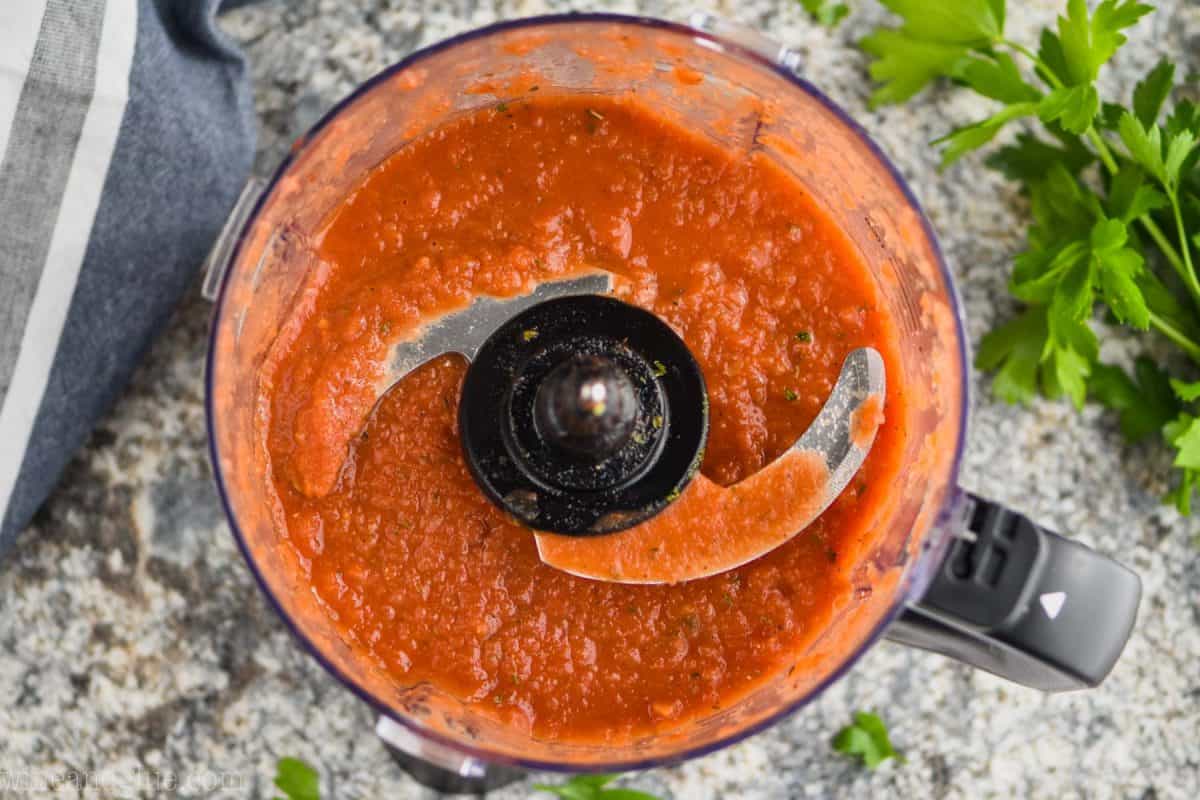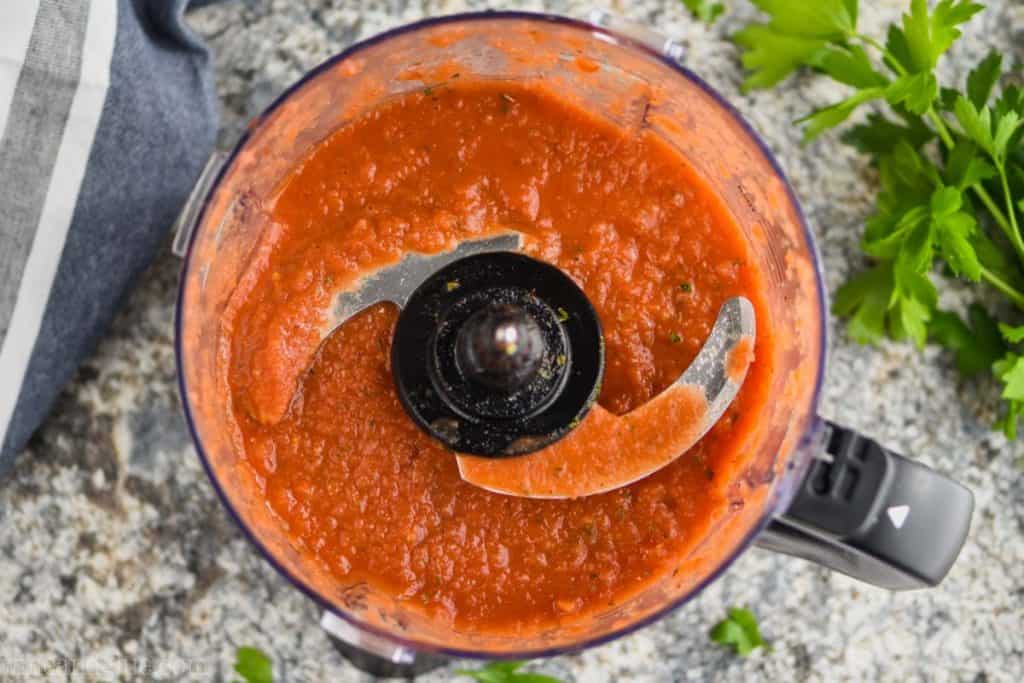 How to Make Pizza Sauce from Scratch
In addition you will need:
a sieve
a good blender
jars for storage
After you gather your supplies, this is a really simple process.
Drain the tomatoes using the sieve. You want to give them a good shake to get out a lot of the liquid, but don't worry about it all being gone.
Throw the tomatoes, oil, vinegar, and spices into the blender or food processor.
Blend until smooth scraping down the sides at least once during blending.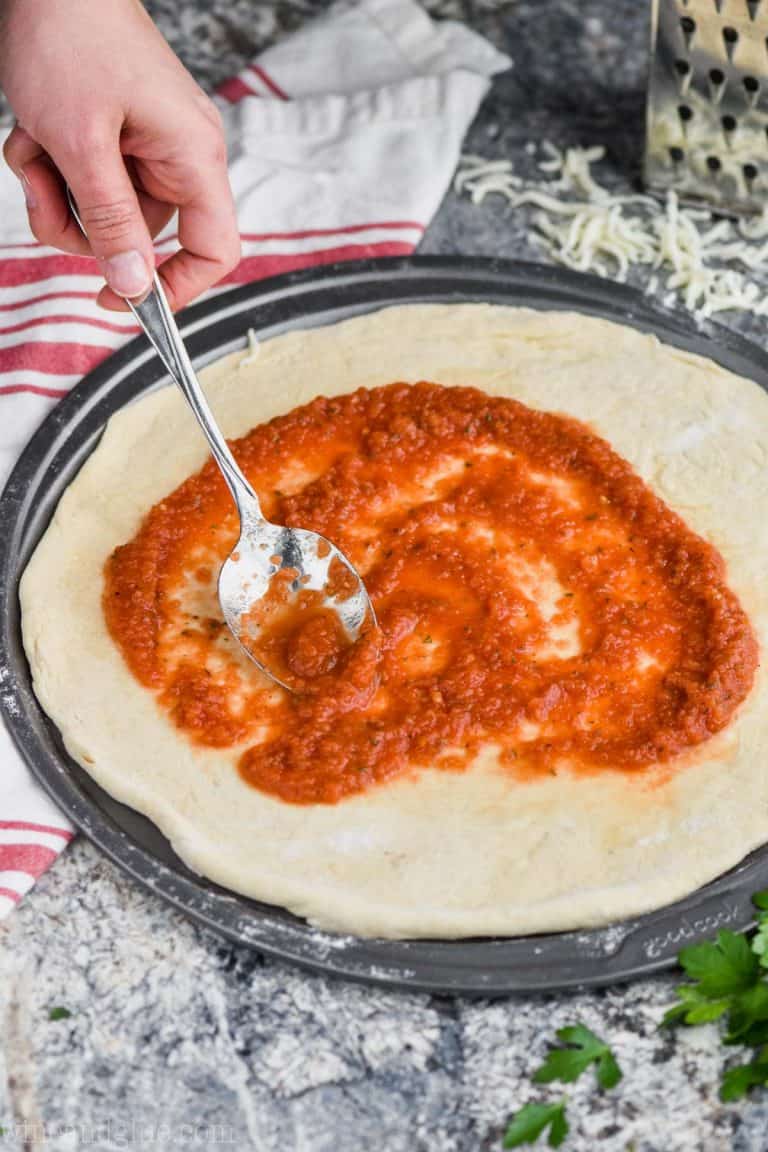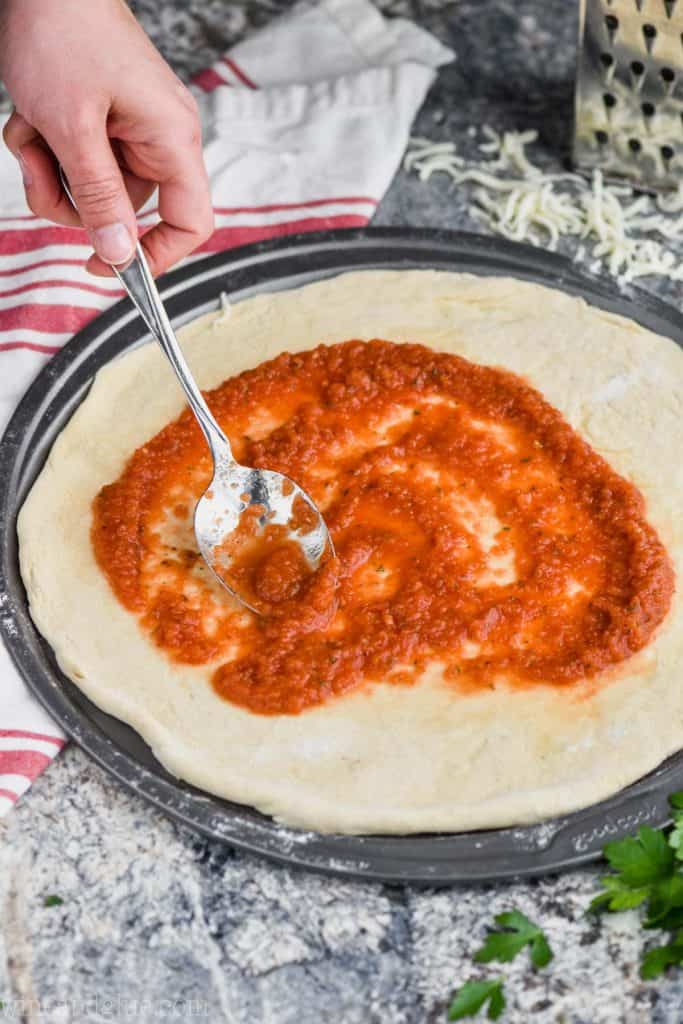 Easy Uncooked Sauce
And that's it my friends! This sauce is uncooked, making it especially simple to make. Now you are ready to use it on your pizza.
If you are wondering how much pizza sauce to use on your pizza, I would say about half a cup for a 12 inch pizza. More than that and your crust is going to get too soggy.
This recipe makes 2 1/2 cups total.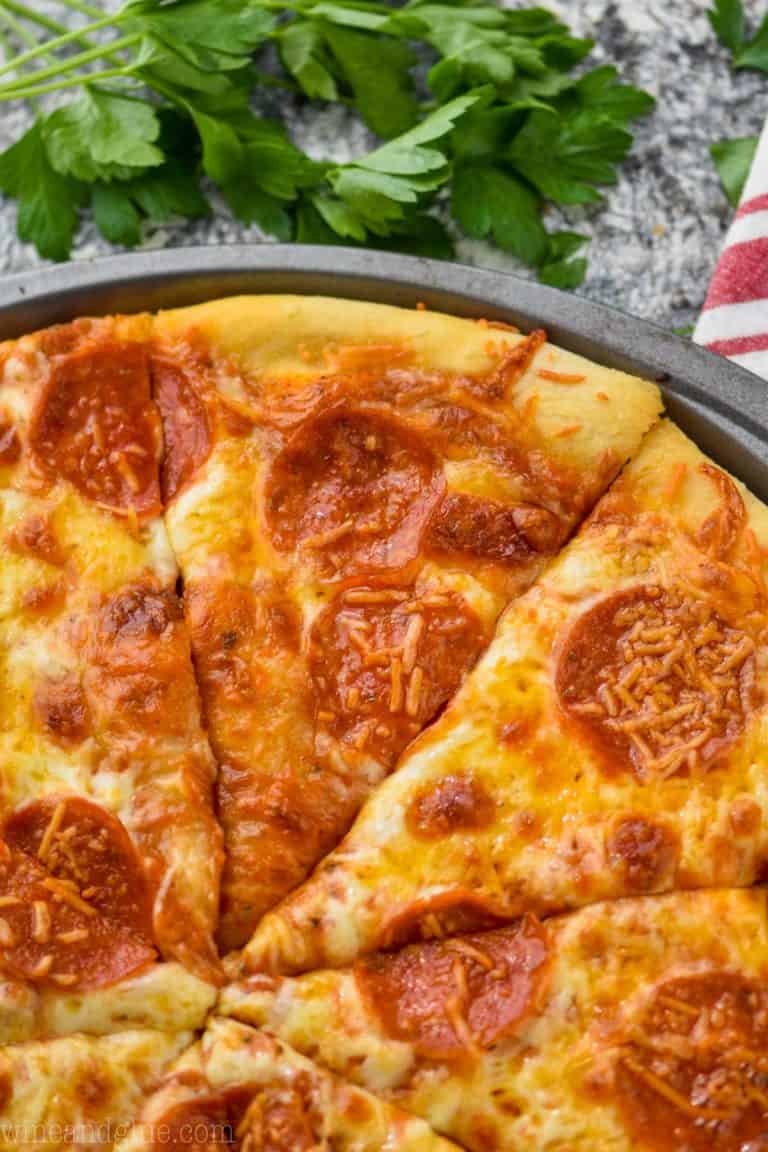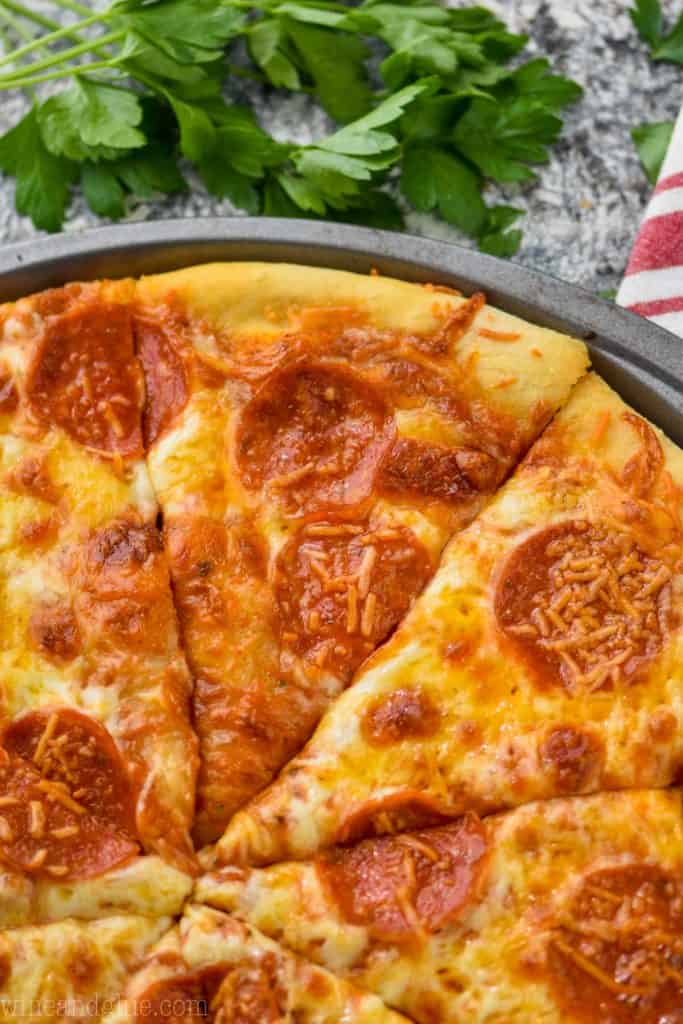 Why Does this have Sugar in it?
Whenever I use canned tomatoes, I test the final recipe and add a little sugar if needed – which it usually does. Canned tomatoes are quite acidic. Think of it like a scale. On one side you have the acidic tomatoes weighing down the scale. To balance it, you add a 1/2 a teaspoon of sugar to the other side. The scale is now at neutral. The recipe neither tastes acidic or sweet.
How Long Does this Last?
This pizza sauce will last two weeks in an air tight jar in the refrigerator. Because of the oil in this recipe, I recommend making a new batch after that timeframe.
Naturally all good things must come to an end, and this will go bad eventually, so get to pizza making!
Can this Pizza Sauce Recipe be Frozen?
Yes! Keep in mind that if you are freezing it in a glass jar you want to leave at least an inch at the top to account for it expanding in the freezer. It will last in the freezer for three months.
For Spaghetti?
I suppose in a pinch you could heat this up and use it on your spaghetti. I personally like my Homemade Spaghetti Sauce a lot more for that, but this would work in a bind.
Is this Easy Pizza Sauce . . .
Vegan?
Sure is! This sauce is 100% vegan.
Gluten Free?
Yup! This recipe is gluten free.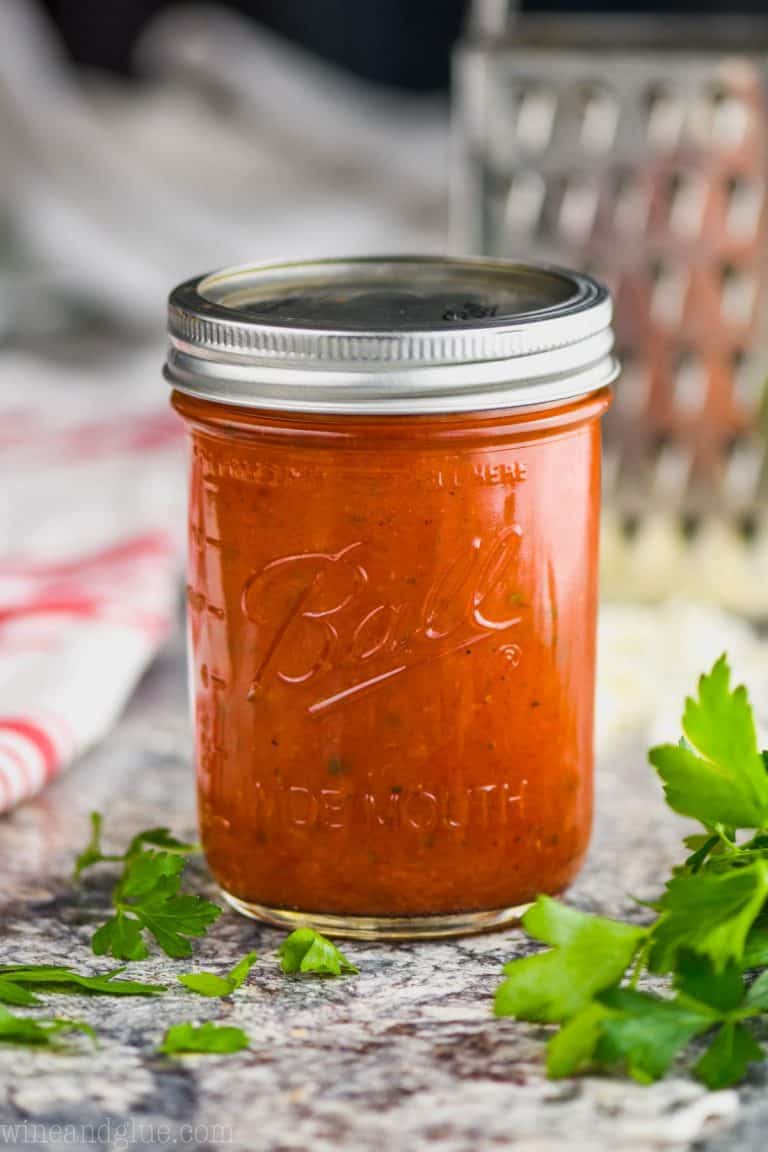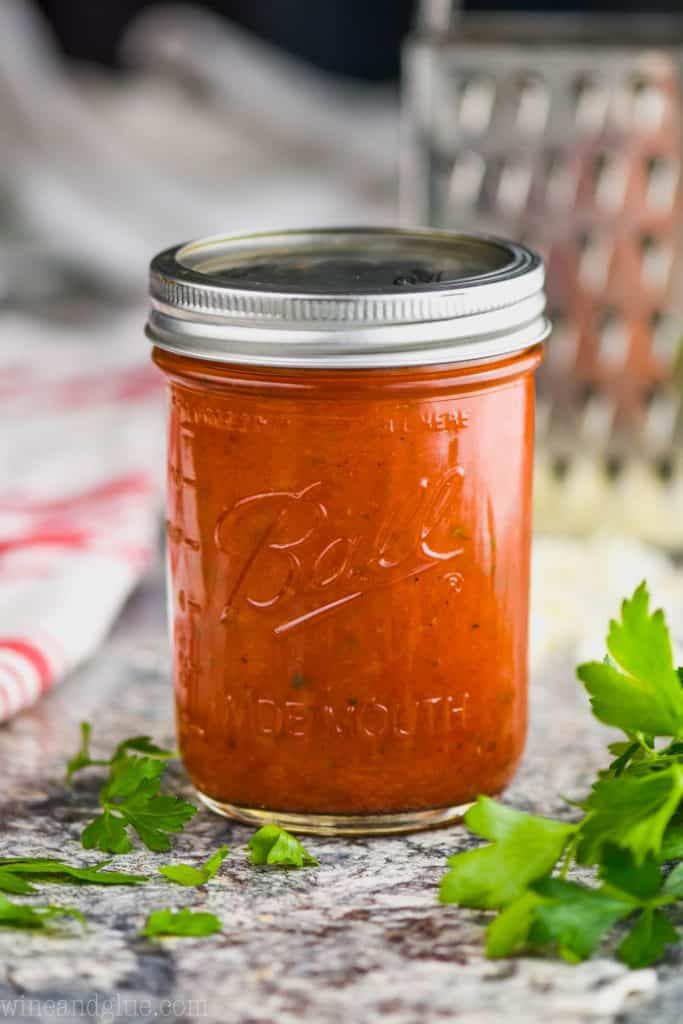 And that is it my friends, go forth and make amazing homemade pizza!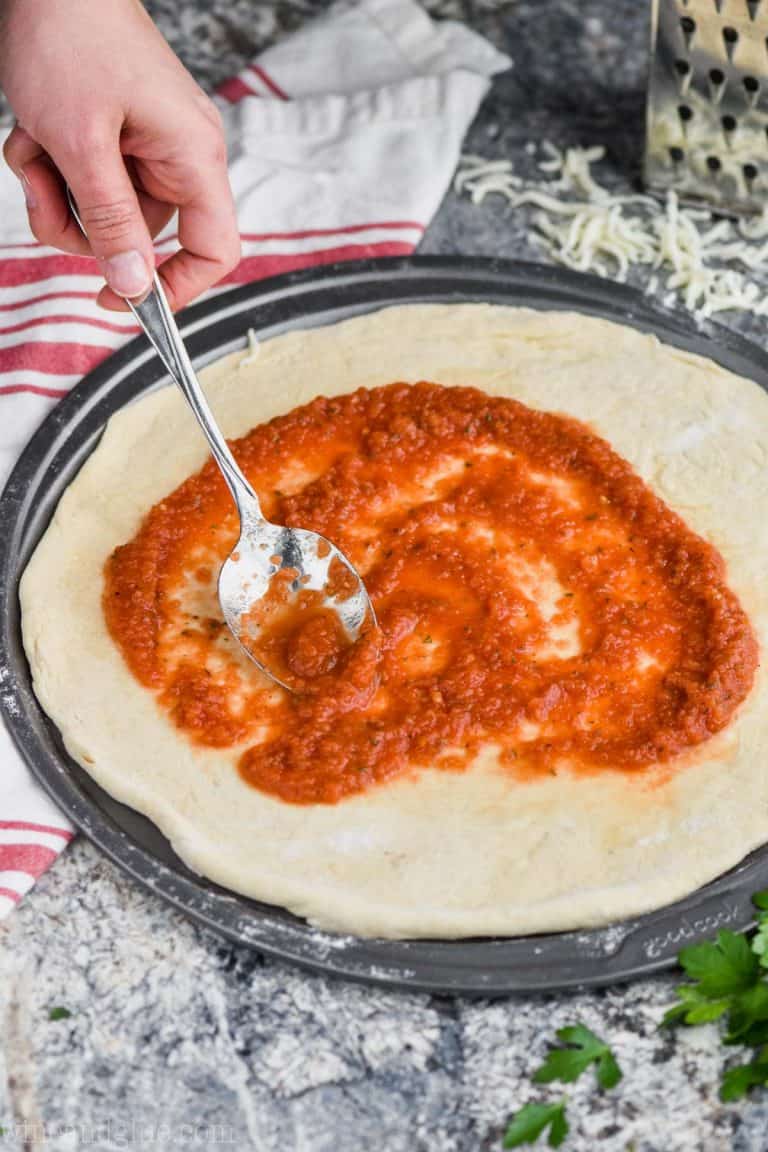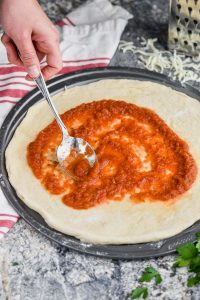 Homemade Pizza Sauce
This Homemade Pizza Sauce comes together with just a few ingredients in the blender and adds the perfect flavor to your homemade pizza. You probably already have the ingredients waiting in your pantry!
Ingredients
29

ounces

diced tomatoes

drained (see note)

1

tablespoon

olive oil

2

teaspoons

red wine or balsamic vinegar

2

cloves

garlic

minced

1

teaspoon

dried oregano

1

teaspoon

dried parsley

1/2

teaspoon

salt

1/2

teaspoon

black pepper

1/2

teaspoon

sugar or honey

(see note)
Instructions
Combine all of the ingredients (except the sugar) together in a blender until smooth.

Taste the sauce. Add a pinch of sugar. The sauce should taste much better, but not sweet, with the sugar. If it doesn't, add a small pinch more and taste again.

This recipe will last for 2 weeks in the refrigerator.
Notes
Please note that you need approximately 1/2 cup of pizza sauce per pizza. Nutritional information is for 1/2 a cup. This recipe makes 2 1/2 cups
The tomatoes need to be drained. You can do this by dumping both cans into a sieve and letting them drain. Don't push them down or worry about getting all of the liquid out.
The sugar in this recipe should be added at the very end to balance the acidity of the tomatoes. Taste the sauce and add a small amount of sugar. Taste it again and note how the sauce is more balanced. It should taste much better without being sweet. If you need more, add more, but just a pinch at a time.
Serving:
0.5
cup
Calories:
71
kcal
(4%)
Carbohydrates:
10
g
(3%)
Protein:
1
g
(2%)
Fat:
3
g
(5%)
Monounsaturated Fat:
2
g
Sodium:
514
mg
(22%)
Potassium:
347
mg
(10%)
Fiber:
3
g
(13%)
Sugar:
5
g
(6%)
Vitamin A:
550
IU
(11%)
Vitamin C:
28.9
mg
(35%)
Calcium:
70
mg
(7%)
Iron:
0.2
mg
(1%)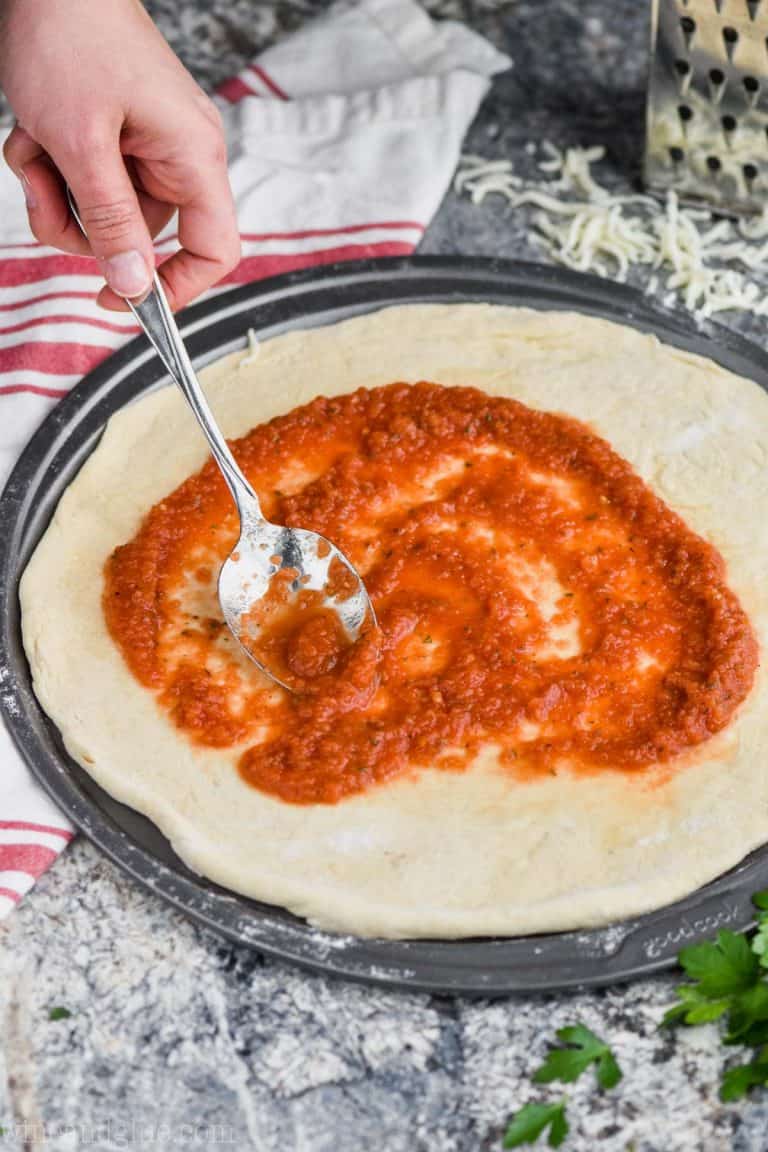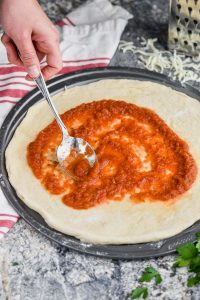 did you make this
Homemade Pizza Sauce