My Pizza Sauce recipe comes together with just a few ingredients in the blender and adds the perfect flavor to your homemade pizza. You probably already have the ingredients waiting in your pantry! Add this sauce to my pizza dough recipe and pizza night is set!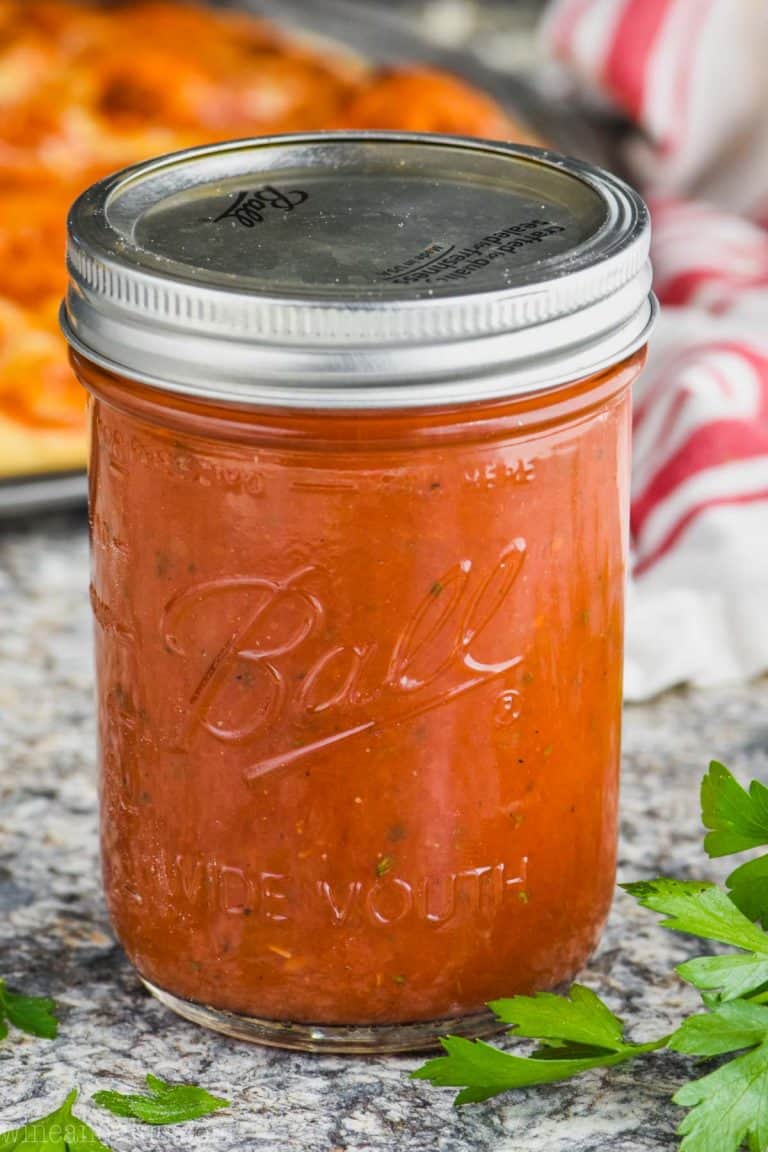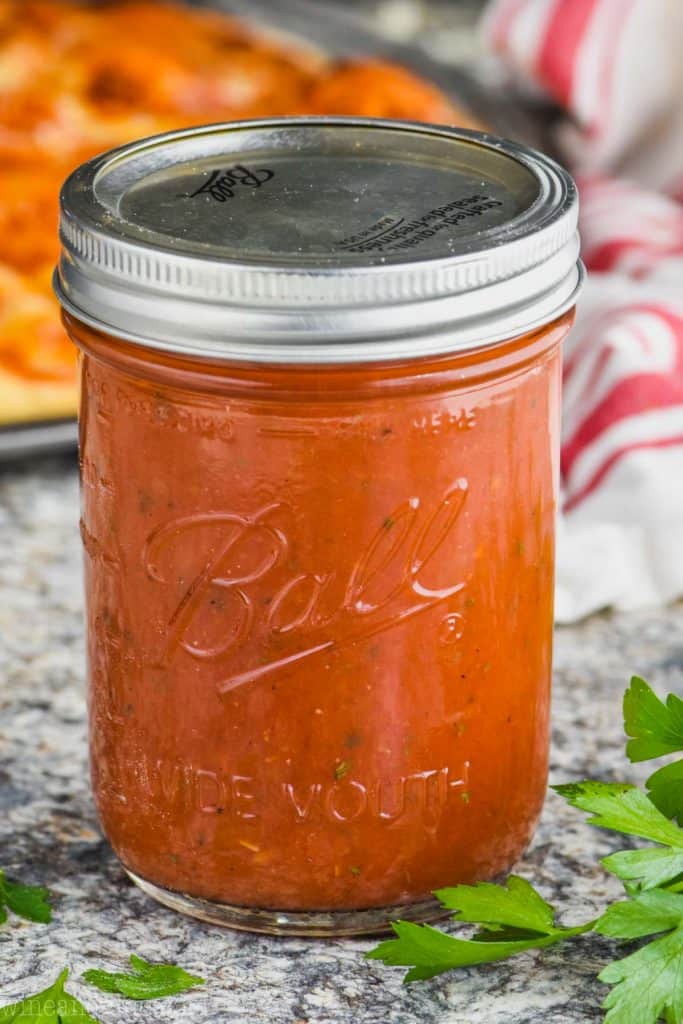 I have a great from scratch pizza dough recipe, but I thought it might be time to give you a great Homemade Pizza Sauce recipe to go along with it. This is a versatile recipe that you will love and enjoy again and again.
Pizza Sauce Ingredients
This homemade pizza sauce comes together with simple pantry ingredients, making it the perfect recipe. You will need these simple ingredients, you can find the measurements in the recipe card at the bottom of the post.
Diced Tomatoes: You need two cans for this recipe. I love that we start with canned tomatoes because it makes it so easy to keep the ingredients for this recipe on hand.
Olive Oil: The flavor is what we are going for here, so I would not suggest using a different type of oil.
Balsamic or Red Wine Vinegar: Either will work great in this recipe. My husband prefers the red wine vinegar because it has a more subtle taste, but the choice is yours.
Fresh Garlic: Using fresh garlic in this recipe (rather than garlic powder) adds a great burst of flavor.
Dried Oregano: Yes! Despite heated debate whenever I share this recipe, I add oregano to my pizza sauce. It adds great flavor and while you can leave it out, I will always leave it in.
Dried Parsley: This also adds great flavor to the recipe, but you could totally replace it with some dried basil for great flavor too.
Sugar: With the acid of the tomatoes and the vinegar, the sugar in this recipe just gently balances that. We add so little that it just neutralizes the taste of the acid without making the sauce sweet.
Salt & Pepper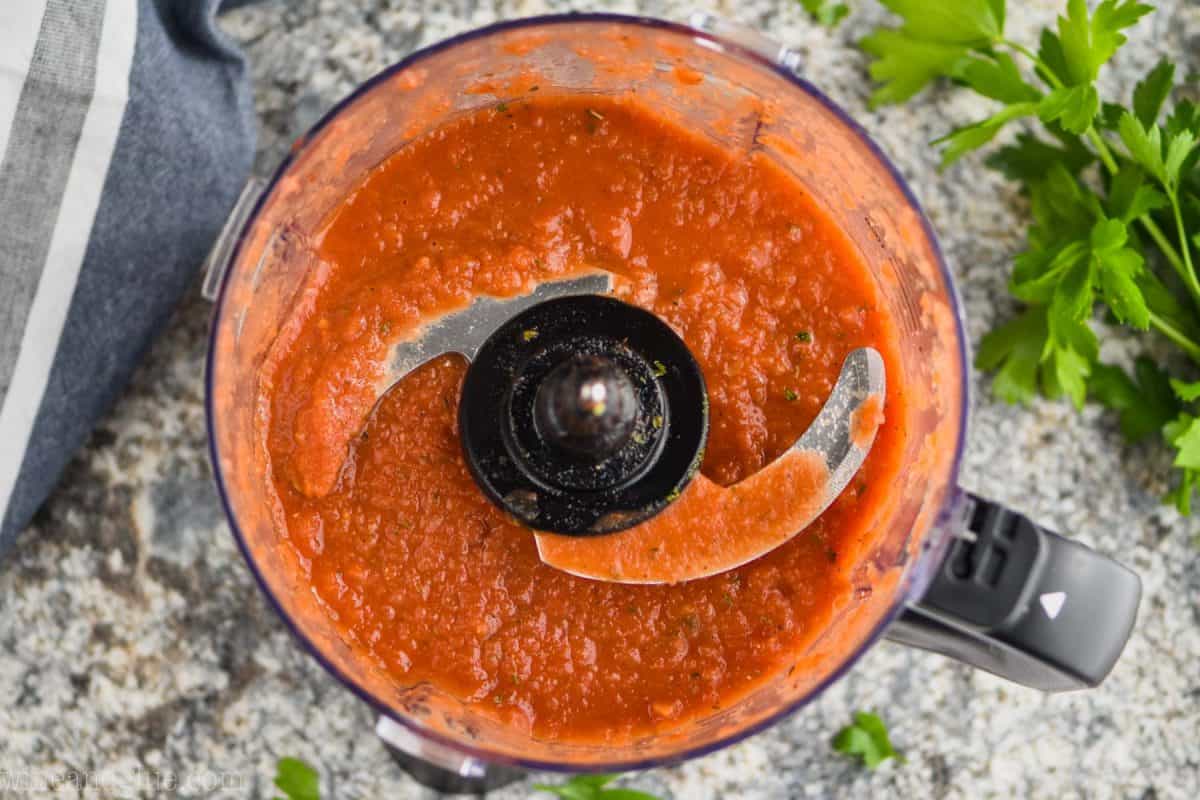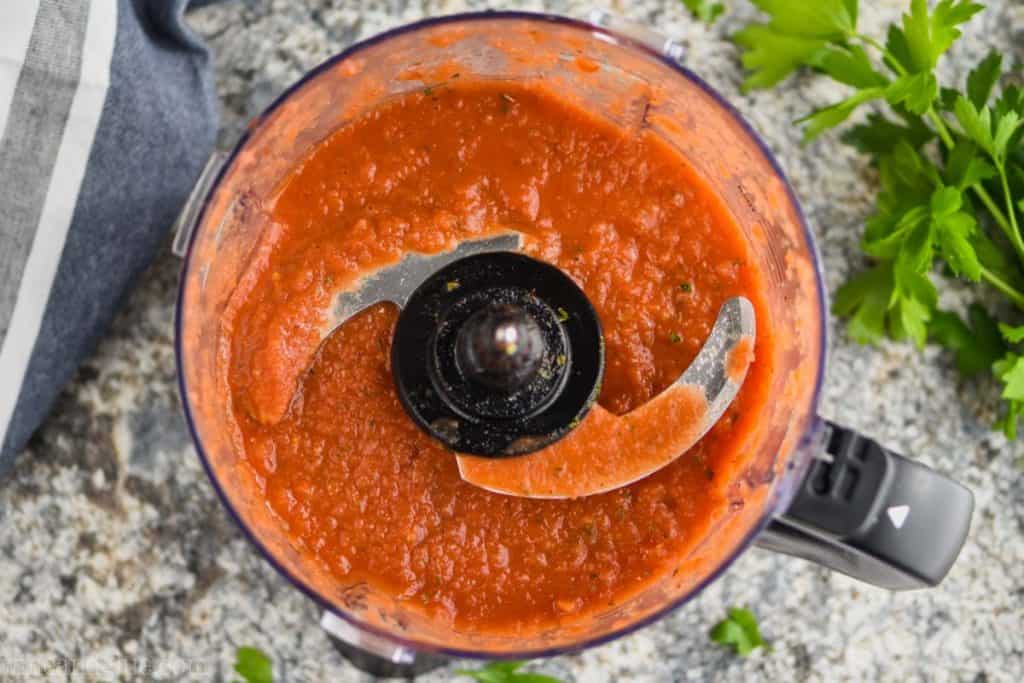 How to Make Pizza Sauce
Drain the tomatoes. Using a metal sieve drain the tomatoes and give them a good shake to get out most of the liquid. Don't worry about it all being gone.
Combine all of the ingredients in a blender or food processor. Throw the tomatoes, oil, vinegar, and spices into the blender or food processor.
Blend until smooth. Scrape down the sides at least once during blending.
TOP PICK
Metal Sieve
A fine mesh sieve is a great addition to kitchens. I use it in so many recipes!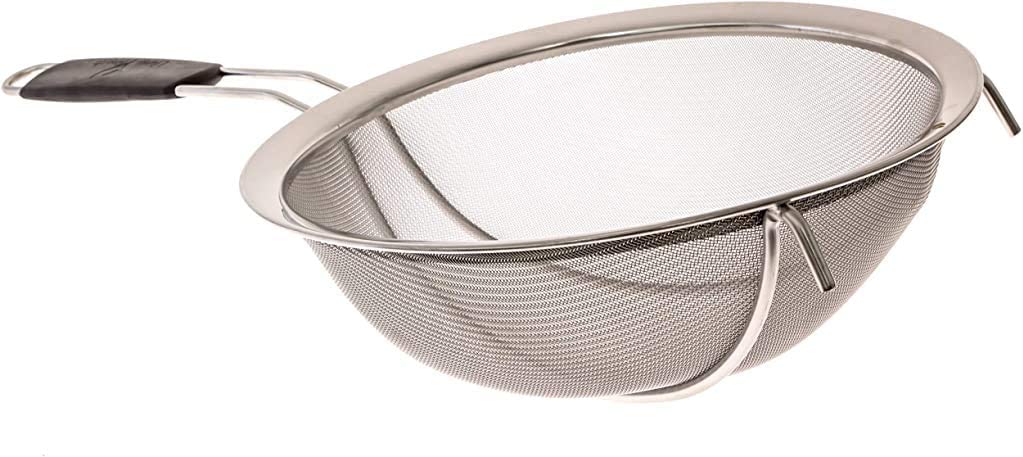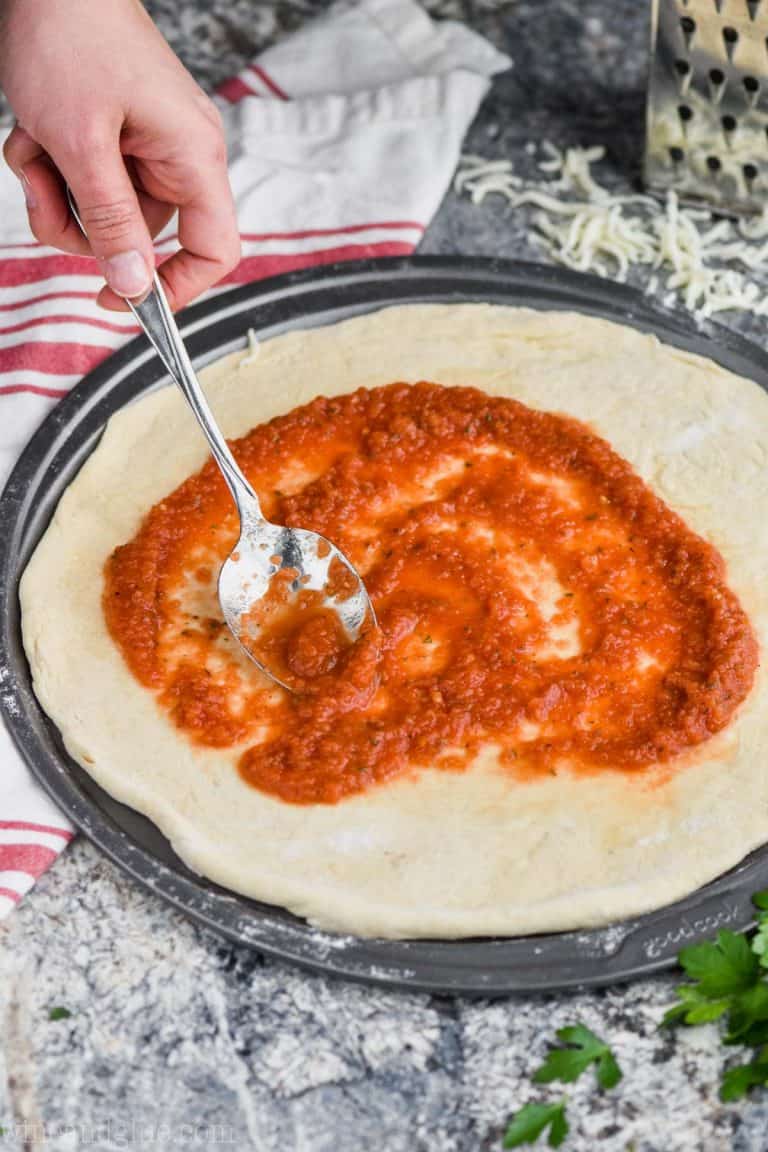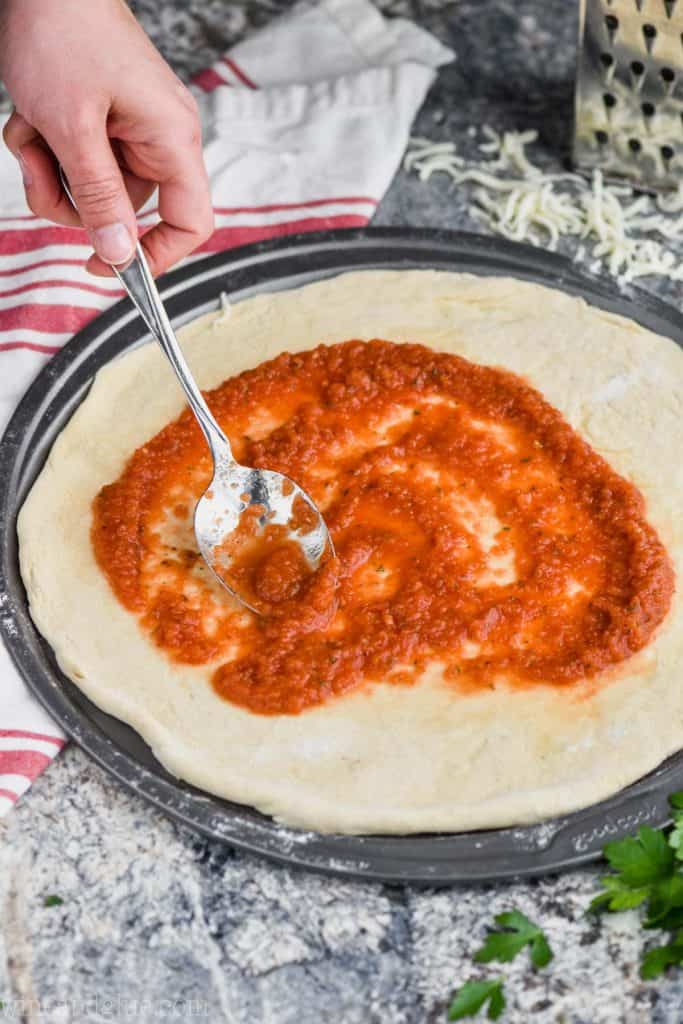 TOP PICK
Blender
I love this blender set! You get a bullet, a food processor, and a blender all in one. I use it almost daily.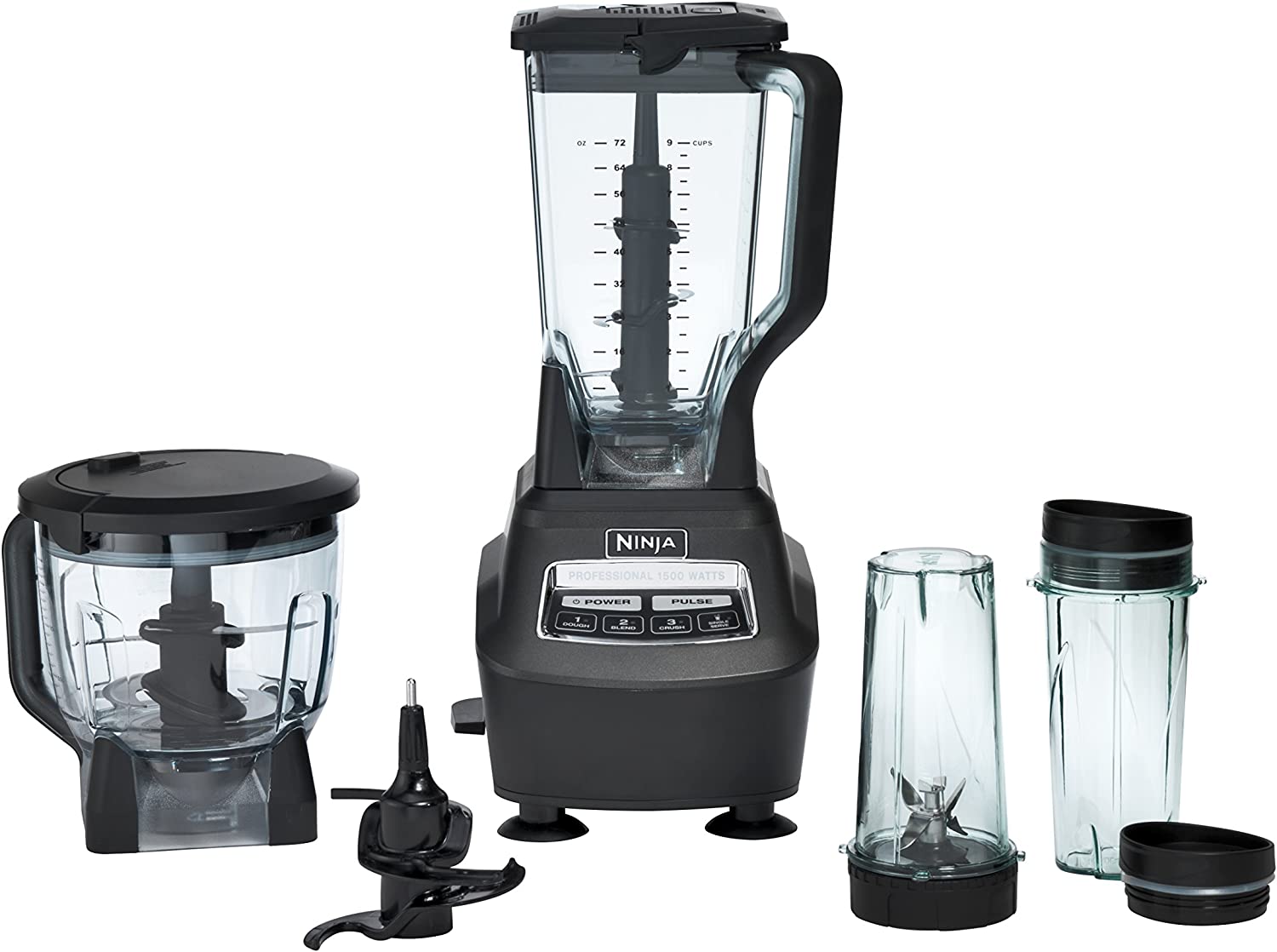 Easy Uncooked Sauce
The primary difference between pizza sauce and pasta sauce is that pizza sauce remains uncooked, while a good pasta sauce needs to simmer. The reason for this is that the uncooked tomatoes in the pizza sauce add a specific flavor that you look for in pizza.
Adding this Pizza Sauce Recipe to Pizza
You will need about half a cup of pizza sauce for a standard 12 inch pizza recipe. If you use more than that you are going to get a soggy pizza. This recipe will make 2 1/2 cups total sauce, so enough for five pizzas. You could cut the recipe in half easily, or you can freeze your leftover sauce.
The BEST Pizza Dough
Easy to follow step by step photos that will give you the perfect pizza dough! Read the reviews on this recipe, you will never use another pizza crust recipe!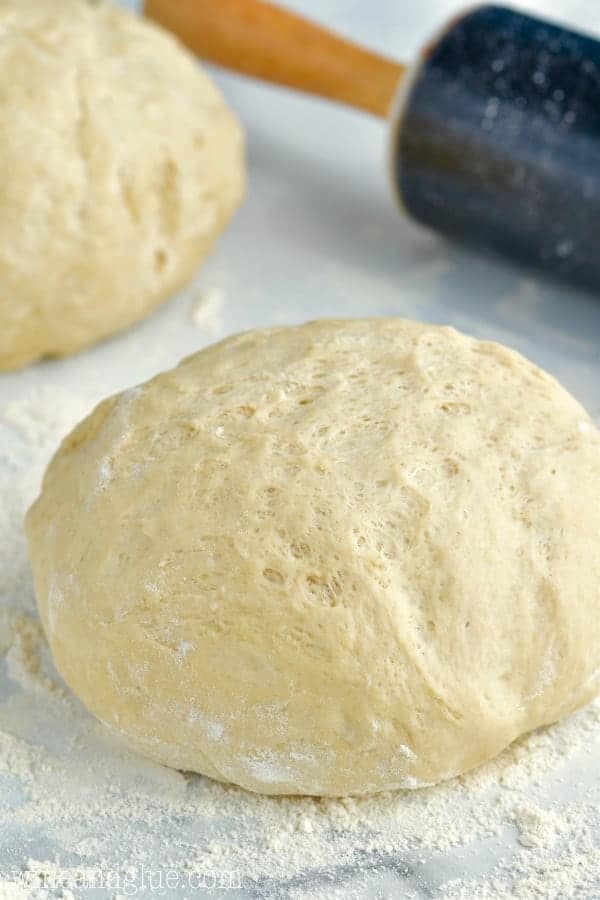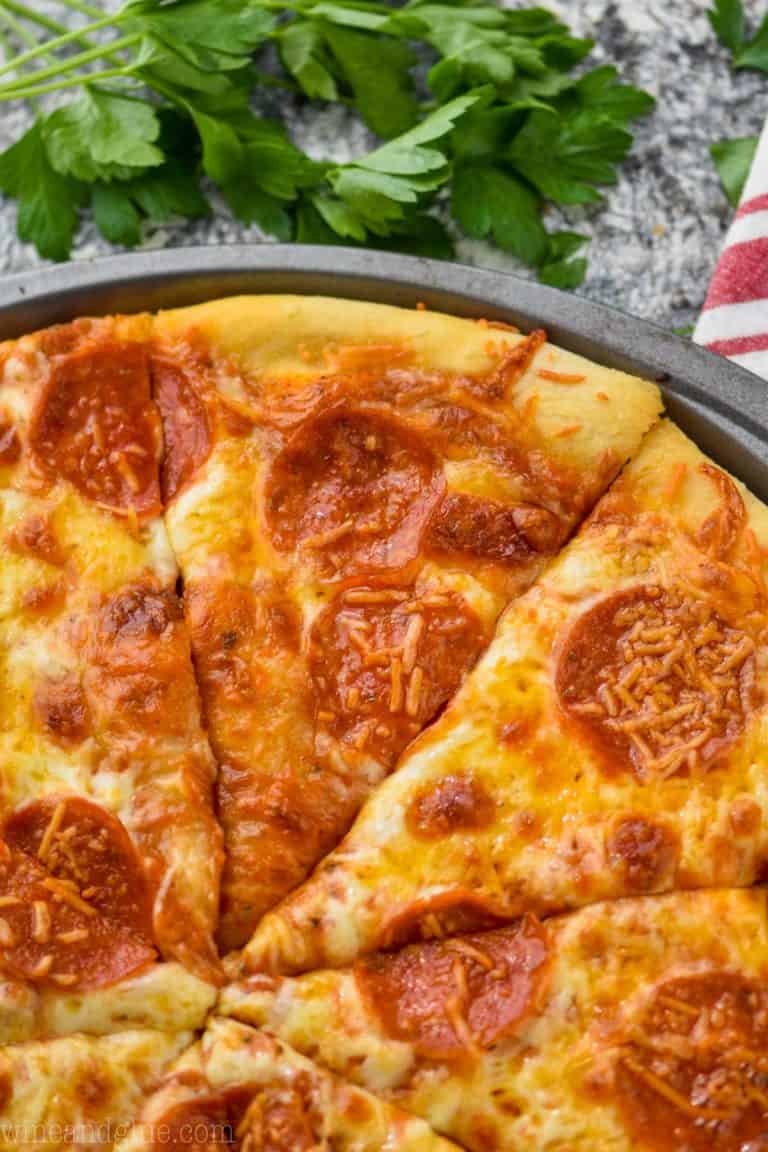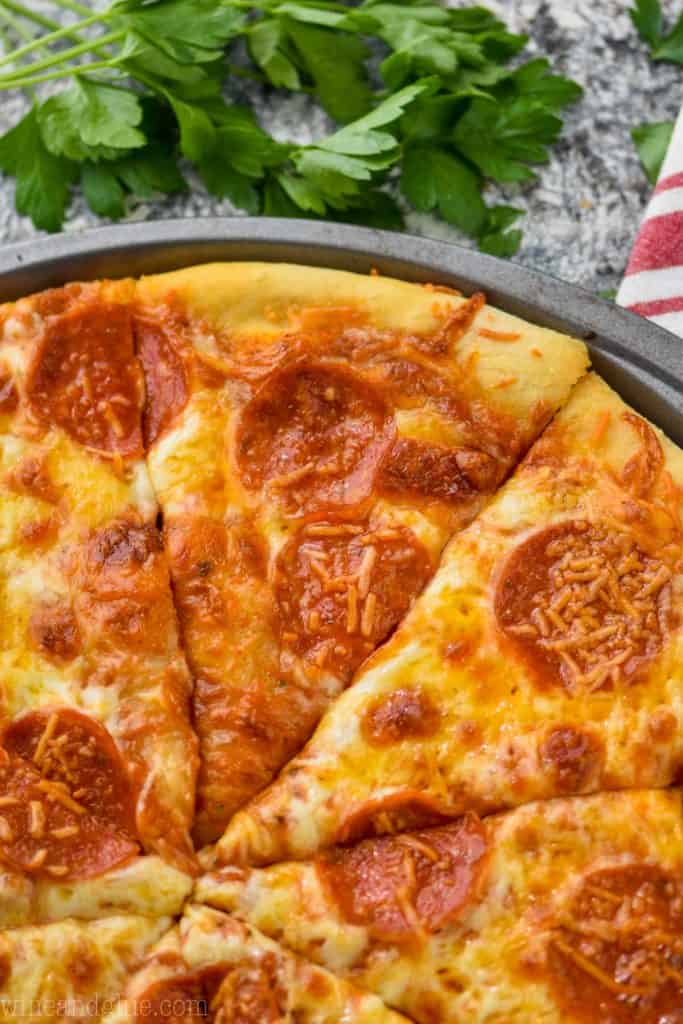 Storing Pizza Sauce
This pizza sauce will last two weeks in an air tight jar in the refrigerator. Because of the oil in this recipe, I recommend making a new batch after that timeframe.
This sauce can also be frozen. Keep in mind that if you are freezing it in a glass jar you want to leave at least an inch at the top to account for it expanding in the freezer. It will last in the freezer for three months.
Adding Sugar to Pizza Sauce
Whenever I use canned tomatoes, I test the final recipe and add a little sugar if needed – which it usually does. Canned tomatoes are quite acidic. Think of it like a scale. On one side you have the acidic tomatoes weighing down the scale. To balance it, you add a 1/2 a teaspoon of sugar to the other side. The scale is now at neutral. The recipe neither tastes acidic or sweet.
FAQ
Is this recipe gluten free?
This recipe is naturally gluten free, but you should double check all of your ingredients. This is especially true of balsamic vinegar which occasionally contains barley.
Is this recipe vegan?
Yes! This recipe is naturally vegan. If you are serving a vegan, be sure to use sugar and not honey to balance the acidity.
Can pizza sauce be canned?
I don't have enough experience with canning to advise on this. I suggest using this website as a resource.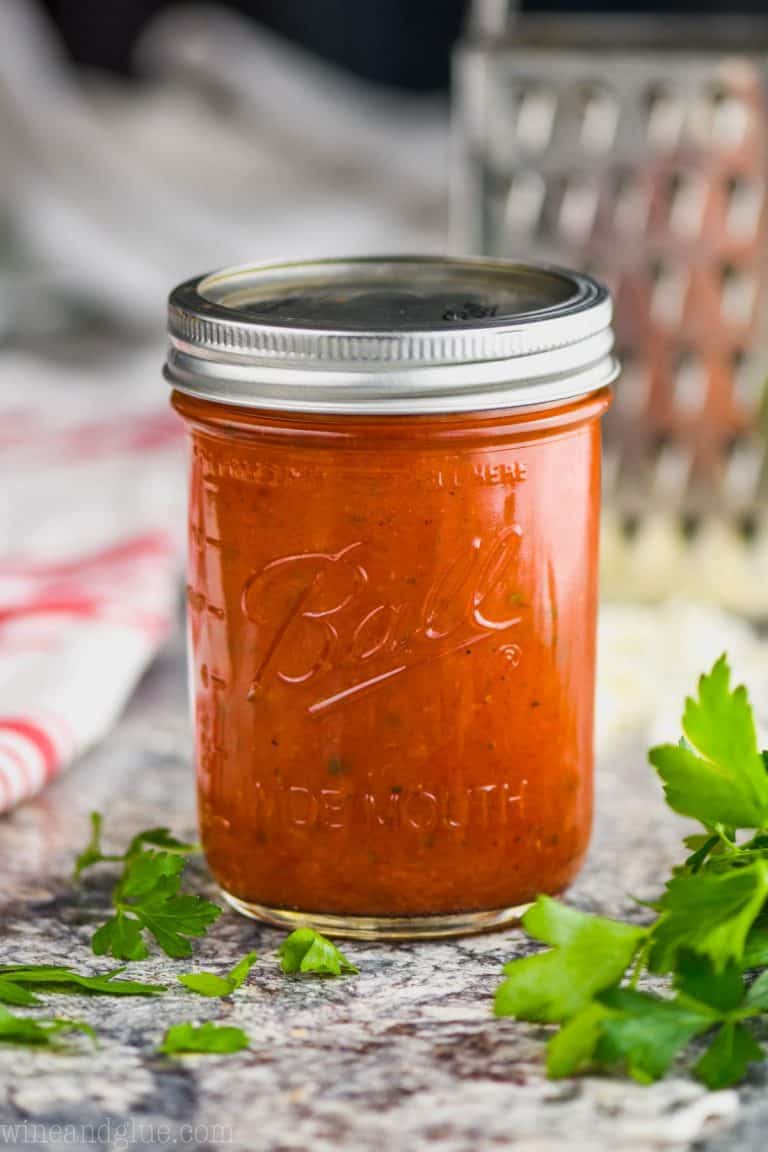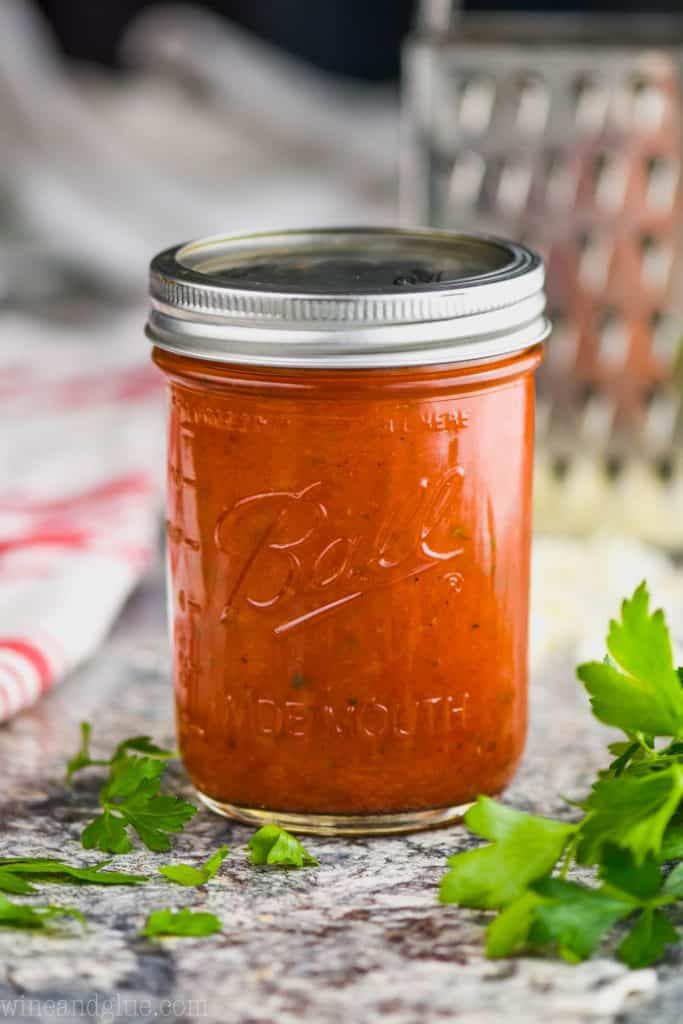 How to Use Homemade Pizza Sauce
Of course the obvious use for pizza sauce is a delicious pepperoni pizza. We have a few other recipes that are perfect for this recipe.
Stromboli: Easy to make and so fun to eat, your family will adore this spin on pizza!
Pizza Casserole: This is a one pot recipe done in 30 minutes that will be a hit with everyone.
Pizza Sliders: These are so fun and easy to customize to exactly what you want.
If you try my pizza sauce recipe or any of my other recipes, please leave me a comment and let me know what you think!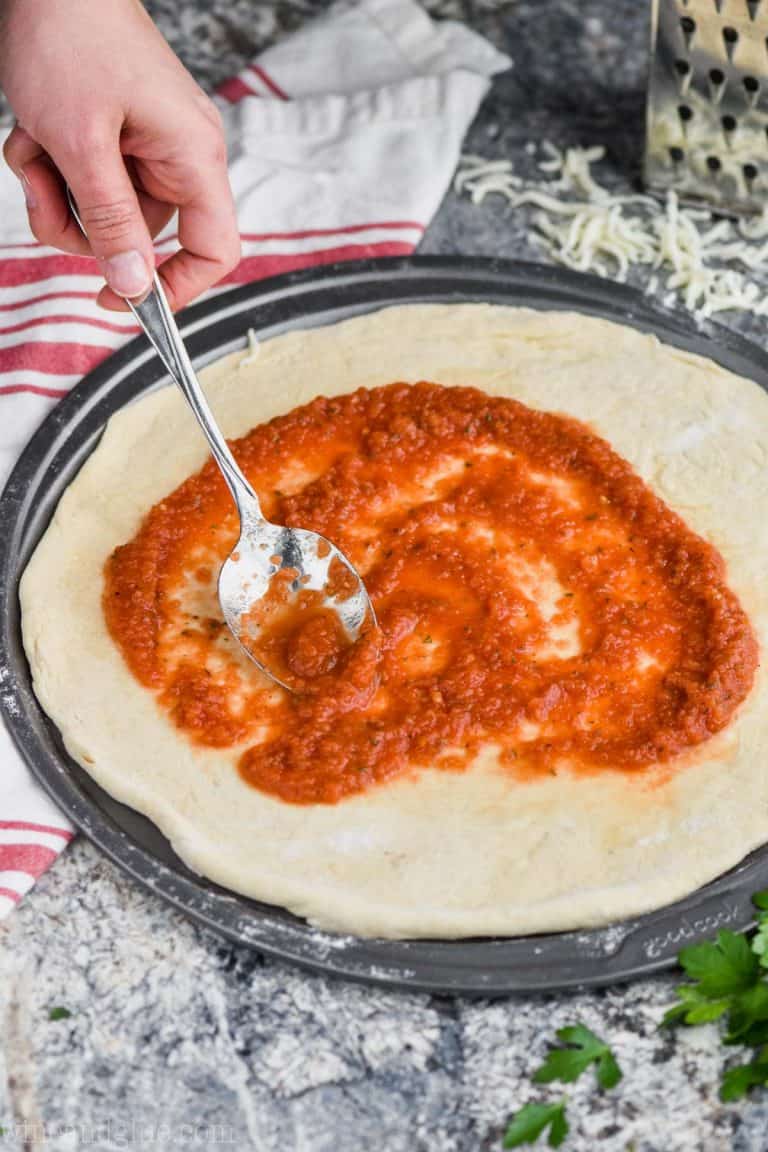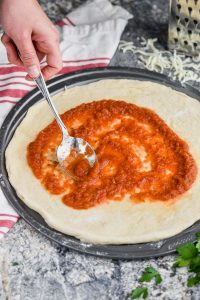 Homemade Pizza Sauce
This Homemade Pizza Sauce comes together with just a few ingredients in the blender and adds the perfect flavor to your homemade pizza. You probably already have the ingredients waiting in your pantry!
Ingredients
29

ounces

diced tomatoes

drained (see note)

1

tablespoon

olive oil

2

teaspoons

red wine or balsamic vinegar

2

cloves

garlic

minced

1

teaspoon

dried oregano

1

teaspoon

dried parsley

1/2

teaspoon

salt

1/2

teaspoon

black pepper

1/2

teaspoon

sugar or honey

(see note)
Instructions
Combine all of the ingredients (except the sugar) together in a blender until smooth.

Taste the sauce. Add a pinch of sugar. The sauce should taste much better, but not sweet, with the sugar. If it doesn't, add a small pinch more and taste again.

This recipe will last for 2 weeks in the refrigerator.
Notes
Please note that you need approximately 1/2 cup of pizza sauce per pizza. Nutritional information is for 1/2 a cup. This recipe makes 2 1/2 cups
The tomatoes need to be drained. You can do this by dumping both cans into a sieve and letting them drain. Don't push them down or worry about getting all of the liquid out.
The sugar in this recipe should be added at the very end to balance the acidity of the tomatoes. Taste the sauce and add a small amount of sugar. Taste it again and note how the sauce is more balanced. It should taste much better without being sweet. If you need more, add more, but just a pinch at a time.
Serving:
0.5
cup
Calories:
71
kcal
(4%)
Carbohydrates:
10
g
(3%)
Protein:
1
g
(2%)
Fat:
3
g
(5%)
Monounsaturated Fat:
2
g
Sodium:
514
mg
(22%)
Potassium:
347
mg
(10%)
Fiber:
3
g
(13%)
Sugar:
5
g
(6%)
Vitamin A:
550
IU
(11%)
Vitamin C:
28.9
mg
(35%)
Calcium:
70
mg
(7%)
Iron:
0.2
mg
(1%)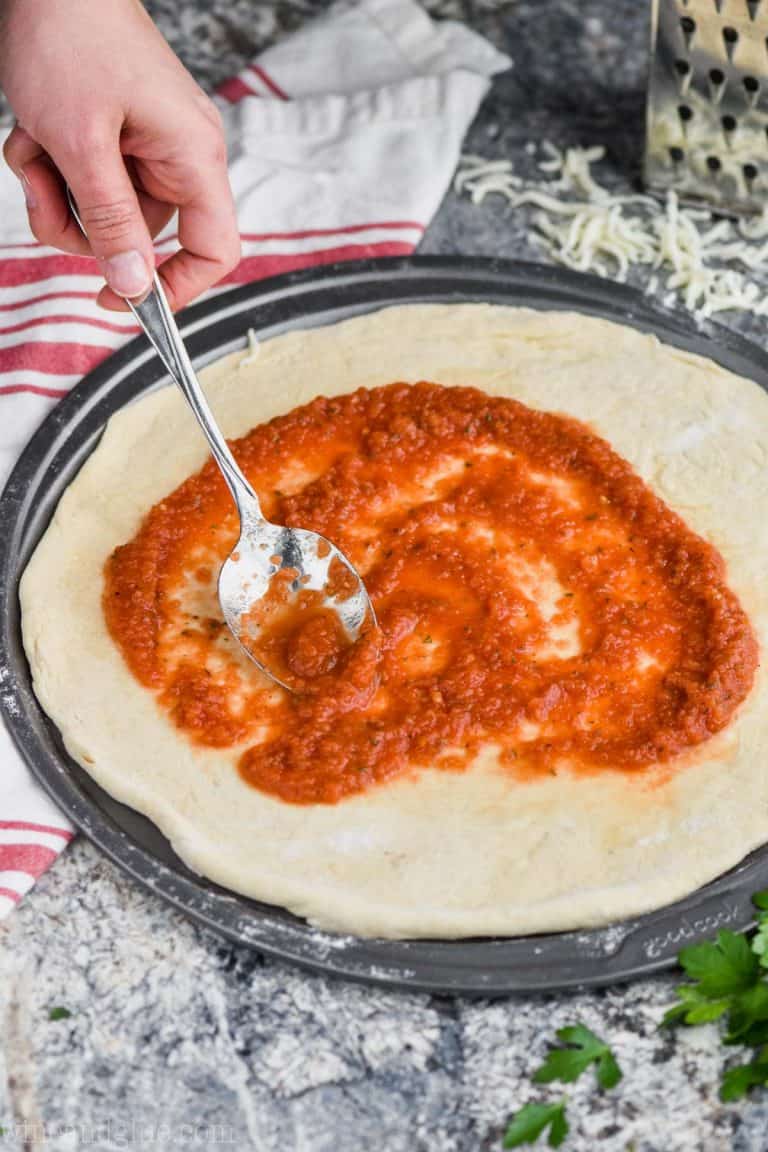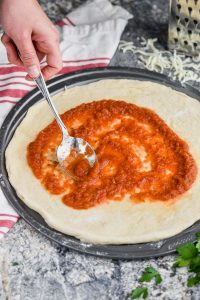 did you make this
Homemade Pizza Sauce