This Chicken Enchilada Crescent Braid makes for a delicious and fancy quick meal! Plus it's way easier to pull together than it looks!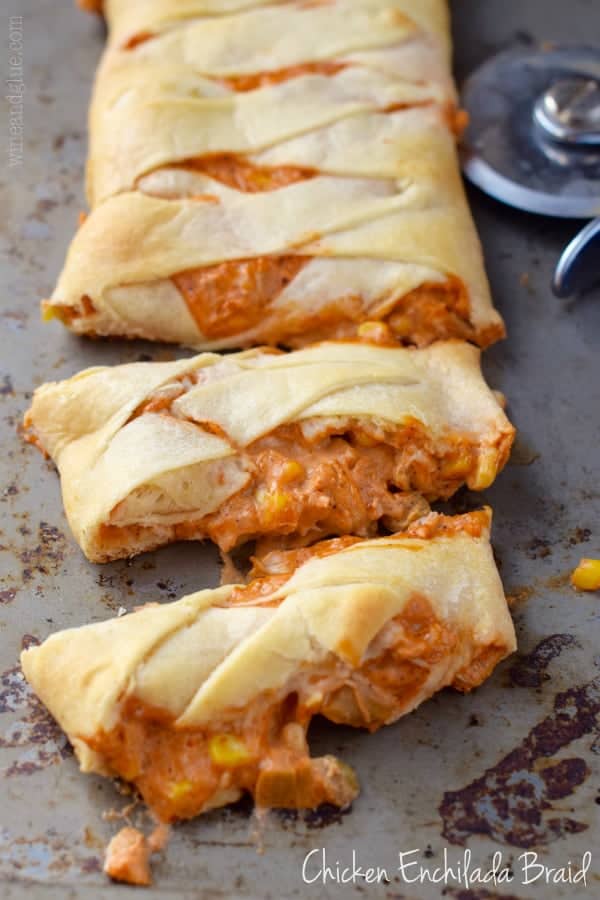 Sometimes you are in the mood for something easy, but you don't want it to look thrown together, am I right? Is it asking too much to appear as a gourmet cook, even when I don't have the time or energy to invest in making something gourmet? Oh, and it needs to taste amazing.
Although it may sound like a tall order, this Chicken Enchilada Crescent Braid hits all those requirements and then some. It's easier than you think. It looks beautiful when it's done. And you and your family will love how it all tastes.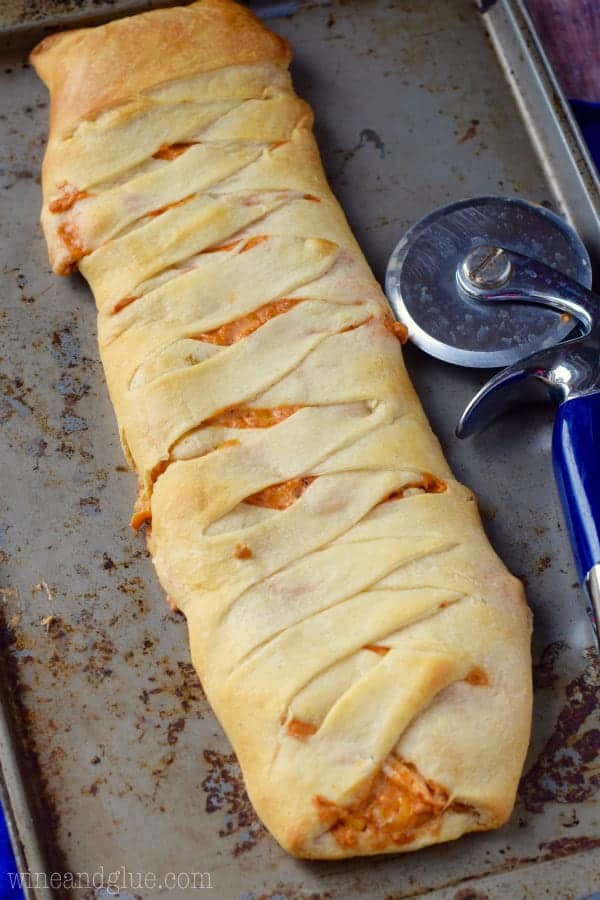 BEGGING FOR MORE CRESCENT BRAIDS
When I say easy recipe, I'm talking easier than getting your children to go to bed, and certainly more enjoyable! Voila, the Chicken Enchilada Crescent Braid. Since y'all liked my Chicken Pot Pie Crescent Braid so much (it's been pinned more than 245,000 times!!), I decided to make you another one! But this one is packed to the brim with enchilada flavor!
SECRETS TO CRESCENT BRAID SUCCESS
Now that you're likely drooling at the idea of giving this a try, here are a few tips. Mix up your filling, spread out your crescent dough on a silicon or parchment lined baking sheet. Using the liner on your baking sheet just makes the whole cleanup process so much easier. And it can help your Chicken Enchilada Crescent Braid bake up evenly and pretty.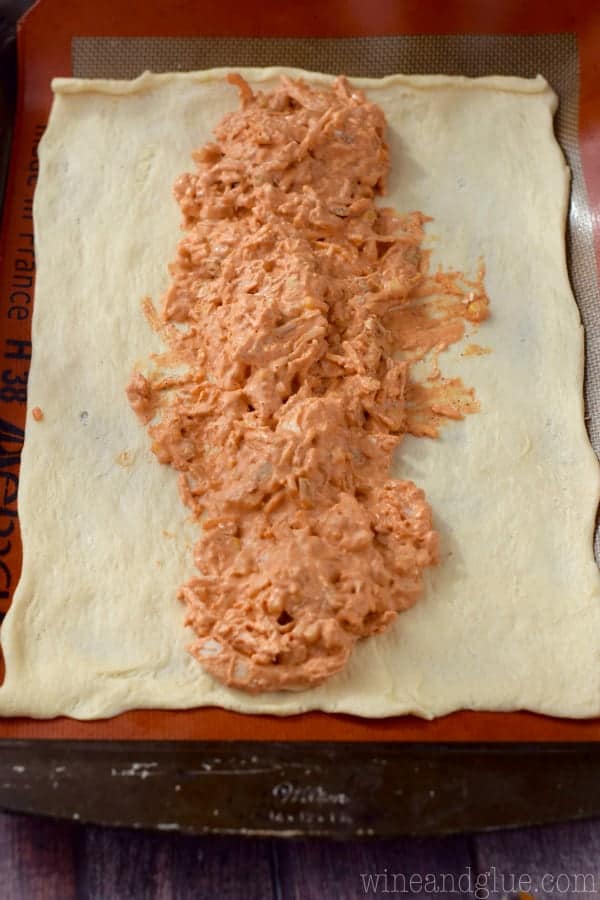 Now, cut slits in the dough about an inch apart up to the chicken filling. If you go too close to the filling it may ooze out the back, but if you don't get close enough it will be difficult to braid and you won't get that beautiful crescent braid look.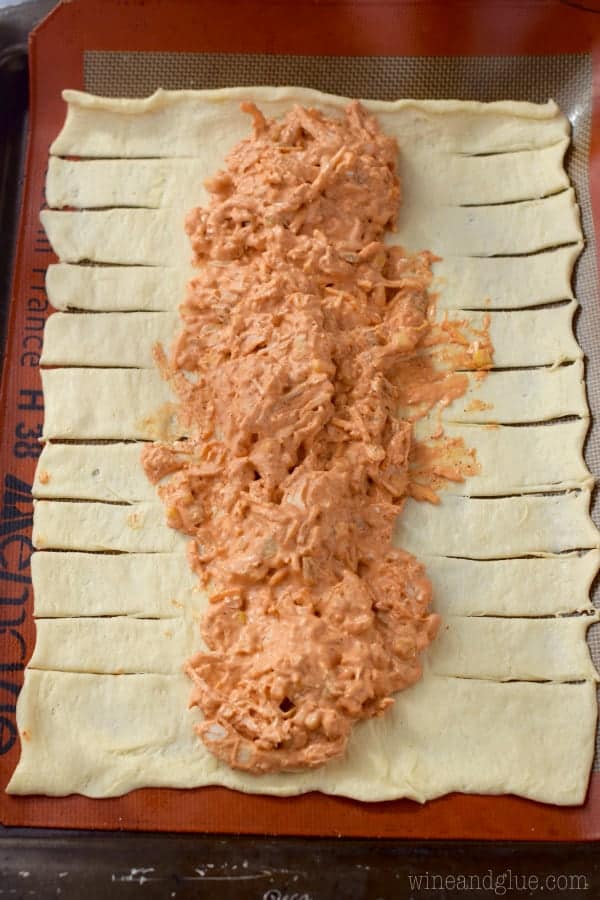 Start braiding, pulling one piece of dough over the chicken filling and then a piece from the other side over the center. Don't worry, you can use these photos below to make sure you're on track.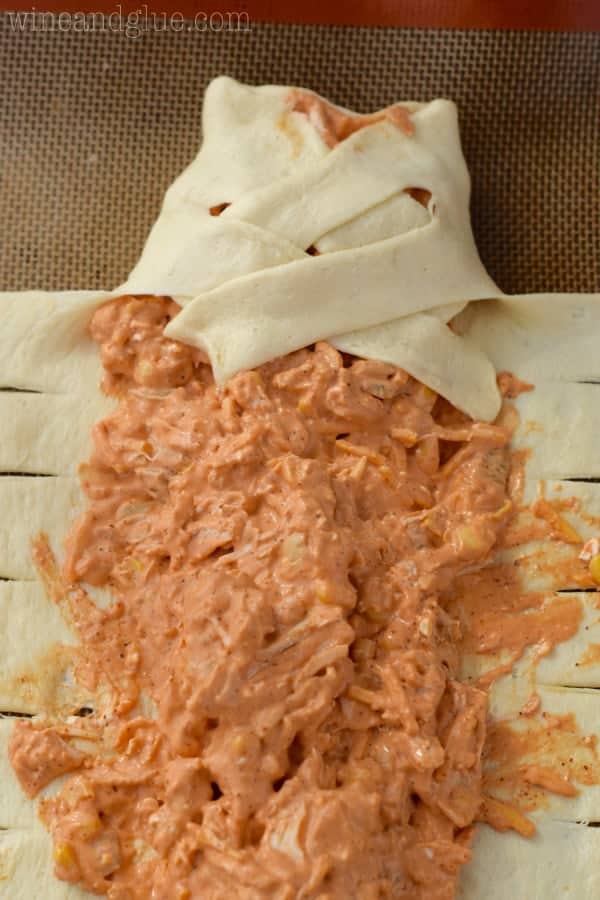 Then, just keep on braiding. You're doing great!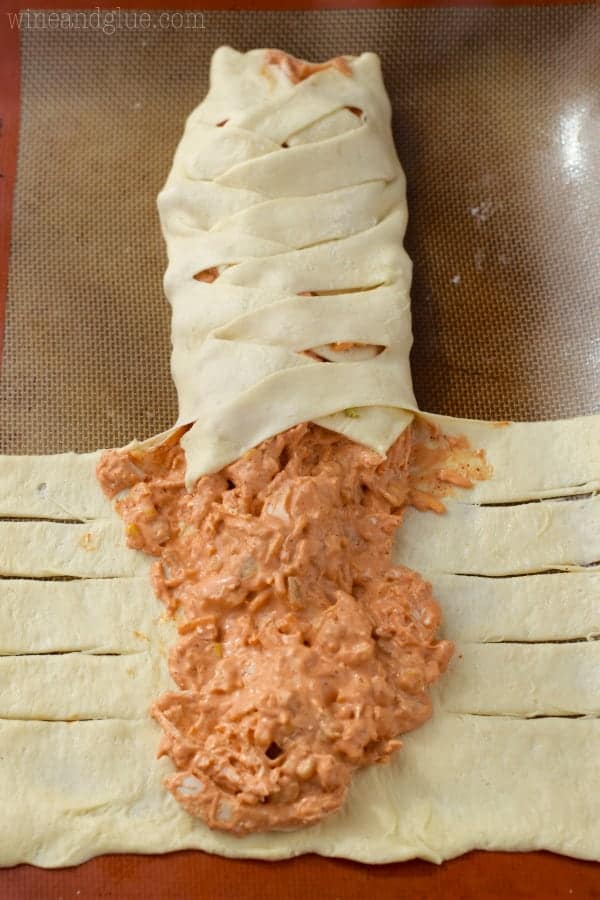 Seal up both ends, bake, and enjoy!
ADDITIONS AND SUBSTITUTIONS
People often ask about altering recipes to meet their family's comfort level when it comes to heat. Although this is not an overly spicy enchilada filling, you can always add a little less, or more, of certain ingredients to give it the flavor you are looking for.
If your kids are like a lot of kids, they can't handle anything too "hot" (meaning spicy). If that's the case for you, no problem. Just add a smidge fewer diced green chilis and ease up on the chili powder.
As far as substitutions on the actual filling, keep reading! There are so many great fillings to use that will help you achieve the same basic braid look, but a totally different flavor.
MORE GREAT CRESCENT BRAIDS TO TRY
There are so many great flavors to enjoy using a seamless crescent dough as the wrap. Check out any (or all!) of these:
Don't forget to let us know how you liked any of the braids you try. We love hearing back from you in the comments!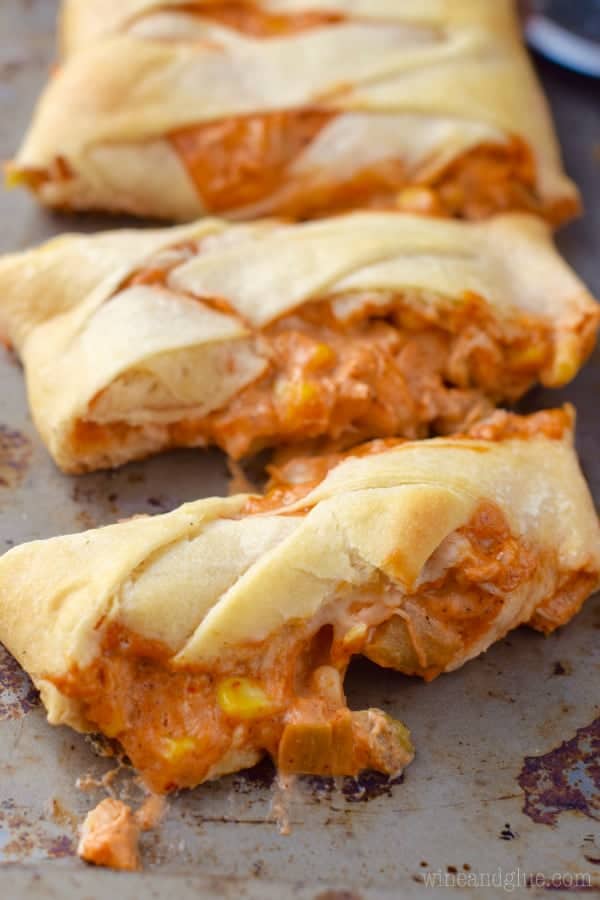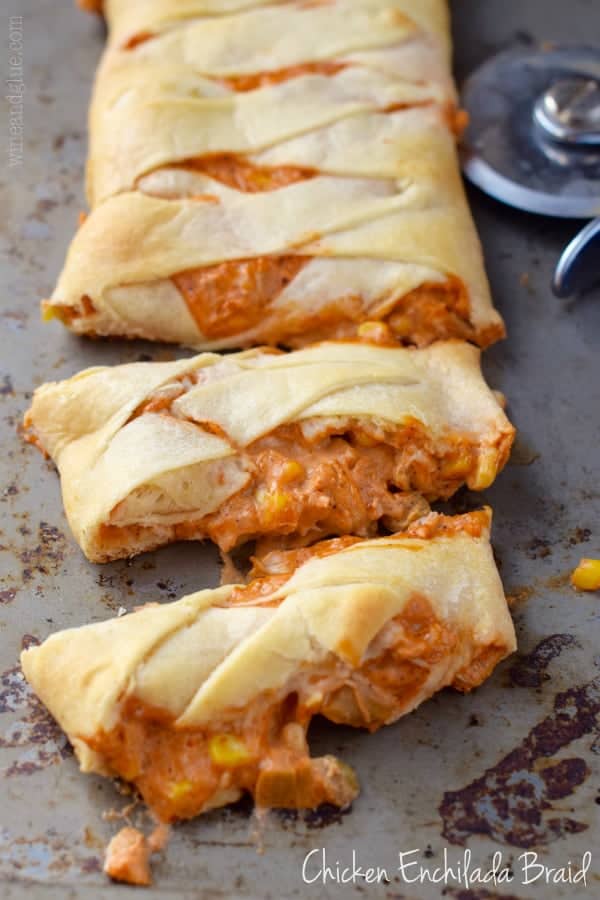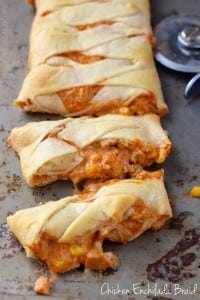 Chicken Enchilada Crescent Braid
This Chicken Enchilada Crescent Braid makes for a delicious and fancy quick meal! Plus it's way easier to pull together than it looks!
Instructions
Preheat your oven to 375 degrees.

In a large bowl, mix together the cream cheese and enchilada sauce until fully blended. Then add in the shredded chicken, green chiles, frozen, corn, chili powder, salt, and cumin.

Spread the crescent roll dough out on a silicon mat or parchment paper and place that on a baking pan. Leaving three inches in the middle, make cuts down the side of the dough an inch apart on both sides.

Spread the chicken mixture down the middle of the dough. Take a strip of dough from one side and fold it over the middle mixture. Then take a strip from the other side and fold it over the middle. Continue down the dough, alternating sides until it is completely folded over.

Pinch the ends of the dough to keep the filling inside while it bakes.

Bake for 20 to 25 minutes so that the top is nice and golden brown.

Let stand about 10 minutes before cutting in to it.
Serving:
1
slice
Calories:
246
kcal
(12%)
Carbohydrates:
22
g
(7%)
Protein:
13
g
(26%)
Fat:
12
g
(18%)
Saturated Fat:
5
g
(31%)
Monounsaturated Fat:
2
g
Cholesterol:
44
mg
(15%)
Sodium:
619
mg
(27%)
Potassium:
343
mg
(10%)
Fiber:
1
g
(4%)
Sugar:
5
g
(6%)
Vitamin A:
66
IU
(1%)
Vitamin C:
2
mg
(2%)
Calcium:
19
mg
(2%)
Iron:
7
mg
(39%)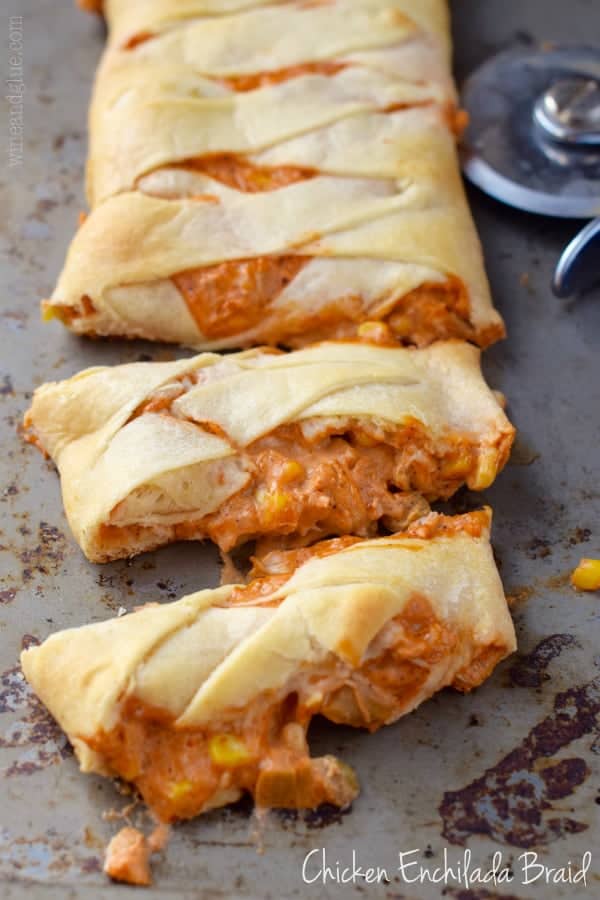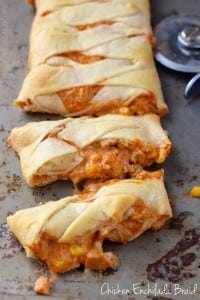 did you make this
Chicken Enchilada Crescent Braid