These Chicken Stuffed Shells are filled to the brim with chicken, broccoli, ricotta, mozzarella and Parmesan cheeses and then smothered in a rich garlic Alfredo sauce.
If you love stuffed shells, you are going to love this twist on that classic recipe.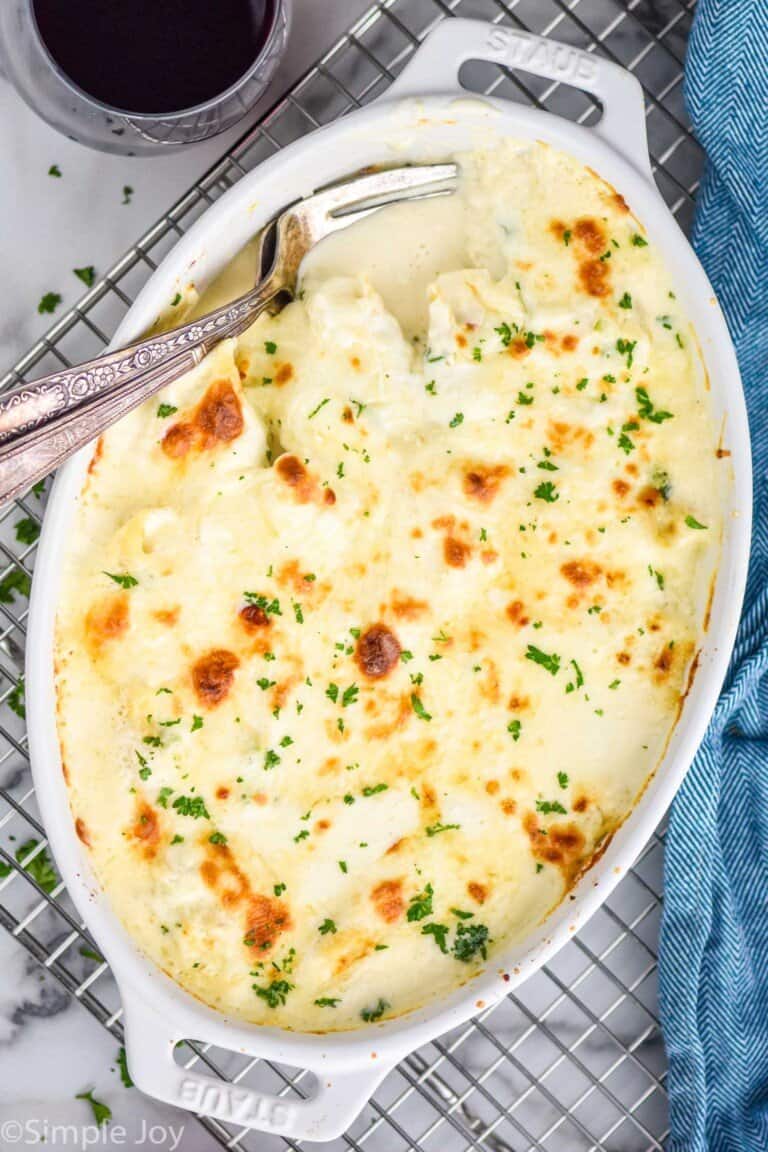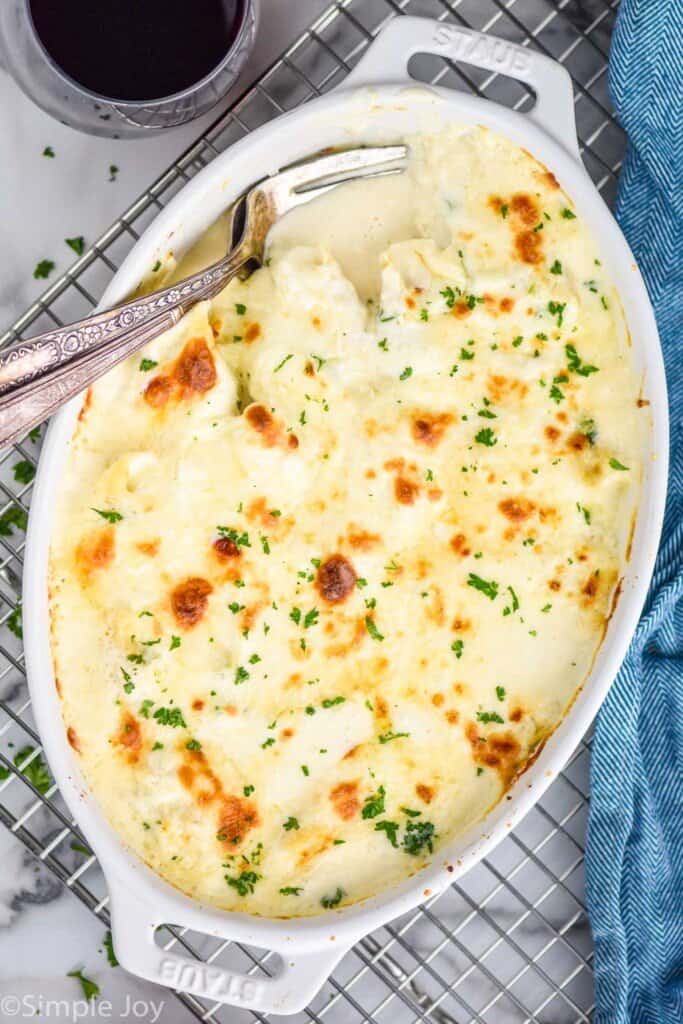 The other day when I posted my Fettuccine Alfredo Sauce, I cautioned you that it was great on freshly made pasta but wasn't a great recipe to bake with.
Well today, you are getting a great Alfredo Sauce that you can throw in the oven. With it you are getting my amazing Chicken Stuffed Shells recipe. Use both together, or use them separately, you will absolutely love both.
Reader Review
Absolutely delicious, family really enjoyed and I'm glad I made a double batch.
How to Make Stuffed Shells with Meat
Start by cooking the shells. You will need 17 to 20 jumbo shells for this recipe. I recommend making a whole box in case some rip while boiling. See all of our tips and tricks on making pasta below.
Make the filling. While the water is coming to a boil and the pasta is cooking, make the filling for the shells. Set it aside.
Make the Alfredo Sauce. Melt butter butter in a large skillet. Then whisk in some flour. This will create a roux and this is what makes the sauce hold up to the oven without separating. Add in milk slowly, then heavy cream, and finally and some garlic and melt in some Parmesan cheese. Make sure to add some salt and pepper to taste.
Fill the shells. After the pasta is cooked, rinse it with cool water. Then fill it with the chicken ricotta filling.
Put it all together. Pour a little of the sauce in the bottom of a greased casserole dish. Add the stuffed shells. Top with the rest of the sauce. Add some mozzarella cheese and a little Parmesan.
Bake the stuffed shells. Cover the casserole dish with aluminum foil and bake for 20 minutes. Remove the foil and bake for 5 minutes. Finish it off by broiling it for 2 to 3 minutes, watching it closely.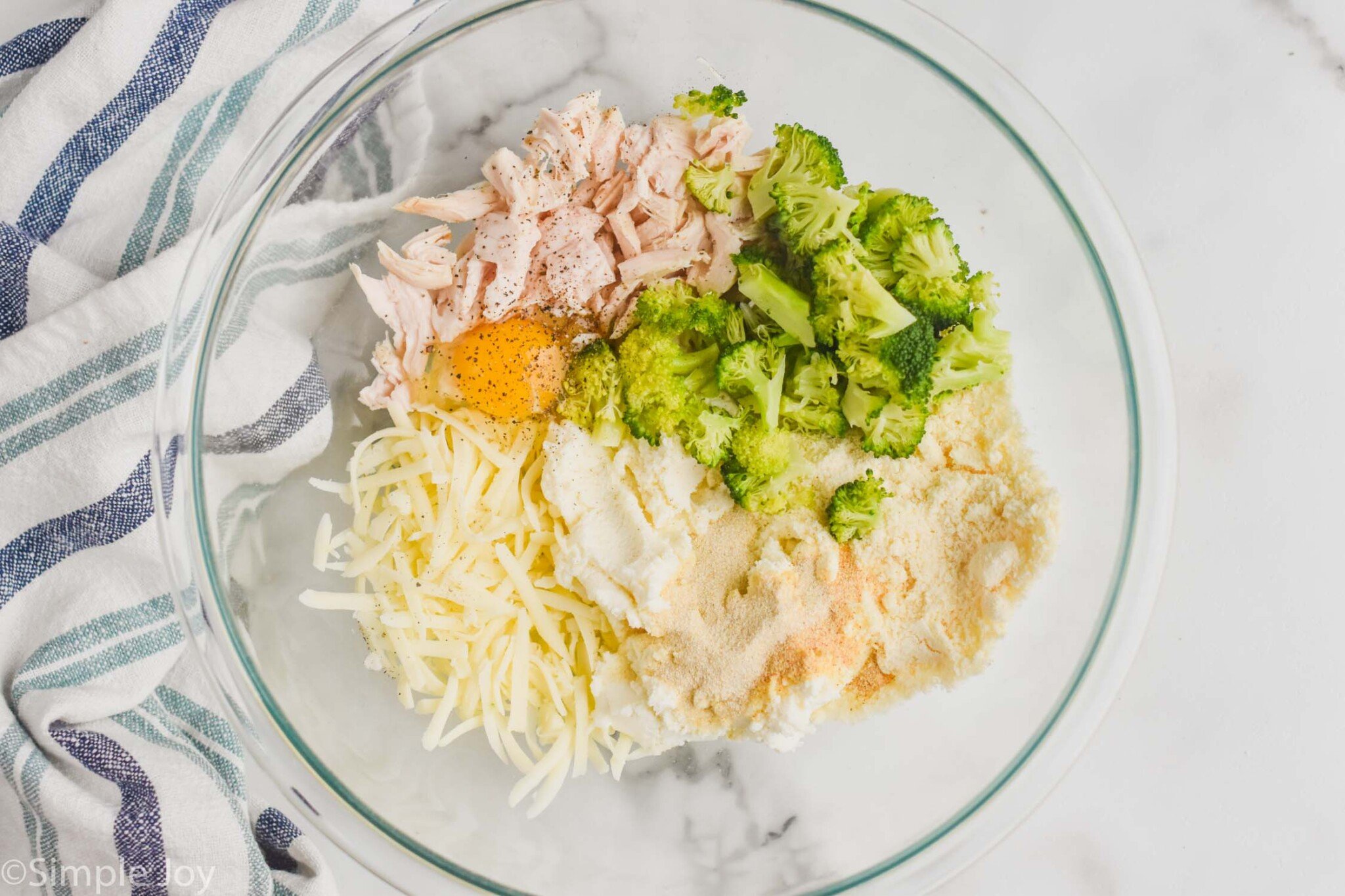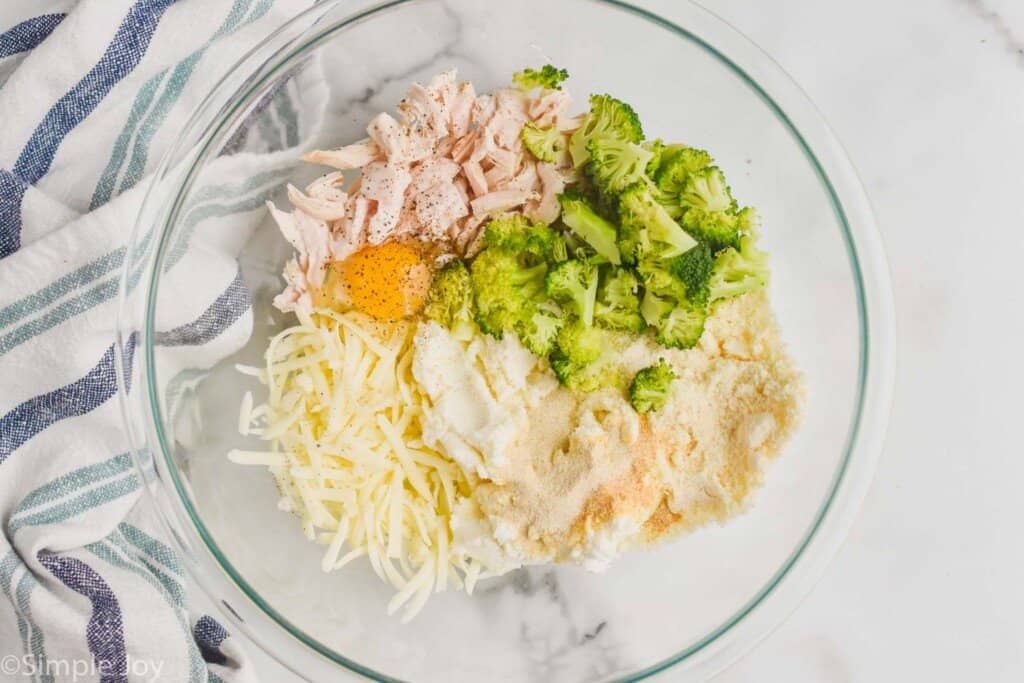 Tips and Tricks for Cooking Pasta
Be sure to use enough water. If you are cooking a pound of pasta (as we are here), bring 4 to 6 quarts of water to a boil.
Make sure the water is at a roaring boil. You want to see huge bubbles when you add the shells.
Set a timer for the length of time suggested on the box. This is particularly true for shells. They will be going into the oven, so we want them even less cooked than al dente. The time suggested on the box should account for this.
Salt the water. A teaspoon or two of kosher salt in the boiling water can really enhance a recipe.
Rinse the pasta with cold water after draining. This will stop the pasta from continuing to cook. That is important in this dish, since you likely will need a minute still before you are ready to stuff them.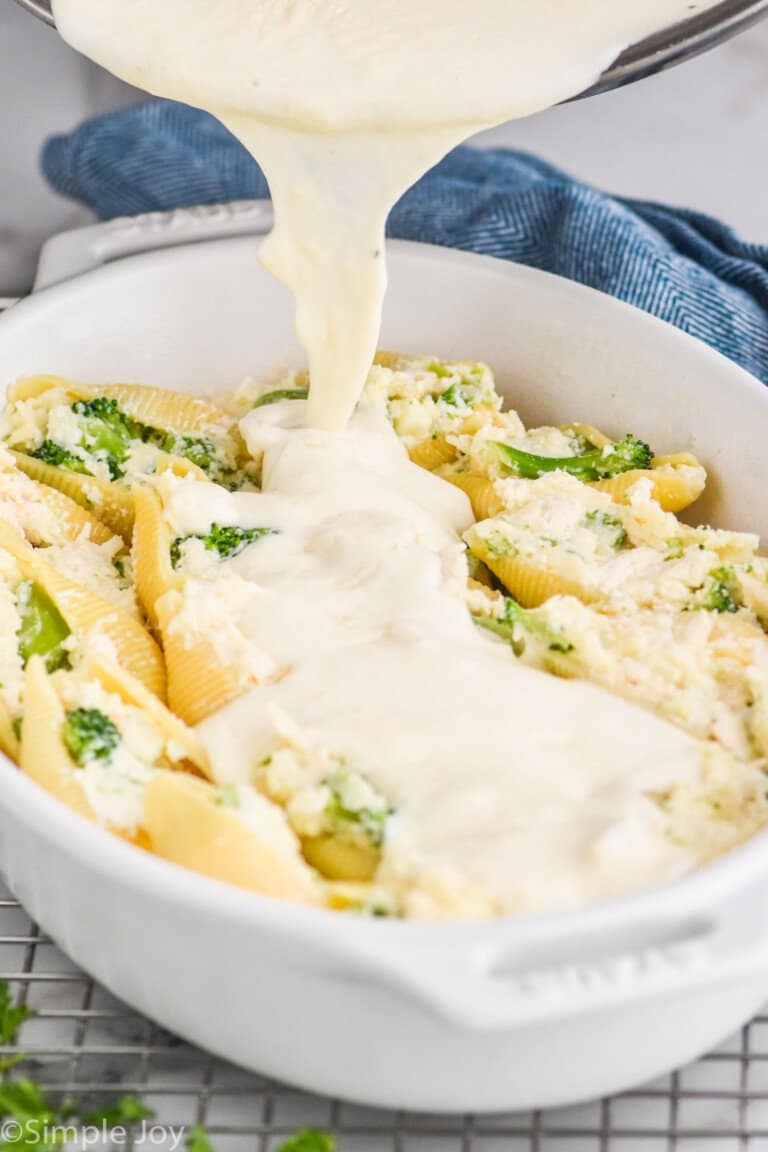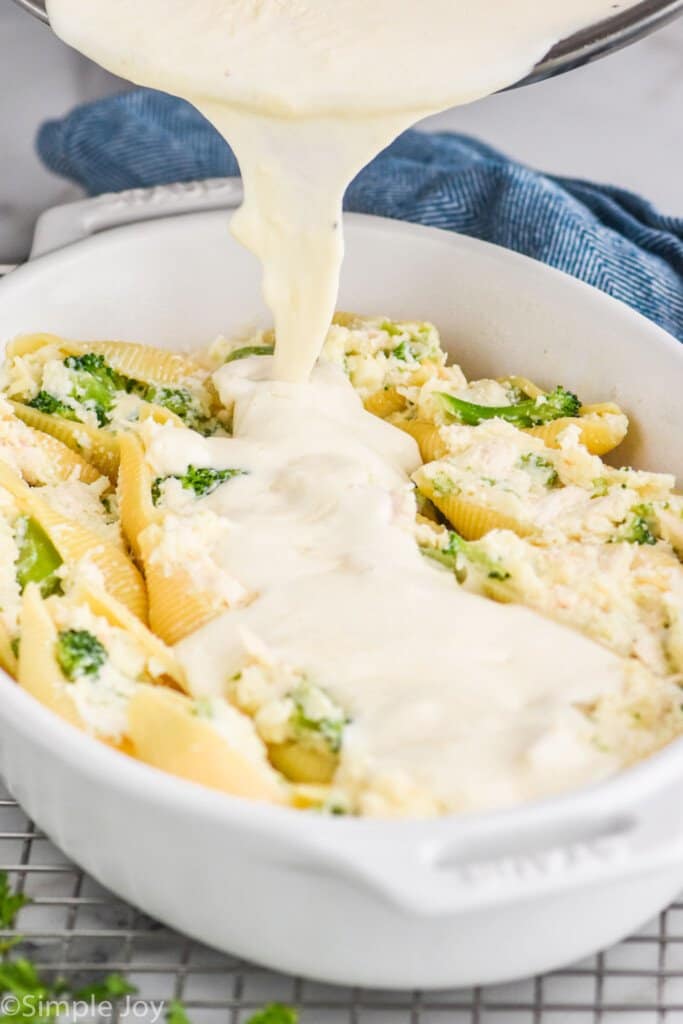 Make Chicken Stuffed Shells Easier
In this recipe we are making our own Alfredo Sauce, and it is bananas good. That being said, if you want to cut some time from this recipe, feel free to use store bought Alfredo Sauce. It will hold up to the oven great. You will need two cups or 16 liquid ounces.
Using Cooked Chicken in Chicken Stuffed Shells
Our Chicken Alfredo Stuffed Shells require cooked chicken. I have a few suggestions for this.
Buy pre cooked and shredded chicken from your deli. You only need 1 cup. Give it a rough chop when you get home.
Boil some chicken. You will need less than half a pound of raw chicken for this recipe. Add your chicken to a sauce pan and cover it with water. Bring it to a boil, then reduce to a simmer and cook for 4 to 10 minutes, depending on the thickness of the chicken. It is ready when it reaches an internal temperature of 165 degrees.
Buy several rotisserie chickens on sale for later use. Shred them, line them on a parchment paper lined baking sheet and freeze for 2 hours. Break up the chicken and store in an airtight container in the freezer for up to three months.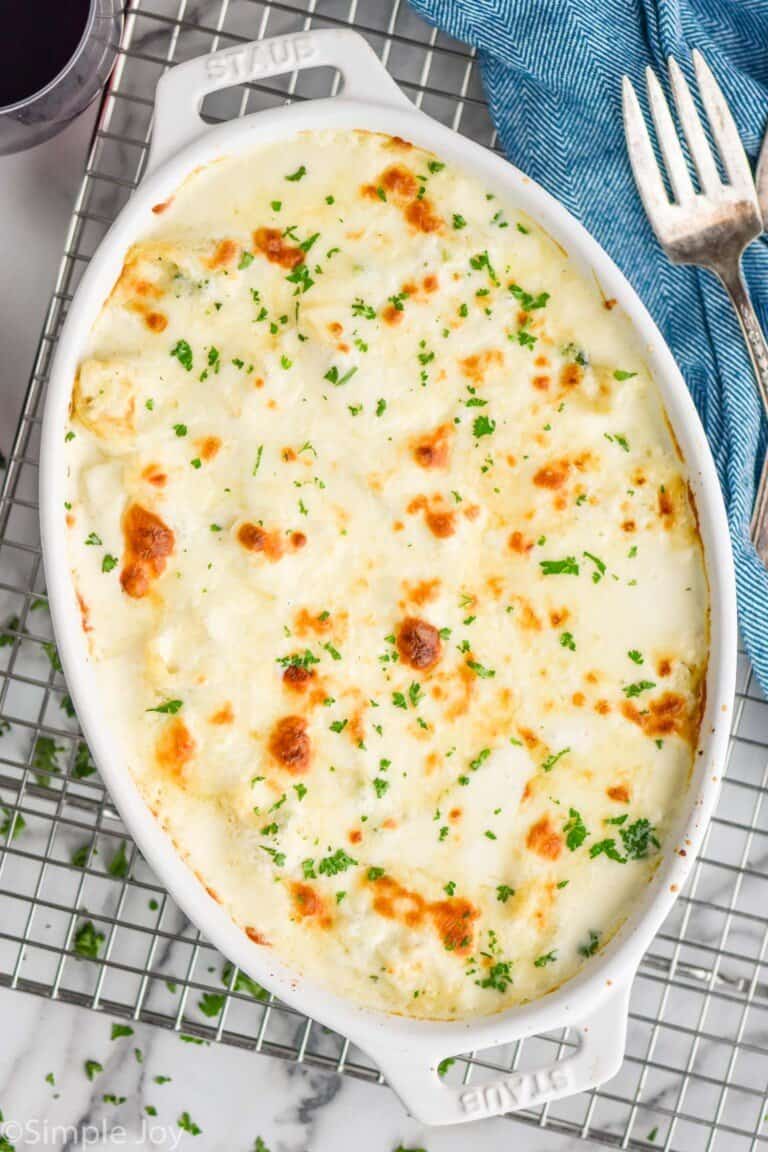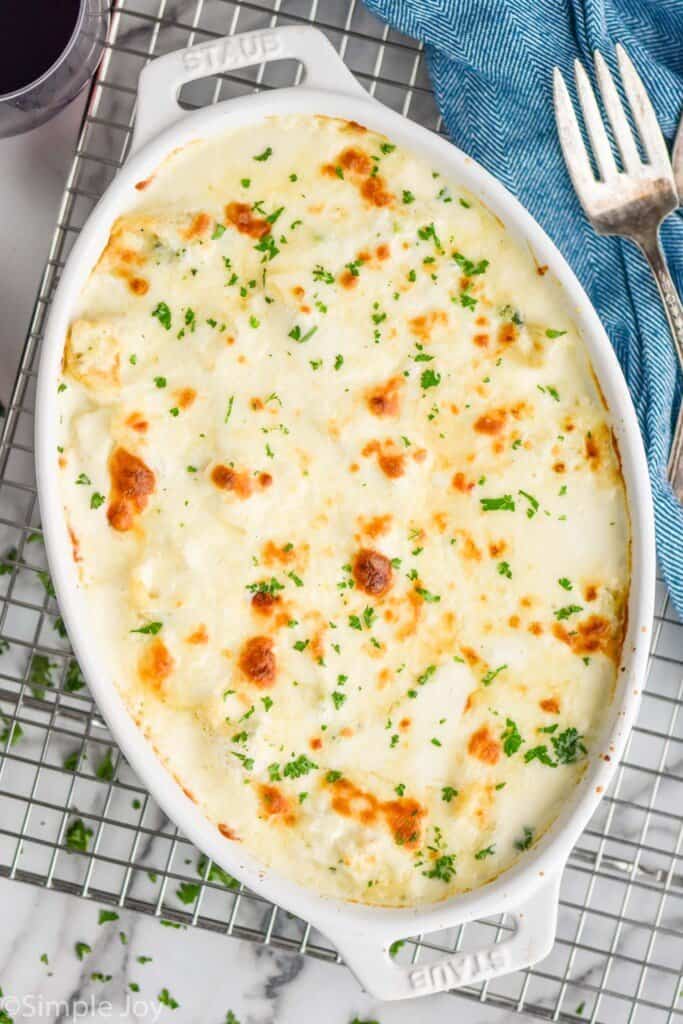 What Broccoli to Use for Stuffed Shells
In these stuffed shells, you can use several different types of broccoli, as long as it is cooked. Frozen broccoli is fantastic for this recipe. That is what I used here. You could also use fresh broccoli and steam or sauté it until tender.
Grating Your Own Cheese
I'm about to climb back on my cheesy soap box again. It is so import to grate your own cheese for this recipe. This is true of basically any recipe where we are making sauces and baking it. It melts a million times better than pre shredded cheese.
The reason that freshly grated cheese is better is because pre shredded cheese has an additive in it to preserve it that prevents it from melting as well. Additionally, just based on my own experience, it is cheaper per ounce to buy the blocks of cheese.
This will typically add, at most, five minutes to your recipe. Those five minutes are totally worth it.
Making Ahead
This is a great recipe to make the night before. It will last for 24 hours in the refrigerator.
If you are tight on time when you get home from work, pull this out of the refrigerator and into the preheated oven. It will be done in a little over 30 minutes.
Freezing Alfredo Stuffed Shells
This recipe also freezes really well. Use a disposable baking dish so that you can take it right from the freezer to the hot oven without worrying about the dish cracking.
Wrap the disposable baking dish with the ready to bake chicken stuffed shells in plastic wrap three times.
Store in the freezer for up to three months.
When you are ready to bake, remove the plastic wrap, cover with foil, and put it into the hot 375 degree oven.
Bake for 40 minutes.
Remove the foil and bake for 5 minutes, then broil until you get the desired browning of the cheese.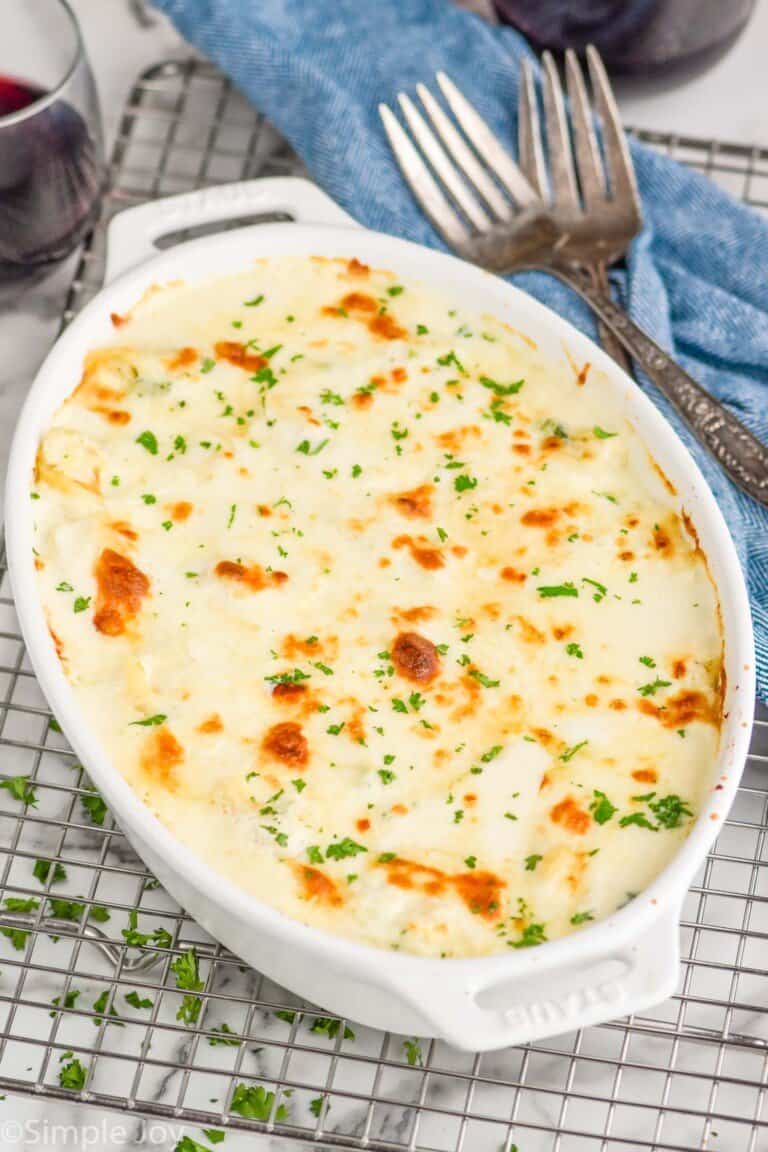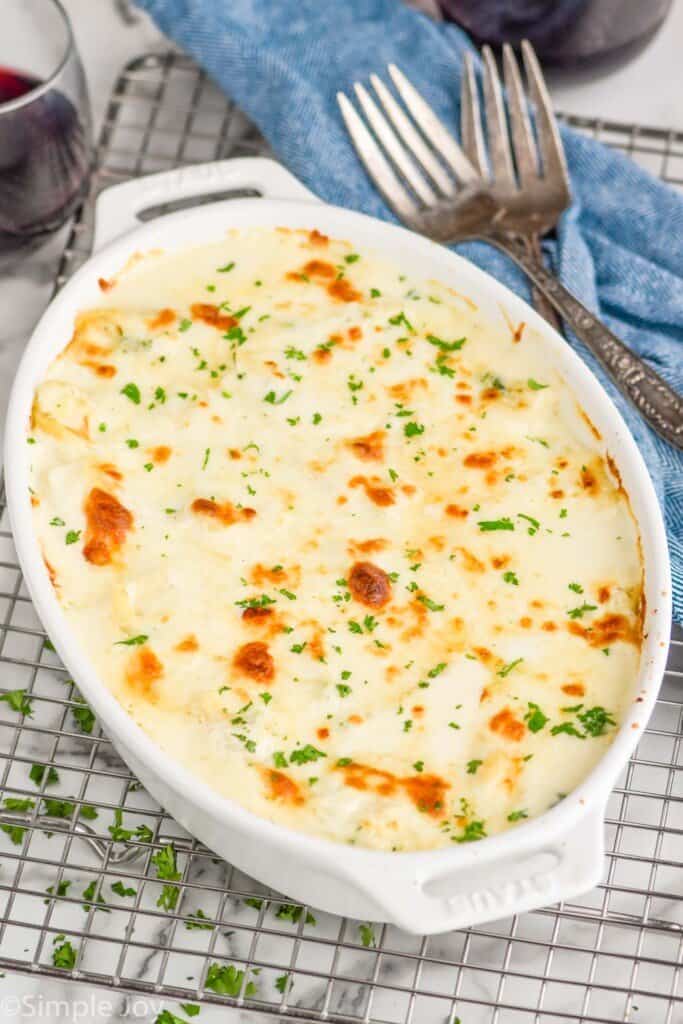 Storing and Reheating Leftovers
If you have leftover shells, store them in an airtight container in the refrigerator for up to 4 days. To reheat, cover the shells in an oven safe dish. Bake at 350 degrees for 30 minutes or until the shells are warmed through. Please only reheat the amount of shells you want to eat in that sitting as leftovers shouldn't be reheated more than once.
FAQ
I don't like ricotta, what can I use instead?
It is not my personal preference, but I know a lot of people who swear by using cottage cheese instead of ricotta cheese.
Do I have to add the broccoli?
You do not need to add the broccoli. You can replace it with spinach or mushrooms. Or you can replace it with another cup of chicken. You can also just leave it out and then you will have fewer shells that can be stuffed.
Can I use store bought Alfredo Sauce?
Absolutely. Use 2 cups of store bought sauce in place of making your own.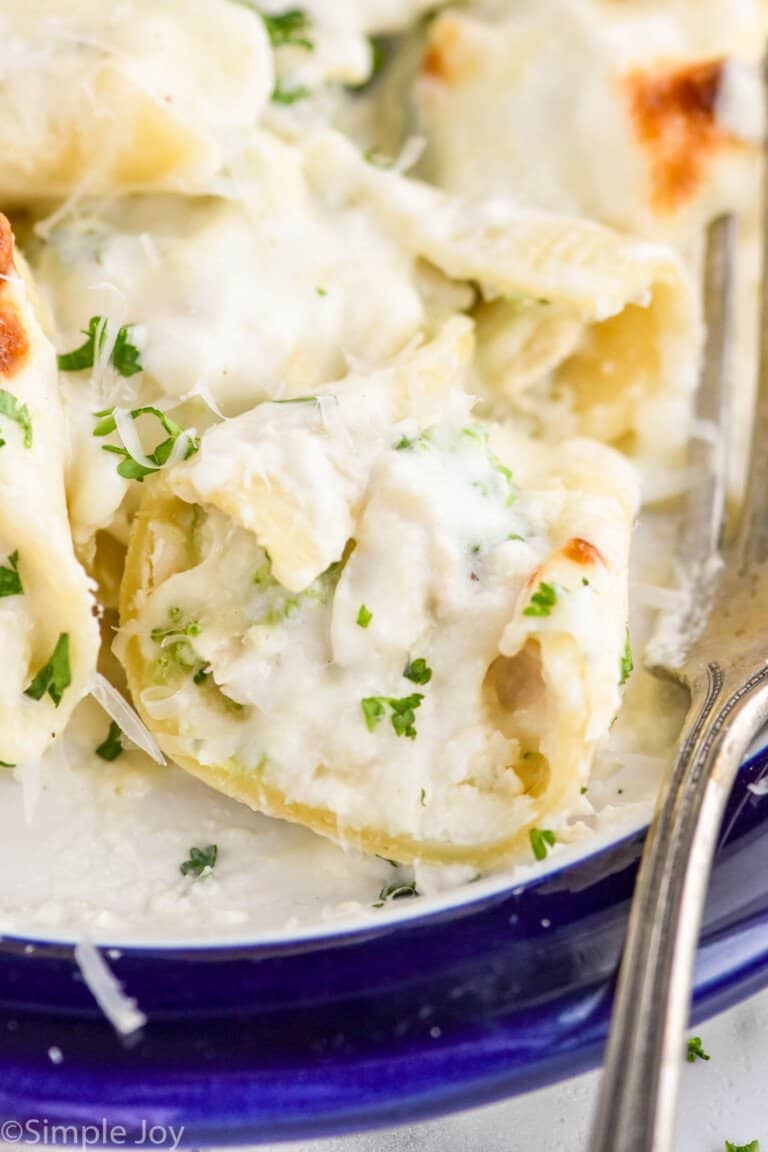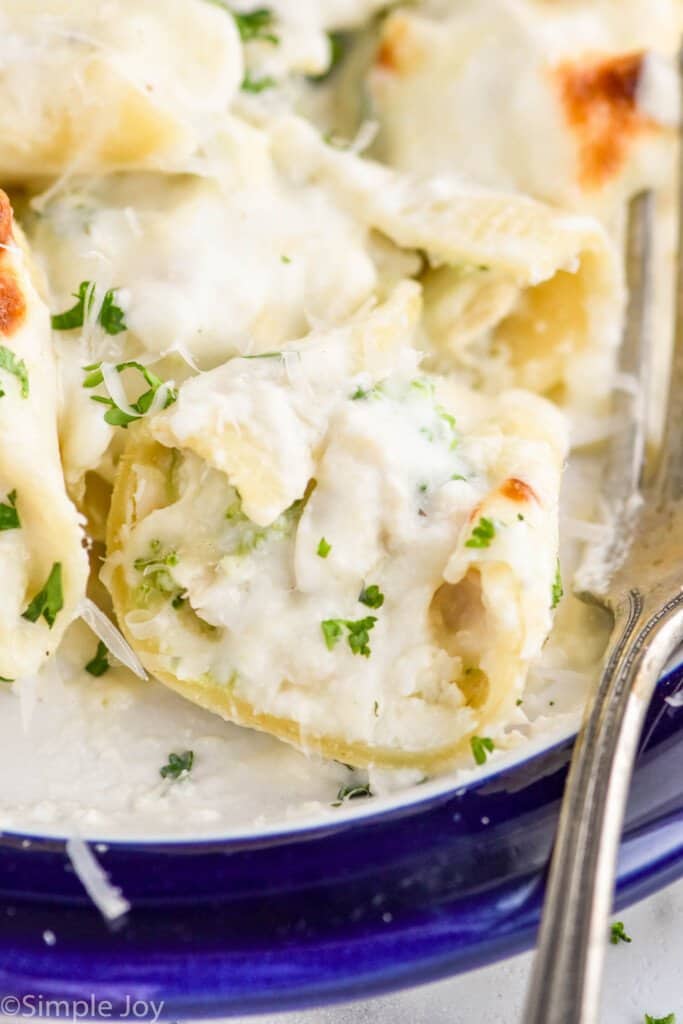 What to Serve with Chicken Stuffed Shells
This is a heavy meal, so I would suggest going with a vegetable as a side dish.
If you make these Chicken Stuffed Shells or any of my other recipes, please leave me a comment and let me know what you think.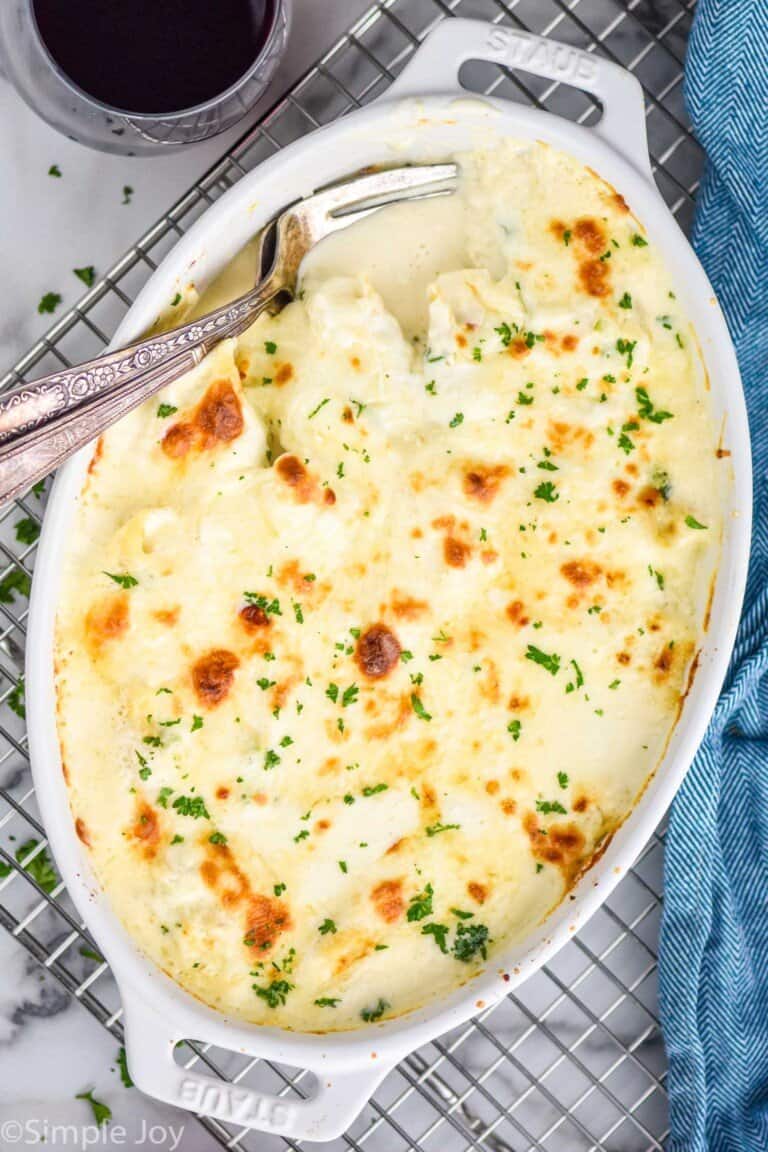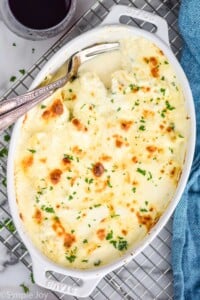 Chicken Stuffed Shells
These Chicken Stuffed Shells are filled to the brim with chicken, broccoli, ricotta, mozzarella and Parmesan cheeses and then smothered in a rich garlic Alfredo sauce.
Ingredients
16 – 20

jumbo shells

cooked according to package instructions
Filling for Shells
1

cup

cooked chicken

1

cup

ricotta cheese

low fat can be used here

2

cups

mozzarella cheese

shredded and divided

1/2

cup

Parmesan Cheese

shredded

1

large egg

1

cup

cooked broccoli

this can be broccoli you saute, steam, or thaw from frozen

1

teaspoon

garlic powder

1

teaspoon

onion powder

1/2

teaspoon

kosher salt

1/8

teaspoon

freshly ground black pepper
Alfredo Sauce
2

tablespoons

unsalted butter

2

tablespoons

all purpose flour

2

cups

whole milk

cold

1

cup

heavy cream

cold

2

cloves garlic

minced

1

cup

Parmesan

shredded

salt and pepper

(you will likely need 1/2 teaspoon kosher salt and 1/8 to 1/4 teaspoon black pepper)
Instructions
Preheat your oven to 375 degrees. Spray a 2 quart dish with cooking spray. Set aside.

Bring a large pot of water to a roaring boil. Add 1 to 2 teaspoons of kosher salt. Add the dry jumbo shells. Cook for the length of time indicated on the box. When the timer goes off, drain the water and rinse the shells with cold water.

While the water is coming to a boil and the shells are cooking, combine all the ingredients listed above for the shell filling in a large bowl, using only 1 cup of mozzarella cheese. Set aside.

In a large skillet over medium heat make the Alfredo Sauce. (Please note that you can skip this step and use 2 cups of Alfredo sauce.) Melt the butter and once it is melted, whisk in the flour. Gradually add the whole milk. Start by adding about 2 tablespoons at a time. Add more once it is fully combined with the flour. The mixture will look very gummy. The more you add the more quickly you can go. This whole process should take less than a minute. Now whisk in the heavy cream and garlic.

Bring the liquid to a simmer and simmer for 5 minutes. You sould see just small bubbles. Stir occasionally.

Stir in the freshly grated Parmesan so it melts completely. Remove from the heat and add salt and pepper to taste. Salt and pepper can make or break an Alfredo sauce, so really taste it and keep adding little bits of salt and pepper until you reach a flavor you like.

Add just enough Alfredo Sauce to the bottom of the prepared baking dish to coat it. Fill the shells with the filling mixture and place them in the baking dish, seam side up. Pour the reamaining Alfredo Sauce over the shells. Top with 1 cup of mozzarella cheese.

Bake for 20 minutes covered. Remove the cover and bake for 5 to 10 minutes more with the cover removed until the cheese is fully melted. Turn on the broiler for 2 to 3 minutes until you reach the desired level of browning your family enjoys. What you see in the pictures here is about two minutes. Watch the shells very closely.
Serving:
4
shells
Calories:
752
kcal
(38%)
Carbohydrates:
40
g
(13%)
Protein:
43
g
(86%)
Fat:
46
g
(71%)
Saturated Fat:
27
g
(169%)
Trans Fat:
1
g
Cholesterol:
195
mg
(65%)
Sodium:
1139
mg
(50%)
Potassium:
479
mg
(14%)
Fiber:
2
g
(8%)
Sugar:
10
g
(11%)
Vitamin A:
1707
IU
(34%)
Vitamin C:
17
mg
(21%)
Calcium:
841
mg
(84%)
Iron:
2
mg
(11%)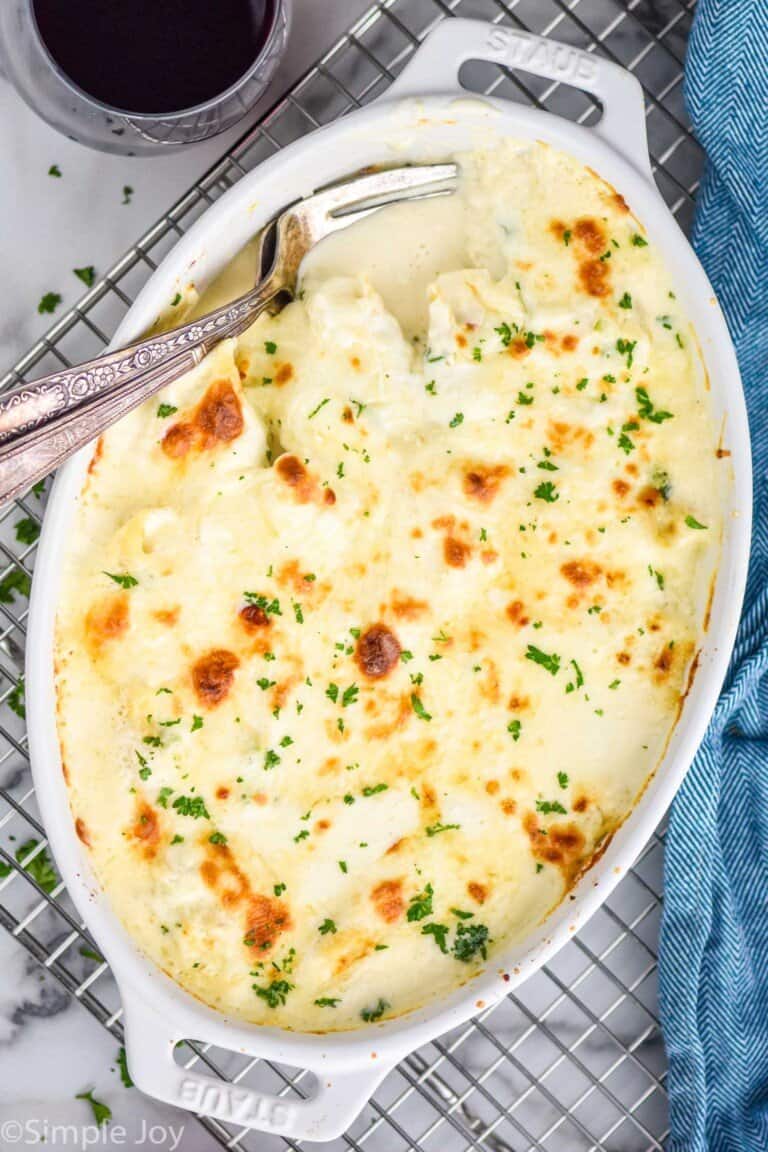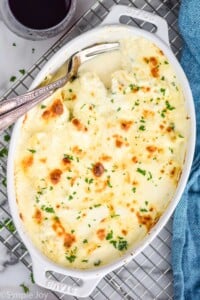 did you make this
Chicken Stuffed Shells
you might also like . . .