Zucchini Panzanella Salad is the perfect summer side dish! This is my dad's awesome recipe that I crave during summer months.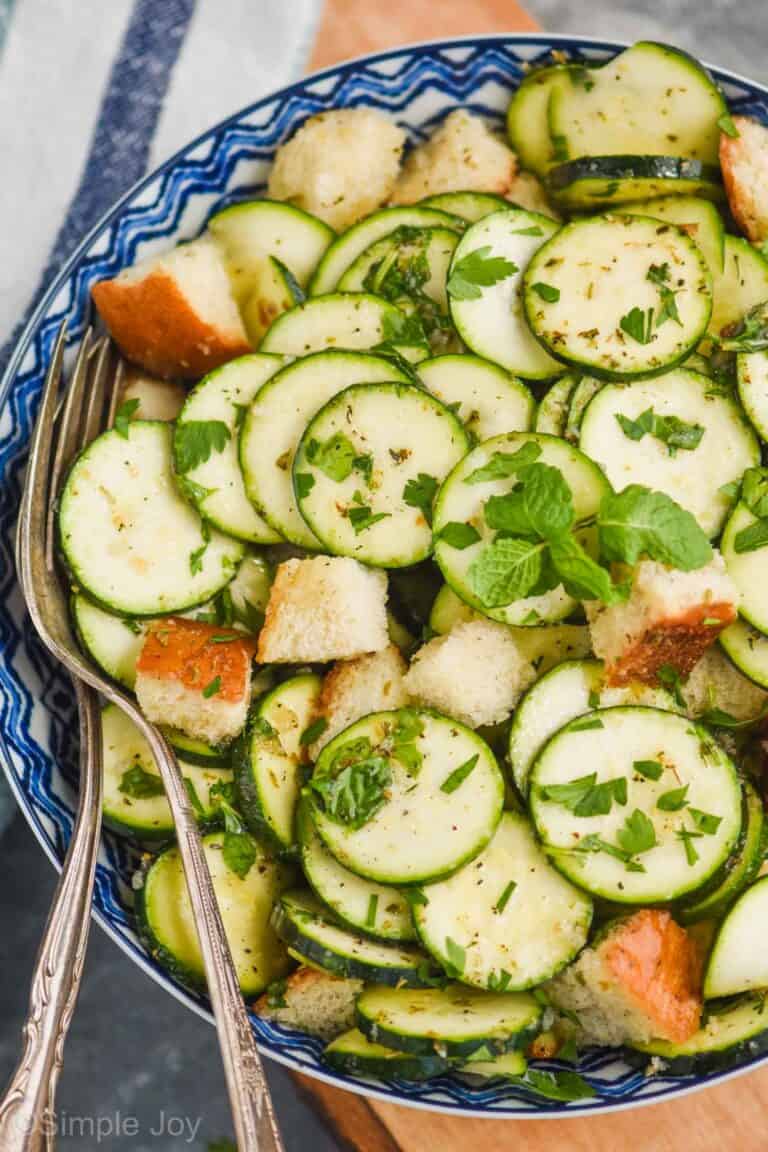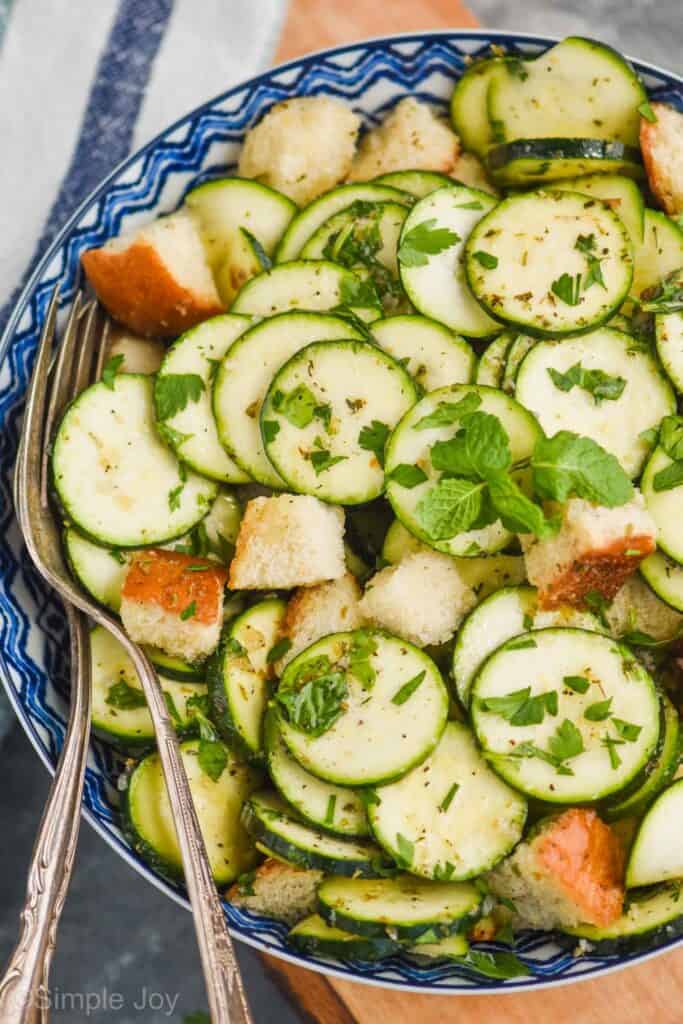 My dad is a master gardener. For as long as I can remember, he has been growing massive amounts of vegetables in his garden in the summer. He has reached expert level status in gardening in his 80 some years on this planet.
There is always an abundance of zucchini. While I love it when he makes them into Zucchini Fritters, my other favorite recipe that he makes is this incredible Zucchini Salad.
When I asked my dad for the recipe, it was much in the same way his mother passed on recipes: A little of this, a little of that. But I think I have pretty perfectly recreated it for you.
When you are looking for BBQ side dishes or the perfect vegetable side dishes, I hope you think of this zucchini salad.
What is a Panzanella Salad
A panzanella salad is a salad native to Italy that combines stale bread, cucumbers, and tomatoes with a dressing.
In this recipe, I'm having you sauté the bread pieces a little before adding them to the salad. I'm pretty sure my dad never ever does this, and you can skip it too if you like, I just like the way it helps the bread hold up in this zucchini salad.
Panzanella Salad
Panzanella Salad is our new favorite summer salad. Crisp vegetables combine with toasted pieces of bread in a delicious and light vinaigrette dressing.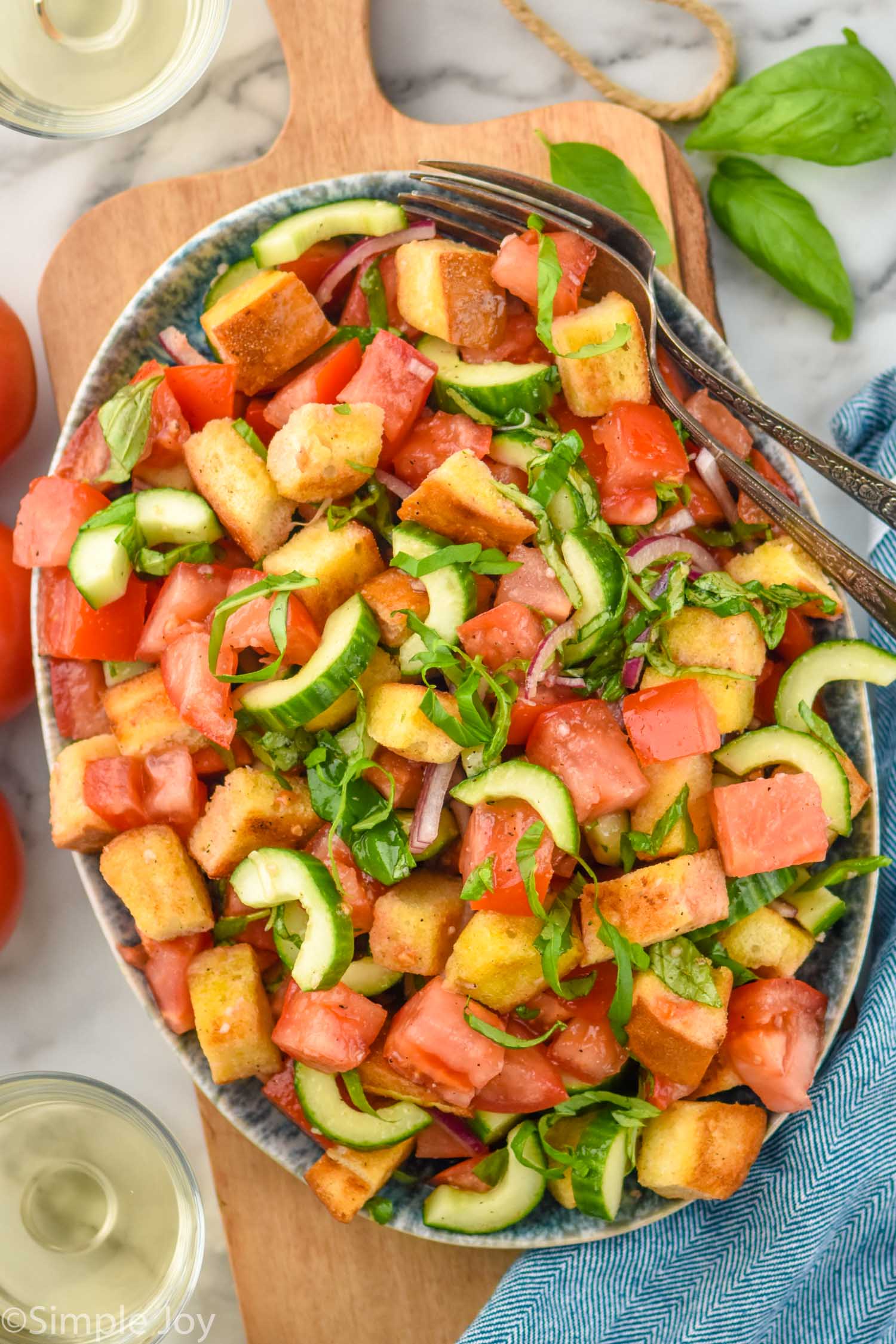 Zucchini Panzanella Ingredients
This salad is so simple, and the bulk of it was waiting in my pantry and garden.
Italian Bread
Zucchini
Fresh Mint
Fresh Basil
Olive Oil
Red Wine Vinegar
Dried Oregano
Salt & Pepper
As always, get the full amounts and instructions at the bottom of the post.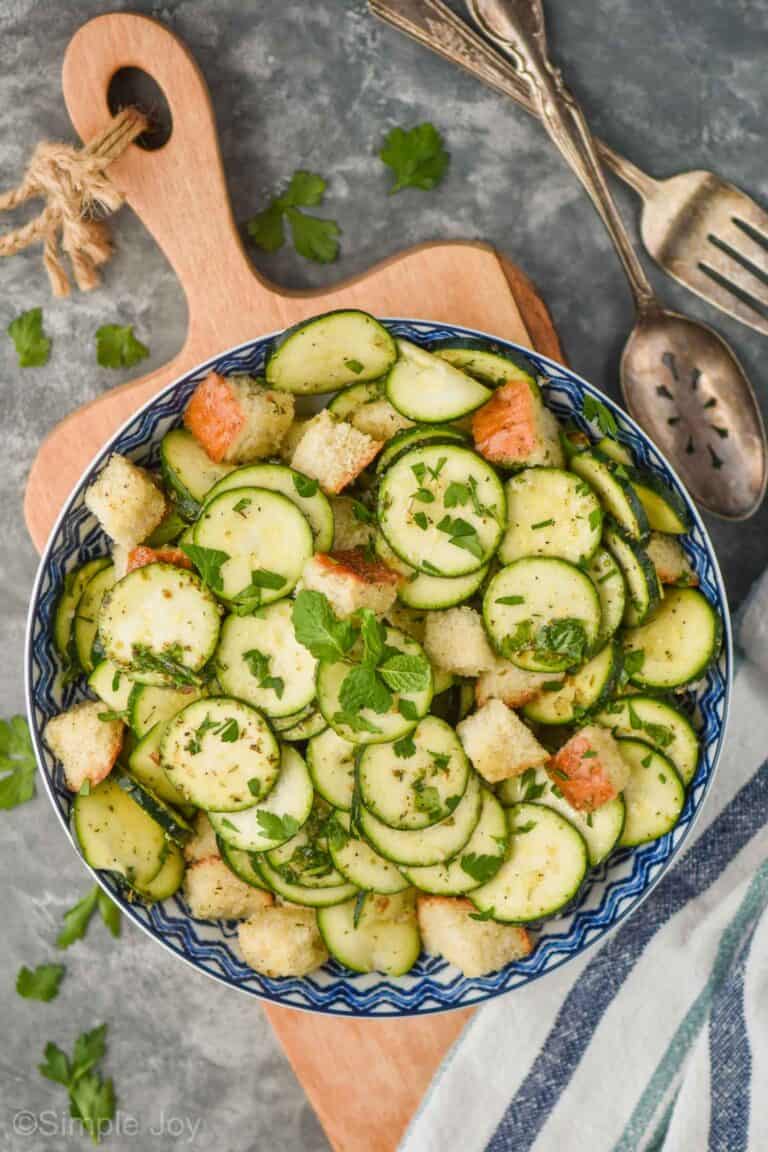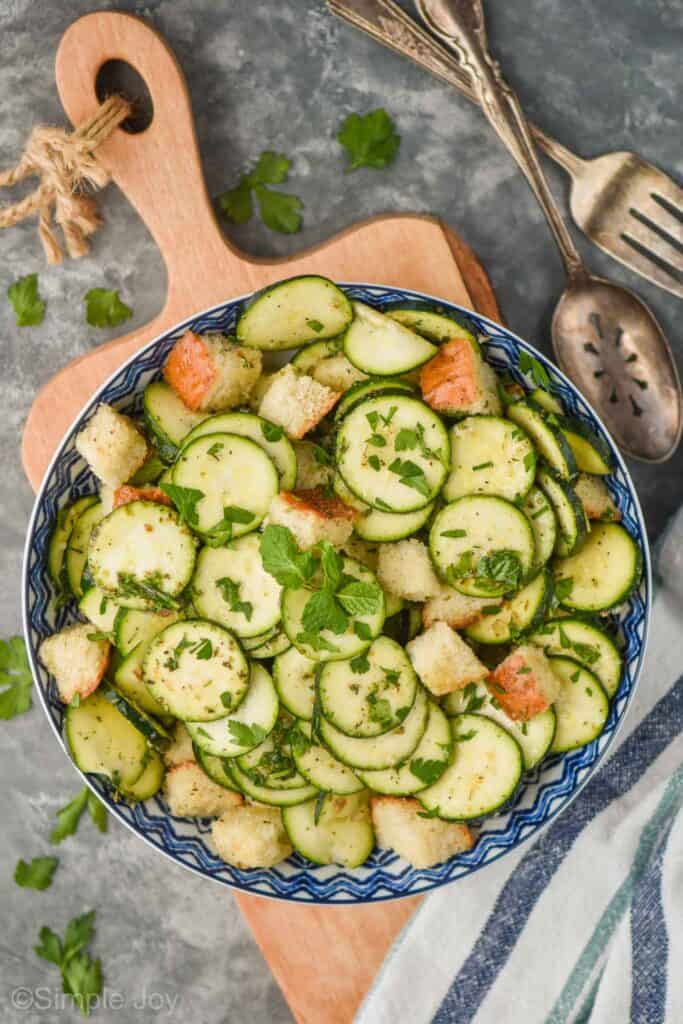 Italian Bread
This recipe calls for Italian Bread. You are looking for a loaf that you can cut into the cube shapes you see in this recipe. You don't want a baguette, because it will be too tough on the outside and not soft enough on the inside.
You are using 3 cups for this recipe. That sounds like a lot, but it will only be about 1/3 of a standard loaf. Use the rest to make my crouton recipe!
Making Ahead
I would encourage you to make this recipe the day you plan on serving it. While it will still taste delicious the next day, it won't have as pretty of a presentation as it does the day of.
Additionally, the bread will become oversaturated if it sits overnight. Though, if you are anything like my dad, you will prefer it that way.
Serving Size
This recipe serves 6 people as a sizeable side dish or 12 people if you are serving it with multiple other summer sides.
Storing Left Overs
Store left overs in an airtight container in the refrigerator for up to four days. I do not recommend freezing this recipe.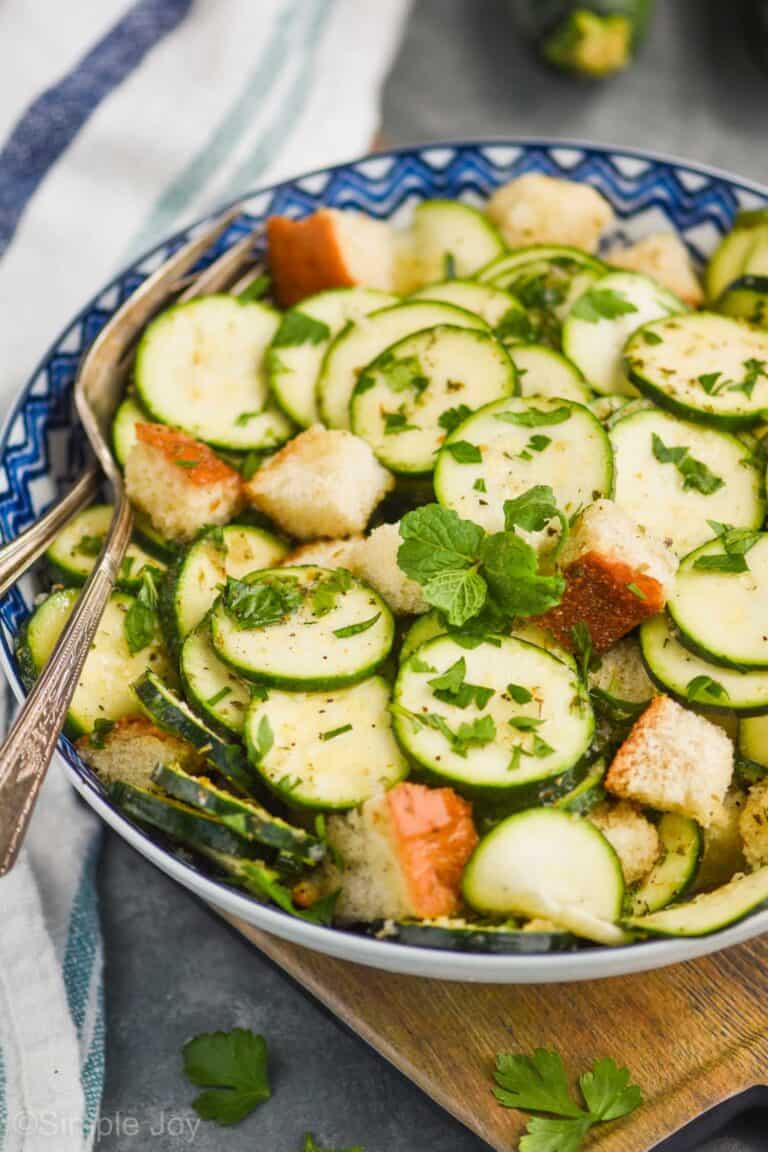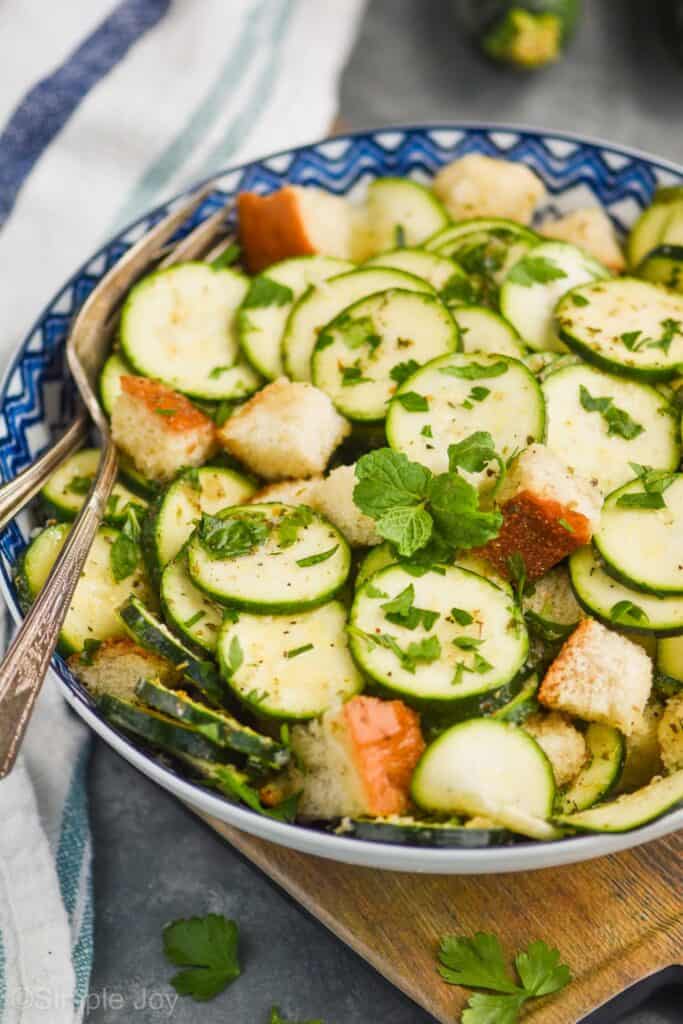 Other Great Summer Side Dishes
This is the perfect recipe to bring to a summer BBQ or picnic. If you are hosting and looking for other great summer sides, here are a few of my favorites:
If you make this Zucchini Panzanella Salad or any of my other recipes, leave me a comment and let me know what you think. I truly love hearing from you and other readers love hearing your endorsement of a recipe.
Recommended Tools
Measuring Spoons: These are far and away my favorite measuring spoons. They are especially handy when making dressings with seasonings – like in this recipe.
A Good Knife: I can get my zucchini cut nice and thin with this one.
Measuring Cups: Make sure when measuring the liquids in this recipe that you use a glass measuring cup. I've had these ones for years.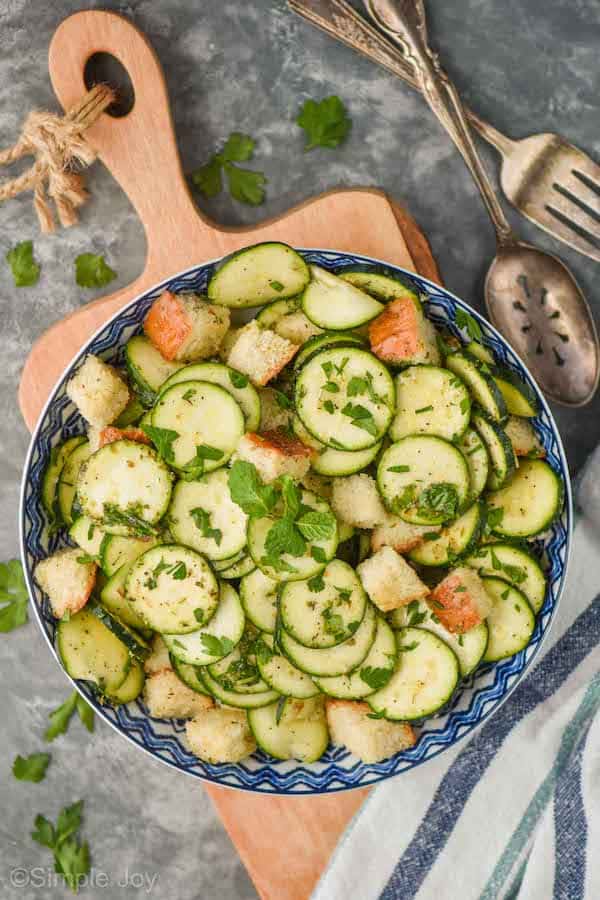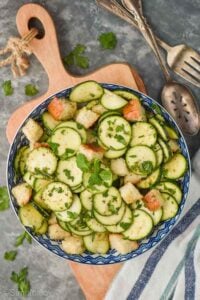 Zucchini Panzanella Salad
Zucchini Panzanella Salad is the perfect summer side dish! This is my dad's awesome recipe that I crave during summer months.
Ingredients
1 1/2

tablespoons

olive oil

3

cups

Italian bread cubes

3

medium zucchini

cut into thin slices

1/4

cup

fresh mint

roughly chopped

1/4

cup

fresh basil

roughly chopped (or 1/2 tablespoon dried)
Dressing
1/3

cup

olive oil

2

tablespoons

red wine vinegar

1/2

tablespoon

dried oregano

1

teaspoon

kosher salt

1/4

teaspoon

black pepper
Instructions
Heat 1 1/2 tablespoons olive oil in a large skillet. Add the bread cubes, tossing often until browned, about 10 minutes.

Whisk the ingredients for the dressing together in a small measuring cup or bowl.

Toss with the zucchini, mint, basil, and toasted bread. Taste and add more salt and pepper to taste.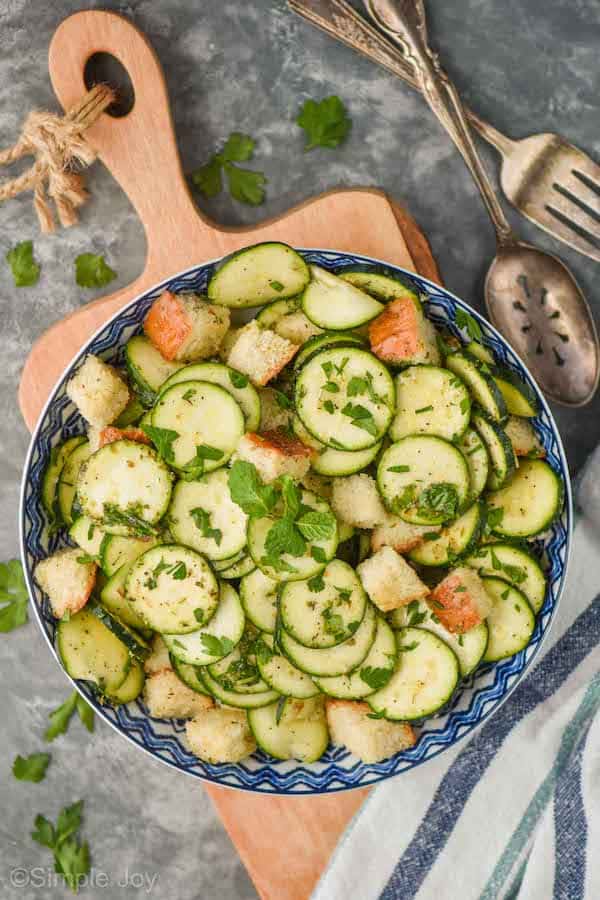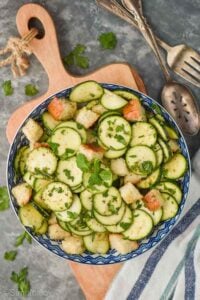 did you make this
Zucchini Panzanella Salad