Chicken Lasagna is made with the most creamy homemade lasagna white sauce. It is full of shredded chicken, mozzarella cheese, spinach, and artichokes, for the perfect combination of flavors.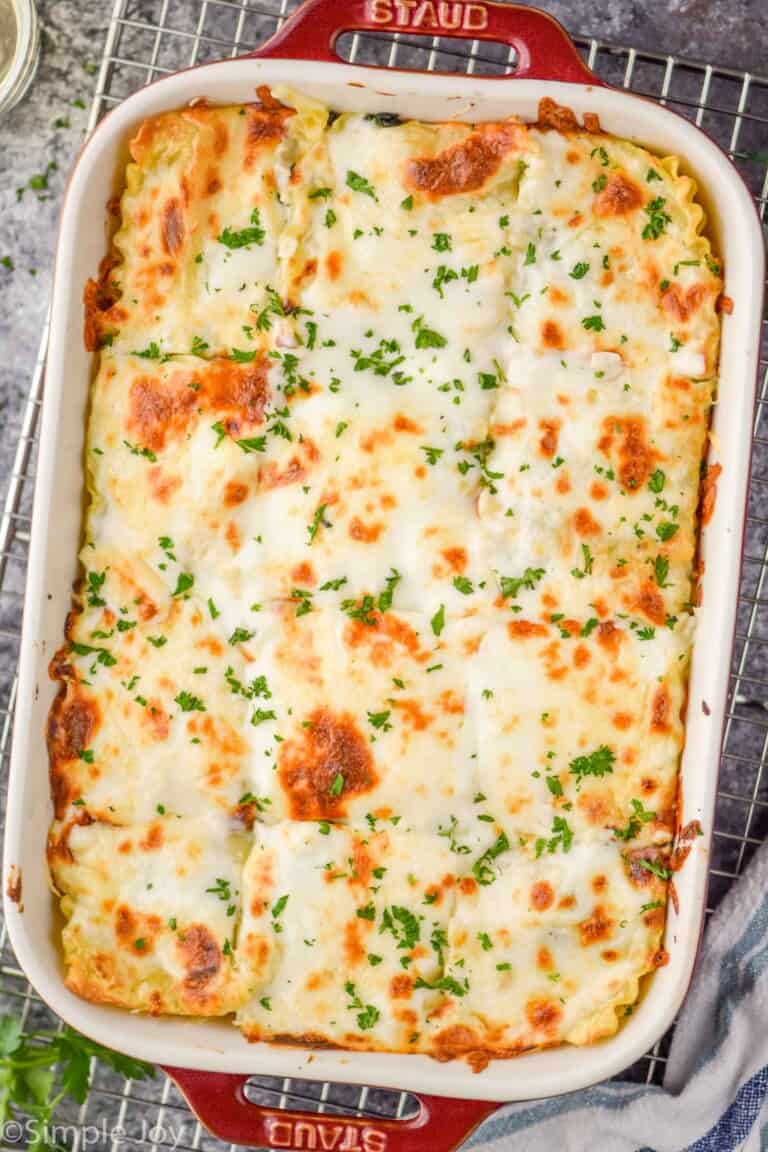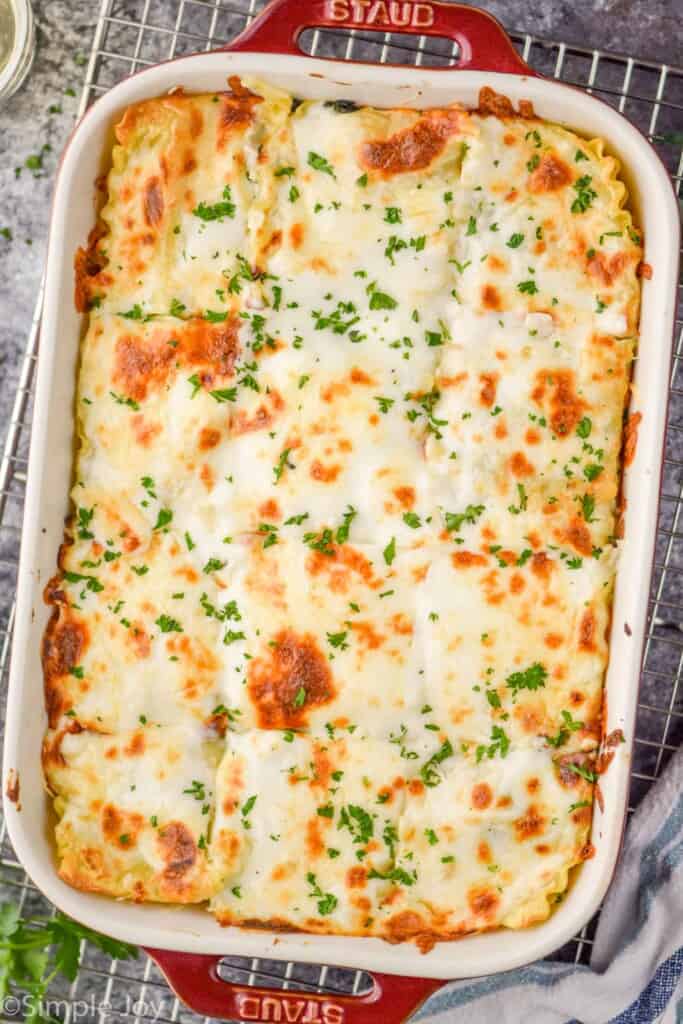 If you are looking for some amazing comfort food, look no further than this great lasagna recipe. From the homemade sauce to the filling, you will love every single aspect of this incredible recipe.
How to Make Chicken Lasagana
Cook the lasagna sheets. Be sure to follow the instructions and timing on the box. As this will be baking, they should be slightly undercooked.
Make the white lasagna sauce. While the noodles are boiling, melt some butter over medium heat. Add a little garlic and then whisk in some flour to make a roux. Slowly add in the milk. Bring it to a boil and then turn down the heat. Melt in 2 cups of mozzarella cheese and 1/4 cup of Parmesan.
Construct the lasagna. Pour a little of the white sauce in the bottom of a baking dish. Add three of the cooked lasagna sheets. Then add chicken, spinach, and artichokes. Top with more of the sauce. Repeat this two more times. Finally, add the remainder of the white sauce and more cheese.
Bake the lasagna. After baking, let the lasagna stand for 10 minutes before slicing and enjoying.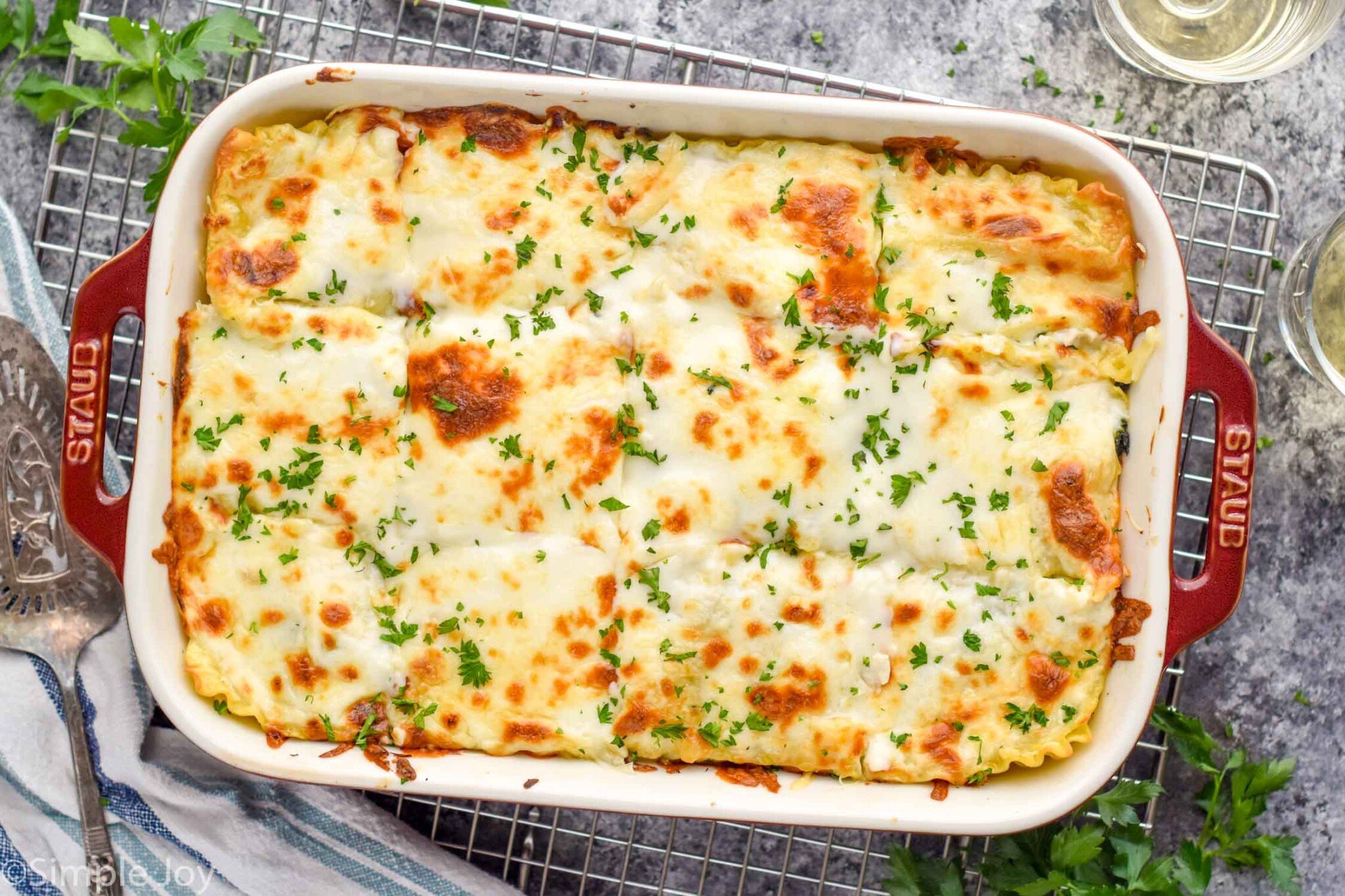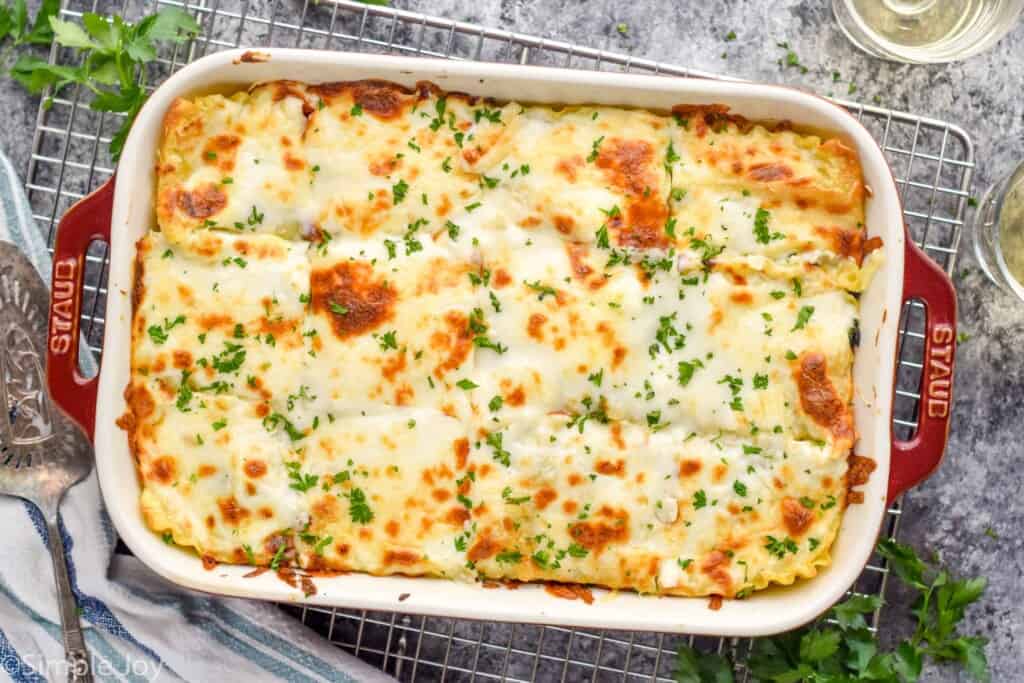 Tips for the Perfect Lasagna White Sauce
A key to this recipe is making a roux – the combination of flour and a fat. Because this is going in the oven, the roux is what will keep the sauce together while it is baking. This sauce makes this like a Chicken Alfredo Lasagna.
Read all of the instructions before you start. There are a few moving pieces to this recipe, so if you know what is coming it won't feel overwhelming.
Sauté the garlic for only 30 seconds and have your ingredients ready to move on to the next step. It is easy to burn garlic, and it can ruin a meal.
Completely stir the flour into the melted butter before adding milk. If you can still see streaks of white, you aren't ready to move on yet. This will keep you from tasting flour in the end.
When you begin adding the milk, add just a little at a time, allowing it to absorb into the roux before moving on. As you keep going you can add it more quickly.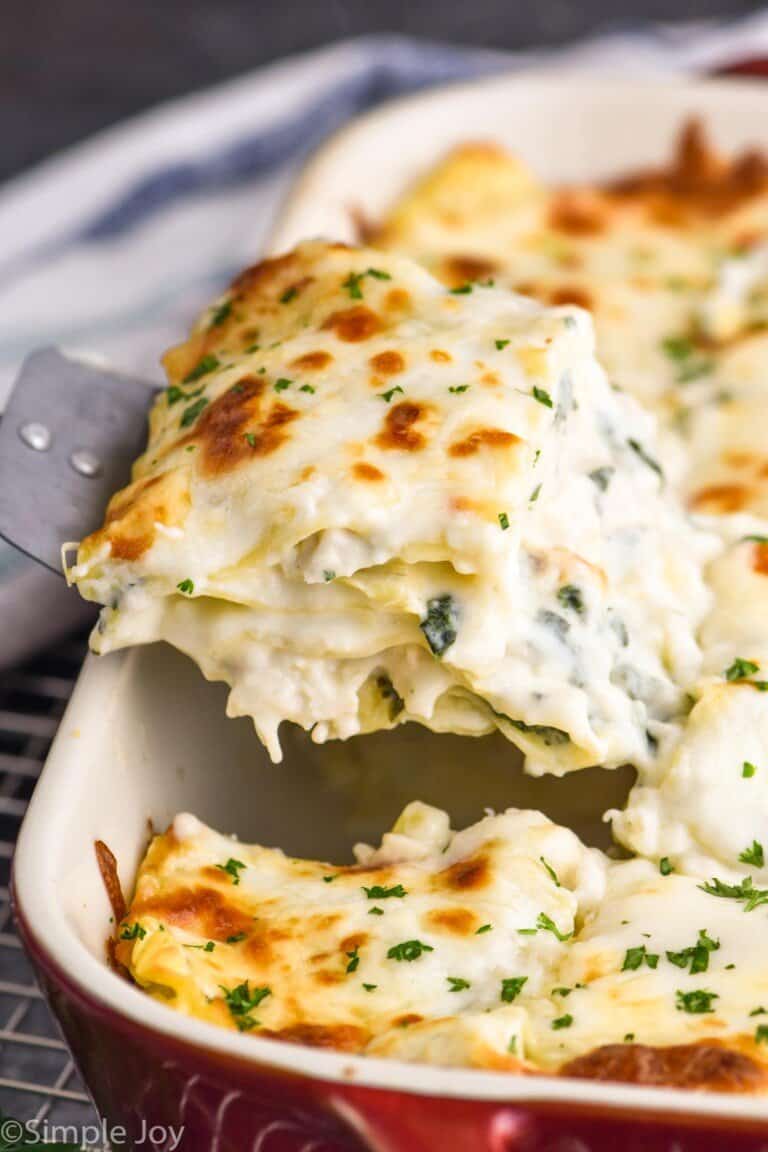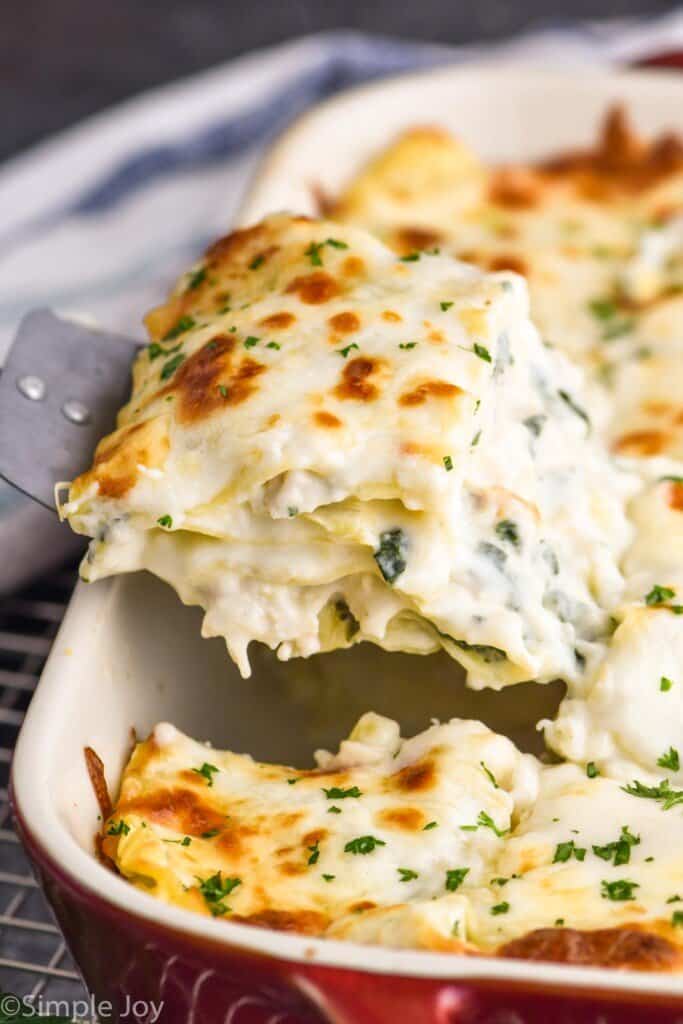 How to Cook Shredded Chicken
This recipe calls for pre cooked shredded chicken. Making shredded chicken for this or other recipes is very simple and takes less than 20 minutes.
Place the chicken in a sauce pan with enough water to cover it.
Bring the water to a boil and simmer over low heat for 4 to 10 minutes or until the chicken registers 165 degrees on an instant read thermometer.
Freezing Shredded Chicken
A way to make this recipe faster is having frozen shredded chicken on hand.
To Freeze Shredded Chicken:
Shred the chicken.
Spread out on a wax paper lined baking sheet to cool.
Once cool, transfer the baking sheet to the freezer.
Freeze for an hour.
Take out and transfer to a sealable container. You may need to break it up a little bit.
Store in the freezer for up to three months
Thawing Frozen Shredded Chicken
When you are ready to use it, place in the refrigerator overnight. Or, put in a sealed container inside of a cold bowl of water, changing the water every 30 minutes until the chicken is thawed. It will take less than two hours.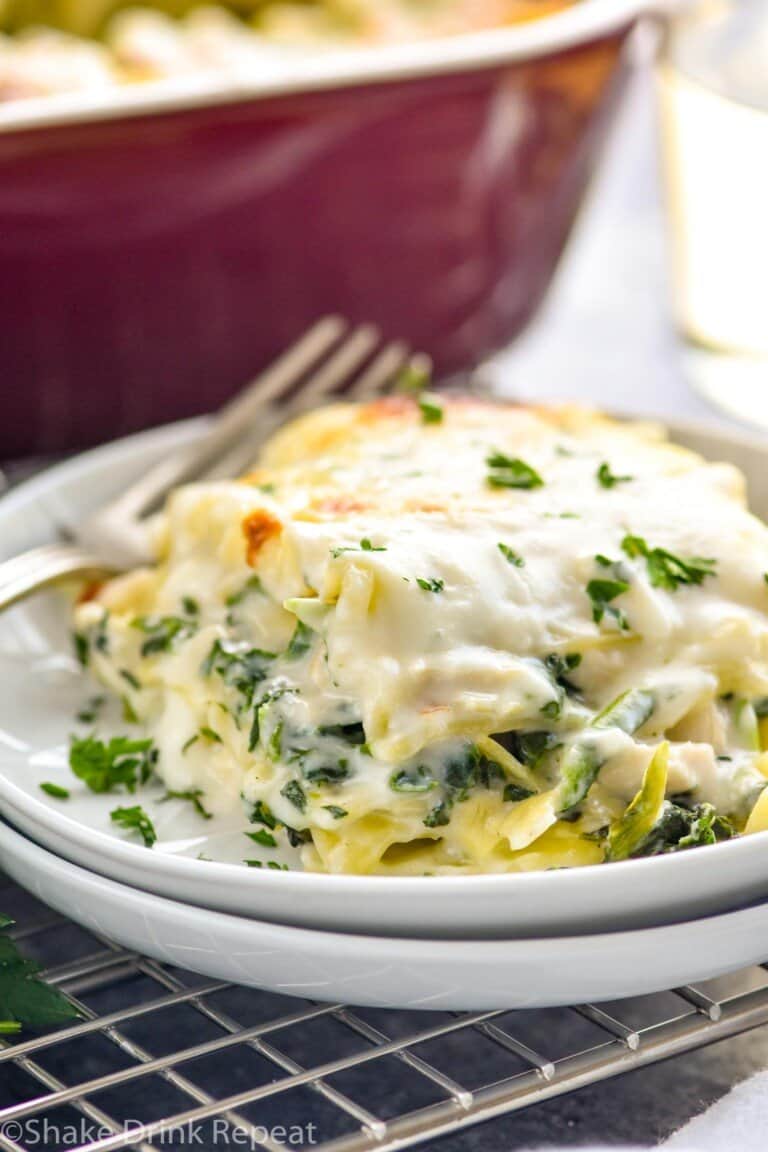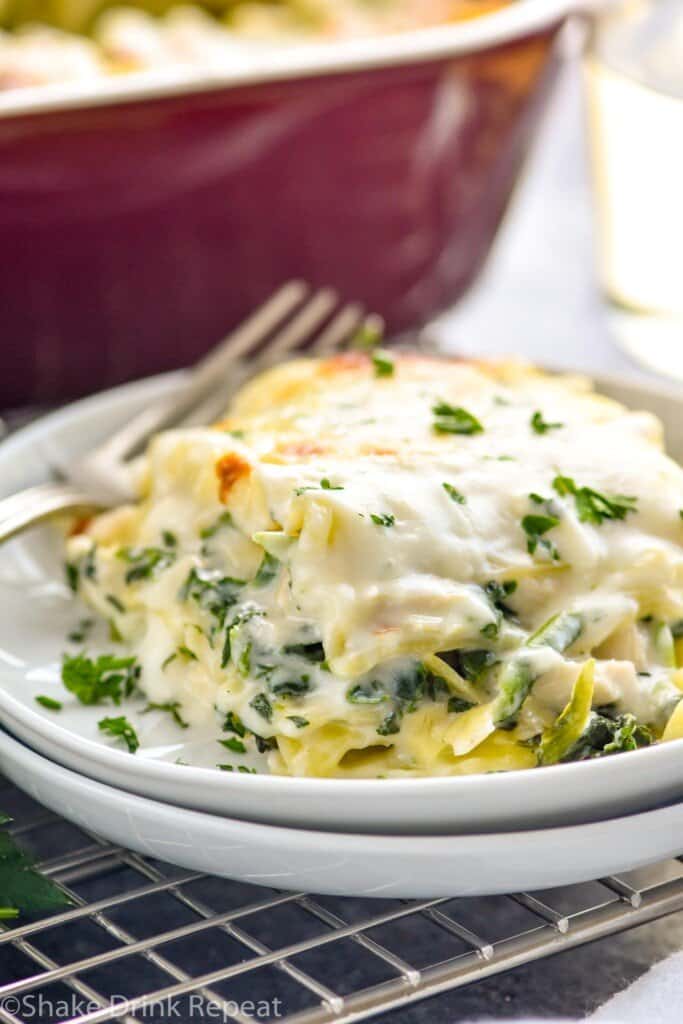 Shredding Your Own Cheese
When making a dish where cheese or a dairy sauce is the star like it is here, I encourage you to buy a block of cheese and shred it. It adds about five minutes to the total time of the recipe, and it is worth every second.
Not only does block cheese taste better than pre-shredded, it melts much better. It can honestly make the difference between just liking a meal and loving it. I'm all for short cuts, but this is one I don't recommend.
FAQ
Can I leave out the artichokes?
Absolutely. I love that this recipe has a little bit of the taste of spinach artichoke dip, and I think spinach and artichokes go great together. That said, it will still be delicious if you leave them out.
Can I make this chicken lasagna recipe ahead of time?
Yes, this recipe can be made up to 24 hours ahead of time and stored in the refrigerator. You will need to add a small amount of time to the baking time as it will be baking from cold.
Can I freeze white chicken lasagna?
Yes! This is a great recipe to freeze. Make it in a disposable baking dish. When you are done putting it together, wrap it three times in plastic wrap and store it in the freezer for up to three months. When you are ready to bake it, bake it right from frozen for 50 minutes at 350 degrees.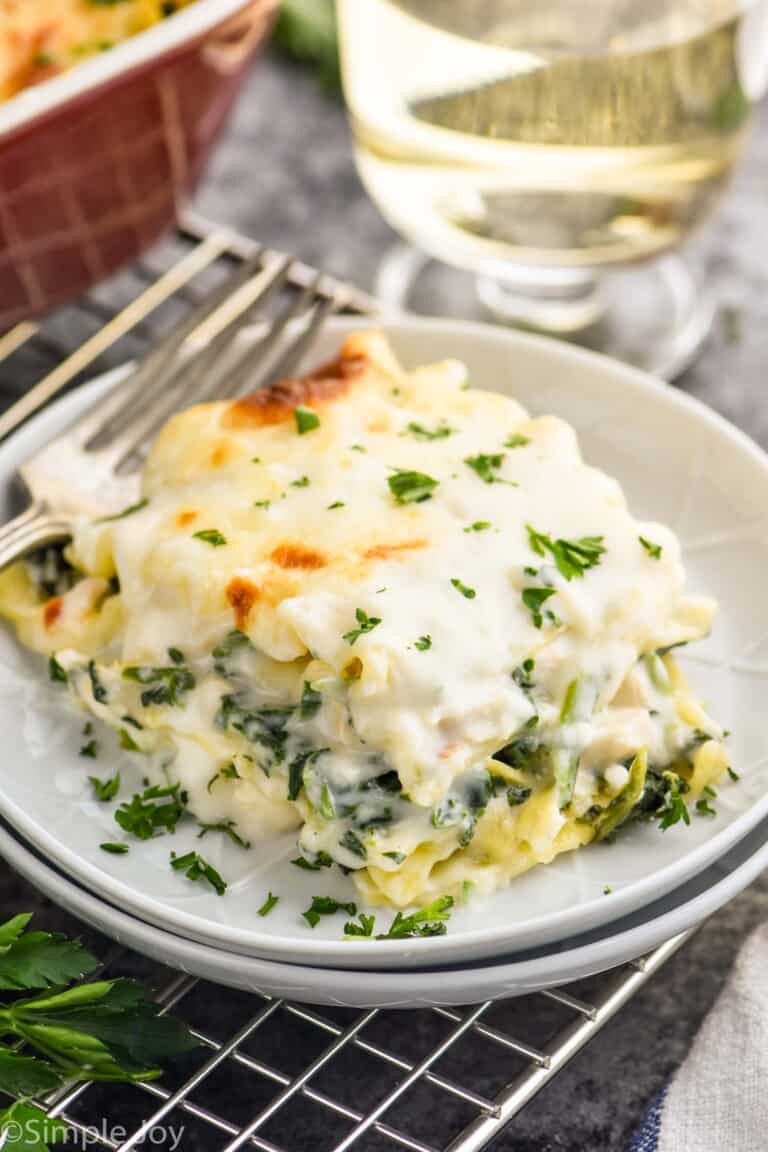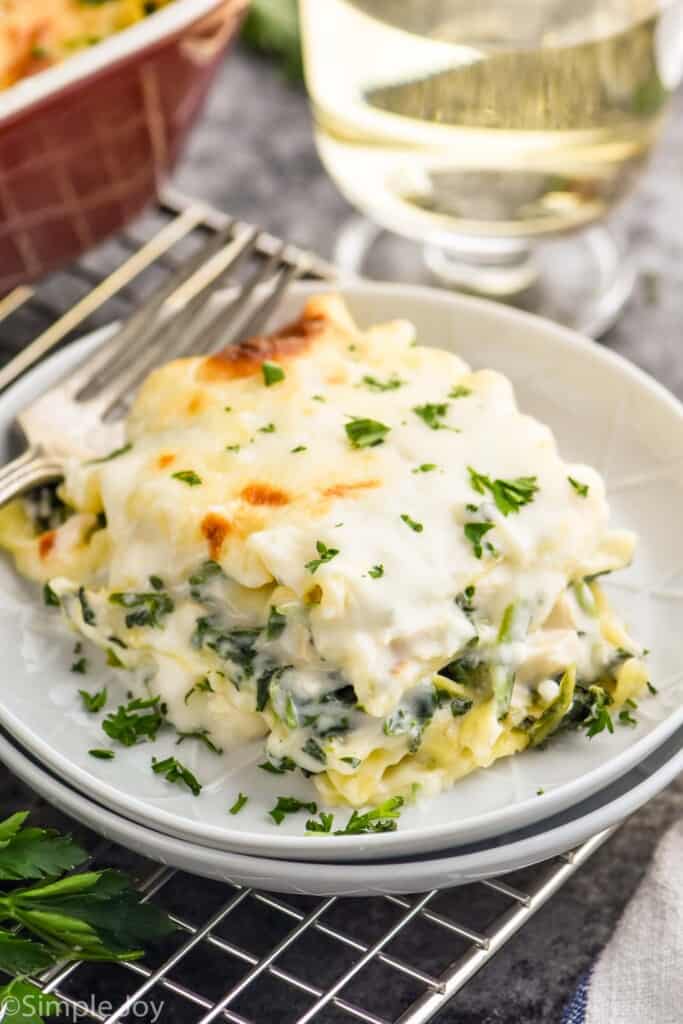 What to Serve with this White Lasagna Recipe
While I think this works great as a stand alone dinner, if you want to round it out, here are a few suggestions.
If you make this great lasagna recipe or any of my other recipes, leave me a comment and let me know what you think!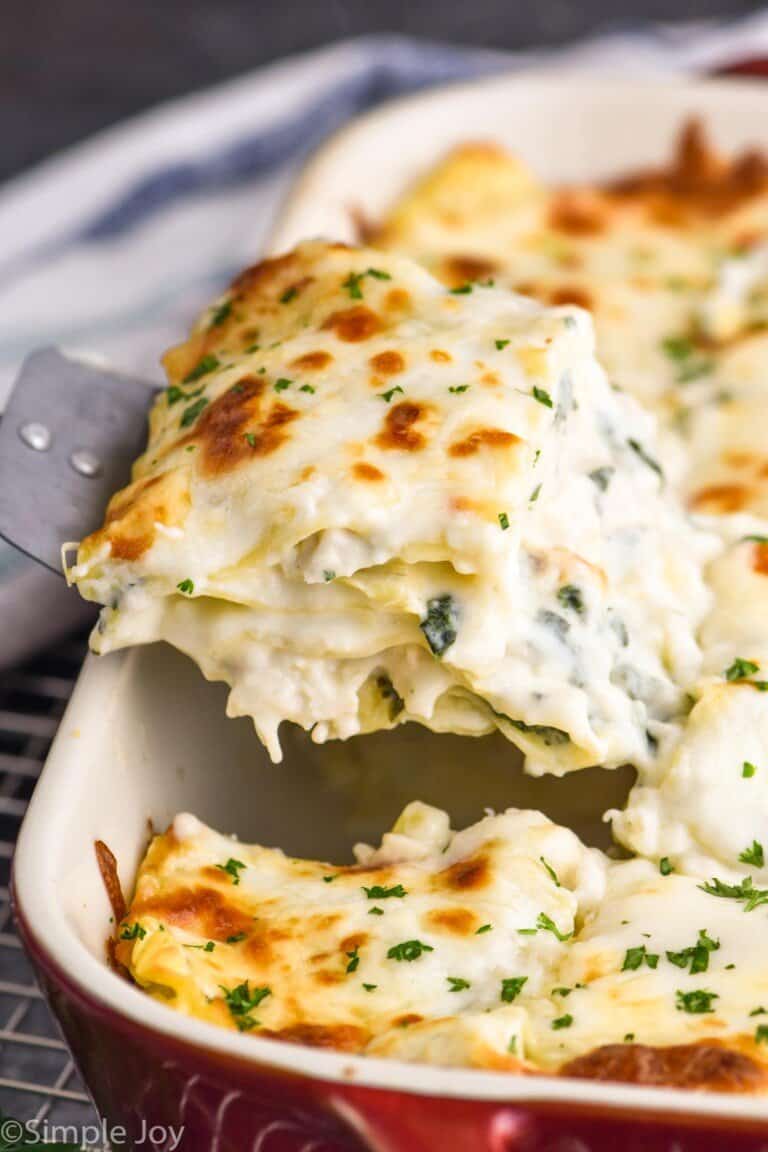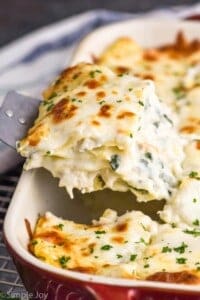 Chicken Lasagna
Chicken Lasagna is made with the most creamy homemade lasagna white sauce. It is full of shredded chicken, mozzarella cheese, spinach, and artichokes, for the perfect combination of flavors.
Ingredients
White Lasagna Sauce
1/4

cup

unsalted butter

2

cloves

garlic

minced

1/4

cup

all purpose flour

3

cups

whole milk

2

cups

mozzarella

grated

1/4

cup

Parmesan

grated

1/2

teaspoon

salt

1/4

teaspoon

pepper
Chicken Lasagna
12

lasagna sheets

cooked according to package instructions (see note)

5

cups

mozzarella

grated (divided)

10

ounces

chopped frozen spinach

thawed, and with all the moisture squeezed

8

ounces

quartered artichoke hearts

chopped and very well drained

3

cups

cooked chicken

1/4

cup

Parmesan
Instructions
Preheat your oven to 350 degrees.

In a large sauce pan, melt the butter over medium heat. Add the garlic and cook until fragrant, about 30 seconds. Be careful not to burn it. Add the flour and whisk into the butter until it is completely combined. Allow it to cook and bubble.

Very slowly add the milk. Add a little at a time, whisking the milk into the butter/flour mixture until absorbed before adding more. Continue adding slowly until all the milk is whisked in. Bring to a low boil and then turn down the heat.

Stir in the cheese, first the parmesan, allow it to melt, then add the mozzarella one cup at a time allowing to melt before adding the second cup. Stir in the salt and pepper and remove from the heat.

Spread a few spoonfuls of the sauce over the bottom of a 9 by 13 inch pan so that it is completely coated. Then add three lasagna sheets. Cover with 1/3 of the artichokes, 1/3 of the spinach, 1 cup of chicken and 2/3 cup of mozzarella. Add a few spoonfuls of the white sauce. Repeat two more times.

Add three more lasagna sheets. Top with the remainder of the white sauce and the remainder of the mozzarella and Parmesan.

Bake for 35 minutes, uncovered. Broil on low for about five minutes, keeping a close eye on it so it does not burn but browns nicely.

Let sit for 10 minutes after removing from the oven and then serve.
Notes
Please note that this recipe has not been tested with oven ready lasagna sheets.
Serving:
1
piece
Calories:
513
kcal
(26%)
Carbohydrates:
44
g
(15%)
Protein:
31
g
(62%)
Fat:
21
g
(32%)
Saturated Fat:
12
g
(75%)
Polyunsaturated Fat:
1
g
Monounsaturated Fat:
3
g
Trans Fat:
21
g
Cholesterol:
114
mg
(38%)
Sodium:
585
mg
(25%)
Potassium:
310
mg
(9%)
Fiber:
4
g
(17%)
Sugar:
4
g
(4%)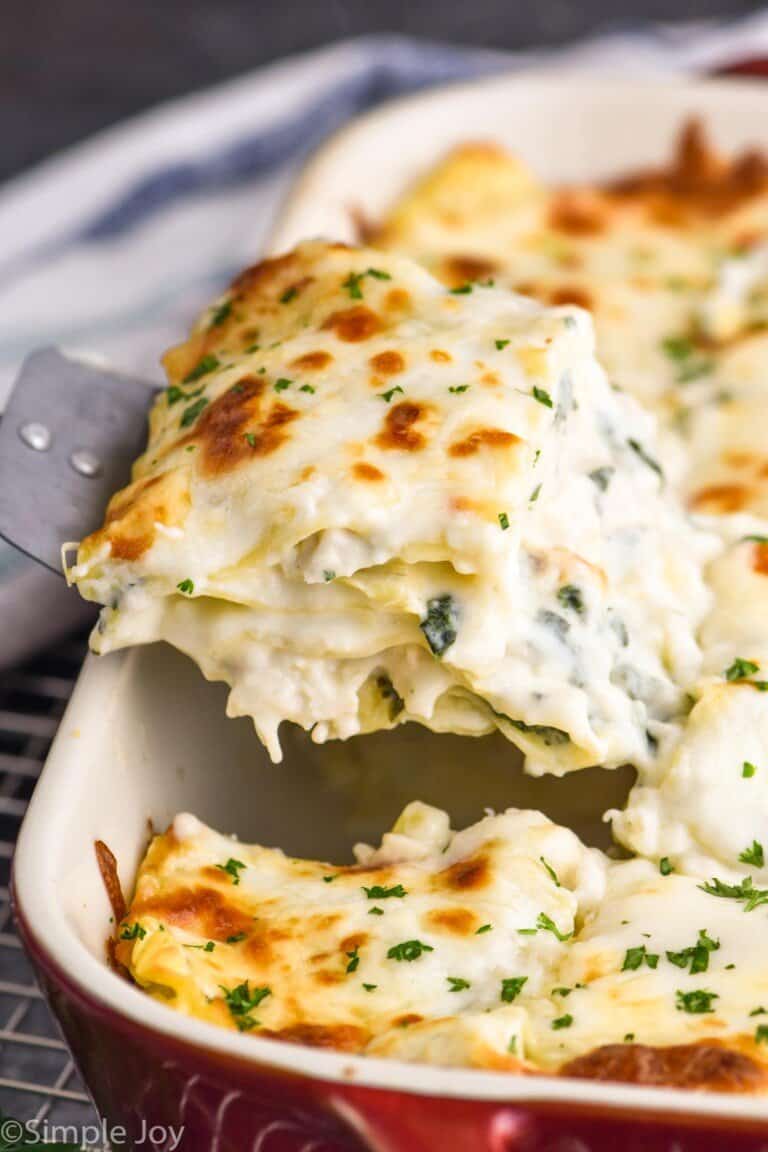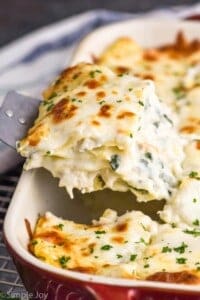 did you make this
Chicken Lasagna