Chocolate Bacon Bomb Pie | Fudgey Chocolate & Bacon in a Pie!!!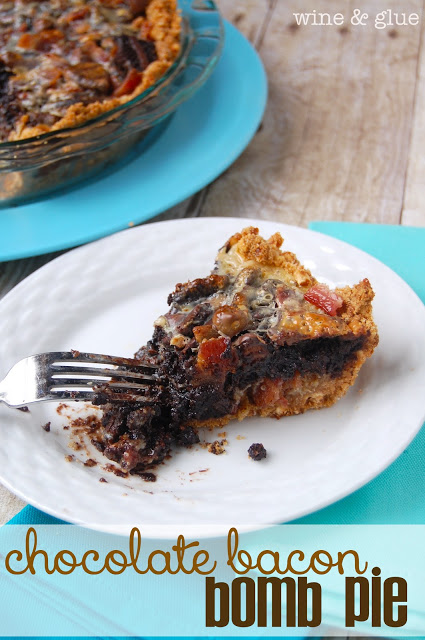 Do you remember recently when I shared the Chocolate Covered Bacon Toffee?

Seriously, that toffee recipe . . . I kind of have dreams about it. I kept telling people that I had this great new recipe to share with them, thinking that maybe if I could get it out of my house, I would still be able to fit into my pants.
Well . . .
I would share a piece here and there in a sort of, "You HAVE to try this kind of way," and then I would take the rest, running like a frantic maniac, right back to my basement fridge where I was hiding my stash.
Think Schmiegel with the ring.
So when Julie, from White Lights on Wednesday, said this month's secret ingredient for the Get Your Chef On was Chocolate, I immediately thought BACON!!
You know, like the dog in the Beggin' Strips commercial.
If you aren't familiar with bomb pies, let me tell you all about them.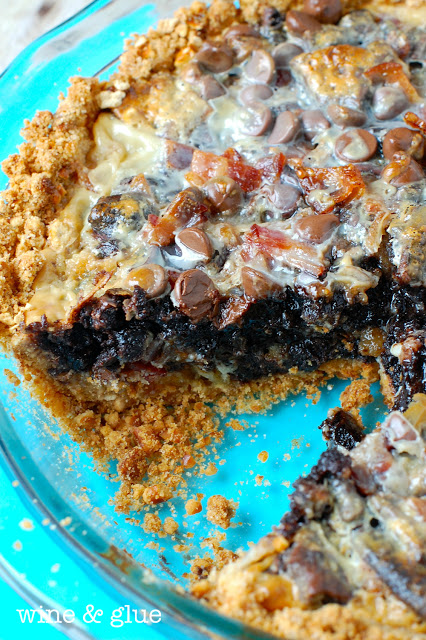 I first learned about them from Ashton at Something Swanky. And now they are the only kind of pie I know how to make.
Cookies, something extra (like BACON!) some flour, vinegar, butter, and eggs, bake for 45 minutes. YUMM. And I like to throw some Sweetened Condensed Milk in mine, because really anything with SCM is better. In this recipe, the SCM goes on top to give it kind of a magic bar feel.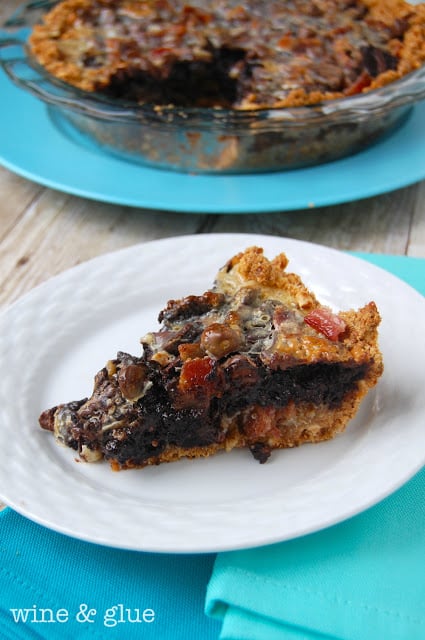 A few months ago, coming up with new and different dessert recipes terrified me. Baking is kind of a science, and I am no scientist.
But I think once you find a good recipe (or formula if you will) you realize that you can change it up in so many different ways.
Bomb pies are the perfect example of this. You pick two flavors that go well together (like apples and caramel in my Dulce de Apple Streusel Pie) and you find one of those flavors in cookie form. Done.
See, you can be a baker too!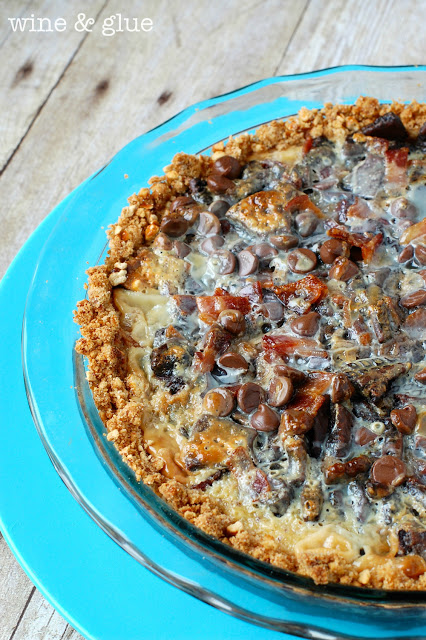 Chocolate Bacon Bomb Pie
3 cups pretzel twists (you can use whatever pretzels you have, I used twists)
2/3 cup sugar, divided
1 stick of butter, divided
1 package Fudge Stripes Dark Chocolate Cookies from Keebler (11.5 oz)
12 oz package of bacon, cooked and diced (1/4 cup reserved)
3 eggs
1 TBSP vinegar
1 TBSP flour
1/4 cup chocolate chips
1 can sweetened condensed milk
Preheat your oven to 350.
Crush your pretzels and in a large bowl combine them and 1/3 cup melted butter and 1/3 cup sugar. Mix to combine.
Press the pretzel mixture into a pie plate and bake for five minutes.
In the same large bowl (no need to clean it out) crush your chocolate cookies. Now add the remainder of the butter (melted), the bacon (remember to save 1/4 a cup), eggs, the remainder of the sugar, vinegar, and flour and mix well.
Gently pour the mixture into your pie crust.
Top with the remaining bacon and the chocolate chips.
Pour the sweetened condensed milk over it and bake for 35 minutes or until the edges of the pie begin to turn golden brown.
Want more Bomb Pies?
Want more chocolate bacon goodness?