This Chocolate Pecan Pie tastes like the cross between the most delicious brownie and pecan pie. It will be your new favorite holiday tradition.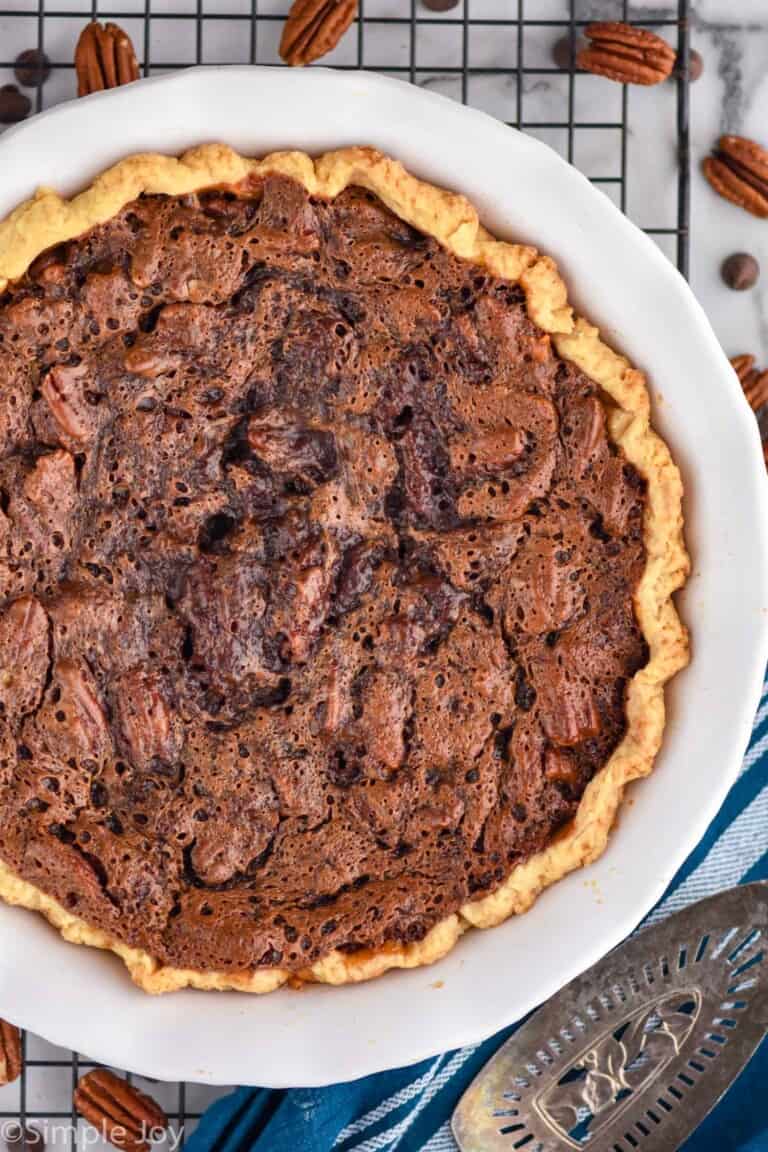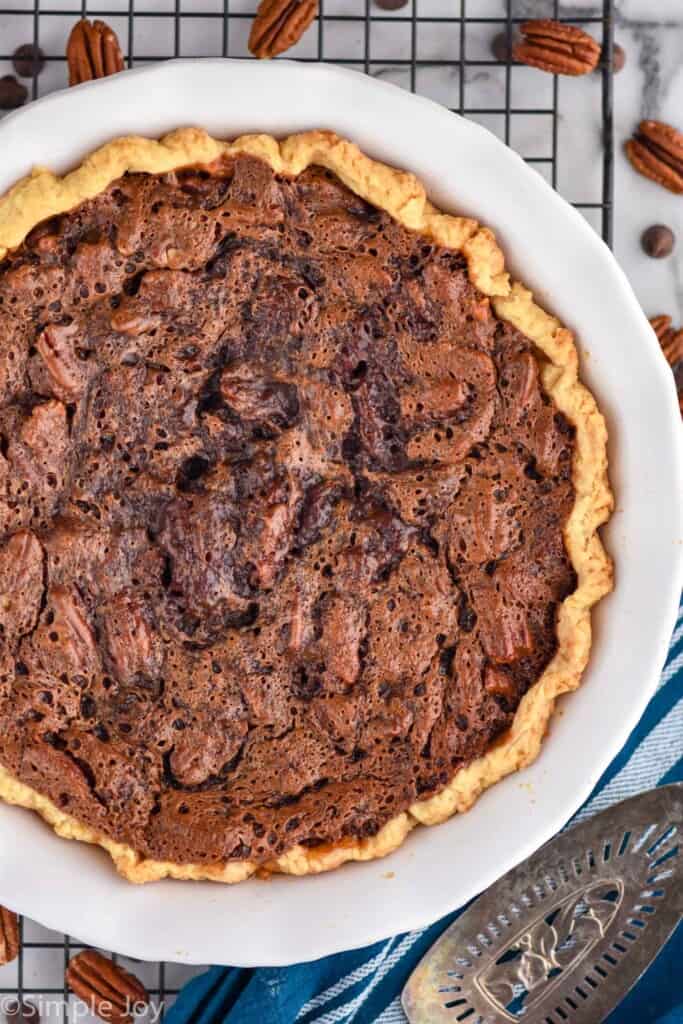 Honestly, I haven't always been much of a pie person. And I am certainly not a person who likes nuts in their dessert. But all of that flies out the window when it comes to this amazing Chocolate Pecan Pie recipe.
Something about the combination of pecan, brown sugar, and chocolate in the most perfect flakey pie crust steals my heart. This recipe is one that you definitely cannot pass up. Add this to your holiday baking list, it does not disappoint.
How to Make Chocolate Pecan Pie
Make the pie crust. I think pies are always best with a homemade crust, and I have a fool proof pie crust post (complete with step by step photos) to walk you through it. Please keep in mind that homemade pie crust needs an hour to chill before you can use it.
Pre-bake the crust. Roll out the pie crust, put it in a 9 inch deep dish pie pan, cover it with foil, and add pie weights to the pan. This will hold the crust in place while it bakes. (You can also use coins or dry beans.)
Make the filling. In a saucepan over medium heat, melt butter. Then whisk in brown sugar until fully combined. Finally, melt in chocolate chips. Remove the pan from the heat and whisk in corn syrup, vanilla, and salt. Stir in the eggs and then the pecans.
Add the filling to the hot crust. Remove the crust from the oven, take out the pie weights and the foil. Pour the hot filling into the crust.
Finish baking the pie. Put the pie pan back in the oven, and bake for another 50 minutes to an hour. You know the pie is done when it puffs up and you are able to push on the center with it springing back.
Allow pie to cool. Your Chocolate Pecan Pie should cool for 4 hours. It can be chilled in the refrigerator, but is most delicious when eaten at room temperature. (For food safety, only allow your pie to be at room temperature for 2 hours.)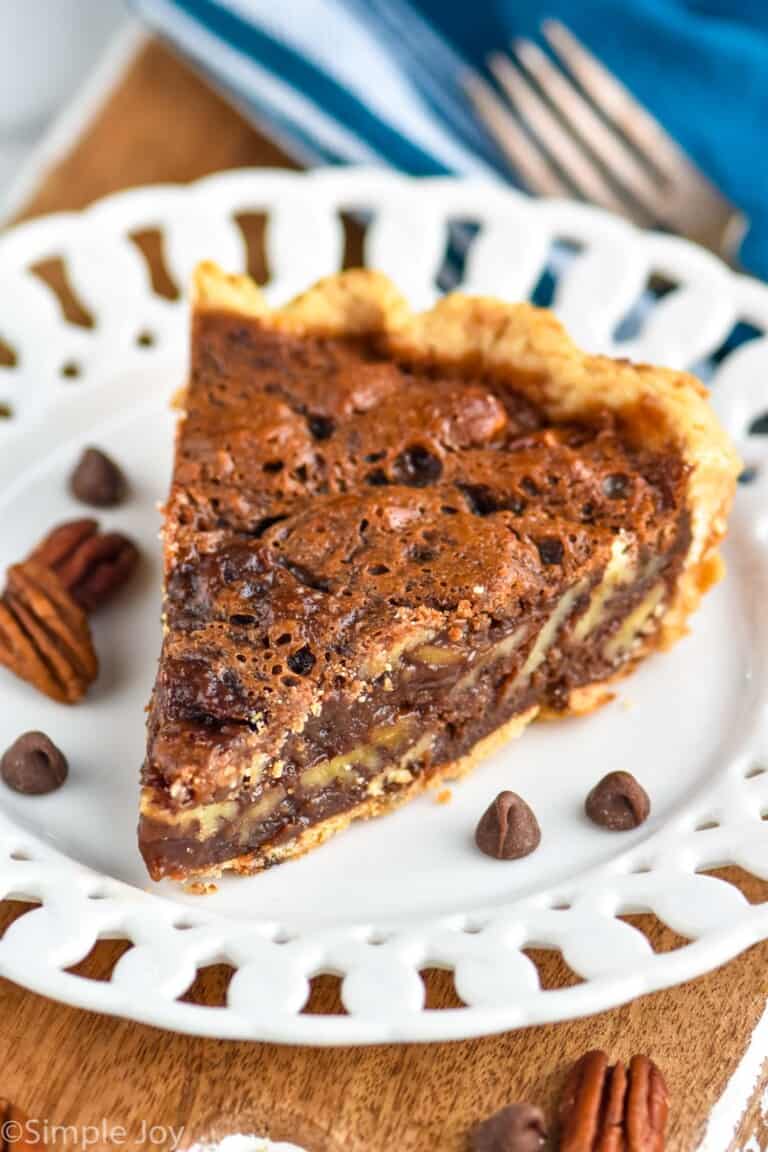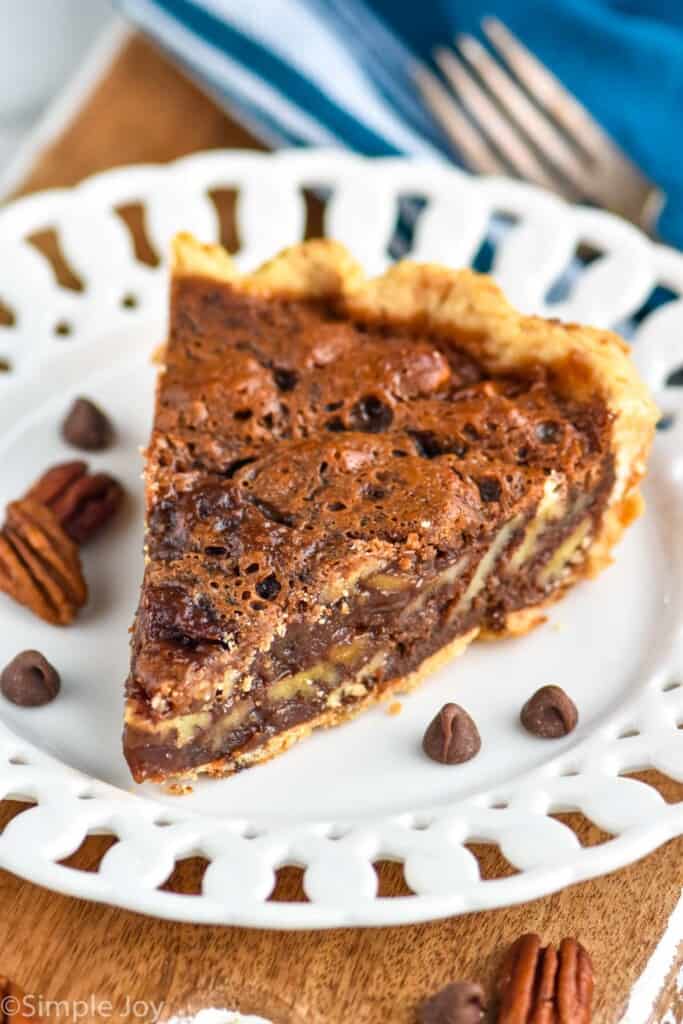 Blind Baking Pie Crust
Baking the pie crust with the foil and the pie weights is called blind baking. The reason we do this in this recipe, and many other recipes like my Asparagus Quiche, is because the filling of the pie takes less time to bake than the pie crust.
If this is something you've never done before, you might think that this extra step isn't necessary. While it is possible to make this pie without blind baking the crust, this extra step will take your pie to a new level.
The bottom line: Blind baking a pie crust will leave you with a filling that isn't over cooked and a crust that is perfectly flakey and not soggy.
How to Store Chocolate Pecan Pie
Chocolate Pecan Pie and any pie that has an egg base should be stored in the refrigerator. After baking, let the pie cool on the counter for up to 1 hour, and then cover loosely with foil before moving to the refrigerator to cool completely.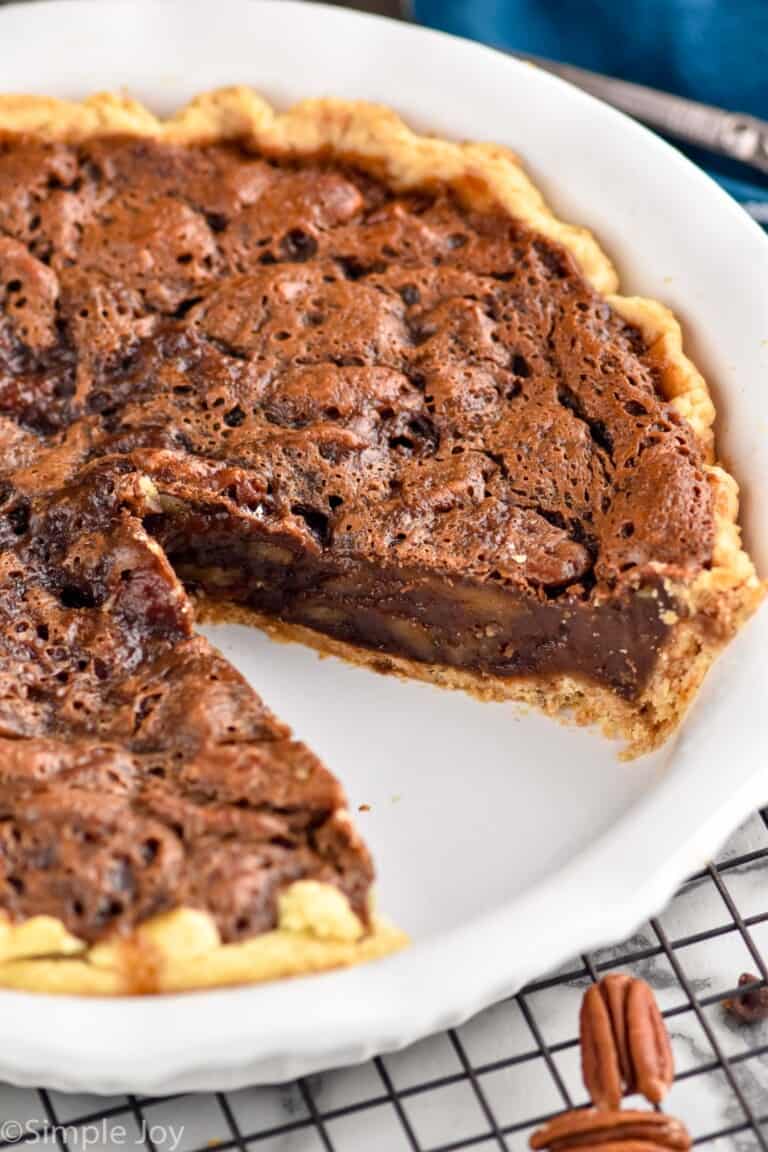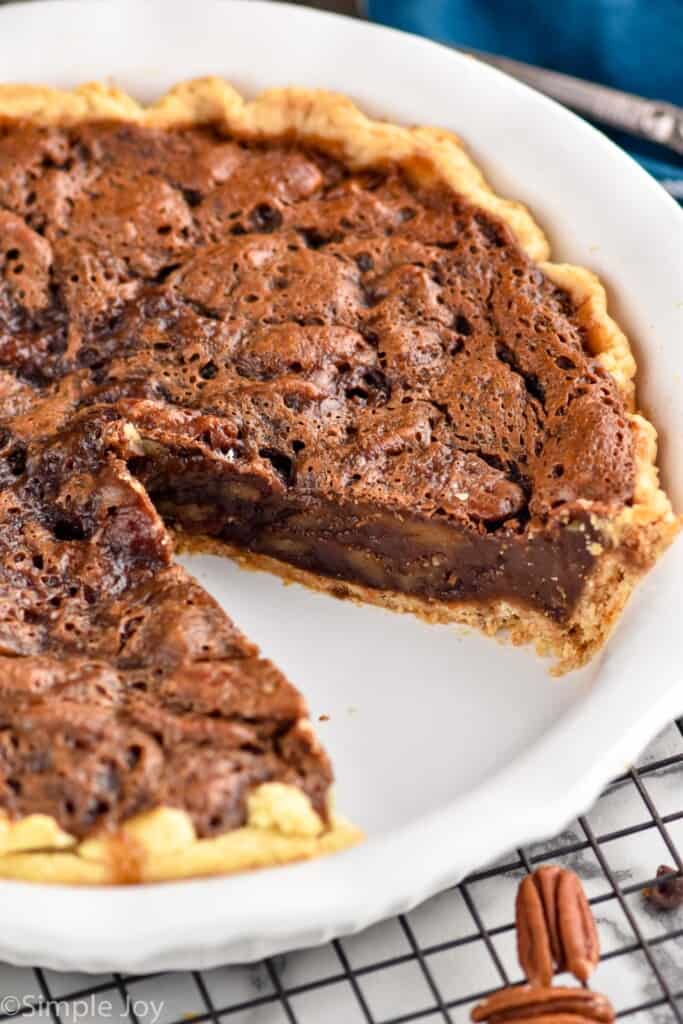 Making Ahead
This is a great recipe to make the day before serving. With the steps involved and the need for the pie to cool completely, you should make this recipe at least one day ahead of time. Chocolate Pecan Pie will be good for four days after making it, so you could even make it two days ahead.
Freezing Pecan Pie
My Chocolate Pecan Pie recipe will freeze very well. You can freeze it as a whole pie up to three months before serving it. Wrap the cooked and cooled pie in plastic wrap three times before placing in the freezer. When ready to serve, allow it to thaw overnight.
If your family is like mine and you make a million different pies at the holidays, you may want to freeze the leftovers so that you can have a piece of the holidays in cold January. Flash freeze the pie in pieces for four hours. Then transfer the pieces to an air tight container. Store the frozen pie in the freezer for up to three months.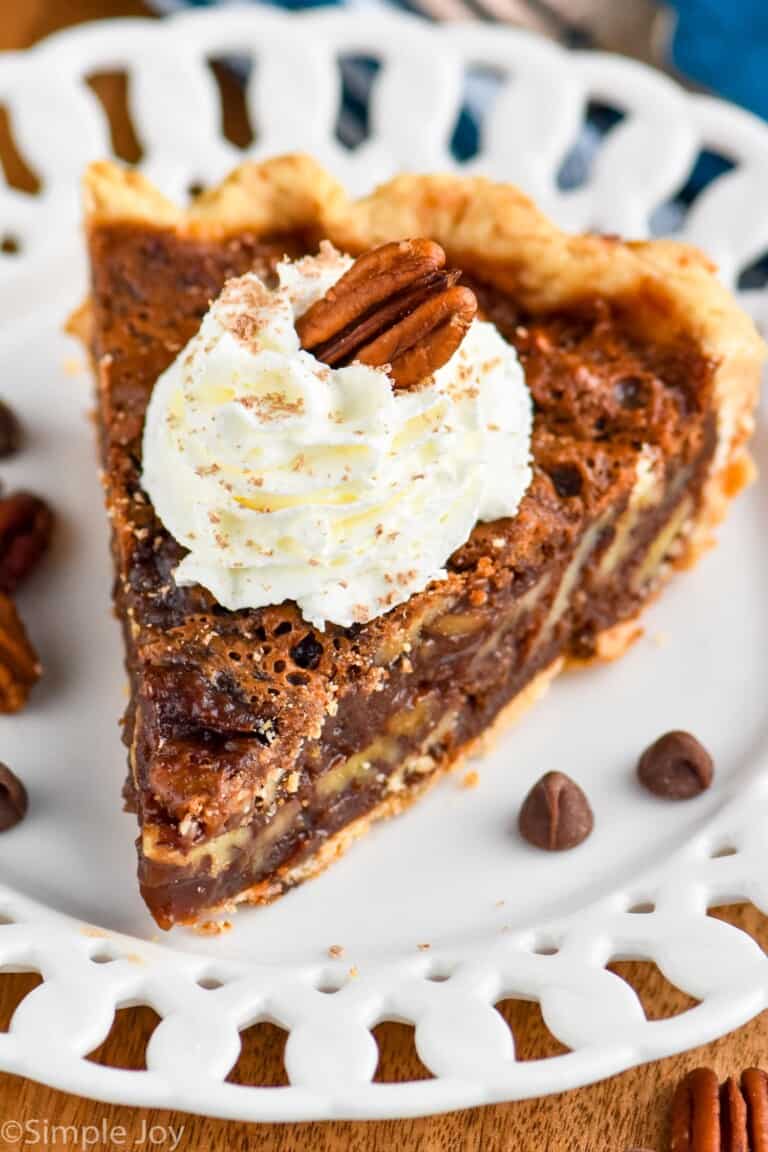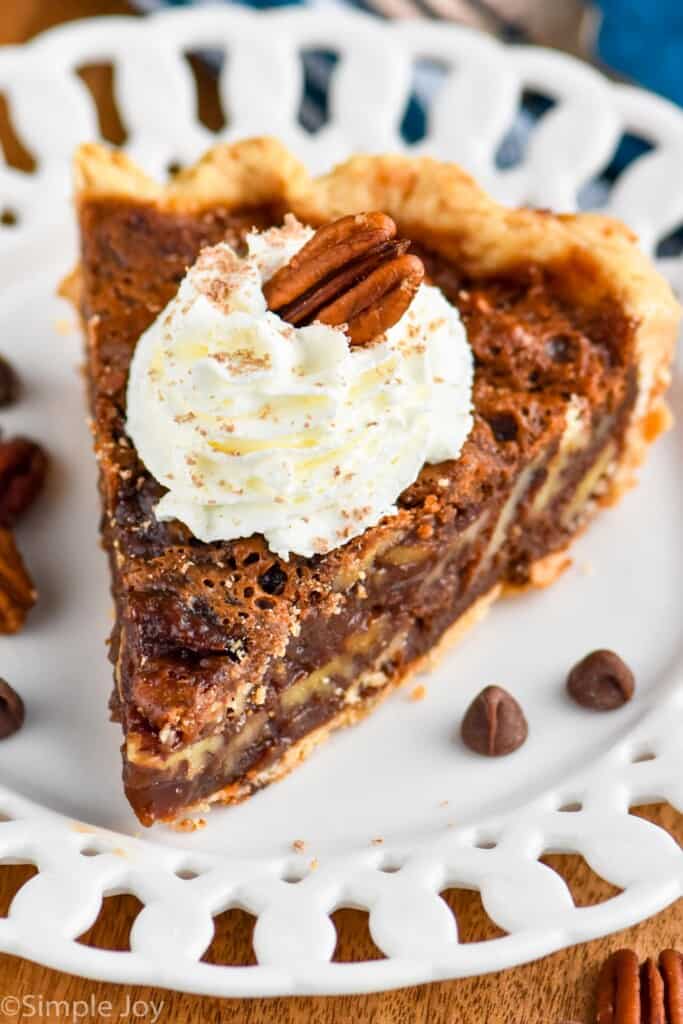 Other Holiday Desserts
If you are looking for more great desserts to serve these holidays, try some of these.
If you make this Chocolate Pecan Pie or any of my other recipes, leave me a comment and let me know what you think.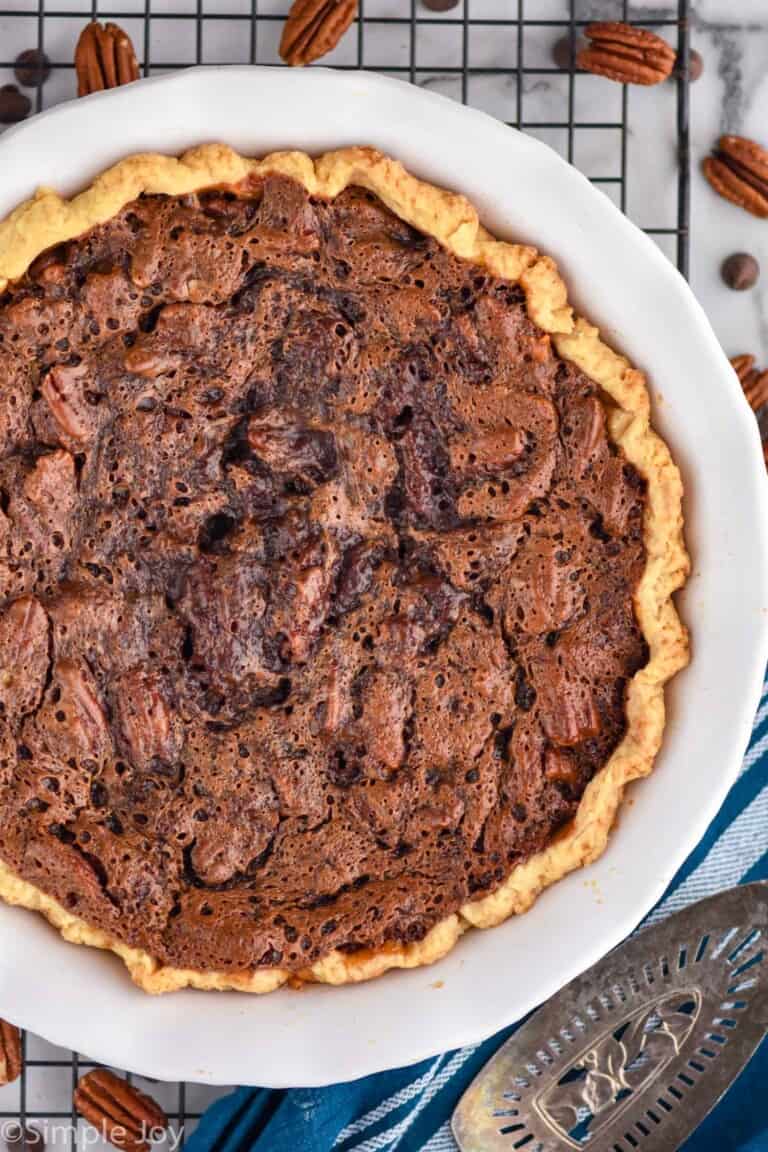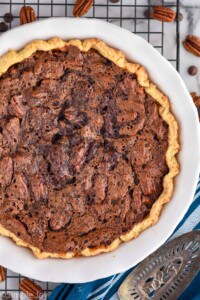 Chocolate Pecan Pie
Total:
5
hours
30
minutes
This Chocolate Pecan Pie tastes like the cross between the most delicious brownie and pecan pie. It will be your new favorite holiday tradition.
Ingredients
1

pie crust recipe

(see my post for the best, most flakey pie crust)

6

tablespoons

unsalted butter

3/4

cup

light brown sugar

packed

1/2

cup

semi sweet chocolate chips

3/4

cup

corn syrup

2

teaspoons

vanilla extract

1/4

teaspoon

salt

3

large

eggs

beaten

2

cups

pecan halves
Instructions
Roll out your pie crust and line your 9 inch deep pie pan with it. Line the pie crust with a double layer of aluminum foil, making sure to wrap the foil around the edges of the pie crust. Fill it with pie weights or coins. (If you use coins, make sure to take care when removing them as they will be hot.) Bake for 25 minutes.

When the pie crust is done pre baking, remove it from the oven and lower the tempreature to 320. Remove the aluminum foil and pie weights.

While your pie crust is baking, melt the butter in a large sauce pan over low heat. Once melted, whisk in the brown sugar, stirring until fully combined. The mixture will be a little chunky. Melt in the chocolate chips.

Remove from heat and whisk in the corn syrup, vanilla extract, and salt. Then stir in the eggs. Finally stir in the pecans. Pour the mixture into the hot pie crust.

Bake for 50 minutes to an hour. The pie should be puffed up in the middle, and when you gently push on it it should spring back. Remove from the oven and alllow the pie to cool for 1 hour on the counter. Cover loosely with foil and store in the refridgerator for 3 additional hours before serving. Please note that while this pie tastes best at room temperature, it should only be kept at room temperature for 2 hours.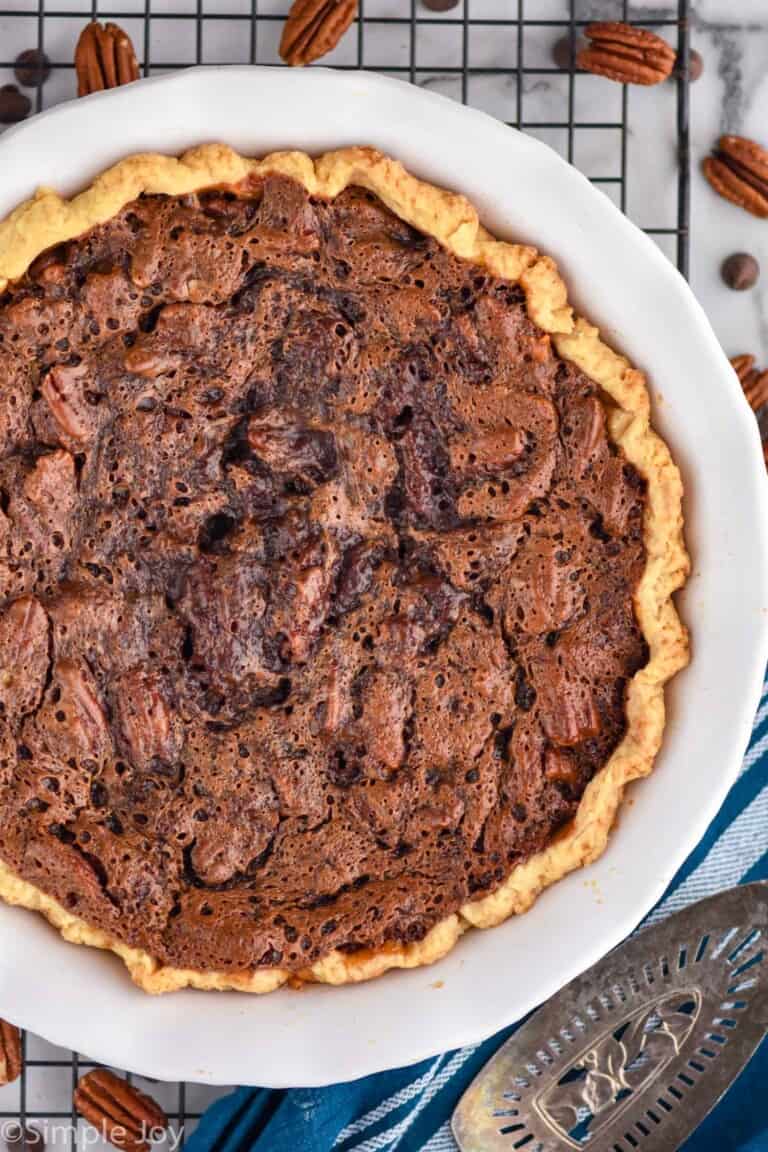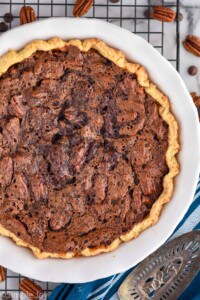 did you make this
Chocolate Pecan Pie