Chocolate Pudding is an easy dessert that takes only 10 minutes to make. This homemade chocolate pudding is going to become a family favorite!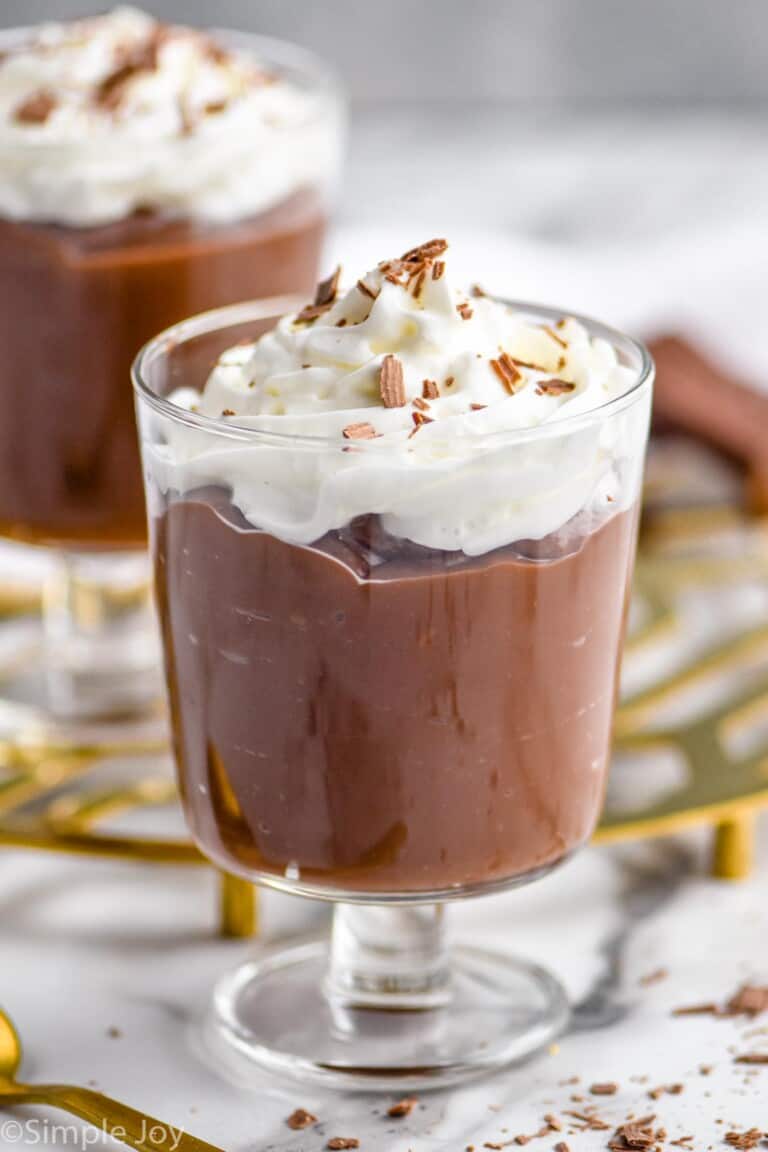 In general, I prefer savory and salty food over sweet. You hand me a plate of onion rings, and I am a very happy girl. Give me all the savory appetizers.
However, now and again, there is nothing that I want more than chocolate. And usually, when that chocolate craving hits, what I really want is a big delicious bowl of chocolate pudding with whipped cream on top.
Pudding is incredibly easy to make from scratch. In fact, one might argue that it is just as easy to make as cracking open a box of pudding mix. But homemade chocolate pudding is a million times better.
How to Make Chocolate Pudding
Combine dry ingredients: In a medium sauce pan, not over heat, combine sugar, cocoa powder, cornstarch, and salt.
Stir in milk: Turn the heat on low, and slowly whisk in the milk.
Stir: Continuously whisk the mixture until it comes to a boil. It will take about 10 minutes. Once it comes to a boil, cook for 1 more minute and then stir in vanilla extract and butter.
Cool: Transfer the mixture to a bowl, and press a piece of plastic wrap to the top. Cool in the refrigerator for 4 hours.
Preventing Lumpy Chocolate Pudding
The key to making this pudding recipe rich, creamy, and smooth, is the way in which we add the ingredients. You will notice that you are specifically instructed to whisk together the dry ingredients. Then you very slowly add the milk. This, combined with the continued whisking while it is coming to a boil, will keep the pudding smooth and perfect.
Cornstarch
Cornstarch is what helps to thicken the pudding. The benefit in using cornstarch instead of flour is that it thickens the pudding without turning it gummy.
Whole Milk
While there are some desert recipes where you can fudge on the fat content in milk, this is not one of them. You will want to use whole milk when making chocolate pudding. It gives you the rich taste and the creamy texture that puts this over the top.
FAQ
How long can chocolate pudding last?
This recipe will last in your refrigerator for 3 to 4 days.
Is chocolate pudding gluten free?
Yes! As long as you ensure that your corn starch is gluten free, you are good to go.
Do you need eggs for pudding?
While lots of pudding recipes call for eggs, we assure you that this one works perfectly without them.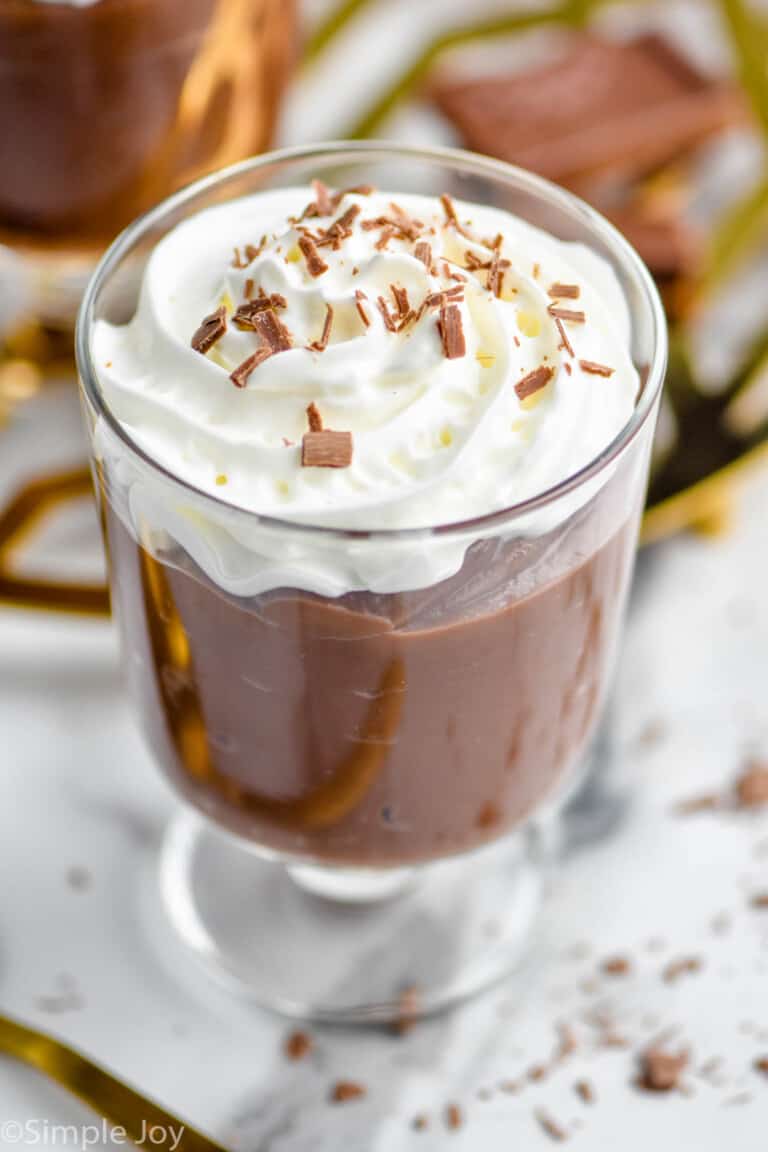 Other Easy Desserts
If you make this delicious chocolate pudding recipe, leave me a comment and let me know what you think!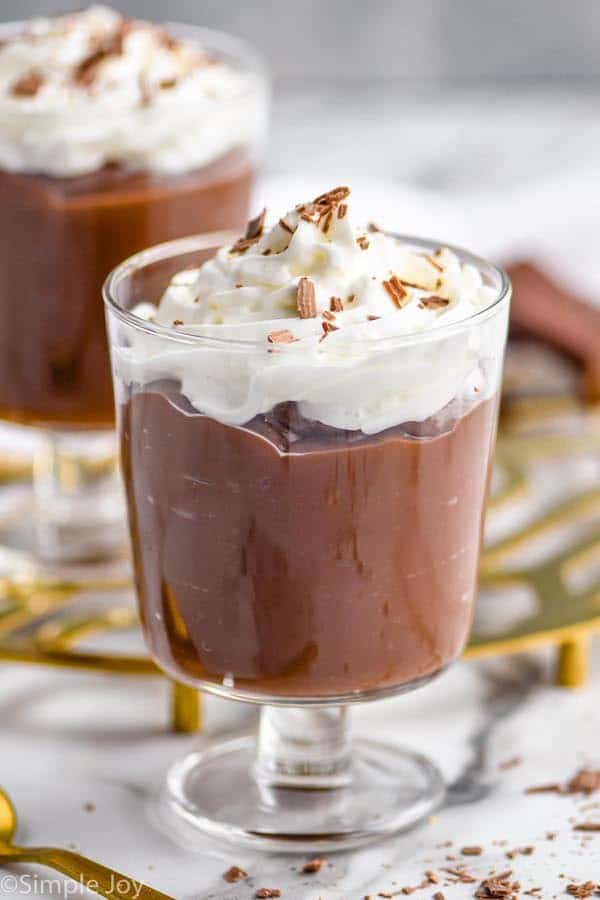 Chocolate Pudding
Ingredients
2/3

cup

sugar

1/4

cup

cocoa powder

3

tablespoons

cornstarch

1/4

teaspoon

salt

2 1/4

cups

whole milk

2

tablespoons

butter

1

teaspoon

vanilla extract
Instructions
In a medium saucepan (with the heat off), whisk together the sugar, cocoa powder, cornstarch, and salt. Turn the heat on low, and gradually whisk in the milk.

Stir continuously while cooking the mixture over medium heat until it comes to a boil. It will take approximately 10 minutes. Once it begins to boil, continue stirring and cooking for an additional minute. Remove it from the heat and whisk in the vanilla extract and butter.

Transfer the pudding to a medium mixing bowl and press a piece of plastic wrap right up against the pudding to keep it from developing a skin on top. Cool in the refrigerator for at least four hours.

Top with whipped cream and chocolate shavings.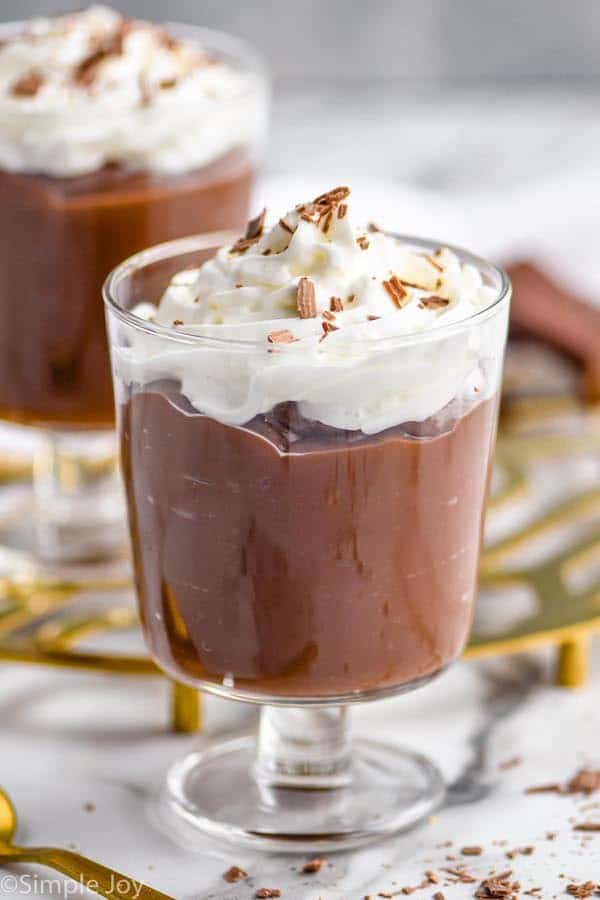 did you make this
Chocolate Pudding