Chocolate Snack Cake is a recipe that is easy to throw together and has the most out of this world chocolate frosting on top!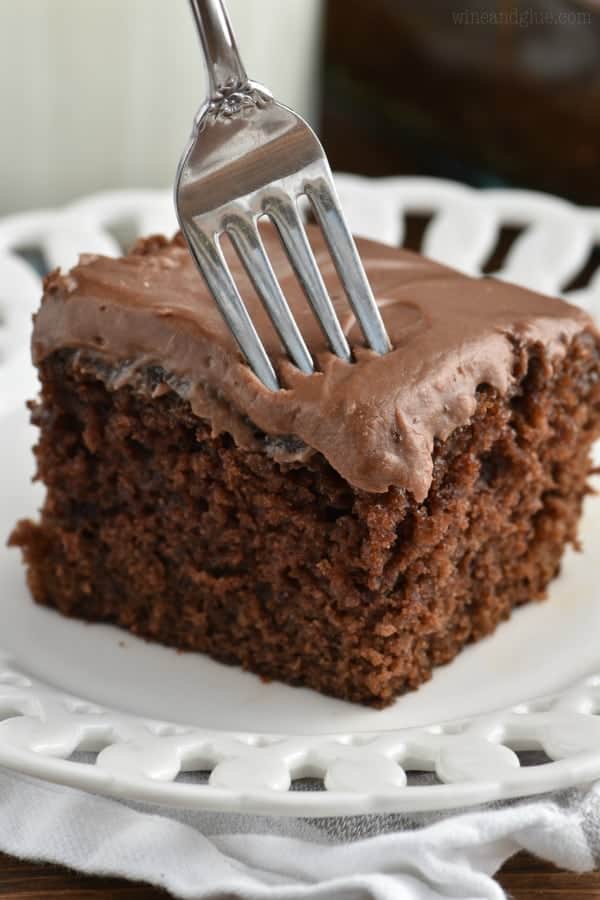 I am so happy to be partnering with Horizon Organic to bring you this fast tasty dessert! We love squeezing in the organic amazingness Horizon has to offer into our kids' diets! Thank you for supporting the brands that make Wine & Glue possible.
So a week ago Piper had her adenoids and tonsils removed and she had ear tubes put back in. (This is her second round of tubes.) Honestly, my kids are kind of all blurring together at this very sleep deprived moment, so I can't remember if I told ya'll about her surgery or not. Kiddo has had six ear infections since her first set of tubes fell out in the fall. She was snoring, and she refused to eat just about anything.
Makes sense, since after the surgery the surgeon told us that 75% of her airway was blocked (!!!!). Her tonsils, the sizes of giant grapes, were making it impossible for her to swallow! Poor girl!
So, if I'm being 100% honest with you, and when am I not? We have been relying on the good folks at Horizon to supply Piper with like the BULK of her calories for the last two years. I mean, if I had giant grape sized tonsils stuck in my throat, I would probably want to live on Horizon Organic 2% milk too! Seriously, thank the lord for them. Their milk has kept us from dealing with a HANGRY Piper for the last 24 months.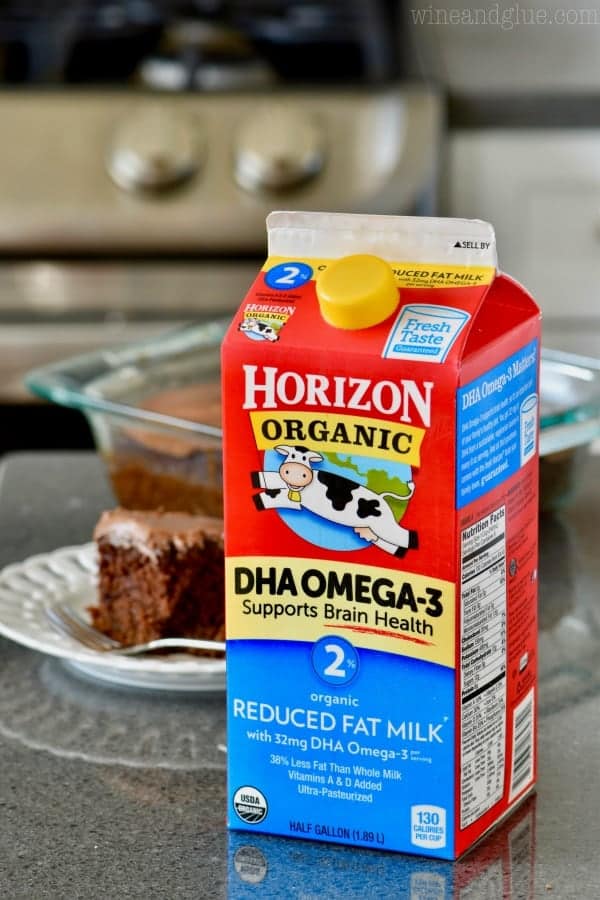 Very often we give our kids a nice big cup of milk as the start of their snack. It's usually right around that moment that they give you a look that sort of makes you question if you need to call in a priest to perform an exorcism. Just yesterday Quinn did that to me and halfway through her glass of milk she was back to her normal lovely self! Magic! That and a plate of fruit and veggies and they are able to make it to dinner without trying to kill each other. Or me.
Chocolate Snack Cake for a Snack
So, that's why I find the name of this recipe Chocolate Snack Cake, kind of hysterical. My kiddos wouldn't ever have chocolate cake as a snack, but that big glass of milk in the background, yes. That said, after Piper's surgery, this Chocolate Snack Cake, and pretty much anything else she is willing to swallow, is on the menu.
Easy Chocolate Snack Cake
This Chocolate Snack Cake comes together perfectly and is so moist with a nice big cup of Horizon Organic Milk in there. It whips up really fast, and the frosting is even faster. Together they make the best little chocolate snack you could hope for!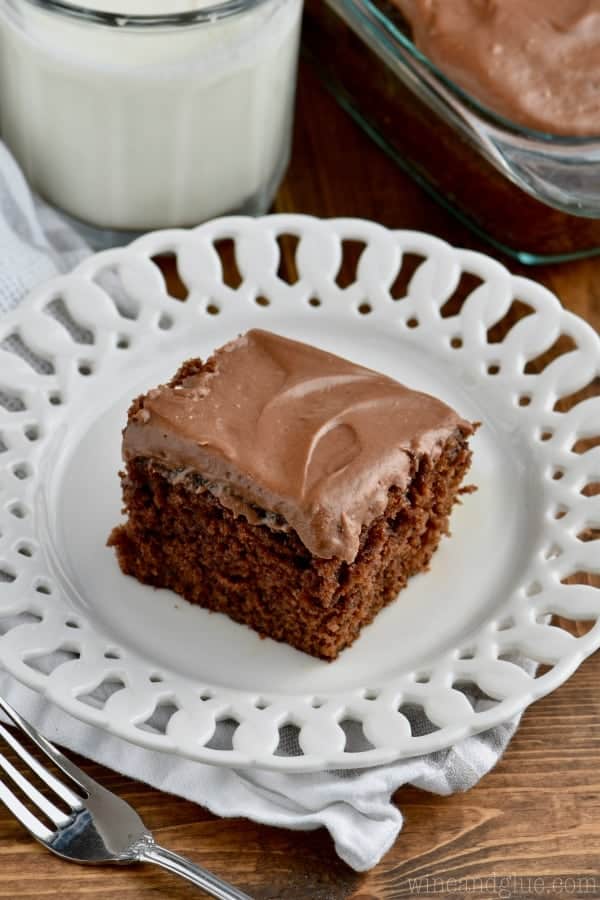 For more great recipes using Horizon products be sure to follow on Facebook, Twitter, Instagram, and Pinterest.
Chocolate Snack Cake Recipe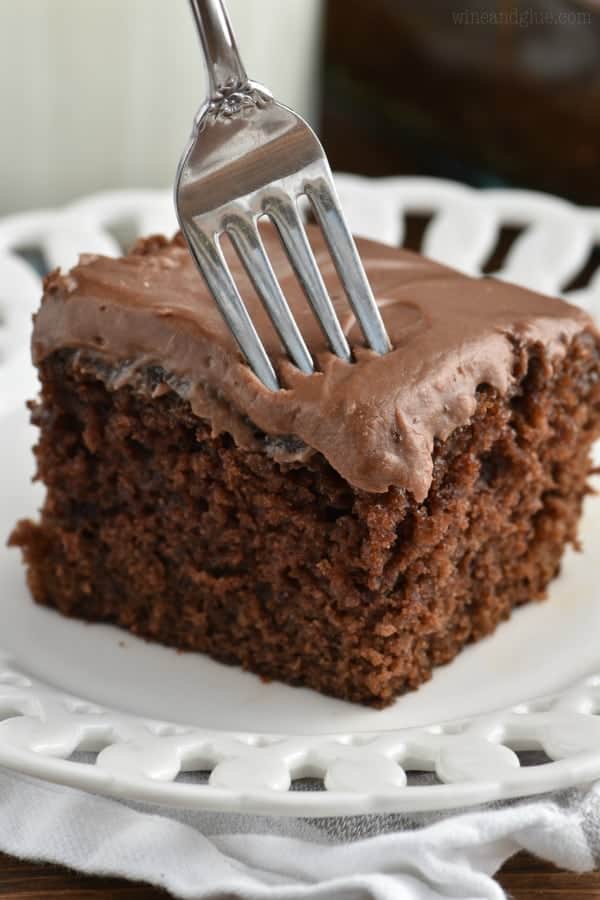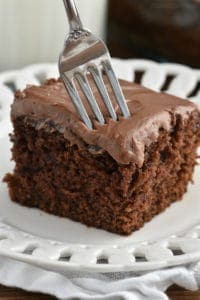 Chocolate Snack Cake
Ingredients
For Cake

1 1/2

cups

all purpose flour

1/4

cup

unsweetened cocoa powder

1

tsp

baking soda

1

tsp

baking powder

1/2

tsp

salt

1/3

cup

vegetable oil

1/2

cup

granulated sugar

1/2

cup

brown sugar

packed

2

eggs

1

tsp

vanilla extract

1

cup

2% Horizon Organic Milk

For Frosting

1/2

stick Horizon Organic Butter

melted

2

cups

powdered sugar

2

tbsp

cocoa powder

1/2

tsp

vanilla

2

TBSPs

Horizon Organic Milk
Instructions
Preheat your oven to 350 degrees. Spray an 8x8 with cooking spray and set aside.

In a large bowl, mix together the flour, cocoa powder, baking soda, baking powder, and salt.

In a medium bowl whisk together the vegetable oil, sugar, brown sugar, vanilla extract, and eggs. Stir into the flour mixture. Then stir in the 1 cup of Horizon Organic Milk, until just smooth.

Pour into the prepared pan and bake for 35-38 minutes or just until a toothpick comes out clean.

Allow to cool.

In a medium bowl, mix together the butter, powdered sugar, cocoa powder, and Horizon Organic Milk until smooth. Spread over cooled cake and serve.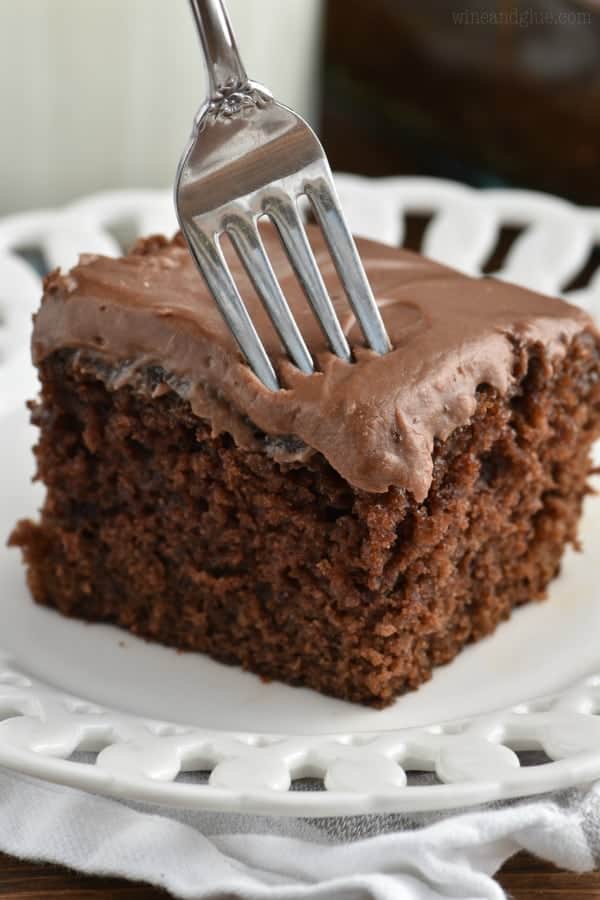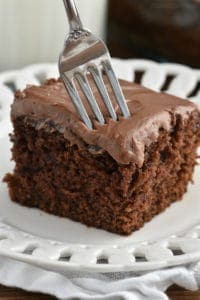 did you make this
Chocolate Snack Cake
Other great desserts you will love
Red Velvet Sour Cream Bundt Cake
Strawberries and Cream Ice Cream

This is a sponsored conversation written by me on behalf of Horizon. The opinions and text are all mine.