Chocolate Chip Mug Cake comes together in just minutes. Delicious and chocolatey, this is the perfect midnight snack when you don't want to over indulge.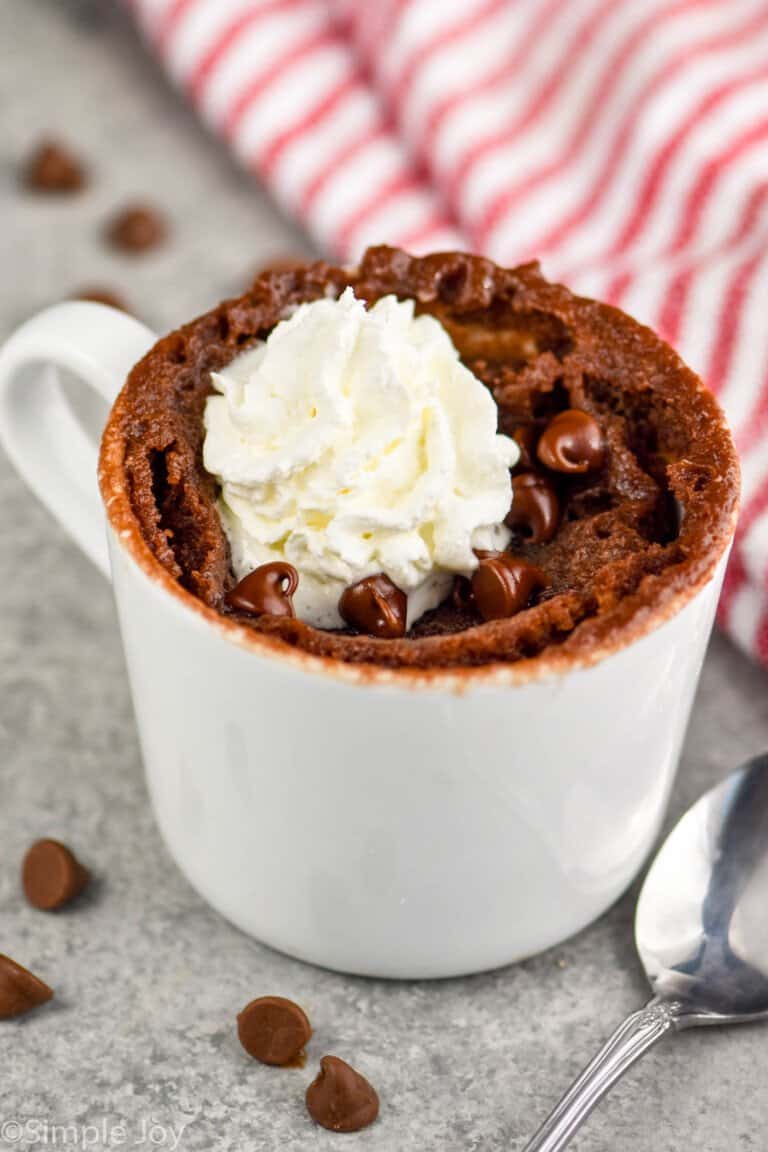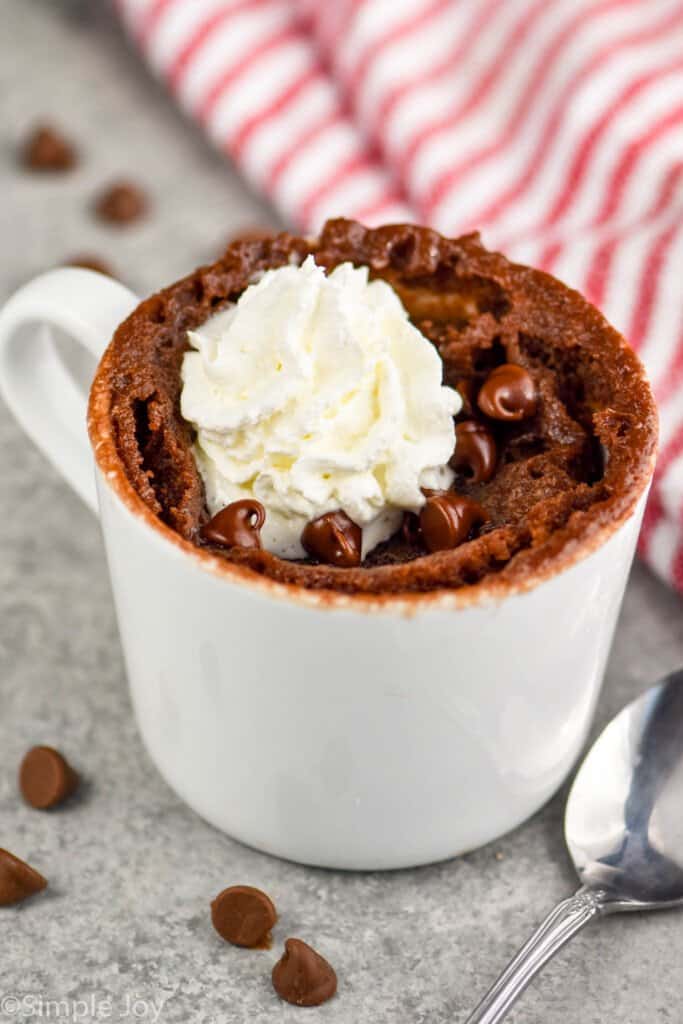 If you are someone who doesn't like to keep sweets in the house, this is the perfect recipe for you. With just a few simple pantry ingredients, this recipe will be the quick chocolate fix you are looking for. You can avoid buying a whole chocolate cake that you will eat a piece of daily.
This delicious Chocolate Mug Cake comes together with a handful of ingredients you probably already have on hand. It is made in about 10 minutes, and is the perfect recipe to make at 10 p.m. when your sweet tooth won't stop complaining.
Reader Review
Good stuff! Very chocolatey. Next time I will try some whipped cream!
How to a Make Chocolate Mug Cake
Combine milk and 1/4 cup chocolate chips. Pick out your favorite mug and add these two ingredients to it. Put it in the microwave for 30 second intervals, stirring really well in between, until the chocolate is fully melted.
Add in the remaining ingredients. Stir in the flour, salt, baking powder, sugar, and vegetable oil. Mix very well so that you don't see streaks of flour.
Finish off the cooking. Top the cake with the remaining 2 tablespoons chocolate chips and put it back in the microwave for 2 minutes.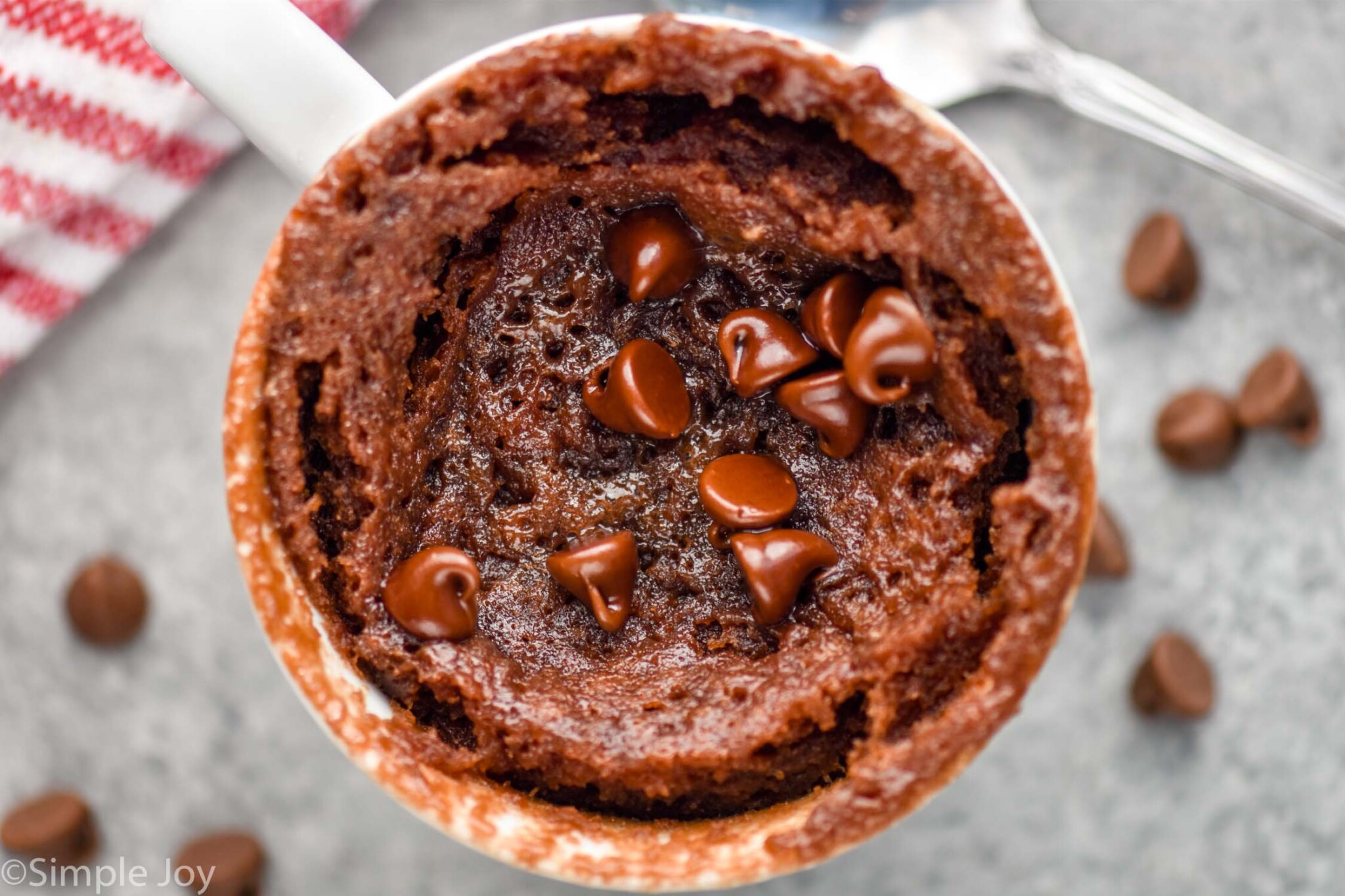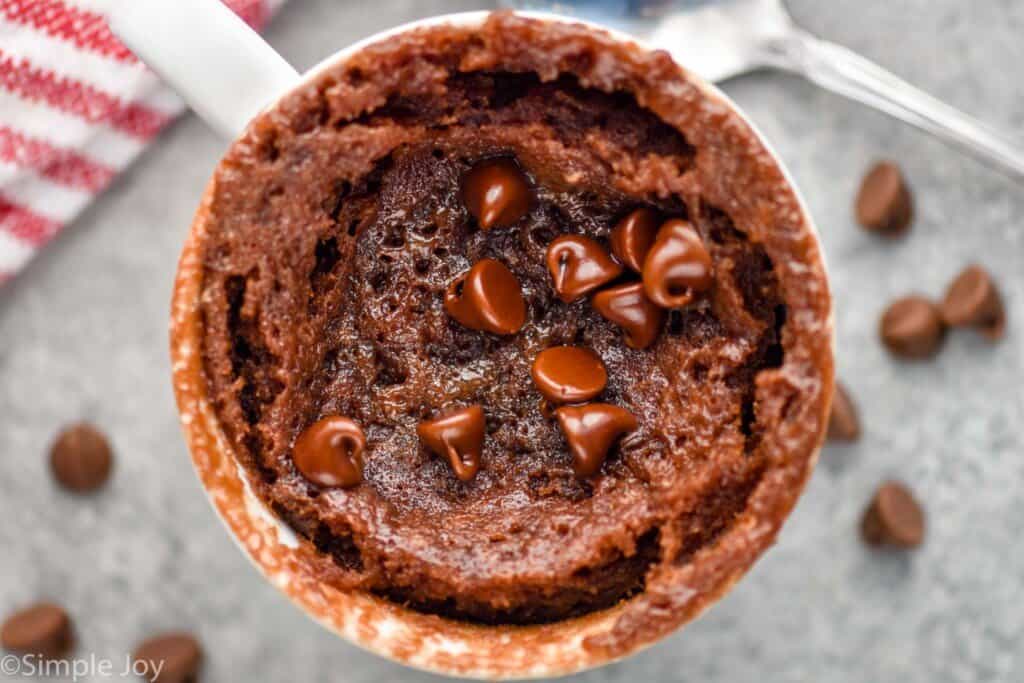 How to Make Chocolate Mug Cake without Egg
You will notice that egg isn't listed in the ingredients here. That is great news for those with an egg allergy. But there is a bigger reason for it than that.
The main function of eggs in baked goods is that they help provide structure and stability. So that cake or cookie that you put in the oven rises and it stays risen because of the eggs.
You will see here that the cake is a little sunken in. That is the result of no egg. That being said, I still think egg is not necessary. The cake is in a mug, so it doesn't really need structure. Additionally, we are using small fractions of ingredients and it is cumbersome to break up a whole egg into fourths.
You will find that even without the egg, you are left with a moist and delicious cake that hits the chocolate craving spot.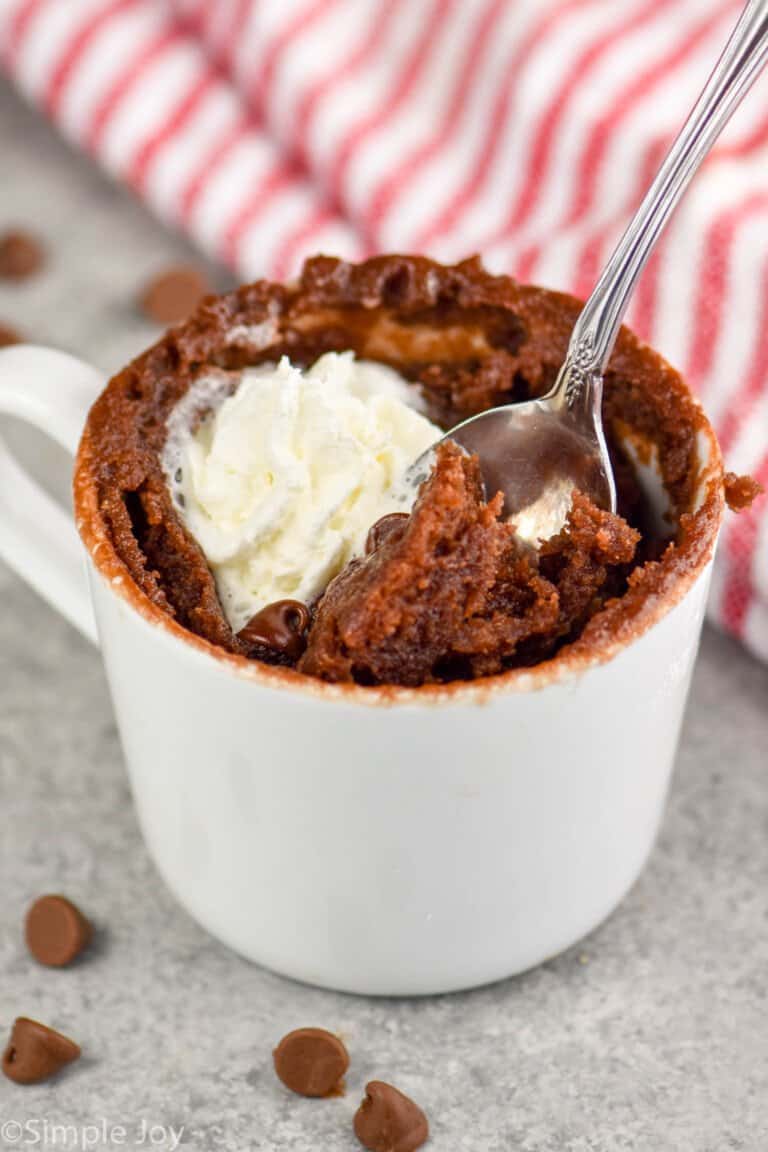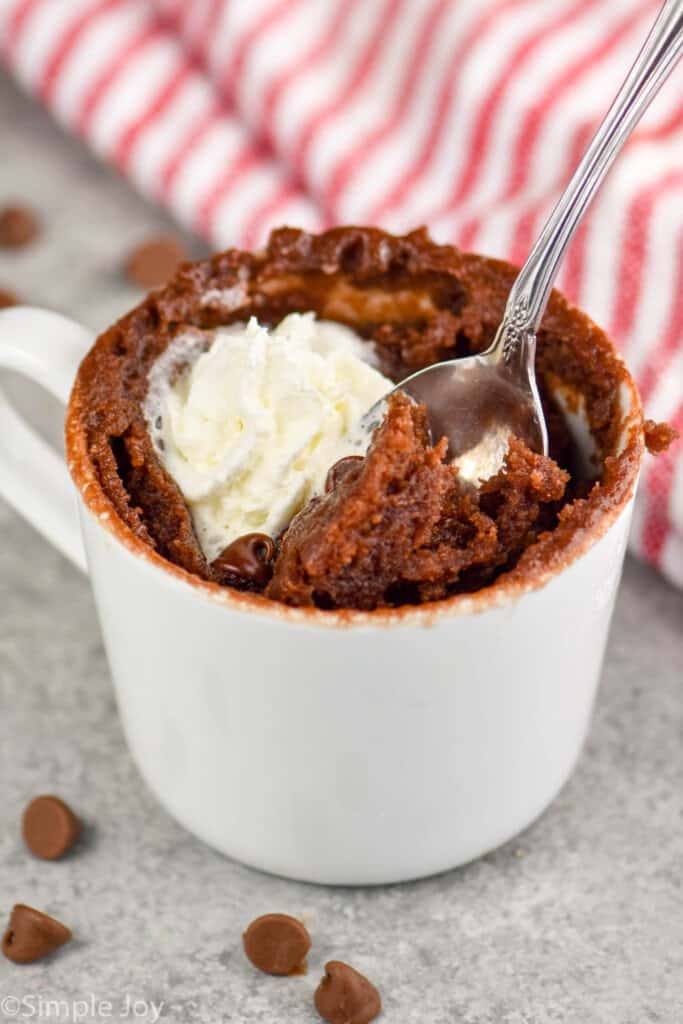 Mug for Chocolate Chip Mug Cake
When you are trying to figure out what mug to make this in, make sure that you pick one that holds at least 8 ounces. You can see that the one I used barely fit the bill, my chocolate chip mug cake almost became a whole microwave cake.
FAQ
Can I make mug cake with a milk substitute?
Yes! As long as you use 1/4 cup, you can use any kind of milk or milk substitute you like and the recipe will still work.
How can I make this recipe vegan?
If you find vegan chocolate chips and replace the milk with a milk substitute it will be vegan.
Can I make this chocolate mug cake recipe gluten free?
If you use the same amount of a gluten free baking blend, the recipe will work as written.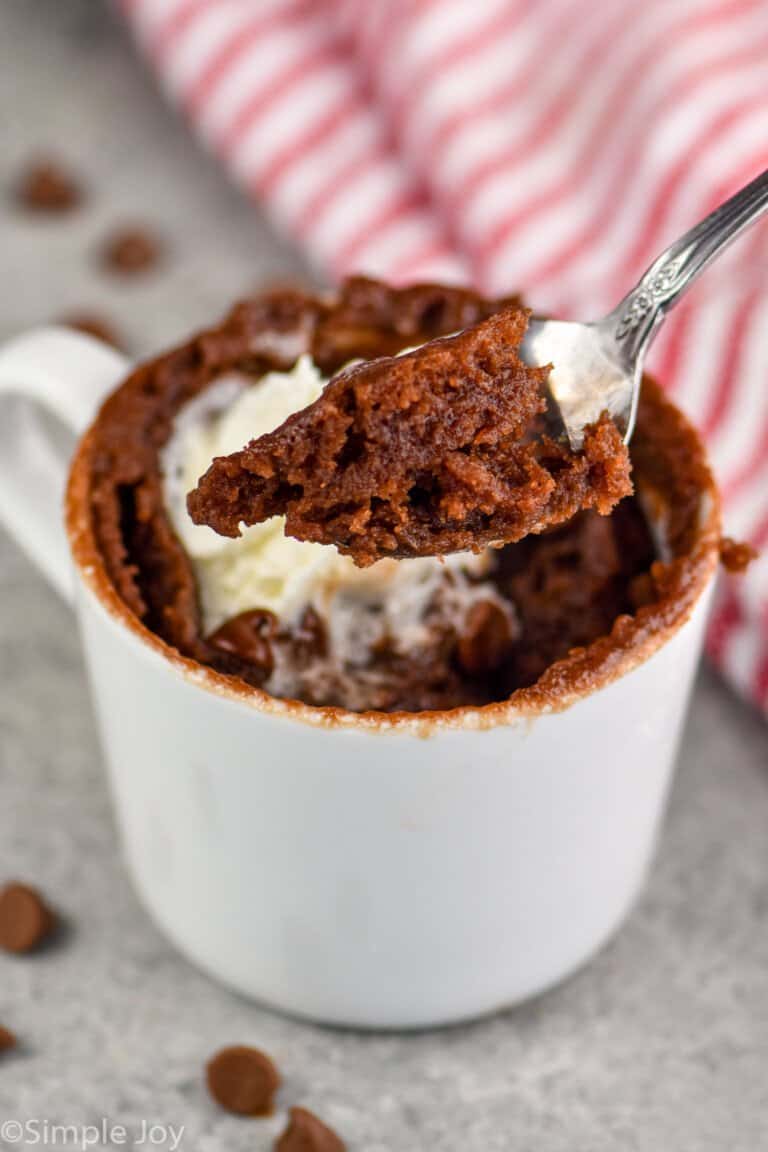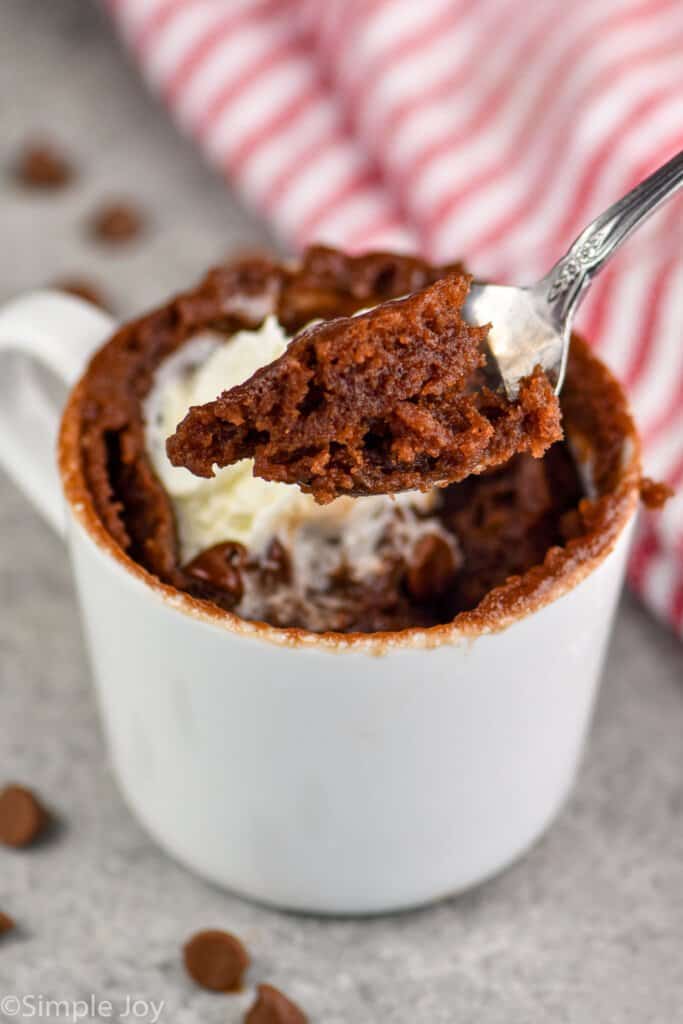 Other Chocolate Recipes
If you make this Chocolate Mug Cake recipe or any of my other recipes, leave me a comment and let me know what you think.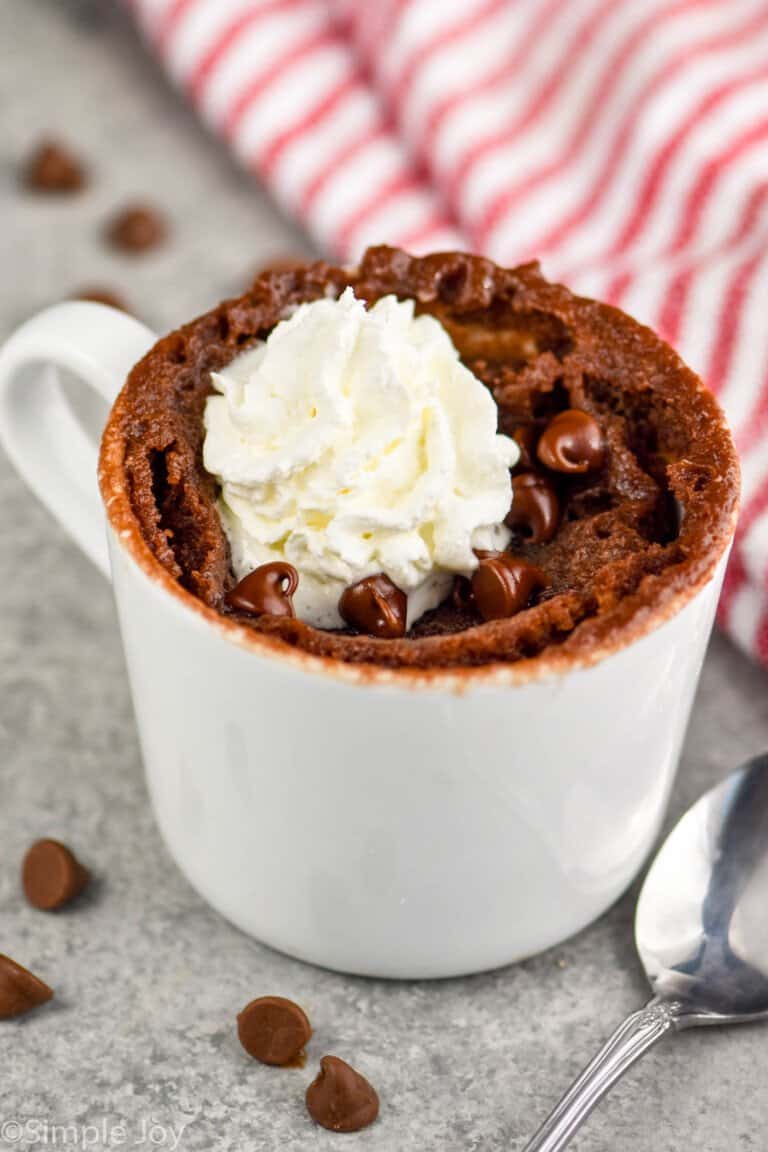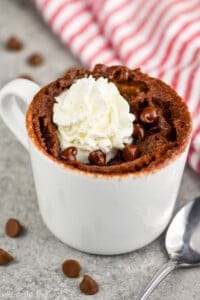 Chocolate Chip Mug Cake
Chocolate Chip Mug Cake comes together in just minutes. Delicious and chocolatey, this is the perfect midnight snack when you don't want to over indulge.
Ingredients
1/4

cup

chocolate chips

1/4

cup

milk

3

tablespoons

flour

1/8

teaspoon

salt

1/8

teaspoon

baking powder

2

tablespoon

sugar

2

tablespoon

vegetable oil

2

tablespoons

chocolate chips
Instructions
Mix the milk and 1/4 cup chocolate chips in the bottom of a mug. Microwave on 30 second intervals until the chocolate is completely melted, stirring in between.

Mix in the remainder of the ingredients, throughly mixing to break up all of the flour. Top with the reamining 2 tablespoons chocolate chips.

Microwave for two minutes or until cake is cooked.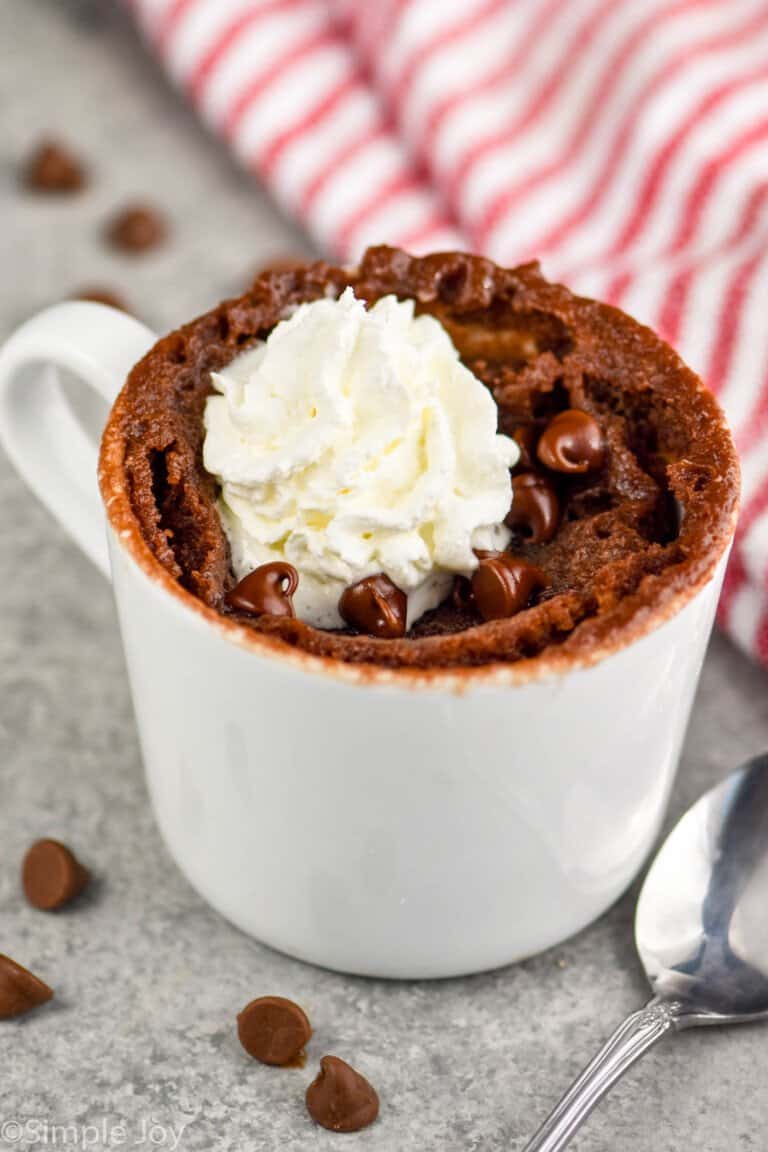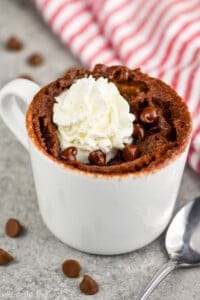 did you make this
Chocolate Chip Mug Cake